Enjoy meatball parm in pizza form with this easy recipe for meatball pizza. Classic baked meatballs top simple homemade pizza dough, pizza sauce, and lots of cheese for a seriously good meal.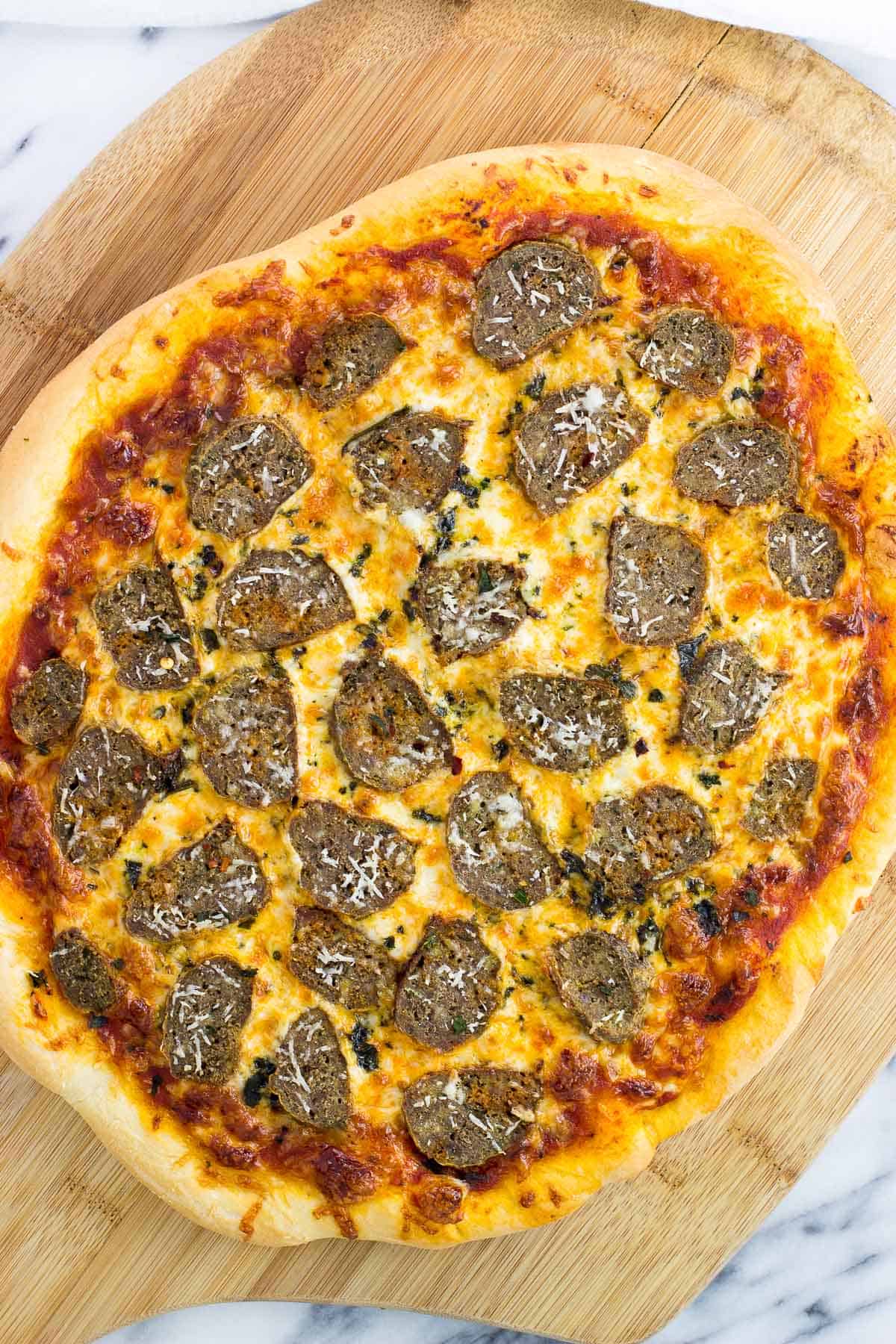 Pizza was always my answer to the "what's your favorite food?" question when I was little, and I stand by that answer today. Homemade, from a pizzeria...it doesn't matter. I love it all.
When it comes to pizzeria pizza, one of my very favorite toppings is meatball. Sliced or in chunks, Italian seasoned meatballs bring extra heft to pizza that fits right in with all those cheesy, saucy flavors.
Unlike the ultra garlicky white potato pie from my hometown pizzeria that I've yet to figure out at home, meatball pizza isn't that hard to recreate. Especially with my easy homemade pizza dough and simple baked meatballs that are an integral part of Sunday sauce. Move over, pepperoni!
Reasons To Love This Recipe
Meatball pizza is versatile. As written, the pizza dough and full batch of meatballs will yield enough for two pizzas (though everything can be frozen for another day if you don't need two right away). Plus see linked instructions on how to bake this pizza in the oven OR on the grill.
This recipe has a good deal of flexibility. The meatballs can be baked a day or two ahead of time (or frozen and then thawed), while the dough can also be frozen and thawed overnight in the fridge before use.
But even if you haven't prepped ahead, the meatballs can bake while the pizza dough is rising to maximize time efficiency.
Recipe Ingredients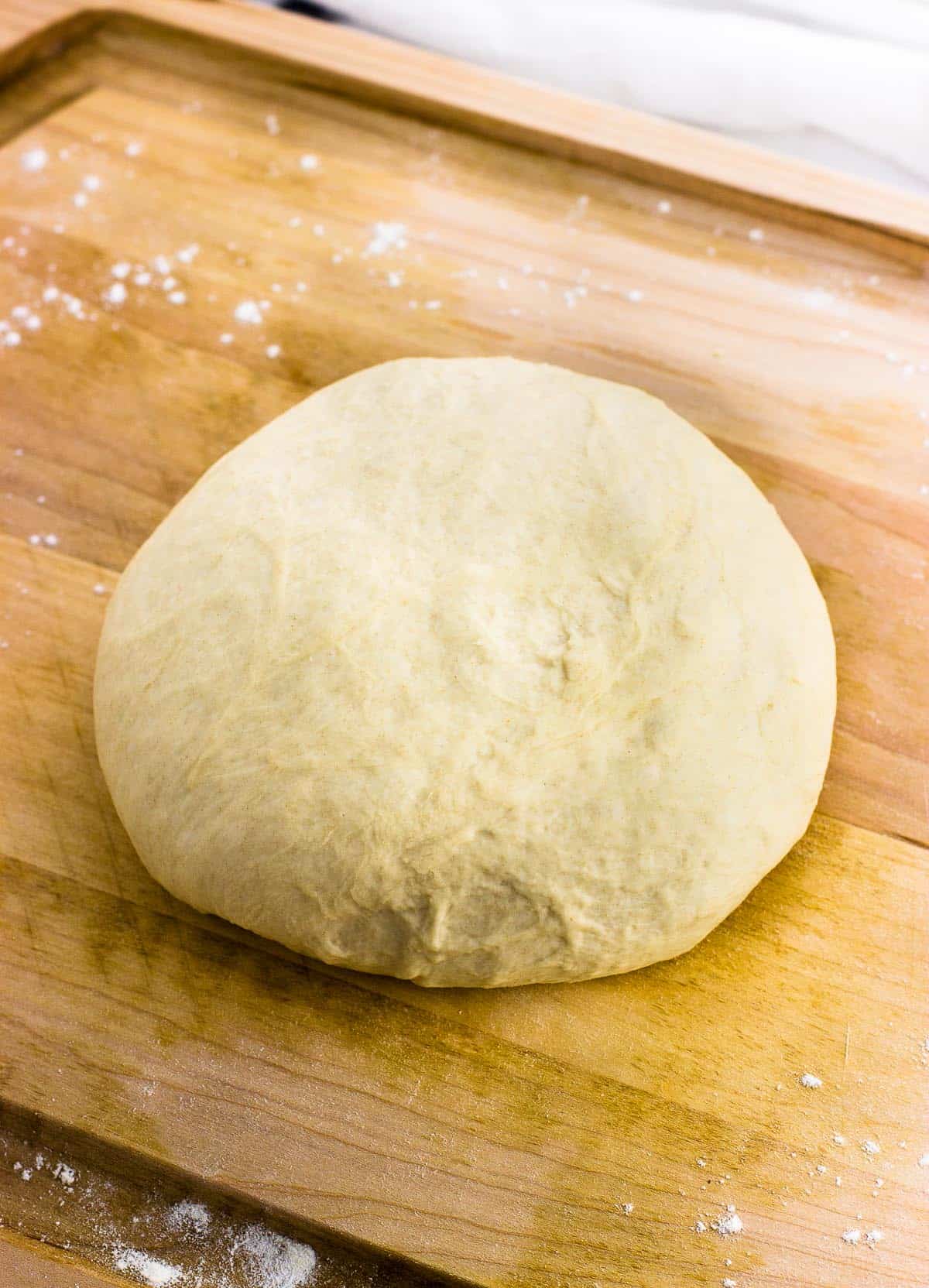 Pizza Dough
There's a lot of wiggle room with this meatball pizza recipe to do your own thing, and that includes the pizza dough. You can use your favorite homemade recipe or buy a ball of store-made pizza dough, no problem.
If you're in the market for a new recipe, then might I suggest this homemade pizza dough? It's become my go-to. It's incredibly basic (no specialty flour or long rise times) but produces pizza dough that handles well and crisps up beautifully, all while delivering just the right amount of chew.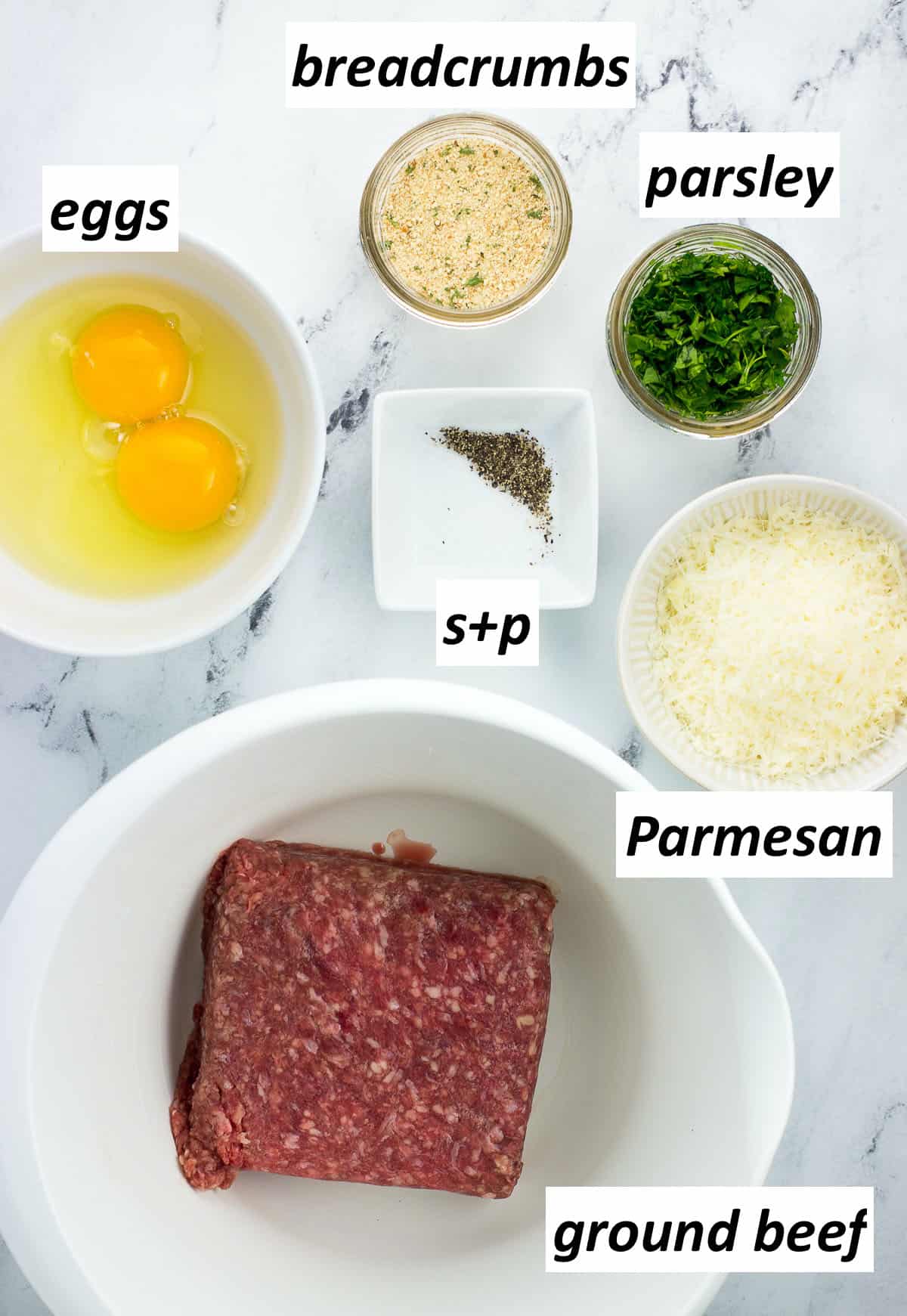 Meatball Ingredients
This is another area where you can do your own thing, but this recipe for baked meatballs can't get any simpler. Baking them gives you a lot of hands-off time to prep the dough to make the most of your time.
Ground beef: I keep things simple here and use all ground beef. Generally I recommend 80% lean for meatballs. These are baked and not pan-fried so the extra bit of fat over leaner varieties is welcome.
Breadcrumbs: Italian-seasoned regular breadcrumbs help boost the flavor. Of course unflavored breadcrumbs will work too, but if doing so you'll want to add dried Italian seasoning for flavor.
Parmesan: For the punchiest flavor I recommend shredding or grating a wedge of Parmesan. It really does make a difference! If unable to do that, I would buy refrigerated pre-shredded Parm from the deli section of the supermarket. I wouldn't choose the shelf-stable variety found in the regular grocery aisles. Other hard Italian cheese varieties (Parmigiano-Reggiano, Pecorino Romano) will also work.
Step-by-Step Instructions
If you're making pizza dough from scratch, start that first so it can rise while the meatballs are cooking. Then work on the meatballs.
Add the ground beef, Parmesan, eggs, breadcrumbs, parsley, salt, and pepper to a large mixing bowl.
Mix with your hands or a spoon until the ingredients are just combined. You don't want to overwork the meat as that can cause the meatballs to become tough, so mixing by hand is my preferred method.
Form evenly-sized meatballs, roughly two tablespoons each, and place them on a rimmed baking sheet. Using a cookie scoop makes this process a whole lot easier and less messy.
Bake for 30 minutes, or until the center of the thickest meatball reaches 160°F (fully-cooked per the FDA). The "ooze" you see is coagulated protein and some fat that cooks out.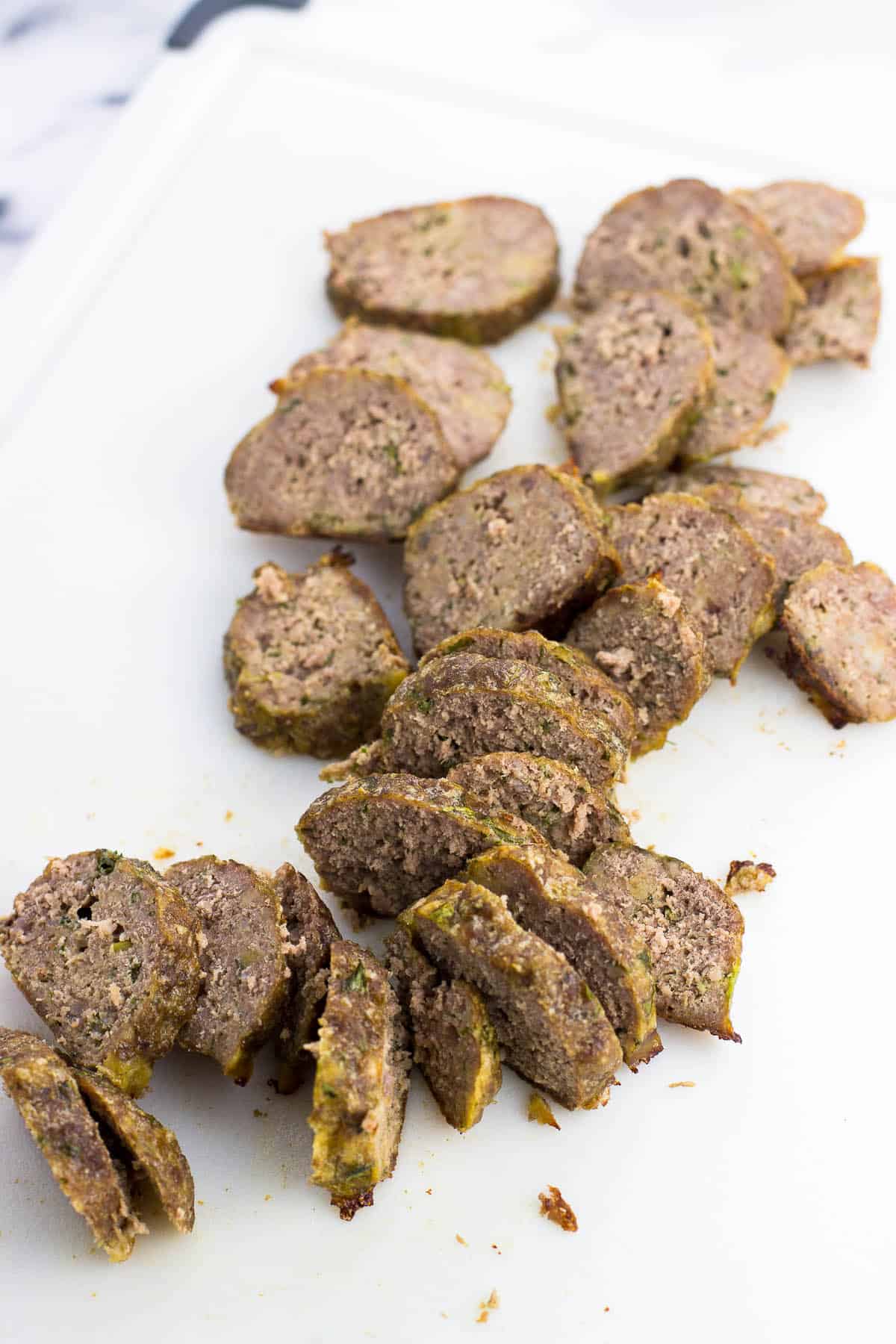 Let the meatballs cool slightly and then cut the meatballs into slices or chunks.
Half of this batch of meatballs will generously cover one pizza, so you can reserve some for using in other ways (meatball parm hero? YUM), make two pizzas, or freeze some for later use.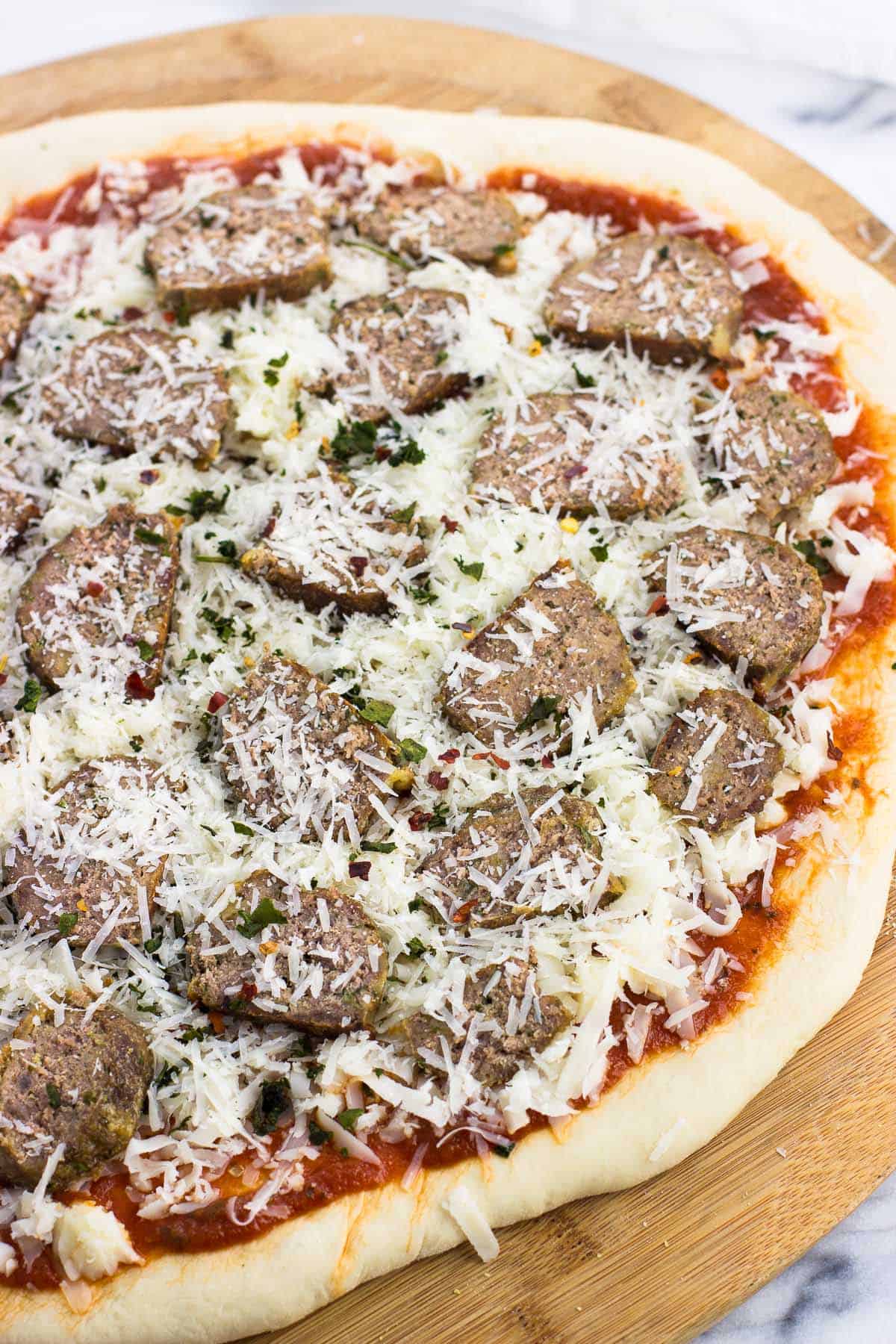 Now it's time to roll out your dough, top with sauce, cheese, and meatballs.
To lean into the meatball parm flavor I add a good quarter-cup (or more) of shredded Parmesan to the pizza toppings, along with mozzarella, of course!
Expert Tips
Think beyond cooking this meatball pizza in the oven. My how to grill pizza post lays out allllll of the steps to making a perfectly crisp pizza without a pizza stone or any special tools.
Like most pizzas, this meatball pizza recipe doesn't feature anything fancy. Choose quality ingredients to kick things up a notch: a well-seasoned pizza sauce, a wedge of Parmesan (better flavor) and a block of mozzarella (better melting) to shred/grate yourself, fresh herbs just prior to serving, etc.
While recipes are included and linked for homemade pizza dough and meatballs, this meatball pizza is a great option to use up leftover cooked meatballs if you've got them.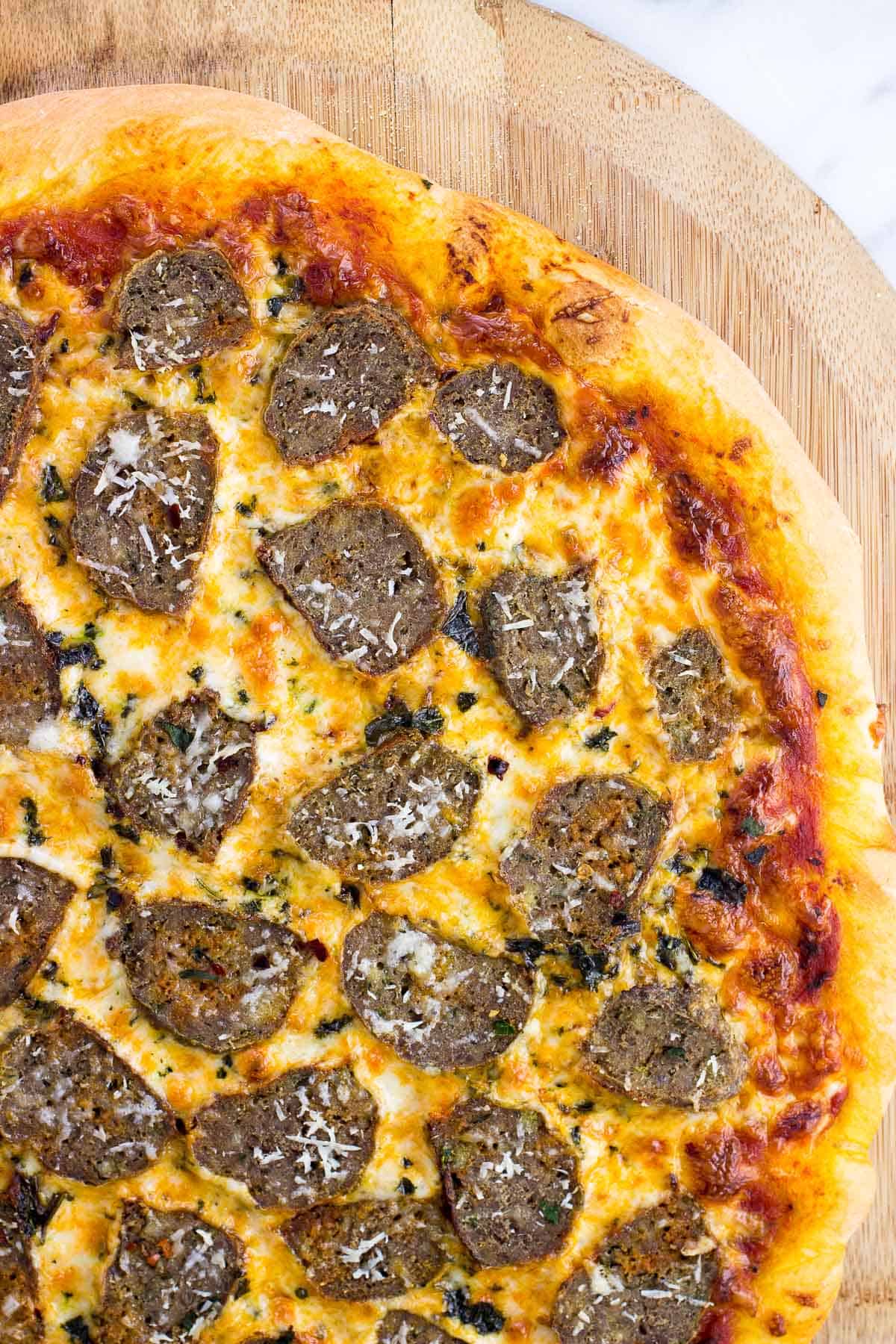 Recipe FAQs
Can I use turkey instead of beef for meatballs?
Yes. I recommend a turkey meatball recipe (these Italian baked turkey meatballs in particular) instead of just subbing in turkey for beef as they will benefit by having a higher moisture content in the ingredient mix.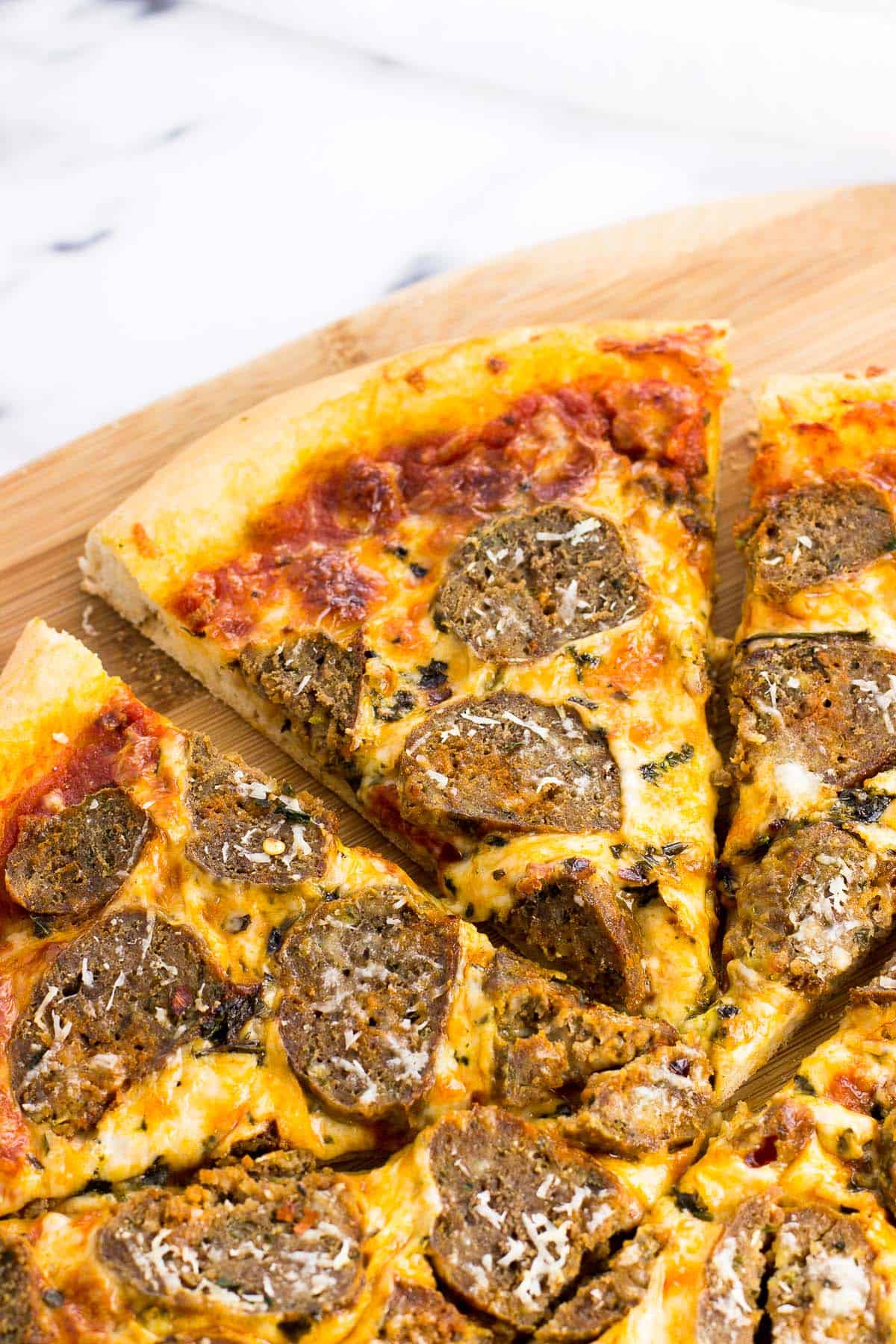 More Meatball Recipes
If you've enjoyed this recipe, I'd love for you to leave a star rating in the recipe card and/or a comment review below!
Meatball Pizza Recipe
Enjoy meatball parm in pizza form with this easy recipe for meatball pizza. Classic baked meatballs top simple homemade pizza dough, pizza sauce, and lots of cheese for a seriously good meal.
Print
Pin
Rate
Ingredients
Meatballs:
1

lb

ground beef

(I usually use 80/20)

2

large

eggs

½

cup

grated Parmesan cheese

¼

cup

Italian seasoned breadcrumbs

¼

cup

chopped parsley

Salt and pepper
Pizza Toppings:
1 ½

Tablespoons

olive oil

¼

teaspoon

garlic powder

1

cup

pizza sauce

1

teaspoon

dried oregano

½

medium

onion

diced

¼

cup

grated Parmesan cheese

1 ½

cup

shredded mozzarella cheese

6 to 7

fresh basil leaves

roughly chopped

Crushed red pepper

to taste
Instructions
For the dough:
Prepare pizza dough and set it up to rise. Then continue with the meatballs.
For the meatballs:
Preheat oven to 350°F and spray a baking sheet with cooking spray and set aside. In a bowl, mix together all meatball ingredients with your hands or a spoon.

Form two-Tablespoon capacity meatballs using a cookie scoop or your hands and place them evenly spaced on the prepared baking sheet. Bake for 30 minutes, or until the center of the biggest meatball reaches 160°F.

One pizza will use about half of the meatballs. Slice or chop those once they've cooled off some. Reserve or freeze the other half of the batch for other use.
To assemble:
Raise oven temperature to 450°F or as high as your pizza stone or pan will allow. Stretch or roll out dough on a floured work surface until it reaches an even thinness about 12-inches around. Transfer the shaped pizza crust onto a cornmeal-sprinkled pizza peel.

Brush dough with olive oil and sprinkle with garlic powder. Spread pizza sauce evenly over top and season with dried oregano. Scatter onion, Parmesan cheese, mozzarella, crushed red pepper, and the meatball slices.

Carefully transfer the pizza onto preheated pizza stone (if using) or pan and bake for 14-15 minutes, or until the cheese is bubbly and beginning to brown. Top with basil, slice, and enjoy.
Notes
Ingredients Notes Ground beef: 80/20 is my preferred lean/fat ratio. These meatballs are baked and a bit of extra fat (versus leaner varieties) is welcome. Breadcrumbs: Regular breadcrumbs can work just fine texture-wise, but if doing so you'll want to add your favorite dried Italian seasonings to bump up the flavor. Parmesan: Grating or shredding your own Parmesan is recommended, but pre-grated varieties from the deli section will also work. I would avoid canisters of shelf-stable Parmesan as they lack flavor and are drier. Other hard Italian cheeses will also work (such as Parmigiano-Reggiano and Pecorino Romano). Pan Baking Instructions: The directions above are written using a pizza stone, but you can easily use a baking sheet instead. To do so, simply brush a little olive oil on the bottom of the sheet and press out dough into desired shape. No need to watch your fingers while transferring the dough to a hot stone and no need to preheat. Nutrition: The nutritional information provided is an estimate for one-eighth of a meatball pizza as the recipe is written, made with half of the linked dough recipe and half of the meatballs. It will vary greatly depending upon the toppings and quantities you use, so if precise nutritional info is very important to you, please calculate it yourself using your brands of ingredients and quantities to provide you with the most accurate information.
Nutrition
Serving:
1
slice
|
Calories:
296
kcal
|
Carbohydrates:
26.5
g
|
Protein:
16.4
g
|
Fat:
13.5
g
|
Saturated Fat:
5.1
g
|
Cholesterol:
57
mg
|
Sodium:
551
mg
|
Potassium:
147
mg
|
Fiber:
1.6
g
|
Sugar:
2.2
g
|
Calcium:
259
mg
|
Iron:
3
mg
Nutritional information is provided as an estimate. As it can vary due to many factors (brands used, quantities, etc.), we cannot guarantee its accuracy.
Food Safety and Nutrition Disclaimer