a.k.a. Sunday Sauce. Thick and chunky marinara sauce loaded up with Italian spices and served over easy homemade meatballs and pasta.
Most days I have a strong feeling that this sauce is what's running through my veins.
Do you have a meal from your childhood that embodies all things love, tradition, family, and heritage (not to mention loads of flavor)? This hearty marinara sauce and meatballs is that meal for me. Sunday afternoons I'd hang around the house attempting to do my homework on the brink of intoxication from the smell of this sauce simmering away on the stove top. Eventually my homework would be finished and tucked away in my backpack and I'd celebrate by eating my weight in sauce, meatballs, pasta, cheese, crusty Italian bread…you know, the best of the best in Italian food.
Basically my spirit food is a big 'ol bowl of this sauce. (Is 'spirit food' a thing? Like a spirit animal?)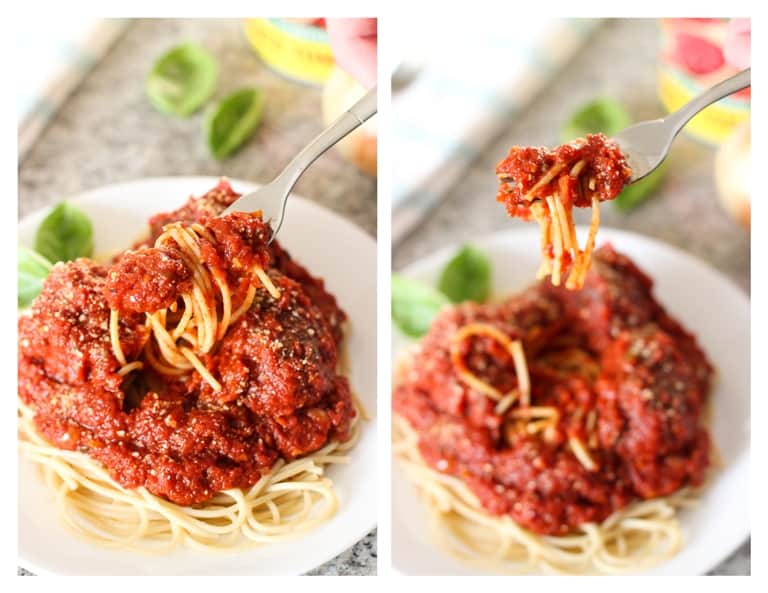 While it takes a bit of planning ahead, the active time in this recipe is pretty minimal. You start by browning the onions and mixing the sauce ingredients together. While the sauce begins simmering, you mix up the ground beef and other meatball ingredients and roll 'em into meatballs. The meatballs bake for awhile, then take a swim in the sauce for a few more hours until the sauce is beautifully thick and your willpower has just about run out.
The beauty of this sauce is that the quantity is so adaptable. As written, this will make a large pot that will feed a crowd of hungry friends and relatives. Maybe even with some leftovers. When B and I make this for ourselves, we typically halve the recipe and it still yields enough for 4-5 meals. Sometimes though we make up a big batch and freeze half of it for super speedy, homemade future deliciousness. A stocked freezer makes me happy. 🙂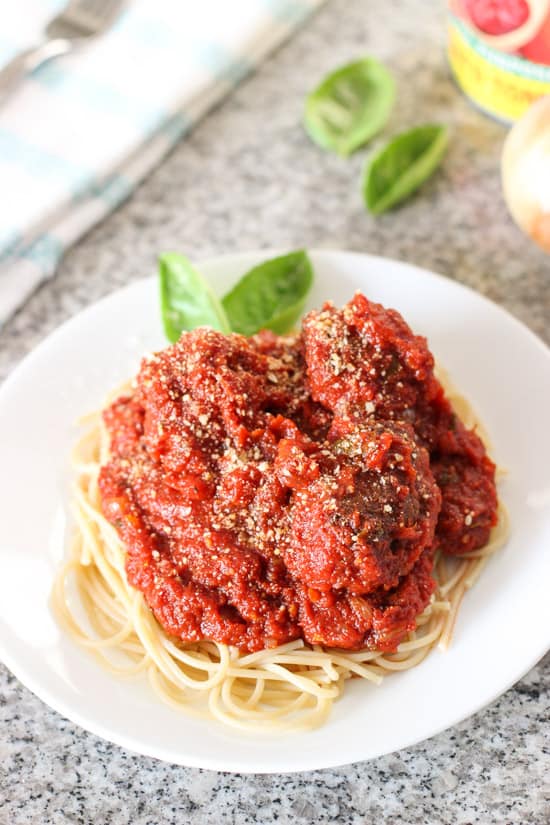 I'm the type who likes a little pasta with my sauce, so it should come as no surprise that in recent years I've been known to heat up a little bowl of leftover sauce for a late-night snack. Only sauce – no pasta. This marinara sauce is that good and my cravings for Italian food are so strong that usually any thoughts of a midnight bowl of ice cream or cookies are clouded out. It's so thick and hearty that you can even eat the sauce straight-up with a fork, which will work in a pinch if all your spoons are in the dishwasher and you need sauce nooow (that's happened so I know), but I suggest a spoon so you can enjoy eeevery little iota of this beauty.
Is it Sunday yet?
Hearty Marinara Sauce and Meatballs
Cook Time
3
hours
30
minutes
Ingredients
For the sauce:
3

tbsp

olive oil

2

large onions

chopped

4-5

cloves

garlic

minced

4 28-

oz

cans crushed tomatoes

2

tsp

dried oregano

2

tbsp

chopped fresh basil

may use 2-3 tsp dried
For the meatballs:
2

eggs

1/2

cup

Parmesan cheese

1/4

cup

Italian seasoned breadcrumbs

1/4

cup

chopped fresh parsley

dash of salt

dash of pepper

1

lb.

ground beef
Instructions
For the sauce:
In a large pot (at least 8 qt.) set over medium heat, add olive oil and let heat. Add onions and cook until soft and just starting to brown. Add garlic and cook for another 1-2 minutes. Add tomatoes, oregano, and basil and stir. Bring sauce to a simmer, and cover sauce pot (leaving lid open a crack) and let simmer while you prepare the meatballs.
For the meatballs:
Preheat oven to 350°F. In a bowl, stir together eggs, Parmesan, breadcrumbs, parsley, salt and pepper. Add beef and stir until all ingredients are well-mixed. Form meatballs about 1 1/2 - 2" wide from the mixture. Place meatballs on a baking sheet and cook for 40 minutes.

Remove meatballs from oven and add to the sauce. Let sauce simmer on a low setting for an additional 2-3 hours, keeping the lid cracked. Stir sauce occasionally to ensure the very bottom doesn't burn.

To serve, spoon sauce and meatballs over pasta and garnish with Parmesan cheese, fresh basil, etc.
Notes
One of our favorite additions to this sauce is to add 5-6 sweet Italian sausages to the baking sheet with the meatballs, cook for 40 minutes, and add sausage to the sauce to simmer along with the meatballs.
Recipe can easily be halved.
Source: My Mom. 🙂
Nutritional information is provided as an estimate. As it can vary due to many factors (brands used, quantities, etc.), we cannot guarantee its accuracy.