Sunday sauce is a thick and hearty homemade marinara sauce loaded with meatballs and sausage. Simple ingredients cook slowly and transform into an ultra flavorful main dish your family will crave. It's a perfect meal to serve a crowd!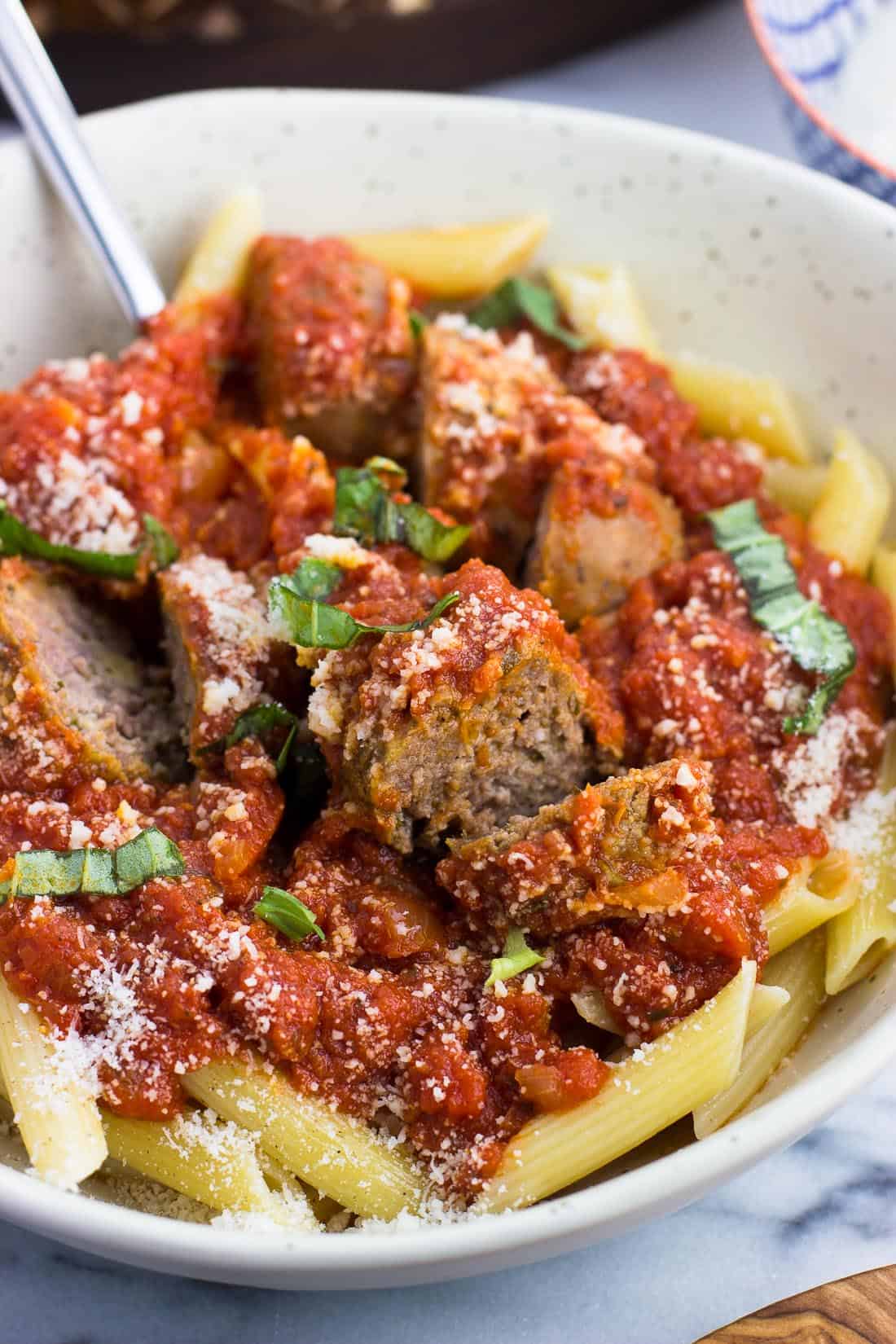 Most days I have a strong feeling that this sauce is what's running through my veins.
Do you have a meal from your childhood that embodies all things love, tradition, and family? Sunday sauce is that dish for me.
On Sundays I'd hang around the house attempting to do my homework, inhaling the smell of this sauce simmering away on the stove top all afternoon. Eventually my homework would be done and I'd celebrate by eating my weight in sauce, meatballs, sausage, pasta, cheese, crusty bread…you know, Italian food's heavy hitters.
We affectionately call our sauce 'Sunday sauce' because it takes several hours to make. This is not a very weeknight-friendly recipe. It's the perfect type of recipe for those days you're hanging around the house and can keep a periodic eye on the pot bubbling away on the stove.
The good news is that while this sauce takes time to make, the active time is pretty minimal.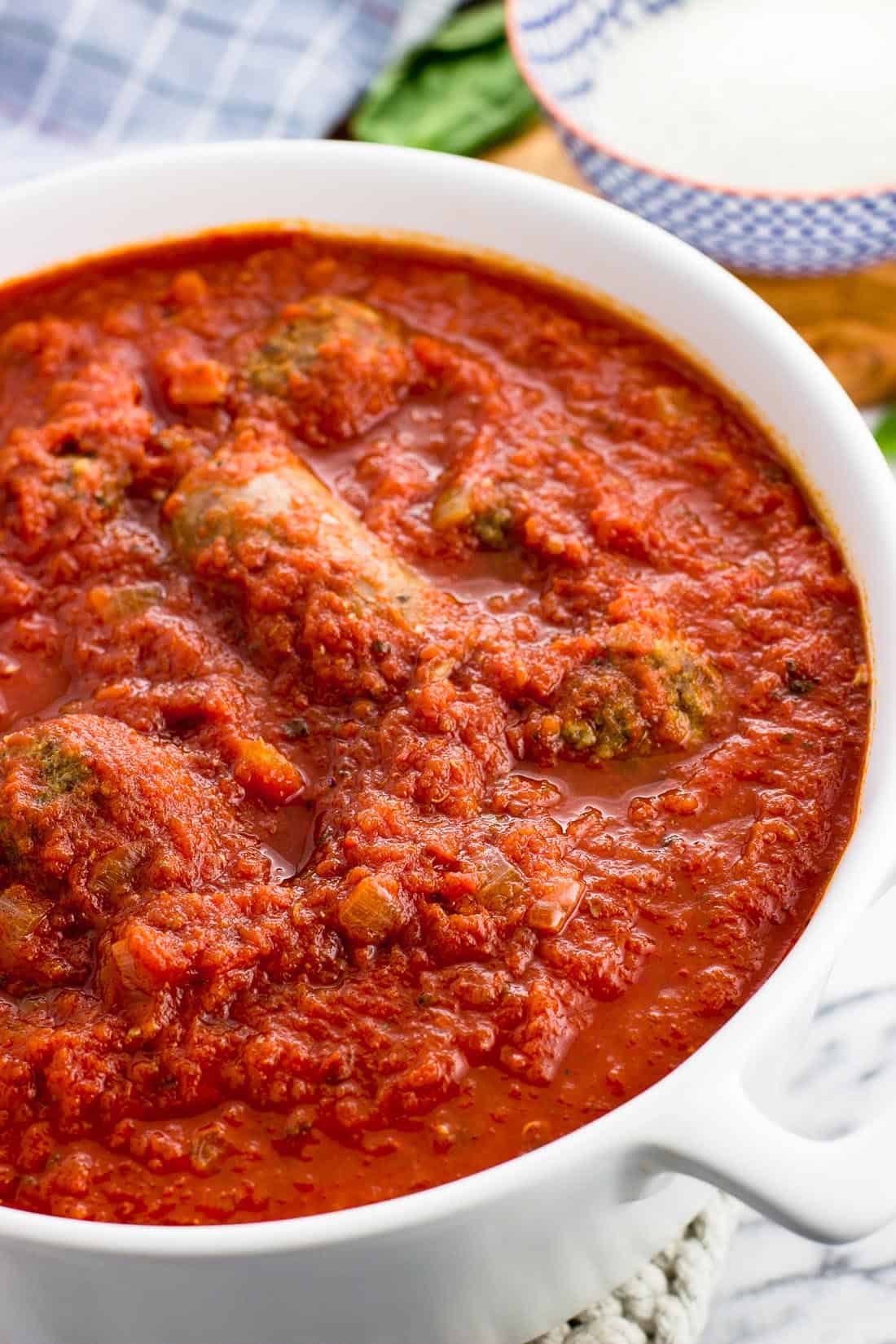 Sunday sauce ingredients
There are three main components to Sunday sauce: meatballs, sausage, and the hearty marinara sauce.
The sauce consists of very basic ingredients, but pure magic happens as it simmers on the stove over the course of an afternoon. It simmers, thickens, and develops such a deep, rich flavor. Definitely a 'whole greater than the sum of its parts' situation, you know?
For the sauce you'll need:
crushed tomatoes
olive oil
onions
garlic cloves
dried oregano
fresh basil
Technically that's all you need for a delicious pot of sauce, but I like to add meatballs and sausage to round out a full meal. All you need is to boil up a pot of pasta, make a salad, and you have enough food to serve a large (ten or so) crowd.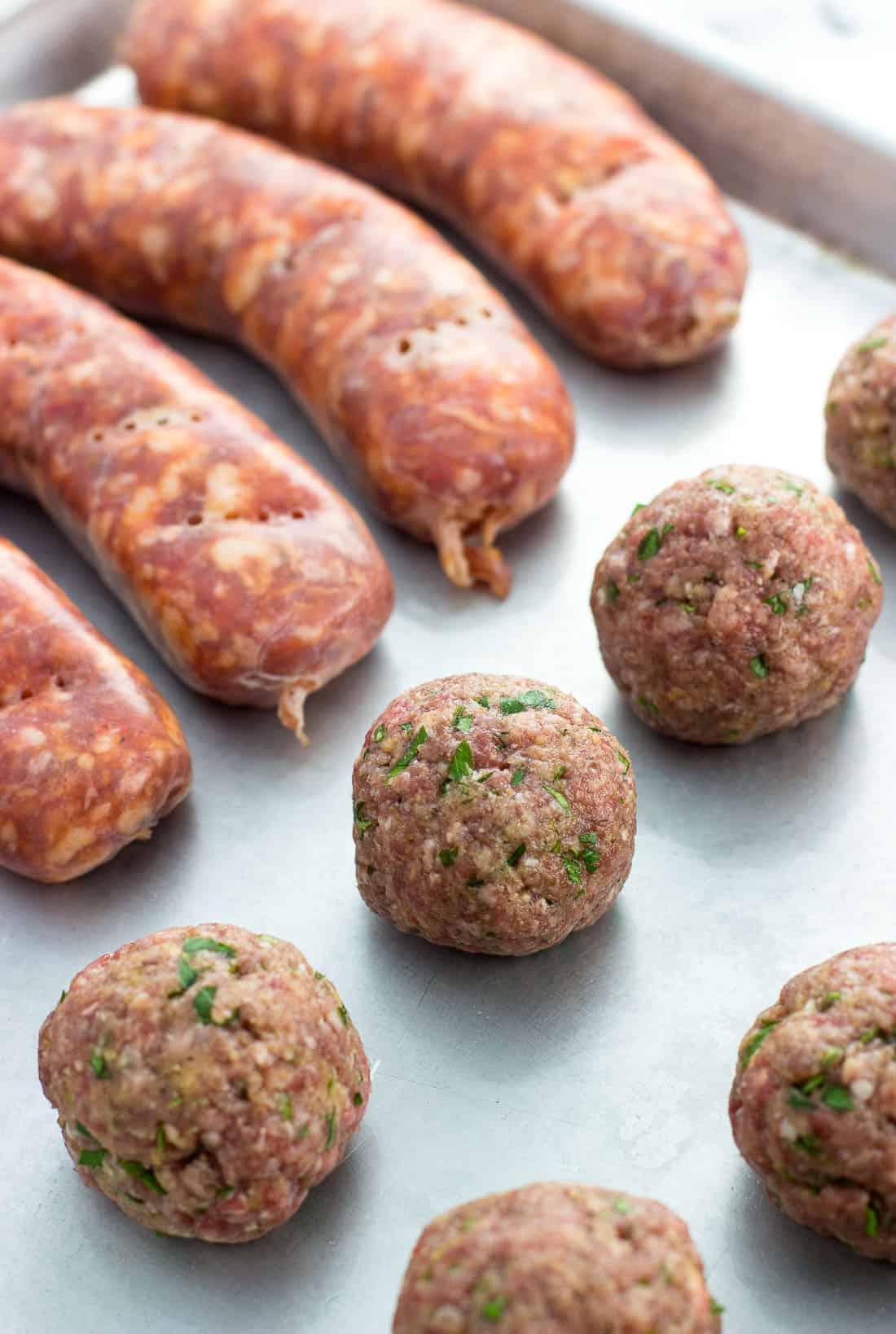 Step-by-step instructions
What I like to do is start by getting the sauce going before I move on to cooking the meat.
The first step is to sauté the onions, then add garlic. Stir that up with the crushed tomatoes, oregano, and basil and let everything simmer. Simple ingredients, simple steps.
Once that begins to simmer, it's time for the meat.
Now everyone has different preferences when it comes to meatballs, but I always bake them. It's easier, it's healthier, and there's no questions about when they'll be cooked through.
Psst - while I always go for beef here, these Italian baked turkey meatballs are a reader (and family) favorite!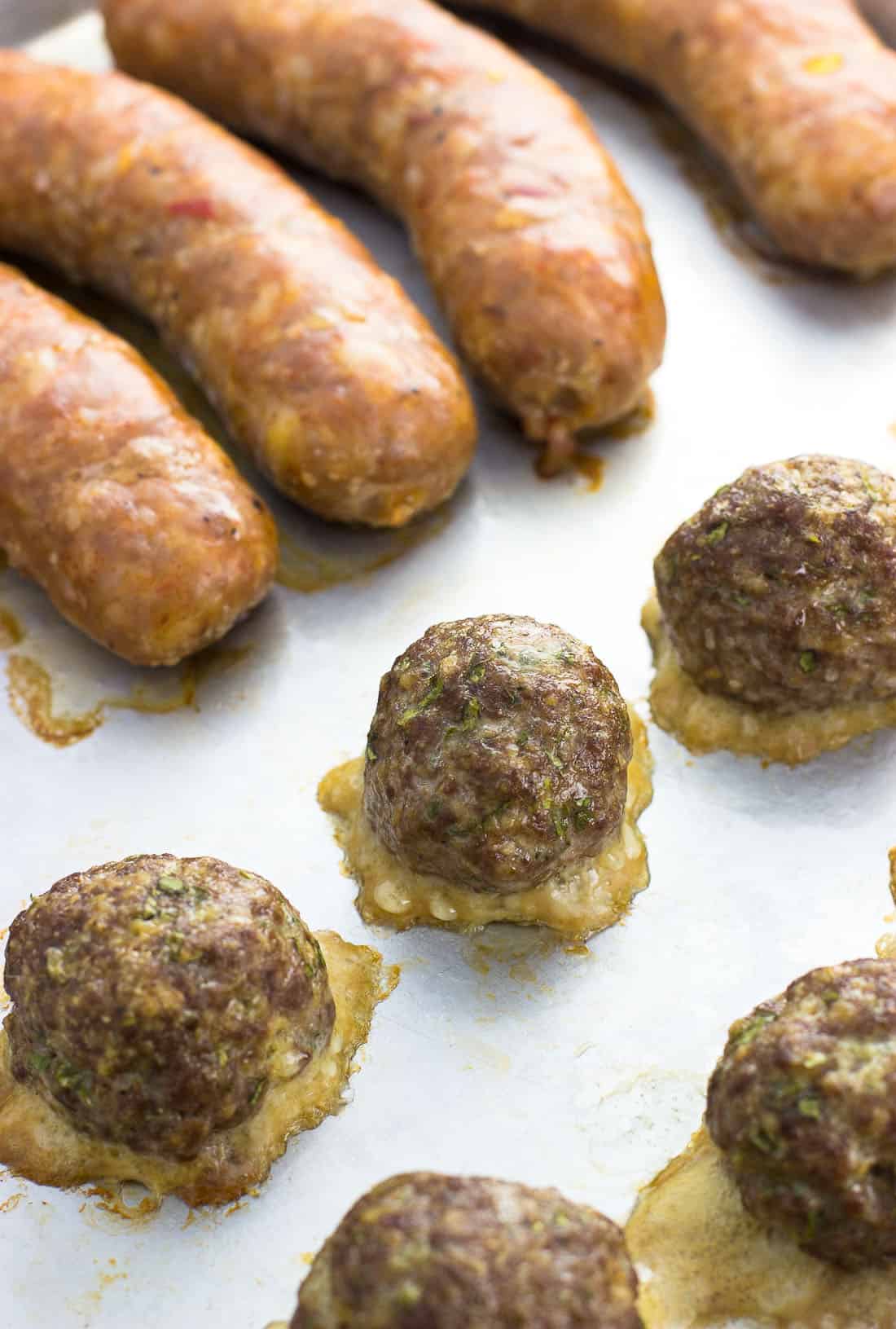 My meatball mixture consists of ground beef, Parmesan cheese, eggs, breadcrumbs, parsley, salt, and pepper, and you'll want to mix everything together until just combined. I like to get in there with my hands for this part to ensure things don't get overmixed.
You can stop there and have an amazing meal of pasta, meatballs, and sauce, OR you can do what I do and add some sausage to the mix.
To do so, arrange one pack of Italian sausages (mild, hot, sweet...whatever your preference) on a large rimmed baking sheet along with the meatballs. Cook for forty minutes, then add the meatballs and sausage to the pot of simmering sauce.
Let the sauce simmer for another hour or two, stirring everything up now and then, and you're all set. Lots of hands-off time here.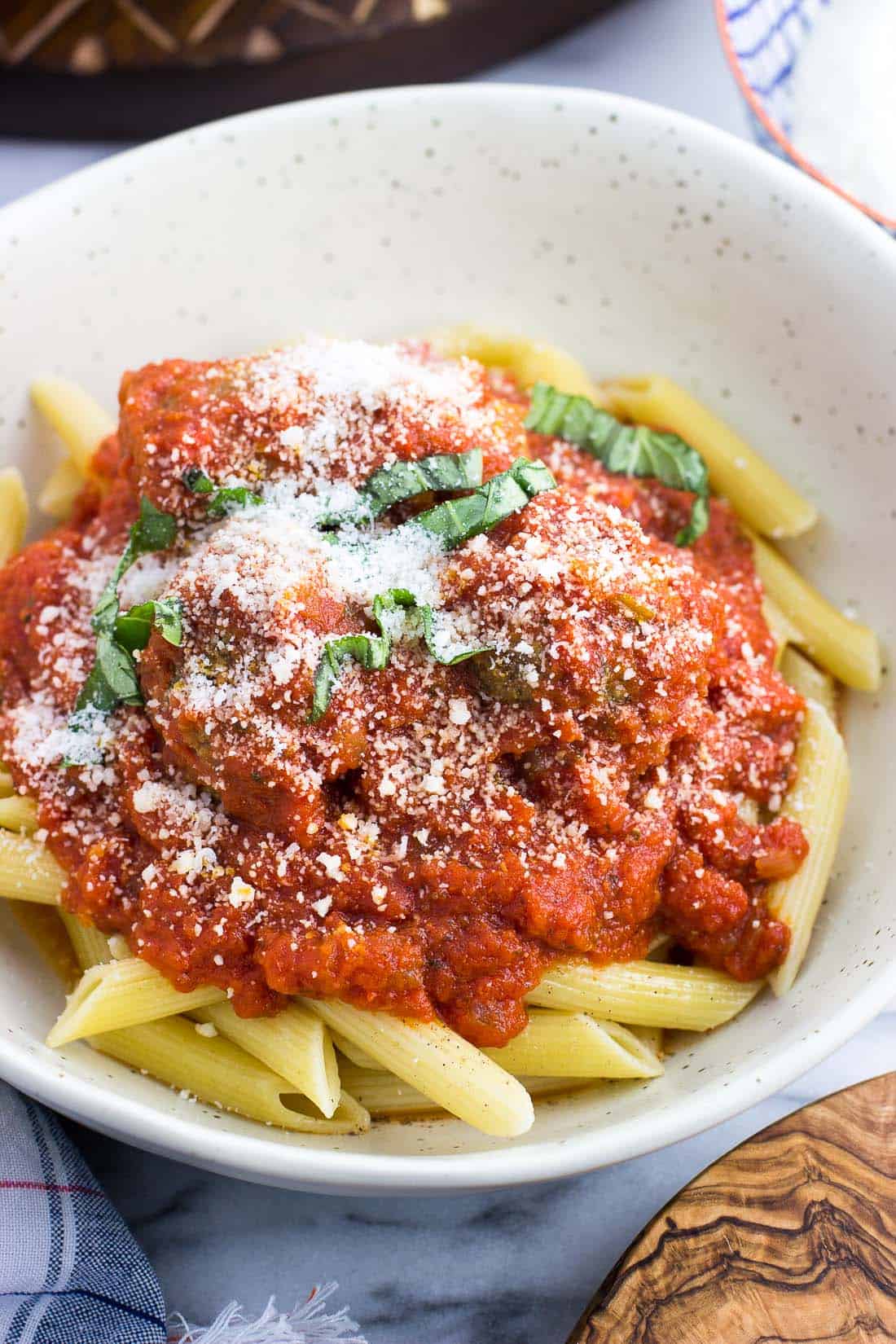 What makes this sauce magic?
Answer: time.
While the sauce will be fairly thin at the start, over the next two to three hours it'll thicken into a wonderfully hearty marinara sauce that blows away anything you can find in a jar.
You'll want to use a very large pot so it doesn't splatter all over your cook top, and/or place a large lid or splatter screen over top.
If you're using a lid, leave it open a crack so the steam can escape. Trapping too much steam in there slows down the thickening which is essential to this sauce. One time I used my splatter screen instead of a lid and found it didn't let enough steam filter through. Just FYI.
And that's that! Stir it up every now and then to ensure the sauce along the bottom of the pot doesn't burn, then serve over your favorite pasta once it has thickened to your liking.
Spaghetti is an obvious choice, but we love tube pastas all the same. Most any shape would do, just probably not something small like elbows, orzo, pastina, etc.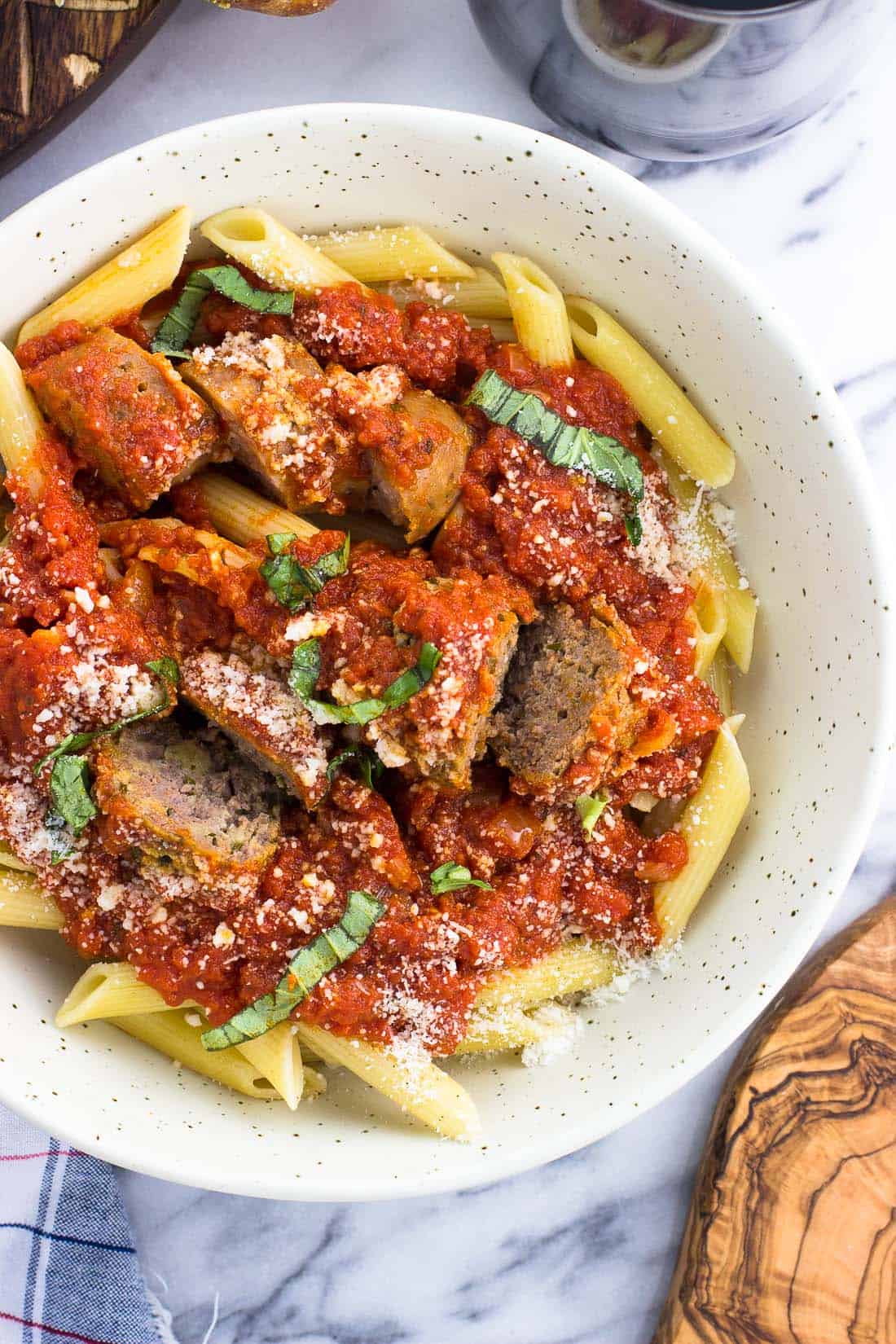 There are many, many other sauce recipes on the Internet. They run the gamut from using plenty of extra ingredients like bay leaves, wine, or fancier cuts of meat to those that cook literally all day.
Some would even say it was blasphemous that this was called 'sauce' at all. <-- we're a 'sauce' family in the sauce vs. gravy standoff, if you couldn't tell. 😉
But while I'm absolutely biased, I love that this particular Sunday sauce recipe keeps things really as simple as they can be. It has easily accessible ingredients and a method that doesn't require a lot of hands-on time or tricky steps. And it's total comfort food, to boot.
Recipe notes
Cover the pot of sauce with a lid left open a crack as it simmers to cut down on splatter drops hitting your stove top. Be sure enough steam can escape, as that helps this Sunday sauce thicken beautifully.
I like to cut each Italian sausage in half after they've been cooked and before adding them to the pot of sauce. I find that's easier when serving a crowd, as it's less daunting if people want to eat both meatballs and sausage.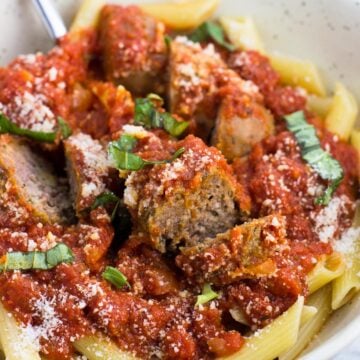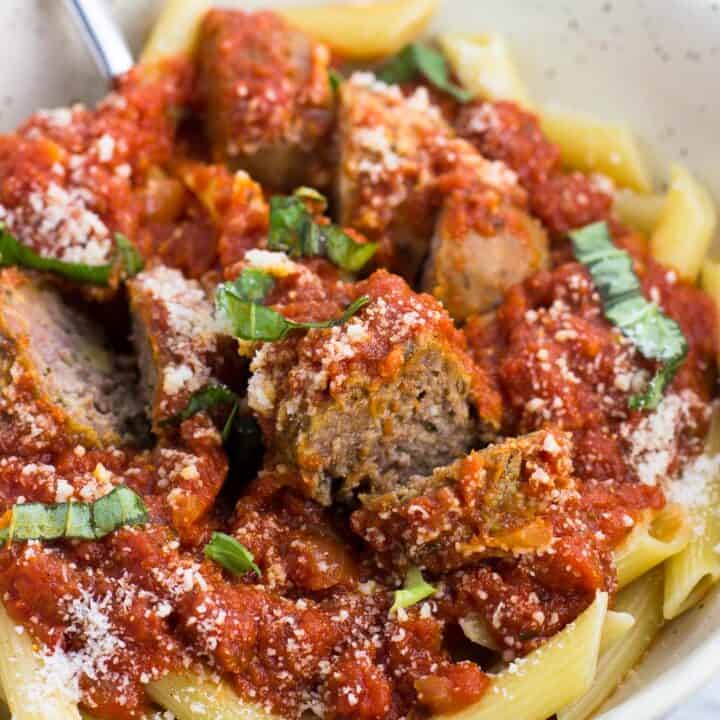 Sunday Sauce with Meatballs and Sausage
Sunday sauce is a thick and hearty homemade marinara sauce loaded with meatballs and sausage. Simple ingredients cook slowly and transform into an ultra flavorful main dish your family will crave. It's a perfect meal to serve a crowd!
Print
Pin
Rate
Ingredients
For the sauce:
3

tablespoon

olive oil

2

large onions,

diced

4-5

cloves

garlic,

minced or pressed

4

28-oz cans

crushed tomatoes

2

teaspoon

dried oregano

2

tablespoon

chopped fresh basil

(or 2-3 teaspoon dried)
For the meatballs:
2

eggs

½

cup

grated Parmesan cheese

¼

cup

Italian seasoned breadcrumbs

¼

cup

chopped fresh parsley

Salt,

to taste

Ground black pepper,

to taste

1

lb

ground beef
For the sausage:
1

lb

Italian sausage links

(hot, mild, or sweet)
Instructions
For the sauce:
In a large pot (at least 8 qt.) set over medium heat, add olive oil and let heat. Add onions and cook until soft and golden, just starting to brown. Add garlic and cook for another 1-2 minutes.

Add crushed tomatoes, oregano, and stir. Bring sauce to a simmer, and cover sauce pot (leaving lid open a crack for the steam to escape) and let simmer while you prepare the meatballs and sausage.
For the meatballs and sausage:
Preheat oven to 350°F. In a bowl, mix together eggs, grated Parmesan, breadcrumbs, parsley, salt and pepper with a spoon or with your hands. Add ground beef and mix until evenly combined.

Form meatballs about 1 ½ - 2" wide from the mixture. Using a cookie scoop helps make this part easier and less messy. Place meatballs evenly spaced on a large rimmed baking sheet and cook for 40 minutes.

If also cooking sausage, arrange sausage links around the meatballs on the baking sheet.

Cook meatballs and sausage for 40 minutes, then remove sheet from the oven. Lift meatballs off the sheet with tongs and add to the simmering sauce. If desired, cut each sausage in half before adding to the pot of sauce.

Continue to let the sauce simmer on a low setting for an additional 2-3 hours, keeping the lid cracked, or until thickened to your liking. Stir sauce occasionally to ensure the very bottom doesn't burn. Add basil to the sauce at the end of the cook time.

Serve meatballs, sausage, and sauce over your preferred pasta. Garnish with grated Parmesan cheese, more fresh basil, etc. Leftover portions of sauce/meatballs/sausage freeze very well!
Notes
This recipe makes a lot of sauce. It can pretty easily be halved, but excess portions freeze very well.
If you can find crushed tomatoes with basil - even better! Basil is still added to the sauce but an extra oomph of Italian flavor never hurts.
Nutrition
Nutritional information is provided as an estimate. As it can vary due to many factors (brands used, quantities, etc.), we cannot guarantee its accuracy.
Food Safety and Nutrition Disclaimer