Slow cooker pork tenderloin features a flavorful balsamic mushroom sauce for an easy dish that tastes fancier than its ingredients might suggest. This is a family favorite!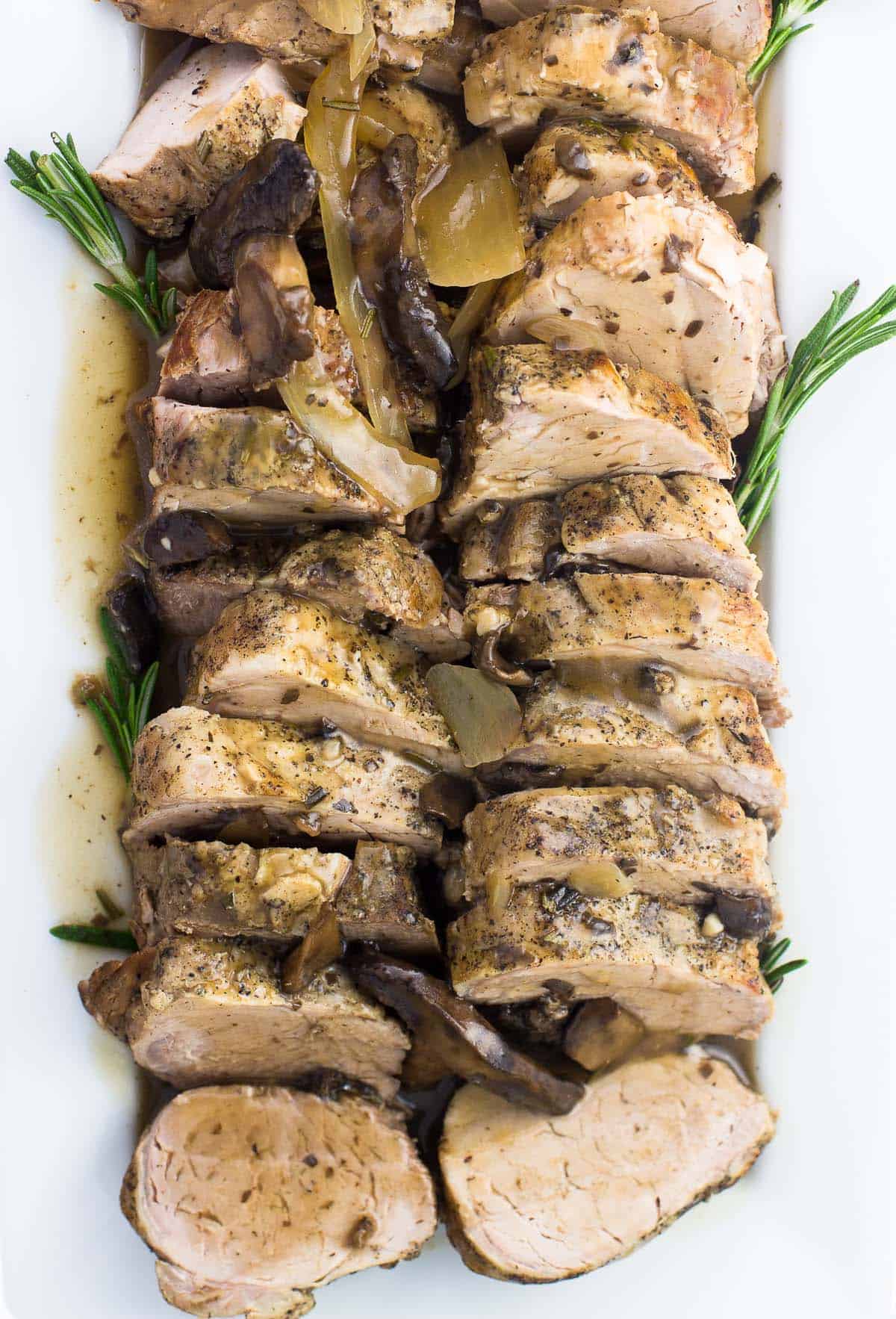 Awhile back I got it in my head that I wanted to make pork tenderloin in the Instant Pot. But after trying multiple combinations of tenderloin weight, sear time, and pressure cook time, I just couldn't nail it.
The pork rarely came out right. It either ended up overcooked, which is edible but blah, or undercooked, adding quite a bit of time to the recipe once you factor in having to bring the Instant Pot back up to pressure.
Just not great either way.
So while the IP is king in my house to seriously speed up long-cooking favorites (like Instant Pot collard greens and Instant Pot turkey chili), I reverted back to my trusty slow cooker when it comes to pork tenderloin.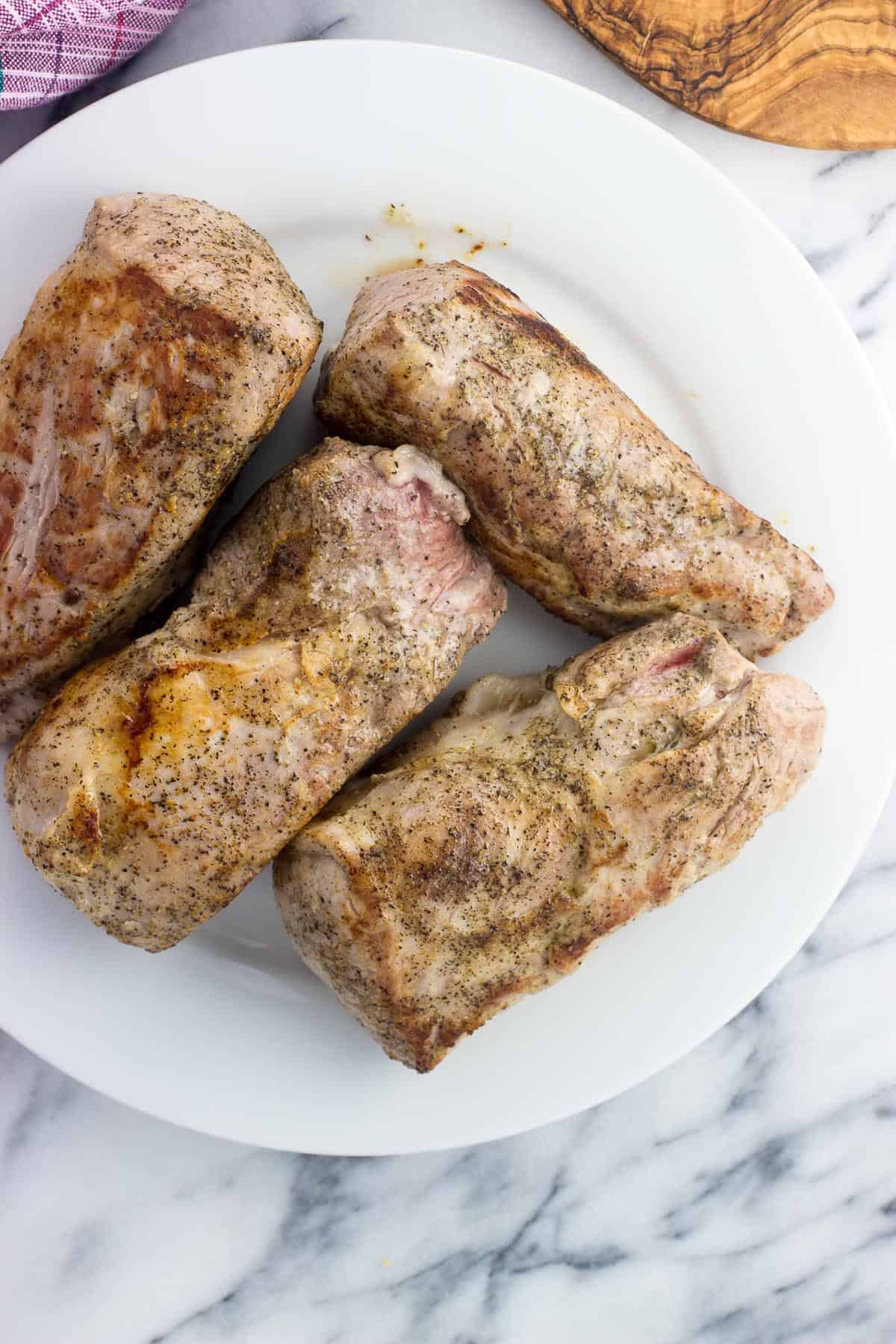 While there's an extra skillet AND pan (the horror) to wash from having to sear the pork on the stovetop and thicken the sauce at the end, the low-stress method and ability to check the temperature at will make it all worth it.
This juicy pork with balsamic mushroom sauce is SO GOOD. Long-time blog readers may recognize this pork + sauce combo from my balsamic pork chops skillet recipe, and here it is adapted a bit for the slow cooker.
Fresh rosemary adds a perfect complementary flavor to the (slight) bite from the balsamic. I consider it one of those dishes where the end result tastes fancier than the sum of its parts.
And who doesn't love that?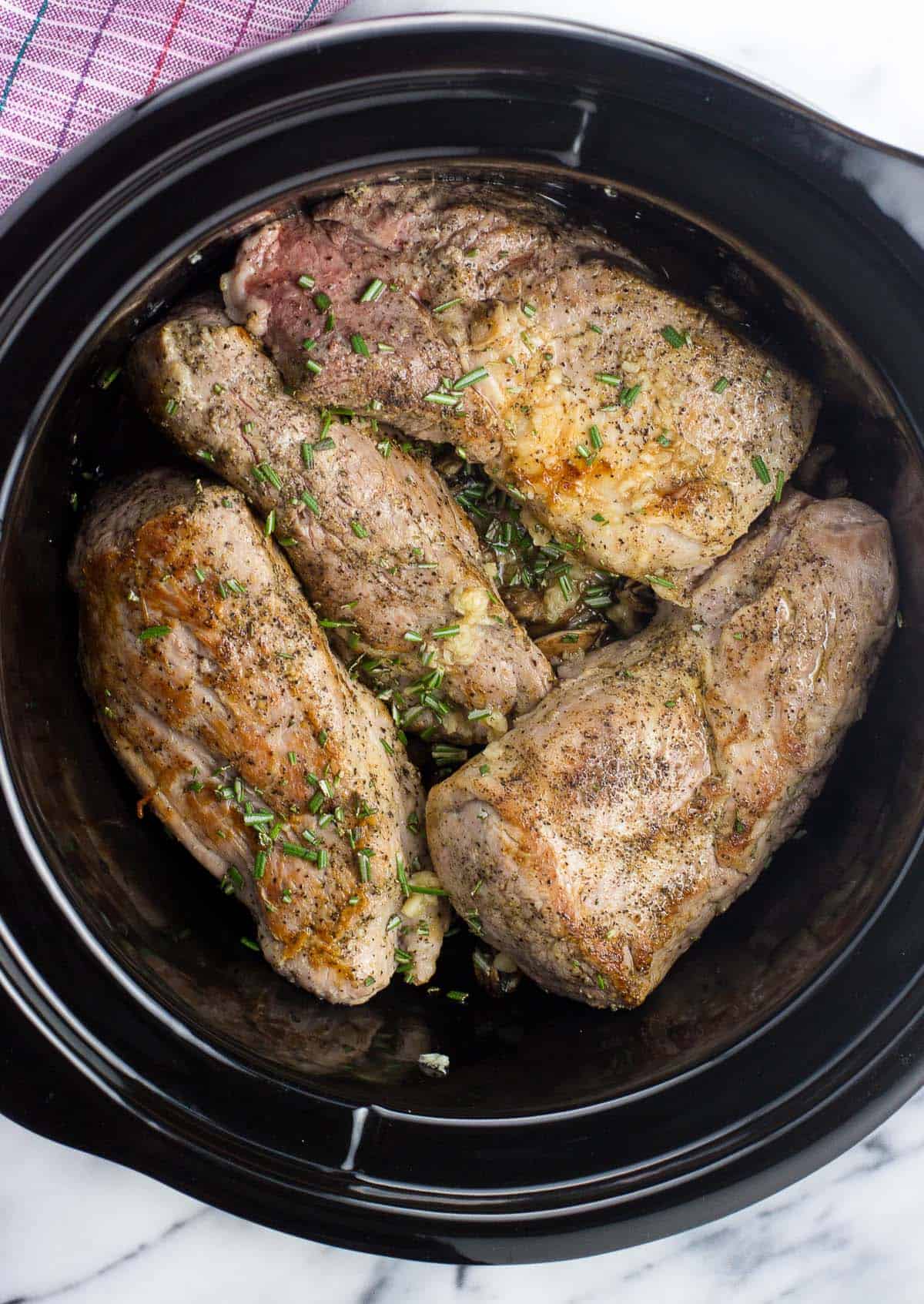 Pork Tenderloin vs. Pork Loin
Let's start with an important pork distinction. This recipe uses pork tenderloin, not pork loin. Pork tenderloin is a long, thin, and boneless cut of pork, while pork loin is larger and may be bone-in.
While I'm sure you could cook pork loin just fine in the crock pot, the recipe times listed here are for the much narrow pork tenderloin. I'm not sure what adjustments would need to be made for a pork loin.
In my experience, a package of pork tenderloin usually contains two separate pieces in the vacuum-sealed wrapping. It may be hard to tell there are two pieces in there as they're smushed together. They're usually just around one pound each, leading to a total weight of around two pounds (or a little more).
You'll want to sear the pork tenderloin before cooking it in the slow cooker. Don't be afraid to cut each tenderloin piece in half before searing in order for them to fit in your slow cooker. I have a round, 4.5-quart capacity crock pot and needed to do this in order for them to fit.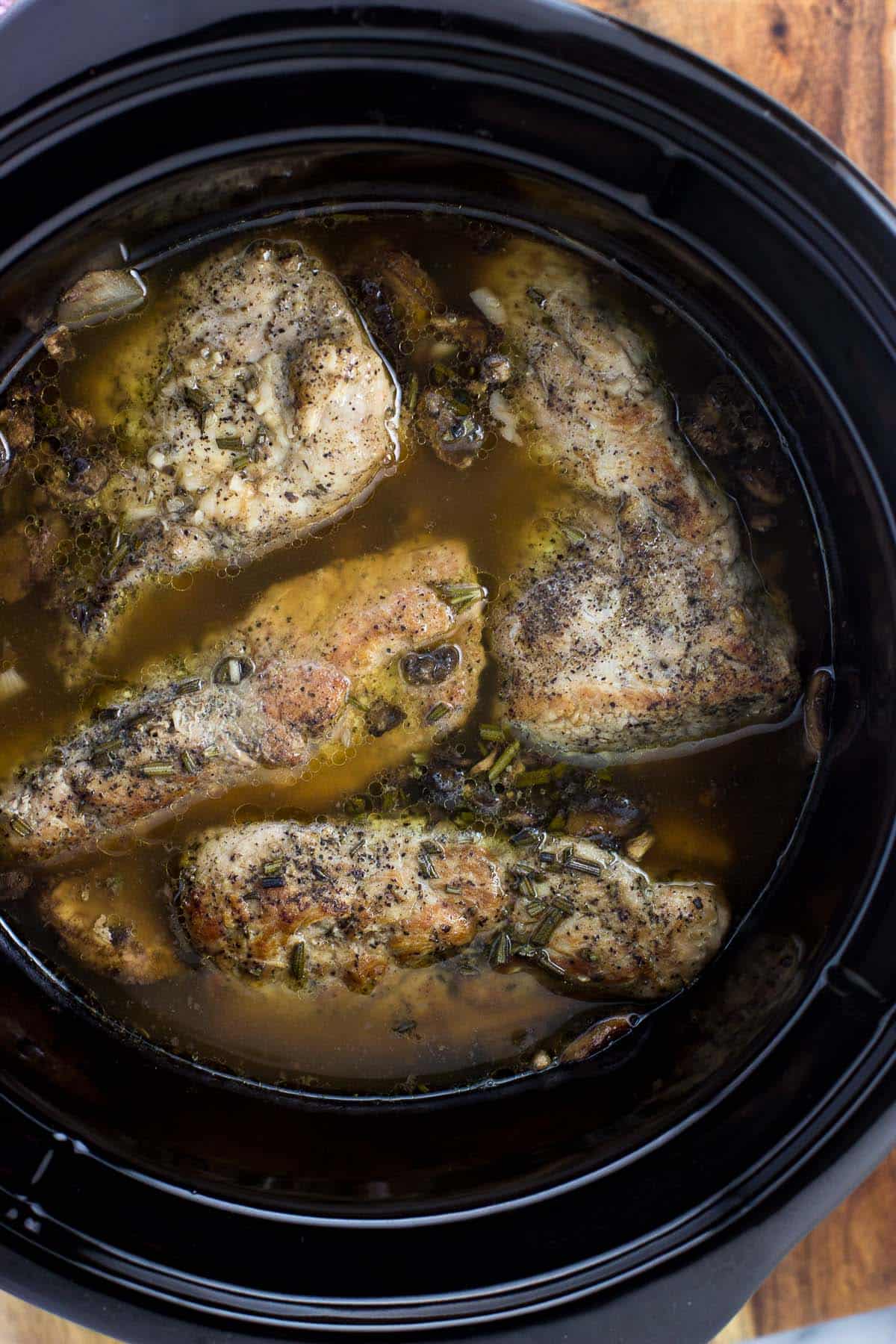 Slow Cooker Steps
Once the pork tenderloins have been rubbed with salt and pepper and seared for a few minutes on all sides (until golden-brown), it's time to start loading up the slow cooker.
First, in go sliced onion and mushrooms. I'm partial to the sliced baby bella variety, but whatever type of sliced mushroom is fine. Then arrange the seared pork tenderloin pieces over top.
Then comes the remainder of the sauce ingredients: chicken broth, balsamic vinegar, pressed garlic, and fresh rosemary. YUM. Balsamic vinegar and rosemary are wonderful flavors to pair together.
And that's the all the work...for now. Cover and cook on low for 6-8 hours, or high for 3-4. All slow cookers have quirks and may cook differently (hence the ranges), so the real metric you want to look for is the center of the thickest part of a pork tenderloin reaching 145°F.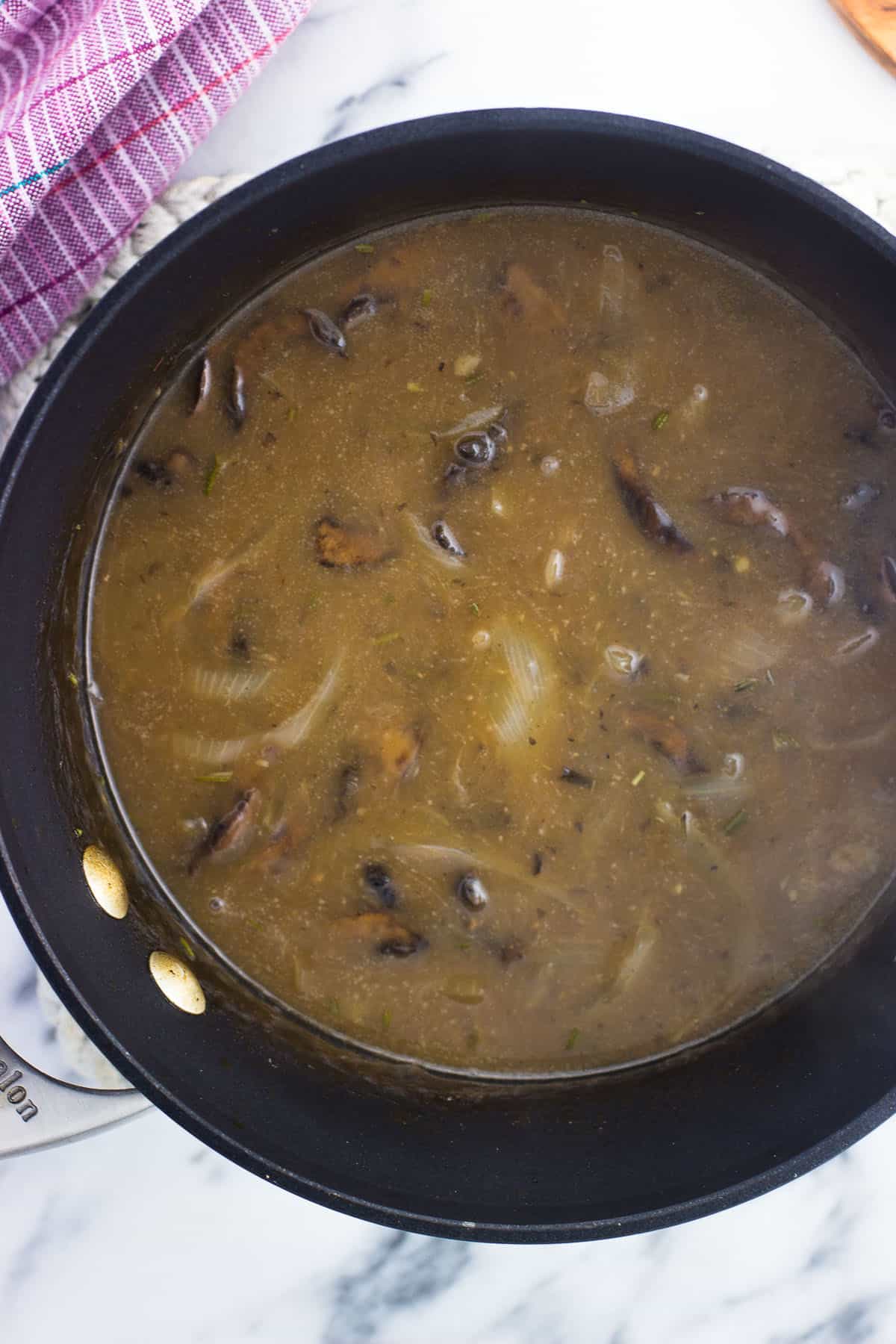 Once the pork has finished cooking, set it aside to rest and cover it (to retain the heat). It's time to finish up the sauce.
Carefully pour the contents of the slow cooker (minus the pork) into a medium saucepan and set it on the stove over medium heat. Whisk in a cornstarch slurry, one tablespoon of butter, more balsamic vinegar, and more fresh rosemary and cook until the sauce has thickened to your liking.
Slice the pork and pour the now-thickened sauce over top for serving. Delicious.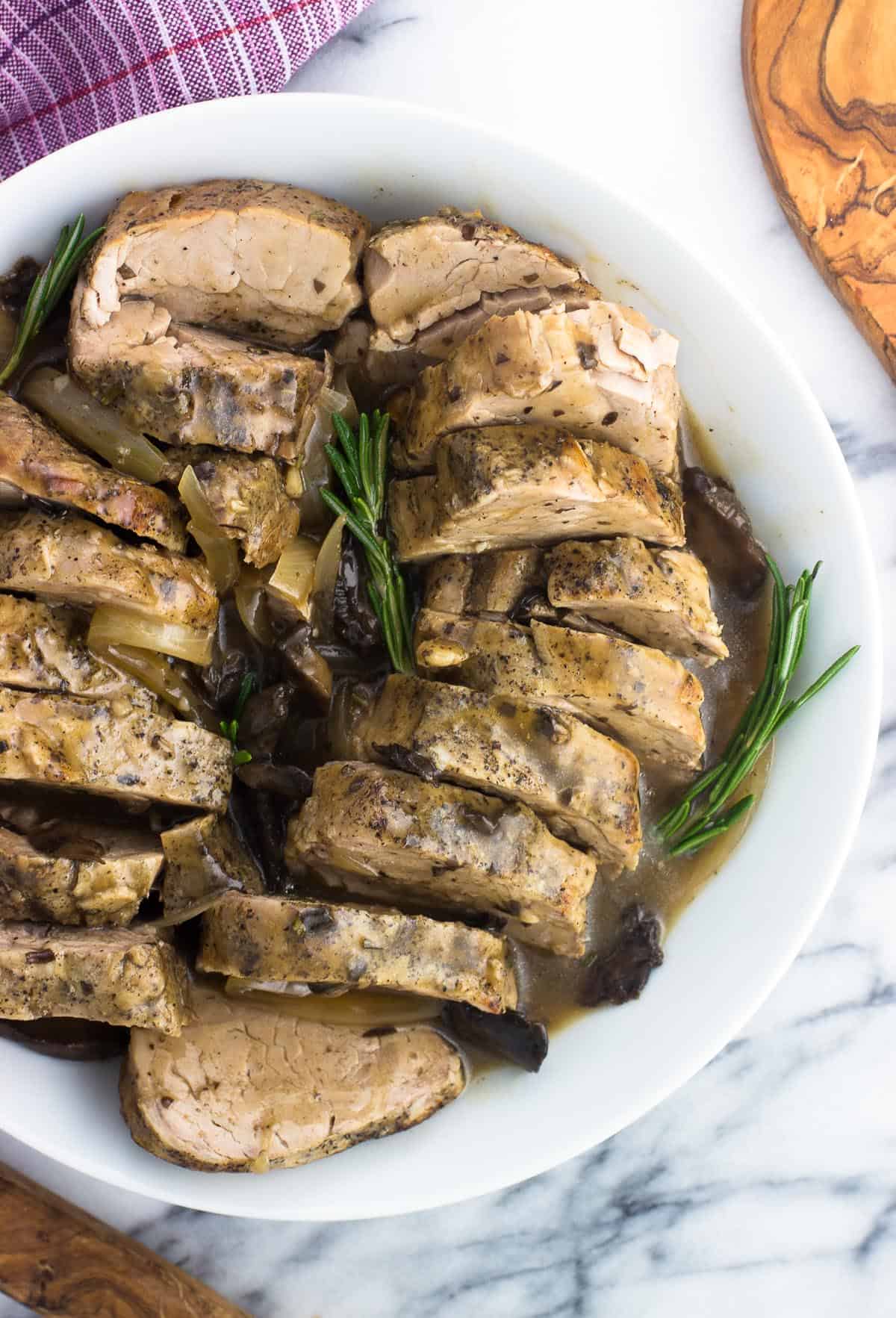 This balsamic rosemary sauce, in my opinion, tastes fancier than the ingredients might suggest. The extra tablespoon of butter in the sauce adds a touch of richness that really drives that point home.
I like to let the sauce shine when serving this slow cooker pork tenderloin so I keep the side dishes simple. A mixed green salad and/or an air fryer baked potato mesh well with these flavors. Just something simple.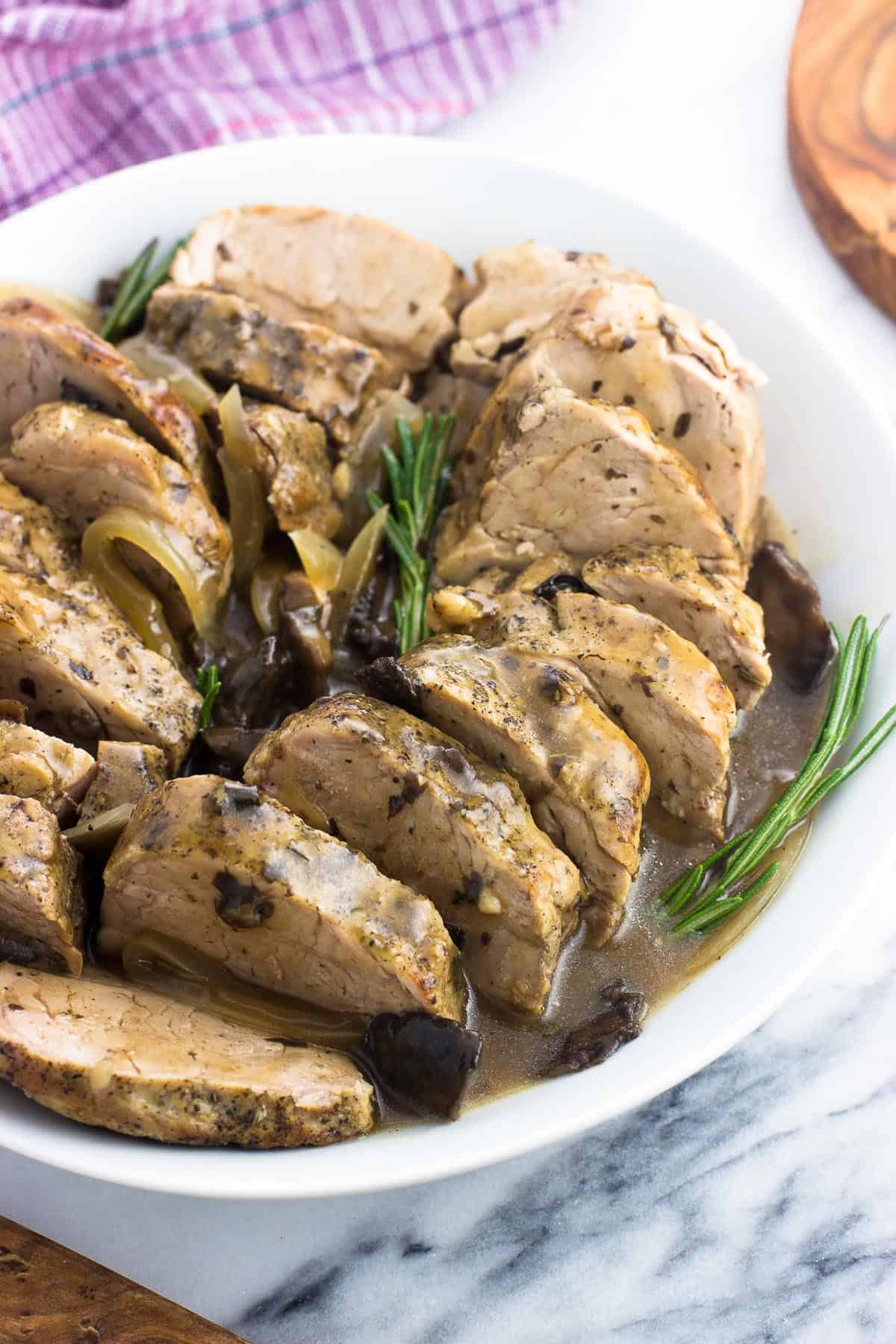 Recipe Notes
I use a cornstarch slurry to thicken the sauce here, but you may use your preferred way to thicken sauces if you'd rather (like flour, arrowroot, etc.)
Related Recipes
If you've enjoyed this recipe, I'd love for you to leave a star rating in the recipe card and/or a comment review below!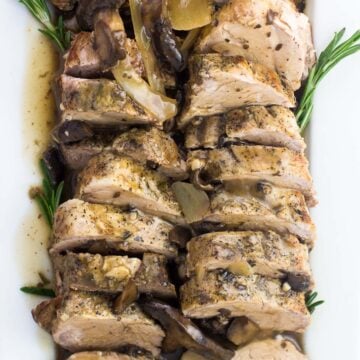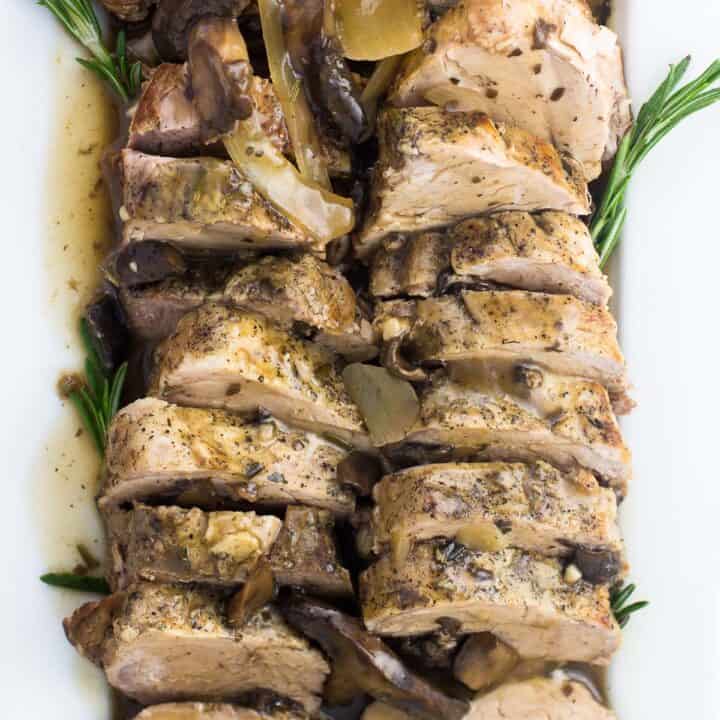 Slow Cooker Pork Tenderloin with Balsamic Mushroom Sauce
Slow cooker pork tenderloin features a flavorful balsamic mushroom sauce for an easy dish that tastes fancier than its ingredients might suggest.
Print
Pin
Rate
Ingredients
1 ½

teaspoon

kosher salt

1 ½

teaspoon

ground black pepper

1

tablespoon

olive oil

2

pork tenderloins

(around 2.25 lbs in total)

1

small

onion,

thinly sliced

8

oz

sliced mushrooms

(I like baby bella)

2

cups

reduced-sodium chicken broth

2

tbsp plus 1 tsp

balsamic vinegar,

divided

4

cloves

garlic,

minced or pressed

1 ½

teaspoon

finely diced fresh rosemary,

divided

2 ½

tablespoon

cornstarch

1

tablespoon

unsalted butter

Salt and pepper,

to taste
Instructions
Combine 1 ½ teaspoon kosher salt and 1 ½ teaspoon ground black pepper in a small bowl. Rub all sides of the pork tenderloins with the salt and pepper mixture.

Add 1 tablespoon of olive oil to a large skillet set over medium-high heat. Once heated, sear all sides of the pork tenderloins until golden brown, around 3 minutes per side. Once browned, set tenderloins aside.

To the insert of a slow cooker, add sliced onion and mushrooms. Place seared pork tenderloins on top of the onions and mushrooms.

Add chicken broth, 2 tablespoon of the balsamic vinegar, garlic, and 1 teaspoon finely diced rosemary to the slow cooker. Cover and cook on low heat for 6-8 hours OR high heat for 3-4 hours, or until the center of the thickest part of pork reaches 145°F.

Once the pork is fully cooked, remove it to a plate to rest and cover with foil to retain the heat. Carefully pour the cooking liquid (mushrooms and all) into a medium skillet and set on the stovetop over medium heat.

Whisk together cornstarch with an equal amount of cold water until dissolved. Whisk the cornstarch slurry into the sauce until combined. Add butter, remaining 1 teaspoon of balsamic vinegar and ½ teaspoon finely diced rosemary and whisk until melted and all mixed in. Let the sauce simmer until it has thickened to your liking. Season with additional salt and/or pepper, if desired.

Slice pork and serve with mushroom sauce. Refrigerated leftovers should stay for 3-4 days.
Notes
A range of slow cook times is given to account for variances in pork tenderloin weights and the quirks of your particular slow cooker. An instant-read thermometer is the most precise way to know when your pork is done. Look for the center of the thickest part to reach 145°F.
Nutrition
Nutritional information is provided as an estimate. As it can vary due to many factors (brands used, quantities, etc.), we cannot guarantee its accuracy.
Food Safety and Nutrition Disclaimer