Creamy celery soup is a healthy soup option that uses up one whole bunch of celery. It's easy to make and tastes fancier than the sum of its parts!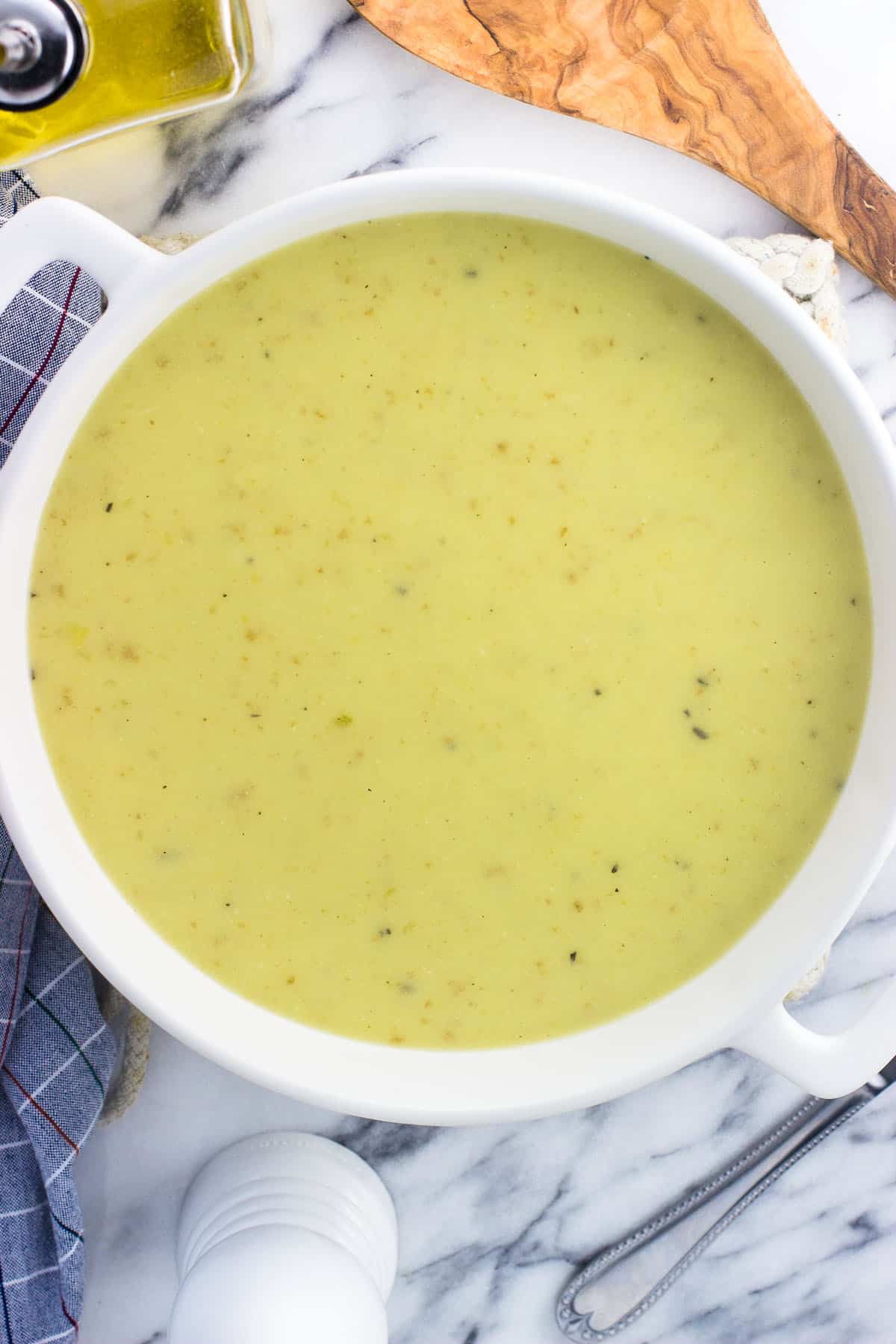 This spring I've been doing an every-two-weeks produce delivery service that sends an assortment of imperfect but wholly edible organic fruits and vegetables.
I love it! It feels like a mini Christmas morning when I get to see what goodies are in the box. Three deliveries in a row now I've received a bunch of celery. Since we're not huge ants on a log eaters and most of our soup repertoire (like Italian sausage soup – yum) only uses a rib or two, we've developed a backlog of celery.
What to make? There's only one thing I could think of that would use up a lot at once – celery soup. Normally you think of cream of celery soup, but since my version doesn't use cream, it didn't seem right.
This healthy pureed soup is thick and creamy and uses up one whole bunch of celery!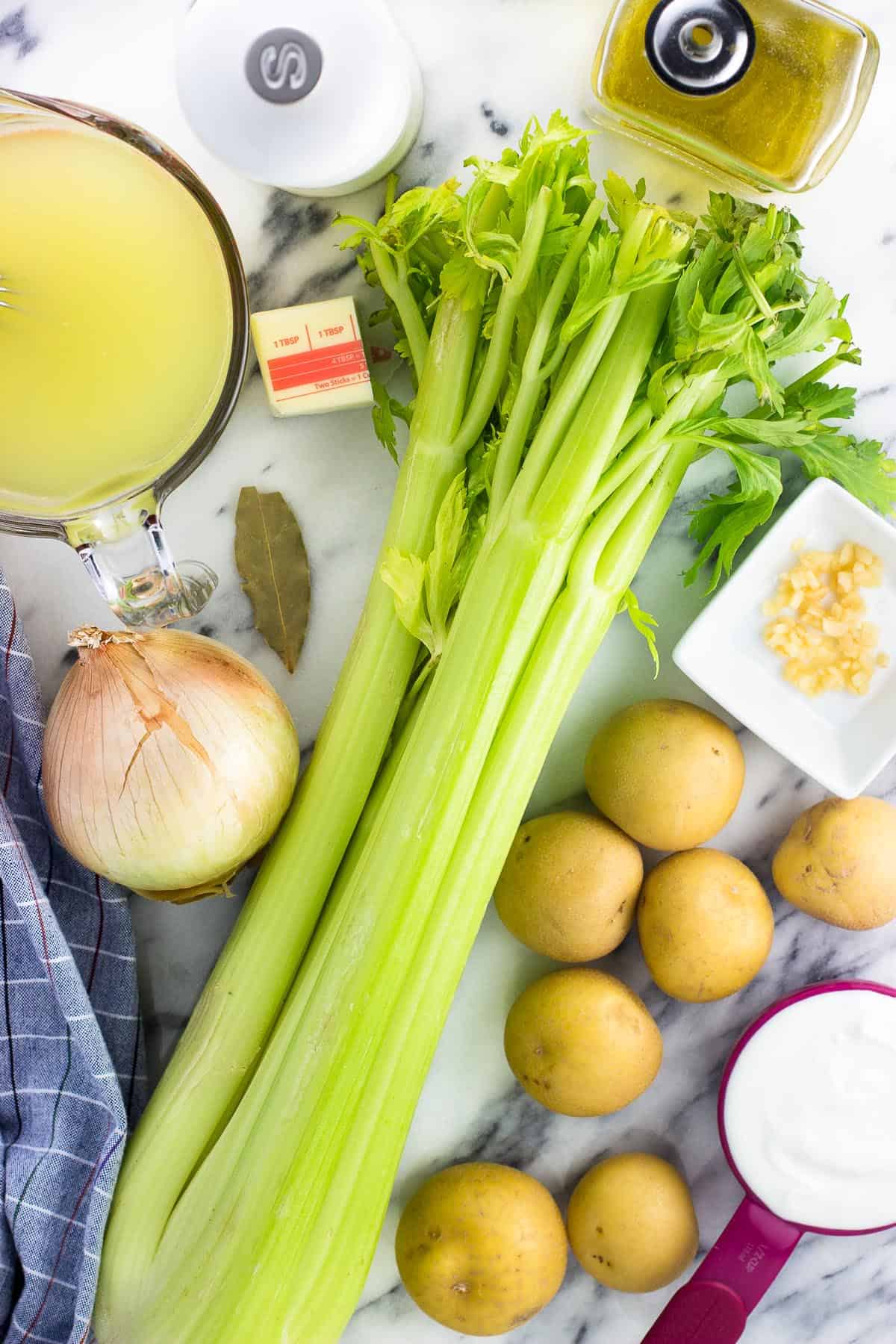 Soup ingredients and method
Celery is the star of the show here. One whole bunch gets chopped up and sauteed with an onion, yellow potatoes, and garlic. I've always considered celery a pretty basic vegetable, but preparing it this way and with these ingredients really make it taste fancier than you might think possible.
Once those are golden, pour in a little of the broth and deglaze by scraping up the browned bits from the bottom of the pot and working them into the vegetables. That helps boost the flavor of the soup.
Add the rest of the broth, some water, and a bay leaf and let everything come to a boil and then simmer for twenty minutes or so, or until the potatoes have softened.
Next, remove the bay leaf and reserve a ladle or two of the broth liquid in a small bowl.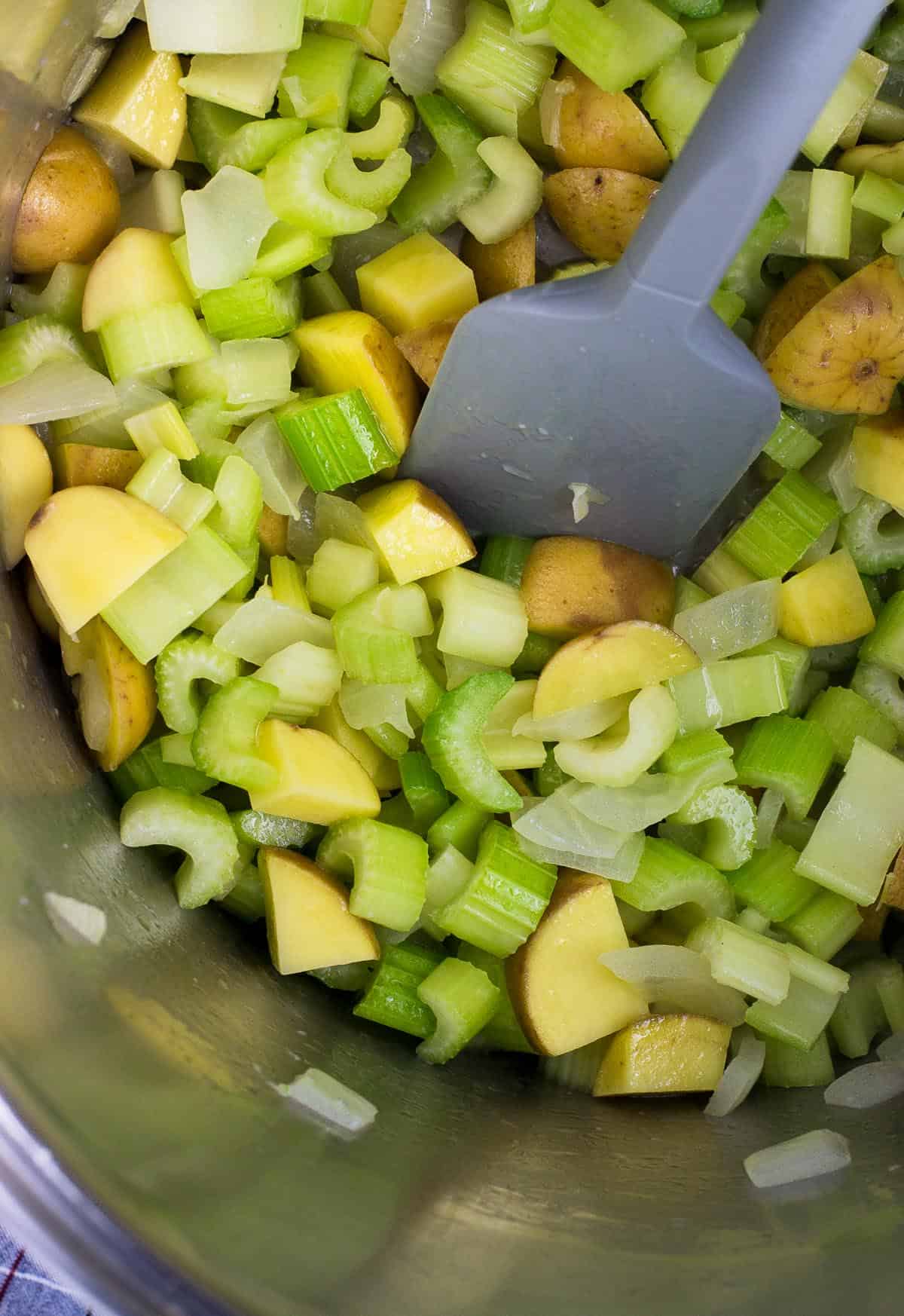 It's time to blend!
An immersion blender makes this part a breeze, though you can always transfer the soup in batches to a regular blender to blend that way. Just be careful and blend in batches, leaving plenty of empty space in the blender so you don't burn yourself if it splatters out.
Why this soup is healthier
Once this celery soup is pureed and added back to the pot, it's time to make it creamy. Instead of cream or milk, I'm loving plain Greek yogurt in this soup! It adds a tiny tang that complements the other flavors and doesn't taste too 'yogurt-y' at all.
To help prevent against the yogurt curdling or otherwise acting weird texture-wise, whisk it with the reserved broth until smooth before whisking it into the pureed soup. That way nothing has a chance to get wonky/grainy.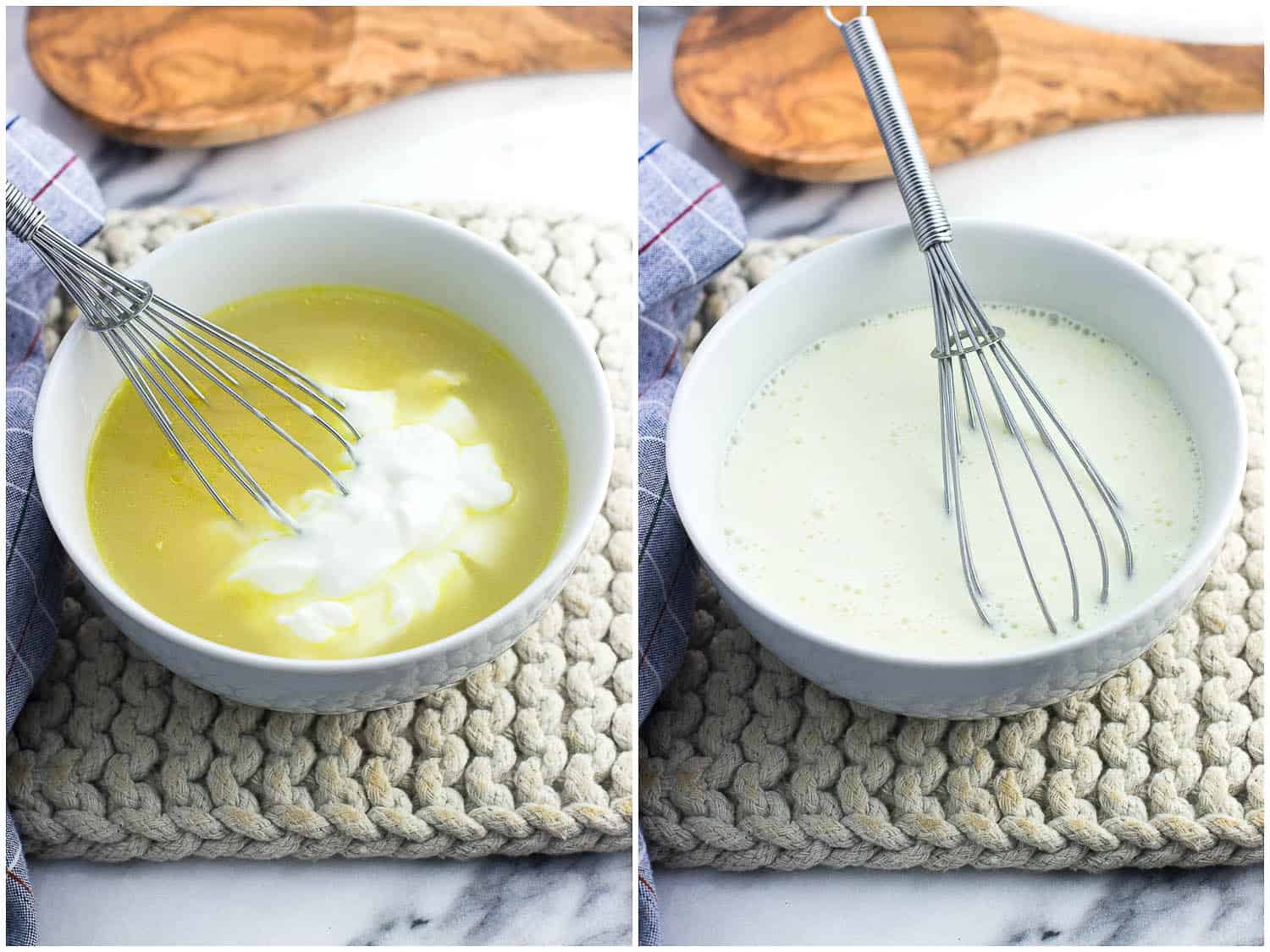 The last step is to add seasonings and herbs. You can really take this in whatever direction you like. I've experimented with a variety of herbs and really like a combination of fresh rosemary and rubbed sage.
Fresh sage will also work, but I'm (much) less likely to have it on hand. Rubbed sage helps make this maple sausage gnocchi skillet a forever repeat on our dinner menu, and it's conveniently shelf-stable.
And there it is! Add a little pepper and more salt (if desired) and you're ready to serve.
Recipe notes
Tempering the yogurt by whisking it into a bit of reserved broth before adding it to the rest of the soup helps prevent it from becoming grainy or otherwise 'off' texture-wise.
This soup is pretty forgiving. If you have a bunch of celery missing a rib or two from using in other recipes that'll be fine.
Substitution note: On occasions when I'm out of yellow or russet potatoes, I've taken to rinsing and draining a 15.5 ounce can of cannellini beans and adding them in place of the potatoes. They provide extra nutrients and blend seamlessly into this soup flavor-wise.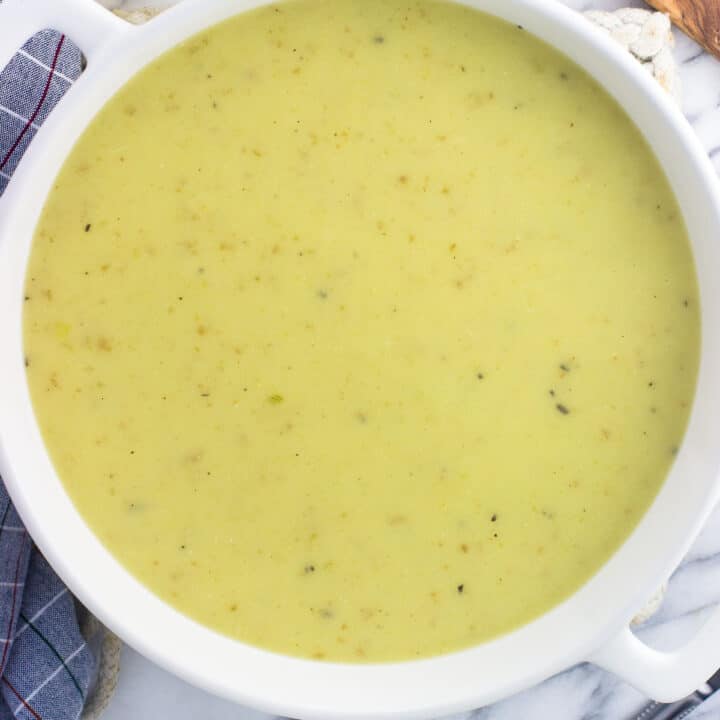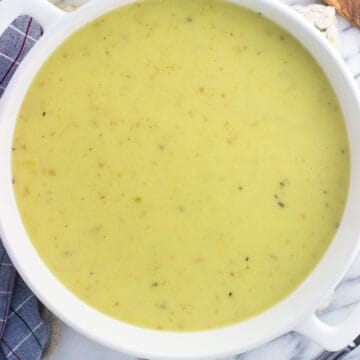 Creamy Celery Soup
Creamy celery soup is a healthy soup option that uses up one whole bunch of celery. It's easy to make and tastes fancier than the sum of its parts!
Print
Pin
Rate
Ingredients
2

tbsp

unsalted butter

2

tbsp

olive oil

1

medium

onion,

chopped

1 1/2

tsp

kosher salt,

divided

12

oz

yellow potatoes,

chopped

1

bunch

celery,

chopped

2

cloves

garlic,

minced or pressed

1

bay leaf

32

oz

reduced-sodium chicken broth

(4 cups)

16

oz

water

(2 cups)

1/2

cup

plain Greek yogurt

1/2

tsp

finely diced fresh rosemary,

or to taste

1/4

tsp

rubbed sage,

or to taste

1/4

tsp

ground black pepper,

or to taste
Instructions
Add butter and olive oil to a large soup pot set over medium heat. Once the butter has melted, add diced onion and sprinkle over top 1/2 tsp kosher salt. Saute for 3-4 minutes, or until the onion is softening and becoming golden.

Add the celery and potatoes and season with remaining 1 tsp kosher salt. Saute for 8-9 minutes, then add minced garlic. Saute for 1 additional minute.

Pour in a little bit of the chicken broth and scrape up any bits stuck to the bottom of the pot. Add the rest of the chicken broth, the water, and the bay leaf and raise heat to bring everything to a boil.

Once boiling, reduce heat to medium-low and cook for 20 minutes, or until the potatoes have softened.

Once the potatoes have softened, remove the bay leaf and take the pot off the heat. Ladle out some of the liquid and add it to a bowl. Set this aside for now.

Puree the soup with an immersion blender, or very carefully transfer the hot soup to a blender to puree until smooth. This may need to be done in batches as to ensure there's enough room to prevent the hot soup from spraying out.

Once pureed, set the soup back on the stovetop over low heat. Now add yogurt to the small bowl of portioned-out broth and whisk well, until smooth and combined.

Whisk the yogurt/broth mixture into the saucepan of soup. Stir in rosemary, rubbed sage, pepper, and/or whatever herbs and seasonings you like, then serve.
Notes
Finely diced fresh sage can be used in place of the rubbed sage if that is what you have on hand. I'd start with 3/4 teaspoon of diced fresh sage and see if you'd like to add more.
Ground sage is more concentrated in flavor than both fresh and rubbed sage so you would need less. Start with 1/8 teaspoon of ground sage if using.
Nutrition
Calories:
204
kcal
|
Carbohydrates:
18.4
g
|
Protein:
8
g
|
Fat:
11.5
g
|
Saturated Fat:
4.1
g
|
Cholesterol:
14
mg
|
Sodium:
827
mg
|
Potassium:
395
mg
|
Fiber:
2.9
g
|
Sugar:
3.8
g
|
Calcium:
117
mg
|
Iron:
1
mg
Nutritional information is provided as an estimate. As it can vary due to many factors (brands used, quantities, etc.), we cannot guarantee its accuracy.
Base recipe loosely adapted from Food Network