This potato and white bean soup with kale is thick and creamy – all the while being healthy! This dairy-free soup recipe is packed full of nutritious ingredients for a satisfying and warming lunch or dinner.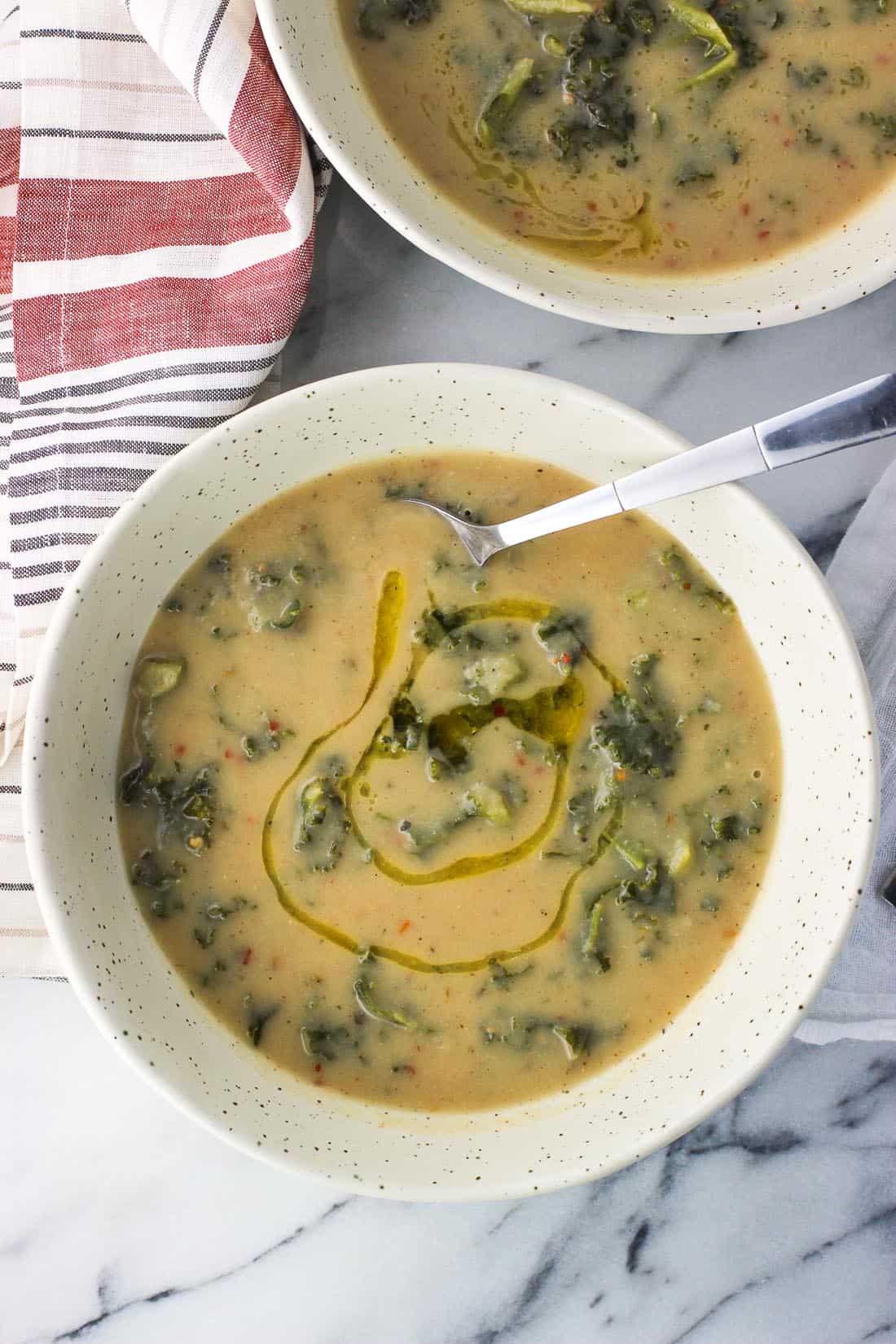 Soup season is here! Rather, it's here most of the time. The temperature here in TN has a tendency to swing from days of below-freezing to close to 70°F all within the course of a week. Currently we're on an upswing, but that doesn't mean I won't be bundled to the hilt by week's end.
Regardless of the temperature outside though, soup is a welcome dinner in my house (as evidenced by this slow cooker coconut curry chicken soup that I shared with you all on September 1st!). I subscribe to the notion that ice cream can certainly be enjoyed in the winter and soup is a year-round meal, but I held off on sharing this potato and white bean soup with kale for a liiiittle while until it was a little more socially-acceptable.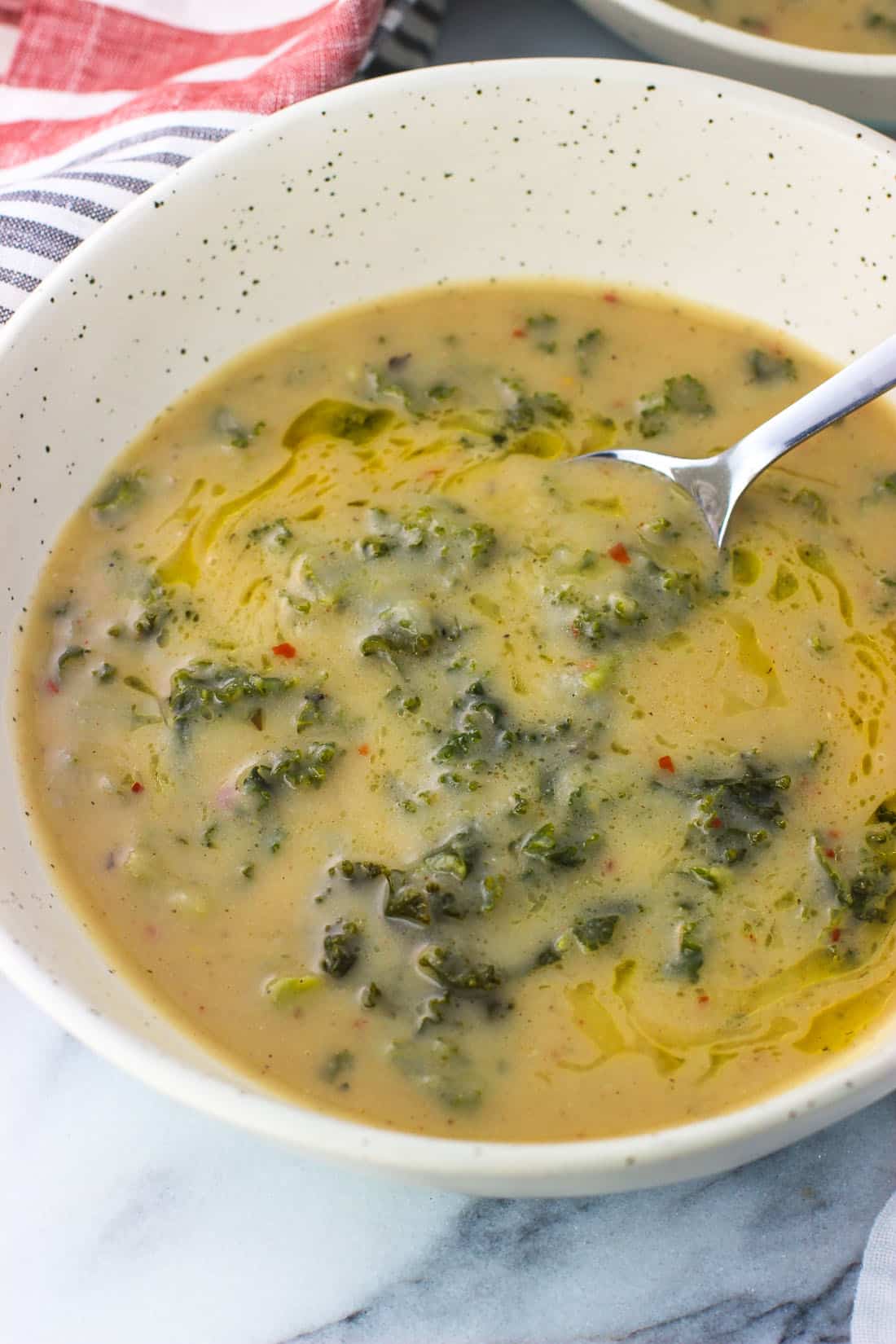 For starters, this soup is semi-thick and creamy while being dairy-free. A trick to thicken soups in a healthy way is to puree everything including the vegetables part-way through the recipe, and then add additional broth, water, or milk to thin the soup to your liking. Pureed into this soup are a pound of potatoes (just regular potatoes), minced garlic, two onions that have been sauteed in olive oil, and a whole can of cannellini beans. Who would know all that goodness is hidden away in this soup?
I've cooked and pureed potatoes into soups before, but adding white beans was a new thing this go around. They add a very small amount to the flavor here, but go virtually unnoticeable once blended. One can of cannellini beans adds approximately 18 grams of fiber and 21 grams of protein to this soup's liquid, along with various vitamins and nutrients, making this a sneaky, healthy addition to this potato and white bean soup with kale recipe.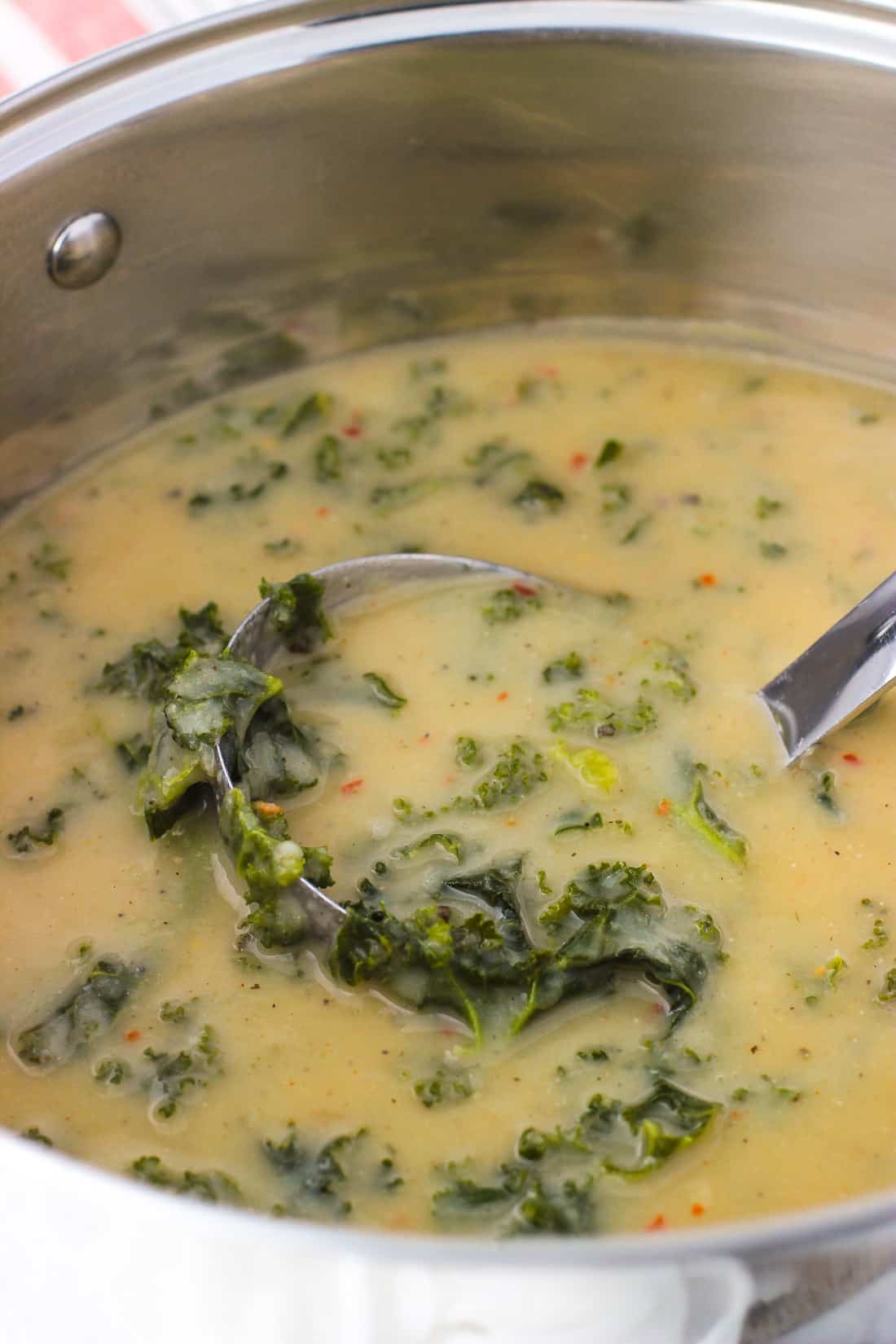 Once you reach the recipe step where the soup is pureed and added back to the pot, you have the flexibility to adjust the recipe as you like. The first order of business for me was to thin out the soup with the remaining chicken broth and unflavored/unsweetened almond milk. Then it was time for seasoning. I've listed the herbs and spices I added in the recipe box below, but you are more than welcome to add a little of this and a little of that in line with your tastes. The good thing with soups is that you can taste as you go and make adjustments.
All that's left is to add the kale and let it wilt for a few minutes, and you're all set. For an extra special serving tip, I highly recommend drizzling extra-virgin olive oil over top of the soup once it's ladled out into bowls. Stirring it into the finished product results in little flavor bursts in the soup's spoonfuls that made a simple, healthy bowl of soup feel 'gourmet'.
Potato and White Bean Soup with Kale
This potato and white bean soup with kale is thick and creamy – all the while being healthy! This dairy-free soup recipe is packed full of nutritious ingredients for a satisfying and warming lunch or dinner.
Ingredients
3

tbsp

olive oil

2

onions,

chopped

6

cloves

garlic,

minced

3/4

tsp

salt

1/2

tsp

black pepper

1

lb

potatoes,

peeled and cut into 1/2" cubes

4

cups

reduced-sodium chicken broth,

divided

1

15.5-oz

can cannellini beans,

drained and rinsed

1

cup

unsweetened unflavored almond milk

Salt and pepper,

to taste

1/2

tsp

red pepper flakes,

optional

1/4

tsp

dried oregano,

to taste

1/4

tsp

paprika,

to taste

1/8

tsp

dried dill,

to taste

4

cups

kale leaves,

packed

Extra-virgin olive oil

for drizzling
Instructions
Add olive oil to a large pot set over medium-high heat. Once hot, add onions and let cook for 2-3 minutes.

Add minced garlic, salt, and pepper and stir. Let cook for another 2-3 minutes. Add the potatoes, saute for a minute or two, and then pour 2 cups of broth in the pot. Stir.

After 7-8 minutes, add the cannellini beans, stir, and cook for another 3-4 minutes.

Carefully transfer hot soup mixture to a blender and puree until smooth. Alternatively you can use an immersion blender for this step if you have one. Once pureed, return soup to the pot and set it over medium to medium-low heat.

Add remaining 2 cups of broth and the almond milk and stir until combined.

At this point take a taste and see how the flavor is. I added additional salt and pepper, red pepper flakes, oregano, paprika, and dill as listed in the recipe ingredients above. Add your favorite herbs and spices in the quantities that you prefer.

Once seasoned to your liking, add kale and give the soup a stir. Let cook for a few minutes as the kale leaves wilt. Serve at this time, or reduce heat and let the soup simmer as the flavors meld until ready to serve.
Notes
I highly suggest drizzling extra-virgin olive oil over top of the soup for serving. It adds a great flavor!
You can certainly use dairy milk in place of the almond milk if you prefer, but I have only tested this soup as written. If using almond milk, be sure the kind you have is not only unflavored but

unsweetened

as well. Added sweetness won't mesh well with this savory soup.
Nutritional info doesn't include extra olive oil for drizzling.
Nutrition
Calories:
235
kcal
|
Carbohydrates:
32
g
|
Protein:
10
g
|
Fat:
8
g
|
Saturated Fat:
1
g
|
Sodium:
783
mg
|
Potassium:
354
mg
|
Fiber:
9
g
|
Sugar:
4
g
|
Calcium:
160
mg
|
Iron:
2.3
mg
Nutritional information is provided as an estimate. As it can vary due to many factors (brands used, quantities, etc.), we cannot guarantee its accuracy.