This healthy potato leek soup with orzo is thick and creamy without cream - or even milk! Orzo gets added to the soup near the end of cooking for a hearty addition to this easy soup recipe.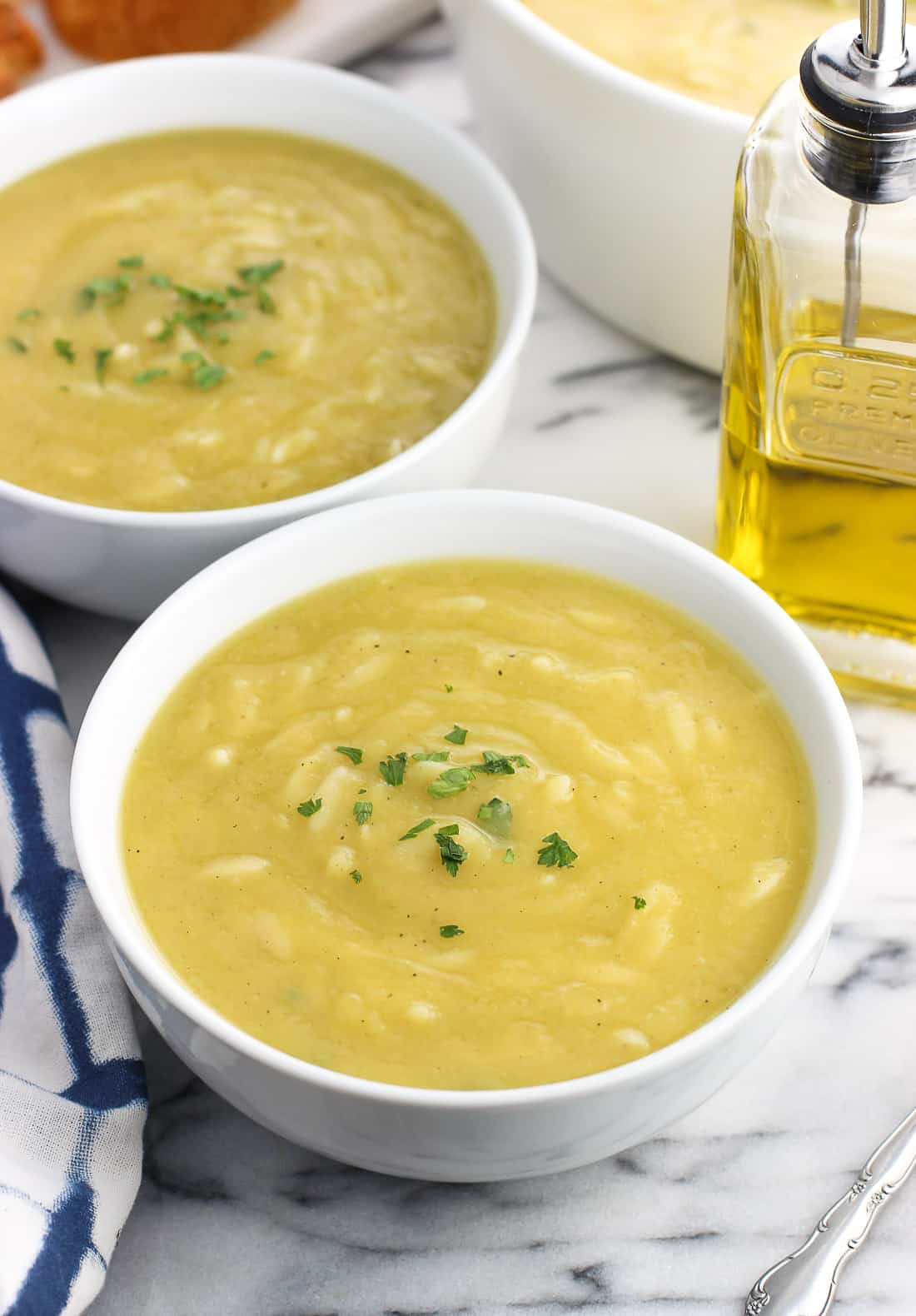 Creamy yet healthy potato soup isn't anything new around here, as this potato and white bean soup has proven to be a reader favorite. It's one of my favorites, too.
So here's another: healthy potato leek soup. Outside of this soup, I only really cook with leeks when making a seriously good creamed leeks side dish (made with less cream than is traditional). Here though they add a mellower onion-ish flavor that pairs wonderfully with potatoes, broth, and simple spices in a lighter dish.
And that "mellower" descriptor is a good thing. Despite looking like massive green onions (they're in the same plant family), leeks have a milder flavor. Which is good, because have you ever added too many green onion slices to something? Whoo boy. 😝
Why This Recipe Works
This recipe is made with nearly all pantry/kitchen staples (except for the leeks) for a simple homemade soup that doesn't load up your grocery list.
Potatoes are simmered in a flavorful broth and then pureed for both a thick and comforting texture, and a recipe for potato leek soup without cream.
An unconventional addition, orzo pasta adds welcome heft, texture, and substance to an otherwise smooth soup.
Recipe Ingredients
Leeks: When buying leeks from the store, look for leeks with the largest white and light green sections, as that's the area you'll be cooking with. Leeks require a little bit of prep work to get them ready for cooking, which I detail later in the post.
Potatoes: I'm partial to using yellow/gold potatoes in this healthy potato leek soup as I find they add an extra bit of richness, however you can use whichever variety of potatoes you like in soups. I'll use Russets if that's all I have and it's totally a fine substitute.
Broth: Either chicken or vegetable broth works here, with vegetable ensuring this soup is entirely vegetarian.
Orzo: When compared to staples on the rest of the ingredient list (olive oil, onion, garlic, salt, and pepper), orzo is a less-than-traditional addition to potato leek soup but provides a nice change of pace as far as the consistency goes. You can certainly omit it if you're not feeling it, but I find it gives an otherwise thick-and-creamy but homogenous soup some nice texture.
Preparing Leeks for Soup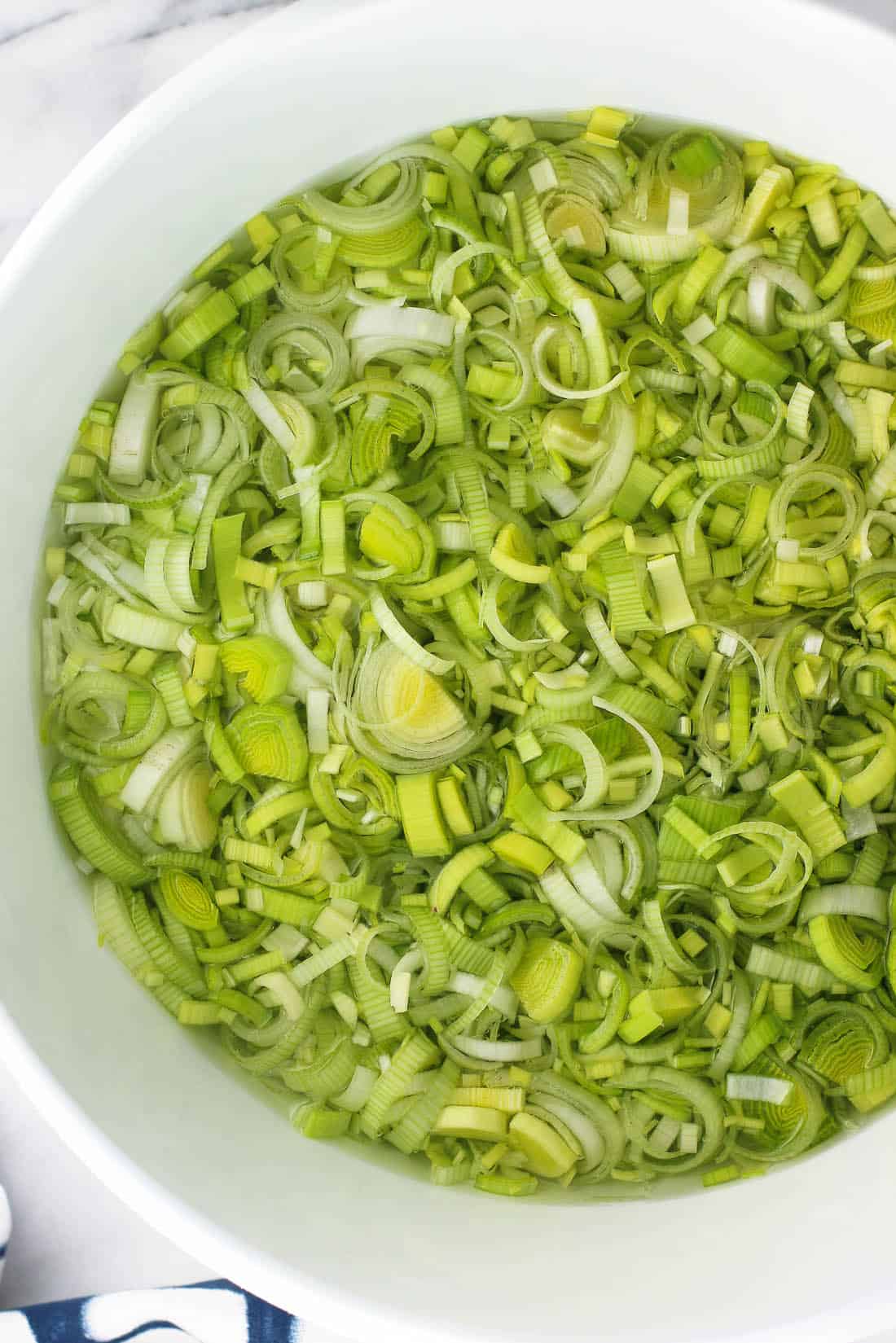 Getting the leeks ready to cook takes up the majority of the prep time, but is necessary due to their dense layers that can hide bits of dirt.
Start with unwashed leeks. First slice off/discard the dark green part and the very bottom bit of the roots. You'll be left with the light green and white part of the leek.
Slice this part in half lengthwise. You'll notice each half features a bunch of layers. Placing the cut side down, slice each half into thin strips and place them in a large bowl of cold water.
Once all of the leek slices are in the bowl, separate out each slice with your hands and gently shake the pieces in the water to wash away any dirt that was hanging out between the layers. Once all separated, lift out the leeks and place them on another dish to pat dry.
Lifting out the leeks (versus pouring everything out through a strainer) helps ensure the dirt remains settled on the bottom of the bowl and doesn't make its way into the pot with the sliced leeks.
Step-by-Step Instructions
Begin by slicing and washing the leeks, then heat 2 tablespoons of olive oil in a large soup pot over medium heat. Pat the leeks dry, then add them to the pot.
Saute the leeks for 5 minutes, giving them a stir a few times throughout. Add the remaining 1 tablespoon of olive oil and the diced onion, then saute for 4 minutes.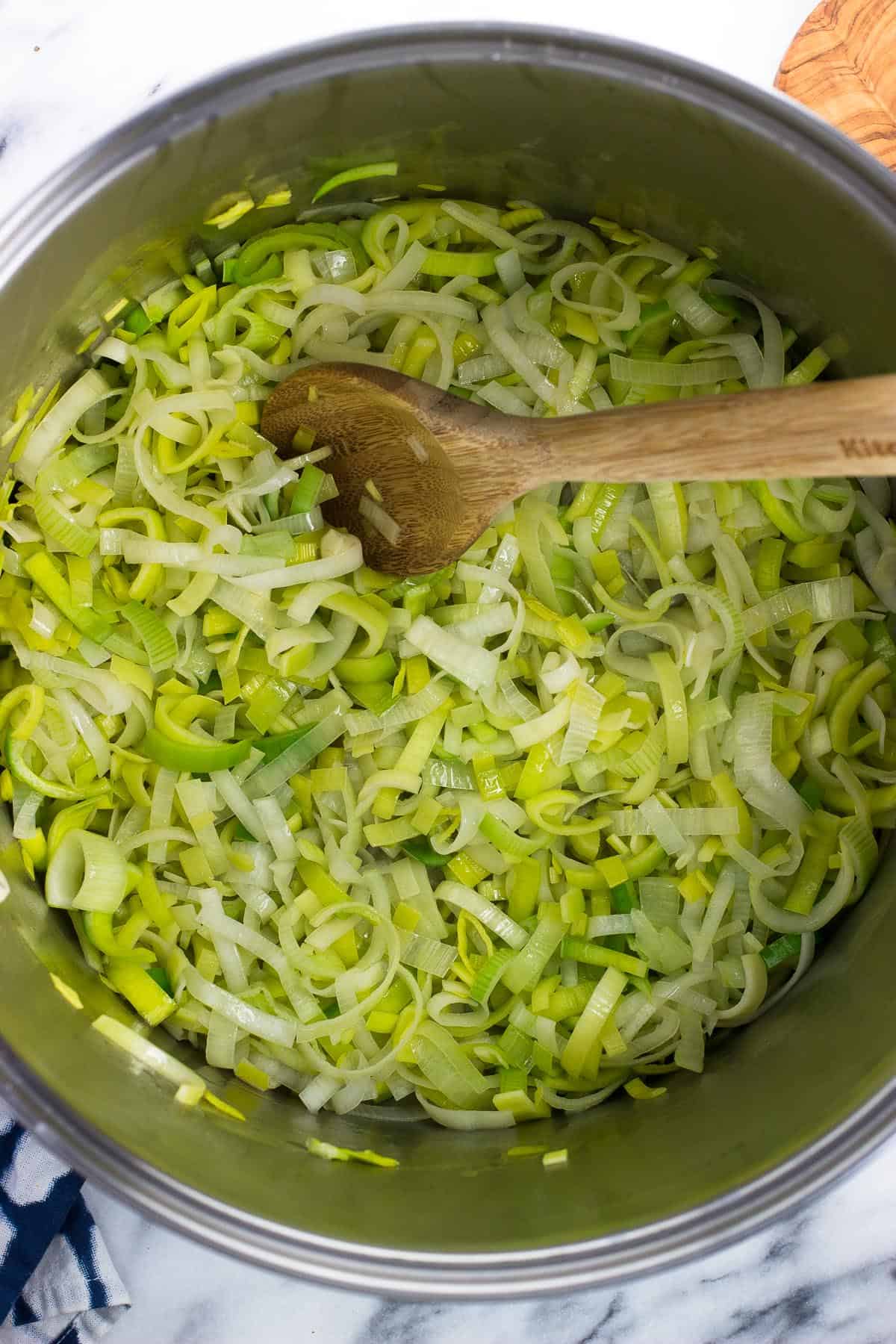 Next add the pressed or minced garlic and saute for 2 minutes more, or until everything is nicely golden.
Pour in the broth and raise the heat to medium-high to bring everything to a boil. Stir the cubed potatoes.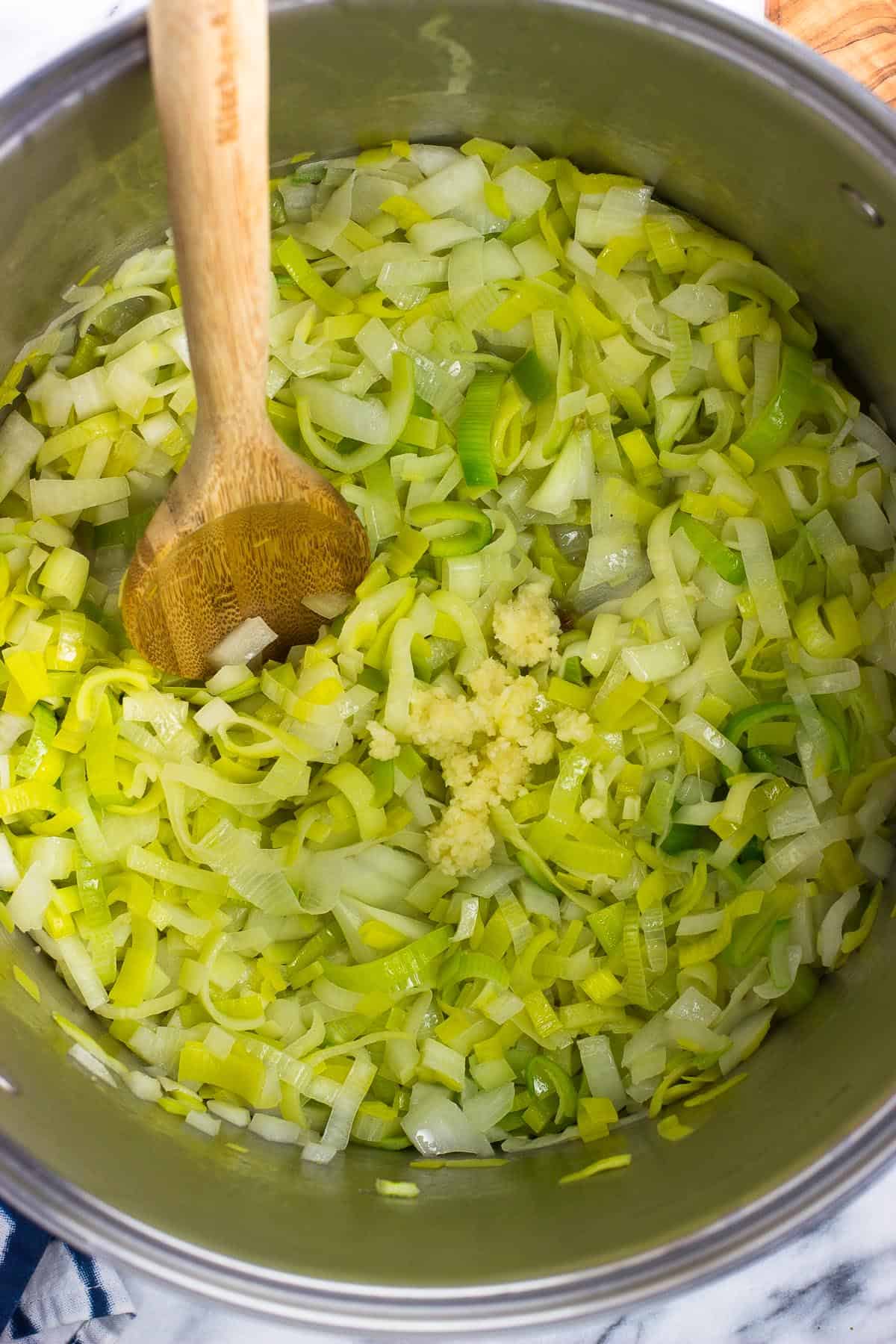 Let everything simmer for 20-25 minutes, stirring several times, until the potato pieces are fork-tender.
Remove the pot from the heat and blend the soup fully with an immersion blender. If you don't have an

immersion blender

(affiliate link), carefully transfer the soup to a regular blender and blend in batches.
If using a traditional blender pour the blended soup back in the pot, then set the pot back on the stove over medium heat. Make sure it's bubbling, then stir in salt, pepper, and the dry orzo.
Cook for 10-11 minutes, or for the amount of time listed on the package of orzo. Once tender, this healthy potato leek soup is ready to serve.
Expert Tips
There's a case to be made for cooking pasta in a separate pot before adding it into a pot of soup, intended to prevent the pasta from absorbing too much of the soup liquid and getting big and mushy. While the orzo does get enlarged in leftover portions, I don't mind it as it's the only thing giving it texture (plus no need to wash another pot). If this is something that bothers you, simply boil the orzo separately then add to the soup at the end.
If transferring this soup to a traditional blender to puree, please do be careful as it will be hot! Be sure that your blender can handle hot temperatures and don't overfill it. The mixture will fly up when the blender starts, and if too much soup is in there there's a chance it can splatter out of the top.
When adding the salt, pepper, and orzo, take a taste and see if you'd like to add additional herbs and spices to taste. This recipe has a solid flavor base (leek, potato, onion, garlic, broth) that can easily be taken in different directions to make it your own.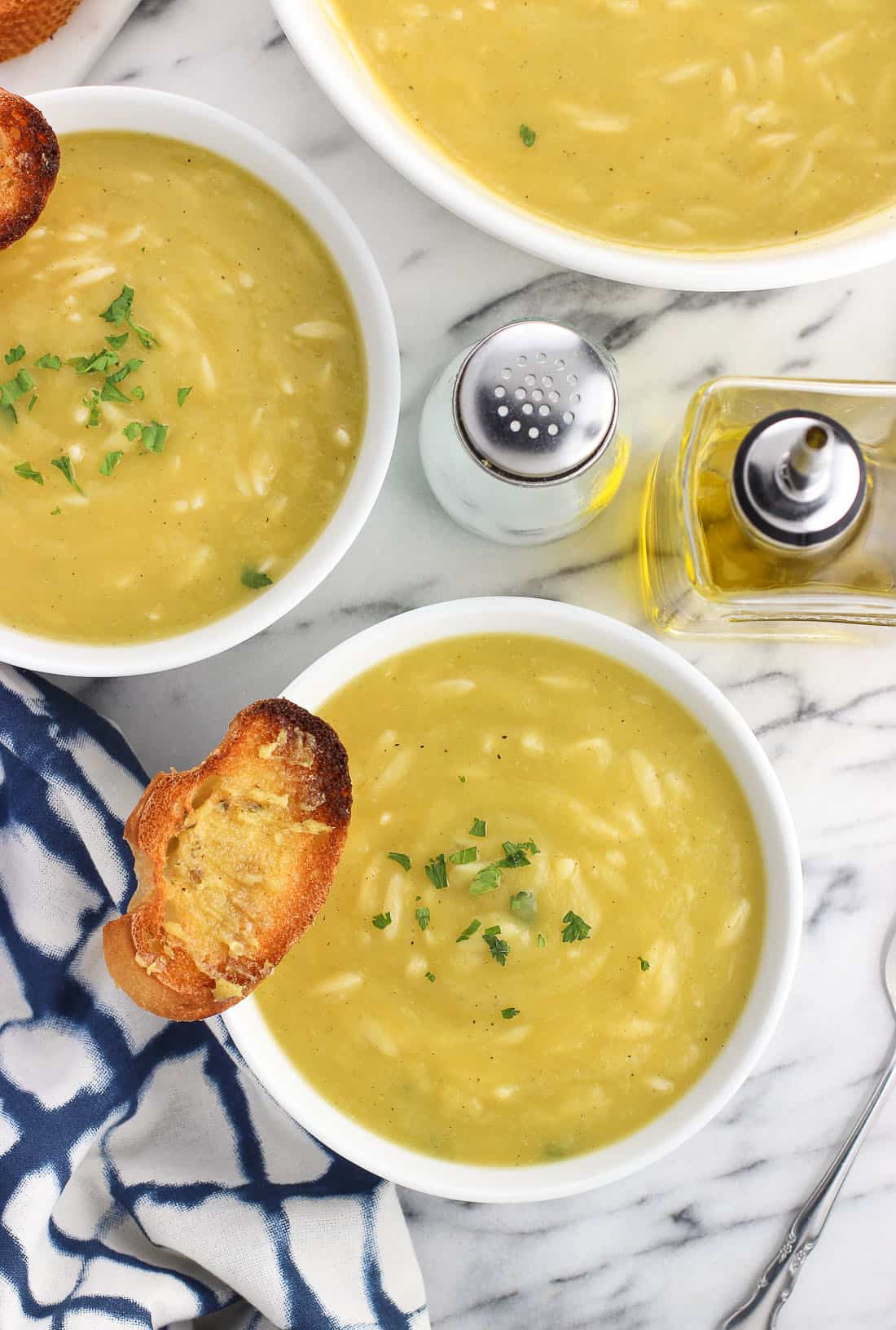 Recipe FAQs
How long will potato and leek soup keep in the fridge?
Leftover soup portions will stay in the refrigerator for up to 4 days. If you know you'll have more beyond that, I recommend freezing excess portions as soon as possible to retain the most freshness.
Does potato leek soup freeze well?
Yes it does! Transfer soup to an air-tight container or bag before freezing up to 4-5 months.
How do you make potato soup less thick?
Leftover portions of soup will thicken up in the fridge. If you'd like a thinner soup, stir in a small amount of broth or water when reheating until it reaches your desired consistency.
Serving Suggestions
Crostini are baguette slices brushed with olive oil and baked until crisp. They make a wonderful pairing with this healthy potato leek soup, especially with spread with roasted garlic cloves (as seen in these photos)!
Kale caesar salad, made with a better-for-you Greek yogurt-based dressing, is a leafy green side with a bump of nutrition.
For something to garnish the soup itself, homemade croutons are always a big hit, as is a drizzle of extra-virgin olive oil right over the soup itself.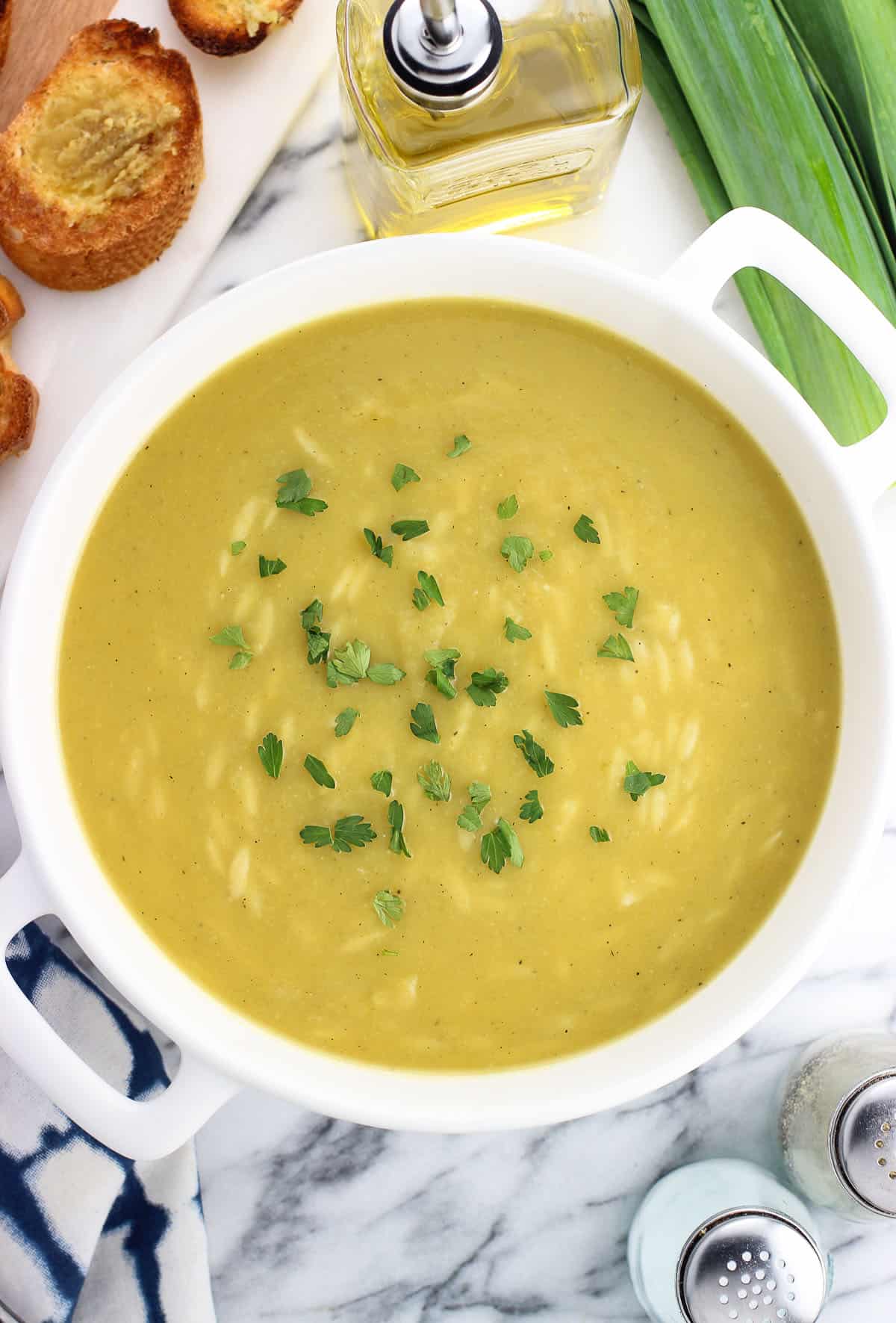 Related Recipes
Thick, creamy, yet healthy soups are some of my favorites to make at home -- there are so many different ways to take them flavor-wise!
If you've enjoyed this recipe, I'd love for you to leave a star rating in the recipe card and/or a comment review below!
Healthy Potato Leek Soup with Orzo
This healthy potato leek soup with orzo is thick and creamy without cream – or even milk! Orzo gets added to the soup near the end of cooking for a hearty addition to this easy soup recipe.
Print
Pin
Rate
Ingredients
3

large

leeks

3

Tablespoons

olive oil,

divided

1

medium

onion,

diced

5

cloves

garlic

pressed or minced

6

cups

vegetable or chicken broth,

1

lb

yellow potatoes,

peeled and cut into ¾" cubes (roughly)

1 ¼

teaspoons

salt

or to taste

¾

teaspoon

ground black pepper,

or to taste

¾

cup

dry orzo pasta

Chopped parsley

for garnish
Instructions
First prep the leeks: Cut off and discard the dark green tops and the very root ends, leaving the lighter green and white part. Cut that part in half lengthwise. With the cut side down, cut each half into thin strips and place the pieces in a large bowl.

Fill the bowl with cold water and break up the leek slices with your hands, sloshing them around the bowl to separate out and remove any dirt.

Lift out the leek pieces to a separate bowl or plate with a strainer or your hands and pat them dry.

Add 2 Tablespoons of olive oil to a large soup pot set over medium heat. Add leeks and saute for 5 minutes, occasionally stirring them around.

Then add remaining 1 Tablespoon of olive oil and the diced onion. Saute for 3-4 minutes or until onion becomes slightly golden.

Add pressed/minced garlic and saute for an additional 2 minutes.

Pour in the broth and raise the heat to medium-high. Stir in the cubed potatoes.

Once the soup reaches a boil, lower the heat and simmer soup for 20-25 minutes, or until the potatoes are fork-tender.

Blend soup until creamy, either using an immersion blender or by carefully transferring batches of the soup to a blender and returning to the soup pot over medium heat.

Once soup has been blended, add salt and pepper to taste. Add orzo and cook for 10-11 minutes, stirring occasionally, until orzo is tender.

Serve with chopped parsley.
Notes
Ingredient Notes
Leeks: Choose leeks with the largest white and light green segments as those are the areas you slice and cook with.
Broth: Chicken or vegetable broth would work well in this soup. All vegetable will keep this soup vegetarian. I've combined chicken/vegetable in one pot of soup to use up leftovers and it was delicious. Use whichever works for you.
Potatoes: Yellow/gold potatoes are great as they lend and a richness, but Russet or whichever variety you like for soups work, too.
Recipe Tips
Orzo will continue to grow and get larger as it sits in leftover portions. If you're very opposed to that you can boil the orzo separately, then add the cooked orzo to the soup right at the very end.
Be careful when blending the hot soup! Make sure your blender can handle hot temperatures (if not using an immersion blender) and don't fill it too high and risk hot soup splattering out of the top when it turns out. It's best to blend in batches.
When adding the salt, pepper, and orzo, go ahead and take a test and see if you'd like any additional seasonings. This recipe is really very versatile.
Nutrition
Calories:
249
kcal
|
Carbohydrates:
38
g
|
Protein:
8
g
|
Fat:
8
g
|
Saturated Fat:
1
g
|
Sodium:
1052
mg
|
Potassium:
530
mg
|
Fiber:
3
g
|
Sugar:
5
g
|
Calcium:
50
mg
|
Iron:
2.5
mg
Nutritional information is provided as an estimate. As it can vary due to many factors (brands used, quantities, etc.), we cannot guarantee its accuracy.
Food Safety and Nutrition Disclaimer