Lightened up but with all the flavor of the original, this Greek yogurt caesar dressing is so easy to make! There's no need for raw eggs or mayo in this creamy salad dressing. It tastes great on a regular salad, but also makes a wonderfully hearty kale caesar salad, too.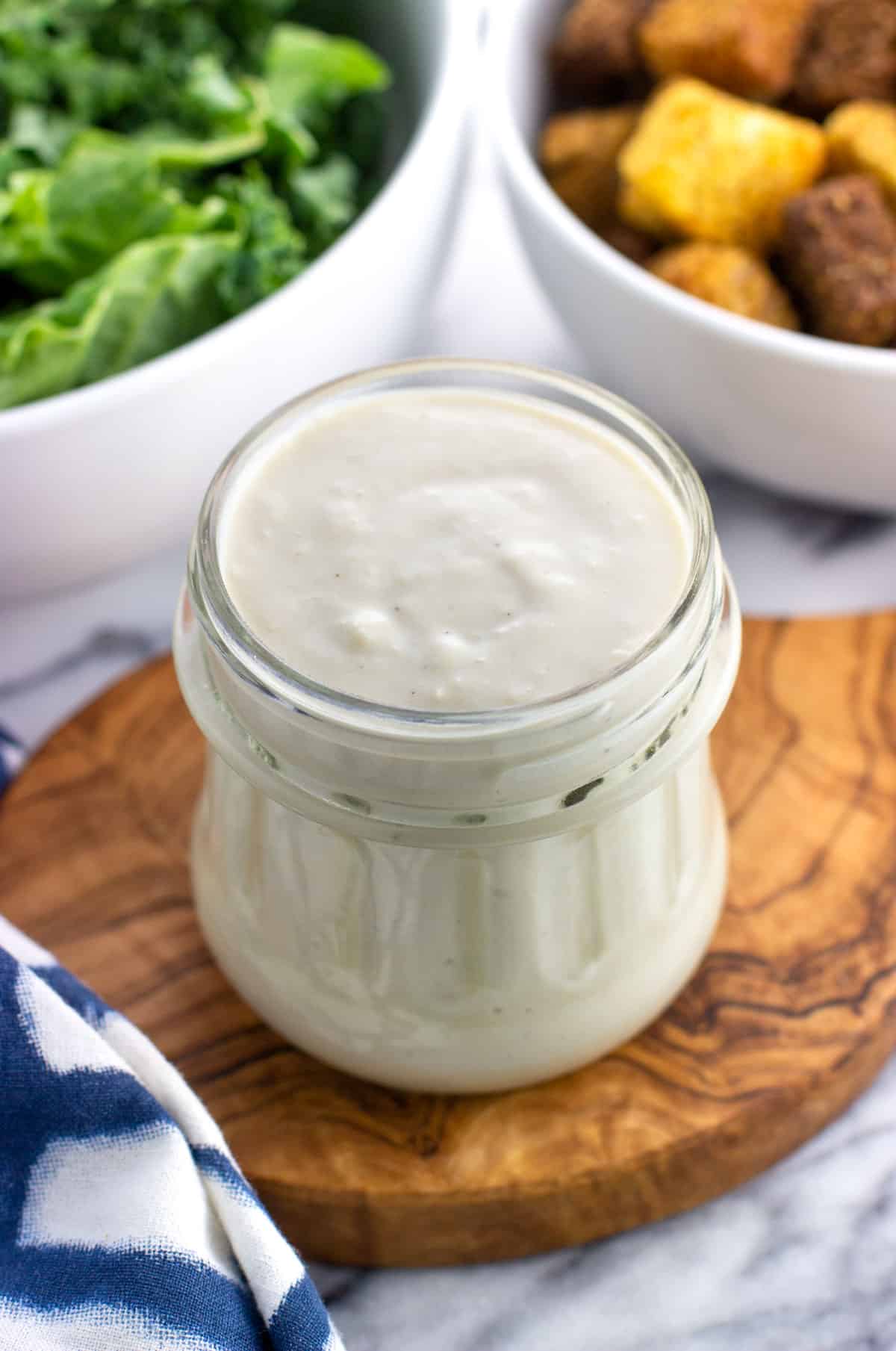 I'm a creature of habit when it comes to serving a side salad with dinner. There's always lettuce, dried fruit, and nuts/seeds, then I add in whatever fresh vegetables (or fruits!) we have hanging around and hope we still have a batch of homemade croutons on hand.
Grab a salad dressing from the fridge (like hummus salad dressing, mmm...)and you're all good. Easy as that.
Lately though I've been all about a healthy caesar salad (well, healthier). Typically traditional caesar salad isn't exactly thought of something on the healthier side, but this version packs in the leafy greens with a lighter dressing that doesn't taste "healthier" at all.
It makes a salad a little more work than haphazardly throwing together the contents of your produce drawer, but oh is it worth it!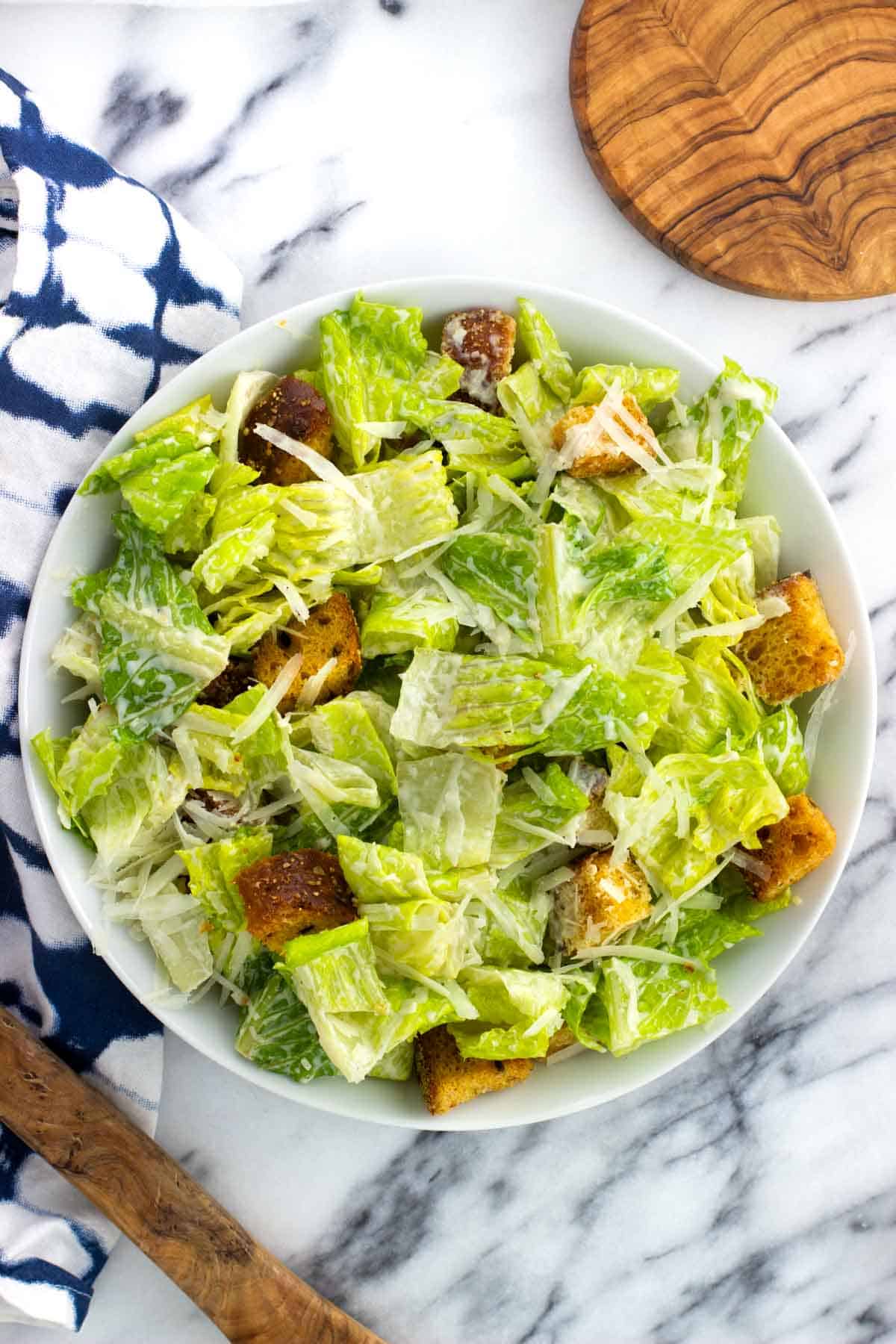 Reasons to Love This Recipe
You get all of that signature garlicky/briny/lemony Caesar salad dressing taste with lightened up, higher-protein ingredients.
A few shortcuts mean that it's easy to throw together. There aren't raw eggs to mess with, and using anchovy paste (instead of whole anchovies) makes very quick work of adding this authentic ingredient.
Because there's no raw egg component you have an extended shelf life (in the fridge) so there's no rush to use it all up in a day or two.
Recipe Ingredients
Greek yogurt: This forms the base of the dressing to bring the creaminess. Some versions that shy away from egg use mayonnaise, but one cup of mayonnaise really ups the fat and calorie levels. Using plain Greek yogurt is a protein-rich, much lighter option, and with all of the flavors going on here, you can't even taste the yogurt tang. The same concept is at work in my healthier sour cream and onion dip.
Parmesan: For the best flavor, freshly-grated Parmesan is recommended here. If you're unable to grate it yourself, refrigerated containers of grated Parmesan found in the deli or specialty cheese section would be a good option, too. I just would not use the shelf-stable canisters of Parmesan (like the ones with a green lid).
Anchovy paste: The unique, briny flavor that adds a special something to caesar salad dressing comes from anchovy paste here. Super easy. I've experimented with adding different amounts of anchovy paste to this dressing and landed on two-and-a-half teaspoons being the sweet spot. It doesn't add much of a fishy flavor (if you're worried about that).
Milk: Any kind of milk will work here. I usually use 2%.
Step-by-Step Instructions
Add all of the ingredients (except for the milk) to a mixing bowl. If you want this dressing to end up very smooth you can use a food processor or blender, but a bowl works just fine for me and is easier to clean.
Whisk everything well until it's all combined evenly.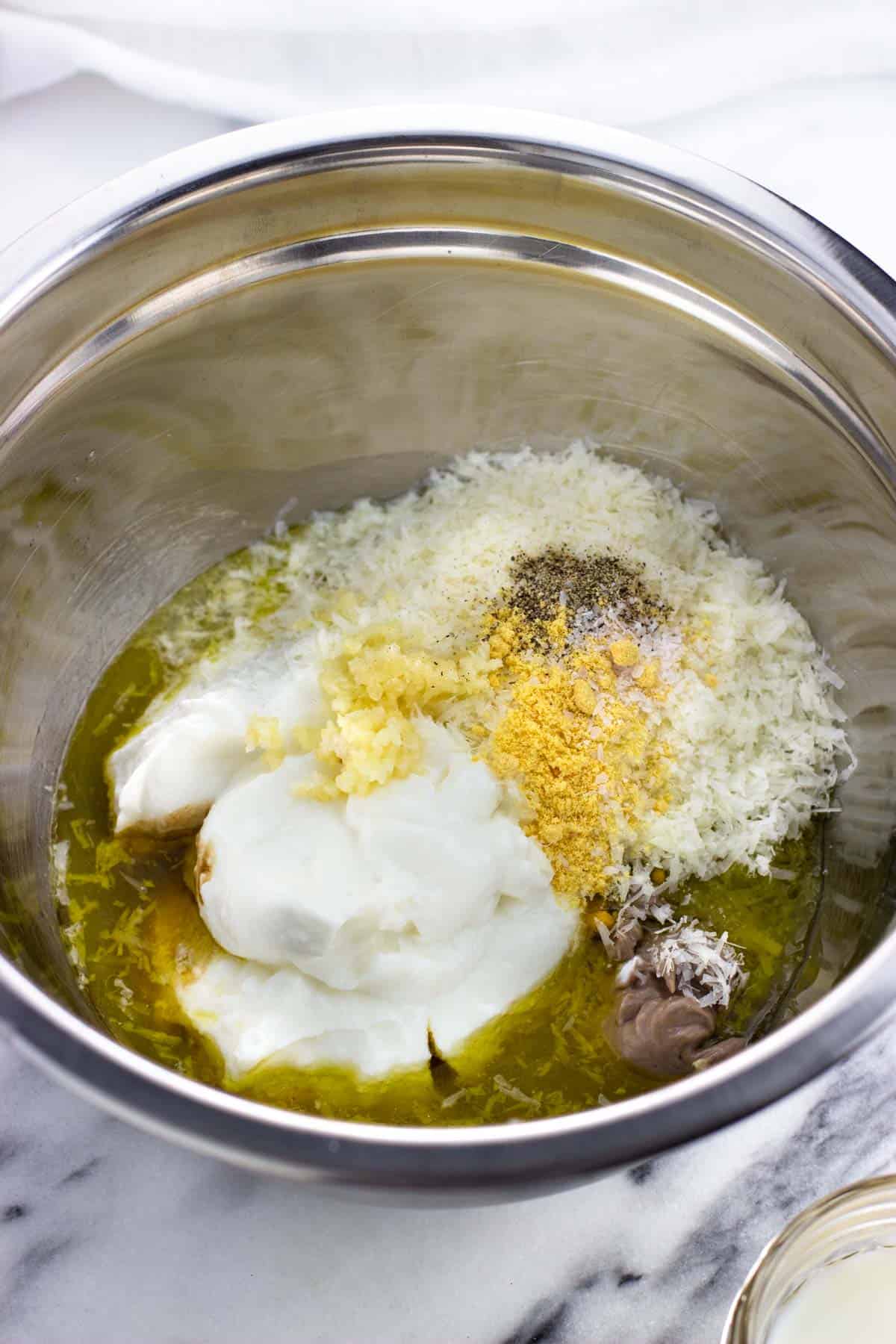 Pour in three tablespoons of milk.
Whisk the dressing, then see if you would like the consistency to be thinner. If so, add additional milk one teaspoon (or so) at a time until it's where you'd like it.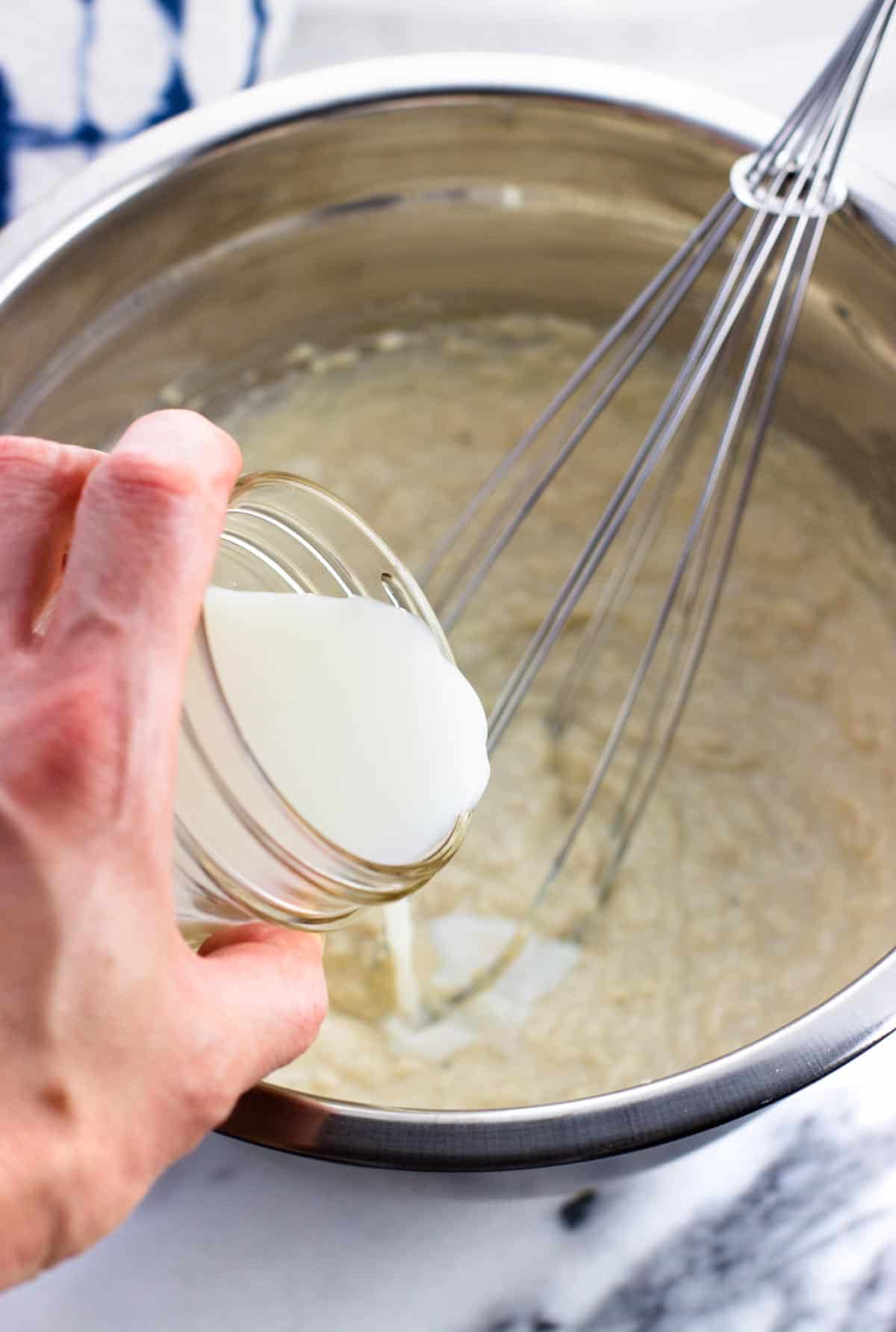 Now that you've got your Greek yogurt caesar dressing, you can keep things classic and use it to dress a traditional caesar salad (romaine lettuce, more grated Parmesan, and croutons) OR you can switch things up and make a kale caesar salad.
Making a Kale Caesar Salad
My preference when using kale in a caesar salad is to actually cut it with lettuce to vary the texture. The amount doesn't have to be precise, just whatever works for you.
The kale caesar salad in the below picture features about half massaged kale and half lettuce. And while romaine is the standard, I'll sometimes use other varieties like green leaf.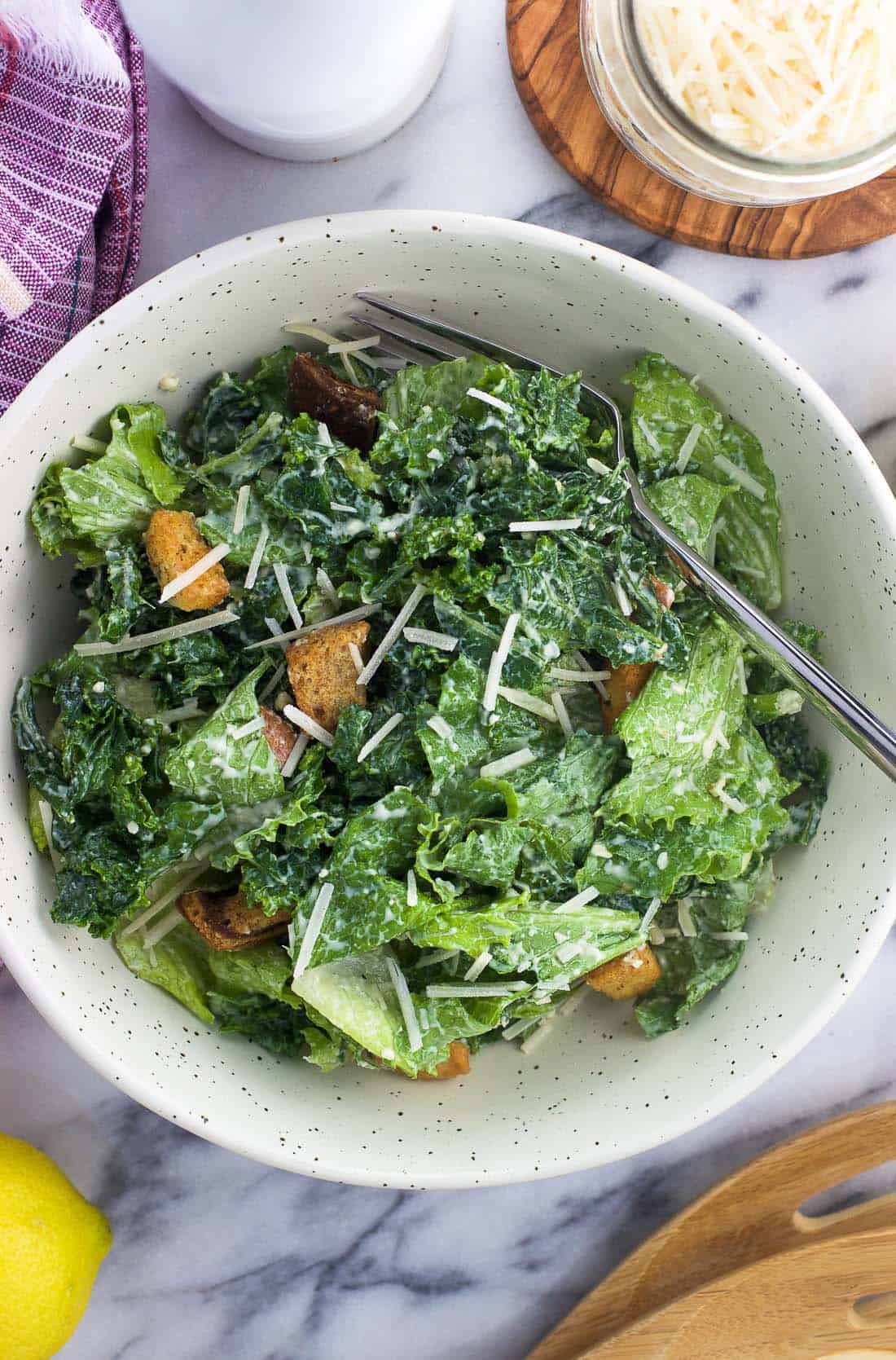 There's an extra step when making a salad using raw kale instead of salad greens. You need to massage it, as raw kale can be tough.
How do you massage kale?
It sounds weird, but massaging kale means rubbing a little bit of oil or liquid into the kale leaves with your hands to break it down and soften the leaves for easier chewing. In this case we're using some of the caesar dressing for this purpose.
You don't have to add much, just one-quarter cup or so. Massage it into the kale for a few minutes, and you'll notice it shrinks up some. The below picture is a before/after of a couple of minutes of massaging, but I kept it going for a little more.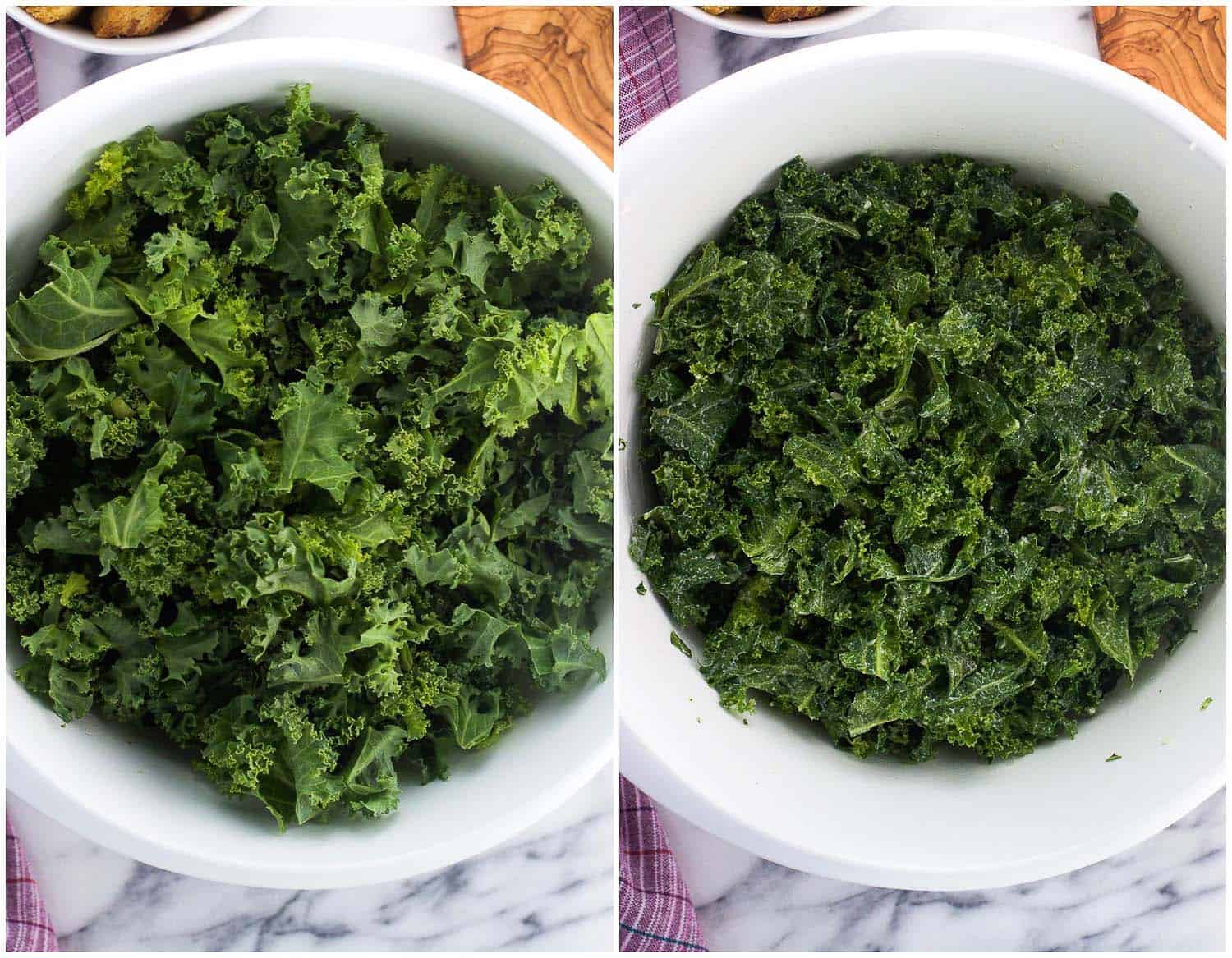 Combine your preferred amount of massaged kale with lettuce, toss in this healthy caesar dressing, and dress with more grated Parmesan and croutons for a filling and seriously delicious salad.
Recipe Notes
This dressing should stay in the refrigerator for several days or longer. As it thickens up once chilled, it may need an extra splash of milk whisked in just prior to serving to thin it back out.
If you are looking for a make ahead element here, I strongly recommend making the dressing by itself and not combining it with the greens ahead of time, even if using kale. While the kale is hardy and won't become too mushy like a leftover lettuce salad would, preparing everything fresh just prior to eating is worth it in my opinion. Not mixing up the salad too long ahead of time is especially important if you're incorporating lettuce into the greens blend.
A time-saving tip if making a Greek yogurt kale caesar salad is to buy a package of cut up kale greens instead of slicing and dicing yourself. Just keep an eye out for errant pieces of the center kale rib, as I've found some of those in there before.
To make this salad a main dish, just add a protein! Grilled chicken, shrimp, and salmon work especially well, and roasted chickpeas are a nice and hearty, plant-based addition.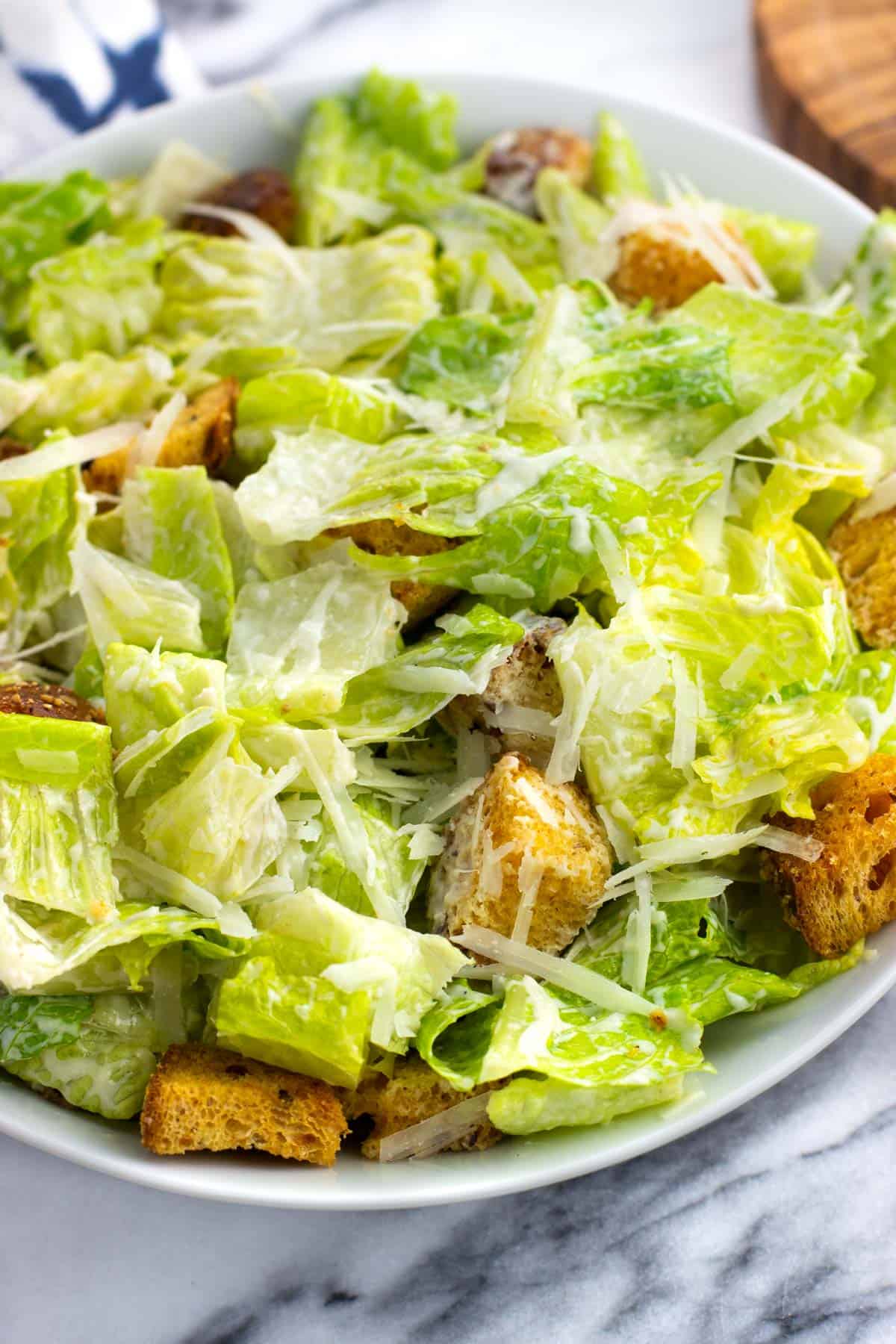 Recipe FAQs
Where can I find anchovy paste?
I've found several brands of anchovy paste stocked in the canned fish aisle of the grocery store. A tube will last you for several batches of this healthy caesar salad dressing, and can stay in the fridge for a long while. I think the tubes I've bought have been between $2-3.
Can I make caesar dressing ahead of time?
Yes. Since there isn't any raw egg, this Greek yogurt caesar dressing recipe can be made up to several days ahead of time and refrigerated. Give it a good whisk before serving, and add a splash of extra milk if needed to thin it out.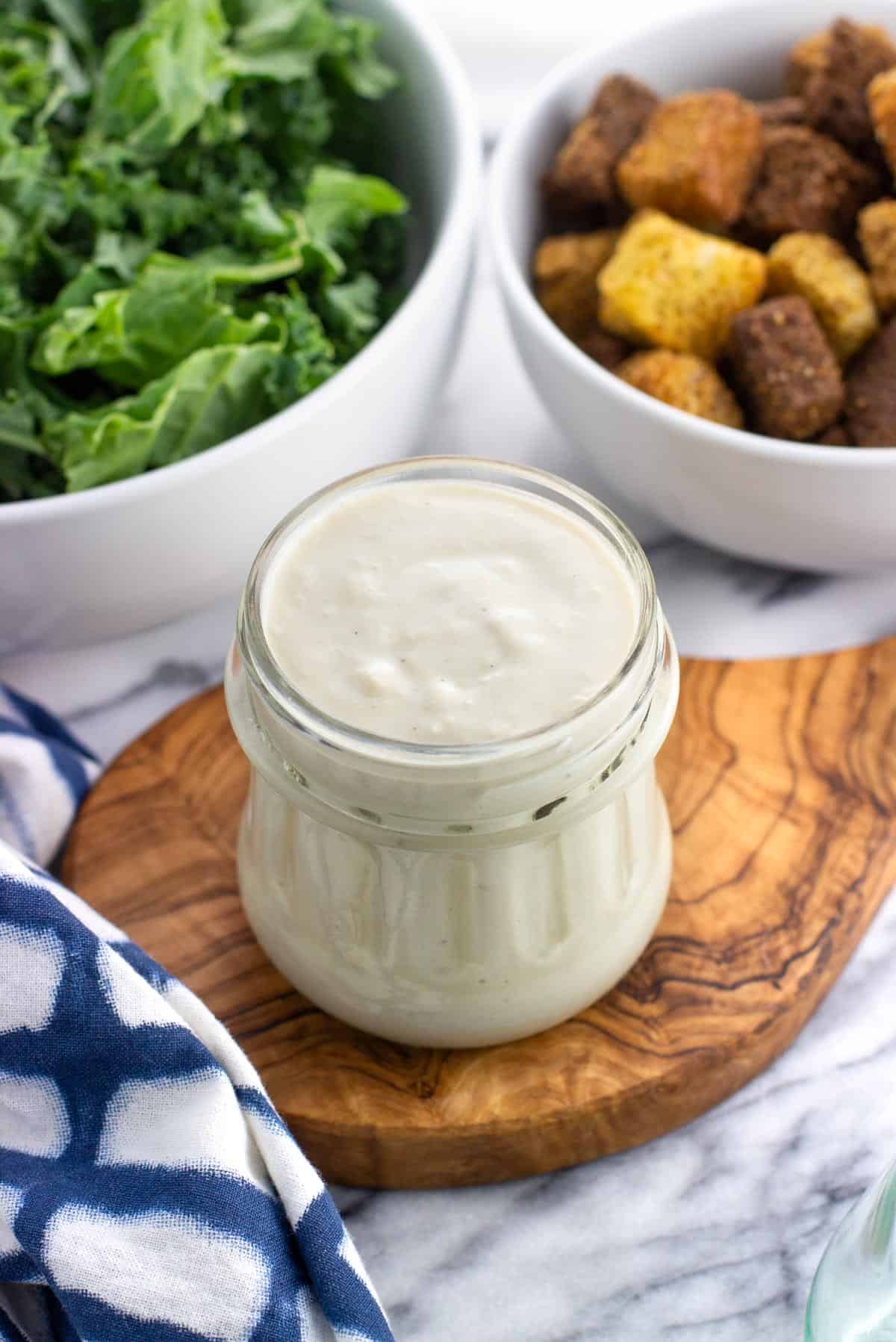 More Greek Yogurt Recipes
I've been all about subbing in plain Greek yogurt for mayonnaise or sour cream lately in order to keep the nutrition in check. Let's say you bought a big 24-32 ounce tub of Greek yogurt for this recipe. Here are other recipes you might be interested in to use it up.
If you've enjoyed this recipe, I'd love for you to leave a star rating in the recipe card and/or a comment review below!
Greek Yogurt Caesar Dressing
Lightened up but with all the flavor of the original, this Greek yogurt caesar dressing is so easy to make! There's no need for raw eggs or mayo in this creamy salad dressing. It tastes great on a regular salad, but also makes a wonderfully hearty kale caesar salad, too.
Print
Pin
Rate
Ingredients
Greek Yogurt Caesar Dressing:
1

cup

plain Greek yogurt

¾

cup

Parmesan cheese,

grated or shredded

3

Tablespoons

lemon juice

3

Tablespoons

olive oil

2 ½

teaspoons

anchovy paste

2

teaspoons

Worcestershire sauce

2

cloves

garlic,

pressed or finely minced

¾

teaspoon

dry mustard powder

Big pinch

salt and pepper,

or to taste

3

Tablespoons

milk,

any variety (I use 2%)
Kale Caesar Salad:
8

ounces

kale greens,

chopped into bite-sized pieces

8

ounces

romaine lettuce,

chopped into bite-sized pieces

¼

cup

Parmesan cheese,

grated or shredded (or to taste)

2

cups

croutons,

or to taste
Instructions
For the Dressing:
Add Greek yogurt, Parmesan, lemon juice, olive oil, anchovy paste, Worcestershire, garlic, dry mustard, salt, and pepper to a mixing bowl and whisk to combine.

Pour in milk and whisk until smooth, adding more milk a teaspoon at a time if you'd like a thinner consistency.

Refrigerate for up to several days if not using to prepare a salad right away. Toss with romaine lettuce, Parmesan cheese, and croutons for a more traditional approach to caesar salad, or continue on for the steps to make a kale caesar salad.
For a Kale Caesar Salad:
Remove the center rib from the kale leaves and roughly chop the kale into bite-sized pieces. Add 4 ounces of kale (about half of it) to a large mixing bowl.

Pour a quarter-cup of the dressing over top of the kale and massage with your hands for 3-4 minutes. Really work the dressing into the kale leaves to soften them up.

Once the kale is massaged, add 4 ounces of chopped lettuce and toss to combine.

Pour in a half-cup of the dressing, 2 Tablespoons of grated Parmesan, and a cup of croutons and toss to combine, then serve.
Notes
Important Note: Since a caesar salad is best eaten freshly prepared, the measurements you see in the salad recipe steps section are for preparing half of the batch. This will be enough for 3-4 side servings. The leftover half of the dressing can be stored in the fridge and used to prepare the second batch of salad whenever you'd like it, up to several days later. (All that said, you can certainly prepare everything at once if you're serving a crowd.)
Ingredient Notes
Parmesan: For maximum flavor I recommend grating a wedge of Parmesan for use in this recipe. If unable to do that, then the pre-grated/shredded Parmesan containers in the refrigerated deli or specialty cheese section is a good option. I would just stay away from the shelf-stable, green-lidded Parmesan canisters.
Anchovy paste: Whole anchovies will also work if that's what you have or prefer. Finely dice them and use the knife to smush them well into a paste-like consistency.
Recipe Tips
Whisking the caesar dressing by hand will mean it's not entirely smooth due to the ingredients (Parmesan, garlic, etc.). If you would prefer it to be ultra smooth you can prepare it in a food processor or blender.
If prepping ahead of time, prepare the dressing but do not dress the greens until right before serving. This prevents the greens from turning mushy and limp.
This healthy caesar dressing will thicken up as it chills in the refrigerator. Thin it out, if necessary, by whisking in a splash of extra milk before serving.
Yield: This recipe yields approximately 16 ounces of caesar dressing in total.
Nutrition: The nutritional info displayed is an estimate for one serving, including lettuce and kale greens, dressing, Parmesan, and croutons. It will differ depending on the brand of ingredients you use, as well as the quantities.
Nutrition
Calories:
158
kcal
|
Carbohydrates:
10.4
g
|
Protein:
9.6
g
|
Fat:
10.2
g
|
Saturated Fat:
3.2
g
|
Cholesterol:
15
mg
|
Sodium:
287
mg
|
Potassium:
95
mg
|
Fiber:
0.9
g
|
Sugar:
1.4
g
|
Calcium:
15
mg
|
Iron:
4
mg
Nutritional information is provided as an estimate. As it can vary due to many factors (brands used, quantities, etc.), we cannot guarantee its accuracy.
Food Safety and Nutrition Disclaimer
Dressing recipe loosely based on this mayo version from epicurious.