Loaded with southwestern flavor, this healthy turkey taco salad with quinoa makes such a hearty and filling main meal! Mix and match your favorite toppings for this easy taco salad recipe, including homemade baked tortilla strips, Greek yogurt cilantro lime dressing, and more.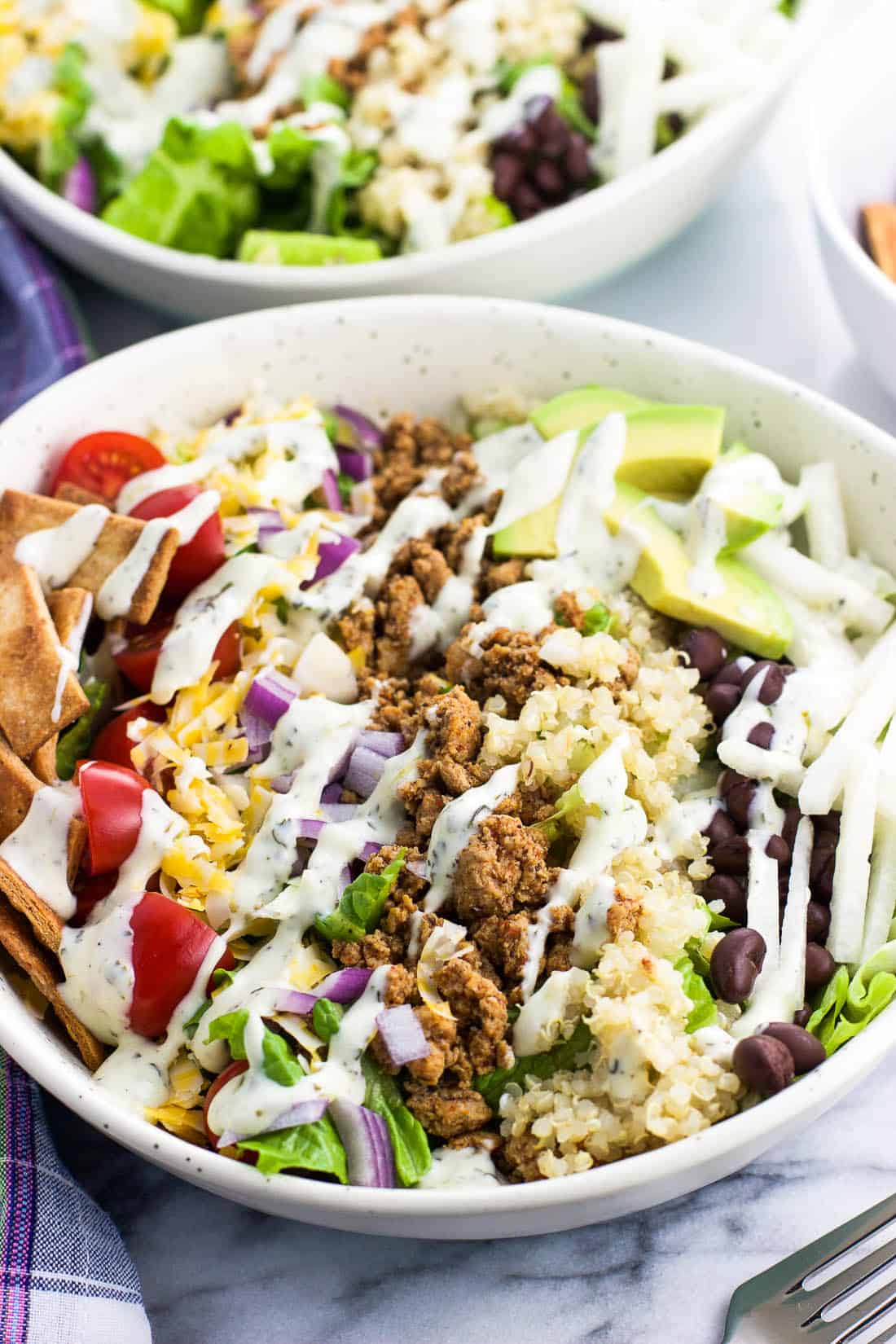 Since I just shared another meatball recipe, it's only fitting that I up my taco recipe count, too.
After all, meatballs and taco meat in some form are my #1 and #2 recipes when I'm not sure what to make for dinner. They're both quick, straight-forward, and don't require much thought to get onto the table. And who wants to do any more thinking than you have to after a long day?
Reasons to love this recipe
This quinoa turkey taco salad has made its appearance on our dinner table many times, in many different forms. It's a healthy lunch or dinner recipe that certainly doesn't skimp on flavor. Meal-sized salads are also great vehicles for using up leftover produce odds and ends, extra portions of cooked grains, leftover meat and proteins, etc.
Plus with all of the fixings prepared and cooked separately, everyone can assemble their salads just how they like them. Leave out of the turkey for a vegetarian salad, switch up the dressing and leave out of the cheese for dairy-free diets, etc.
While there's plenty of wiggle room for you to do your own thing with this one, read on to see how I always prepare taco meat, what crunchy baked topping is our absolute favorite, and a seriously lightened up and flavorful homemade dressing just perfect for drizzling over top.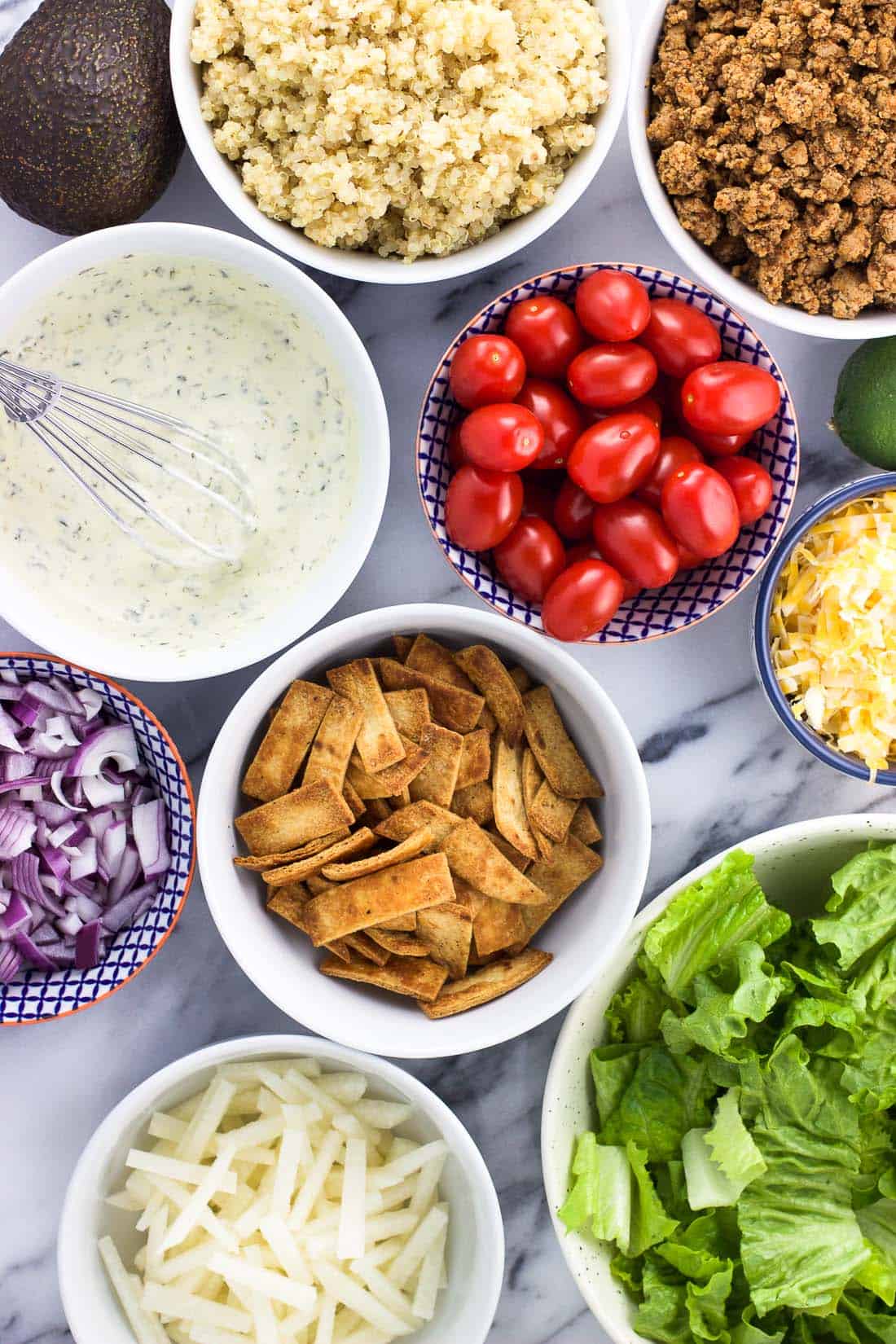 A traditional restaurant taco salad is a primo example of a salad not exactly being a healthy option.
They usually start by only using iceberg lettuce, which, per EatingWell, is nutritionally-lacking in comparison to other lettuce and leafy green varieties (but still with some benefits!).
Then there's a big glob of sour cream, a pile/hill/mountain of cheese, lots of meat...and we haven't even gotten to that big fried tortilla bowl yet.
That's not to say that the Mexican restaurant-style taco salad craving doesn't strike from time to time. It totally does and I do enjoy them on occasion. But this quinoa turkey taco salad fits the bill for a more frequent and healthful option.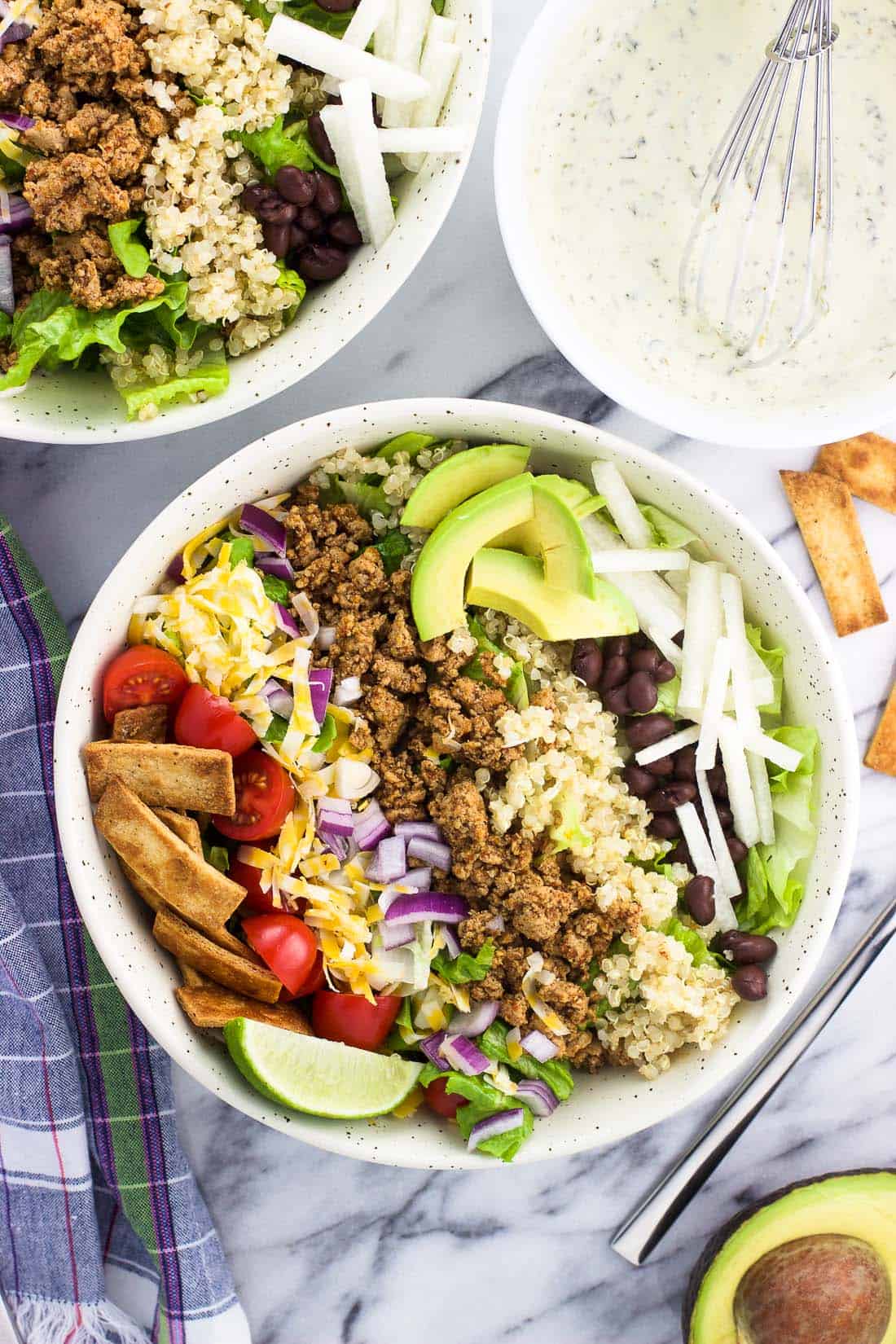 Healthy salad ingredients
You certainly don't need my help to put together a salad, but there are a few components of this one that work so well to bring heft and flavor while keeping things on the lighter side.
For starters, the lettuce. Many options are a step up from iceberg, including romaine, green leaf (one of my favorites), blends including baby kale and/or spinach, etc.
Next, load it up with healthy toppings that will boost the nutrition. Tomatoes, avocado slices, and black beans are almost always what I have on hand to use. Just be sure to rinse and drain the canned black beans before using as that removes much of their sodium.
What I don't usually have on hand but will go out and get if I'm making taco salads is jicama. It's a juicy and crisp root vegetable that when sliced into matchsticks adds an excellent element to salads. And as a bonus it's fiber-rich and low in calories. I add it to my southwestern BBQ steak salad, too.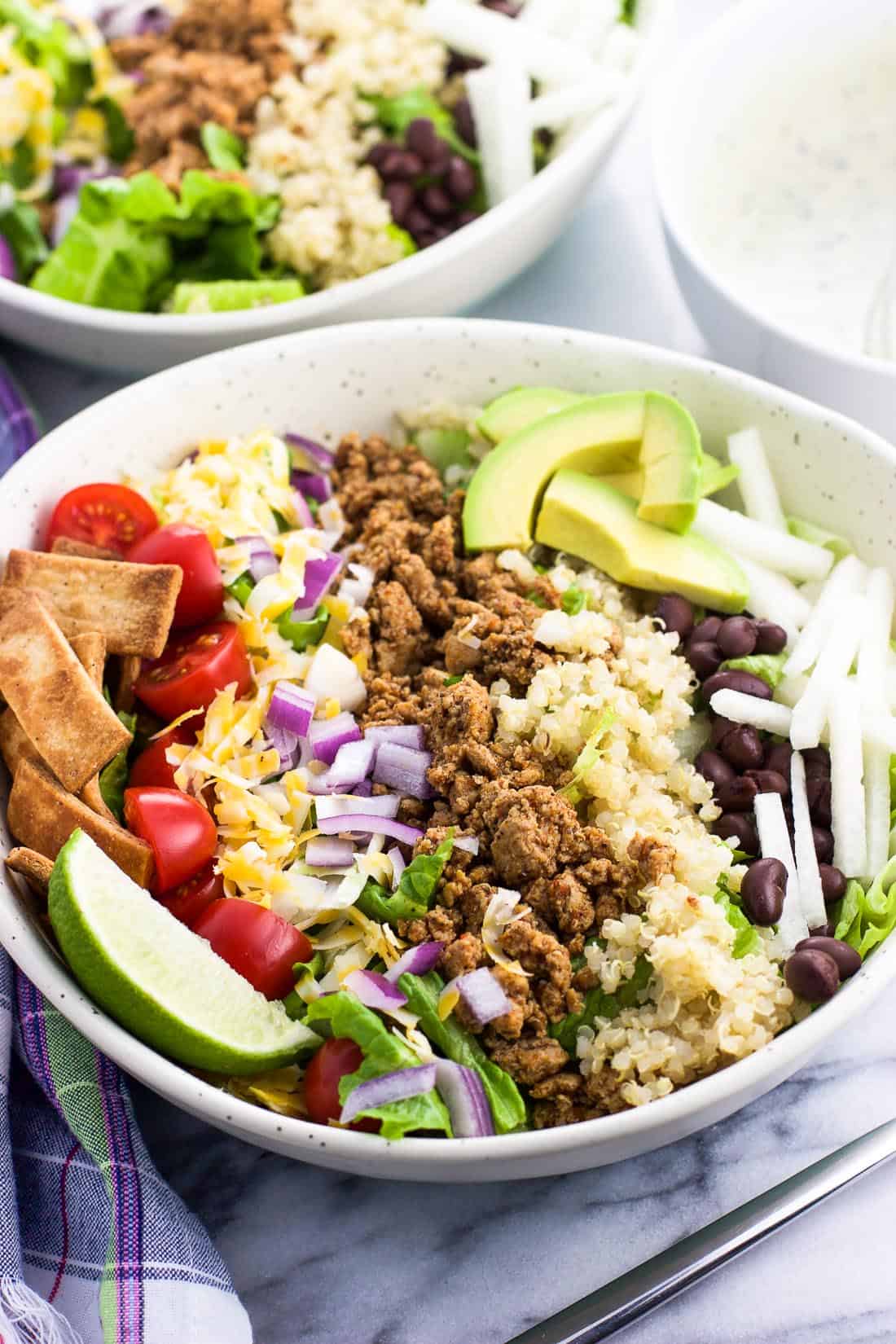 Next we have to talk about the meat! I debated whether or not to post about how to make taco meat on here because it's not exactly riveting and BRAND NEW INFORMATION *Phoebe Buffay style* but it's a staple in my house and is now consistently one of my most viewed posts. Go figure.
I follow those steps every time whether I'm using ground beef or turkey. Obviously turkey was the way to go for this salad to keep things lighter. Plus preparing homemade taco seasoning is a great way to limit the sodium and make sure there isn't any MSG sneaking in there.
Another clear component here is quinoa. Quinoa is a gluten-free whole grain that's rich in a whole host of nutrients. It's also a good source of protein (source), making it an excellent addition to a healthy salad.
For extra flavor I usually use reduced-sodium chicken broth as the liquid when I cook quinoa. Of course water works fine, too.
Now for the fun stuff. Baked tortilla strips are SO good in this turkey taco salad. They're easy and very crunchy without being fried. I like to use whole wheat tortillas. You can flavor these healthy tortilla strips however you like, though just salt and pepper is perfect. They're a delicious topping to this healthier chicken tortilla soup with rice, too.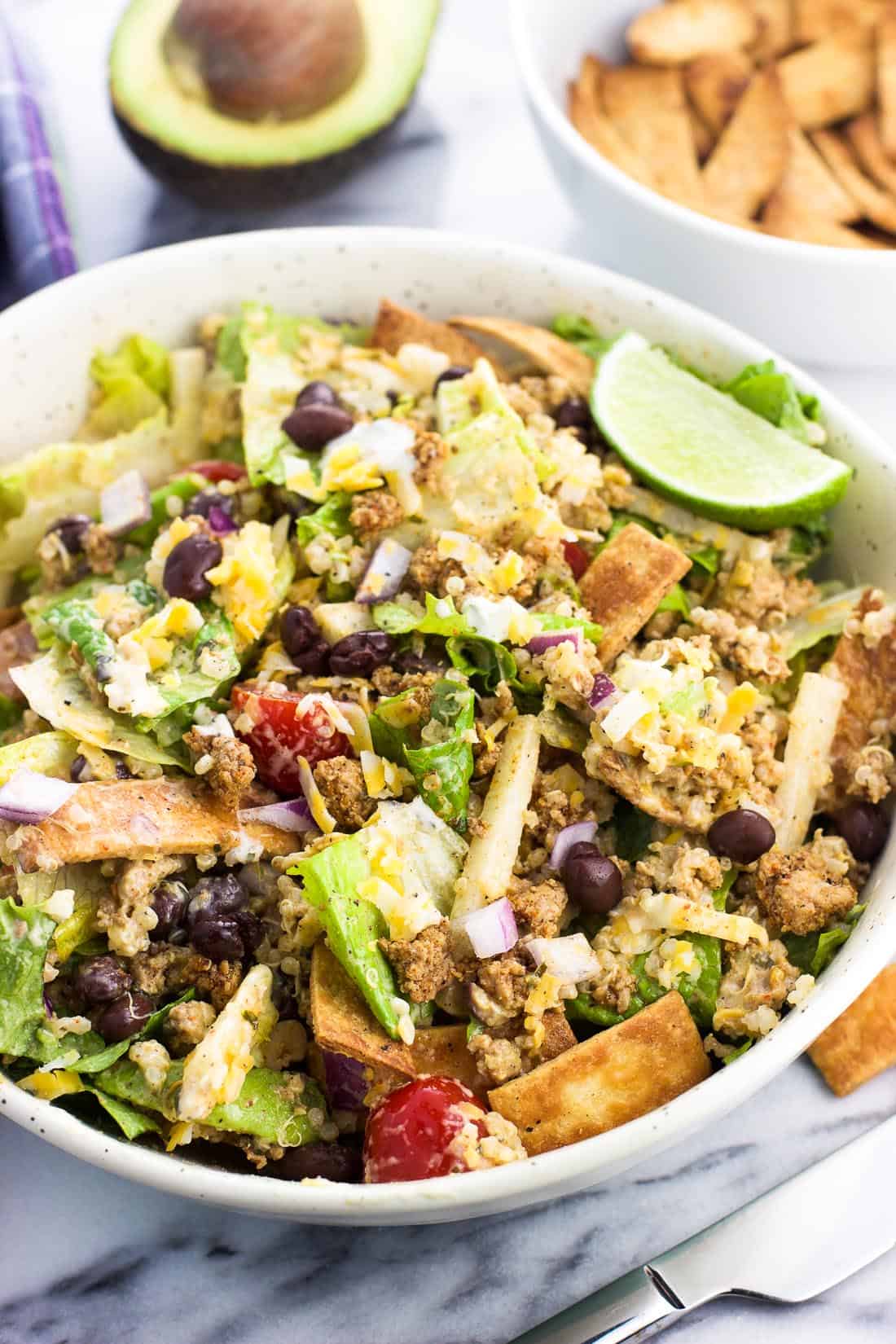 You know, thinking back to the last time I ate a restaurant taco salad, I'm not sure it comes with dressing? This homemade turkey taco salad though does, and I love to use healthy cilantro lime ranch dressing. Greek yogurt is used as the base for this as a much lighter option than mayonnaise or sour cream. Just like the taco seasoning, making homemade ranch seasoning lets you be in charge of the salt content.
Lastly there's cheese. Use your favorite! I lean toward using an extra sharp cheddar variety as you get a lot of flavor without having to use a ton of it, though any will work. All the jacks are great, too: pepper, colby, monterey, etc.
All that's left is to mix it up in a real bowl (sorry, no large fried tortilla bowl here) and dig in!
Recipe notes
Please view the below recipe card as suggestions rather than the law of the land. You have a lot of room to make this taco salad your own. It's a great recipe to use up leftover veggies, cooked grains, etc.
If prepping ahead of it, I would hold off on adding the dressing and tortilla strips until right before serving. That way the lettuce doesn't wilt and the tortilla strips don't sog up in the fridge.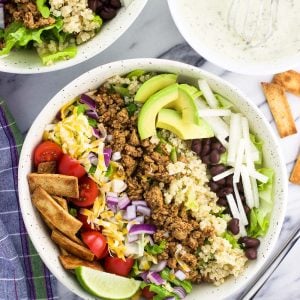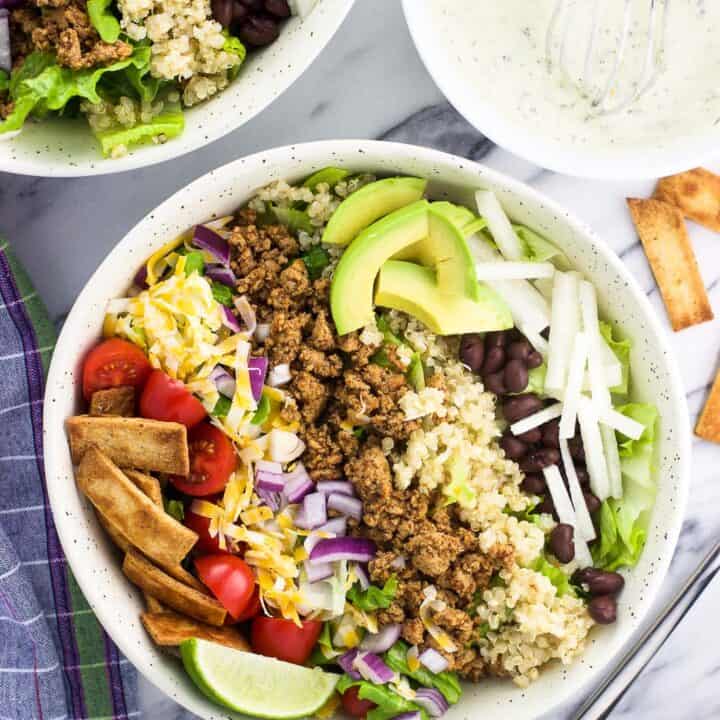 Quinoa Turkey Taco Salad
Loaded with southwestern flavor, this healthy turkey taco salad with quinoa makes such a hearty and filling main meal! Mix and match your favorite toppings for this easy taco salad recipe, including homemade baked tortilla strips, Greek yogurt cilantro lime dressing, and more.
Print
Pin
Rate
Ingredients
Tortilla Strips:
2

8-inch

tortillas

1

tablespoon

olive oil

Salt and pepper,

to taste
Quinoa:
1

cup

uncooked quinoa

2

cups

reduced-sodium chicken broth,

(or vegetable broth, or water)
Salad:
1

head

lettuce

(your favorite variety), sliced

1

15-oz can

black beans,

rinsed and drained

1

10-oz carton

cherry tomatoes,

halved

1

avocado,

sliced

Half of one

medium jicama,

cut into matchsticks

4

oz

shredded cheese,

cheddar, pepper jack, etc.

¼

cup

diced red onion
Instructions
For the tortilla strips:
Follow the instructions on this how to make tortilla strips post. This is a good place to start as they need to cool before eating, and they can be kept in an air-tight bag or container for several days and still remain crunchy.
For the quinoa:
Rinse the dry quinoa until the water runs clear.

Add broth or water and rinsed quinoa to a medium saucepan and bring to a boil.

Once boiling, reduce heat to a simmer and cover the saucepan. Cook for 15-20 minutes, or until the germ (little curly thing) has separated from each grain and the liquid is absorbed. Fluff the cooked quinoa with a fork before serving.
For the cilantro lime ranch dressing:
Follow the instructions on this healthy cilantro lime ranch dressing post. This dressing can be made earlier in the day, or 1-2 days ahead of time. Stir or shake well before serving.
For the salad:
Mix all ingredients together, holding off on adding the dressing and tortilla strips until just prior to serving. Refrigerated leftover portions make a delicious lunch!
Notes
Time estimate: The recipe time takes into account making all of the salad elements right before assembling and eating these salads. Serving estimate: Ingredient quantities are estimated for four meal-sized servings of this quinoa turkey taco salad. You may wish to add more/less of any ingredient as you like, so do adjust freely! Make-ahead options: Elements that can be made ahead of time and then used or reheated/used: baked tortilla strips, quinoa, meat, dressing. Nutrition: It's next to impossible to calculate the nutritional info for this recipe because there are so many variables at play here. The linked recipes (taco meat, tortilla strips, cilantro lime ranch) all feature nutritional estimates per serving on their own recipe pages for some guidance.
Nutritional information is provided as an estimate. As it can vary due to many factors (brands used, quantities, etc.), we cannot guarantee its accuracy.
Food Safety and Nutrition Disclaimer