Taco meat is always a family dinner favorite. Whether you use ground beef, ground turkey or chicken, or even a vegetarian substitute, this easy recipe features the best homemade taco seasoning and yields juicy and flavorful meat for tacos, salads, and more in no time.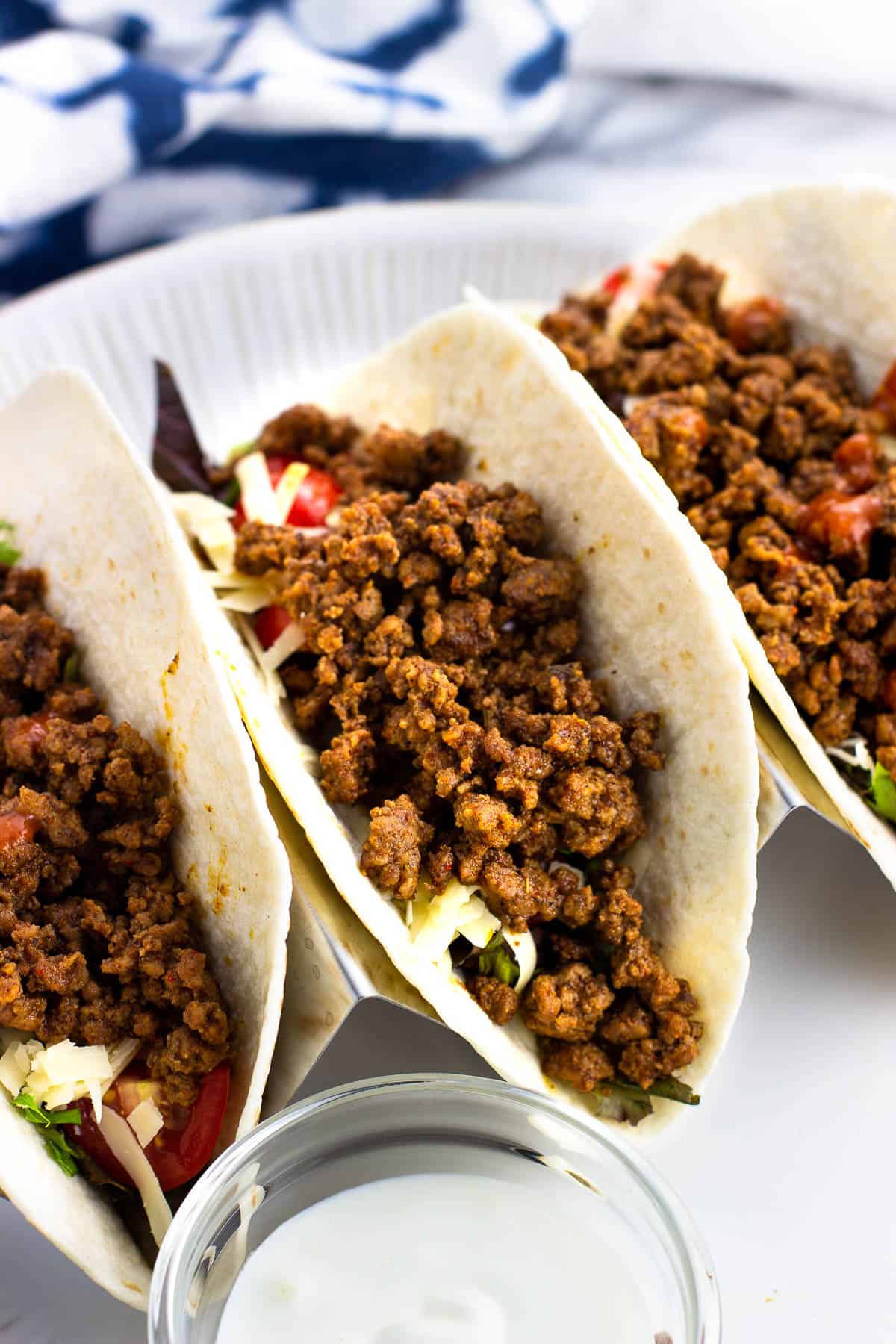 Tacos? For Tuesday? Groundbreaking.
<insert Miranda Priestly GIF here>
This post on making taco meat certainly isn't extra unique or BRAND NEW INFORMATION <insert Phoebe Buffay GIF here>, but it's a true blue, solid dinner staple. We make it every two weeks or so using either ground turkey or ground beef.
About half of the time I have turkey or beef defrosting I end up scrapping my original plans and end up making taco salads. There's just something about how dependable and versatile taco meat is that steals my attention. And easy, too. It's hard to beat that.
What You'll Need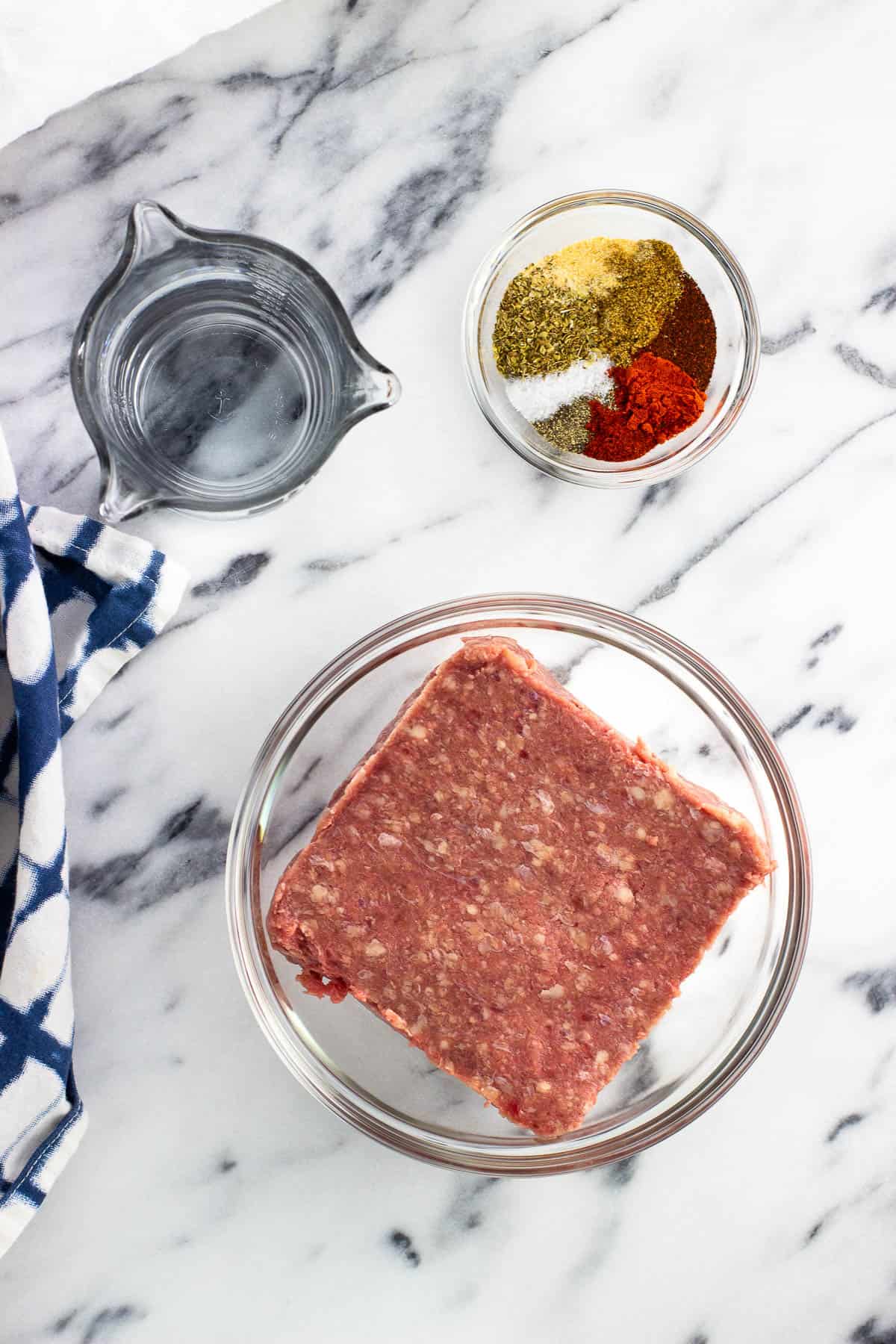 Ground Meat: Beef, turkey, or chicken all work, as does a vegetarian ground meat alternative like Impossible or Beyond. Options with lower fat content may need a drizzle of oil to prevent them from sticking to your pan.
Homemade Taco Seasoning: Of course you can always use a store-bought packet instead (or three tablespoons of any pre-mixed blend), but my hands-down favorite spice mix is this one made with pantry staples. It's spiced-but-not-too-spicy, smoky, and balanced.
Water: This simmers down to provide lots of moisture for juicy taco meat and helps the dry spices adhere to the meat.
Optional Ingredients
Over the years I've played around with different ways to tweak this taco meat recipe depending upon what I had on hand. Most of the time I stick with what's in the recipe card at the bottom of this post, but here are some alternative methods I've tried:
Beef or Chicken Broth: Replace the water 1:1 with broth or stock of your choice. With a robust taco seasoning I don't find much flavor difference in the meat between using broth and using water, so I just stick with water. Keep in mind this will add sodium, so considering holding back on the salt in your taco seasoning.
Tomato Paste: Add 1 tablespoon of tomato paste along with the water and spices if you'd like a saucier tomato flavor. See my post on freezing tomato paste to easily have it portioned out and readily available.
Sautéed Onion: Add diced raw onion and a little drizzle of oil along with the raw ground beef and cook together. This is a great option for using up leftover portions of an onion.
Step-by-Step Instructions
While this isn't a lengthy recipe by any means, there are a few extra steps beyond sprinkling herbs and spices that turn a skillet full of ground meat into perfectly seasoned and juicy taco meat.
Stir together all taco spices in a small bowl. This quantity is equivalent to one packet of store-bought, around three tablespoons.
Add raw ground meat to a large skillet over medium heat. Break it up into small crumbles as it cooks.
Drain the fat off, then sprinkle in the taco seasonings and pour in the water.
Stir every now and then while it simmers, until nearly all of the liquid has reduced. The taco meat is ready to serve.
Recipe Tips and Tricks
Fat Percentage - The ground beef fat percentage (80/20, 85/15, etc.) isn't that picky as you'll be draining the fat. The simmering water step provides lots of moisture.
Storage - Cooked ground taco meat can be refrigerated for up to 3-4 days.
Serving Suggestions - Beyond standard tacos, serve cooked taco meat in easy burritos or taco salads, taco stuffed air fryer baked potatoes, taco stuffed zucchini boats, and more.
Recipe FAQs
When do you add taco seasoning to ground beef?
Crumble and fully cook the ground beef, drain off the fat, then add the dry taco spices and water. This way you don't lose any of the seasoning when you discard the fat.
How much water do you add to taco seasoning?
Use 6 ounces of water (three-quarters of a cup) to 3 tablespoons of dry taco seasoning per pound of meat. This quantity of spice is roughly the same amount as one packet. The amount of water doesn't have to be ultra precise - a little less is fine, too.
How do you drain taco meat?
Fully cook and crumble the ground beef to release most of the fat, then tilt the pan and carefully spoon out pooling grease into a bowl to discard once cool in the trash. You can also use a turkey baster instead of a spoon to make this process even quicker! Don't pour the grease down the kitchen sink drain as that can clog up the plumbing.
Can you freeze taco meat?
Yes. Cook taco meat and let it cool off completely to room temperature. Transfer it to a freezer bag and seal, pressing out as much excess air from the bag as you can to minimize any freezer burn. Label the bag with the date and the quantity of meat for future reference, then freeze for up to 4 months (per the USDA). Thaw in the refrigerator before reheating to 165°F to serve.
Can you cook taco meat from frozen ground beef?
Yes, though it's not my favorite way as it requires more attention. It will take longer to cook and be able to crumble, so take care to flip the frozen block over frequently and separate/scrape off the thawing outer bits throughout to more efficiently get everything to cook.
Related Recipes
If you've enjoyed this recipe, I'd love for you to leave a star rating in the recipe card and/or a comment review below!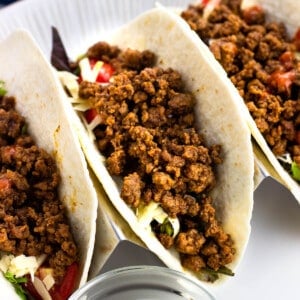 How to Make Taco Meat (Beef or Turkey)
Taco meat is always a family dinner favorite. Whether you use ground beef, ground turkey or chicken, or even a vegetarian substitute, this easy recipe features the best homemade taco seasoning and yields juicy and flavorful meat for tacos, salads, and more in no time.
Print
Pin
Rate
Ingredients
2 ½

teaspoons

chili powder

1 ¼

teaspoons

ground cumin

1 ¼

teaspoons

garlic powder

1

teaspoon

onion powder

¾

teaspoon

dried oregano

½

teaspoon

salt

more or less to taste

½

teaspoon

ground black pepper

½

teaspoon

smoked paprika

¼

teaspoon

ground cayenne pepper

¾

cup

water

1

pound

ground beef or turkey

(see note)
Instructions
Stir together chili powder, cumin, garlic powder, onion powder, black pepper, oregano, salt, paprika, and cayenne pepper together in a small bowl. Set aside.

Add ground turkey or beef to a skillet set over medium heat. Break the meat up into small crumbles as it cooks, stirring everything up as needed until no pink remains and the meat is fully cooked.

If using beef, drain off the fat and discard in the trash.

Evenly sprinkle the mixed taco seasoning in the skillet over the cooked ground meat. Raise the heat to medium-high and pour in the water. Let everything simmer, stirring occasionally, until the water has nearly all reduced. Serve.
Notes
Meat: Ground beef, turkey, chicken, or a vegetarian ground meat alternative can all be used. Fat percentage isn't super important as you're draining off the fat. If using a leaner meat (turkey/chicken) add a drizzle of your preferred cooking oil to the skillet to prevent sticking. Variations: Use broth or stock in place of water (just be mindful of this added sodium and consider reducing the separately added salt) and/or add a tablespoon of tomato paste to the skillet along with the water for a tomato-saucier version. Storage: Refrigerate cooked taco meat in an air-tight container for 3-4 days. To freeze, transfer completely cooled taco meat to a freezer bag, press out all excess air, and seal. Freeze for 3-4 months, thawing in the fridge before reheating thoroughly. Nutrition: This is estimated for one-quarter of a batch made with ground turkey. It will vary depending upon the meat you use.
Nutrition
Calories:
236
kcal
|
Carbohydrates:
2.8
g
|
Protein:
31.7
g
|
Fat:
13
g
|
Saturated Fat:
2.2
g
|
Cholesterol:
116
mg
|
Sodium:
380
mg
|
Potassium:
379
mg
|
Fiber:
1
g
|
Sugar:
0.6
g
|
Calcium:
48
mg
|
Iron:
3
mg
Nutritional information is provided as an estimate. As it can vary due to many factors (brands used, quantities, etc.), we cannot guarantee its accuracy.
Food Safety and Nutrition Disclaimer
Note: The photos in this post were updated in May 2023 from its initial publish date in 2018. An original photo is below. The recipe is the same, now with extra FAQs and detail featured in the post above.