Taco meat is always a family dinner favorite. Whether you use ground beef or ground turkey, this recipe features the best homemade taco seasoning (no MSG!) and yields juicy and flavorful meat for tacos, salads, and more in no time.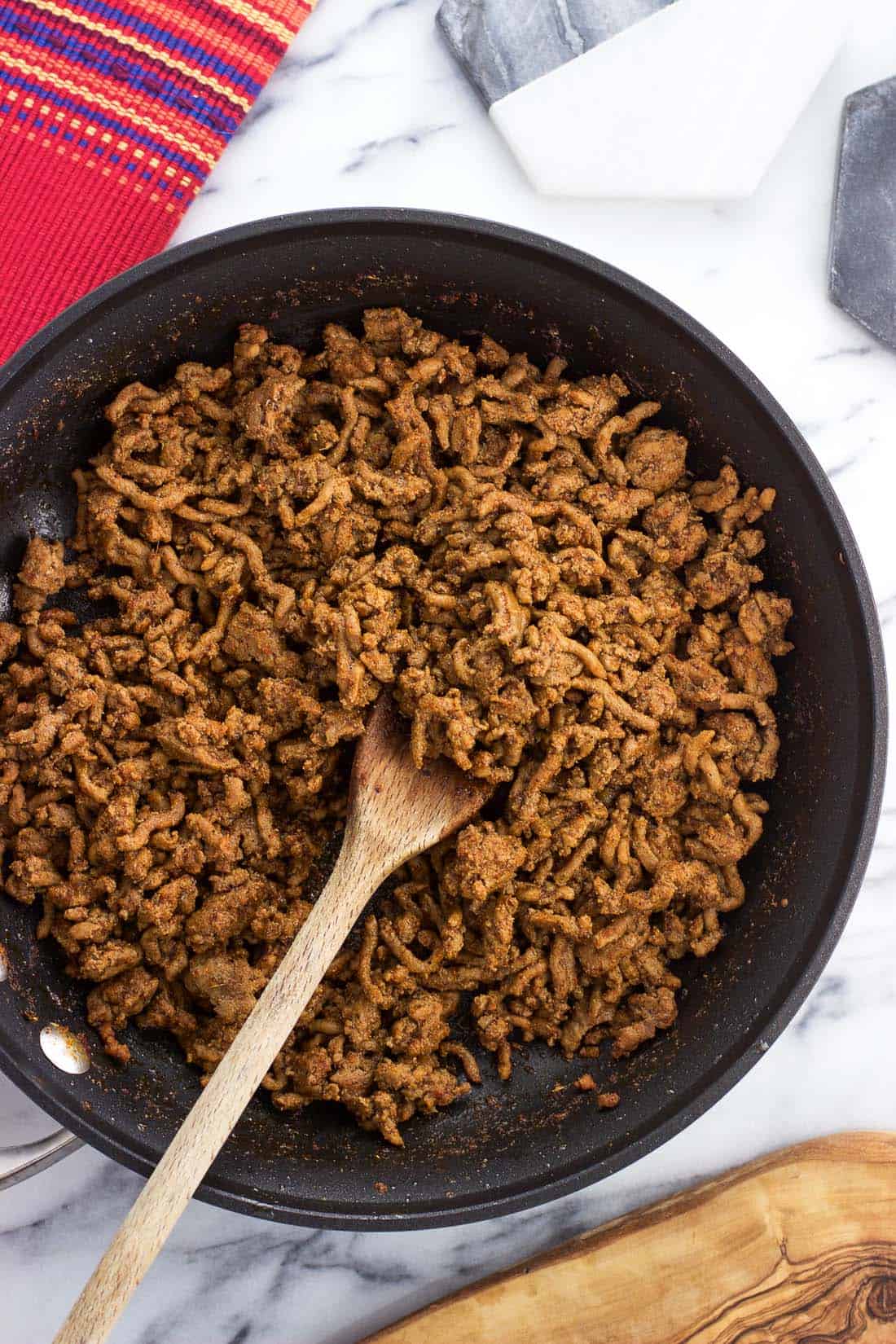 Tacos? For Tuesday? Groundbreaking.
<insert Miranda Priestly GIF here>
This post on making taco meat certainly isn't extra unique or BRAND NEW INFORMATION <insert Phoebe GIF here>, but it's a true blue, solid dinner staple. We make it every two weeks or so using either ground turkey or ground beef.
In fact about half the time I have turkey or beef defrosting I scrap my original plans and end up making taco salads. There's just something about how dependable and versatile taco meat is that steals my attention. And easy, too. Hard to beat that.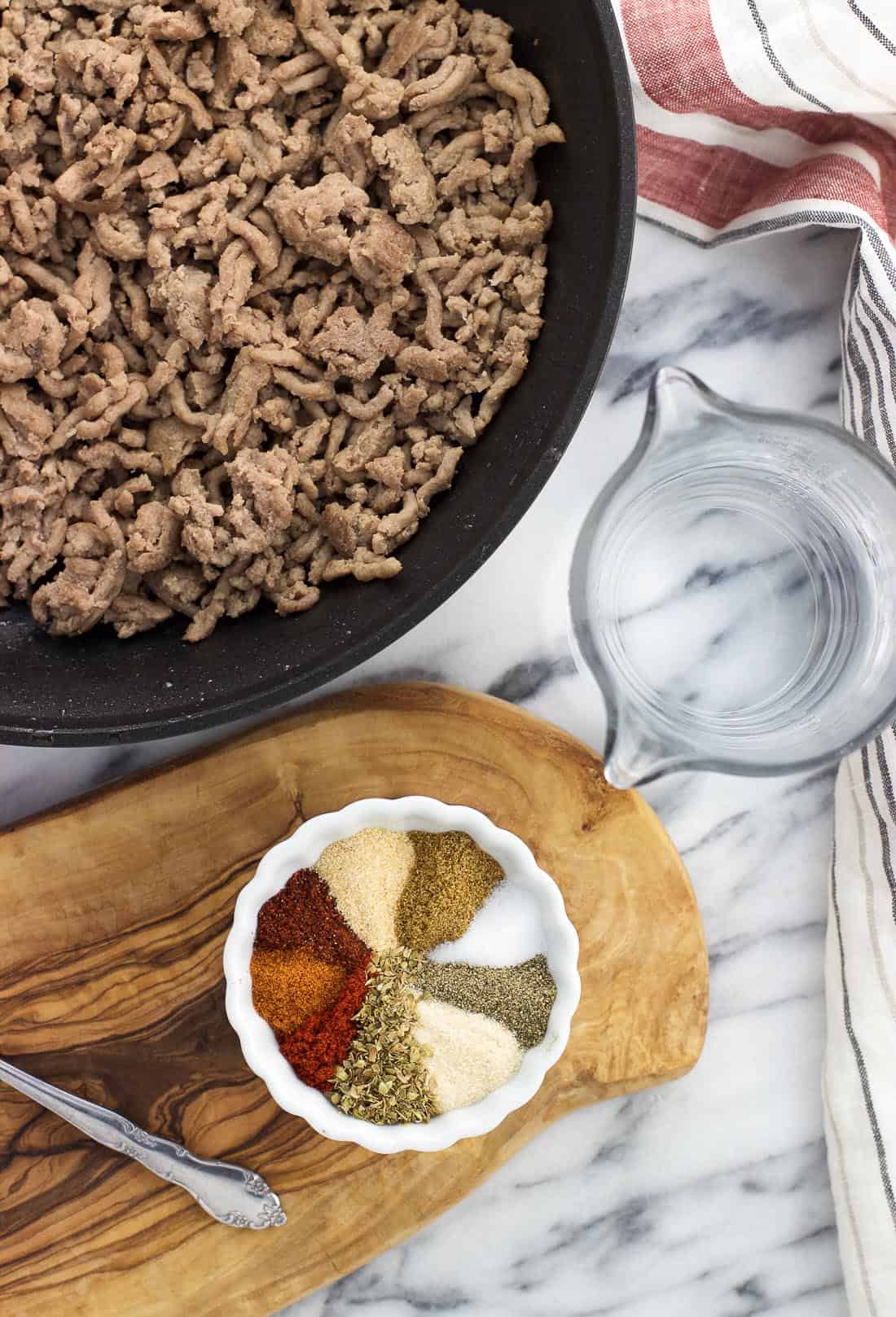 I shared what (in my opinion) is the BEST homemade taco seasoning mix a few weeks ago, but figured the processing of making taco meat deserved its own time in the spotlight.
After all, there are a few extra steps beyond mixing up herbs and spices that turn a skillet full of ground meat into perfectly seasoned and juicy taco meat.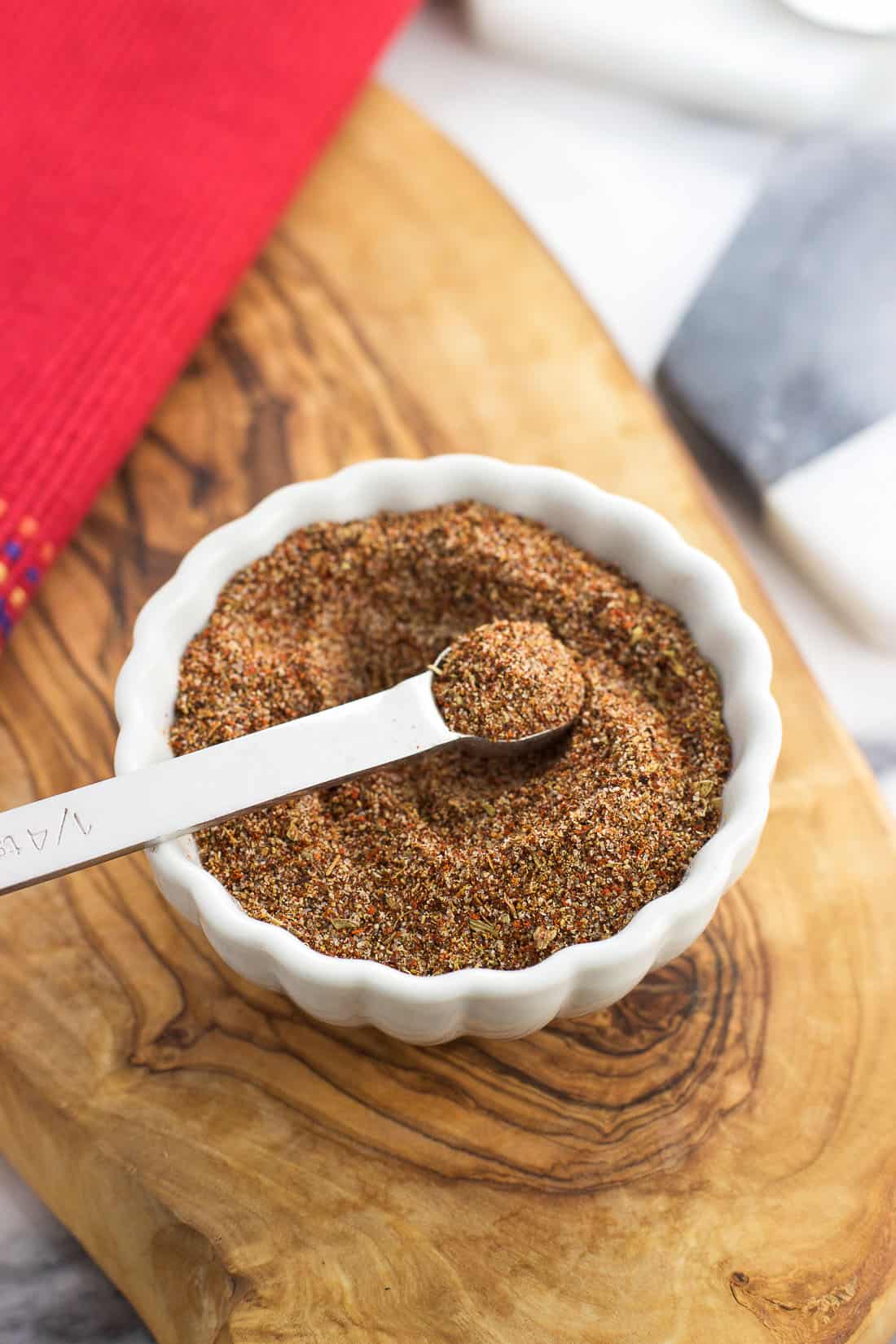 For convenience sake I've included the spices and quantities of my fave taco seasoning in the recipe card below so you don't have to go clicking back and forth between posts. It's a balanced mix that isn't too spicy (though you can increase the cayenne to make it as spicy as you like) and features no MSG, preservatives, or gluten, unlike some store-bought spice mixes.
Keep in mind that the quantities written below are used to season one pound of meat. Doubling/tripling/quadrupling the spice mix and storing in an airtight container will help you whip up future batches of taco meat speedily.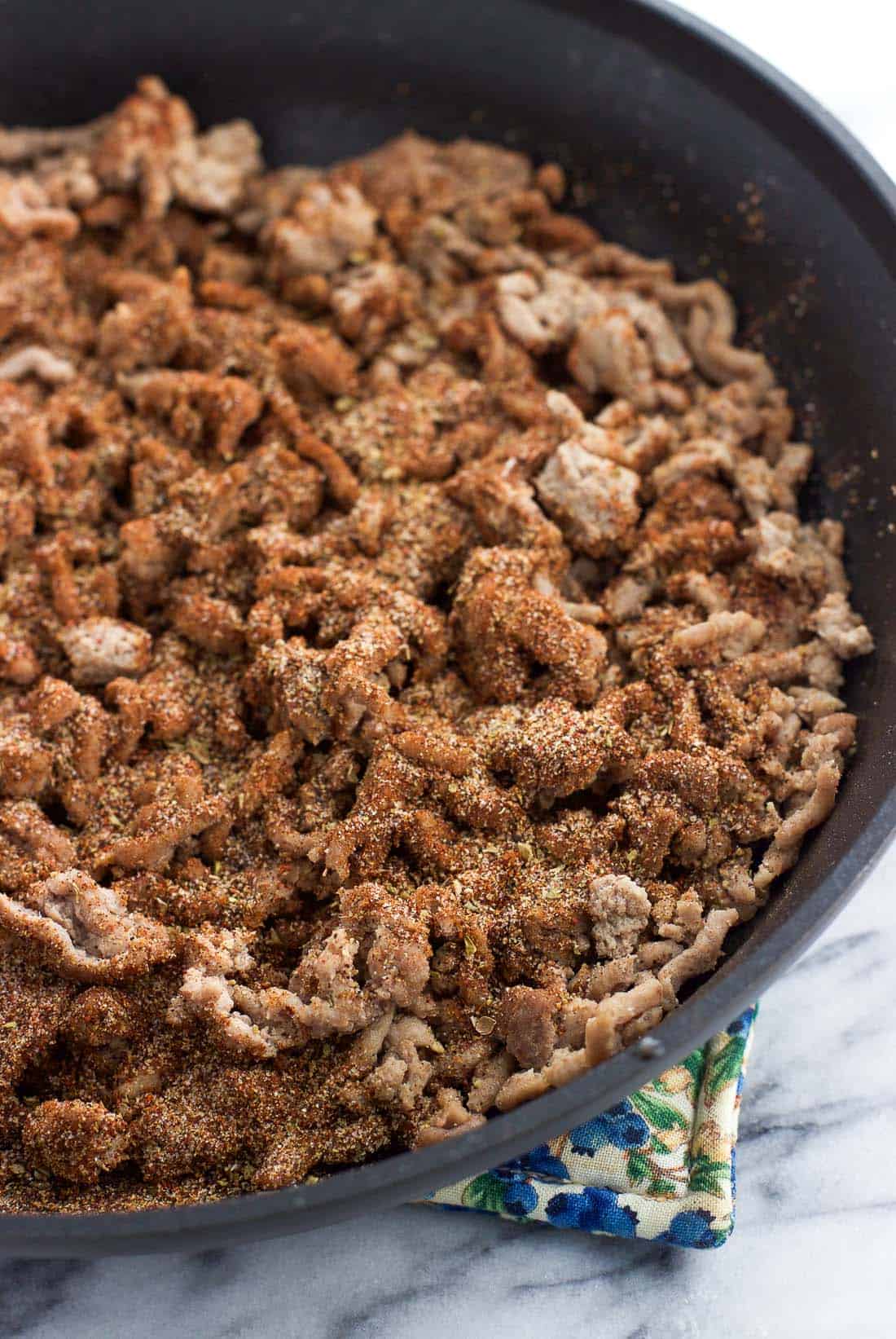 From plentiful experience I can tell you that this method works wonderfully for both ground turkey and ground beef. Use whatever you prefer! I try and diversify our main dish proteins as best I can, so I alternate beef or turkey depending on how much red meat we have on our menu for the week.
When using ground beef I always drain the fat off once it's been cooked and crumbled before continuing on with this taco meat recipe. Because of that I find it doesn't matter too much what lean meat to fat ratio I buy.
80/20, 85/15, 90/10...whichever you like or have on had would work. This taco meat becomes ultra juicy from the next step so we're not relying on fat for that.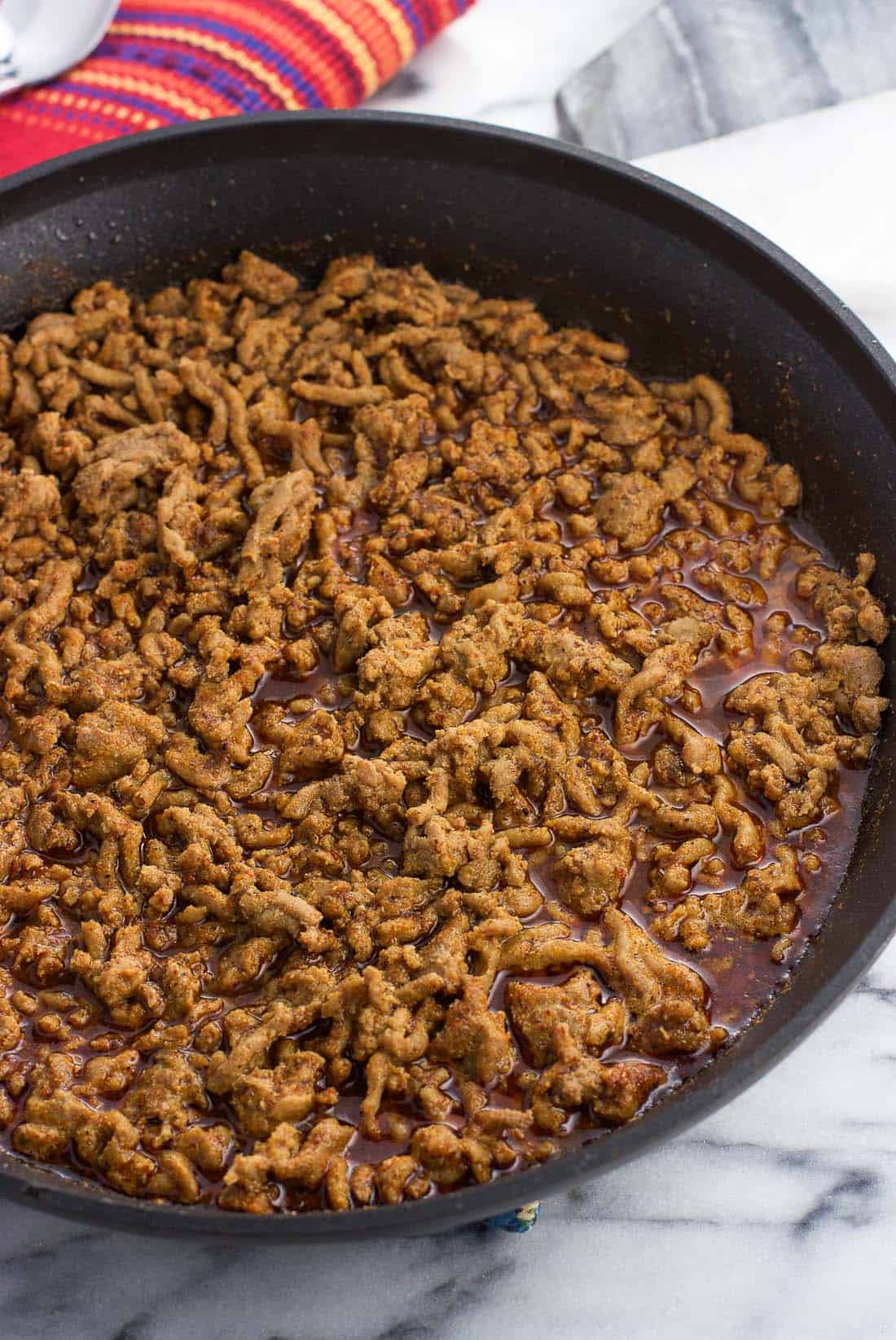 Once your ground meat is back in the skillet and the fat is drained off (if using beef), scatter your taco seasoning all over it. I know it looks like a lot of seasoning. Like way too much. But I promise it all works out.
The second picture above is right after I sprinkled the seasoning over top. That's ground turkey, btw, so I didn't have much fat at all to drain off. Things are about to get good...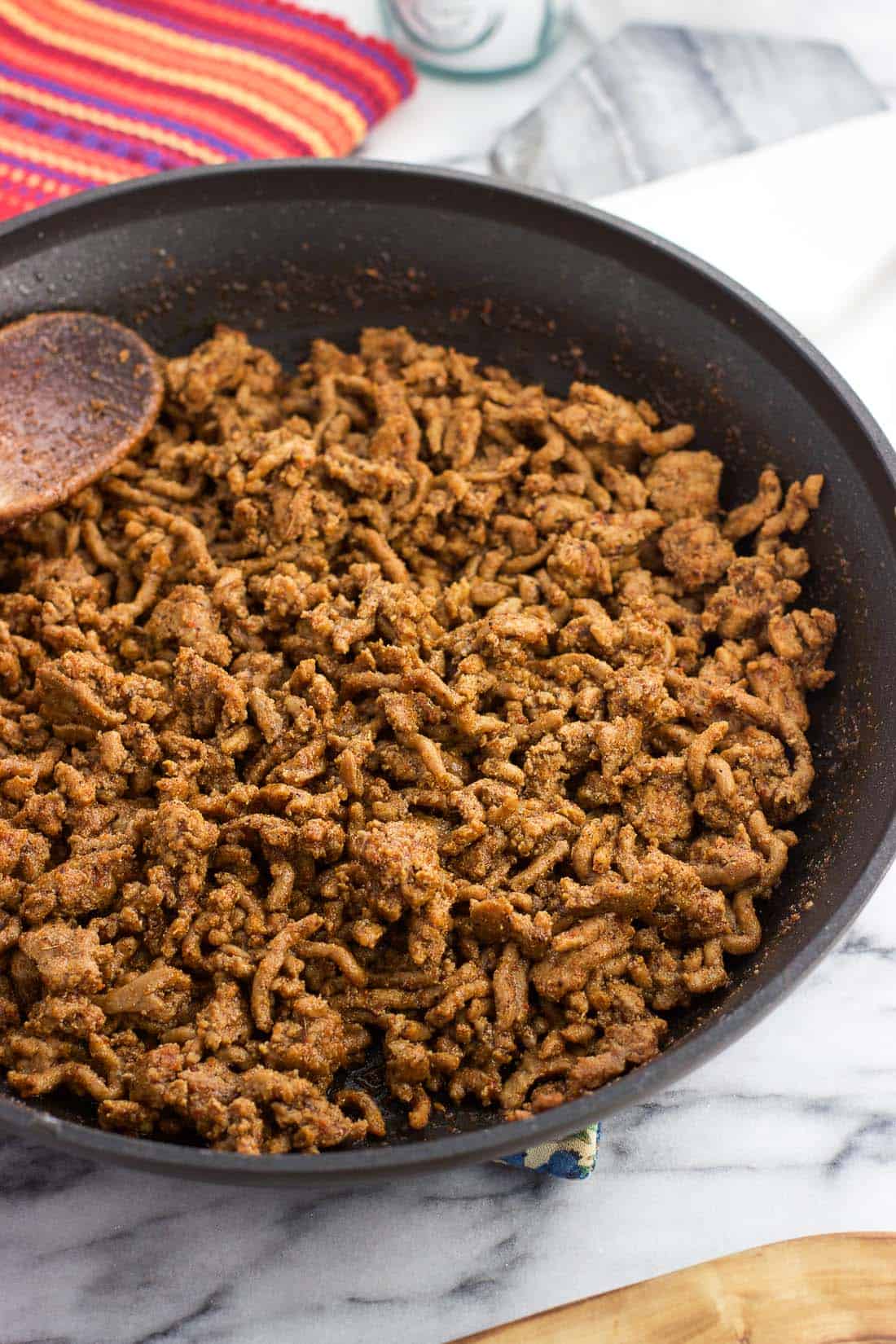 Once the cooked and crumbled meat is back on the stovetop and sprinkled with the taco seasoning, you'll want to raise the heat to medium-highish and pour in about three-quarters of a cup of water. (It doesn't have to be ultra precise.)
This is where the moisture comes from. The taco meat will simmer, which allows all of those spices to coat the crumbles evenly. Keep it going until just about all of the water has reduced, at which point it's all ready for serving.
Now for the big question - what would you make with this easy taco meat? Are you the type to stick with tacos or do you like to branch out? I don't think you can go wrong with whatever you pick. 🙂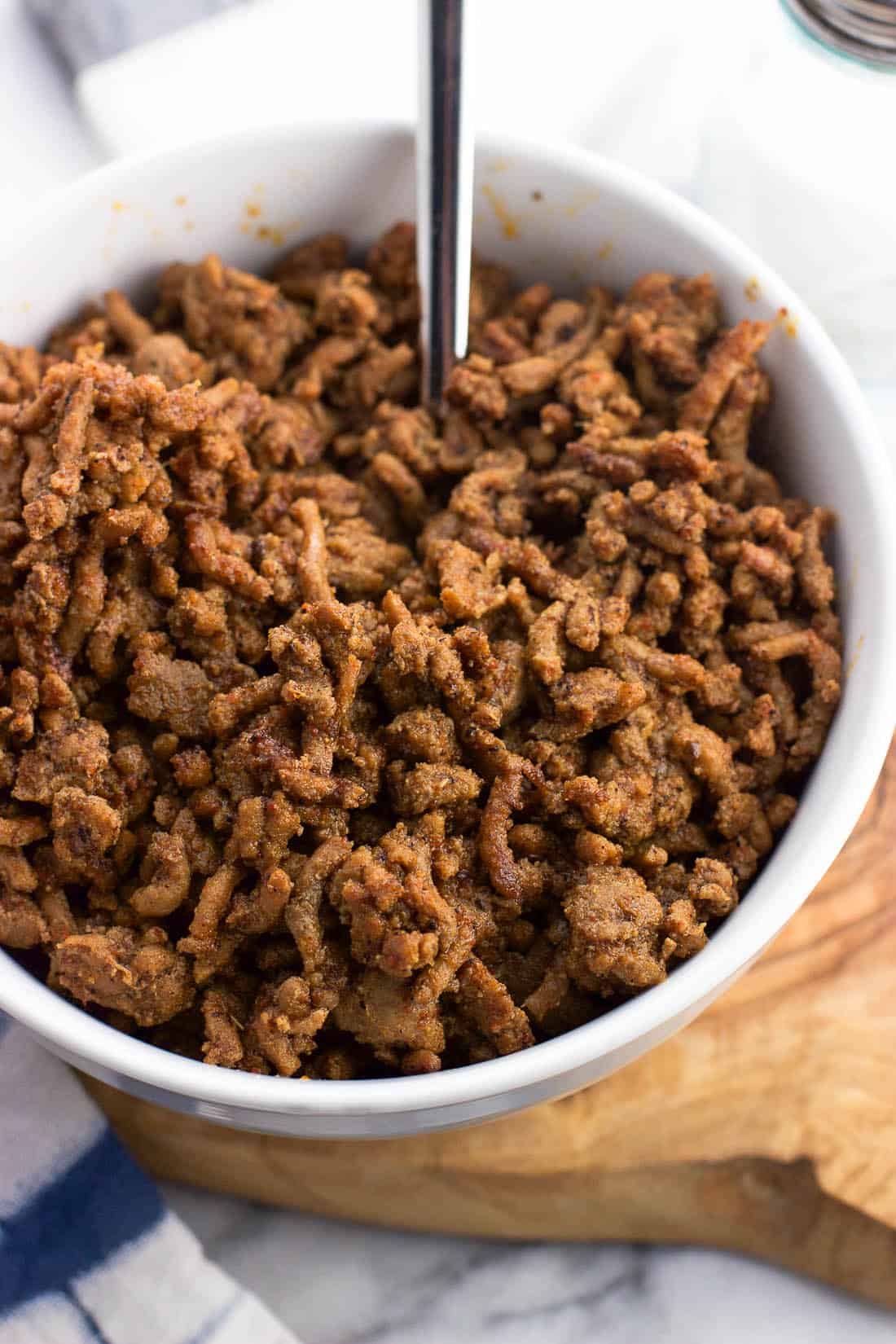 Taco meat recipe notes:
As written below, the homemade taco seasoning isn't that spicy. Add extra cayenne pepper if you'd like it spicier.
If using beef, drain the fat once the meat is cooked and before you add the seasoning. I find that turkey doesn't usually require any draining.
How to Make Taco Meat (Beef or Turkey)
Taco meat is always a family dinner favorite. Whether you use ground beef or ground turkey, this recipe features the best homemade taco seasoning (no MSG!) and yields juicy and flavorful meat for tacos, salads, and more in no time.
Print
Pin
Rate
Ingredients
2 ½

teaspoon

chili powder

1 ¼

teaspoon

ground cumin

1 ¼

teaspoon

garlic powder

1

teaspoon

onion powder

¾

teaspoon

dried oregano

½

teaspoon

salt

more if desired

½

teaspoon

ground black pepper

½

teaspoon

smoked paprika

¼

teaspoon

ground cayenne pepper

¾

cup

water

1

lb

ground turkey or beef

(see note)
Instructions
Stir together chili powder, cumin, garlic powder, onion powder, black pepper, oregano, salt, paprika, and cayenne pepper together in a small bowl. Set aside.

Add ground turkey or beef to a skillet set over medium heat. Break the meat up into crumbles as it cooks, stirring everything up as needed until no pink remains and the meat is fully cooked.

If using beef, drain the fat off.

Evenly sprinkle the taco seasoning mix over the beef in the skillet. Raise the heat to medium-high and pour in the water. Let everything simmer, stirring occasionally, until the water has nearly all reduced. Serve.
Notes
Nutritional information is estimated for one-quarter of a batch made with ground turkey. It will vary depending upon the meat you use.
Nutrition
Calories:
242
kcal
|
Protein:
20.2
g
|
Fat:
17
g
|
Saturated Fat:
4.5
g
|
Cholesterol:
86
mg
|
Sodium:
652
mg
Nutritional information is provided as an estimate. As it can vary due to many factors (brands used, quantities, etc.), we cannot guarantee its accuracy.
Food Safety and Nutrition Disclaimer