Tempeh tacos feature easily prepped vegan taco meat seasoned with a balanced and smoky homemade taco seasoning. These vegetarian/vegan tacos make such a hearty dish perfect for Meatless Monday, Taco Tuesday, or any day of the week!
It's taken a good…four? five? years, but there are now two tempeh recipes on the blog. Took me long enough! Tempeh is a soy-based vegetarian protein that's nice and firm, and can easily adapt to different cuisine styles and presentations. Sliced and pan-fried, cubed, grated, or crumbled, tempeh can just about do it all.
My preferred way to prepare tempeh is to crumble it. BBQ tempeh kale tortilla pie is a Meatless Monday favorite in my house.
With its firm texture, mild flavor, and crumble-ability, the wheels started turning in my head about making tempeh tacos. With the right seasonings and preparation, could tempeh turn into delicious vegan taco meat?
Spoiler alert: YES.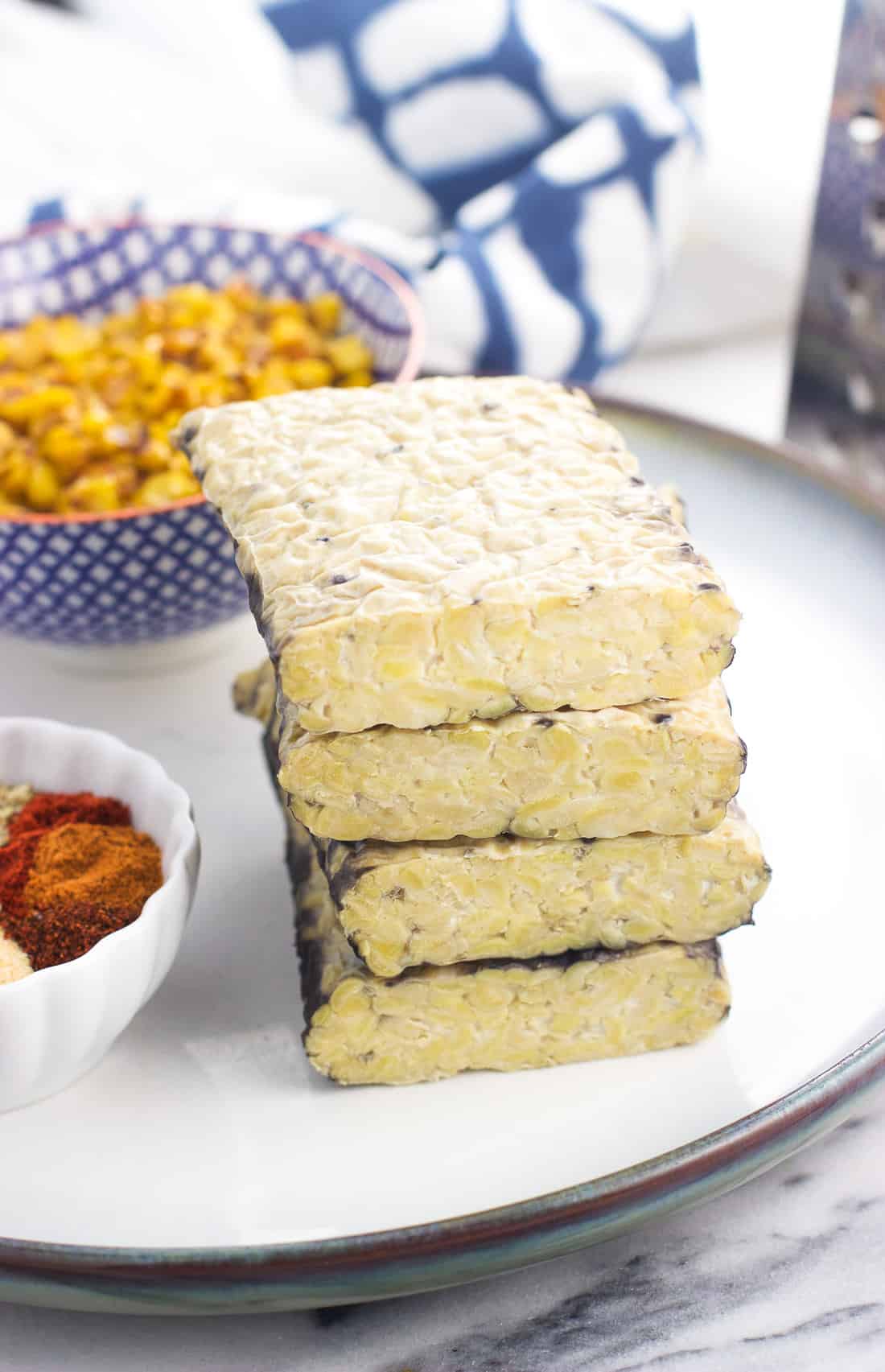 Now for starters…
What is tempeh?
You've likely encountered tofu before (especially if you've been investigating the vegetarian meal space), but tempeh definitely seems to be less known.
Tempeh is a fermented soybean-based product that's a great source of protein and fiber. It usually comes in a solid block (seen in the photo above) that can be sliced/diced/broken down into whatever form you'd like for cooking. You can see it crumbled in the picture below for use in this tempeh taco recipe.
Something that ALWAYS comes up with tempeh is its appearance. It's not exactly a looker, you know? But I mean, let's talk about those black spots. Completely normal.
Per Lightlife, the brand of tempeh I usually buy (not sponsored, just a brand I like that I can reliably get at my usual, non-specialty supermarket), the black spots form from the heating/cooling processes during fermentation and are totally safe to eat.
Of course the tempeh I bought specifically for these photos happened to be some of the most heavily spotted tempeh I've ever seen in person, so go figure. From my experience, I usually find tempeh with a considerably less blackened exterior than the blocks you see in the photo above.
Is it gluten-free?
The tempeh I find in the supermarket consists of three ingredients: cultured soybeans, water, and brown rice. While tempeh in its basic form does not contain wheat, you'll want to research different brands if cross-contamination is a concern for you. The variety I usually buy is not certified as made in a gluten-free facility, but there are certain varieties that do have that designation.
Tempeh vs. tofu
While tempeh and tofu are both soy-based products with mild flavors, there's a big difference between the two: texture. Even though tofu comes in 'extra firm' varieties, it still has, for lack of a better descriptor, a squishy jiggle that can be less than appealing to some.
Some including my husband, who does like sheet pan tofu with peanut sauce and brussels sprouts but isn't begging for it to be a frequent staple on our dinner menu.
Tempeh is much firmer and mimics the texture of ground meat when crumbled and browned, so it's a great option for the tofu-phobic or those just getting into vegetarian dishes. Plus you don't need to take the extra time to press out moisture as you would likely need to do with a block of tofu.
Where to buy tempeh
I reliably can find tempeh at both of the non-specialty, big chain grocery stores in my area. Look by the refrigerated produce section if there's an area there that features vegan cheeses and meat alternatives.
At the smaller chain, specialty natural/organic market by us it's by the tofu stocked in the dairy department along with tofu by the cream cheese and butter. Either the refrigerated produce or dairy sections would be my best bet as to where you can find tempeh. It'll usually be in an 8-oz block in vacuum-sealed packaging.
Easy recipe steps
Once you've got tempeh in the house, the first step is to crumble it. You can do this by hand or use a box grater if it's easier. I prefer to break up the tempeh by hand for this recipe to ensure the crumbles are of a good size, similar to that of ground meat. Sometimes when grating tempeh the pieces end up a little too small for my liking in these tempeh tacos, but do it whichever way you like.
Afterwards you'll saute it in a pan with the cooking oil of your choice until it's nice and golden. Add an extra drizzle of oil or two as needed throughout this process as the tempeh doesn't release fat to help out.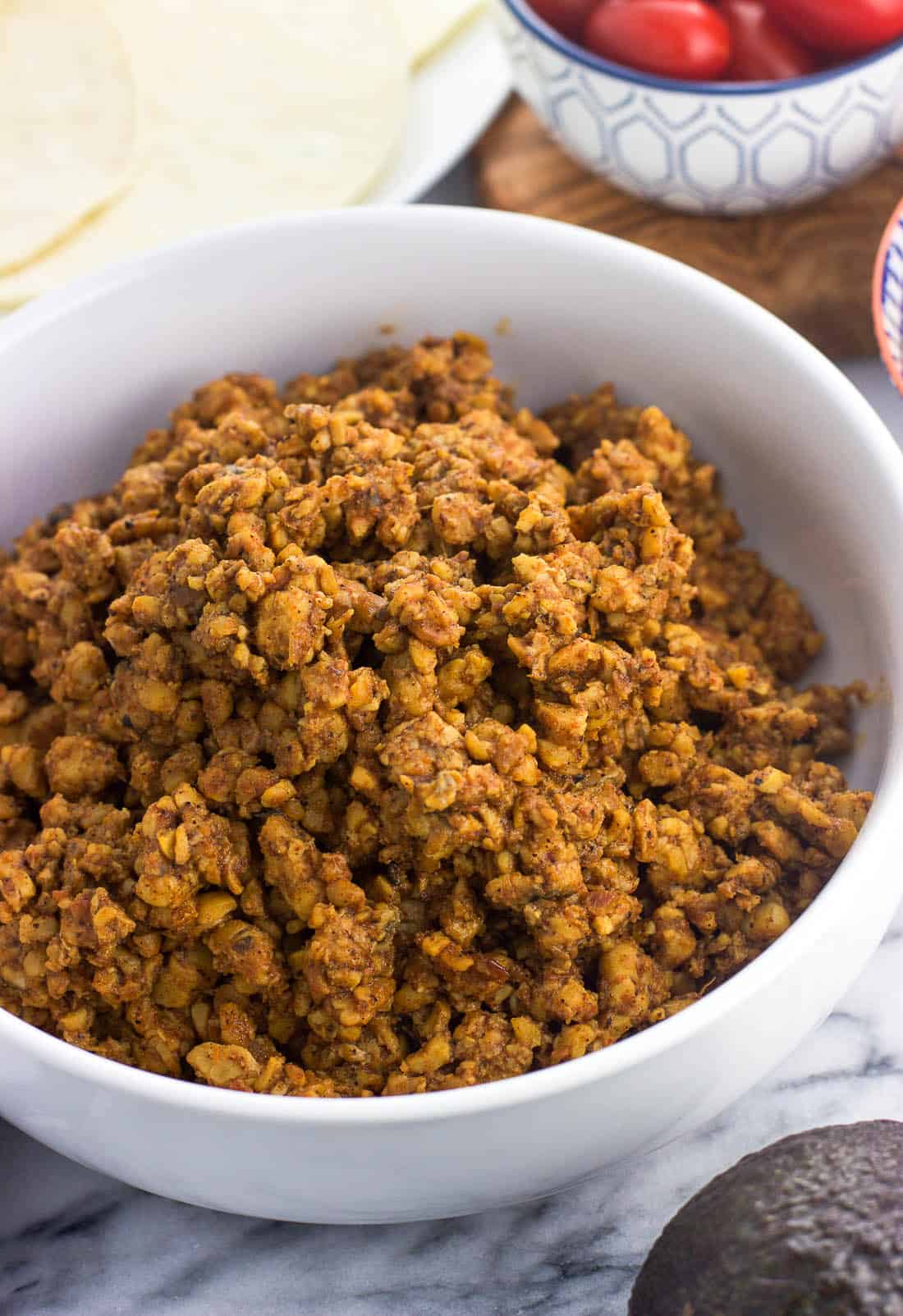 Once the tempeh is nice and golden, it's time for the spices. What I used here in these tempeh tacos (and what I always use for tacos) is my homemade taco seasoning blend. These dried herbs and spices are always on hand in my house and this is an easy mix to customize to your liking.
It has a little zip from the cayenne, but you can omit it or add more if you're into heat. And I *love* the smokiness from smoked paprika, but if you don't have it and would rather not buy it, regular would work fine too. Same goes for all the ingredients, really – totally zhush it to make it your own.
I've linked to the seasoning above, but I've also included the ingredients and quantities in the recipe card below for convenience.
Once the taco seasoning is scattered over the browned tempeh, pour in the water! Just like in my how to make taco meat post, one step I always always do is to add water to the skillet and let it cook out. This process evenly disperses the seasoning to coat each crumble, and ensures the meat/faux-meat is extra juicy.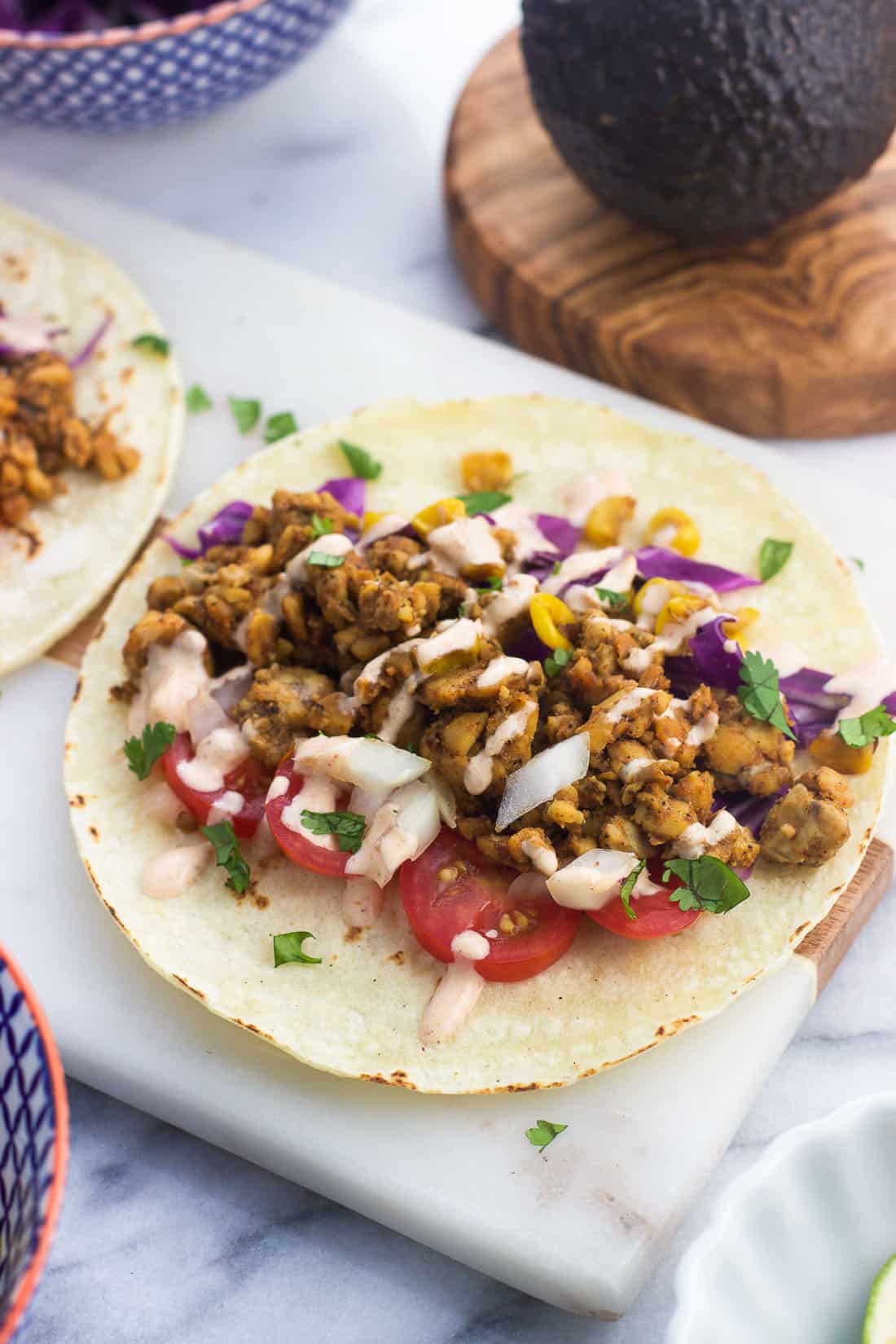 Vegan taco meat and toppings
And there you have it – a big bowl of vegetarian/vegan taco meat ready for taco assembly. The tempeh tacos you see in these photos all feature vegan toppings, and provided a great mix of creamy, crunchy, fresh, and roasty textures and flavors to make these tempeh tacos one satisfying meal. I've used:
Crunchy vegetables, such as onion, red cabbage, and jicama strips
Bright/creamy fruits (even though I want to call them veggies) like sliced cherry tomatoes and avocado.
Cilantro

Skillet roasted corn

. So easy! First heat a little bit of olive oil in a skillet over medium heat, then add fresh or canned/drained corn kernels. Season with salt and pepper (or whatever you like) and cook for ten minutes or so, stirring everything up periodically, until all the kernels are roasty to your liking.
Dairy-free spiced yogurt drizzle. I took plain dairy-free yogurt (Kite Hill is my leading favorite brand, also not sponsored) and added a little bit of lime juice, a few dashes of hot sauce, smoked paprika, salt, and pepper. Usually I don't even measure, just whatever looks and tastes right.
Recipe notes
This recipe makes a fair amount of tempeh taco filling. Halving all of the ingredients would use just one 8-ounce package of tempeh and would still yield a good 3-4 servings.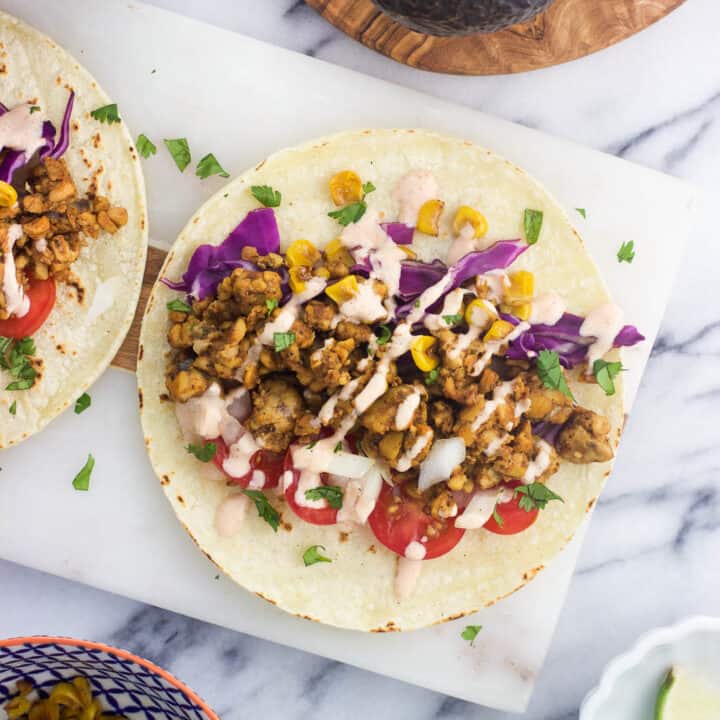 Tempeh Tacos
Tempeh tacos feature easily prepped vegan taco meat seasoned with a balanced and smoky homemade taco seasoning. These vegetarian/vegan tacos make such a hearty dish perfect for Meatless Monday, Taco Tuesday, or any day of the week!
Print
Pin
Rate
Ingredients
Tempeh:
2 1/2

tsp

chili powder

1 1/4

tsp

ground cumin

1 1/4

tsp

garlic powder

1

tsp

onion powder

1

tsp

salt

1

tsp

ground black pepper

3/4

tsp

dried oregano

1/2

tsp

smoked paprika

1/4

tsp

ground cayenne pepper

4

tsp

olive oil,

or your preferred cooking oil (extra as needed)

2

8-oz packages

tempeh,

crumbled

1

cup

water
Serving (suggestions):
Tortillas or taco shells

Avocado slices

Onion,

diced

Salsa

(or chopped tomatoes)

Chopped cilantro

Lettuce,

sliced

Red cabbage,

sliced

Roasted corn

(see steps below)

Spiced dairy-free yogurt drizzle

(see steps below)
Instructions
Add chili powder, cumin, garlic powder, onion powder, salt, pepper, and oregano, smoked paprika, and cayenne to a small bowl and stir to combine. Set aside for now.

Add olive oil to a large skillet set over medium heat. Once the oil is heated, add the crumbled tempeh. Cook for 10 minutes, stirring occasionally, or until the tempeh is golden-brown. Add an extra drizzle or two of olive oil as needed as the tempeh cooks.

Scatter the taco seasoning over top of the crumbled tempeh in the skillet, stir it up, then pour in the water. Give everything a stir to coat, then reduce the heat to low-medium to simmer for a few minutes. Once the water has reduced, remove from the heat and serve alongside your favorite taco toppings.
Notes
The nutritional info provided is an estimate for one-sixth of the tempeh taco meat mixture. It doesn't include taco shells or additional toppings as there's way too much variation.
Roasted corn: Add 1 tbsp olive oil to a skillet set over medium heat. Once heated, add fresh or canned/drained corn kernels and season with salt and pepper. Cook, stirring it up occasionally, for 10 minutes, or until corn is roasted to your liking.
Dairy-free yogurt drizzle: I don't usually measure when I make this, but the drizzle you see here is dairy-free yogurt mixed with lime juice, hot sauce, smoked paprika, salt, and pepper. Lots of different flavor directions to take this one.
Nutrition
Calories:
145
kcal
|
Carbohydrates:
8.6
g
|
Protein:
11.2
g
|
Fat:
7.3
g
|
Saturated Fat:
1
g
|
Sodium:
403
mg
|
Potassium:
211
mg
|
Fiber:
6.4
g
|
Sugar:
0.1
g
|
Calcium:
78
mg
|
Iron:
2
mg
Nutritional information is provided as an estimate. As it can vary due to many factors (brands used, quantities, etc.), we cannot guarantee its accuracy.