Oven fried tofu with spicy ginger sauce is a healthy vegetarian dinner recipe that's better for you than take-out! The thick and creamy sauce is formed by reducing vegetable stock, and coats the hearty tofu pieces beautifully. Serve alongside broccoli and rice for a complete meal.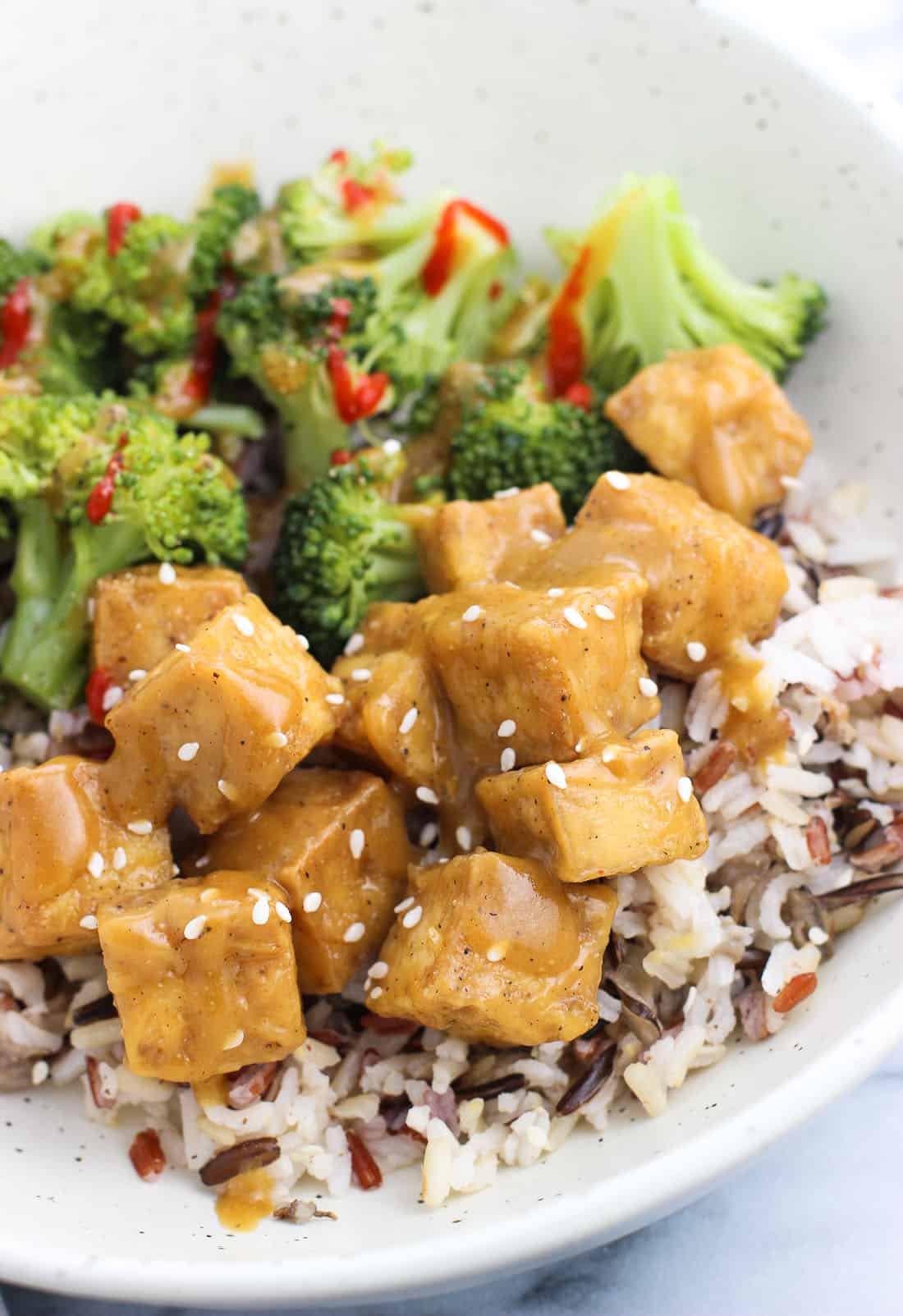 You know what they say: once you post your first tofu recipe, you just can't stop.
So maybe nobody says that, but since posting this sheet pan tofu with peanut sauce and brussels sprouts I've wanted to 'beef' up (pun intended) my vegetarian main dish section on the blog. While we don't have a hard and fast Meatless Monday routine, I do like cycling in a variety of vegetarian dinners, and tofu is an easy and very cost-effective protein to use.
I love tofu every which way, but someone I live with, ahem, is not a huge fan. His problem is less the idea/taste of it than it is the texture, which I understand. Tofu can have a jiggle to it that isn't the most appealing if you're a little wary in the first place. Enter oven fried tofu! This healthier version of 'fried' tofu results in firm, non-squishy cubes that have a crispness to their exteriors, which eliminates a lot of the texture concerns someone might have. Once coated with sauce, the texture here reminds me of the tofu you'd get from a Chinese take-out restaurant. Except, you know, not fried. Win!
There are a few steps to making this oven fried tofu, first of which being to press the tofu. Even with the extra-firm variety, you'll see that laying it on a paper towel-lined plate and placing a heavy pan over top for some time will release a good amount of excess moisture. Less water in the tofu means it can better absorb oils and flavors and will crisp up easier. Both good things!
Once the tofu is pressed, it will be cut into equally-sized cubes and tossed with a bit of sesame and olive oils. Not much, just about two tablespoons in total, but this oil helps the dusting of cornstarch (which you'll add next) adhere. Cornstarch is one of my favorite coatings to add to oven baked fries as it creates a light and crisp exterior. It works the same way with oven fried tofu.
My last tip is to bake the tofu on an oven-safe wire rack placed over a baking sheet. Raising the tofu up off the baking sheet allows the air to circulate around all sides of the tofu, preventing the bottom side from becoming soggy. Doing this also saves you the step of having to flip each piece of tofu over halfway through cooking, which can be a tedious part of an oven baked recipe. Just make sure to coat the rack generously with cooking spray before adding the tofu as you don't want any sticking.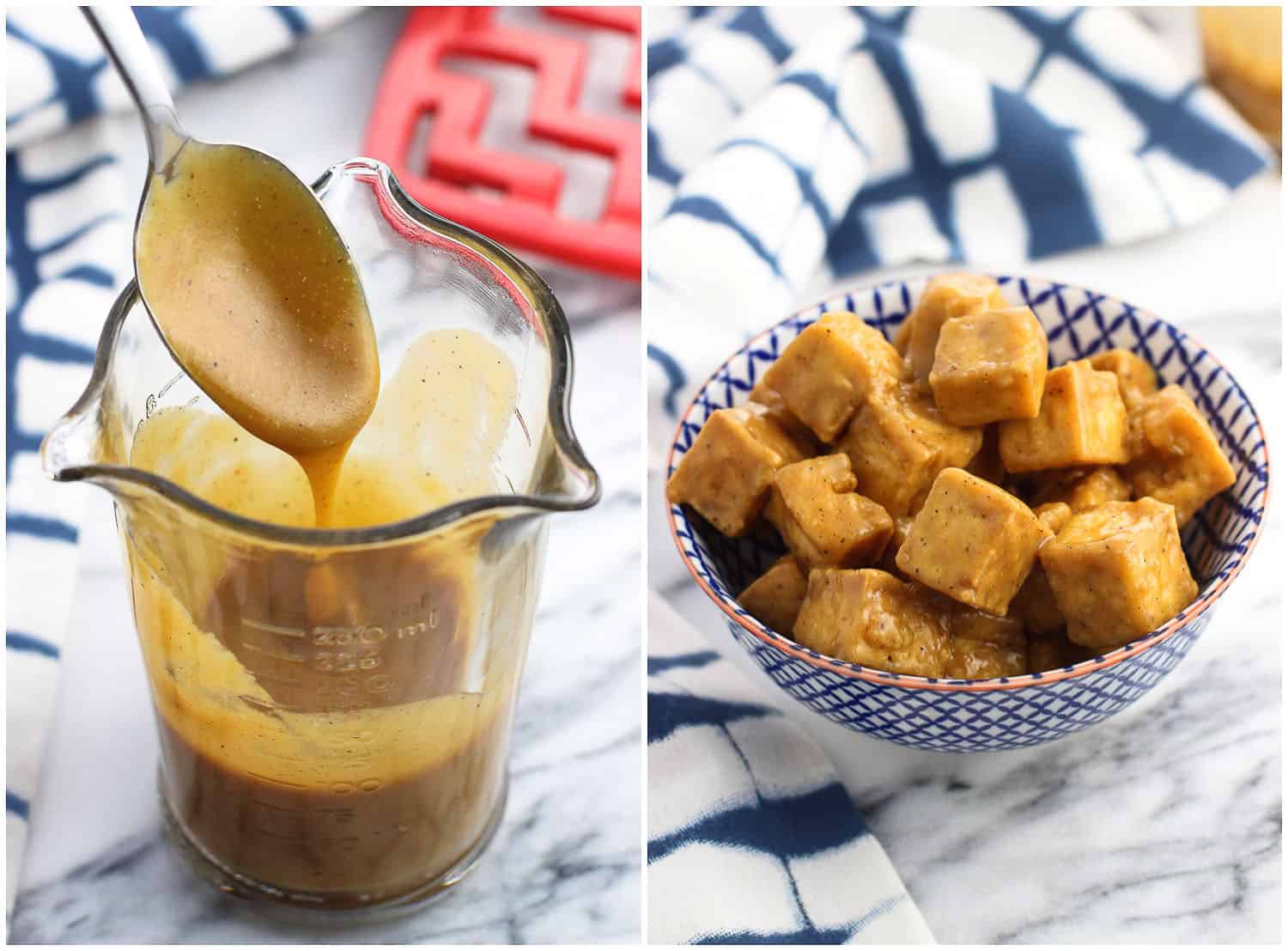 Peanut sauce is one of my favorite Asian-inspired sauces for really any type of protein (or noodles), but I wanted to do something different here. I was playing around with a vegan roux of coconut oil and flour, which works exactly the way a more traditional roux with butter would go. After adding vegetable stock and letting it reduce quite a bit, I added a little of this and a little of that as far as seasonings go, tasting as I went, until it was spiced and reduced to my liking. Definitely customize the flavors here as you like them!
The fresh ginger and sriracha definitely give this spicy ginger sauce a zip, so you can increase/decrease one or both in line with your preferences. Before serving, I recommend straining the sauce to remove the stringy ginger pieces, which not only will improve the texture but will reduce a little of ginger's sharpness.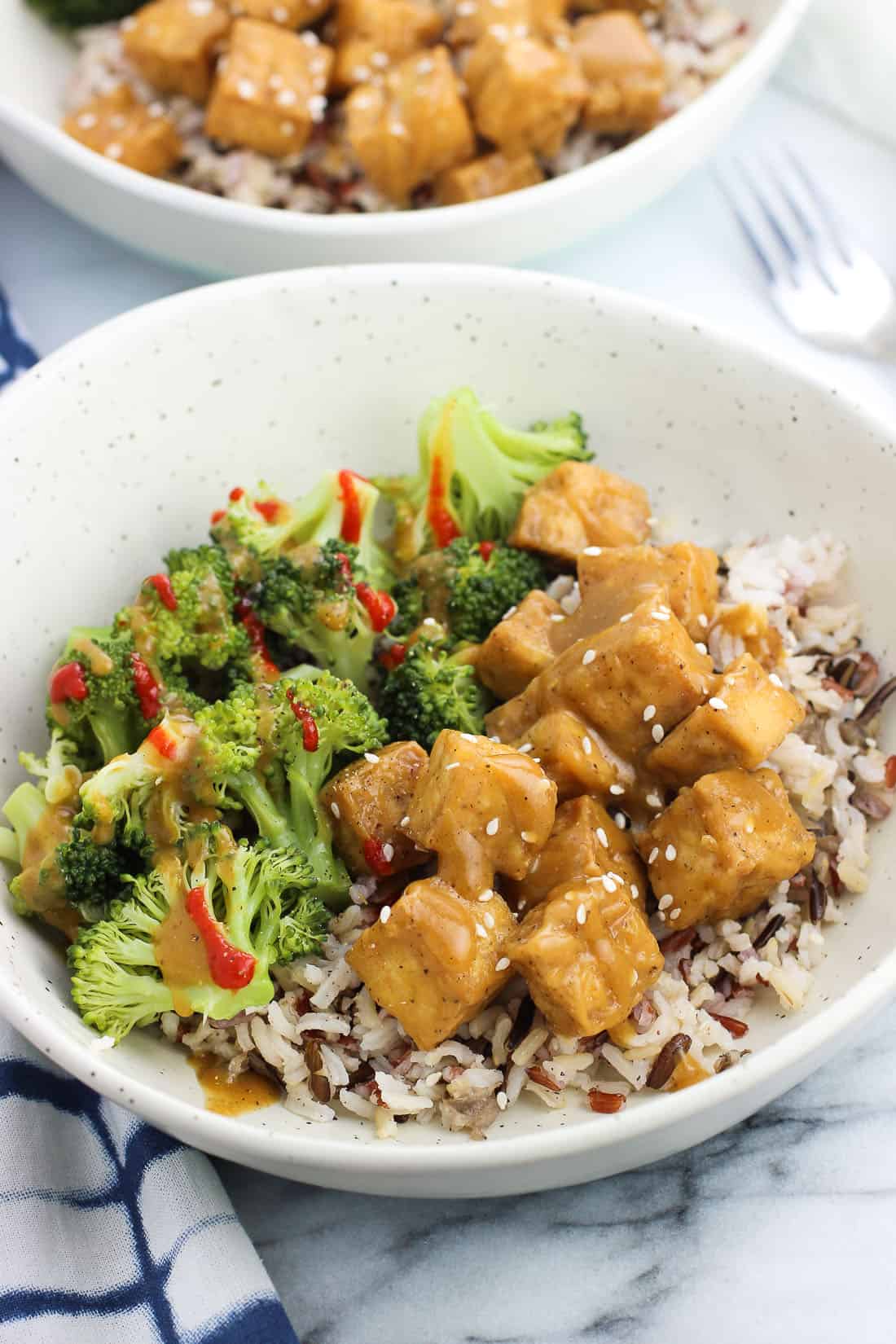 Recipe Notes:
I recommend using extra-firm tofu, but firm will do as well if that's all you can find. Pressing it will expel excess moisture to leave you with very firm blocks. Just don't use silken tofu as the texture is too loose.
The spicy ginger sauce has a pretty zippy flavor between the fresh ginger and the sriracha. Feel free to ease up on the ginger if you're not a huge fan.
Serve this oven fried tofu over rice, couscous, or quinoa, and alongside your favorite vegetables. In these photos I served it with a rice blend and simple steamed broccoli (with a drizzle of sriracha!).
Oven Fried Tofu with Spicy Ginger Sauce
Ingredients
For the Oven-Fried Tofu:
1 14-oz block extra-firm tofu
1 tbsp olive oil
1/2 tbsp sesame oil
1 1/2 tbsp cornstarch
Salt and pepper, to taste
For the Spicy Ginger Sauce:
1 tbsp coconut oil
1 1/2 tbsp all-purpose flour
1 1/2 cups vegetable stock
2 tsp freshly grated ginger
2 tsp reduced-sodium soy sauce
1/2 tsp sriracha, or to taste
1/2 tsp rice vinegar
1/4 tsp garlic powder
1/4 tsp ground black pepper
Instructions
For the tofu:
Open the tofu package and drain out the liquid. Place the tofu block on a paper towel-lined plate and place paper towels over top. Place a heavy cast-iron pan (or a 28-oz can of crushed tomatoes on top of a plate) on top to press the tofu for 30 minutes.
Once tofu is pressed, preheat oven to 400°F. Line a large rimmed baking sheet with aluminum foil (for easy clean-up) and place an oven-safe rack over the baking sheet. Spray rack generously with cooking spray.
Slice the tofu into cubes about 1" thick, then add tofu cubes to a bowl.
Drizzle olive and sesame oils over tofu and gently toss to coat. Sprinkle cornstarch over tofu through a mesh sieve (this prevents clumps), gently tossing to ensure it's coated evenly.
Place tofu cubes in a single layer on the prepared rack, leaving a little space between cubes.
Bake for 55 minutes - 1 hour, or until the tofu has firmed up considerably.
For the sauce:
Once the tofu goes into the oven, add coconut oil to a small/medium saucepan set over low heat. Once melted, whisk in flour.
Let roux develop and become smooth, whisking constantly for 2-3 minutes.
Add vegetable stock and whisk until combined. Raise heat to medium and let simmer, stirring frequently, for 30-40 minutes, or until just about thickened to your liking.
Then add grated ginger, soy sauce, sriracha, rice vinegar, garlic powder, and pepper and stir to combine. Reduce heat to low and let sauce continue to cook for 10 or so minutes.
Remove sauce from heat and adjust seasonings to your liking. Pour sauce through a mesh sieve to remove the grated ginger pieces. Set sauce aside.
Once the tofu has finished cooking, add cubes to a bowl and pour in enough sauce to coat everything. Toss to coat.
Serve oven-fried tofu over rice or quinoa, and alongside your favorite vegetables. Add an additional drizzle of spicy ginger sauce and/or sesame seeds for serving.
Notes
Prep time includes 30 minutes for the tofu to press.