Baked ravioli with spinach makes a great weeknight dinner without much effort. Refrigerated ravioli go straight from package to pan along with spinach, mozzarella cheese, and a simple homemade tomato sauce.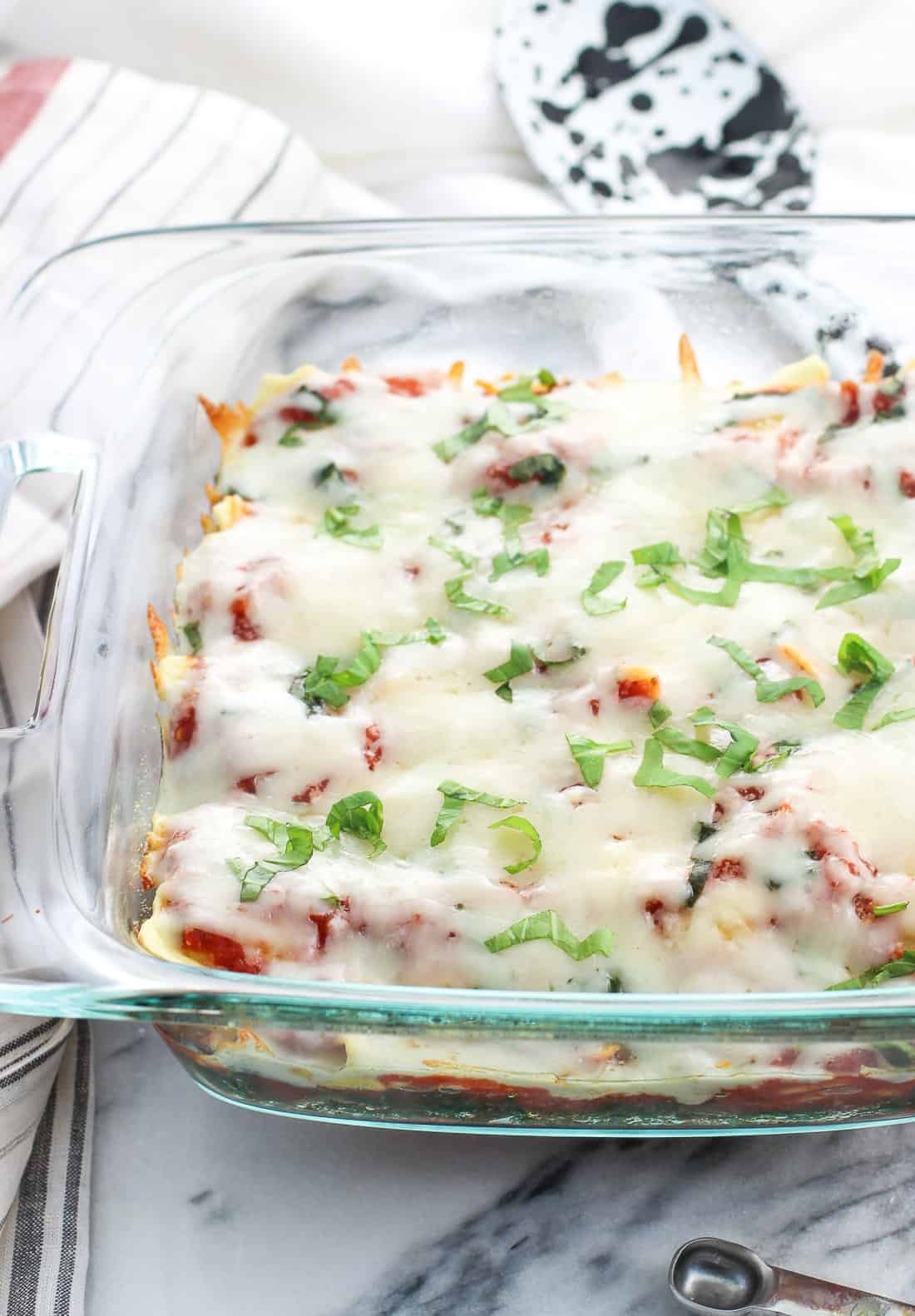 Ever have those days when you just feel like you've got yourself together? I certainly have plenty of the opposite but I had a day recently where I motored through my to-do list with reckless abandon.
A dress with too-long straps finally made its way to the tailor (on my list for weeks), wedding vendors were finalized, indoor plants were watered, wrinkles were steamed out of curtains, and the longest overdue haircut was squeezed in. I even remembered to wear extra eye makeup to my haircut so I didn't spend an hour staring at my reflection in the mirror thinking I resemble Mr. Potato Head. Why is the lighting in that chair so bad?!
To cap things off I came home and made this baked ravioli with spinach and mozzarella in just over a half hour. Weeknight dinner win!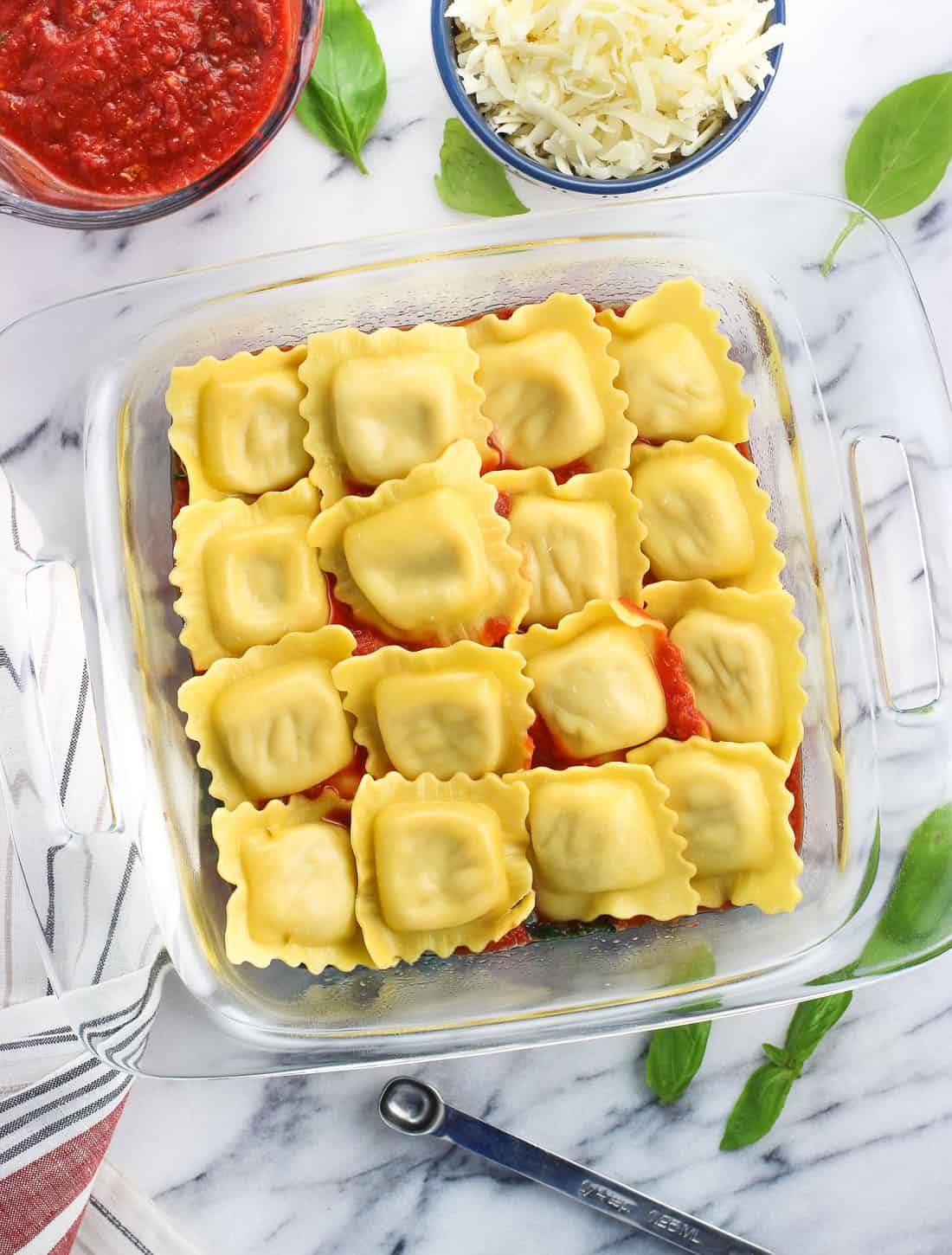 Refrigerated ravioli have been a part of our dinner rotation for awhile. I use them in this recipe for crispy and baked toasted ravioli that is a total reader favorite, but I'll sometimes switch it up and prepare them according the package directions (boil and top with sauce). This baked ravioli with spinach falls in the middle ground between the two for a relatively quick and easy main dish.
Ten ounces of baby spinach leaves might look like a ton for a recipe that yields three/four servings, but it shrinks down significantly after it's blanched. It goes down first in the baking dish, and is then topped with about half of the super easy tomato sauce. Next up is an even layer of ravioli, the remainder of the sauce, Parmesan, fresh basil, and mozzarella. Bake until the mozzarella is melty and you're all set to dig in.
Just another note about the ravioli – you don't need to pre-cook them for this recipe. They'll become perfectly soft and tender during the bake time. And use your favorite flavor! A cheese or spinach/cheese variety will make this dinner vegetarian.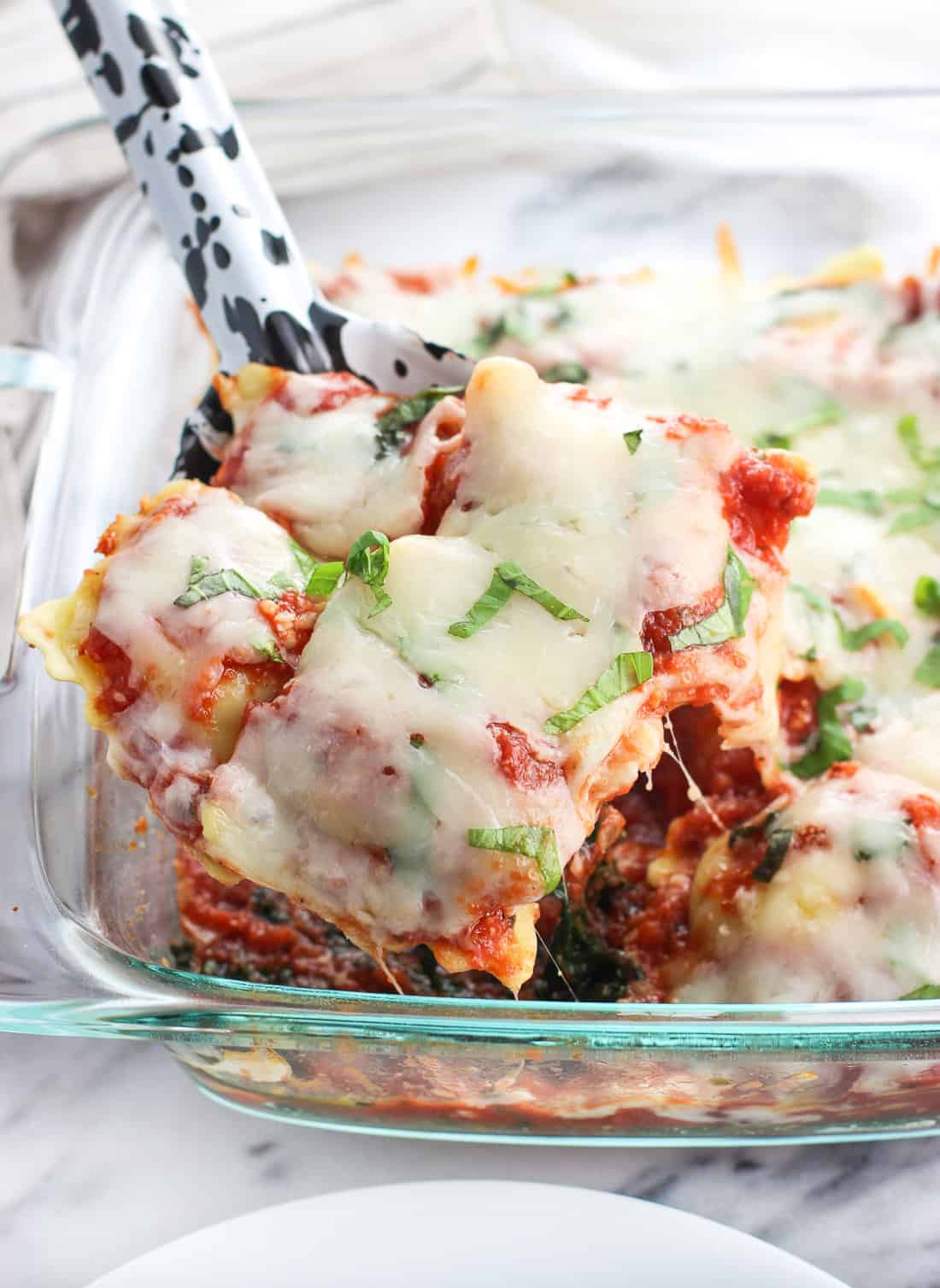 Baked Ravioli with Spinach and Mozzarella
Ingredients
10 oz baby spinach
1 1/2 tbsp olive oil
1/2 of one medium yellow onion, diced
3 cloves garlic, minced
16 oz crushed tomatoes
1/2 tsp salt
1/2 tsp ground black pepper
1/2 tsp dried oregano
1/4 tsp dried parsley
1/4 tsp crushed red pepper, optional
1 10-oz package refrigerated ravioli
1 tbsp grated Parmesan cheese
6 fresh basil leaves, sliced thin
4 oz mozzarella cheese, shredded
Instructions
Preheat oven to 375°F. Spray an 8"x8" baking dish with cooking spray and set aside.
Bring a large pot of salted water to a boil. Add baby spinach leaves and let boil for 30 seconds to 1 minute. Immediately place spinach in a colander and run cold water over top. Set aside.
Add olive oil to a skillet set over medium heat. Add onion and sauté for 2-3 minutes, then add garlic. Continue sautéing for another 2 minutes, then remove skillet from the heat.
Add crushed tomatoes, salt, pepper, oregano, parsley, and crushed red pepper. Stir.
Squeeze as much moisture as you can out of the spinach and place in an even layer on the bottom of the prepared baking dish. Pour about half of the sauce on top of the spinach, and then place the ravioli over top in a single layer.
Pour remaining sauce over the ravioli and evenly sprinkle Parmesan. Scatter basil slices over top and then mozzarella cheese.
Bake for 12 minutes, or until the sauce is bubbling and the cheese is melted.
Notes
There's no need to pre-boil the ravioli - they go straight from to the refrigerator to being layered in the dish.