This easy recipe for crispy and baked toasted ravioli will be a new appetizer favorite! Ravioli is coated in egg and an Italian-spiced panko breadcrumb mixture and baked for a crisp dish that's made healthier! Serve with marinara sauce.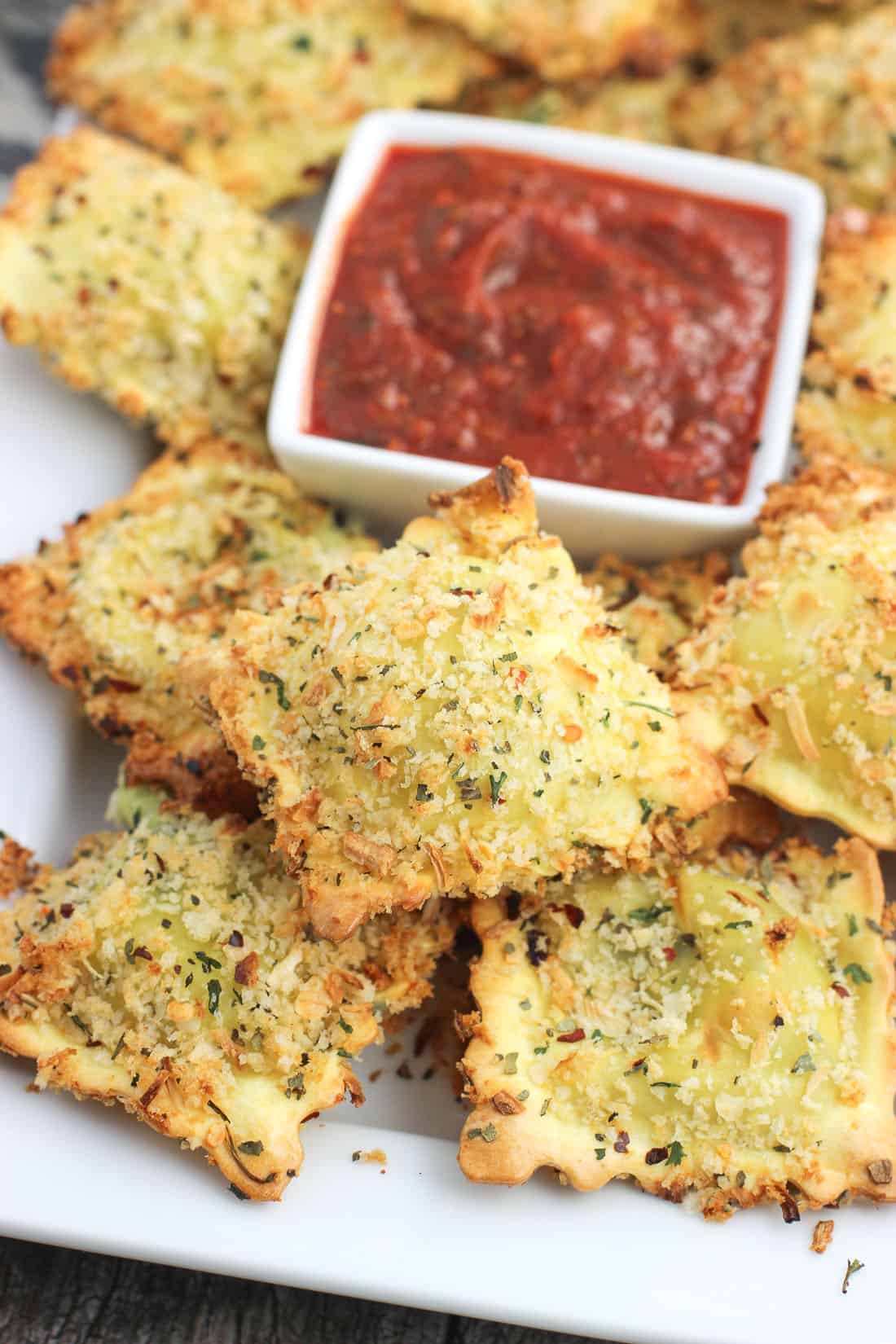 Somedays you just n-e-e-d something tried and true in your everyday eats. But not just anything. Comfort food is pretty much always a good idea, but with the temperatures creeping up and the sun staying out later each night, sometimes ooey gooey cheesy (read: rich!) doesn't seem quite right.  Salads, zoodles, and smoothies are well and good too, but sometimes I'm just not in the mood for something so light. I like a nice balance.
So I present to you crispy and baked toasted ravioli. Refrigerated ravioli are dipped in egg and coated with a panko breadcrumb mixture, then baked to crisp up just right. Served with a warm marinara dipping sauce, these make an awesome appetizer recipe (or light meal served along with a side salad)!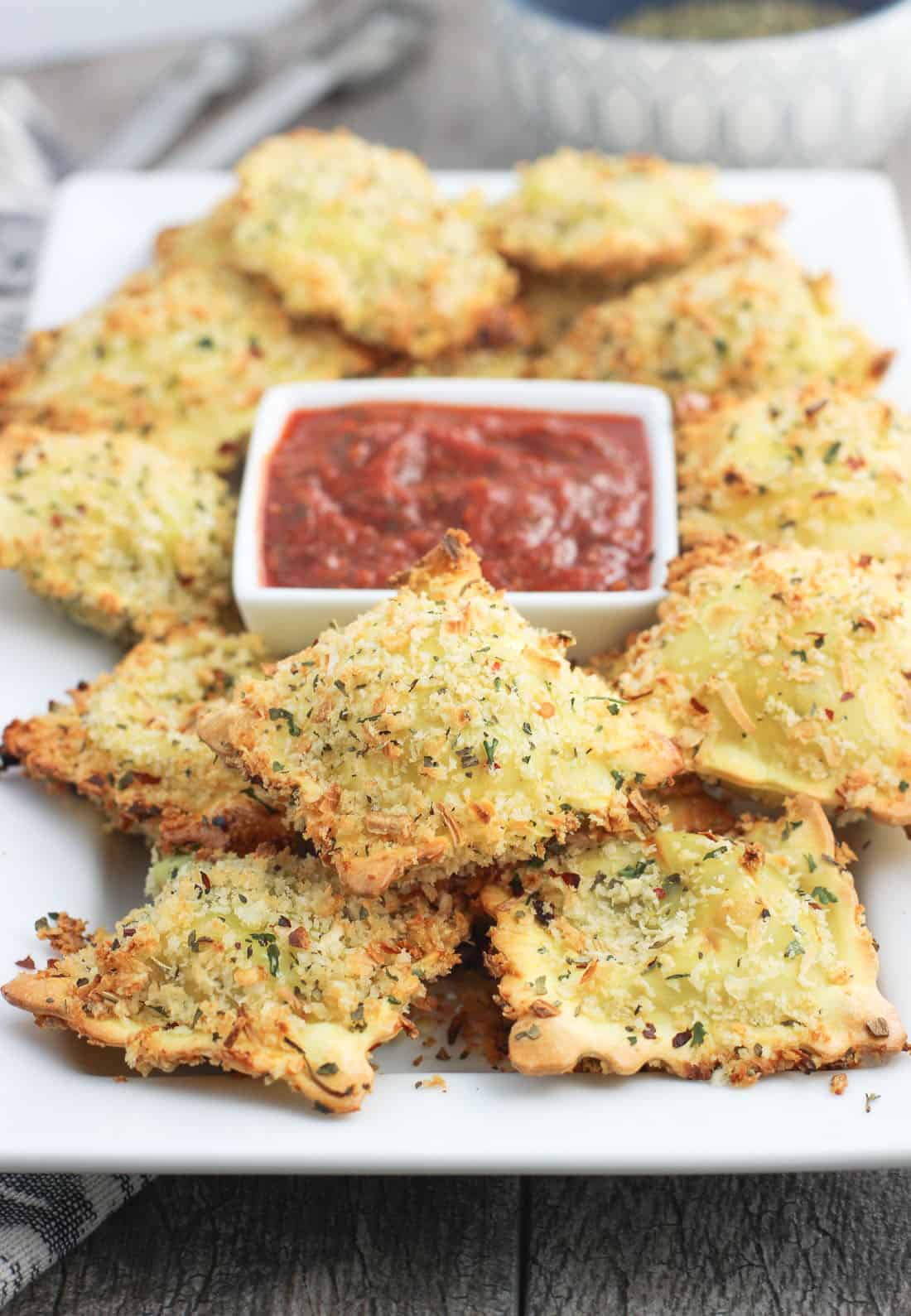 It would make sense to use Italian seasoned breadcrumbs here in the coating…but that would be too easy, wouldn't it? Turns out the extra 'Italian breadcrumbs' I thought I had on the tippy top shelf were my second back-up box of plain panko, but thankfully my spice cabinet came to the rescue. 🙂 I added dried chopped onion to the breadcrumbs (along with the usual spice culprits) for an extra bold flavor, and a shake or two of red pepper flakes for a little heat.
And oh – use whatever flavor of ravioli you like! These were filled with spinach and ricotta, which we really liked.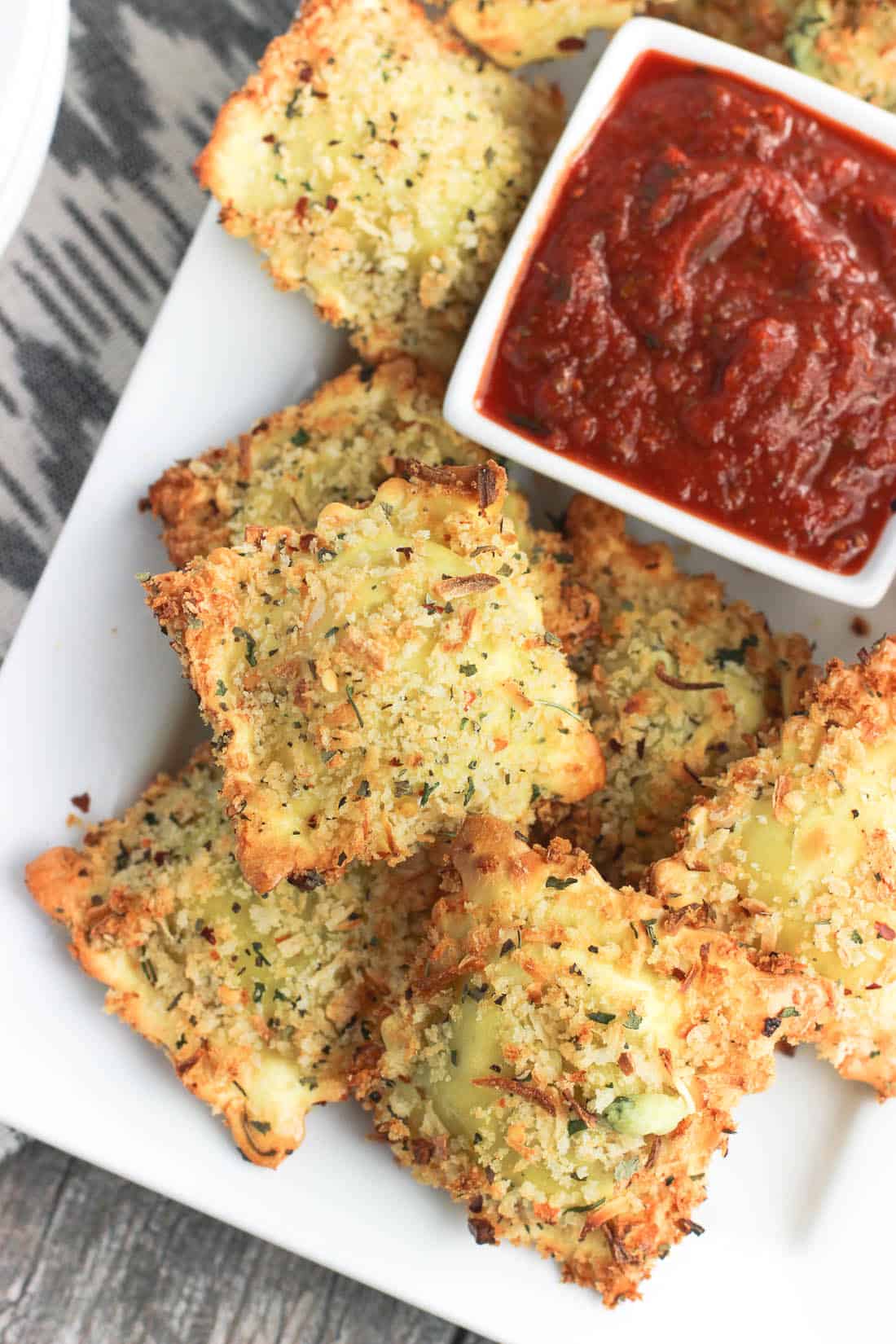 To help these crispy and baked toasted ravioli become, well, crispy as they bake in the oven, give them a spritz of olive oil (using a refillable olive oil sprayer) or cooking spray and cook them on an oven-safe wire rack over a baking sheet. Using a rack keeps the ravioli off the baking sheet and prevents the undersides from staying soft. Plus there's no need to flip them halfway through – less work for a healthier-for-you win.
Watch this video to see how easy these baked toasted ravioli are to make!
Crispy and Baked Toasted Ravioli
Yield:
5 appetizer servings
Ingredients
1 12-oz package refrigerated ravioli
1 egg
1 tbsp water
1/2 cup panko breadcrumbs
1 1/2 tbsp dried chopped onion
1 tsp dried basil
1/2 tsp dried parsley
1/2 tsp garlic powder
1/2 tsp red pepper flakes
Olive oil spray, or cooking spray
Marinara sauce, or desired dipping sauce
Instructions
Heat oven to 400 degrees F and place an oven-safe wire rack on a baking sheet. Spray rack with cooking spray and set aside.
In a bowl, add egg and water and whisk until egg yolk, egg white, and water are evenly combined and mixture is light.
In a separate bowl, add breadcrumbs, onion, basil, parsley, garlic powder, and red pepper flakes and stir or whisk until combined.
Dip each ravioli in the bowl with the egg mixture, and then coat ravioli with breadcrumb mixture, pressing breadcrumbs onto the ravioli to help them adhere. Place ravioli on the rack. Repeat for all ravioli. Once all on the tray, spray ravioli with olive oil or cooking spray.
Bake for 15-20 minutes, or until ravioli are golden brown and crisp. Remove and let ravioli cool for a minute or two before serving with warm marinara sauce (or your desired sauce).
*this post contains affiliate links
Check out this baked ravioli with spinach and mozzarella for another easy way to prepare refrigerated ravioli!