Let's talk about the time I went to boil tortellini and realized I didn't have a sauce pot.
Or let's not. 🙂 Just going to chalk that one up to the move. Cue this hearty tortellini bake, packed with spinach, three (!) kinds of cheese, and roasted red peppers. Sans sauce pot.
If you would have asked me a few months ago to choose between baking and cooking, I would have opted for baking. My brain likes to be precise, to put things nice and neat in little boxes, and clear, straight-forward issues. I love that a baking recipe will tell me down to the pinch the quantity of every single flavoring, leavening agent, and sweetener involved.
So in my work life I became an accountant. No surprises there, right? That said I seriously admire those who revel with glee at the thought of discussing topics that are a whole lot less black and white and a lot more "gray". I had to take a philosophy course in college and seriously thought my head was going to explode by the end of each class. My post-class ritual was to pop an Advil and take a nap. Debits and credits for the win.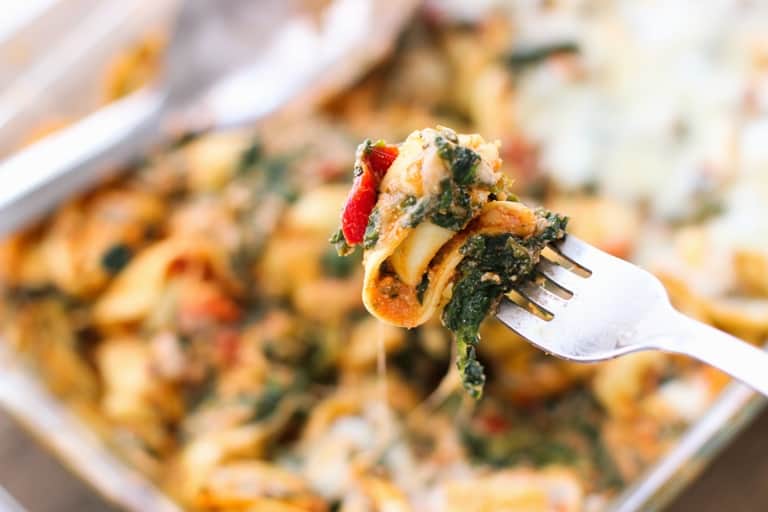 Now though…there's been a shift. So many things in life are already so detailed and meticulous, I've really taken to Iron Chef-ing in the kitchen and getting creative with our meals. Without a recipe in sight.
To my surprise, the outcomes have been overwhelmingly positive. On one occasion B was super skeptical after glimpsing me grating a "block of birdseed" while a massive pile of kale sat nearby in a saucepan, but he changed his tune and ate seconds of that dish (recipe coming soon!). Editor's Note: Not birdseed.
So, when faced with a package of pasta and no pasta pot, this no-boil, baked pasta dish was born. Once you cook up the spinach, it's just a matter of mixing up everything in a big bowl, pouring everything into a baking dish, and setting the timer. Easy, right?
There are a bunch of things I love about this bake. Namely, all of the ingredients. I'm a complete sucker for Italian food (any and all), so I took that and ran with it. Thrown into the mix here are tomato sauce, garlic, basil, parmesan, ricotta, AND mozzarella cheese, roasted red peppers – the works! This recipe is also super versatile. It'll work perfectly without the peppers if you don't have any hanging around. You can stir in cooked sausage or grilled chicken before baking for an even more hearty dish, or you can swing the other way and use cheese tortellini for a fab and super tasty vegetarian meal. So many options!
What's a non-negotiable though? Trying this one soon. Mmmm.
Ingredients
1 12-

oz.

pkg frozen chopped spinach

cooked

1 20-

oz.

pkg fresh

refrigerated tortellini, uncooked

1 1/3

cup

tomato sauce

3/4

cup

part-skim ricotta cheese

1

tbsp

chopped fresh basil

2

tsp

minced garlic

approx. 2 cloves

2/3

cup

roasted red peppers

drained and chopped

1/2

cup

parmesan cheese

1/2

cup

mozzarella cheese
Instructions
Prepare chopped spinach according to package directions, either on stove top or in microwave. Drain liquid, then set aside while you prepare the rest of the dish.

Preheat oven to 350°F. Grease a 9"x13" baking dish and set aside.

In a large bowl, mix together spinach, tortellini, tomato sauce, ricotta cheese, basil, garlic, roasted red peppers, and parmesan cheese. Use a spatula or spoon to even out top of mixture. Over top, sprinkle mozzarella.

Cover dish with aluminum foil and bake for 25 minutes. Remove foil and bake for an additional 5 minutes, or until cheese is melted and tortellini are soft and cooked through.
Nutritional information is provided as an estimate. As it can vary due to many factors (brands used, quantities, etc.), we cannot guarantee its accuracy.