We've been celebrating a lot of minor 'firsts' in our new apartment. The first batch of cookies baked in our new oven were experimental and not so great, but I followed that flop with one big chocolate chip cookie and all was right with the world.
The first spill on our three-day-old rug was by me and was thankfully just water. Because knocking your water glass off the arm of the couch is entirely necessary when scrambling after a bottle of blue nail polish that bounced across the floor. A bottle that may or may not still be open. Luckily it wasn't, but I'm sure the delivery men installing our new washer and dryer at the time appreciated the laugh.
And our first chicken dish? This curry chicken salad with cashews.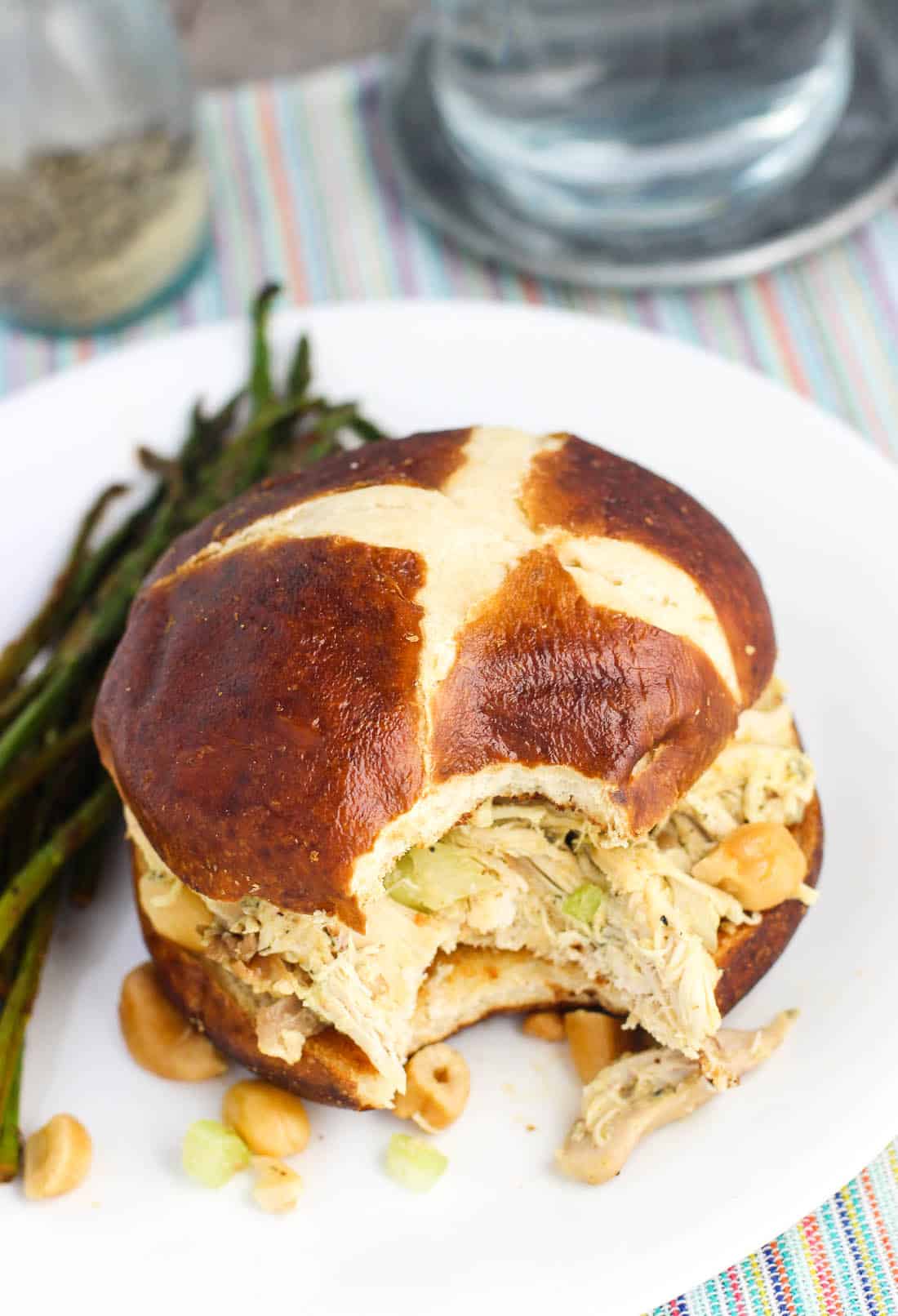 I can't stop eating it, which is funny because I'm an unlikely champion for this dish. Typically I'm not a fan of mayo, and I have a pretty strong aversion to curry. So when Brian suggested making chicken salad, this curry chicken salad, I'll say that I wasn't exactly on board. But he wasn't backing down – he was convinced that I'd love it. Since he usually knows me better than I know myself, I was in…though I did have a fleeting thought about a back-up can of soup in the cabinet.
Spoiler: the soup stayed in the cabinet. Way far back in the cabinet.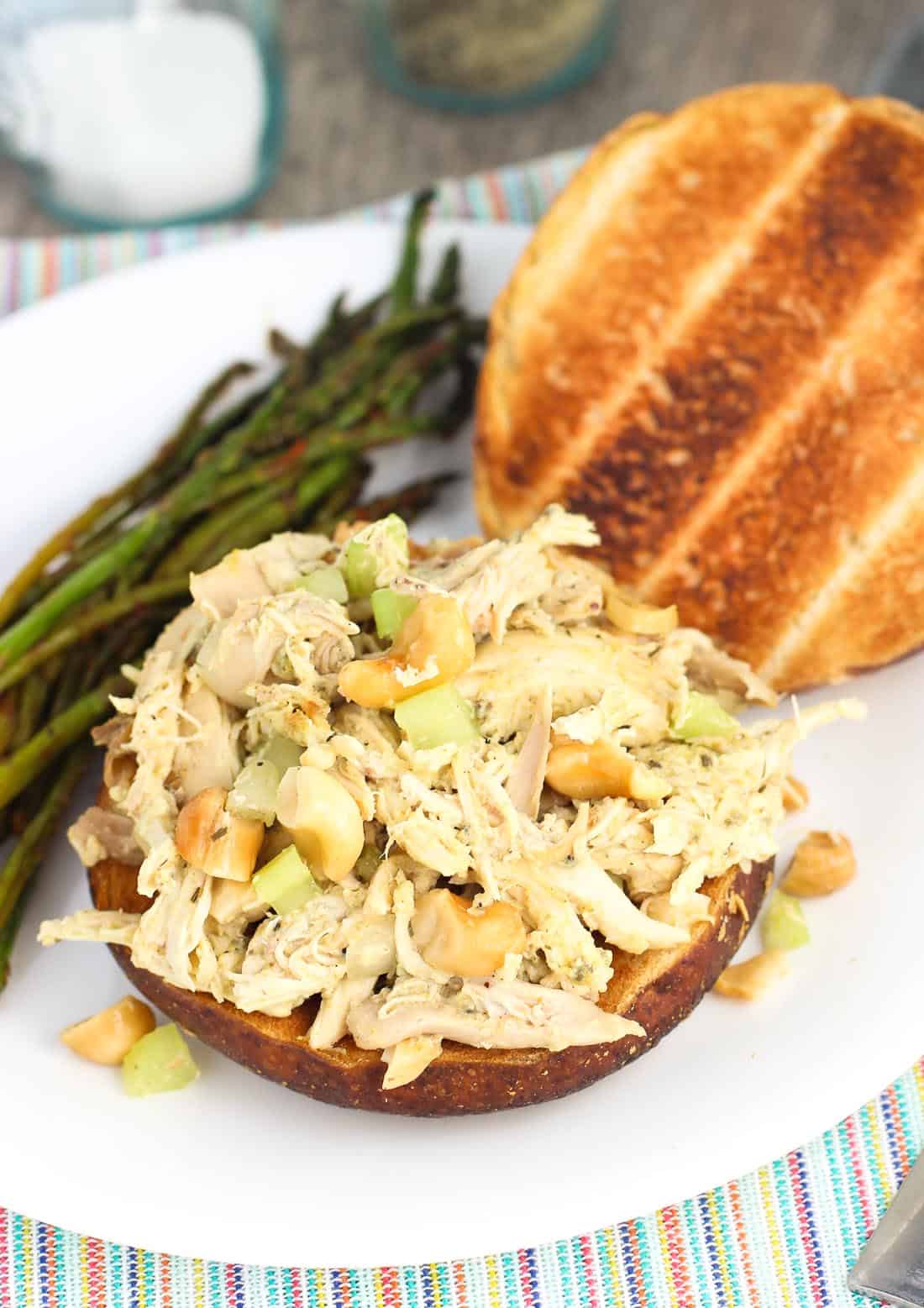 Sometimes we cook up a big batch of chicken (sometimes seasoned with Old Bay) for this dish, but it's a great recipe for using up any leftover grilled or baked chicken. Truthfully most of the time we pick up a rotisserie chicken for extra quick preparation. Now for the flavor. The little bit of curry powder in the mix here adds a depth to the mayonnaise so it's not just…mayonnaise-y. It's subtle, warmly spiced, and totally makes this chicken salad. Just one-half teaspoon! I'm proud to say I'm a new curry convert.
This curry chicken salad also packs a serious crunch factor. Crunch from the celery and onion pieces are a given, but the addition of cashews adds an extra crunchy, slightly-salty, keep-packing-in-the-protein kind of layer. If you're not a cashew fan or partial to nuts, feel free to omit or sub in your favorites.
We ate this salad for dinner right after we first made it, while the chicken was still warm from the oven. Toast the buns too and gahhh what a fab meal. I can seriously get behind warm chicken salad. And cool chicken salad on room temperature buns. And cold chicken salad forkfuls straight from the fridge late at night. 😉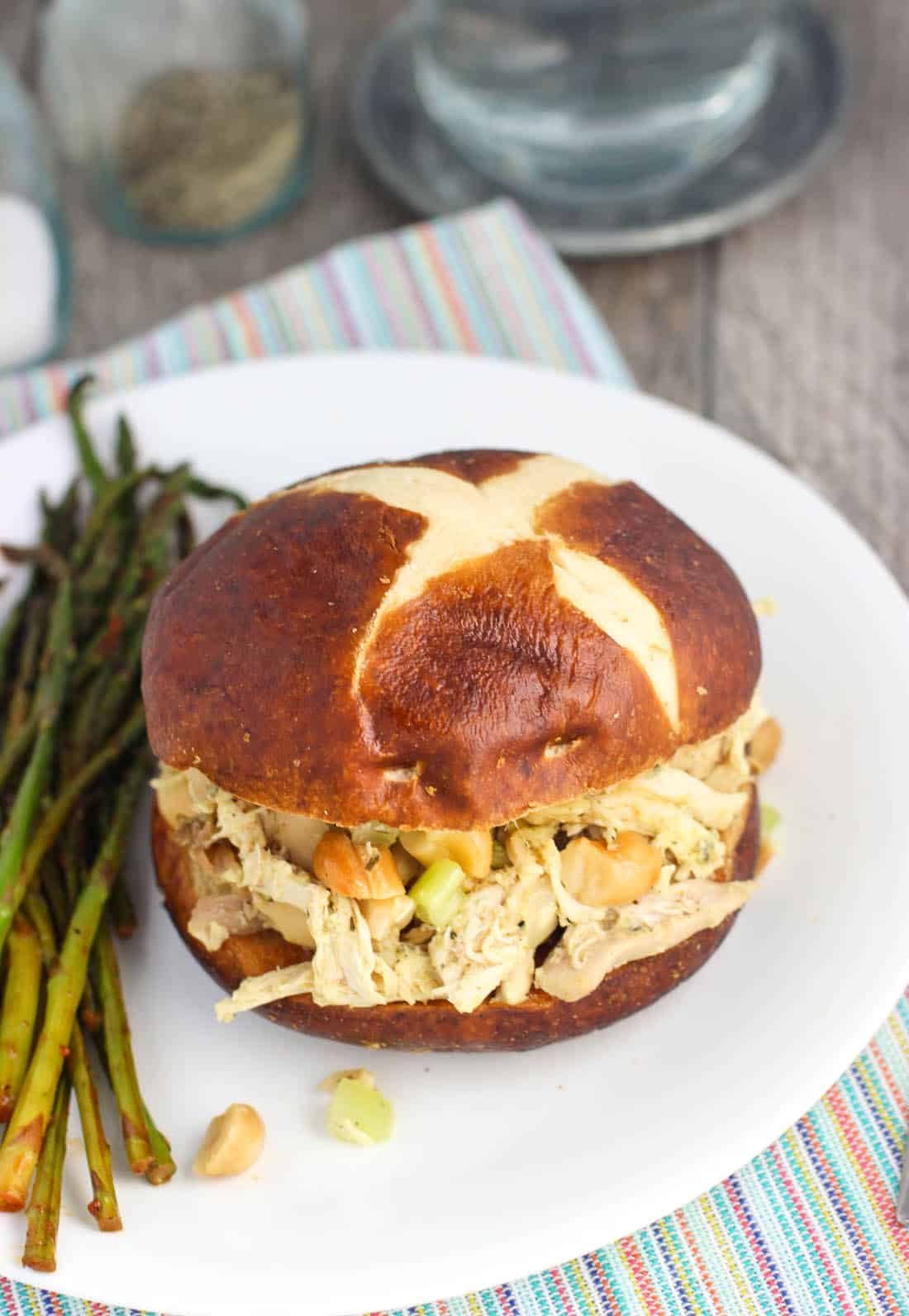 I'm willing to bet this curry chicken salad may be our second chicken dish, and our third, and…
Curry Chicken Salad with Cashews
This curry chicken salad has a great spice flavor and is delicious warm or cold. It's a great way to use leftover chicken!
Ingredients
3

large

boneless skinless chicken breasts

(see note)

2/3

cup

light mayonnaise

2

tbsp

vinegar,

white or apple cider

1/2

tsp

salt

1/2

tsp

curry powder

1

cup

sliced celery

2

tbsp

diced onion

2/3

cup

lightly-salted cashew pieces
Instructions
Once cooked, cut chicken into approximately 1/2" cubes. Set aside.

In a large bowl, combine mayonnaise, vinegar, salt, and curry powder. Stir in chicken, celery, onion, and cashews until chicken is fully coated by mayonnaise mixture and all ingredients are well mixed. Refrigerate if not serving right away.
Notes
*You can prepare simple baked chicken for this salad, use up leftover chicken, or shred meat from a rotisserie chicken.
This chicken salad can be eaten warm or cool from the refrigerator.
Nutritional info is estimated for this recipe to yield six servings of chicken salad. It does not include what you might serve it with (on a salad, on a bun or roll, etc.)
Nutrition
Calories:
259
kcal
|
Carbohydrates:
7.6
g
|
Protein:
25.5
g
|
Fat:
14.6
g
|
Saturated Fat:
2.3
g
|
Cholesterol:
65
mg
|
Sodium:
500
mg
|
Potassium:
157
mg
|
Fiber:
0.9
g
|
Sugar:
1.5
g
|
Calcium:
10
mg
|
Iron:
1.6
mg
Nutritional information is provided as an estimate. As it can vary due to many factors (brands used, quantities, etc.), we cannot guarantee its accuracy.