We're here! In Nashville! Woooohoo! After seven days and so many miles that even my accountant brain doesn't want to quantify, we've moved into our apartment. If you can call sleeping on an air mattress on a concrete floor in the middle of suitcases, bags, and boxes "moved in". I'll spare you the details, but the moving container we packed all of our stuff in to get to Nashville with plenty of time to spare isn't here yet. It's...somewhere. Hopefully it'll get here the beginning of this week. Probably, maybe getting here today or tomorrow. Whomp. Soooo we still have a bunch of unpacking to do sometime in the future. Meanwhile we've legit been camping in our apartment, though without any kitchen gear we're taking the opportunity to check out our new local restaurants, cafes, ice cream places, etc. Silver lining. 🙂
Okay I lied - I couldn't control the accountant impulse. Our exact route took us approximately 2,600 miles. I'll be fine with not sitting in the car for a few days.
All in all, our trip was great! Driving such a long distance instead of flying really gives you a whole different perspective on the U.S. We went through so many different climates, from hot and dry desert (110°F in Arizona!) to arid and dusty New Mexico. We started to see more regular greenery somewhere in central Texas, which more or less continued for the rest of our trip. We stopped in areas of insane humidity (Houston, TX - I'm looking at you) and got to check out the bayou in Louisiana. We then drove through Mississippi, Alabama, and Tennessee which are green, green, GREEN. Love all the lush trees and rolling hills. Is it wrong to already be looking forward to the fall foliage?
As far as food goes, I don't have much to say for the first portion of the trip through California/Arizona/New Mexico/western Texas (just think highway rest stops) - but WOW what pretty country! Lots and lots and lots of sky.
These next two are from Joshua Tree National Park, in southeast California:
Arizona/New Mexico:
We were on this stretch of road in southern New Mexico for 100 miles: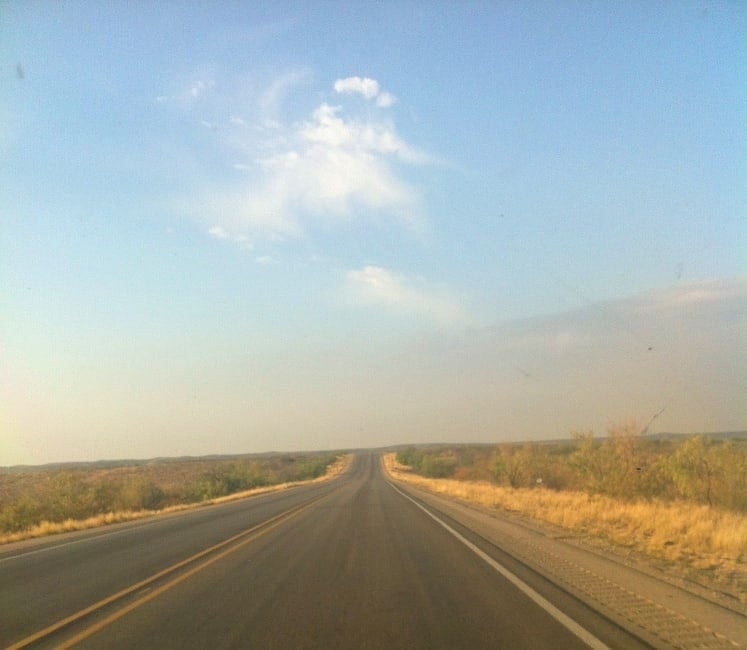 We also saw signs for the occasional hokey roadside attraction:
We just stopped there for the promise of a DQ, though. The excitement for road trip food really started to set in once we hit Austin, TX. Hellloooooo barbecue!
Since we were only in Austin for 1 ½ days, we opted not to spend a good chunk of it standing in line at the wildly-publicized Franklin BBQ. Instead we ate lunch at Stiles Switch BBQ & Brew. Such a great decision. B chose the beef brisket while I went for the pork spare ribs. I'll tell you that the minute I picked up one of those ribs you see above, all the meat fell off the bone in one fell swoop. (B will tell you I haven't stopped talking about it since). So when we were deciding where to go for dinner that evening, we couldn't get Stiles out of our minds so we changed our clothes and went back again for dinner! Neither time we encountered much of a line, so I'd definitely recommend Stiles should you find yourself in Austin with a hankering for speedy barbecue.
Road trip lesson: Life's too short not to have BBQ twice a day when you're traveling through Austin.
In Austin we also visited Mr. Stevie Ray Vaughan in the park downtown, which was on B's ultra mega life wish list:
After Austin we headed down to Houston to visit a college friend (and eat pho and other Vietnamese treats). Then we kept on rolling down interstate 10 en route to New Orleans. What a city! We stayed in the French Quarter for one night and enjoyed dinner at Tujague's, which touts itself as being the second-oldest restaurant in New Orleans (...even if we have no clue how to pronounce it).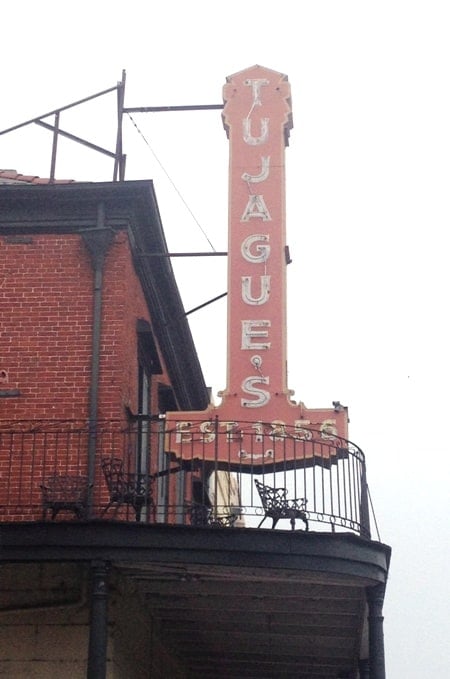 Bourbon Street:
We didn't have time to stop for beignets, but some day, Cafe du Monde. Some day.
After New Orleans, it was a straight shot through Mississippi and Alabama to Nashville, where this is our current set-up: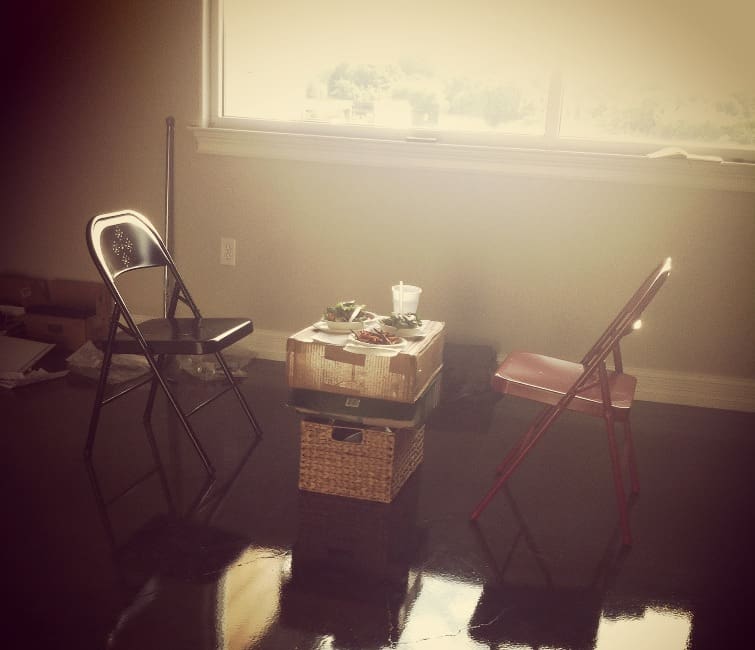 Luxurious, right? Home sweet home! ...sorta. But we're here safe and sound, so no complaints from me! It may be awhile before I'm up and running again on the blog, but I've got a great blogger-friend-guest-poster coming up later on in the week with a FAB recipe for ya! I can't wait until my kitchen is functional so I can make it myself. 🙂
So, to recap the road trip recap:
Days: 7
Miles: 2,600
States: 8 (CA, AZ, NM, TX, LA, MS, AL, TN)
Number of coffee spills in the car: 3 (1 major)
Times we cleaned the windshield: 800, give or take. The western U.S. is dusty.
Times I walked into a fast food kitchen thinking it was the bathroom: 2. Whoops!
Best drive-thru coffee: Sonic (sooooo good! We stopped here a lot).
Total flights of hotel stairs we hauled a car-full of luggage up + down: 11
Injuries from luggage hauling: 0 (except for one chipped nail)
Road trip soundtrack heavy-hitters: Jason Isbell, Sturgill Simpson, Ryan Bingham, Gary Clark Jr., and Stevie Ray Vaughan.
Regrets: None! 🙂
...except maybe those beignets.