Coconut quinoa granola bars are chock full of tasty, nutritious ingredients for a healthy and hearty snack bar recipe. These bars are chewy with an almond butter and honey mixture binding together the oats, nuts, coconut flakes, and quinoa.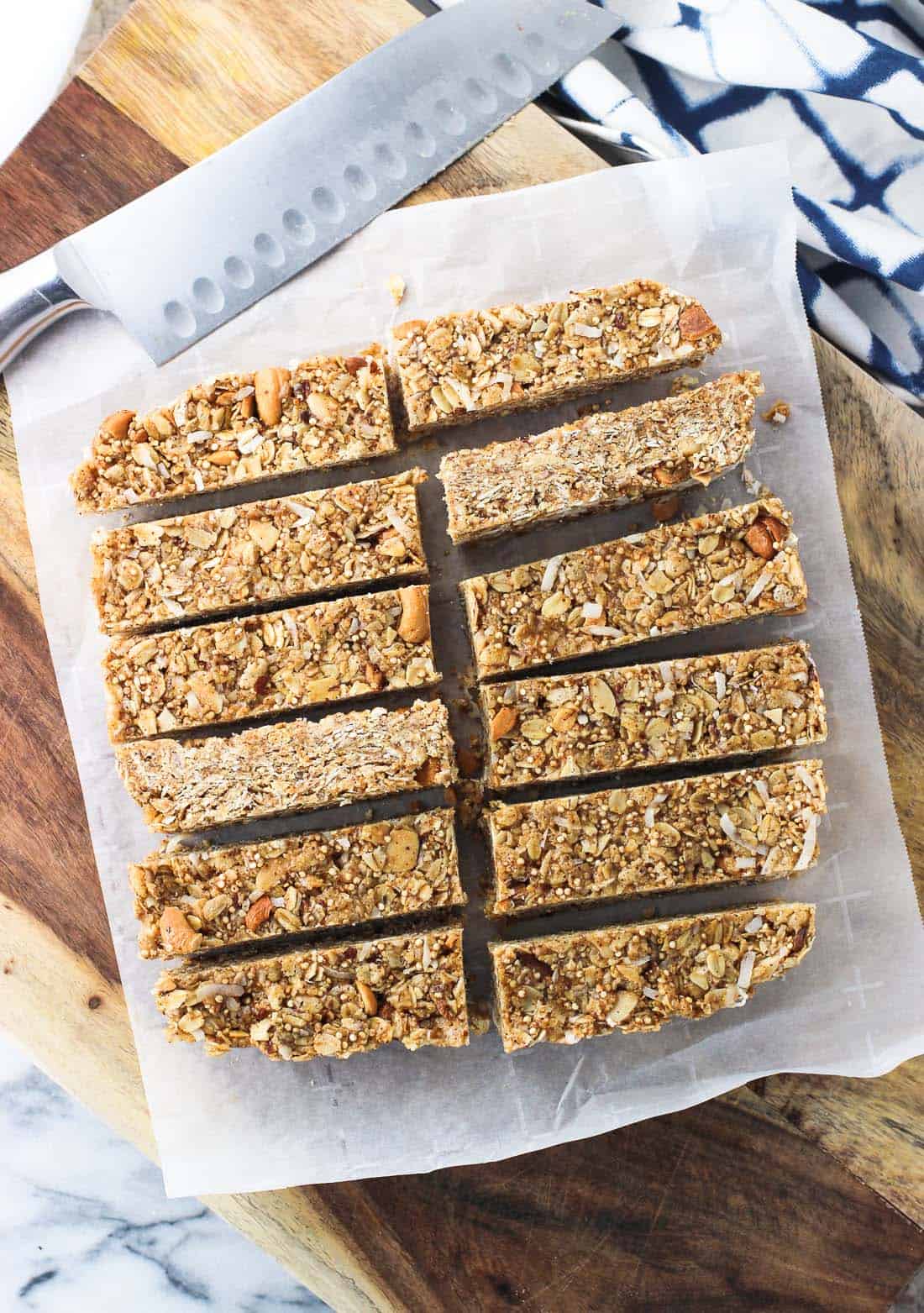 If I was stuck in a foxhole around ohhh, let's say 3 pm, I'd choose to be stuck in there with these coconut quinoa granola bars.
There are plenty of reasons why, first off simply because I haven't been able to stop thinking about them since I made them. I'm always on the lookout for healthier snacks, so I bought coconut quinoa granola bars at the store awhile back. I really liked the flavor and the extra nutritious boost from the quinoa, but every time I bit into a bar, an avalanche of crumbs would come tumbling down.
Unless I wanted to make a colossal mess everywhere I went, I needed to use both hands and at least one napkin. For a granola bar. Ridiculous.
Reasons to love these bars
For starters, these coconut quinoa granola bars are chewy and basically crumb-less. Yes!
They have a great balance between being crisp and chewy, and because of the filling, nutritious ingredients packed into these bars, each bite will take you a few extra moments to chew.
They're also super satisfying. Case in point, I ate one around lunchtime and wasn't hungry until dinner! I'm a total snacker, so anything that causes me to forgo my mid-afternoon snack is a big deal.
This base granola bar recipe is also very customizable. Taken in a different flavor direction, we also love these spiced quinoa maple granola bars.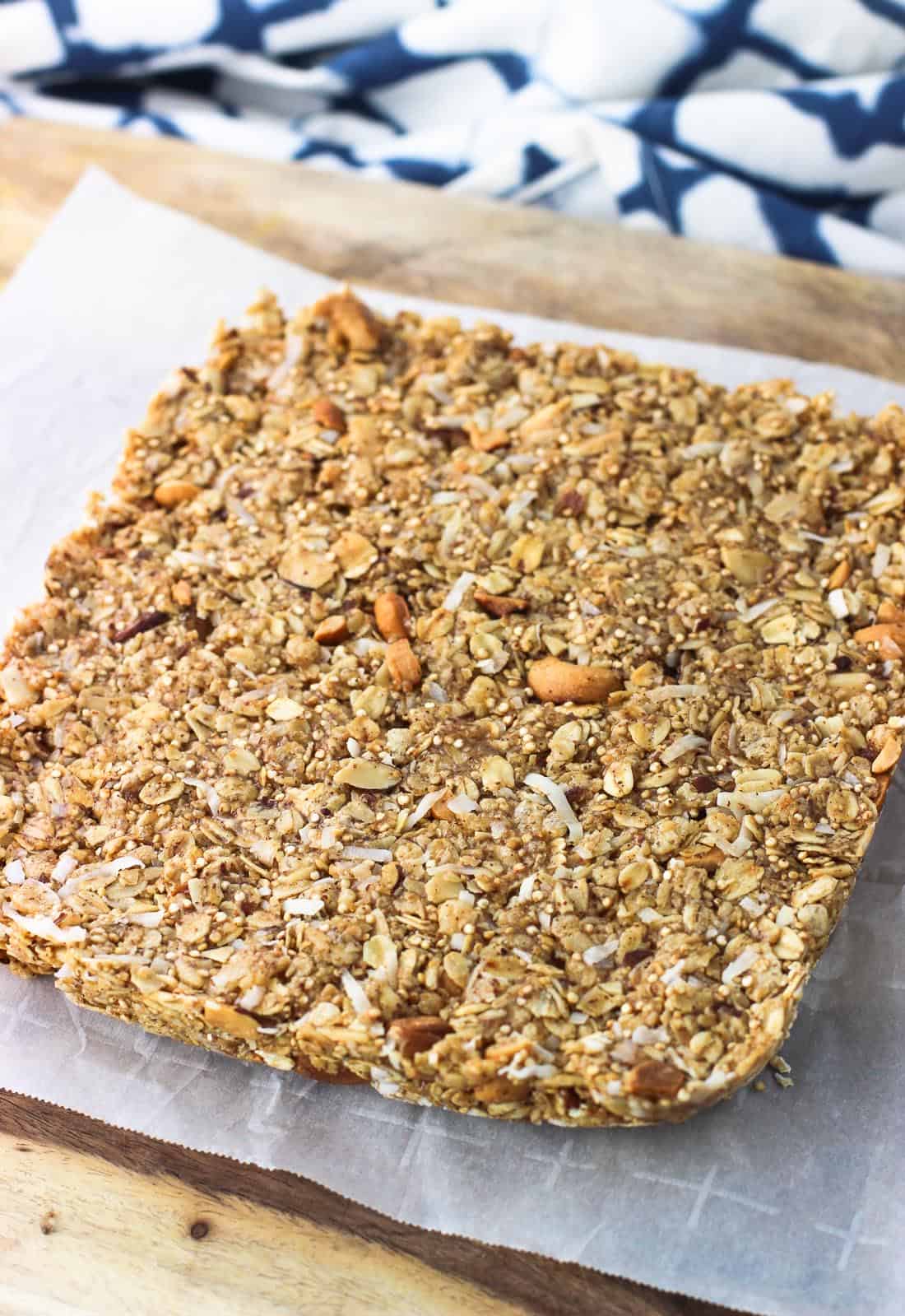 Recipe ingredients
Old-fashioned oats provide the base of these coconut granola bars, along with almonds, cashews, dry quinoa, and puffed rice cereal, which brings that crisp texture element.
All this goodness sticks together with a mixture of honey, almond butter, and oil. In addition to the honey, a little bit of brown sugar brings a warm sweetness. Vanilla extract and salt join as support ingredients, with flaked coconut added in at the end for a seriously good flavor combination.
There are lots of different variations you can do here! Pick and choose which kinds of nuts you'd like to add, as well as the nut butter. The coconut isn't required if you're not a fan. Maple syrup can be used instead of honey, melted coconut oil for the oil part, etc.
Step-by-step instructions
While these quinoa granola bars are technically no-bake snacks, you will use the oven and the stovetop. Thankfully these steps are easy!
Start by toasting your base ingredients: the oats, nuts, and dry quinoa. Scatter them all in an even layer on a large rimmed baking sheet. Shake up the pan a few times to disperse them as they toast so the bottom layer doesn't burn. They'll be done in around ten minutes, or whenever they're turning golden and become fragrant. Toasting everything provides a deeper flavor for these bars.
I usually just add the flaked coconut straight from the bag at the end, but next time I plan to try toasted coconut. If going that route, I wouldn't add it to the sheet with the other ingredients as it usually takes less time to toast and you don't want it to burn. And if you're wondering how to toast coconut, that post gives both stovetop and oven instructions.
Next mix together the liquid ingredients on the stove. Add the honey, almond butter, oil, brown sugar, and salt to a medium saucepan and whisk as the mixture heats and becomes creamy. Once it's all combined, remove it from the heat and stir in the vanilla extract.
If you've ever been curious about why you want to wait until something has finished simmering/boiling before adding the vanilla extract, it's because the cooking will burn off the alcohol and thus the flavor. You end up with a bolder vanilla flavor if you hold off on adding it to a recipe.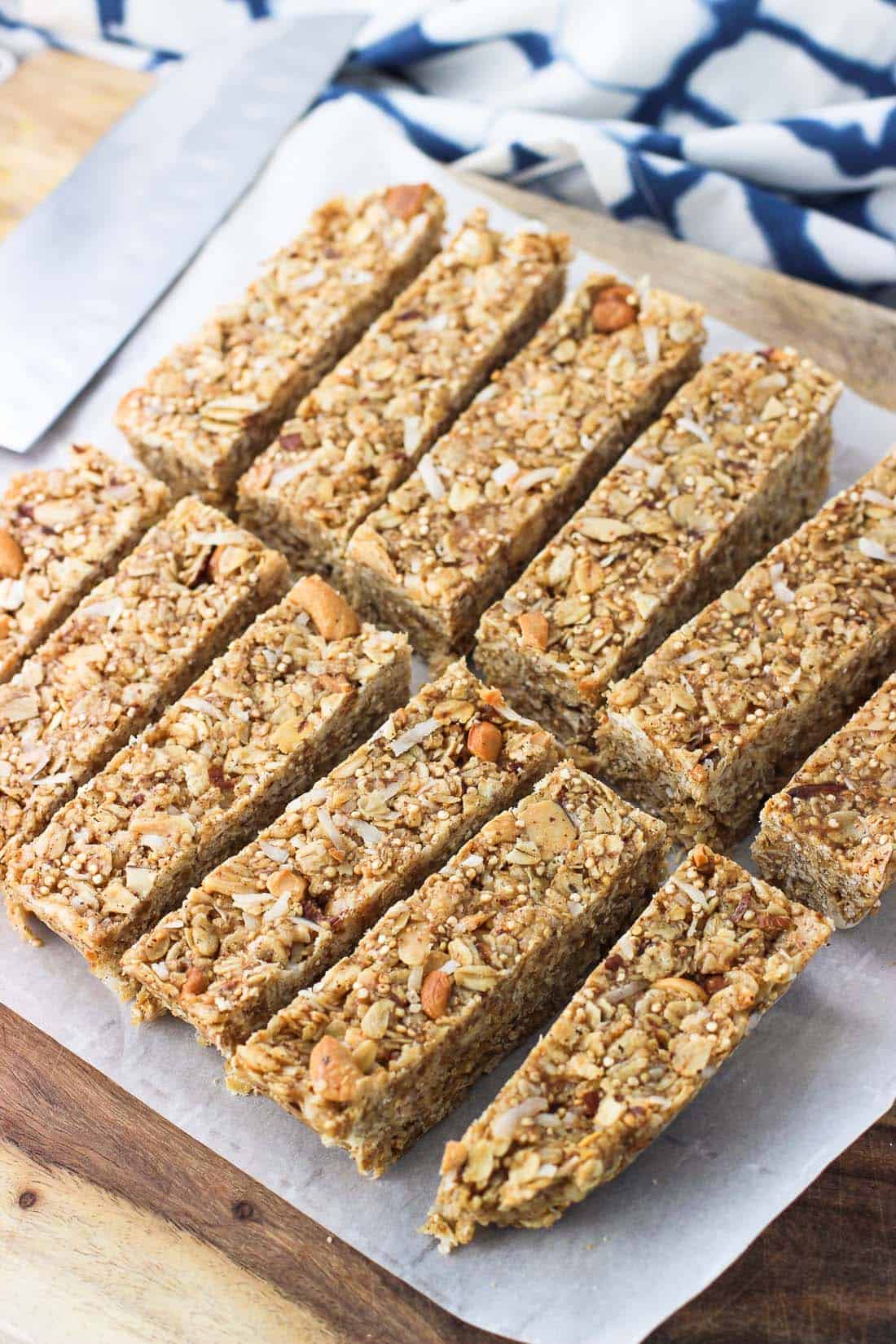 Pour your toasted ingredient mixture into the saucepan and stir everything up to coat. Stir in the flaked coconut, then press the mixture out into an 8" x 8" dish. I recommend lining the dish with parchment paper so it's easier to remove the slab later on when you want to slice it into bars.
All that's left is to refrigerate them for an hour or so until they've solidified before slicing. This recipe makes twelve nicely-sized bars!
Storage tips
These coconut quinoa granola bars are best stored in the fridge so they keep their firm texture. That said, they can stay out for hours and be just fine to eat. They'll just be a little less firm.
I've been thinking a lot about what snacks to bring on upcoming cross-country road trip. Despite how much I love these bars, these babies won't make the pack list for our trip. 2,000+ miles across the southern United States in the heat of the summer? That's a tough one. But they'd be just fine taking out of the fridge at home and leaving out at room temperature at work until mid-afternoon.
Recipe notes
Mix and match ingredients as you see fit. There is a lot of flexibility for changing up the nuts, coconut, nut butter, oil, sweetener, etc.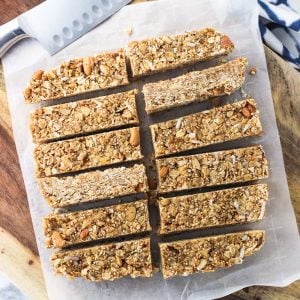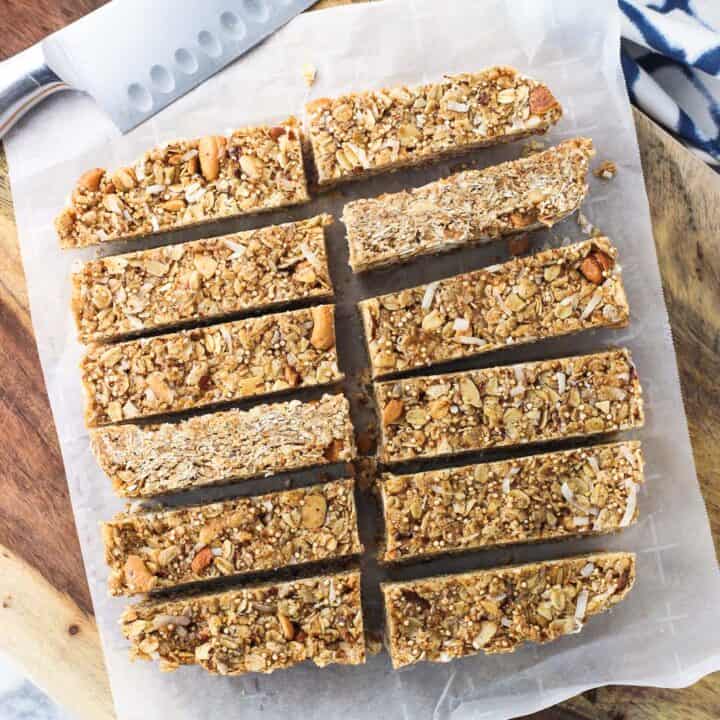 Coconut Quinoa Granola Bars
Coconut quinoa granola bars are chock full of tasty, nutritious ingredients for a healthy and hearty snack bar recipe. These bars are chewy with an almond butter and honey mixture binding together the oats, nuts, coconut flakes, and quinoa.
Print
Pin
Rate
Ingredients
1 ¾

cups

old-fashioned oats

¼

cup

sliced almonds,

roughly chopped

¼

cup

cashews,

roughly chopped

¼

cup

quinoa

¾

cup

puffed rice cereal

⅓

cup

honey

⅓

cup

almond butter

¼

cup

canola oil

or melted coconut oil

¼

cup

brown sugar

½

teaspoon

salt

¾

teaspoon

vanilla extract

½

cup

sweetened coconut flakes
Instructions
Preheat oven to 350°F. Line an 8" x 8" baking dish with parchment paper, ensuring there is extra parchment left over along two opposite sides of the pan so you can lift out the bars once finished.

On an ungreased, rimmed baking sheet, evenly place oats, almonds, cashews, and quinoa. Toast for approximately 8-10 minutes, until oats, nuts, and quinoa are lightly golden and fragrant. A few times while toasting, use a spatula to flip everything over. Once toasted, add oats, nuts, and quinoa to a large mixing bowl. Add puffed rice cereal, and set bowl aside.

In a small saucepan set over medium heat, add honey, almond butter, oil, brown sugar, and salt. Cook until all ingredients are combined and the edges begin to bubble, stirring occasionally. This took a few minutes for me. Once liquid ingredients are bubbly, remove from heat and stir in vanilla extract.

Pour liquid mixture into bowl with the oat mixture and stir well to evenly coat the dry ingredients. Stir in coconut flakes evenly.

Pour mixture into your 8" x 8" dish, pressing down with a separate sheet of parchment paper over top to ensure that the bar layer is even and dense. Refrigerate bars for an hour or more. Once bars have solidified and would hold up to being cut, lift out parchment surrounding bars and place on cutting board. Cut into 12 bars.
Notes
Storage: Bars are best stored in the refrigerator, but can be stored at room temperature as well (they'll be a little bit less firm). Grabbing one out of the fridge before work and keeping it at room temp until mid-afternoon works great.
Nutrition
Serving:
1
bar
|
Calories:
197
kcal
|
Carbohydrates:
25.4
g
|
Protein:
3.5
g
|
Fat:
9.9
g
|
Saturated Fat:
2.5
g
|
Sodium:
109
mg
|
Potassium:
109
mg
|
Fiber:
2.2
g
|
Sugar:
13
g
|
Calcium:
10
mg
|
Iron:
1.1
mg
Nutritional information is provided as an estimate. As it can vary due to many factors (brands used, quantities, etc.), we cannot guarantee its accuracy.
Food Safety and Nutrition Disclaimer
Adapted from Chewy Quinoa Granola Bars
These photos were updated in 2017 from the original publish date in June 2014. It's the same great recipe!