Coconut quinoa granola bars are chock full of tasty, nutritious ingredients for a healthy and hearty snack bar recipe. These bars are chewy with an almond butter and honey mixture binding together the oats, nuts, coconut flakes, and quinoa.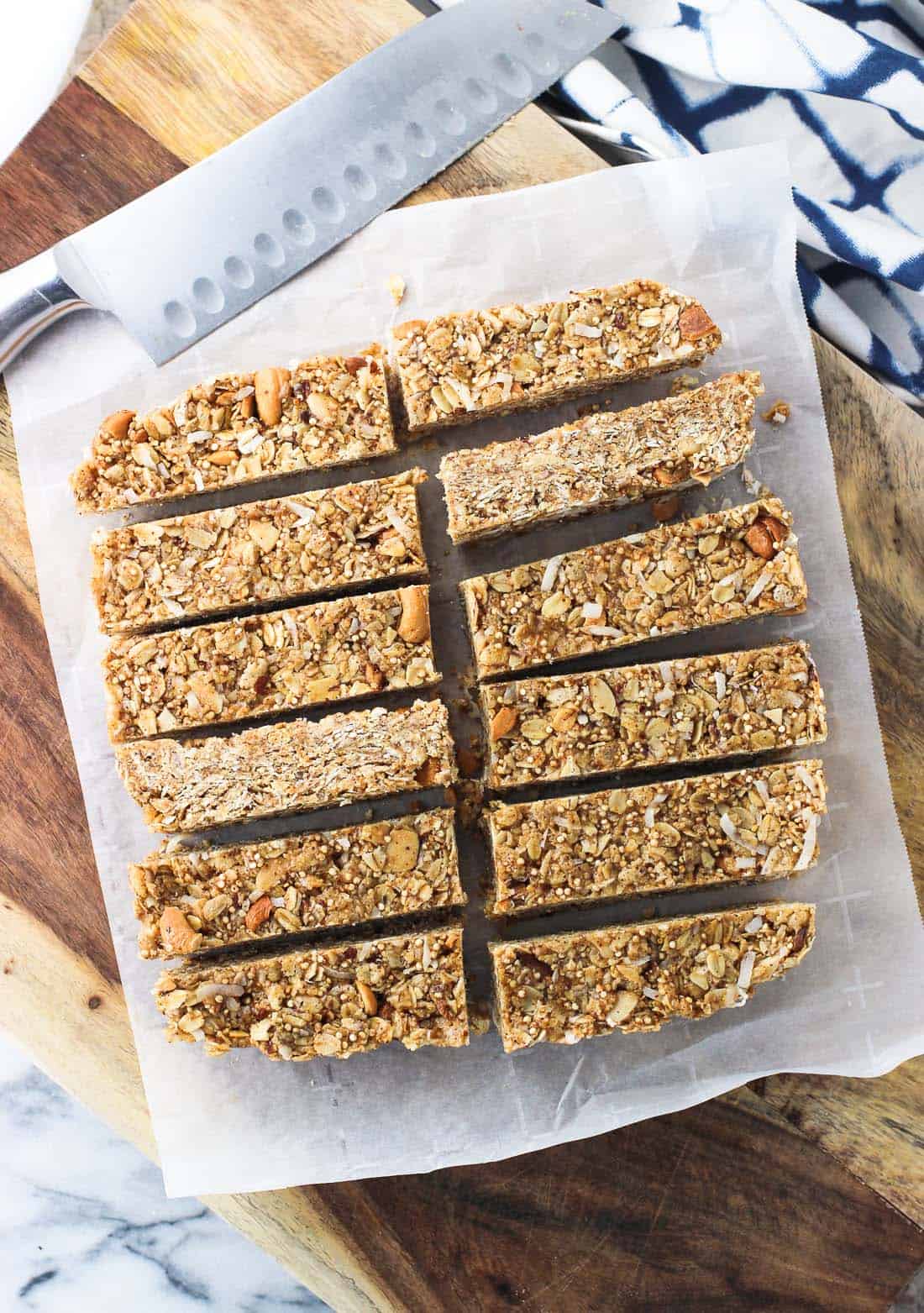 If I was stuck in a foxhole around ohhh, let's say 3 pm, I'd choose to be stuck in there with these coconut quinoa granola bars.
There are plenty of reasons why, first off simply because I haven't been able to stop thinking about them since I made them. I'm always on the lookout for healthier snacks, so I bought coconut quinoa granola bars at the store awhile back. I really liked the flavor and the extra nutritious boost from the quinoa, but every time I bit into a bar, an avalanche of crumbs would come tumbling down. Unless I wanted to make a colossal mess everywhere I went, I needed to use both hands and at least one napkin. For a granola bar. Ridiculous.
These coconut quinoa granola bars are chewy – and basically crumb-less. Yes! The puffed rice cereal adds a nice crisp as you bite into them, with the coconut flakes and almond butter/honey mixture bringing the chewiness. Because of the filling, nutritious ingredients packed into these bars, each bite will take you a few extra moments to chew. They're nutritious, and satisfying – I ate one around lunchtime and wasn't hungry until dinner! I'm a total snacker, so anything that causes me to forgo my mid-afternoon snack is a big deal.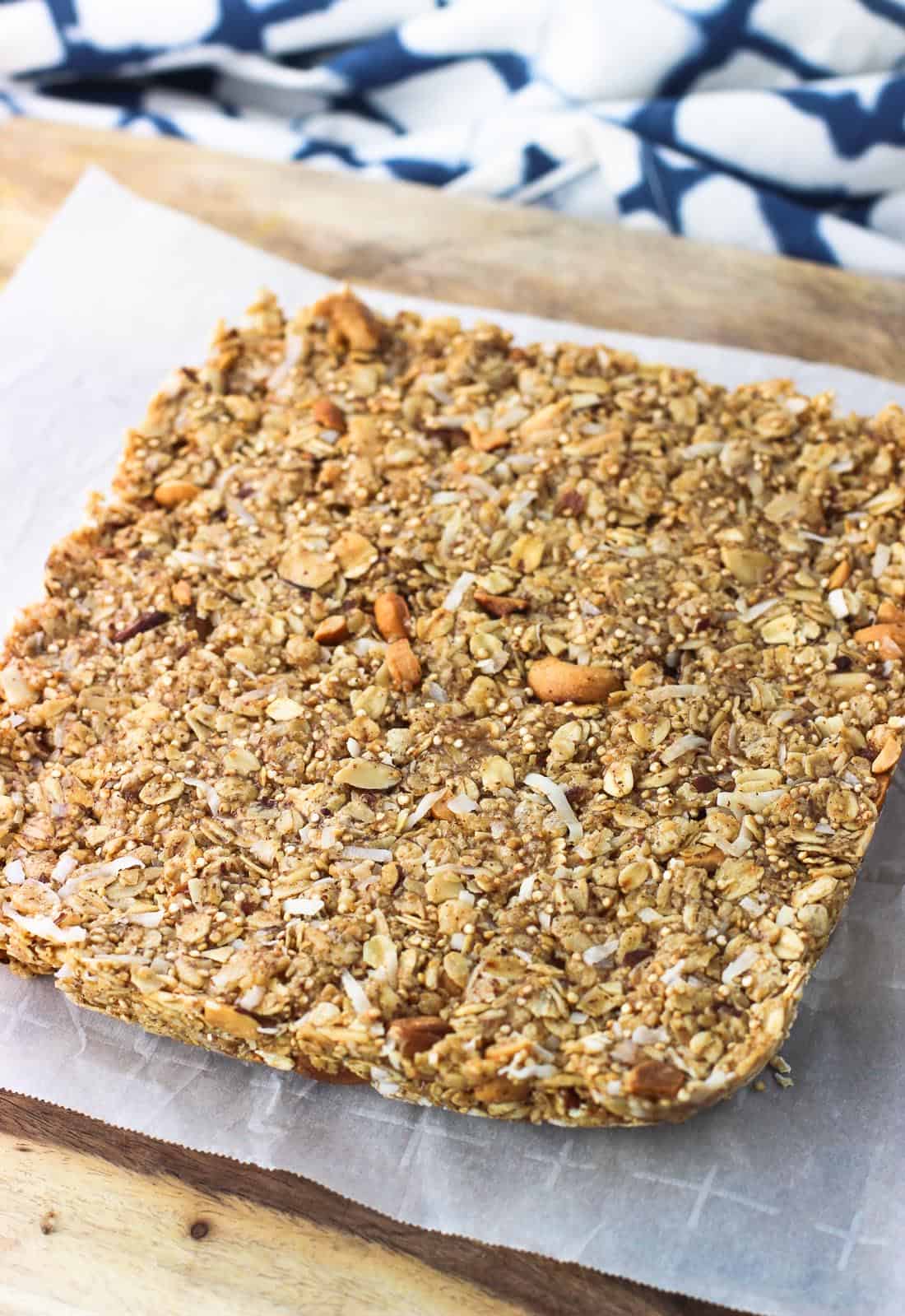 And the taste? Fab. There are a bunch of flavors happening here, but they all play so nicely together you won't feel like they're competing. These bars are just sweet enough for you not to think they're intended to be a healthier snack. B is slowly warming to quinoa (a few months ago he could have played the "what the heck is qween-oh?" guy from that Bud Light commercial), and he couldn't taste it in these bars at all. Of course he found out there was quinoa in them once he asked what those dots were, but by then he was a few bites in and that factoid wasn't going to deter him. 🙂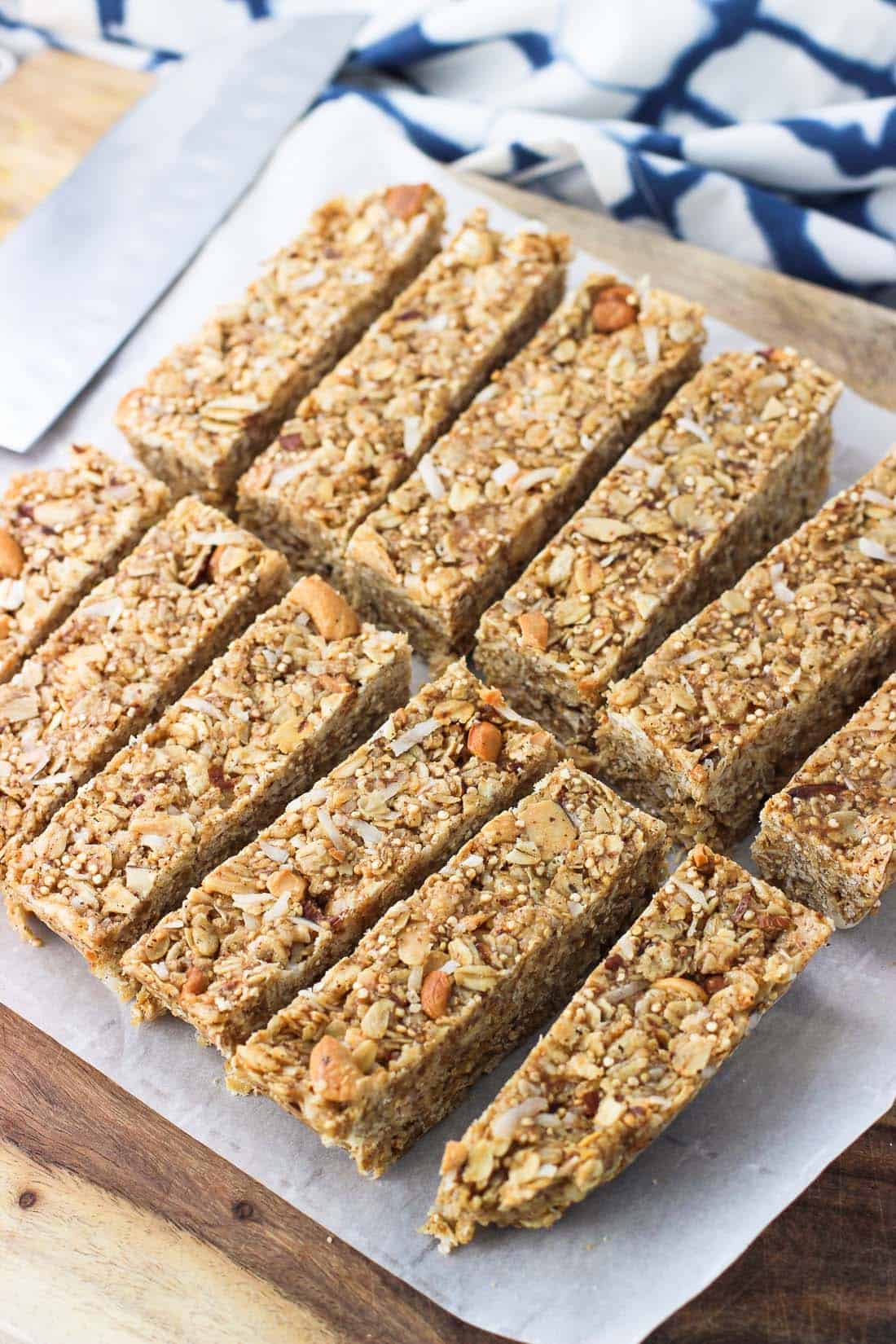 With our big time road trip coming up, I've had snacks on the brain big time. Despite how much I love these bars and want to shout my love declaration from the rooftop, these babies won't make the pack list for our trip. Their only teensy tiny drawback is that they're best stored in the fridge, because the binding ingredients begin to lose their binding abilities as the bars warm. Maybe not the best road trip compadres for 2,000+ miles across the southern U.S. in the summertime.
But, I'm willing to bet that one of the first times I turn on my oven in TN will be to toast up some oats, nuts, and quinoa (thankfully we have A/C!).

Coconut Quinoa Granola Bars
Ingredients
1 3/4 cups old-fashioned oats
1/4 cup sliced almonds, roughly chopped
1/4 cup cashews, roughly chopped
1/4 cup quinoa
3/4 cup puffed rice cereal
1/3 cup honey
1/3 cup almond butter
1/4 cup vegetable or canola oil
1/4 cup brown sugar
1/2 tsp salt
3/4 tsp vanilla extract
1/2 cup sweetened coconut flakes
Instructions
Preheat oven to 350°F. Line an 8" x 8" baking pan with parchment paper, ensuring there is extra parchment left over along two opposite sides of the pan so you can lift out the bars once finished.
On an ungreased, rimmed baking sheet, evenly place oats, almonds, cashews, and quinoa. Toast for approximately 8-10 minutes, until oats, nuts, and quinoa are lightly golden and fragrant. A few times while toasting, use a spatula to flip everything over. Once toasted, add oats, nuts, and quinoa to a large mixing bowl. Add puffed rice cereal, and set bowl aside.
In a small saucepan set over medium heat, add almond butter, oil, brown sugar, and salt. Cook until all ingredients are combined and the edges begin to bubble, stirring occasionally. This took a few minutes for me. Once liquid ingredients are bubbly, remove from heat and stir in vanilla extract.
Pour liquid mixture into bowl with the oat mixture and stir well to evenly coat the dry ingredients. Stir in coconut flakes evenly.
Pour mixture into your 8" x 8" pan, pressing down with a separate sheet of parchment paper over top to ensure that the bar layer is even and dense. Refrigerate bars for an hour or more. Once bars have solidified and would hold up to being cut, lift out parchment surrounding bars and place on cutting board. Cut into 12 bars.
Notes
Bars are best stored in the refrigerator, but can be stored at room temperature as well (they'll be a little bit less firm). Grabbing one out of the fridge before work and keeping it at room temp until mid-afternoon works great.
Adapted from
Chewy Quinoa Granola Bars
Photos updated in January 2017 – same great recipe!