Learn how to toast coconut in the oven or on the stovetop with these two simple methods. Toasted coconut elevates any coconut recipe with only a few minutes of work. This works for both sweetened and unsweetened coconut.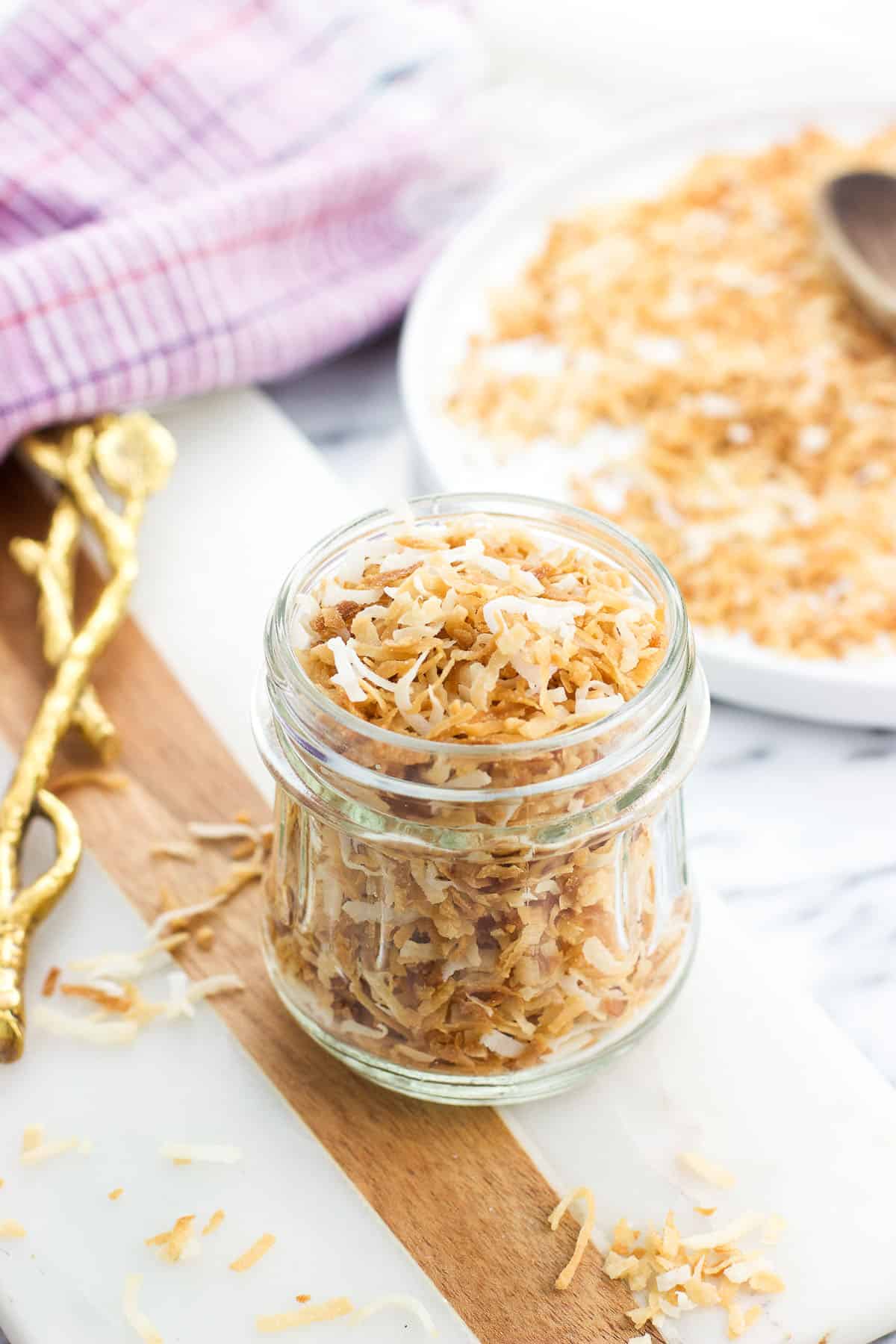 Similar to roasting garlic, toasting coconut flakes is a basic "recipe" that yields deliciously outsized results.
While flaked coconut is delicious in its own right, toasting it brings out those tropical coconut flavors even more and makes a decadent addition to either sweet or savory recipes.
Plus it'll make your kitchen smell amazing as it toasts. Can't beat that, right?
What Kind of Coconut to Toast
Either unsweetened or sweetened coconut flakes (known as desiccated coconut) can be toasted.
Unsweetened Coconut - This is a bit drier and has a better application in savory recipes. It delivers a whole bunch of coconut flavor without extra sweetness that may or may not mesh well with a main dish. I will sometimes use it when baking coconut chicken tenders, but usually do go with it when making coconut crusted salmon.
(In both of those recipes the unsweetened coconut "toasts" with other ingredients as part of the recipe, there isn't often a need to toast it ahead of time).
Sweetened Coconut - This also goes by "snowflake coconut" and has added sugar. It brings BIG coconutty flavor to dessert recipes, like macaroons.
Oven Method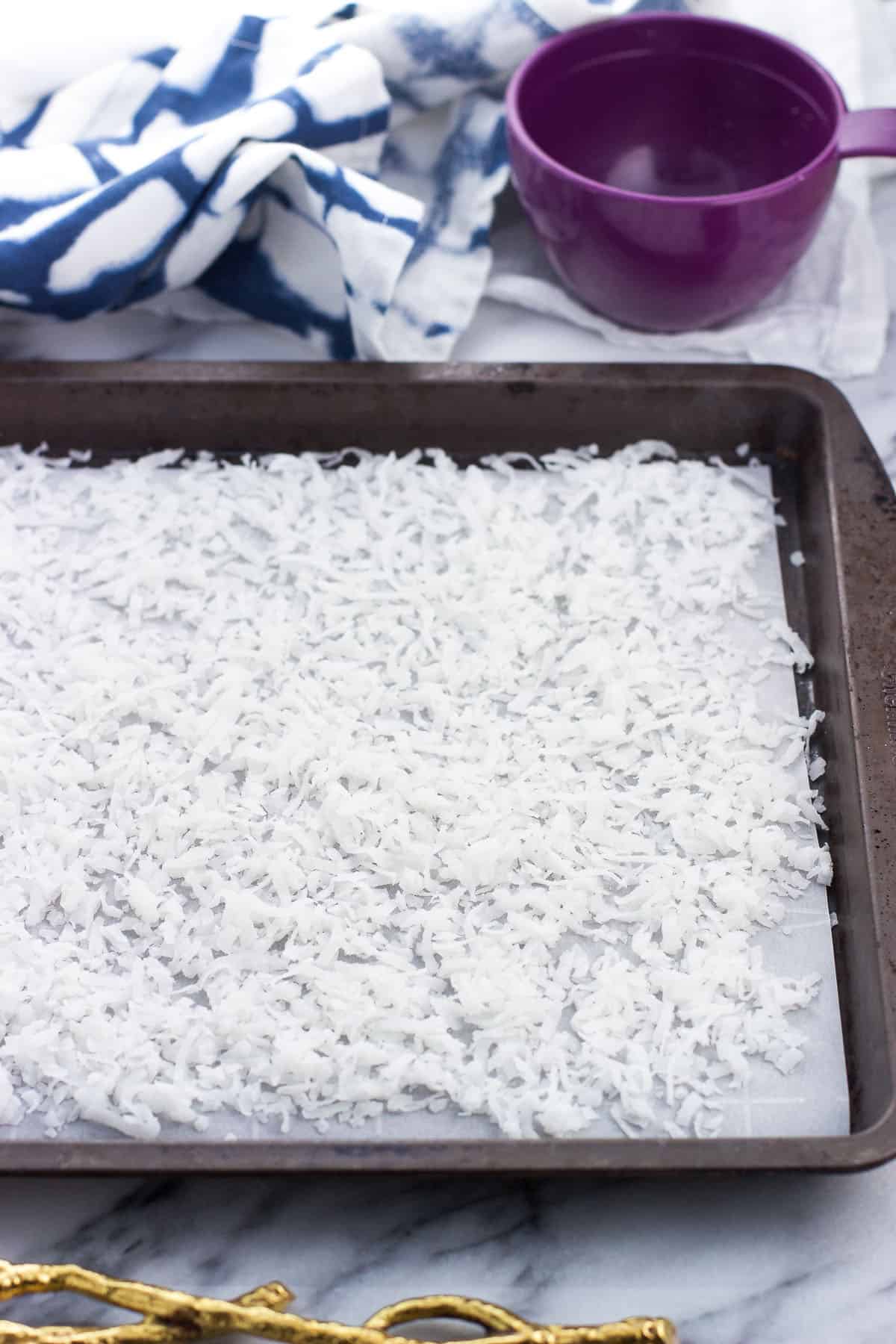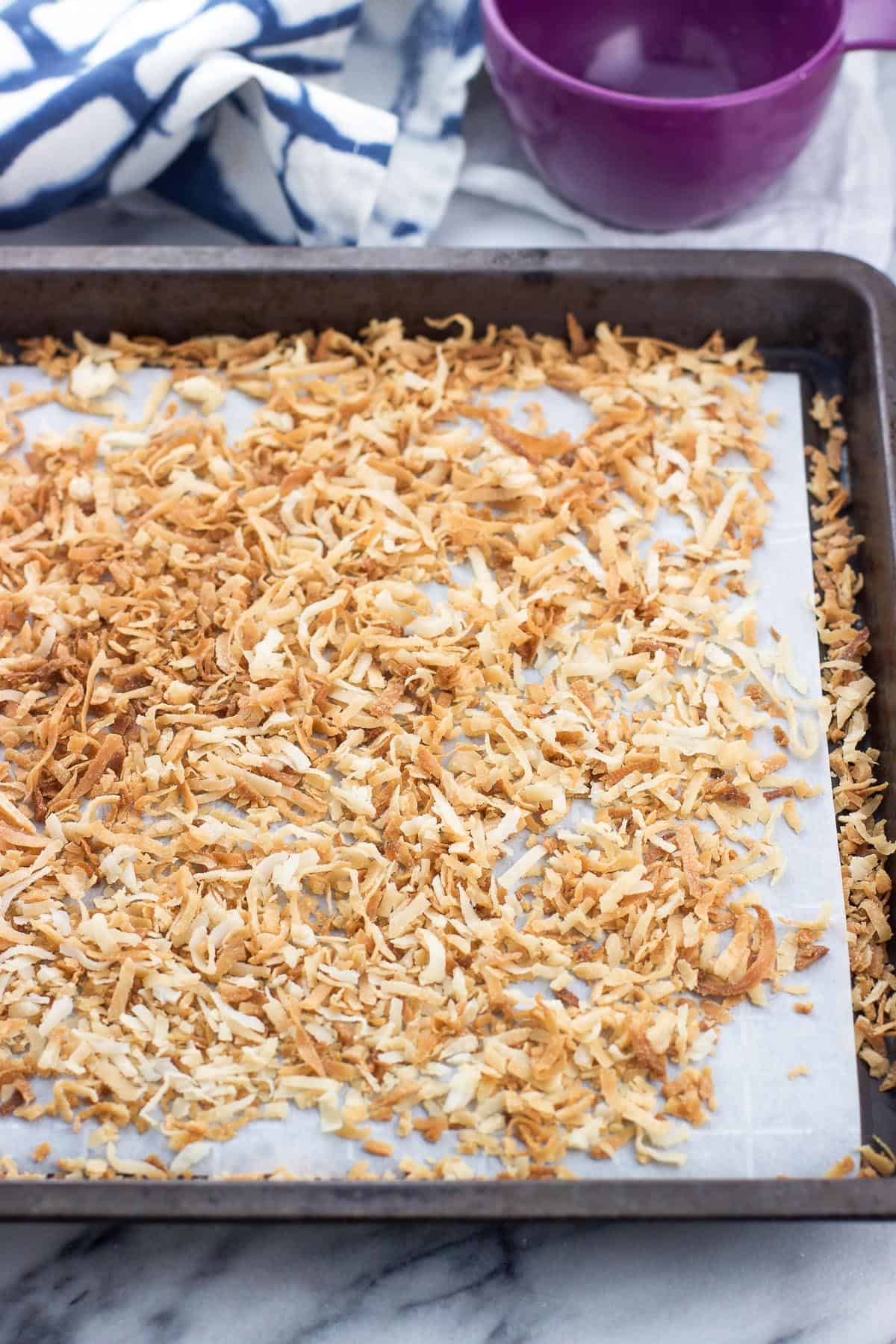 My preferred way is to toast coconut in the oven. While you need to shake up the pan a few times, I find it's a bit more hands-off than stovetop toasting and produces more even browning.
Simply arrange flaked coconut in an even layer on a rimmed sheet pan and place in the center rack of an oven heated to 350°F. No oil or cooking spray is required. Toast for 5-10 minutes (or until golden brown), shaking the pan up a few times to help the coconut toast evenly. Immediately transfer it to a plate or bowl so it doesn't burn.
Tip: What you see is one cup of coconut flakes which fits nicely on a 9-by-13-inch sheet pan. If toasting more than one cup of flaked coconut, you'll want to use a larger pan as needed to accommodate everything in a reasonable single layer.
Stove Top Method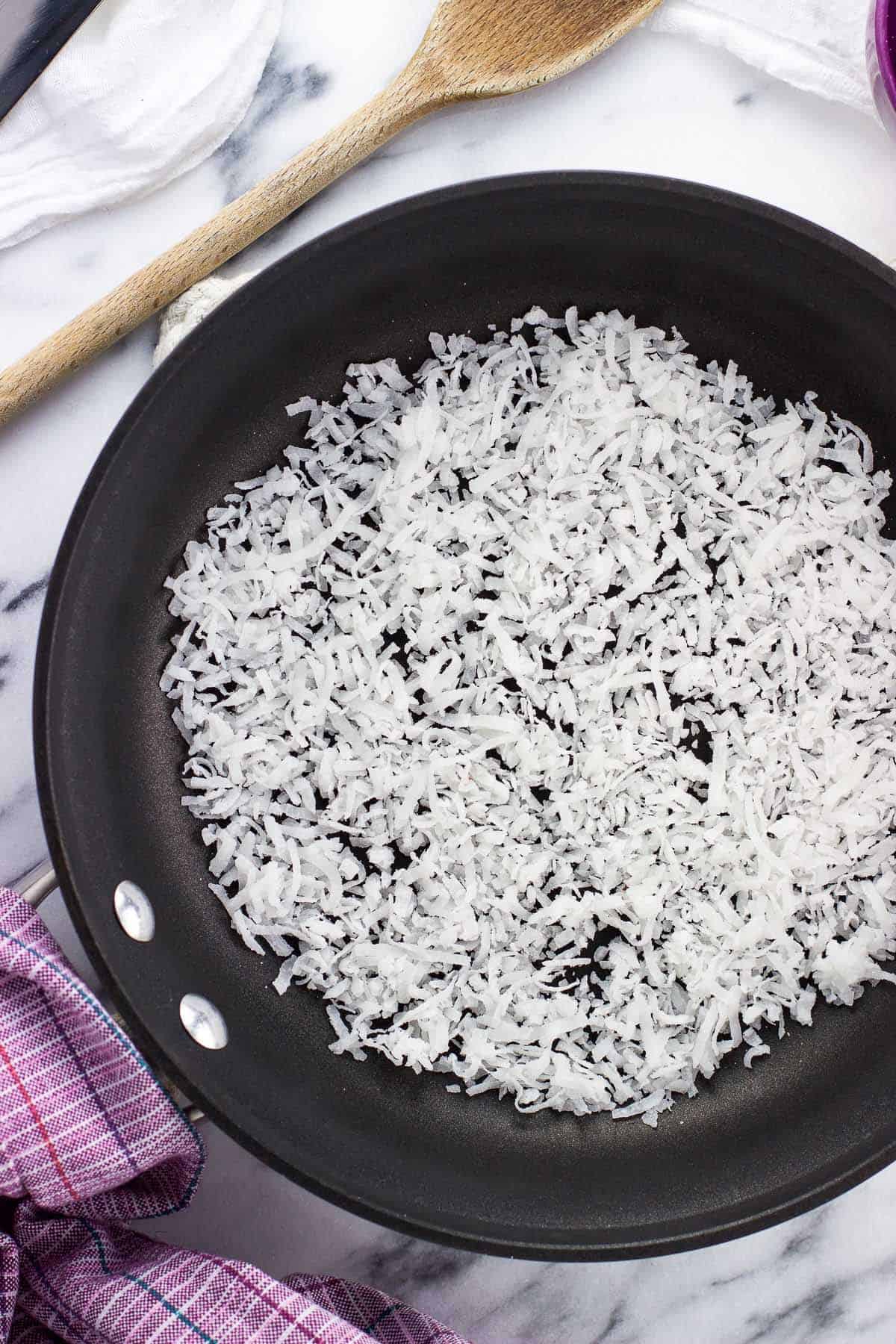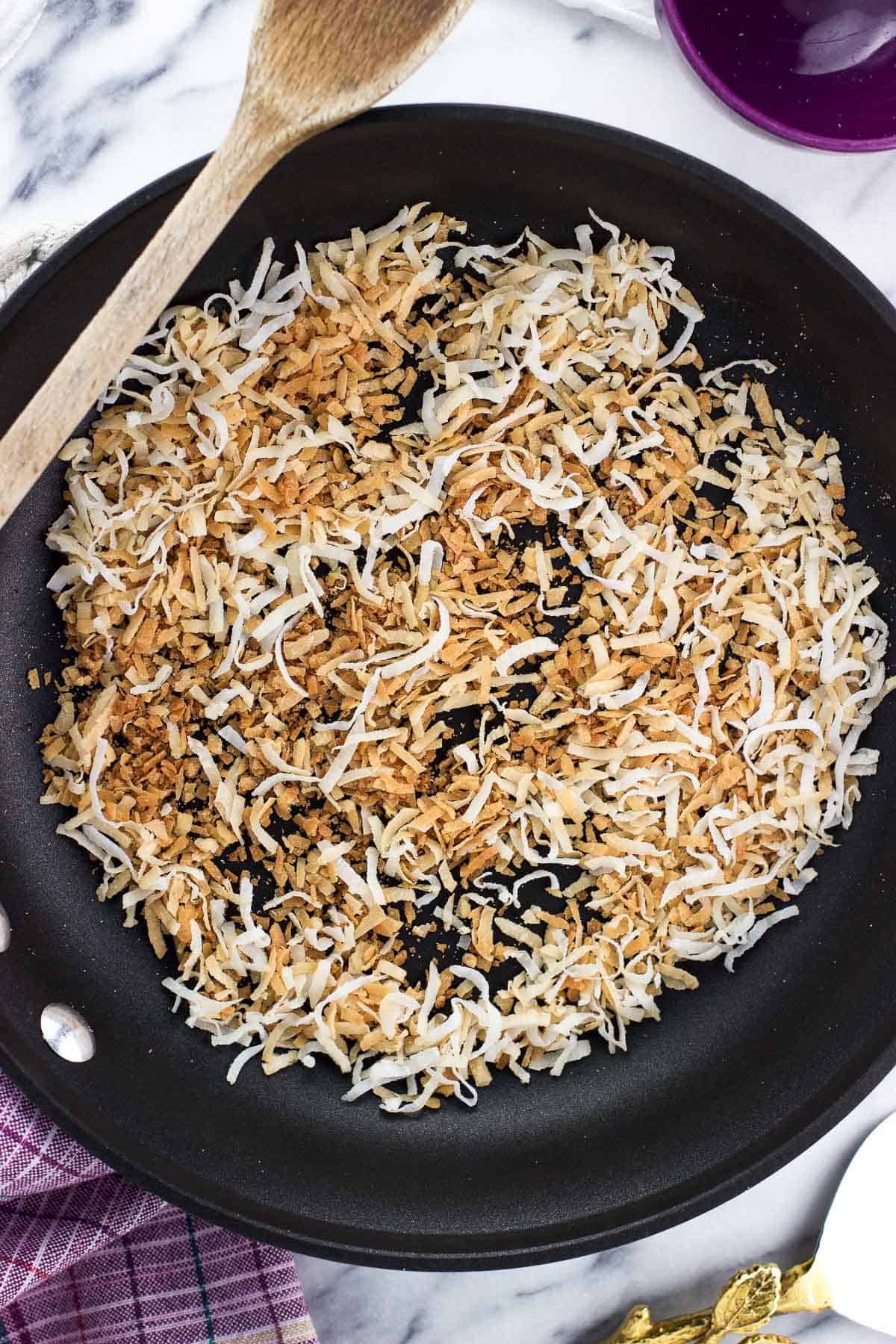 Arrange flaked coconut in an even layer in an ungreased skillet set over low-medium heat. Stir up the coconut frequently as it toasts as to prevent burning. Same deal as toasting it in the oven - remove it from the hot pan right away once it's toasted to prevent it from getting too toasty.
While this method works, it's not my favorite as I find it requires more constant attention and produces unevenly toasted coconut.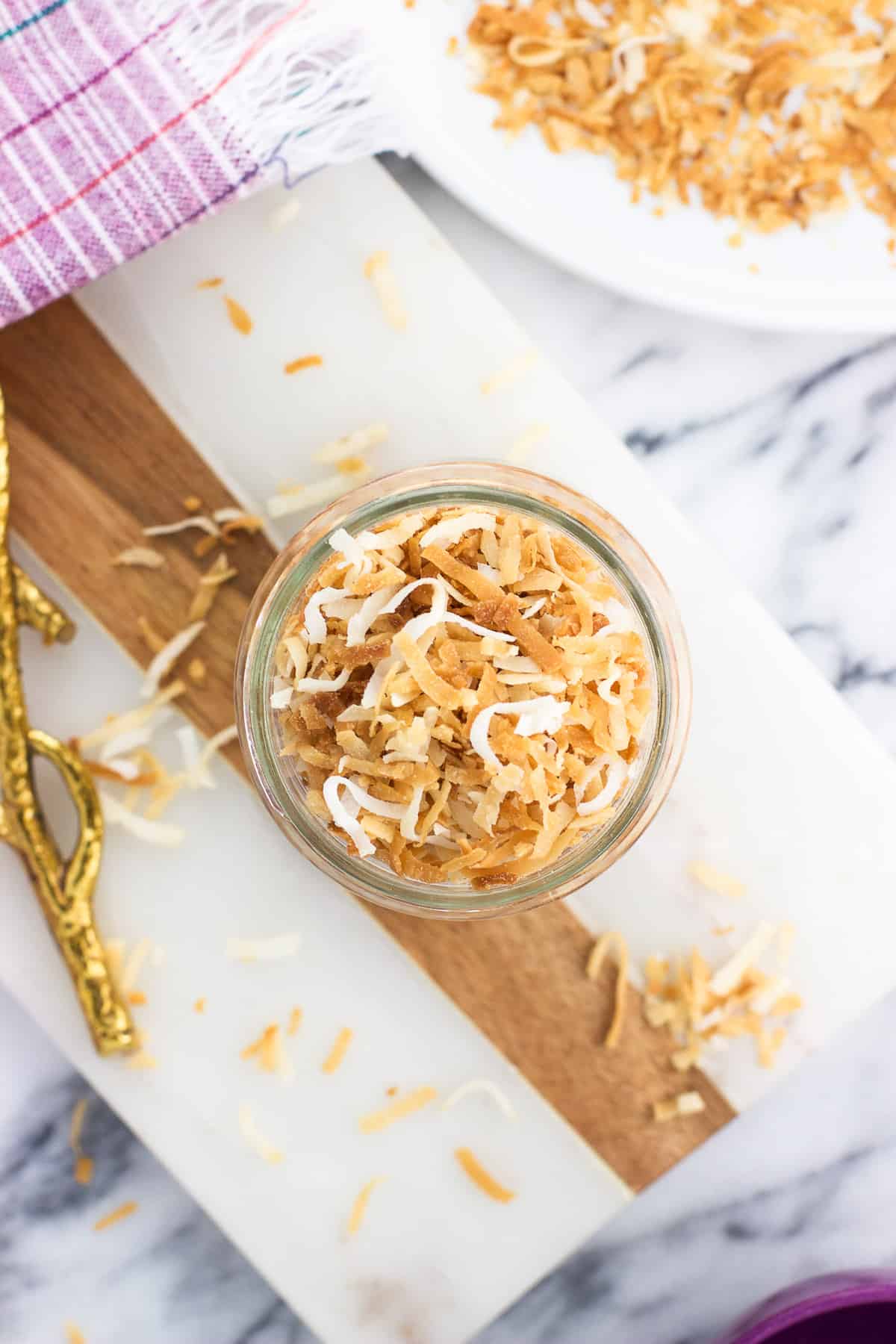 Recipe Tips and Tricks
Keep a Close Eye - No matter which way you toast coconut, do stick close by as coconut can go from golden-brown and toasty to burnt very, very quickly. This isn't a recipe where you can walk away and start doing something else.
Stir Often - You'll need to stir up the coconut to promote even browning. Plus ovens have hot spots that can cause certain areas of the pan to brown more quickly.
Easy Clean Up - Lining the sheet pan with parchment paper or a silicone baking mat allows you to easily "funnel" the toasted coconut off of the sheet pan onto a plate without spilling.
Storage Instructions - Once entirely cooled, store toasted coconut flakes in a sealable bag or air-tight jar or container. It will be fine at room temperature for about a week, but its shelf life can be extended 3-4x by refrigerating (though over time it may lose its crunch).
Can You Use a Microwave? Yes it's possible, but it's finicky. Arrange coconut in a heat-safe baking dish and stop to stir it up every 30 or so seconds, or even sooner once it's getting close. The amount of time it will take varies by microwave.
Can You Use an Air Fryer? I would not. An air fryer operates by fans constantly circulating hot air within. Lighter foods (such as kale chips) can get blown around in there, risking a fire if they touch a heating element. Flaked coconut would likely fall into that bucket, too.
Ways to Use Toasted Coconut
Now that your coconut is toasted, let's put it to use!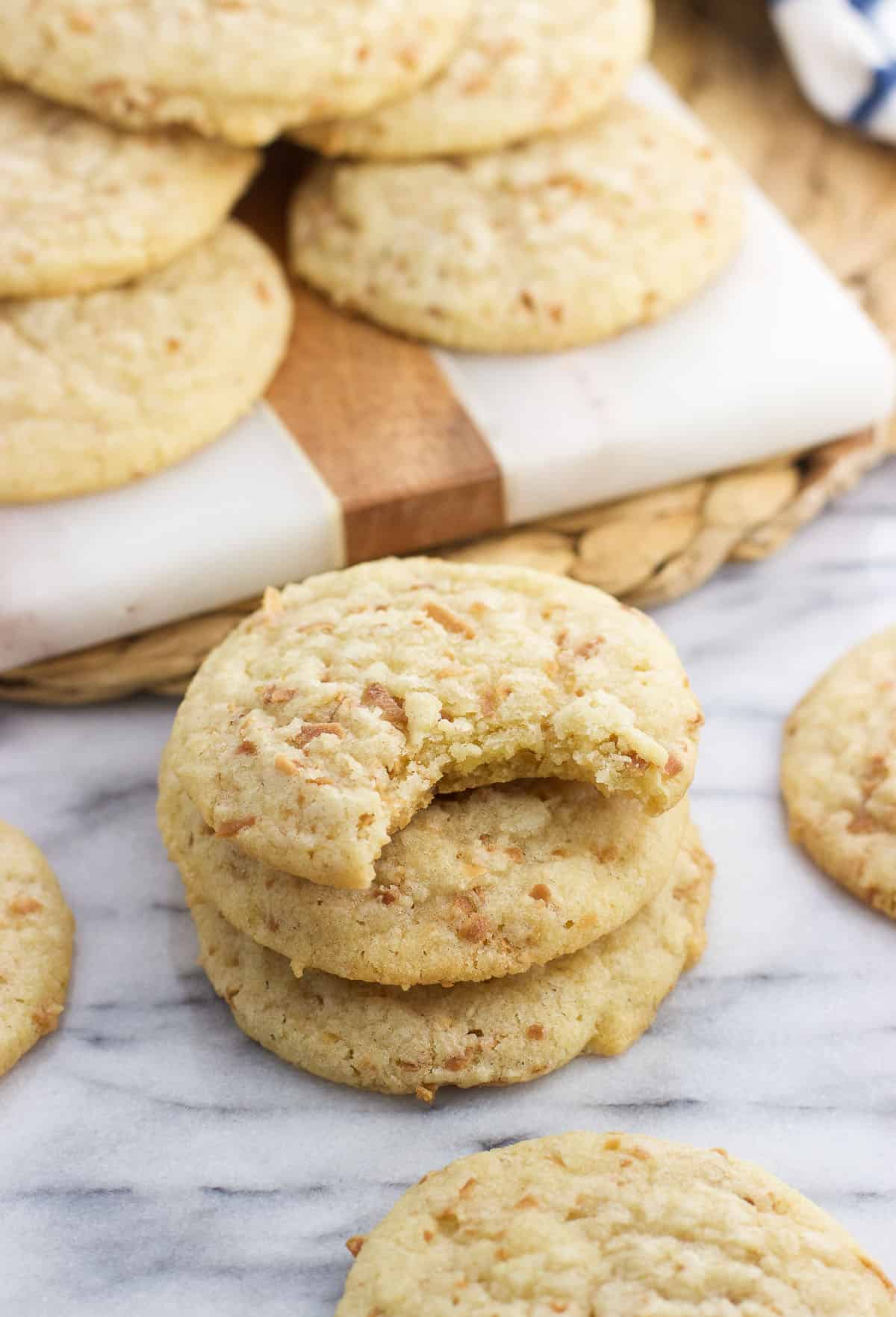 Pre-toasted coconut flakes are a key element to what makes these coconut cookies so chewy and flavorful.
Press toasted coconut flakes into stabilized whipped cream "frosting" for a cake to coat it with tropical flavor.
Add them to no-bake cereal bars (like matcha rice crispy treats) along with marshmallows.
They're a delicious summer dessert garnish, as-is. They complement grilled angel food cake and pineapple slices perfectly.
Mix them into homemade ice cream, or use them to top a scoop of your favorite store-bought variety.
More Kitchen How-Tos
If you've enjoyed this recipe, I'd love for you to leave a star rating in the recipe card and/or a comment review below!
How to Toast Coconut
Learn how to toast coconut in the oven or on the stovetop with these two simple methods. Toasted coconut elevates any coconut recipe with only a few minutes of work. This works for both sweetened and unsweetened coconut.
Print
Pin
Rate
Servings:
8
(but variable)
Ingredients
1

cup

flaked coconut

sweetened or unsweetened
Instructions
Oven Instructions:
Preheat oven to 350°F (177°C). Line a rimmed baking sheet with parchment paper or silicone baking mat (optional, but makes for easier cleanup). Spread flaked coconut on the pan in an even layer.

Place the baking sheet on the middle rack in the oven and toast for 5-10 minutes, or until the coconut is becoming fragrant and is turning golden. Stop to shake/stir up the coconut several times throughout to ensure even browning, and remove any already-browned flakes so they don't burn.

Remove the baking sheet from the oven and immediately transfer the toasted coconut to a plate or bowl to cool completely.
Stove Top Instructions:
Arrange flaked coconut in an even layer in a dry (ungreased) skillet set over medium-low heat. Let the coconut toast, stirring occasionally, for 5-10 minutes, or until golden. Stay close and watch to be sure it doesn't burn. Once toasted to your liking, immediately remove the coconut to a plate or bowl to cool completely.
Notes
Important Tip: With either method, keep a close eye on the coconut as it's toasting. It can become burnt quickly. One tell with oven toasting coconut is that it's almost done when it just becomes fragrant. Storage: Once completely cooled, store toasted coconut in an air-tight bag, container, or jar. It's fine at room temperature for around one week. Shelf life can be extended if refrigerating it, but it will lose some of its crunch as time goes by.
Nutrition
Serving:
2
Tablespoons
|
Calories:
70
kcal
|
Carbohydrates:
6
g
|
Protein:
1
g
|
Fat:
4.5
g
|
Saturated Fat:
4
g
|
Sodium:
35
mg
|
Fiber:
1
g
|
Sugar:
5
g
Nutritional information is provided as an estimate. As it can vary due to many factors (brands used, quantities, etc.), we cannot guarantee its accuracy.
Food Safety and Nutrition Disclaimer