A few steps ensure these easy baked coconut chicken tenders are ultra crisp for a satisfying, healthier dinner recipe the whole family will love.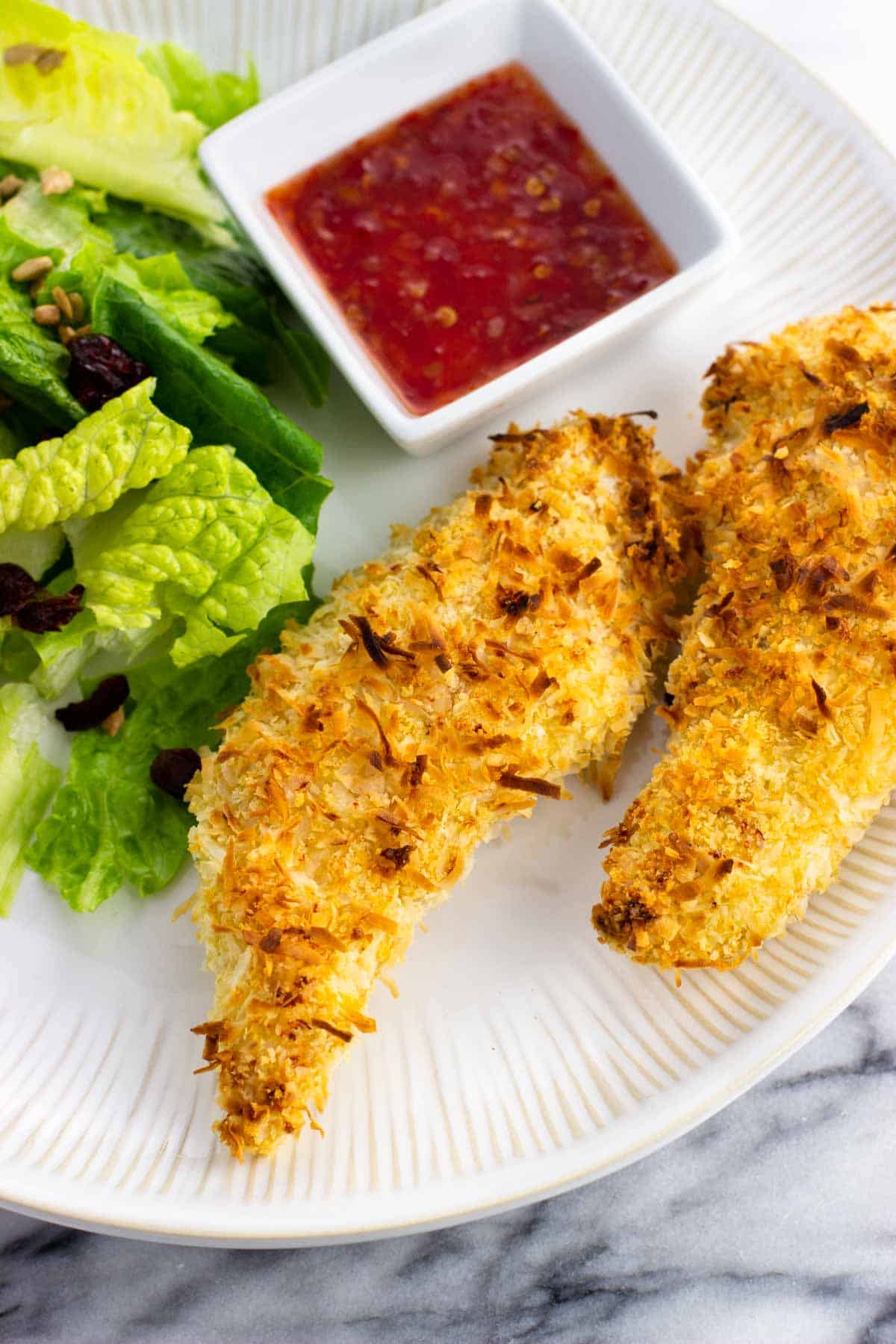 It's hard for me to stray from the simplicity and quickness of air fryer chicken tenders, but when I do it's always for these baked coconut chicken tenders.
Made with nearly all kitchen staples, as long as you have chicken tenders (or chicken breasts you can cut into strips), you're all set.
Reasons to Love This Recipe
The breading steps all work together to achieve a crisp and thick layer of coating.
Combining coconut flakes with panko delivers a bright coconut flavor with the satisfying crunch we know and love from panko.
These tenders turn out nice and crisp even when oven-baked - no frying necessary.
Recipe Ingredients
Chicken tenders: This recipe uses roughly two pounds of chicken tenders, but there's a little wiggle room there. If you can't find specifically marked tenders, you can slice boneless skinless chicken breasts lengthwise into even strips to make your own "tenders".
Flour: Dredging the chicken in flour helps the egg adhere when coating. I have experience with all-purpose and whole wheat flours here, but your preferred all-purpose type of gluten-free flour should work fine for this step.
Milk: This is added to the beaten egg to thin it out a bit so it sticks to the tenders in an even manner. Any kind of milk/regular milk substitute is fine (I use 2% or oat milk).
Coconut: I've made this recipe with both sweetened shredded coconut (also called angel flake coconut) and unsweetened coconut flakes and have enjoyed it both ways, so it's your call which to use. I prefer sweetened coconut as I find the coconut flavor is more pronounced.
Panko: Where coconut adds flavor, this provides crunch. Any variety of panko is fine: regular, whole wheat, gluten-free. I would not substitute in regular breadcrumbs as their much smaller size won't deliver the crunch.
Step-by-Step Instructions
Pat tenders dry, dip each in the seasoned flour mixture, then dunk in the beaten egg and milk. Fully submerge each tender so no dry spots remain.
Dip each tender in the coconut/panko, pressing the coating into the wet surface well.
Repeat for all tenders, placing them in a single layer on a sprayed wire rack set over a rimmed sheet pan.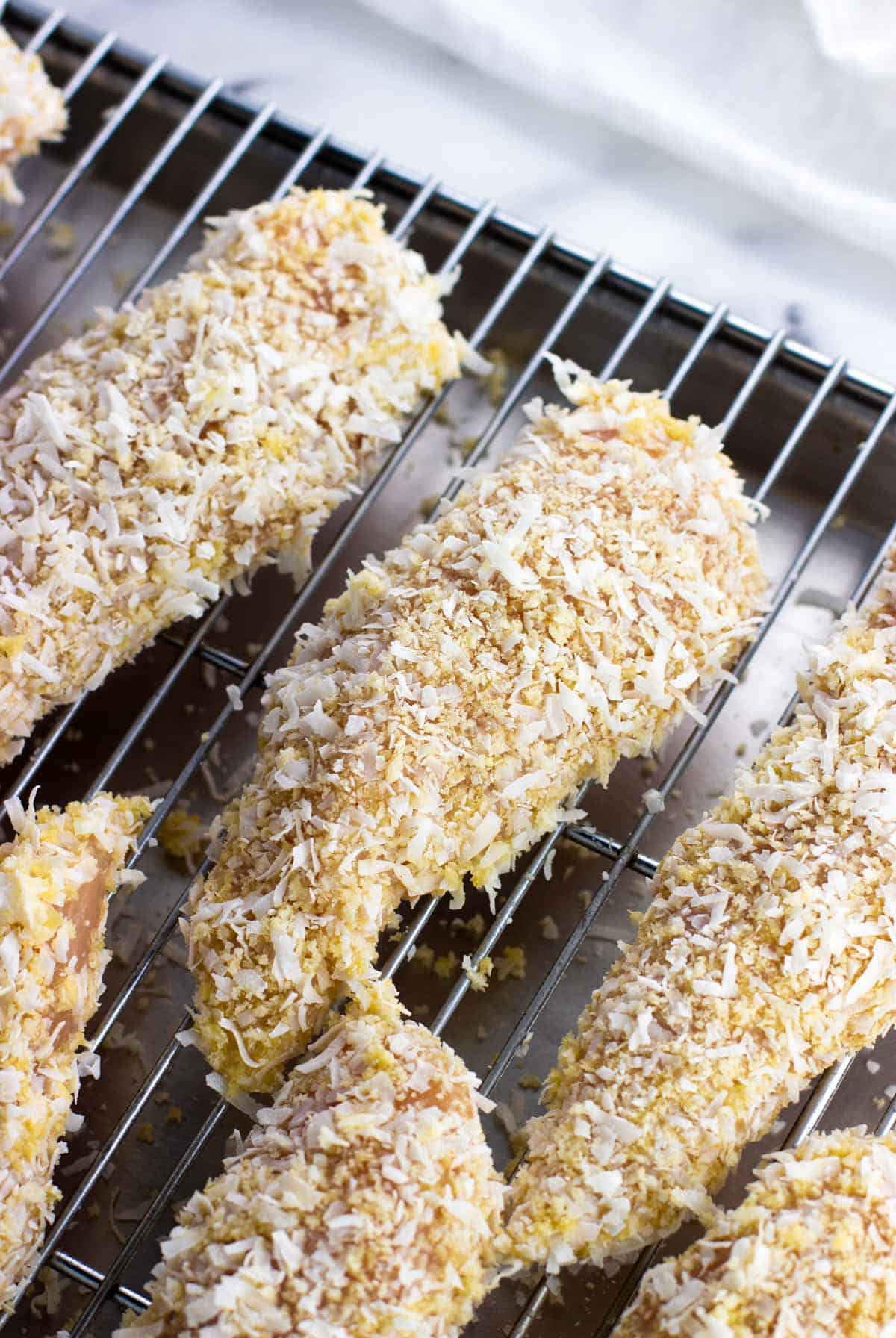 Bake for 20-35 minutes, flipping after the first 15 minutes, or until fully cooked. See the reasoning for the larger cook time range in the recipe card below. While these baked coconut chicken tenders will have crisped up, switch the oven over to broil for the last minute or two of cook time and broil each side briefly to attain that golden-brown coloring.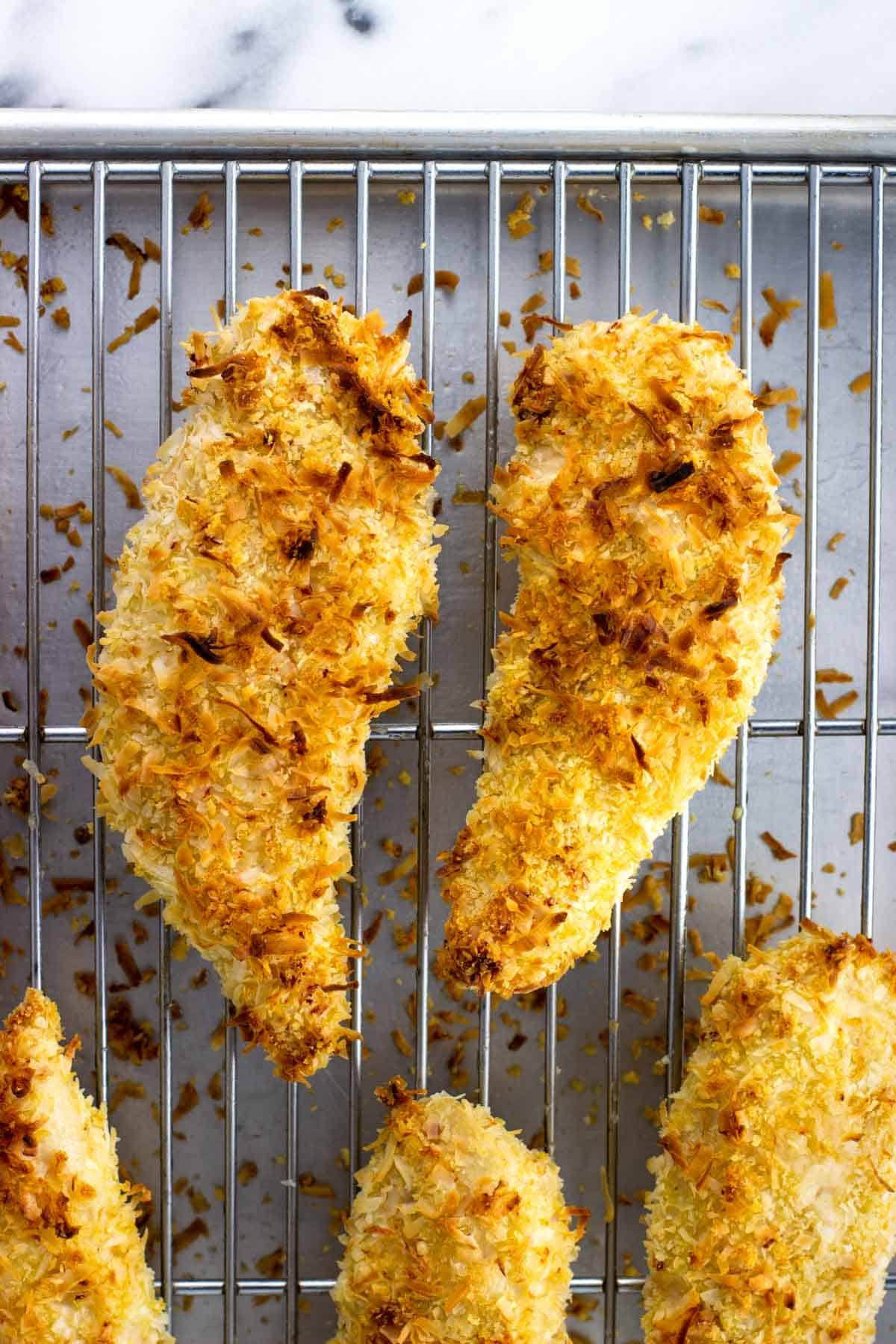 Recipe Tips and Tricks
Seasoning the flour is an easy way to ensure the spices don't get lost as they might if you were adding them to the coconut/panko. Salt, pepper, and paprika is a very basic seasoning mix, but you can add other spices as you like. Cayenne pepper would be a great addition for some heat.
If you don't have an oven-safe wire rack, you can place the tenders directly onto a sheet pan. They might not get quite as crisp, but they'll still be good. Lifting them up off of the pan with a rack allows the hot air to circulate around all sides of the tenders as they cook, crisping them up and eliminating the sogginess that can form on the underside.
One of my favorite dipping sauces for these coconut chicken tenders is sweet chili sauce (the brand I like is Mae Ploy). It's not spicy like sriracha or chili garlic sauce, but leans more into the sweet and tangy flavor.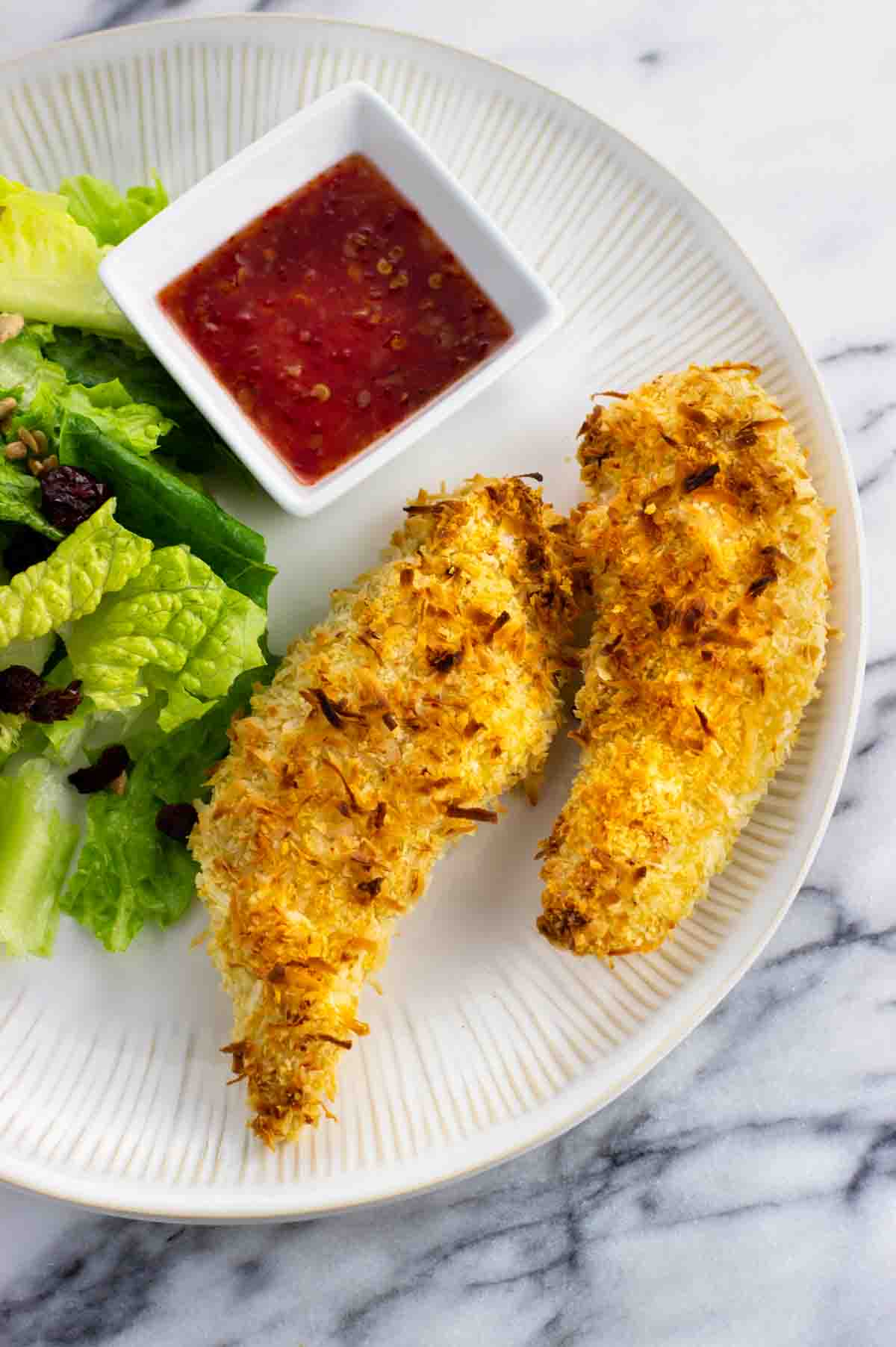 Recipe FAQs
How do you reheat coconut chicken tenders?
While you can place them back on a rack in a lower-temperature oven (325-350°F, so they don't burn before heating fully), these chicken tenders reheat REALLY well in the air fryer. Simply place them in the air fryer basket and air fry at 325°F for 7-8 minutes, or until well heated and crisp again.
How can I adapt this recipe?
Gluten-free: Using gluten-free flour and gluten-free panko will make this recipe gluten-free (just double check the specific brands you use for cross-contamination).
Dairy-free: Use dairy-free milk.
Lower sugar: Using unsweetened shredded coconut instead of sweetened will shave roughly 35 grams of sugar from the entire recipe.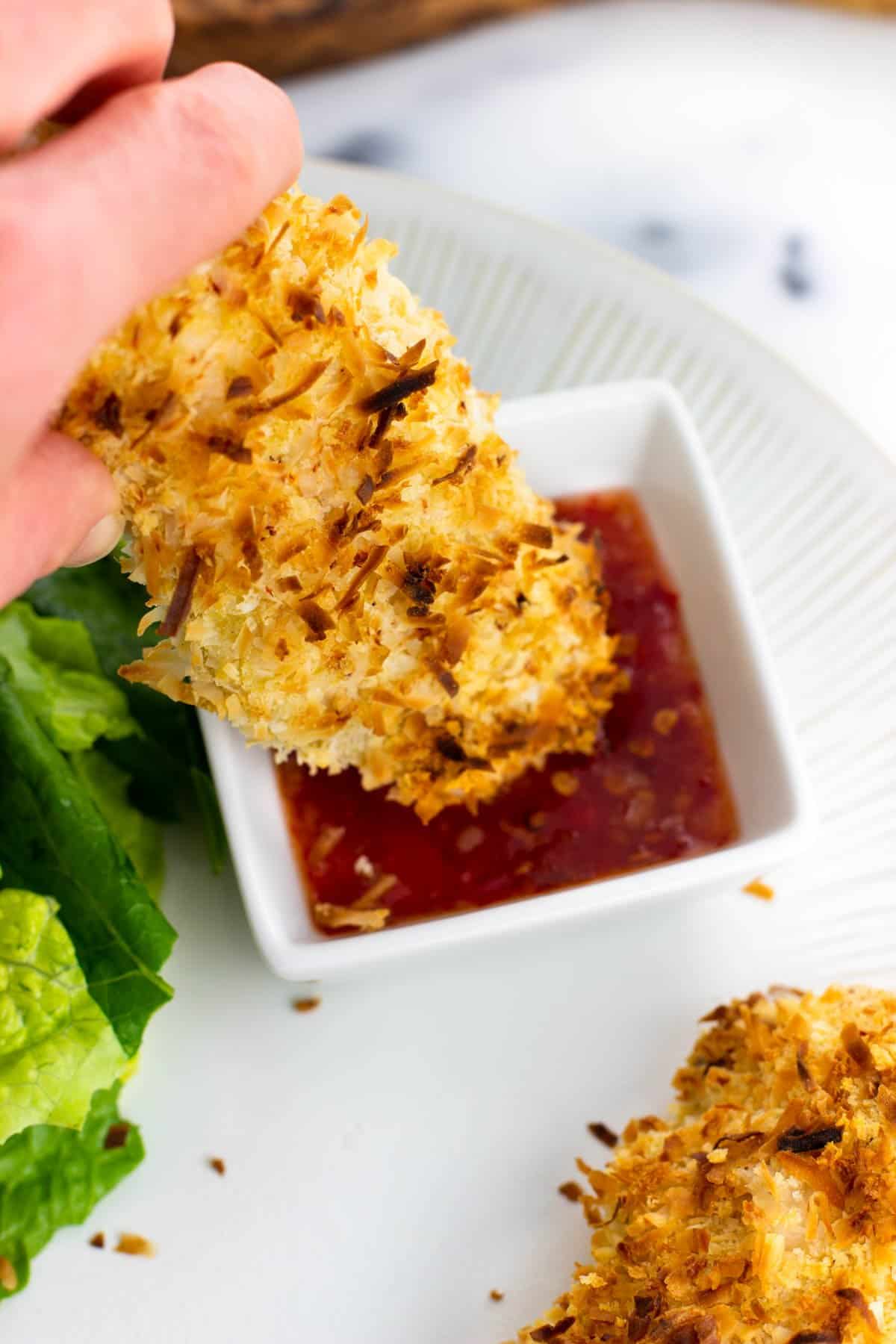 Related Recipes
If you've enjoyed this recipe, I'd love for you to leave a star rating in the recipe card and/or a comment review below!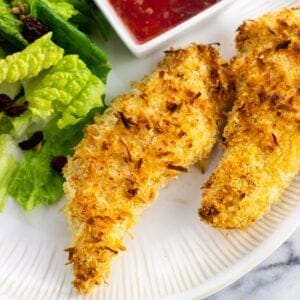 Baked Coconut Chicken Tenders
A few steps ensure these easy baked coconut chicken tenders are ultra crisp for a satisfying, healthier dinner recipe the whole family will love.
Print
Pin
Rate
Ingredients
1

cup

coconut flakes

sweetened or unsweetened

½

cup

panko breadcrumbs

2

large

eggs

¼

cup

milk

½

cup

all-purpose flour

½

teaspoon

salt

¼

teaspoon

ground black pepper

Pinch of

paprika

2

lbs

chicken tenders
Instructions
Preheat the oven to 400°F (204°C). Set an oven-safe wire rack over top of a rimmed sheet pan and spray the rack well with cooking spray.

Place the flaked coconut in the bowl of a food processor and pulse a few times until the flakes are broken up into small pieces. Alternatively you can chop the coconut flakes on a cutting board with a knife. Pour out the coconut to a bowl, add the panko, and stir to combine evenly.

Add the eggs and the milk to a separate bowl and beat with a whisk until creamy and combined.

Add the flour, salt, pepper, and paprika to a separate, third bowl and whisk to mix in evenly.

Arrange your three bowls in this order: flour, egg, coconut/panko, with the coconut/panko bowl right next to the pan with the sprayed rack. Pat the chicken tenders dry with a paper towel.

Take the first chicken tender and press all sides of it into the seasoned flour, tapping off any excess. Then submerge it into the egg mixture being sure to coat all sides. Hold the tender above the bowl for a few seconds afterwards so the excess egg drips back in, then press the chicken tender into the coconut/panko to coat completely.

Place the coated chicken tender onto the prepared rack. Repeat for the remaining tenders, leaving just a little bit of space between tenders on the rack.

Bake for 15 minutes, then carefully remove the pan and flip each tender over. Bake for an additional 7-15 minutes (see notes on range), or until the internal temperature registered from the center of the largest tender reaches 165°F, with no pink remaining. Tenders can really vary in size so taking the temperature is the best way to know when your particular ones are fully cooked.

If desired once the tenders are fully cooked, switch the oven to the broil setting and broil for a minute or so on each side to achieve a golden-brown color before serving.
Notes
Ingredient Notes
Chicken: If you can't find packaged chicken tenders at the store, you can slice chicken breasts lengthwise into 3 or so equal strips to make DIY tenders.
Coconut: Shredded coconut can be found in the baking aisle. Sweetened coconut will provide a bolder coconut flavor, but either sweetened or unsweetened work for this recipe so just use your preference.
Seasonings: Add additional herbs and spices to the flour mixture as you like as salt, pepper, and paprika keep things on the basic side. Cayenne would be a nice boost of spice.
Recipe Tips
If you don't have a wire rack, you can bake the tenders right on the sheet pan (they just won't be quite as crisp).
Sweet chili sauce (not chili garlic sauce, which is a good deal spicier) makes a delicious sweet and tangy dipping sauce to pair with these.
Reheating Instructions: Reheat in a 325-350°F oven OR air fry at 325°F for 8 or so minutes until heated thoroughly.
Range of Cook Times: Chicken tenders can come in a wide variety of sizes, from thin, small strips to large, almost half-sized chicken breasts. Your particular tenders may require 20-22 minutes of cook time, or they may need closer to 30 minutes or so if they're large. For the most accuracy I recommend using an instant-read thermometer to check the temperature in the center of the largest tender. They're fully cooked when it hits 165°F.
Nutrition: Nutritional info is an estimate including the usage of sweetened shredded coconut.
Nutrition
Calories:
344
kcal
|
Carbohydrates:
22.6
g
|
Protein:
38.4
g
|
Fat:
10.2
g
|
Saturated Fat:
6.2
g
|
Cholesterol:
142
mg
|
Sodium:
372
mg
|
Potassium:
99
mg
|
Fiber:
3.3
g
|
Sugar:
8.4
g
|
Calcium:
25
mg
|
Iron:
2
mg
Nutritional information is provided as an estimate. As it can vary due to many factors (brands used, quantities, etc.), we cannot guarantee its accuracy.
Food Safety and Nutrition Disclaimer