Coconut Macadamia Crusted Salmon is a quick and healthy main dish recipe, featuring salmon fillets piled high with a macadamia nut, coconut, and panko topping. A brush of olive oil and a squeeze of lemon are all you need for this tasty spin on salmon!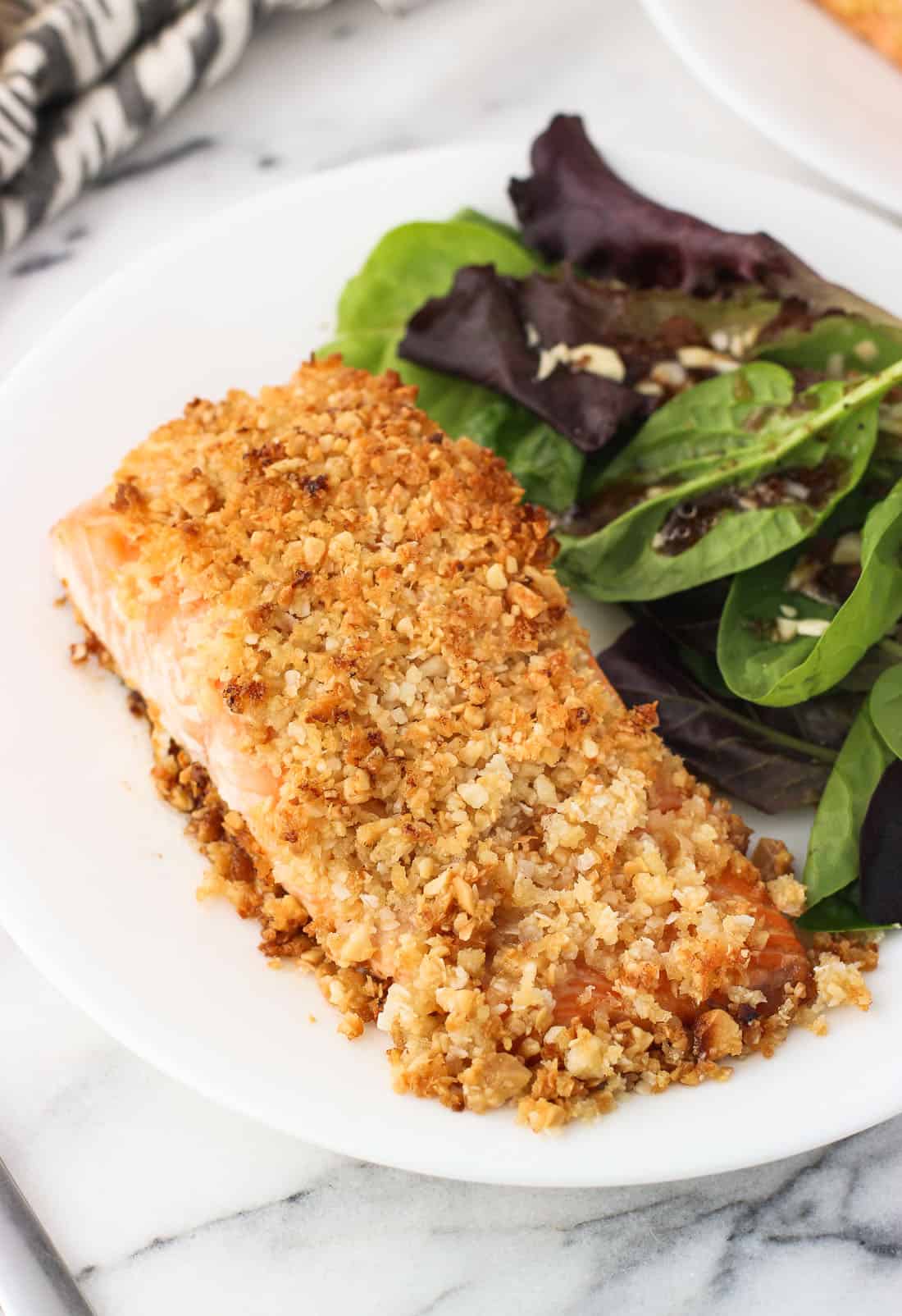 Well hello, January! Ready or not, full-fledged post-holiday winter is here. I'm not huge on resolutions, but I'm putting forth an effort to jazz up our mostly-healthy weeknight meals with new flavors. Our go-to salmon recipe is this spicy baked orange salmon that I've blogged before, but a discovery of leftover toasted macadamia nuts in the cabinet from a batch of these cookies got the wheels turning. Macadamia-crusted fish is something I tend to order in a restaurant – what's to prevent me from making it at home? The answer is…nothing at all. It's just one of those meals I love and then promptly forget about. 😂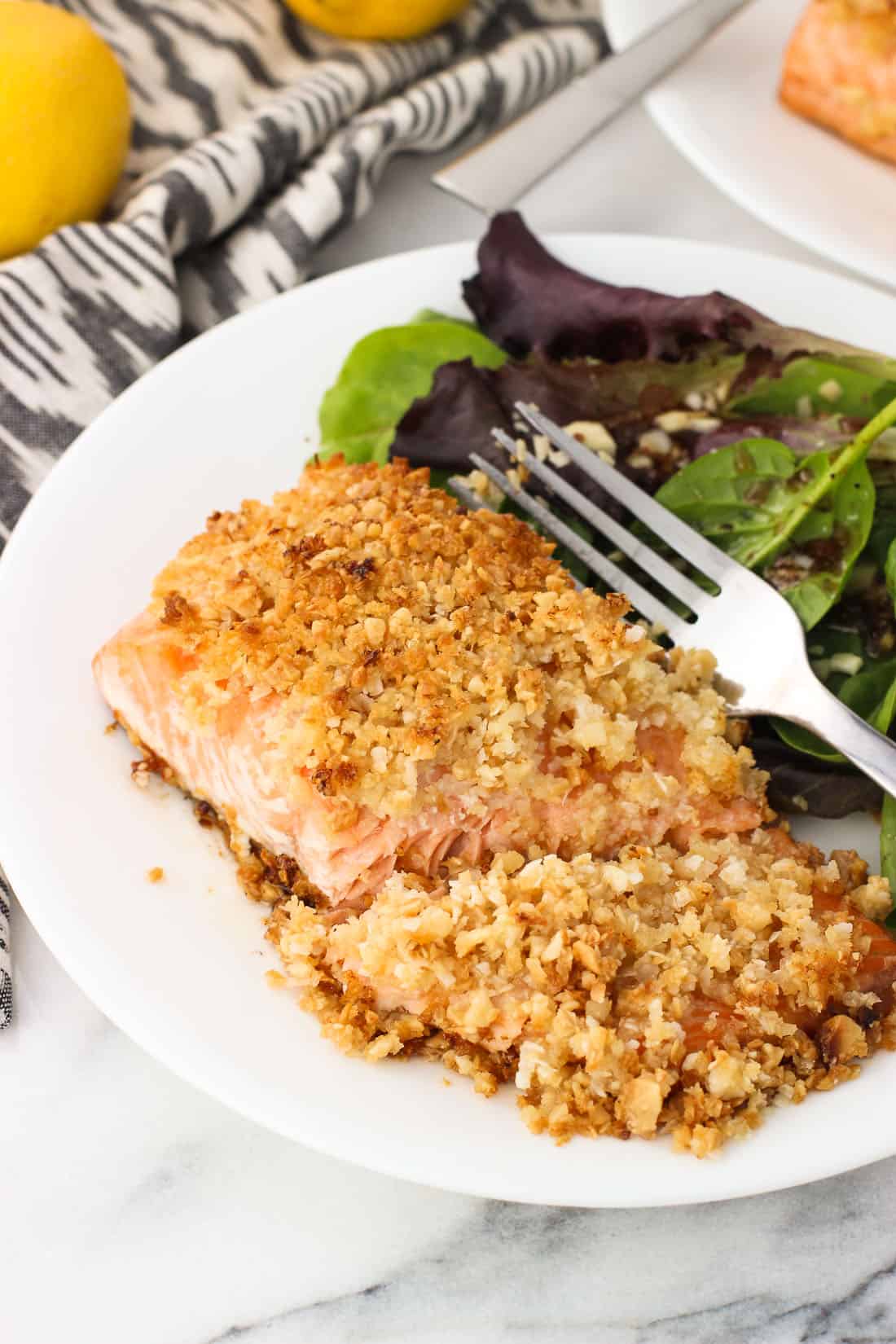 This topping to this coconut macadamia crusted salmon is thick, crunchy, and so good! Equal parts roughly ground macadamia nuts and ground unsweetened coconut flakes are joined with panko breadcrumbs and a bit of melted coconut oil to form the crust mixture. After the salmon bakes for a few minutes, you'll brush the fillets with oil, press this mixture over top, squeeze some fresh lemon juice over top of each fillet, and bake until done. Adding the topping to the salmon after 5-6 minutes of baking helps prevent it from becoming too crisp before the salmon has finished cooking.
While you usually see some sort of nut topping on white fish, we're big salmon fans here so that's what I went with. The ones I got were about half a pound each, but you can certainly buy smaller/larger fillets as long as they're about the same thickness so they cook evenly.
Also I recommend using the unsweetened coconut flakes vs. the sweetened, "snowflake" coconut. The unsweetened flakes are drier and (obvs) not sweet. Once given a quick whiz or two in the food processor they'll be the perfect size to blend into the topping and provide a hint of coconut flavor without any unnecessary sweetness. If you've never cooked with them before, I found these alongside the other coconut flakes and chocolate chips in the baking aisle of my regular grocery store.

Coconut Macadamia Crusted Salmon
Ingredients
2 salmon fillets, about half a pound each
1/4 cup ground macadamia nuts
1/4 cup ground unsweetened coconut flakes
3 tbsp panko breadcrumbs
2 tbsp coconut oil, melted
1 tbsp olive oil, divided
Salt and pepper, to taste
Juice from half a lemon
Instructions
Preheat oven to 425°F. Line a baking sheet with foil and spray with cooking spray. Place salmon fillets on the baking sheet and brush fillets with 1/2 tbsp olive oil (so 1/4 tbsp each).
Season salmon fillets with salt and pepper. Place salmon in the oven and bake for 6 minutes.
While the salmon is baking, add ground macadamia nuts, ground coconut flakes, and panko to a bowl and stir. Pour in melted coconut oil and stir until combined.
Remove salmon from oven after 6 minutes and brush remaining 1/2 tbsp olive oil onto salmon fillets. Press the macadamia/coconut mixture onto the tops of the fillets and squeeze the lemon juice over both.
Return salmon to the oven and bake for an additional 12 minutes, or until salmon reaches your preferred doneness or is 145° in the thickest part. Let salmon sit for a few minutes before serving.
Notes
To grind both the macadamia nuts and the unsweetened coconut flakes, I give them a few pulses in the food processor until they're in small bits.

My fillets were just about 1 1/2"-thick, so 17-18 minutes were what they needed to cook through. My general rule of thumb is to allow 6 minutes per 1/2" of thickness.