Coconut macadamia crusted salmon is a quick dish featuring salmon fillets piled high with a macadamia nut, coconut, and panko topping. You don't need many ingredients to pull together this healthy seafood recipe.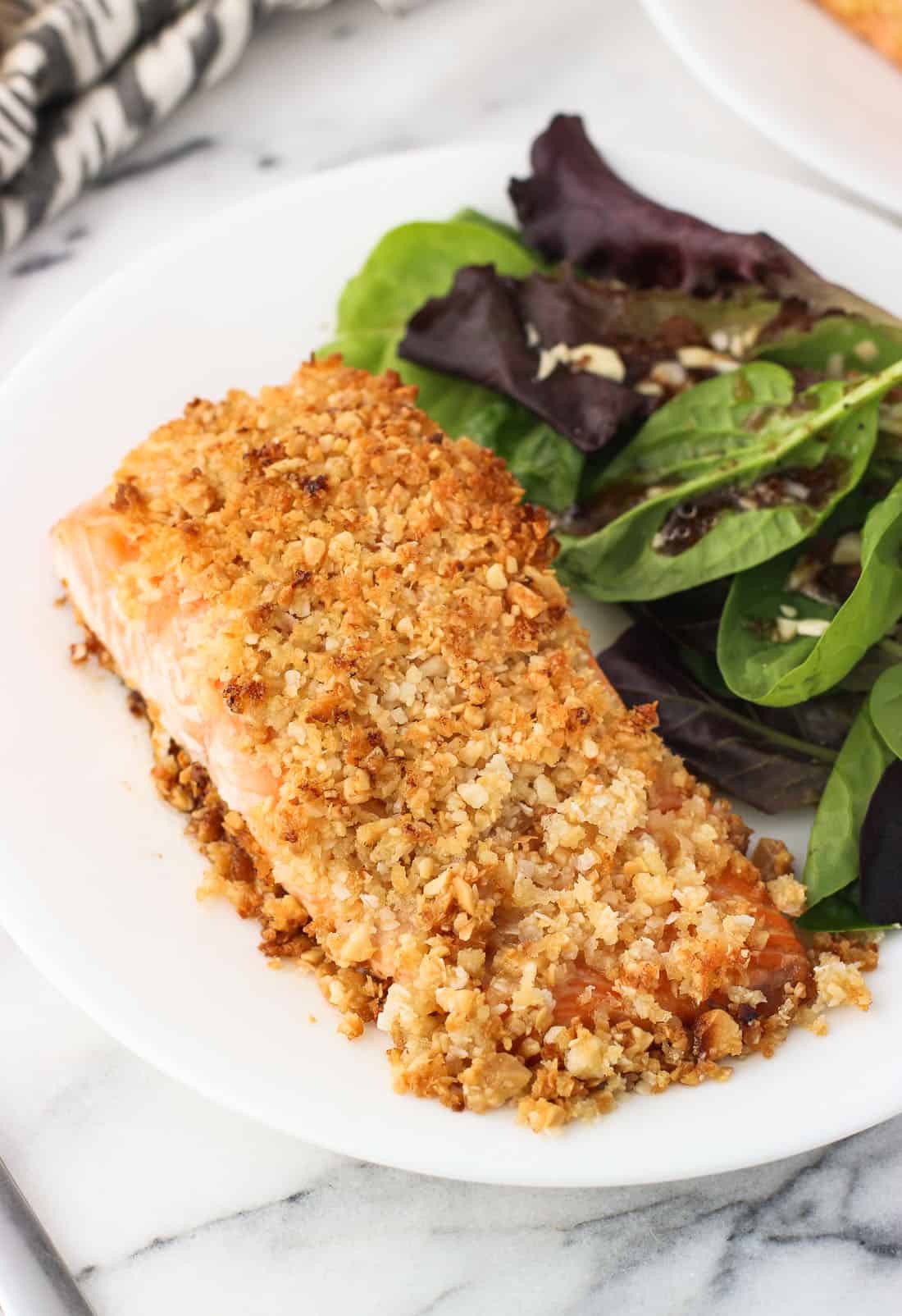 Well hello, January! Ready or not, full-fledged post-holiday winter is here. I'm not huge on resolutions, but I'm putting forth an effort to jazz up our mostly-healthy weeknight meals with new flavors.
Our go-to salmon recipe is this baked orange salmon that I've shared before. YUM. But a discovery of leftover macadamia nuts in the cabinet from my last batch of lemon white chocolate macadamia nut cookies got the wheels turning.
Macadamia-crusted fish is something I tend to order in a restaurant - what's to prevent me from making it at home? The answer is...nothing at all. It's just one of those meals I love and then promptly forget about. 😂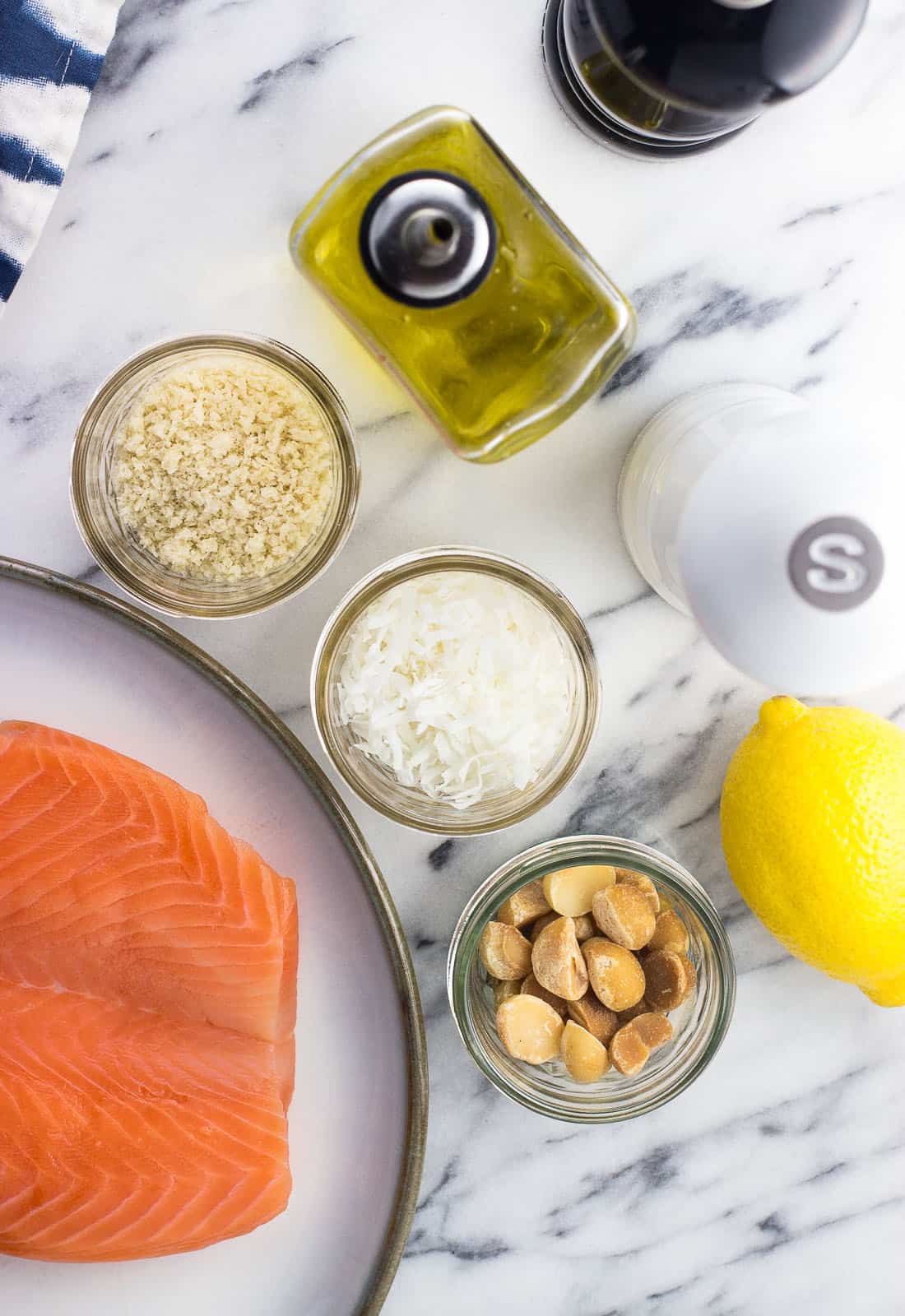 Ingredients
This topping to this coconut macadamia crusted salmon is thick, crunchy, and so good! It includes:
roughly ground macadamia nuts
roughly ground unsweetened coconut flakes
panko breadcrumbs
melted coconut oil
The macadamia nuts add a rich flavor that pairs up well with the coconut. In a pinch I've used regular sweetened coconut, but I prefer unsweetened coconut. You'll likely find them right alongside the 'snowflake' flaked coconut varieties in the baking aisle of the grocery store. They provide a coconut flavor more appropriate for a savory recipe like this salmon.
Also in a pinch I've used chopped up pecans instead of macadamia nuts, and that was good, too. Macadamia nuts certainly aren't the cheapest, but you don't need much here.
I like to use melted coconut oil here to enhance the coconut flavor (and keep this recipe dairy-free). I've also used olive oil and it works just fine. Just a slightly different flavor -- you do you.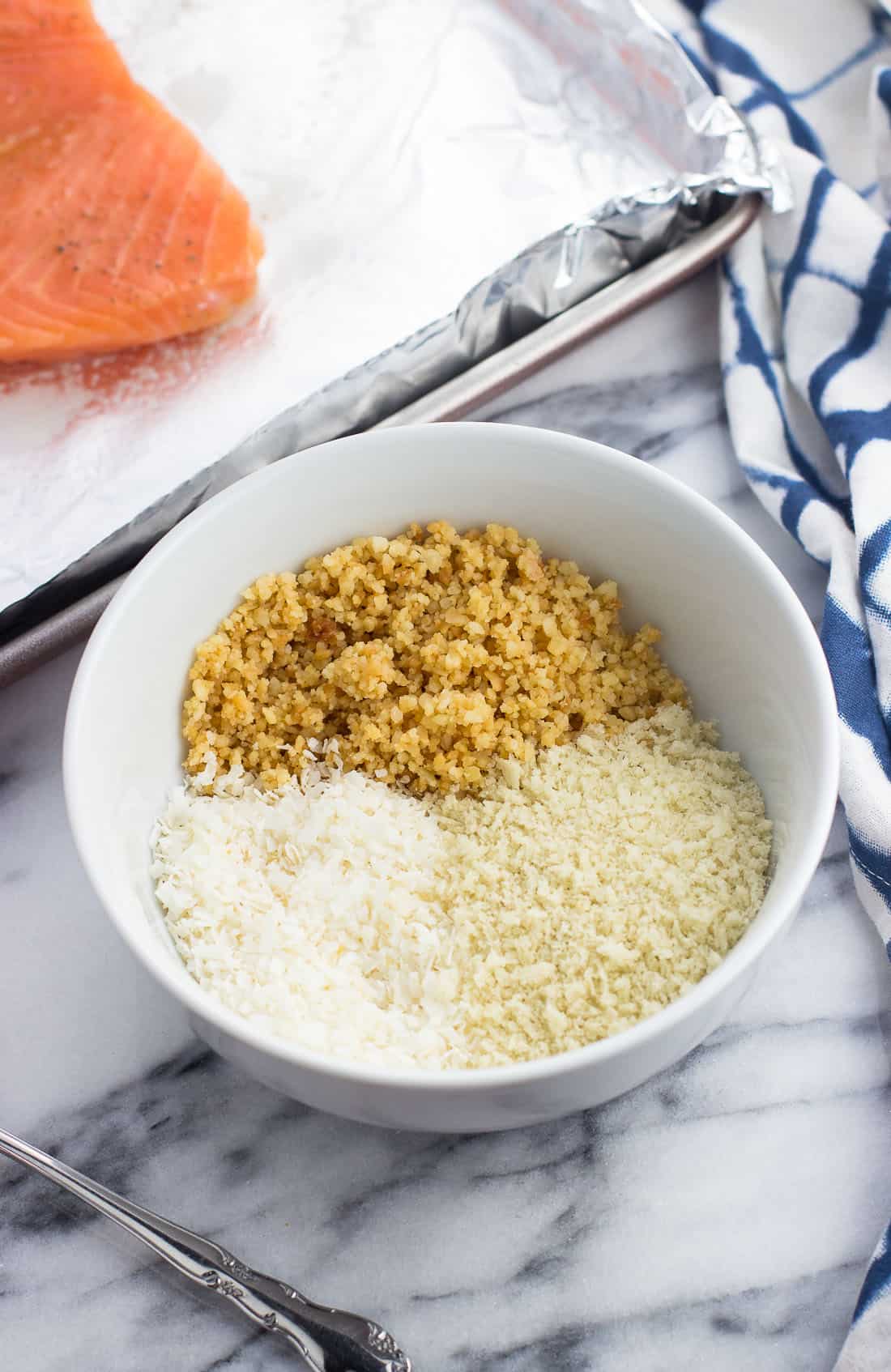 Instructions
Start by brushing your salmon with oil, seasoning it with some salt and pepper, and then squeezing lemon juice over top (not super mandatory but I like a little citrus in there). Then the next steps are determined by the thickness of your salmon fillets.
If you have a thicker piece of salmon (usually center-cut, around 1 ½" thick), you'll want to bake it for a few minutes before adding the topping.
Reason being that the topping doesn't need that long to toast up nice and golden brown. You'll want to give a thick piece of salmon a head start cooking so the topping doesn't become burnt by the time the fish is fully cooked.
If you have a thinner piece of salmon (closer to the tail end, around 1" thick), the topping can be added right away and be just fine with a 12-15 minute cook time.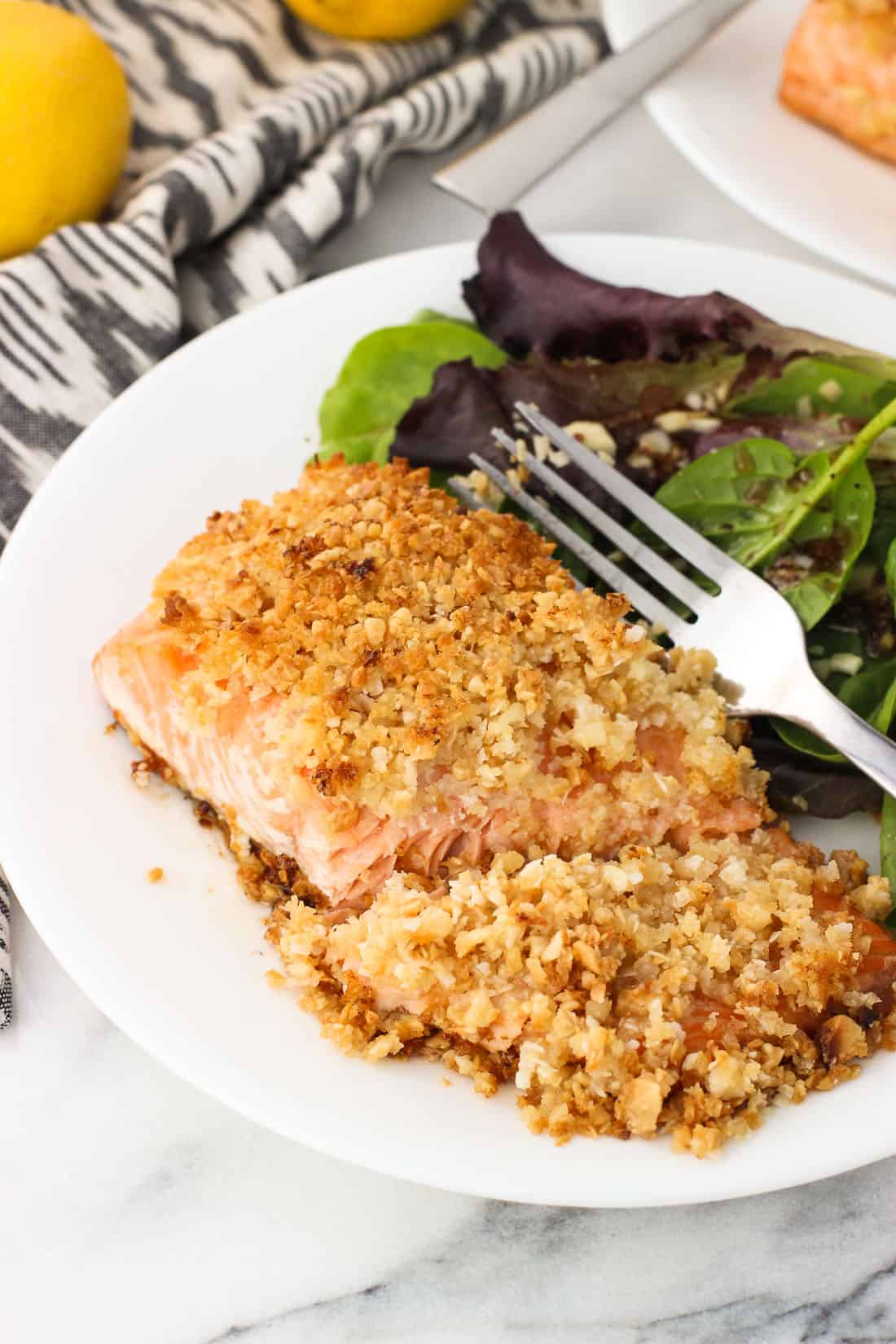 The big thing when cooking multiple fillets of fish is that you want them to be as close in thickness to each other as you can get them. That way they cook in the same time.
A general rule of a thumb to follow is that fish needs about six minutes of cook time (at 425°F) per every half-inch of thickness, plus an extra minute or two, as needed.
An instant-read thermometer takes the guesswork out of seeing when it's fully cooked, which will be when the salmon easily flakes and is solid pink throughout. Using a thermometer also helps prevent against overcooking salmon, which can make it dry.
Per foodsafety.gov guidance, salmon is fully cooked when it reaches 145°F in the thickest part. It'll have firmed up and become perfectly flaky.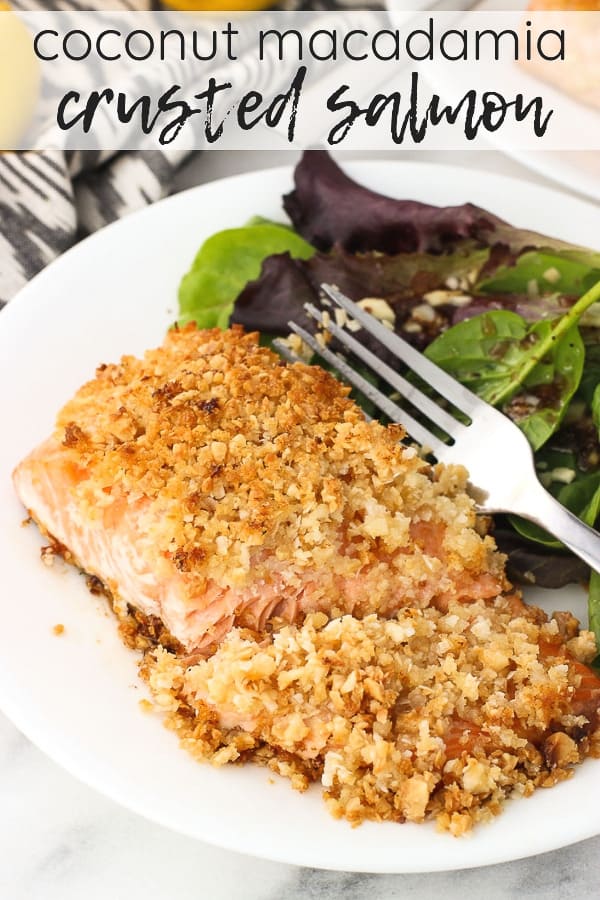 Recipe notes
Use unsweetened coconut flakes instead of the sweetened, "snowflake" coconut. The unsweetened flakes are drier and (obviously) not sweet. Once given a quick whiz or two in the food processor they'll be the perfect size to blend into the topping and provide a hint of coconut flavor without any unnecessary sweetness.
If you'd rather not use macadamia nuts (or don't have them), pecans work great, too.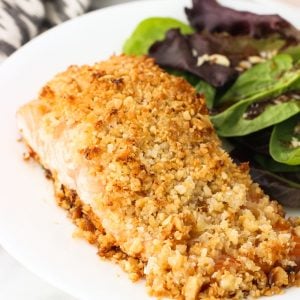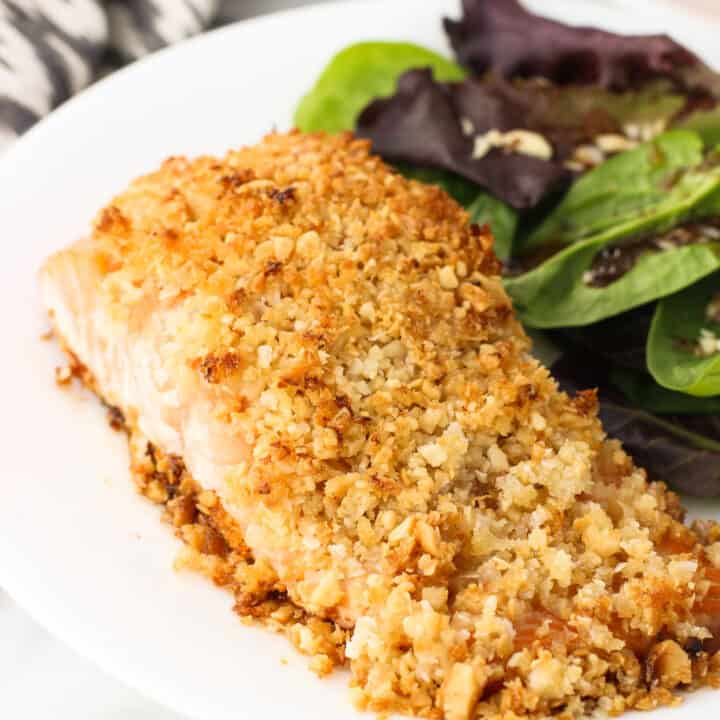 Coconut Macadamia Crusted Salmon
Coconut macadamia crusted salmon is a quick dish featuring salmon fillets piled high with a macadamia nut, coconut, and panko topping. You don't need many ingredients to pull together this healthy seafood recipe.
Print
Pin
Rate
Ingredients
2

salmon fillets,

about half a pound each

¼

cup

ground macadamia nuts

¼

cup

ground unsweetened coconut flakes

3

tablespoon

panko breadcrumbs

2

tablespoon

coconut oil,

melted, plus extra for brushing

Salt and pepper,

to taste

Juice from half a lemon,

to taste
Instructions
Preheat oven to 425°F. Line a baking sheet with foil and spray with cooking spray.

Place salmon fillets on the baking sheet and brush fillets with oil (either olive oil or a bit of extra melted coconut oil). Season salmon fillets with salt and pepper.

Whiz macadamia nuts and coconut flakes in a food processor to break them into smaller pieces. Add to a bowl with the panko and stir to combine. Pour in 2 tablespoon melted coconut oil and stir until combined and everything is moistened evenly.
If salmon fillets are thicker (1 ½"):
Place salmon in the oven and bake for 6 minutes. Thicker salmon needs a head start on cooking before adding the topping. Once the 6 minutes are up, remove from the oven and continue on with the next step.
If salmon fillets are thinner (1"):
Press the macadamia/coconut mixture onto the tops of the fillets and squeeze the lemon juice over both. Place the salmon in the oven and bake for 12-15 minutes, or until salmon reaches your preferred doneness or is 145° in the thickest part. Let salmon sit for a few minutes before serving.

Serve with additional lemon wedges to squeeze over top if desired.
Notes
To grind both the macadamia nuts and the unsweetened coconut flakes, I give them a few pulses in the food processor until they're in small bits.
Just to be clear, thicker cuts of salmon need a bit of time to cook before adding the topping, so the topping doesn't burn in the time it takes for the salmon to reach the right temperature.
Thinner cuts of salmon don't require any pre-topping cooking time. You can add the topping right to the raw fillets and cook until done.
Nutrition
Calories:
342
kcal
|
Carbohydrates:
6.1
g
|
Protein:
24.7
g
|
Fat:
24.4
g
|
Saturated Fat:
11.4
g
|
Cholesterol:
84
mg
|
Sodium:
170
mg
|
Potassium:
41
mg
|
Fiber:
1.6
g
|
Sugar:
1
g
|
Calcium:
20
mg
|
Iron:
1.3
mg
Nutritional information is provided as an estimate. As it can vary due to many factors (brands used, quantities, etc.), we cannot guarantee its accuracy.
Food Safety and Nutrition Disclaimer