A champagne paloma is a tequila-based cocktail with fresh grapefruit and lime juices, as well as a glug-glug of champagne. This cocktail is on the tart side with a slight fizziness from the champagne.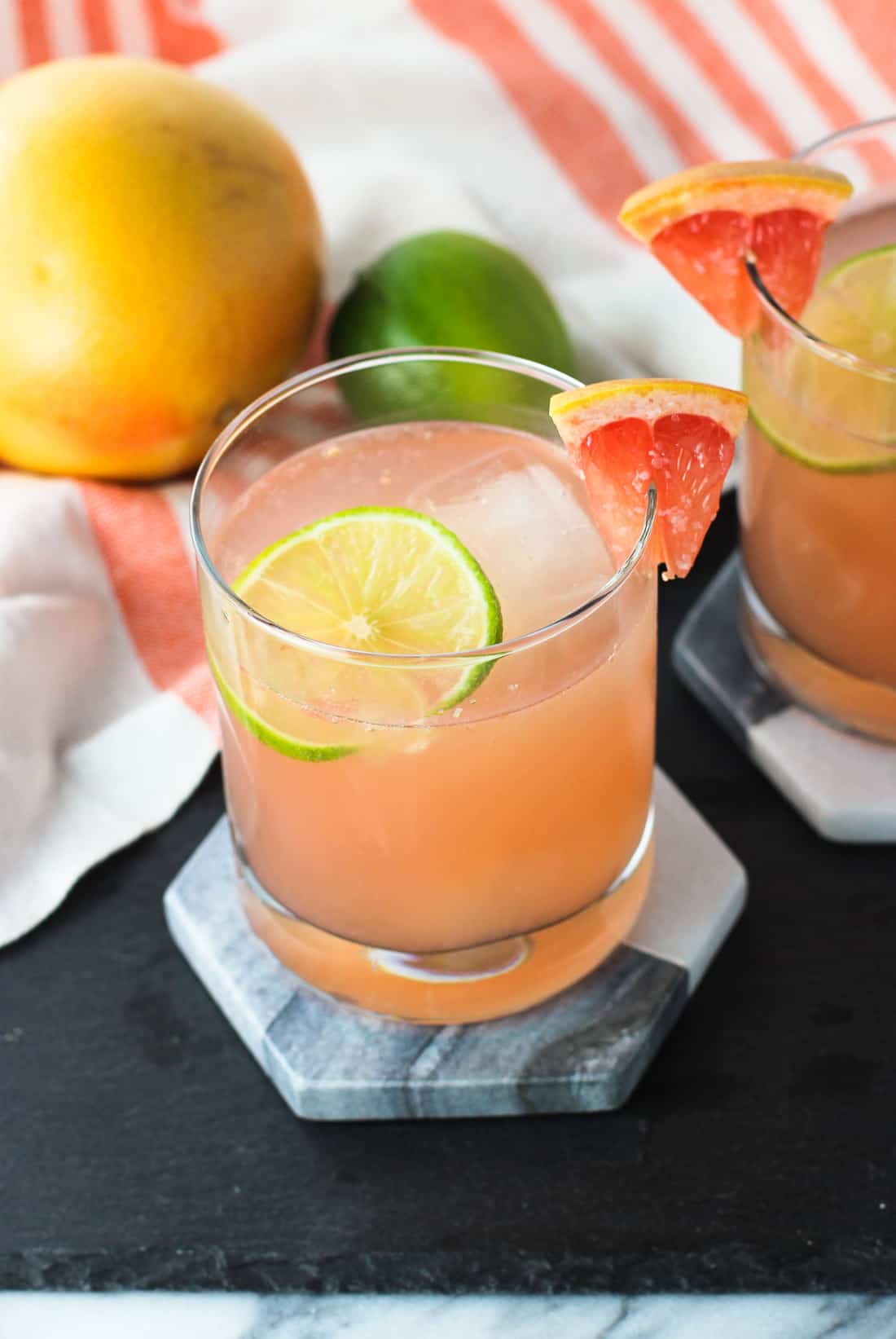 We haven't talked about Netflix in a while, and with Christmas week upon us it seems appropriate. What are you into lately? Binge on anything? Recently I fell into two traps – Gilmore Girls (A Year in the Life) and The OA. UGH why do I do that to myself? Normally I only watch documentaries/reality shows because you get in, get out, feel accomplished story lines are wrapped up, and go on with your day. I'm not into carry-over drama…the multi-part Real Housewives of (Anywhere) reunion shows are almost too much. 😂
All the Facebook buzz got me so against my better judgment I put on the two aforementioned Netflix shows…and couldn't concentrate on a single thing until the series was over. And given the endings of both of them (no spoilers here)…hello, can I please get all those hours spent staring at the TV back?! Loose ends! Ambiguity! More questions than answers! Can't handle that. Back to This is Life with Lisa Ling I go. (my girl crush ♥).
Beyond a serious amount of TV watching, sweatpants lounging, and leftovers eating, there is a little thing like New Year's Eve to think about. We generally keep things low-key and spend the night at home or nearby with friends, and this year is no different. But that doesn't mean we skimp on fun cocktails and festive eats! This champagne paloma is a slight variation on a classic cocktail that is tart, ever-so-slightly sweet, and features my favorite liquor – tequila.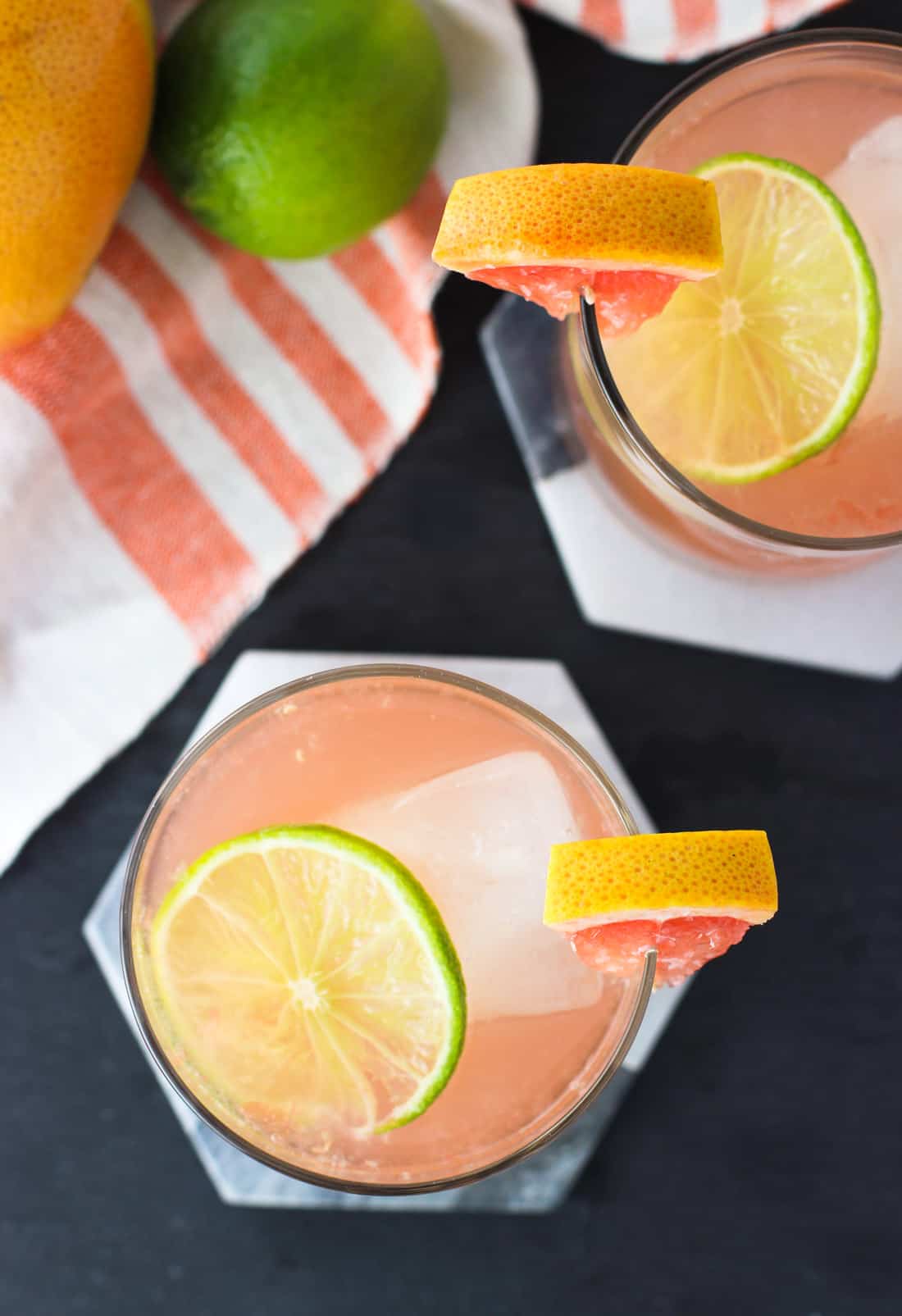 A paloma is a tequila (or mescal…though we never ever have mescal on hand) drink that features the flavors of grapefruit and lime. I can get down with that. Some versions call for fizzy water, but since it's the holidays and all – how about champagne instead? Champagne brings the bubbles and a tiny bit of sweetness that pairs with the citrus juices perfectly! You can definitely add additional sugar or agave nectar if you're accustomed to sweeter mixed drinks, but I lean more so on the tart side of things so this as written worked for me.
Anything champagne + citrus makes me think of mimosas, so champagne mixed with grapefruit and lime juices (and tequila) is a fun P.M. take on a traditional brunch drink. Plus if you have extra champagne left over after a champagne paloma or two on 12/31, New Years Morning mimosas are just about a no-brainer. Cin cin, friends!

Champagne Paloma
Ingredients
3 oz freshly squeezed grapefruit juice
0.5 oz fresh lime juice (1 tbsp)
1.5 oz tequila
Ice
2 oz champagne
Instructions
Stir together grapefruit juice, lime juice, and tequila in a glass. Add ice. Pour in champagne and gently stir again.
Notes
I garnished each glass with a lime slice and a wedge of grapefruit on which I sprinkled kosher salt. You can salt the rim of the glass if you like, but I kept it simple with just garnishing with fruit.

If you make two cocktails, you'll use one whole grapefruit and one whole lime for the juices.