Sweet and Salty Oreo Peppermint Bark features two types of chocolate with Oreo, pretzel, and peppermint pieces. This bark makes a great last minute holiday gift or dessert!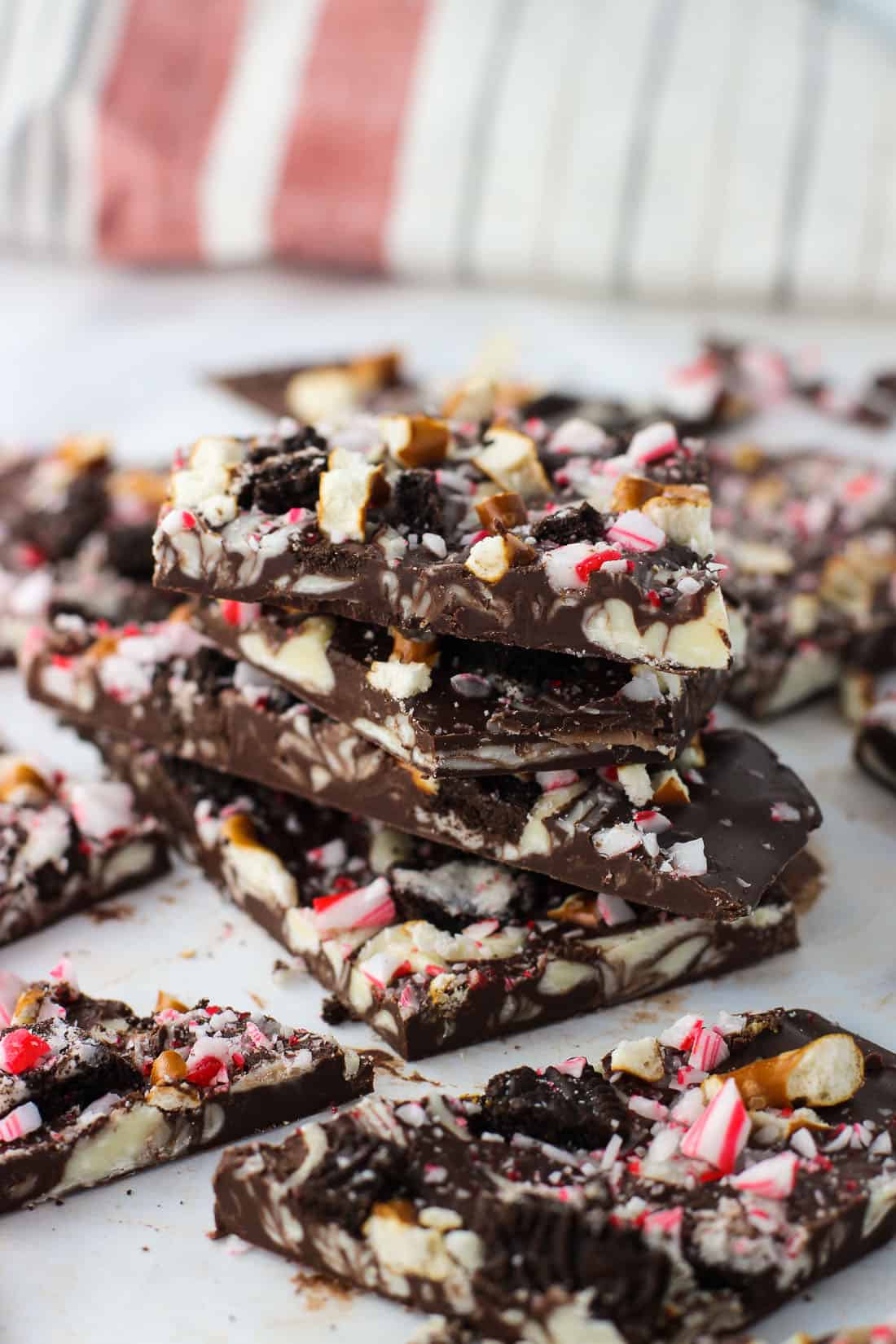 Here we are, just a few days before Christmas. How are you feeling with your level of preparation this year? Are you a holiday-prep ninja, amassing gifts and decorations all year round so you're ready to spring into action post-Thanksgiving? Or are you feeling like you're lagging behind, with the decked out Christmas trees, cookie exchange parties, and perfectly decorated holiday gatherings gracing your social media feeds only adding to your cold sweat?
Me? Hello to the second camp. 🙋🏻
It's our first Christmas in the house this year, and besides spring for a HUGE tree, we're kind of scraping by with decorations. This year with our work schedules we're keeping the holiday low-key at home, but that doesn't mean I'm not stocking our cabinets (and our friends' cabinets) with holiday sweets. We've got family favorites like struffoli covered and cookies galore, but sometimes I'm in the mood for something with (a lot) more chocolate than even dark chocolate pizzelle can offer. Enter, Sweet and Salty Oreo Peppermint Bark! A simple, customizable no-bake candy recipe.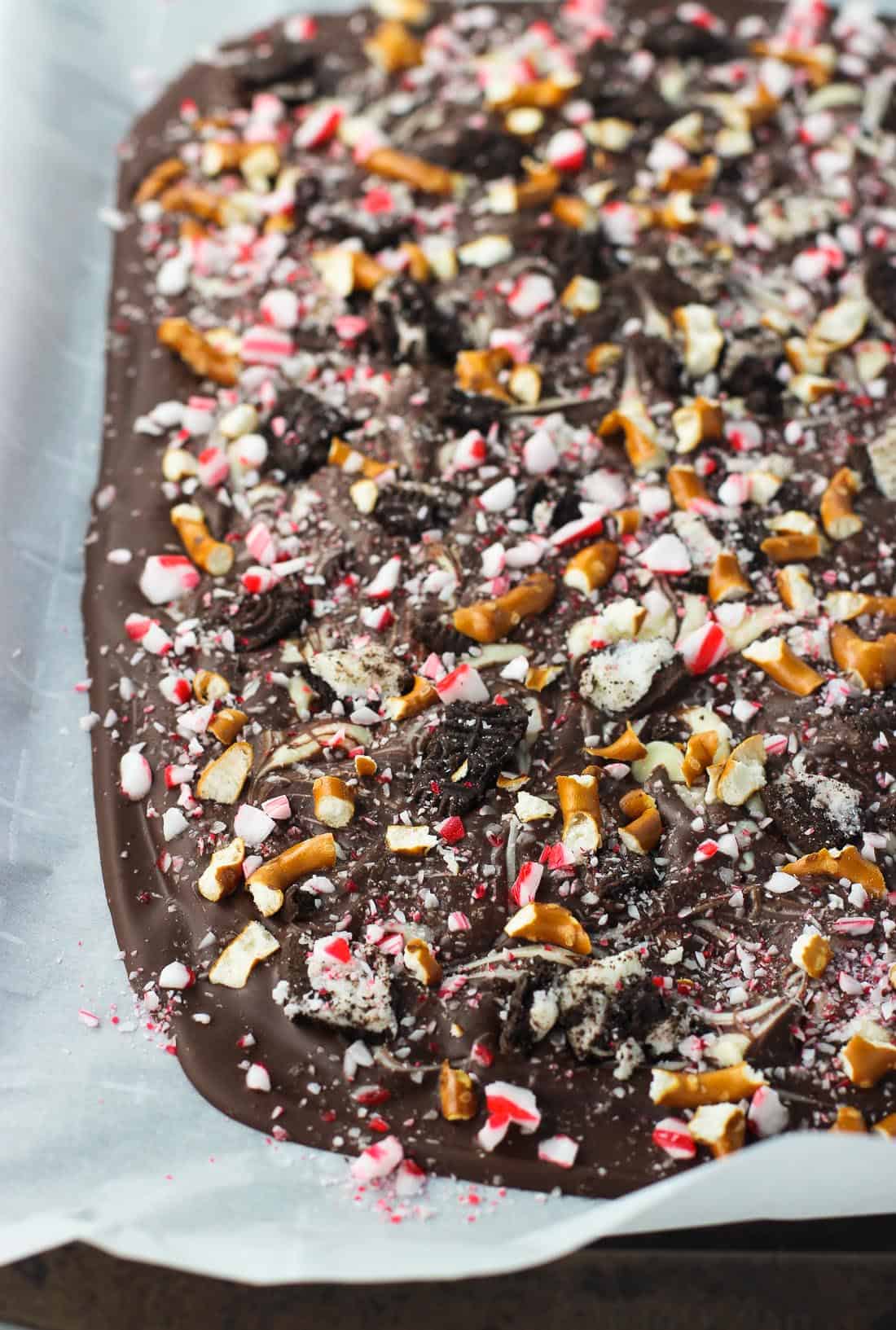 If all the goodies packed into this bark look familiar, you'd be right. After obsessing over the pretzel/Oreo/candy cane additions to these loaded dark chocolate peppermint brownies, I knew I had to put my leftover crushed pieces to good use. I'm a huge fan of dark chocolate so that's the main chocolate used here, but semisweet or milk could be used instead if that's your preference. Same goes for the swirls, though I like the contrast between the dark and white chocolate.
The toppings are definitely flexible, though I suggest using salted pretzels to get that sweet + salty flavor combo!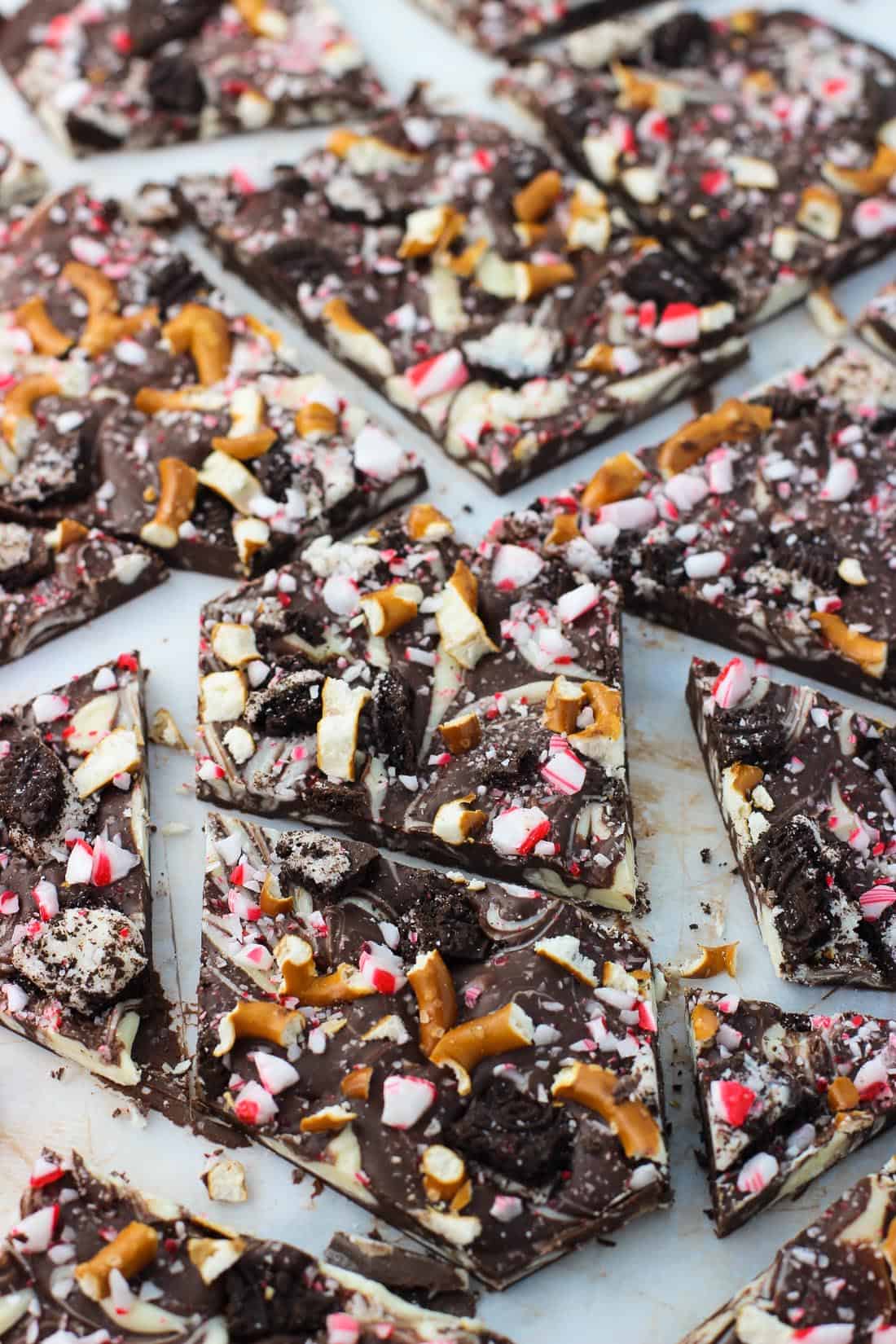 Sweet and Salty Oreo Peppermint Bark
Ingredients
8 oz (roughly 1 1/3 cups) dark chocolate chips
4 oz (roughly 2/3 cup) white chocolate chips
1 candy cane, crushed
4 Oreo cookies, chopped
8 mini pretzels, chopped
Instructions
Line a baking sheet with parchment paper and set aside. Add dark chocolate chips to a microwave-safe bowl and microwave in 30 second increments on half-power, stirring after each increment, until melted and smooth.
Spread the melted dark chocolate in a rectangular shape on the lined baking sheet.
Add white chocolate to a microwave-safe bowl and melt in the same way as the dark chocolate. Once melted, add dollops of white chocolate to the melted dark chocolate and swirl in using a toothpick.
Scatter candy cane, Oreo, and pretzel pieces over top and gently press so they adhere to the bark. Let bark sit at room temperature to harden completely.
Once hardened, slice into pieces.
Notes
The quantities of ingredients are flexible - you can certainly add as many or as few candy canes, Oreos, or pretzels as you like. Same goes for the chocolate. As long as there is melted chocolate for the toppings to stick to, you're good.

I like to keep the sliced peppermint bark in the refrigerator, but it can be stored at room temperature as well.