It won't matter if Starbucks brings back the eggnog latte once you see how easy it is to make this copycat version at home! Eggnog froths up beautifully and joins with simple ingredients for an ultra flavorful seasonal beverage. One secret ingredient takes it over the top.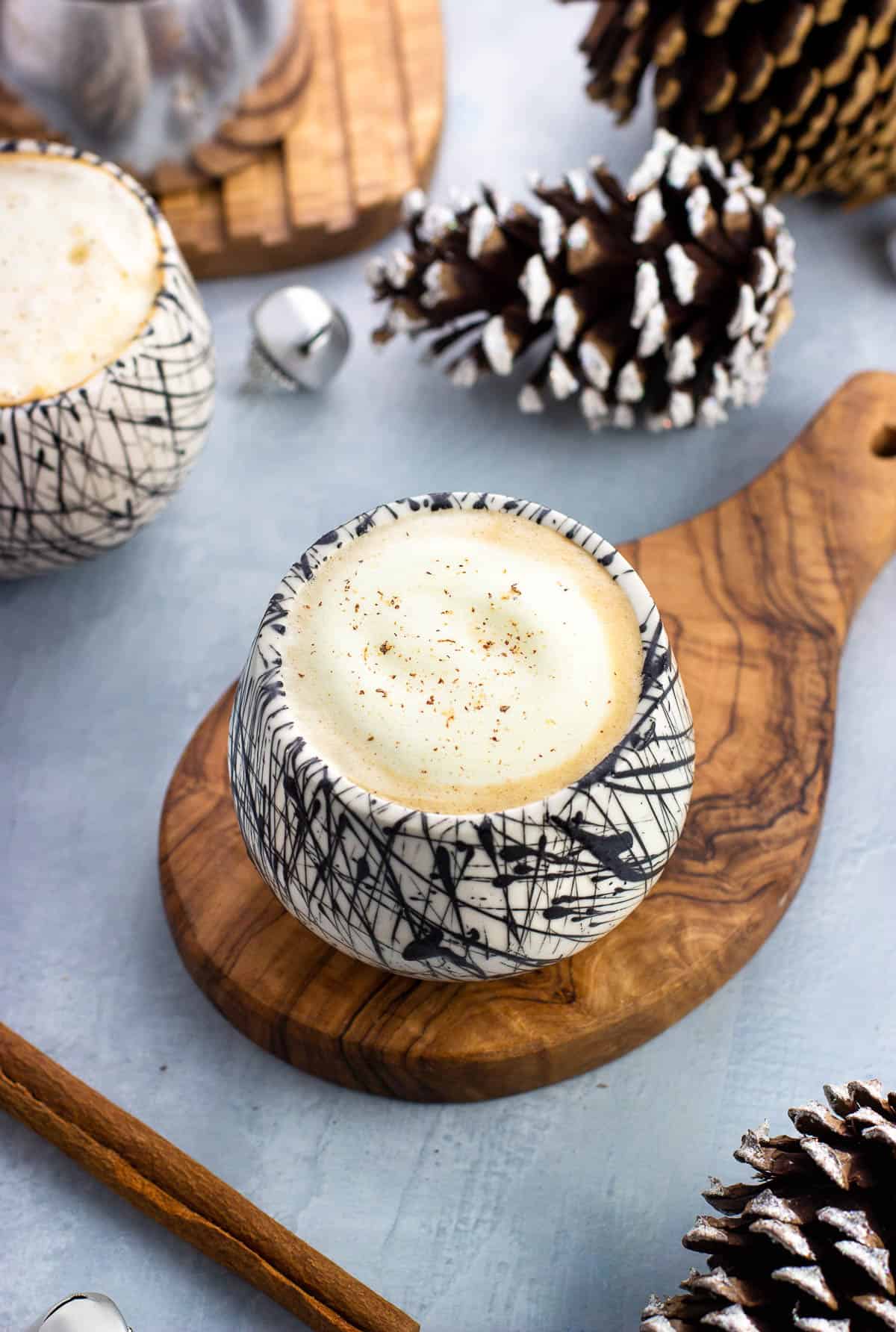 While I'm a morning black coffee drinker, I love a flavored coffee drink every now and then in the afternoons. It's hard for me to stray from an iced caramel macchiato in the summertime, and a honey-sweetened chamomile tea latte hits the spot when it's cold and halfway dark at 3:45 PM.
I used to not be a big eggnog person until I started making my absolute favorite completely cooked eggnog, and ever since I've been looking for ways to bring these flavors into more holiday recipes. Making an easy homemade eggnog latte was an obvious first choice.
Reasons to Love This Recipe
It may be the ultimate caffeinated Christmas drink! It's warm, cozy, and a great way to use up the last bits of leftover eggnog.
Adding a few drops of (optional) rum extract provides a well-rounded eggnog flavor to make this drink extra special.
Milk thins out and lightens up the eggnog just enough so this drink isn't too heavy.
This post features a variety of ways to make this classic holiday drink, including several methods for frothing milk and eggnog without any special equipment.
Recipe Ingredients
Espresso: Prepare this however you like: in an espresso machine or in a moka pot on the stove. I prefer the flavor of this 8-ounce latte with two ounces of espresso (two shots), but you can easily adjust the amount.
Eggnog: To keep things simple I often use a carton of store-bought eggnog to make an eggnog latte and save the good stuff (homemade) for sipping solo, but homemade can likely work just fine, too.
Milk: Use your preferred. I go with what I have on hand, which is usually 2%.
Rum Extract: While optional, a tiny amount of rum extract, found in the baking aisle, rounds out the eggnog vibe without having to add actual rum. It's potent in flavor so don't have a heavy hand with it. One-sixteenth of a teaspoon (several drops or so) will do the trick without overwhelming.
Nutmeg: Nutmeg is an essential part of eggnog. Freshly grating whole nutmeg provides a brighter and more fragrant note than ground nutmeg.
Ways To Froth Milk
The most reliable ways to achieve thick and foamy frothed milk (and eggnog thinned with milk!) are with specialty tools.
A standalone milk frother (pictured is one I bought years ago from Nespresso) heats and froths milk quickly and is as easy as just pressing a button.
A frothing wand is cheaper, but many varieties require you to heat the milk separately before frothing if you'd like it to be hot.
As for frothing milk with things you have around the house, if you want it to be heated you'll need to do so before frothing. Add the milk and eggnog to a saucepan on the stove and heat until bubbles just begin to form around the edges of the pan. Make sure that the milk doesn't boil as it will curdle.
Whisk: Remove the saucepan from the heat and whisk it vigorously.
Jar: Add warm milk to a large, heat-safe jar, cap, and then shake well.
Stand blender: Add warm milk to a stand blender, secure the lid, and blend on medium speed until frothy.
Immersion blender: Add warm milk to a tall, narrow container (like the one that comes with the immersion blender) and immersion blend until frothy. Use care that hot milk doesn't splatter out - you may want to drape a clean dish towel over top.
Recipe Tips and Tricks
Eggnog Varieties: The higher fat content of standard eggnog leads to better frothing, but low-fat eggnog is often on par with 2% milk (or a little higher) and works just fine, too. A vegan nog, such as one with an almond or oat milk base, may be trickier to froth well due to the lower fat content but can still be enjoyable.
Party Perfect: An eggnog latte is a cozy beverage to serve after dinner at a get-together. My not-so-secret trick to sipping one later in the evening? Using decaf espresso.
Here are some easy variations on this recipe.

Iced Eggnog Latte: Grab a larger glass and serve over handful of ice. Do not heat the milk/eggnog before frothing.
Chai Eggnog Latte: Replace the espresso with chai concentrate or regular brewed chai. Let one chai tea bag steep in 4 ounces of water for an extra-concentrated base.
Spiked Eggnog Latte: Simply add rum, bourbon, or your eggnog alcohol of choice.
Related Recipes
If you've enjoyed this recipe, I'd love for you to leave a star rating in the recipe card and/or a comment review below!
Homemade Eggnog Latte
It won't matter if Starbucks brings back the eggnog latte once you see how easy it is to make this copycat version at home! Eggnog froths up beautifully and joins with simple ingredients for an ultra flavorful seasonal beverage. One secret ingredient takes it over the top.
Print
Pin
Rate
Ingredients
2

shots (2 ounces)

brewed espresso

4

ounces (½ cup)

eggnog

2

ounces (¼ cup)

milk

1/16

teaspoon

rum extract

optional

Fresh nutmeg

for serving
Instructions
Make the Espresso
Brew espresso in your preferred manner: using an espresso machine or a stovetop moka pot, preparing extra-strong coffee in a french press, etc. Plan on two ounces (around two shots) of brewed espresso per latte.
Froth the Eggnog and Milk
If you have a standalone frother or frothing wand, combine the eggnog and milk and heat/froth according to the instructions.

If you don't have a frothing tool, add eggnog and milk to a small saucepan set over low heat. Heat until small bubbles just begin forming around the outside of the pan, making sure it doesn't reach a boil.

Remove the pan from the heat and froth by (1) whisking vigorously in the pan, (2) adding to a large heat-safe jar and shaking well, (3) blending on medium speed in a stand blender, or (4) adding to a tall, narrow container and carefully using an immersion blender. Consider draping a clean dish towel over top if immersion blending to prevent hot eggnog/milk splatter.
Prepare the Drink
Add espresso to a mug, then stir in a few drops of rum extract, if using. Pour in the steamed milk/eggnog and top with foam. Grate fresh nutmeg over top for serving.
Notes
Eggnog: Full-fat eggnog will provide the richest taste, but lower-fat/light eggnog should have a sufficient fat percentage to froth nicely, too. Dairy-free or vegan eggnogs, made with almond milk or oat milk, are often lower fat and may not produce as much foam, but can likely work fine, too. Nutrition: This is an estimate assuming the use of full-fat eggnog. Serving Iced: Do not heat the eggnog/milk before frothing and serve in a tall glass over ice.
Nutrition
Serving:
1
latte (8 ounces)
|
Calories:
204
kcal
|
Carbohydrates:
20.2
g
|
Protein:
6.9
g
|
Fat:
10.8
g
|
Saturated Fat:
6.4
g
|
Cholesterol:
80
mg
|
Sodium:
105
mg
|
Potassium:
310
mg
|
Sugar:
13.4
g
|
Calcium:
239
mg
Nutritional information is provided as an estimate. As it can vary due to many factors (brands used, quantities, etc.), we cannot guarantee its accuracy.
Food Safety and Nutrition Disclaimer