Keep the oven free and make air fryer pigs in a blanket! This classic, two-ingredient appetizer cooks in minutes for a party-perfect recipe. Featuring the same easy prep as traditional baked versions, read on for important tips to consider when making these in the air fryer.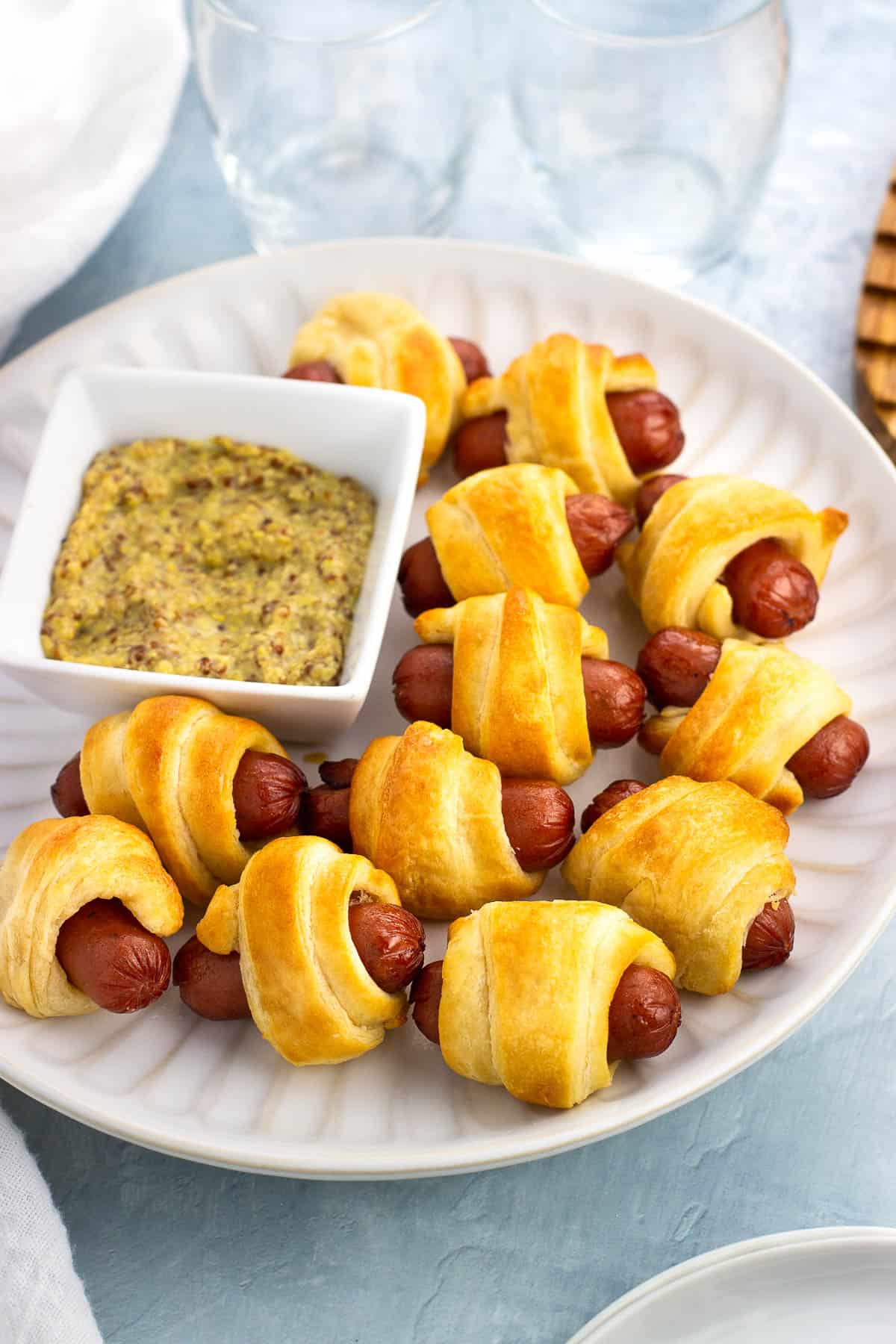 Forget appetizers: pigs in a blanket is one party food I could make a whole meal out of (with baked brie with jam, air fryer pizza bagels, and slow cooker cocktail meatballs being some others). And on the flip side as a hostess, it's hard to beat classic party fare that only requires two ingredients.
Usually baked in the oven, it's totally possible to make pigs in a blanket in the air fryer. They cook in a fraction of the time and the dough bakes up with that flaky, golden-brown crispness we know and love.
For all its benefits, I actually think making them in the air fryer is trickier in some ways than oven-baking. But! As long as you keep a few key tips in mind, you'll be able to fly through batches no problem.
Reasons to Love This Recipe
Can it get any simpler? You need just two ingredients to make air fryer pigs in a blanket, and this recipe barely creates any dishes to wash.
Preparing this appetizer in the air fryer frees up space in the oven before a party.
There are a few prep-ahead shortcuts you can take to make your life easier when entertaining.
Recipe Ingredients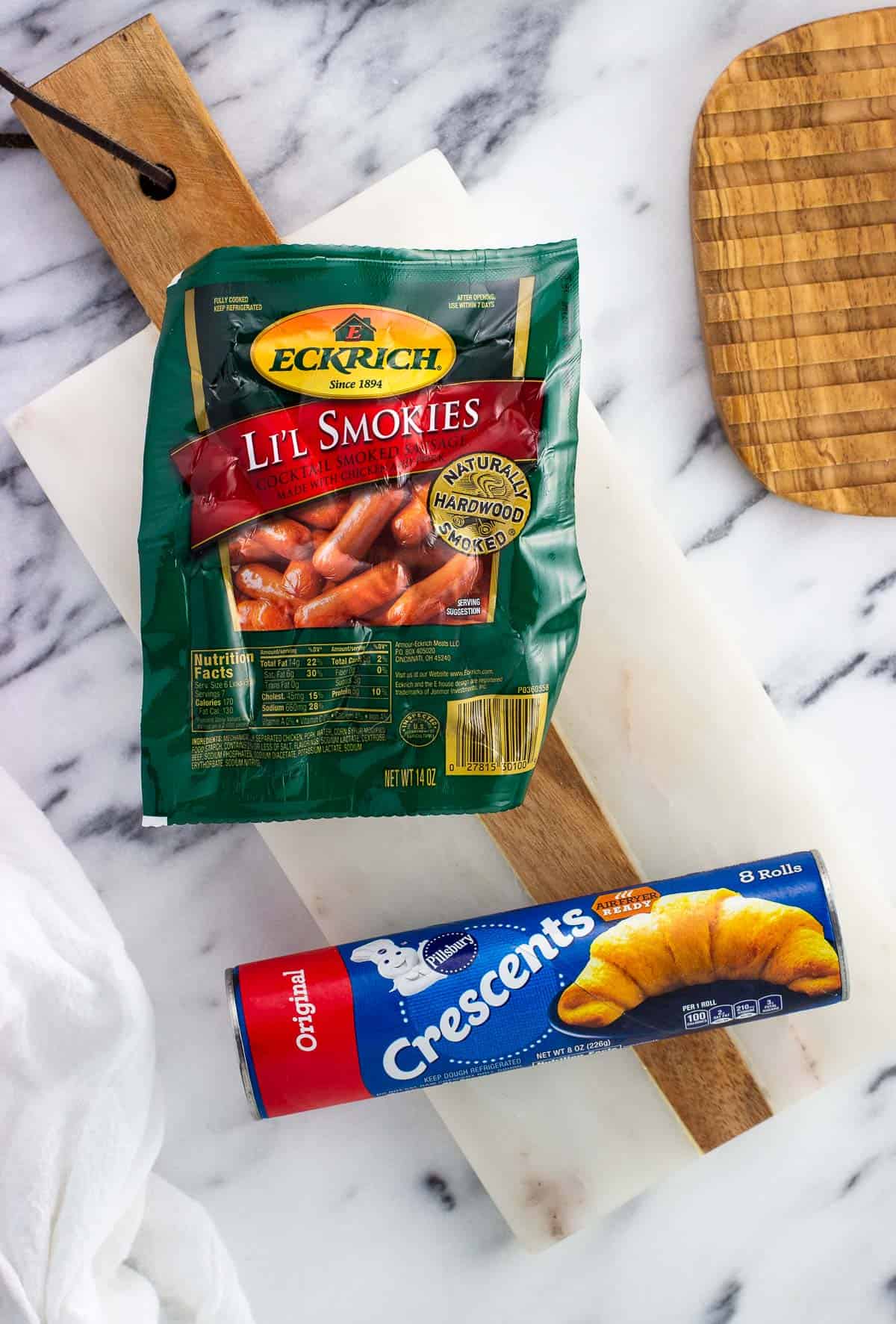 Cocktail Sausages: These are found by the hotdogs and can be called a variety of things: mini hotdogs, mini smoked sausages, cocktail wieners, or little smokies.
Crescent Rolls: The original flavor is my pick, but any other flavor would be fine, too. Go for the crescent-perforated variety and not the plain sheet as the perforations will help you slice the thin triangles needed. Two tubes will provide enough dough for one 14-ounce package of cocktail sausages.
Step-by-Step Instructions
Unroll the crescent roll dough and separate it out into triangles. Starting from the shortest side, slice each one into three long, narrow triangles. Try and make them as even as possible, but they don't have to be exact.
Place a mini hotdog at the base of each triangle and roll it up in the crescent dough. Repeat.
Line air fryer basket with parchment paper (more on this later), then place pigs in a blanket in the basket with the seam-side down. Leave a little space between them, making sure to place one at each corner of the parchment paper.
Air fry at 300°F for 3-4 minutes, then flip each over and air fry for an additional 3 or so minutes, or until the dough has cooked through.
Important Tips and Tricks
For such a simple recipe, there are three really important things to keep in mind that can make or break air fryer pigs in a blanket.
Low temperature. Because they're done so quickly, you want to use a very low temperature so the dough fully cooks before too much browning occurs. I set my air fryer to 300°F (about 150°C). Most air fryers should go that low, but if yours doesn't, select the lowest temperature available.
Use parchment paper. It's a mess without it (I tried). Soft crescent dough will stick tremendously on wire rack-style air fryer baskets if you don't use parchment paper - even if you spray well. Per Cuisinart's director of marketing, parchment paper is fine to use in the air fryer, so long as its trimmed to fit the basket and the food weighs down the edges (source: Southern Living). You do NOT want overhang or loose ends to fly upwards when the convection fan starts and touch the heating elements, risking fire.
Do a test batch. Pigs in a blanket are impossibly easy, but more finicky to make in the air fryer than in the oven. As all air fryers cook a little differently (faster/hotter, etc.) consider air frying just one or two pieces as a test to get the timing right. You may need more (or less) time than stated in this recipe.
Recipe FAQs
What if I can't find mini hotdogs?
Slice up regular hot dogs into 1 ½-inch rounds to use in place of cocktail sausages. Other smoked sausage varieties (chicken, turkey) can work too, as long as they're fully cooked.
What should you serve with pigs in a blanket?
Mustard to dip is a great option, either honey mustard or whole grain dijon mustard (pictured). Ketchup works, as well.
Can I prep pigs in a blanket ahead?
1. Refrigerator: Wrap cocktail sausages with dough, drape plastic wrap over top, and then refrigerate for up to a couple of hours until ready to cook.
2. Freezer (thawed): Cook air fryer pigs in a blanket, let them cool off, then place in freezer bags or an air-tight container and freeze. If using the air fryer to heat them up, let them thaw in the refrigerator and then air fry on the lowest temperature for several minutes, or until thoroughly heated.
3. Freezer (frozen): If heating them right from frozen, I would put them in a 325°F oven on a pan draped in foil until thoroughly heated. The air fryer might overly brown the exterior before the interior is fully heated.
More Appetizer Recipes
If you've enjoyed this recipe, I'd love for you to leave a star rating in the recipe card and/or a comment review below!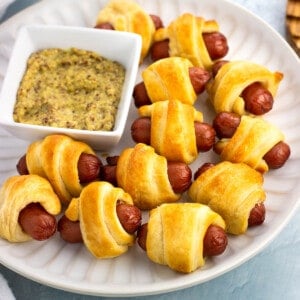 Air Fryer Pigs in a Blanket
Keep the oven free and make air fryer pigs in a blanket! This classic, two-ingredient appetizer cooks in minutes for a party-perfect recipe. Featuring the same easy prep as traditional baked versions, there are a few important tips to keep in mind when making these in the air fryer.
Print
Pin
Rate
Servings:
21
(approximate)
Ingredients
2

8-ounce tubes

refrigerated crescent roll dough

1

14-ounce package

smoked cocktail sausages
Instructions
Cut a sheet of parchment paper large enough to lay flat along the bottom of your air fryer basket, making sure that the parchment doesn't hang over the sides. Place it on the bottom of the basket.

Separate the perforated triangles of crescent roll dough, then slice (from the thin side of each triangle) into three thin triangles of equal size.

Blot cocktail sausages dry with a paper towel, then place one horizontally along the shortest side of each dough triangle. Roll the sausage up so it's wrapped in the dough.

Place pigs in a blanket on the parchment-lined basket, seam side down, leaving at least 1 ½ inches between to allow room for them to expand. I fit 12 at a time on the basket. Important: Make sure to place one at each of the corners of the parchment to weigh it down so the corners don't curl up and risk touching the heating element.

Air fry at 300°F (149°C) for 3-4 minutes, then flip each pig in a blanket over and air fry again for 3 minutes, or until cooked through and golden-brown. Repeat for remaining batches, keeping in mind they may take less time to cook as the air fryer is now preheated. Serve with ketchup, mustard, etc.
Notes
General Tips
Above all else, follow all safety guidelines listed in the manual for your specific air fryer model.
It's critical to trim the parchment paper to the inner surface of your basket and to weigh down the edges with food while air frying. Excess parchment or unweighted edges can move around the air fryer when the fan mechanism kicks in and risk fire if it touches the heating elements.
Do not preheat the air fryer.
Prep-Ahead Options
Refrigerator: Wrap dough around mini hotdogs, drape plastic wrap over top, and refrigerate for up to several hours ahead of cooking.
Freezer (Thawed): Air fry them, let cool off, then place in a freezer bag to freeze for up to a month or so. Thaw in the refrigerator overnight then air fry on the lowest temperature until heated thoroughly.
Freezer (Frozen): Air fry them, let cool, then freeze for a month or so in a freezer bag. Reheat on a pan draped in aluminum foil in a 325°F oven until thoroughly heated again. I'm afraid trying to air fry them again from frozen will overly brown the already-baked crescent dough before the interior fully heats.
Nutrition
Serving:
2
pieces
|
Calories:
123
kcal
|
Carbohydrates:
10
g
|
Protein:
3
g
|
Fat:
7.6
g
|
Saturated Fat:
3.3
g
|
Cholesterol:
15
mg
|
Sodium:
360
mg
|
Sugar:
3
g
Nutritional information is provided as an estimate. As it can vary due to many factors (brands used, quantities, etc.), we cannot guarantee its accuracy.
Food Safety and Nutrition Disclaimer