Sweet and spicy slow cooker meatballs will be a hit as an appetizer or as a main dish. They're coated in a thick, spicy, and just sweet enough sauce that couldn't be easier. Simple prep and minimal clean-up!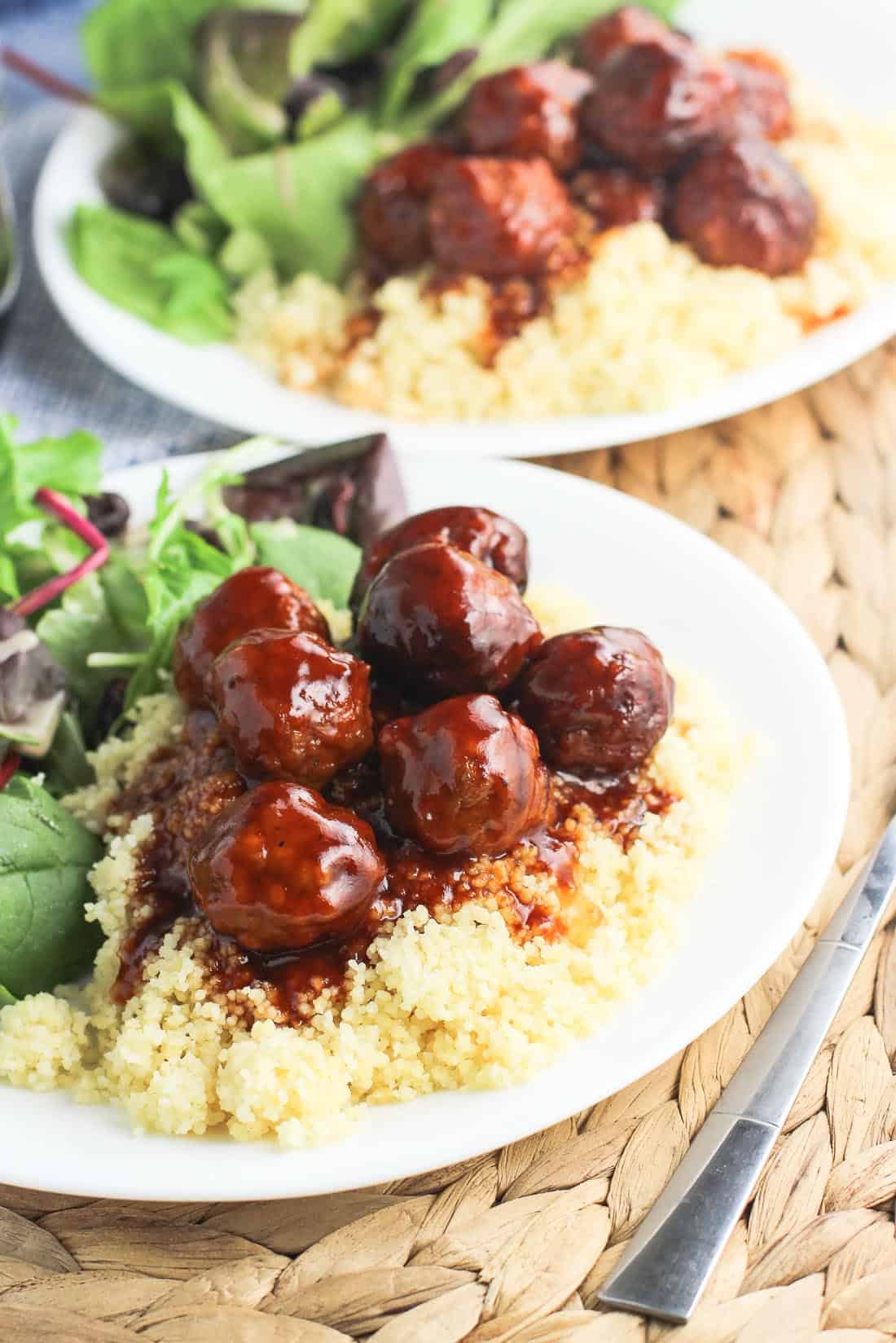 Meatballs in the slow-cooker aren't an earth-shattering, revolutionary food. This we know. But these sweet and spicy slow cooker meatballs are a whole new ballgame…no grape jelly needed!
Of course, I do enjoy the the classic BBQ sauce/chili sauce and grape jelly combination that graces appetizer spreads all over, but I had a hankering for something a little different. Thankfully when it comes to slow cooker recipes, they tend to be forgiving when it comes to experimentation, so slow cooker meatballs v.2 was a go. Much better experimenting with savory food that just needs to heat rather than a finicky bread or cookie recipe, don't you think?
Most of the time I don't have a full jar of grape jelly hanging around, so for this off-the-cuff meatball recipe I wanted to use a combination of ingredients that tend to be pantry/fridge staples. A sweet and spicy sauce that's at the ready + a monster bag of frozen meatballs in the freezer = a recipe for sweet and spicy slow cooker meatballs that can be thrown together whenever.  And in my case, 'whenever' means once a week. 🙂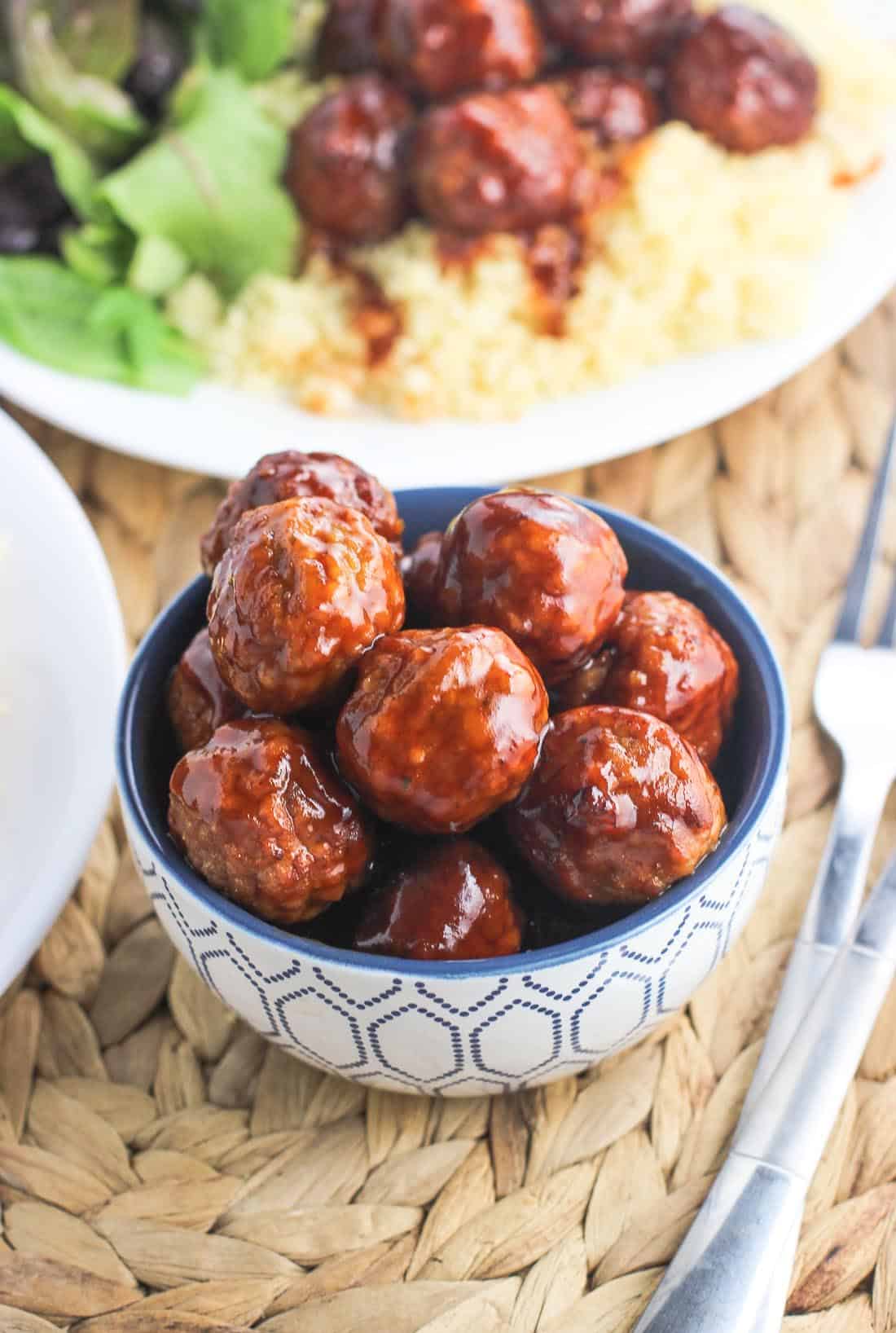 These sweet and spicy slow cooker meatballs are simple to prep and only require cleaning your slow cooker and measuring cups and spoons. All of the ingredients except the meatballs are added to your slow cooker and stirred until mixed. Then the frozen meatballs are added and stirred up so that they're all coated with the sauce evenly. Set your slow cooker on low heat and come back in about four hours – you're done!
I'm sure these meatballs would make excellent appetizers, but since (full disclosure) all of the times I've made a batch it's only been the two of us here, we've been enjoying them as a main course. In these pictures I served them over couscous with extra sauce drizzled over top + a side salad, but there are a ton of options for serving. Rice, quinoa, directly from the slow cooker to your mouth…anything works.
One last note about the flavor. I used one tablespoon plus one teaspoon (the equivalent of four teaspoons) of hot sauce and I thought it added just enough heat. They're definitely spicy, but they didn't cross over into uncomfortable territory, thanks to the sweetness from the honey and molasses and tang from the apple cider vinegar. If you're sensitive to spicy foods, I suggest added a teaspoon or two of hot sauce and then tasting to see if you'd like to add more. The reverse goes for those spice fanatics out there – add as much as you can handle, errr like!
If you're like me and can't get enough of your slow cooker, check out my Slow Cooker Recipes board on Pinterest and follow along!
Sweet and Spicy Slow Cooker Meatballs
Yield:
8+ appetizer servings
Ingredients
1 3/4 cup (14 oz) BBQ sauce
1/2 cup honey
2 tbsp molasses
2 tbsp apple cider vinegar
2 tbsp water
1 tbsp + 1 tsp hot sauce (such as Tabasco)
2 lbs (32 oz) frozen, fully cooked meatballs
Instructions
Add BBQ sauce, honey, molasses, apple cider vinegar, water, and hot sauce to a slow cooker. Whisk to combine.
Add meatballs and stir so that they are all coated evenly.
Cover and cook on low heat for 3 1/2 - 4 hours, or until meatballs are hot throughout and the sauce is slightly bubbly.
Notes
Add the meatballs to the slow cooker right out of the freezer! Just make sure you purchase the fully-cooked but frozen variety.