Honey BBQ chicken meatballs are so JUICY and simple to make. These baked chicken meatballs are coated in a semi-homemade honey BBQ sauce for the perfect protein for a sandwich, a salad, grains, and more.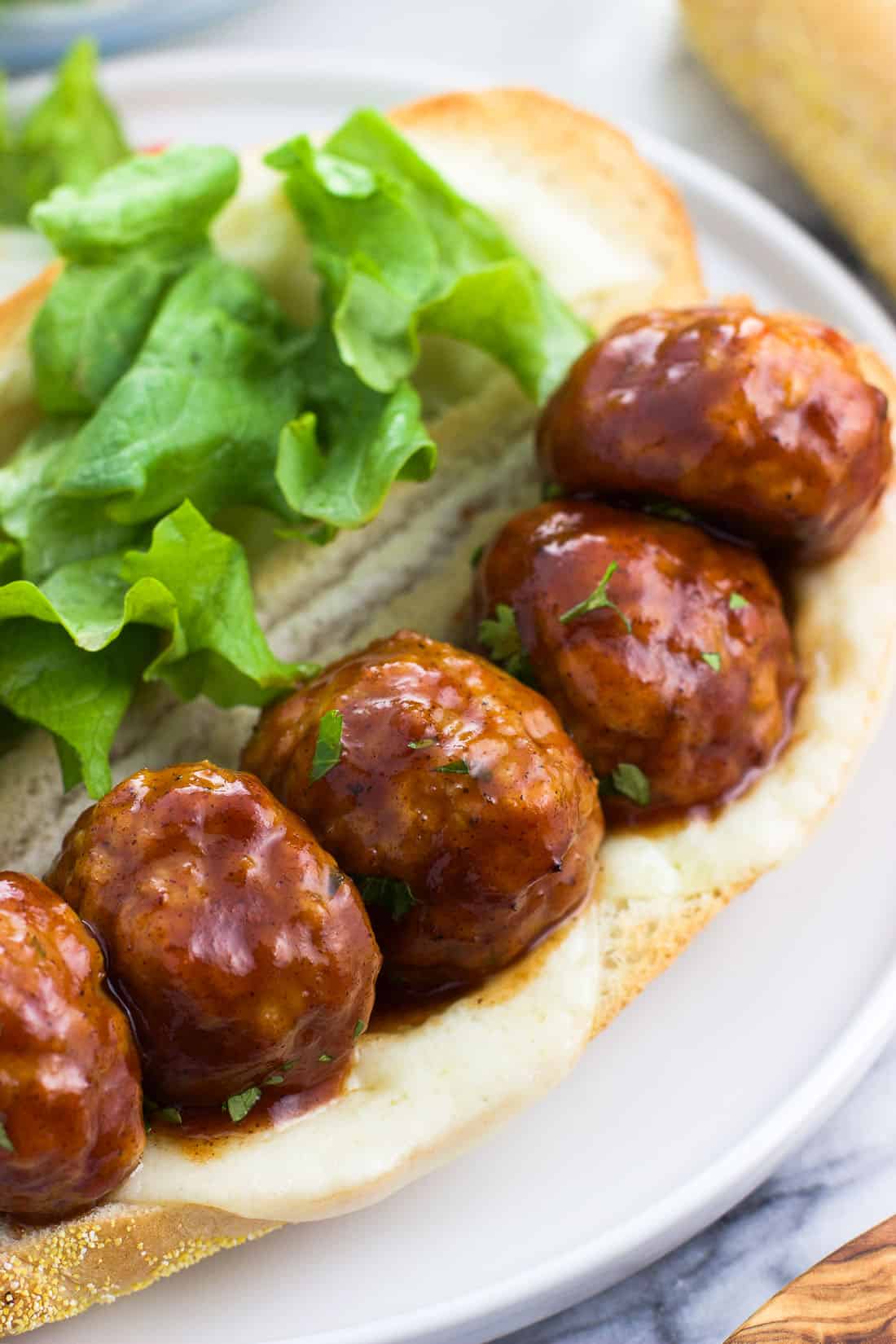 Another day, another meatball recipe. Or at least that's what it seems! Meatballs or taco meat in some form are my #1 and #2 dinners when I'm out of ideas but have a thawed package of ground meat to use. Both are dependably easy crowd pleasers that don't produce many dishes to wash.
A win-win-win in my book.
These honey BBQ chicken meatballs are loosey-goosey based on my Italian baked turkey meatballs, which feature lean ground turkey and Italian flavors, all the while being better-for-you baked and juicy.
By using the same trick I use in that meatball recipe, these baked chicken meatballs are ultra moist even before being tossed in the honey BBQ glaze. This is the kind of dish that doesn't exactly register as being 'healthier', which is the best kind of lightened up recipe, right?
Read on to see how easy they are to make!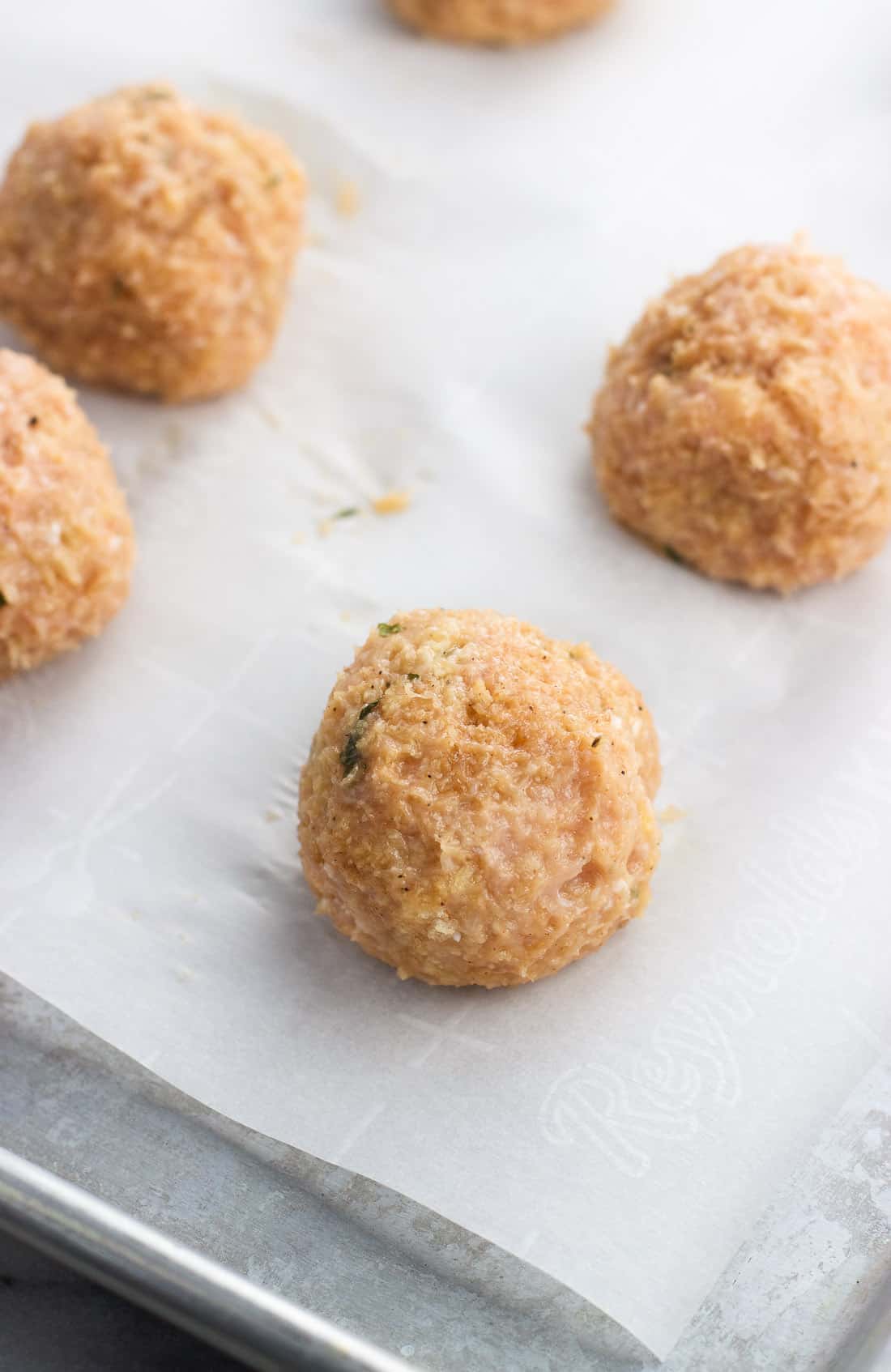 Simple recipe steps
All of these BBQ chicken meatball ingredients come together in one mixing bowl for easy prep and even easier dish washing.
You'll start by adding two eggs to the bowl and then whisking until light and creamy. Since I like to combine all of the ingredients at the end by hand so as not to overmix, whisking the eggs well by themselves at the start makes sure they can work easily into the rest of the ingredients once added.
Then it's just a matter of adding the rest of the ingredients, combining with your hands (or gently with a wooden spoon), scooping into balls, and baking.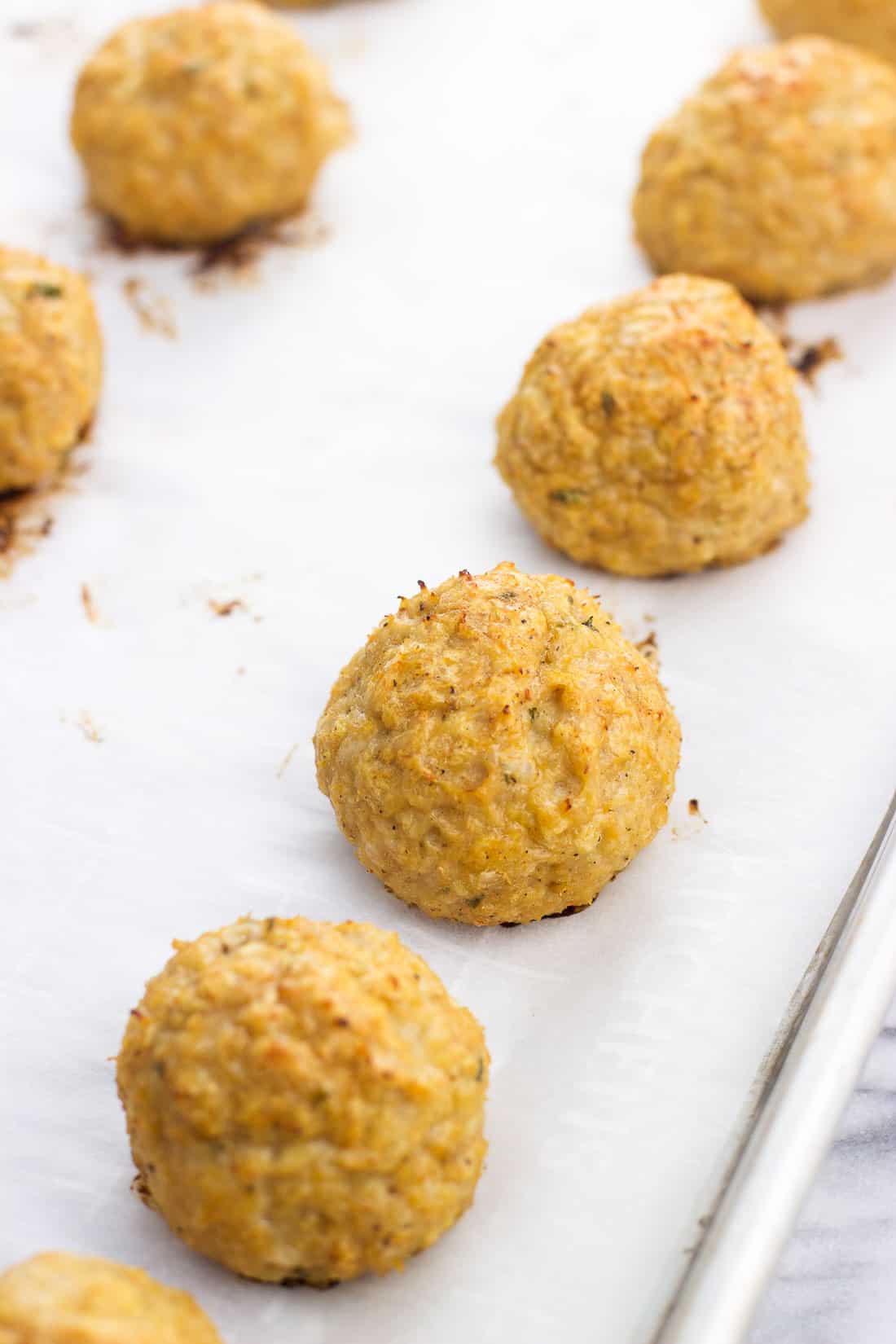 And the super juicy meatball trick? Grating the onion. One-quarter cup of grated onion virtually disappears into the mixture, providing a bit of flavor but a whole lot of moisture. So great for lean protein meatball recipes like chicken or turkey.
When it comes time to form the mixture into balls, a cookie scoop simplifies the process so much. I used a two-tablespoon capacity scoop for these meatballs, and baked them for around 23 minutes at 400°F. You can use a smaller or larger scoop if that's what you have, but do adjust the cook time so they become fully cooked (165°F at the center).
Semi-homemade glaze
I'm not a stickler for 'homemade everything'. It's just not practical for my life and that's perfectly okay with me.
So while I seriously enjoy a homemade BBQ sauce (like this maple bourbon BBQ sauce...yum), for this recipe I cracked open a store-bought jar and zhushed it with a bit of honey and apple cider vinegar. Semi-homemade at its finest, I think.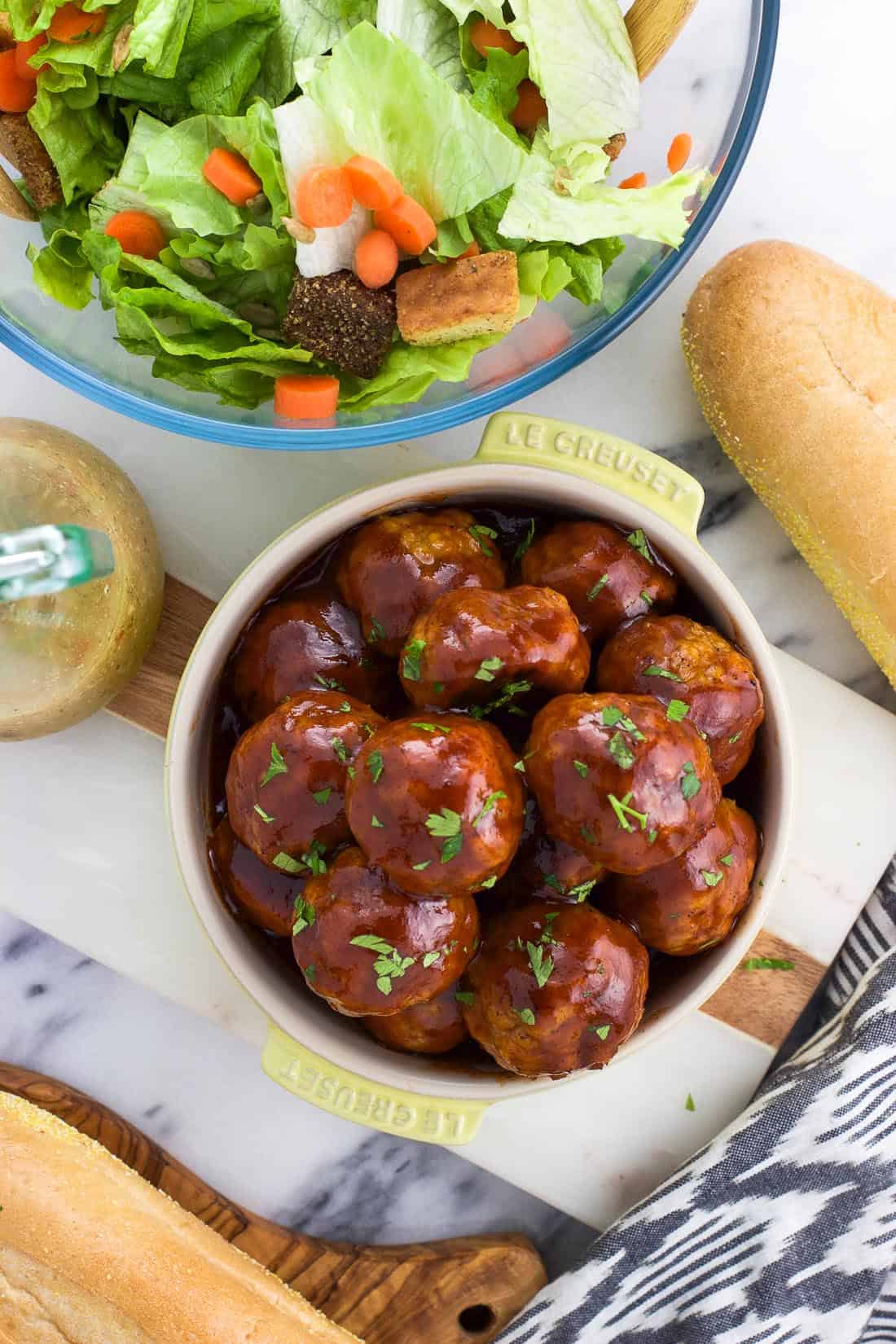 Warming the BBQ sauce on the stove thins it out some and makes it easier to mix with the honey and apple cider vinegar. Plus a thinner sauce doesn't glob onto the meatballs when you go to coat them.
You will likely have some of the honey BBQ sauce leftover after tossing the meatballs in it. I like to drizzle the excess over top of the sandwich, salad, or however else I'm serving them, and/or add it to the container with the leftovers.
Related recipes
For the spice lovers out there, buffalo chicken meatballs are also baked and come together in just one bowl. They make a delicious sub sandwich.
We like these baked turkey hoisin meatballs served over brown rice or 'fried' quinoa with roasted vegetables or simply sauteed spinach. Same grated onion trick!
This creamy Italian wedding soup with turkey meatballs features pureed white beans in the broth for a creamy texture and sneakily bumped up nutrition.
While this baked ziti and meatballs recipe isn't quick or particularly light on the dishes like these BBQ chicken meatballs, it's a true pièce de résistance when it comes to Italian main dish comfort food.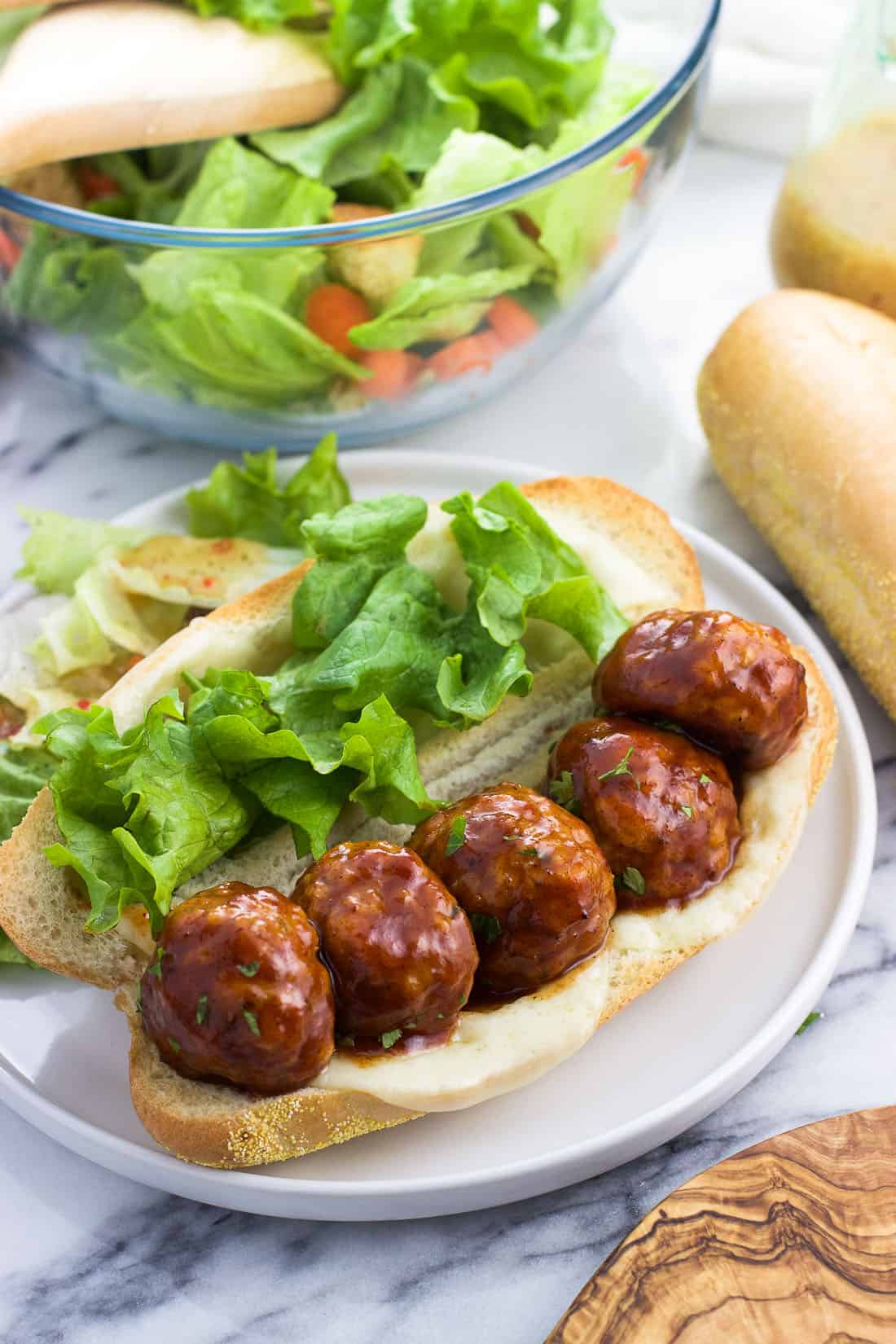 Recipe notes
The BBQ chicken meatball mixture itself isn't spicy, so if you like heat, choose your favorite spicy BBQ sauce or add hot sauce as you're mixing the glaze.
Regular paprika will work in the BBQ chicken mixture if you don't have smoked paprika on hand.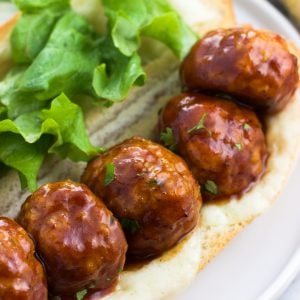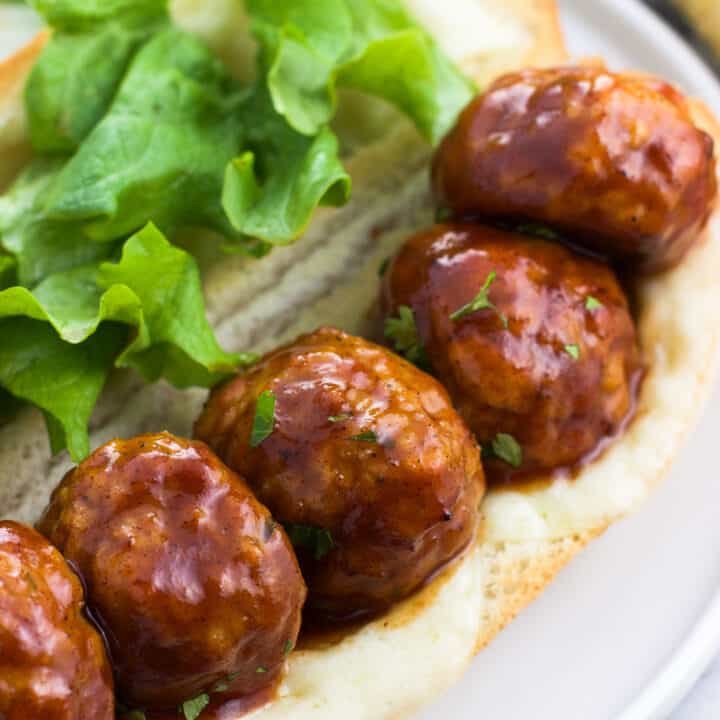 Baked Honey BBQ Chicken Meatballs
Honey BBQ chicken meatballs are so JUICY and simple to make. These baked chicken meatballs are coated in a semi-homemade honey BBQ sauce for the perfect protein for a sandwich, a salad, grains, and more.
Print
Pin
Rate
Ingredients
Baked Chicken Meatballs:
2

eggs

½

cup

panko breadcrumbs

½

cup

grated Parmesan

(or Pecorino Romano)

¼

cup

grated onion

3

cloves

garlic,

minced

1

teaspoon

dried parsley

½

teaspoon

salt

½

teaspoon

ground black pepper

½

teaspoon

paprika,

smoked or regular

1

lb

ground chicken
Honey BBQ Sauce:
¾

cup

BBQ sauce,

your favorite variety

2

tablespoon

honey

1

tablespoon

apple cider vinegar
Instructions
Preheat oven to 400°F. Line a large baking sheet with aluminum foil or parchment paper and spray generously with cooking spray.

Add eggs to a large mixing bowl and whisk until light and creamy. Add panko, Parmesan, grated onion, garlic, parsley, salt, pepper, and smoked paprika. Using your hands (or with a wooden spoon), mix together all of the ingredients until evenly combined.

Using a 2-tbsp capacity cookie scoop, form meatballs and place them evenly spaced onto the prepared baking sheet.

Bake for 22-24 minutes, or until the center reach 165°F. Towards the end of the cook time, add the BBQ sauce, honey, and apple cider vinegar to a small saucepan set over low heat. Whisk as the mixture simmers until heated throughout.

Once fully cooked, let the meatballs cool on the baking sheet for a few minutes. Gently release them from the foil/paper if they stick a bit. Serve with a drizzle of honey BBQ sauce over top, or toss the meatballs in the sauce.
Notes
Yield: This recipe yields about 18 meatballs. Paprika: Regular paprika will work if you don't have smoked. Nutrition: The nutritional info displayed is an estimate for a serving of meatballs and sauce and doesn't include what you might serve it with. As always, this is just an estimate and values will differ depending on the brand of ingredients you use.
Nutrition
Serving:
4
(estimated)
|
Calories:
333
kcal
|
Carbohydrates:
33.4
g
|
Protein:
34.8
g
|
Fat:
6.8
g
|
Saturated Fat:
2.7
g
|
Cholesterol:
156
mg
|
Sodium:
908
mg
|
Potassium:
46
mg
|
Fiber:
2.9
g
|
Sugar:
21.6
g
|
Calcium:
150
mg
|
Iron:
2.3
mg
Nutritional information is provided as an estimate. As it can vary due to many factors (brands used, quantities, etc.), we cannot guarantee its accuracy.
Food Safety and Nutrition Disclaimer