Baked turkey hoisin meatballs are super juicy and bursting with flavor! Covered in an easy hoisin glaze, these meatballs make a hearty and healthy meal served with brown rice and your favorite vegetables.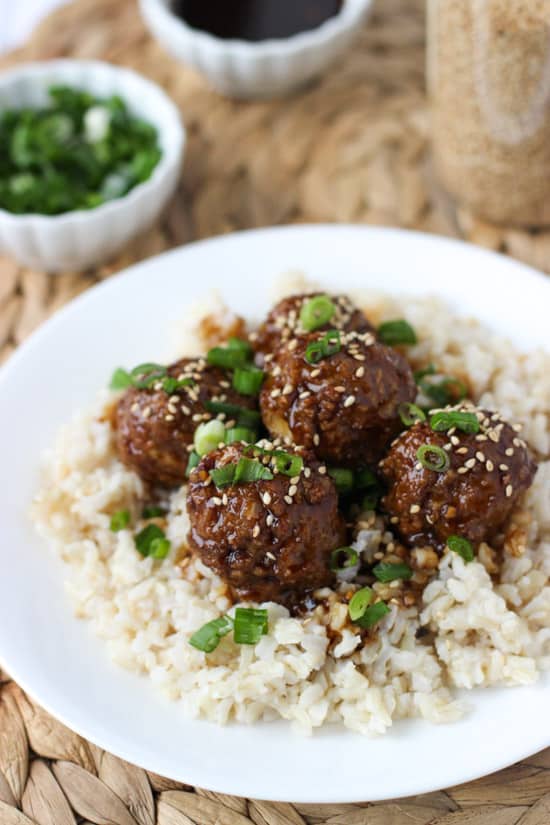 Well, it's 2015! Time to eat more kale, say hello to the gym, and be bigger/better/faster/stronger than our last years' selves.
Or we can get specific with our resolutions, and add some such as digging out half-done DIYs and actually finishing them or brushing up on that foreign language you used to know. Your choice.
I'm gravitating toward the latter this year, but I've also decided to improve my meal planning skills.
This has actually been on my to-do list for months now, but seeing as it's the beginning of the year, I might as well elevate it to resolution-level importance. We have a household of two and both of us are super easy going when it comes to food. This is good and bad.
Good because we like to eat the same meals and bad because we fall into ruts...because we eat the same meals.
Five days in and I haven't found my pliers or downloaded an Italian language app yet, but new meal ideas? Check! Meet these baked turkey hoisin meatballs.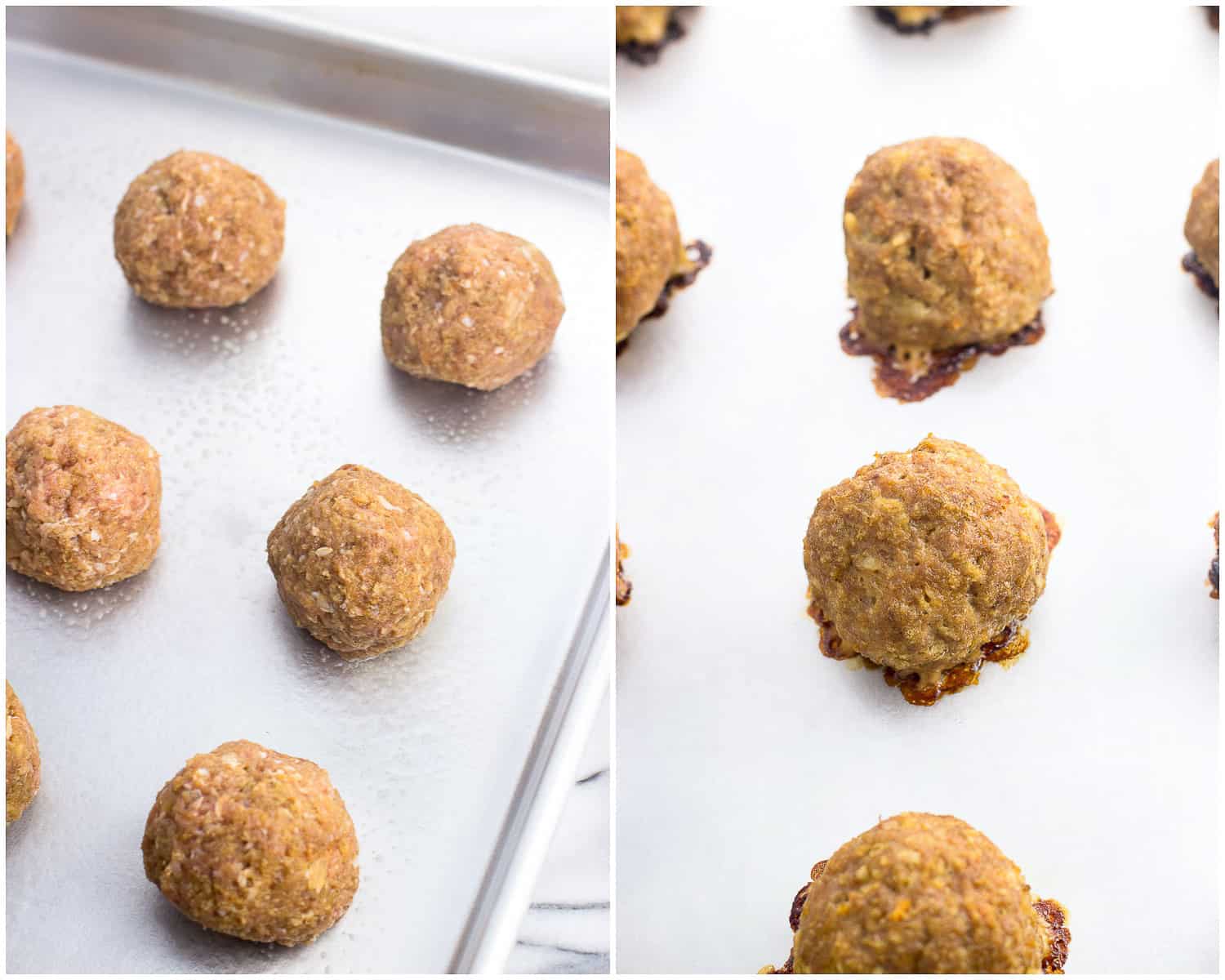 Here's why we love this recipe
These hoisin meatballs have a lot of good things going for them.
For starters, they're super juicy. I'll get into my favorite trick for juicy baked meatballs in a bit.
This recipe is also EASY and absolutely suitable for weeknights! You'll need one bowl to mix the meatballs, one sheet pan to cook them, and one saucepan for the glaze, various measuring spoons and cups not included.
These meatballs are also on the healthy side. They're made with leaner ground turkey instead of beef/pork, and are baked, no pan-frying necessary.
And last but not least: there's so much flavor going on here! Between the hoisin sauce, sriracha, five spice powder, and other Asian flavors, there's nothing bland about this ground turkey recipe whatsoever.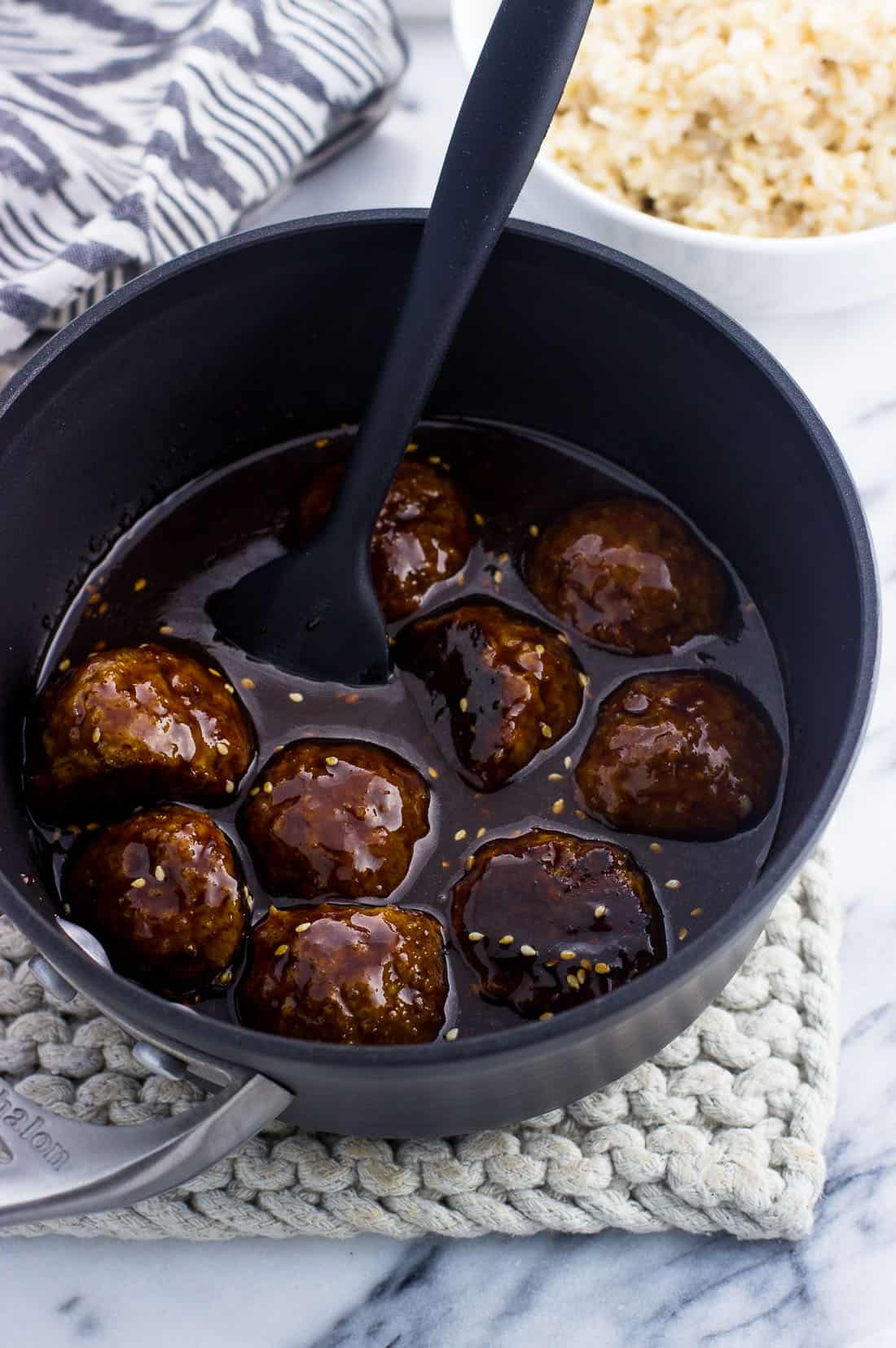 Recipe ingredients
With ground turkey as our meatball base, we'll add meatball staples like an egg for binding and some breadcrumbs. Other than garlic, this version takes a pretty sharp turn flavor-wise from my more frequently made meatball recipe, my (reader favorite!) Italian baked turkey meatballs.
I won't hold out any longer on my trick to ensure extra juicy baked meatballs: grating the onion.
It makes such a big difference!! Grating the onion (instead of dicing) makes the onion a much 'wetter' ingredient, which lends a ton of moisture that transfers right through baking to the finished product.
If you've made Asian-inspired recipes at home before, you'll probably have some, if not most, of the other ingredients on hand. We have sriracha for spice, sesame oil, rice vinegar, hoisin sauce (in both the meatball mixture and the glaze), and five spice powder.
Five spice powder adds a really unique flavor blends well with the mild flavor of ground turkey. If you're unfamiliar, five spice powder is a blend of different spices, with the result being a warm/slightly sweet/tangy mix.
It might not sound like it, but it tastes so great with savory dishes. There may be different spice blends depending on the brand, but the kind I have actually has six spices - cinnamon, anise, fennel, ginger, clove, and licorice root.
Feel free to mix up your own blend if you're feeling ambitious. I haven't gotten there yet. 🙂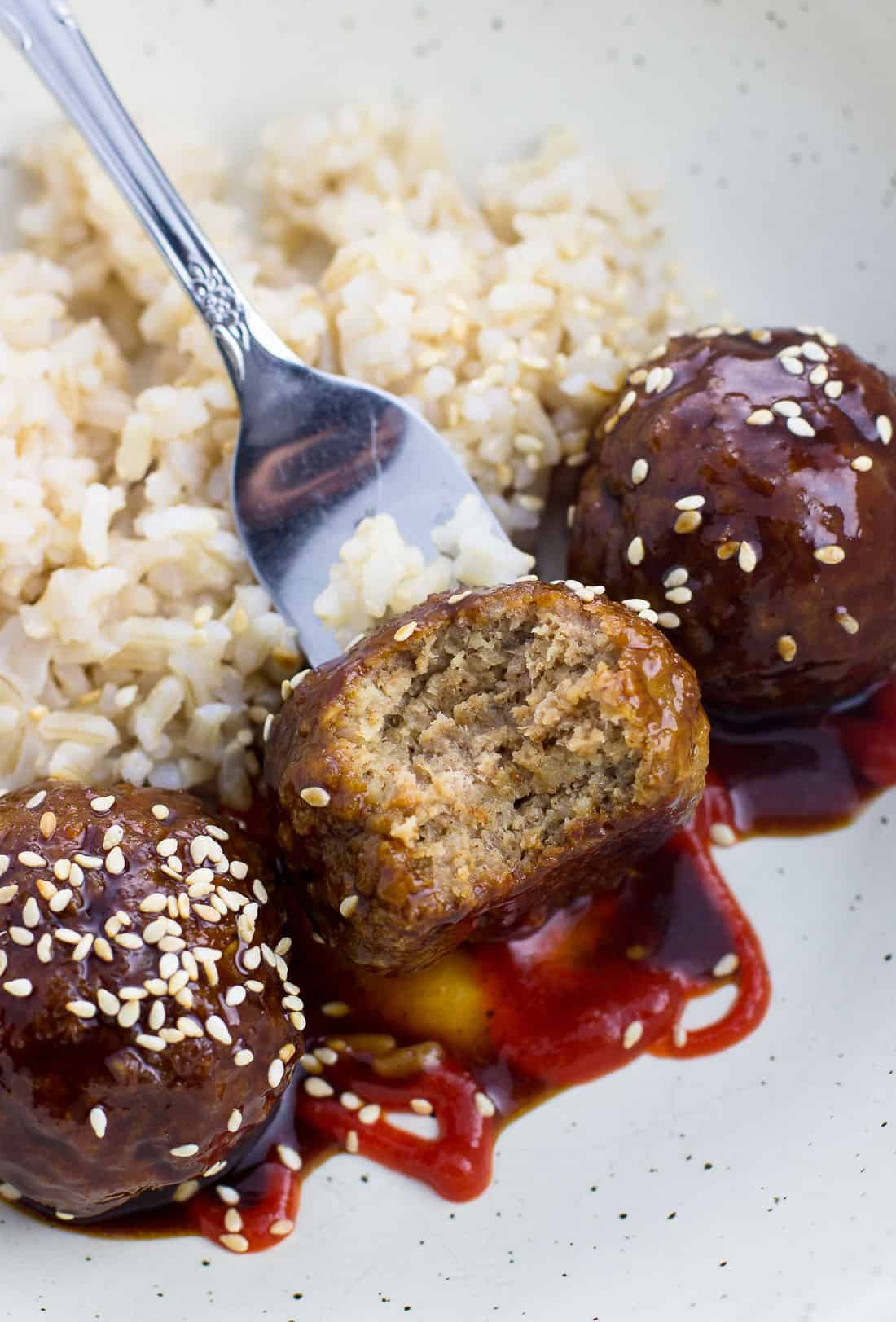 Recipe steps
While there are a few components here, they're pretty straight-forward. You'll start by mixing up your meatball ingredients.
One bowl is all you need, and to make matters even easier, I like mix up meatballs with my hands. That way you're all but assured you won't overmix everything, which can lead to tougher meatballs.
Once they're scooped and in the oven, it's time to set up the glaze. Hoisin-based with equal parts soy sauce and rice vinegar, sriracha, garlic, and ginger round out this Asian-inspired sauce that coats the meatballs perfectly. Feel free to zhush the ingredients as you like them to make this glaze more in line with your tastes.
My preference for serving these meatballs and glaze is over brown rice. Just rounds out the 'better-for-you' aspect of it, you know? Quinoa, white rice, veggies, etc. all work, too.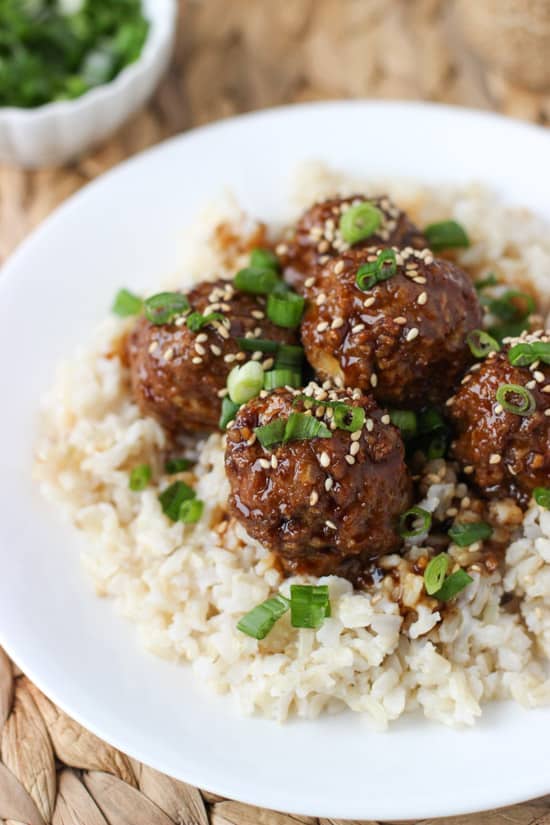 Once the meatballs are baked and the glaze is nice and hot, I dunk the meatballs right into the glaze, then scoop and serve them over rice. Lately I've been really into brown jasmine rice, if you can find it.
This recipe yields approximately 17 meatballs, if using a two-tablespoon capacity scoop. You'll have plenty of glaze for the meatballs and drizzling over rice/veggies. One thing I do not skimp on is extra sauce.
P.S. If you're into lots of sauce on your meatballs like me, these honey BBQ chicken meatballs might also be a recipe you're interested in.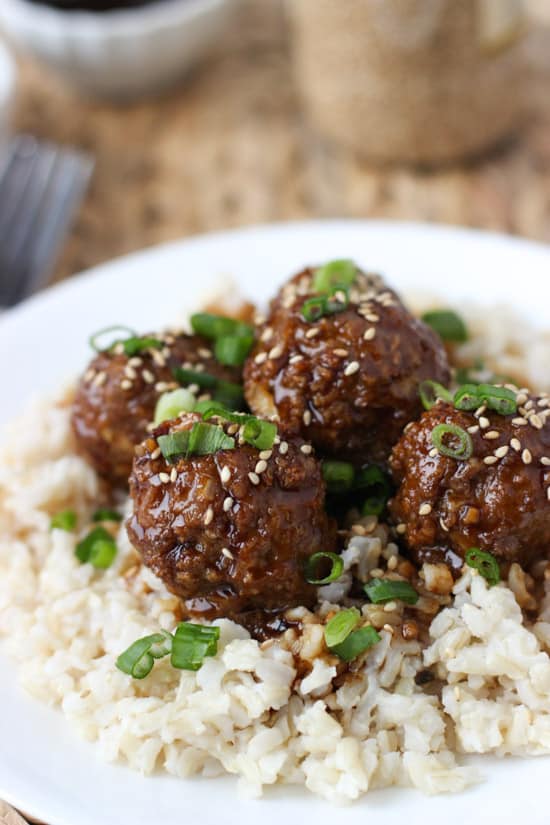 Recipe notes
I'm tough on my hands and usually have some little cuts on them (especially with winter dry skin!) so I like to wear disposable gloves when I mix it up with raw meat. I recognize this isn't the most environmentally-friendly option, but I plan to switch to a biodegradable variety once this box is done.
As written the sriracha doesn't add much zip to the glaze. Add more if you like things spicy.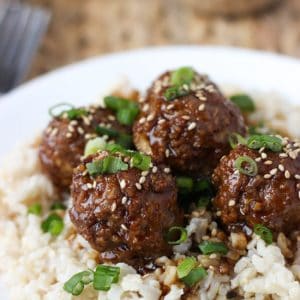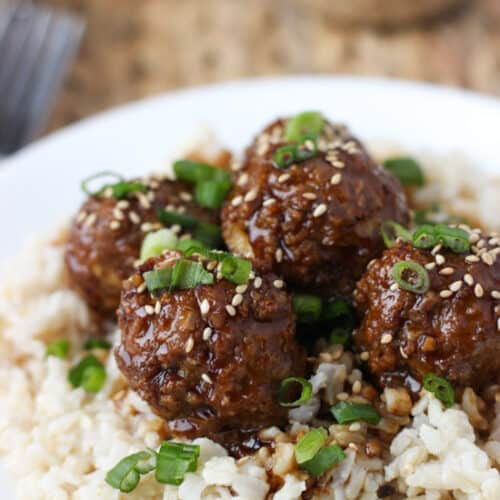 Baked Turkey Hoisin Meatballs
Baked turkey hoisin meatballs are super juicy and bursting with flavor! Covered in an easy hoisin glaze, these meatballs make a hearty and healthy meal served with brown rice and your favorite vegetables.
Print
Pin
Rate
Ingredients
For the Meatballs:
16

oz

ground turkey

1

cup

panko breadcrumbs

¼

cup

grated onion

2

tablespoon

hoisin sauce

1

egg

1

tablespoon

sesame oil

1 ¼

teaspoon

sriracha,

or to taste

2

cloves

garlic,

minced

¾

teaspoon

five-spice powder

Pinch

of salt and pepper
For the Glaze:
½

cup

hoisin sauce

¼

cup

reduced-sodium soy sauce

¼

cup

rice vinegar

2

cloves

garlic,

minced

1

teaspoon

sesame oil

1

teaspoon

sriracha,

or to taste

1

teaspoon

grated ginger

Sliced green onion,

for garnish

Sesame seeds

for garnish
Instructions
For the Meatballs:
Preheat oven to 375°F. Grease a large baking sheet with cooking spray and set aside. In a large bowl, add all of the meatball ingredients. Mix everything together using a spoon or your hands.

Using a 2-tbsp capacity cookie scoop, scoop meatballs and place them about 1" apart on prepared baking sheet. Bake for 22-25 minutes, or until meatballs are no longer pink in the middle and internal temperature reaches 165°F.
For the Glaze:
While meatballs are cooking, add all glaze ingredients to a small saucepan set over low heat. Stir to combine, then stir occasionally until glaze begins to simmer. Let glaze simmer for a few minutes.

For serving, coat meatballs in glaze and serve over brown rice (or whatever you'd prefer). Pour extra glaze over top and sprinkle sesame seeds and green onion to garnish.
Notes
This recipe yields about seventeen meatballs if using a 2-tbsp capacity scoop. If using a smaller/larger scoop, adjust baking time accordingly to ensure they're fully cooked to 165°F at the center.
Nutrition
Serving:
3
meatballs and glaze
|
Calories:
298
kcal
|
Carbohydrates:
24.2
g
|
Protein:
22.2
g
|
Fat:
11.6
g
|
Saturated Fat:
1.2
g
|
Cholesterol:
86
mg
|
Sodium:
1228
mg
|
Potassium:
84
mg
|
Fiber:
1.5
g
|
Sugar:
9.7
g
|
Calcium:
60
mg
|
Iron:
1
mg
Nutritional information is provided as an estimate. As it can vary due to many factors (brands used, quantities, etc.), we cannot guarantee its accuracy.
Food Safety and Nutrition Disclaimer