Well, it's 2015! Time to eat more kale, say hello to the gym, and be bigger/better/faster/stronger than our last years' selves. Or we can get specific with our resolutions, and add some such as digging out half-done DIYs and actually finishing them or brushing up on that foreign language you used to know. Your choice.
I'm gravitating toward the latter this year, starting with 1) this fab heart I bought 1,000 cocktail straws for and 2) Italian. I've also decided to improve my meal planning skills. This has actually been on my to-do list for months now, but seeing as it's the beginning of the year, I might as well elevate it to resolution-level importance. It's just B and I living together, and we're both super easy going when it comes to food. This is good/bad. Good because we like to eat the same meals and bad because we fall into ruts…because we eat the same meals.
Five days in and I haven't found my pliers or downloaded an Italian app yet, but new meal ideas? Check! Meet these hoisin glazed baked turkey meatballs. Served over brown rice, they're a tasteful, satisfying, and resolution-friendly dish!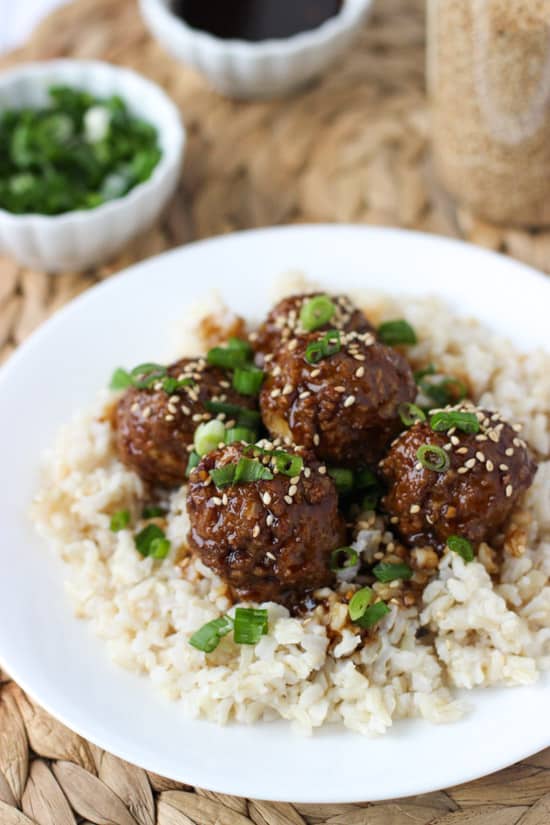 These baked turkey meatballs are JUICY from the grated onion. Grating the onion instead of just chopping is one of my favorite new tricks for meatball making. Those little onion bits mix in with the turkey, breadcrumbs, and other good stuff and add some serious all-over moisture. Just a word of warning – grate with caution. I grated with vigor and ended up with a face full of onion juice. Yowza. Next time I think I'll wear swim goggles. 🙂
Then there's Chinese five-spice powder, which adds a really unique flavor that works so well with the turkey. If you're unfamiliar, Chinese five-spice powder is a blend of different spices, with the result being a warm/slightly sweet/tangy mix. It might not sound like it, but it tastes so great with savory dishes. There may be different spice blends depending on the brand, but the shaker I have (that I bought in our regular supermarket) actually has six spices – cinnamon, anise, fennel, ginger, clove, and licorice root. Feel free to mix up your own blend if you're feeling ambitious!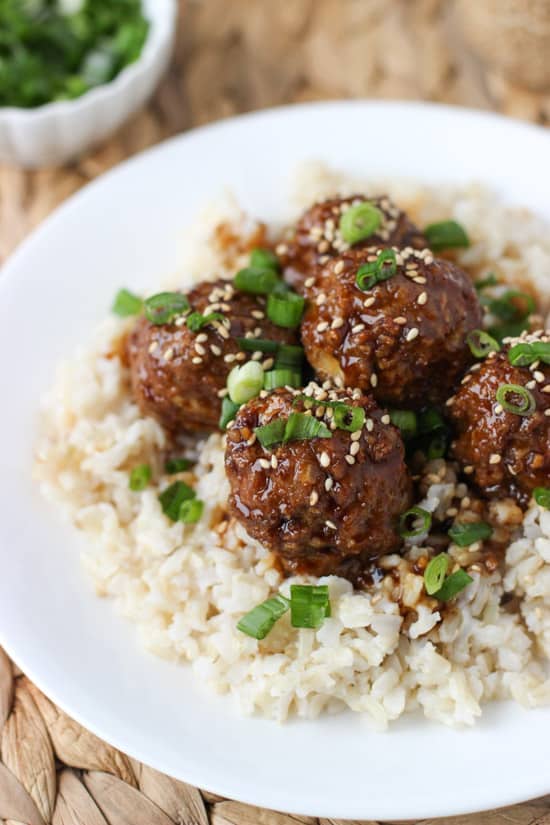 As the meatballs are baking, the hoisin glaze is simple to whip up on the stove top. Hoisin sauce is thinned a bit by soy sauce and rice vinegar, then garlic and sesame oil are stirred in. I couldn't stop myself from adding more five-spice (can you tell I'm obsessed?) and extra ginger. Then I zipped it up a teensy bit by adding some sriracha. As written the glaze isn't that spicy, but you can certainly change that by adding an extra squeeze (or two).
Once the meatballs are done baking, I dipped them in glaze and served over brown rice (because, resolutions) with sesame seeds and chopped up scallions for garnish. I may or may not have drizzled extra glaze over top because rice soaking up any sauce is pretty much perfection in my opinion.
And oh yeah, besides being a healthier alternative, baking the meatballs gives them this faaabulous crust I can't get enough of. Maybe you're a crust/end piece/coating/crisp bits person too? Then this meatball is for you.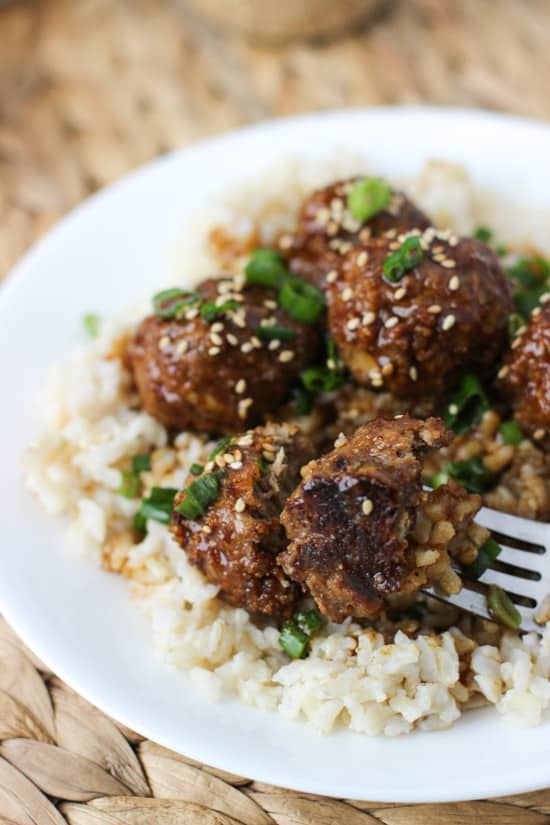 Ughhh. SO GOOD.
Hoisin Glazed Baked Turkey Meatballs
These baked hoisin turkey meatballs are dipped in a hoisin glaze and served over brown rice (with extra glaze!) for a lighter and tasteful meal.
Servings
5
(4 meatballs each)
Ingredients
For the Meatballs:
1

16-oz pkg

ground turkey,

I used 93% lean

1

cup

panko breadcrumbs

1/4

cup

grated onion

2

tbsp

hoisin sauce

1

egg

1

tbsp

sesame oil

1 1/4

tsp

sriracha,

or to taste

3/4

tsp

five-spice powder

3/4

tsp

minced garlic

Pinch

of salt and pepper
For the Glaze:
1/2

cup

hoisin sauce

1/4

cup

reduced-sodium soy sauce

1/4

cup

rice vinegar

1

tsp

minced garlic

1

tsp

sesame oil

1

tsp

sriracha,

or to taste

1/4

tsp

ground ginger

1/8

tsp

five-spice powder

Sliced green onion,

for garnish

Sesame seeds

for garnish
Instructions
For the Meatballs:
Preheat oven to 375°F. Grease a large baking sheet with cooking spray and set aside. In a large bowl, add all of the meatball ingredients. Mix everything together using a spoon or your hands. (I put on disposable gloves to make clean up easier and used my hands).

Using an ice cream or a cookie scoop, scoop meatballs and place them about 1" apart on prepared baking sheet. Bake for 20-25 minutes, or until meatballs are no longer pink in the middle and internal temperature reaches 165°F.
For the Glaze:
While meatballs are cooking, add all glaze ingredients to a small saucepan set over low heat. Stir to combine, then stir occasionally until glaze begins to simmer. Let glaze simmer for a few minutes.

For serving, coat meatballs in glaze and serve over brown rice (or whatever you'd prefer). Pour extra glaze over top and sprinkle sesame seeds and green onion to garnish.
Notes
The nutritional info is an estimate for four meatballs and five equal servings of the glaze. It does not include rice or whatever you might serve these with.
Nutrition
Serving:
4
meatballs and glaze
|
Calories:
298
kcal
|
Carbohydrates:
24.2
g
|
Protein:
22.2
g
|
Fat:
11.6
g
|
Saturated Fat:
1.2
g
|
Cholesterol:
86
mg
|
Sodium:
1228
mg
|
Potassium:
84
mg
|
Fiber:
1.5
g
|
Sugar:
9.7
g
|
Calcium:
60
mg
|
Iron:
1
mg