Jazz up your main dishes with this easy, homemade maple bourbon BBQ sauce. Ketchup and other kitchen staples simmer on the stove top for a customizable sauce. It can be made from mild to spicy or somewhere in between!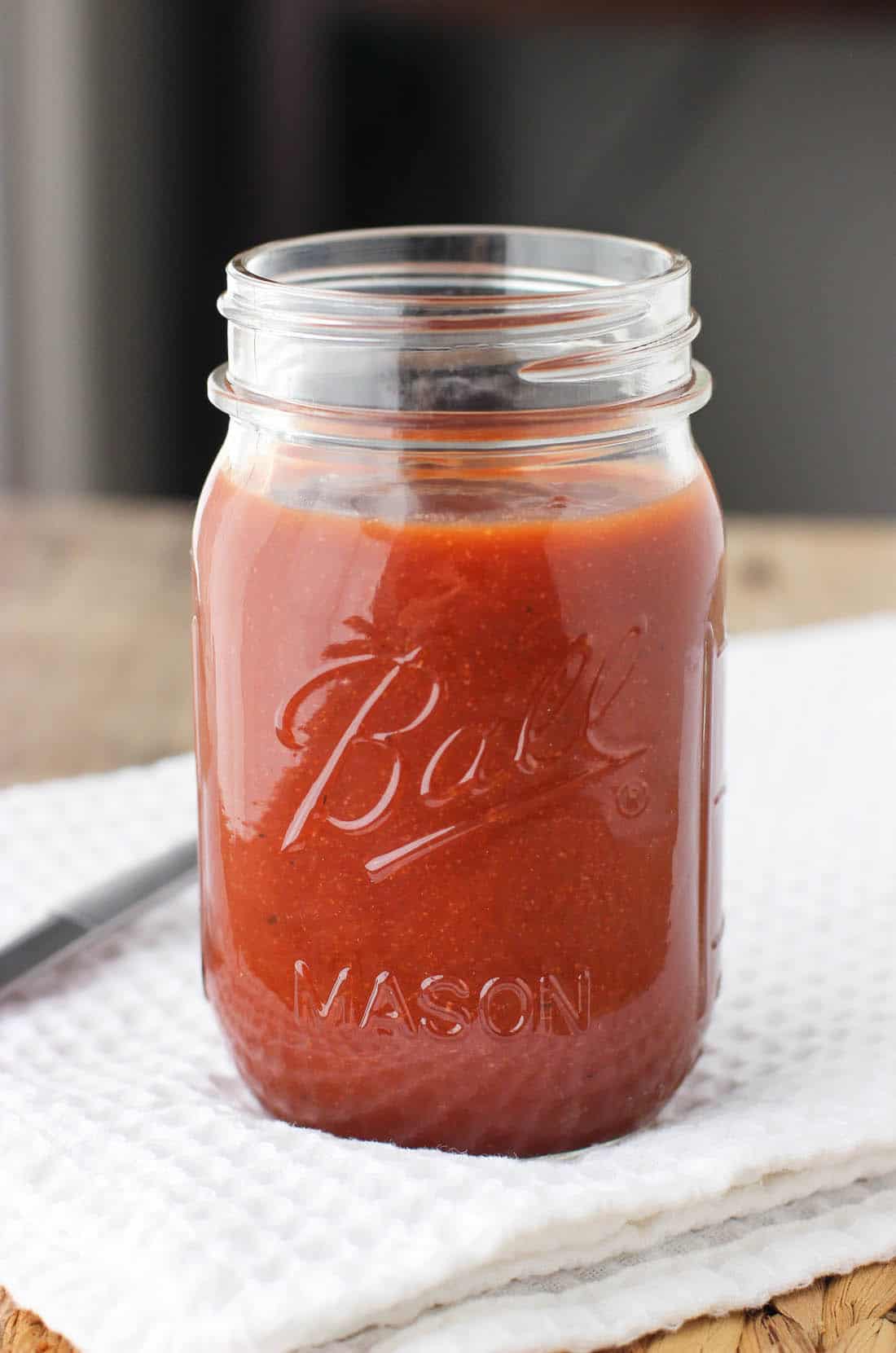 It's a little bit embarrassing, but I can't remember eating BBQ until my early 20s. Say what? I certainly can't complain as we had a million delicious cuisines growing up in NJ, but BBQ just wasn't part of our repertoire. That all changed once we moved to San Diego. We lived super close to a BBQ place that quickly became one of our favorite take-out options. Hello brisket, pulled pork, ribs. SO good.
Now though we live in Nashville and BBQ is all over the place. When things get a little crazy at work sometimes we'll bring in mass amounts of BBQ for lunch and no matter where we order from, hoooly smokes, it's amazing. Inevitably on those days I spend the afternoon in a food coma after indulging a little too much, which may or may not make hours of work that much more difficult to power through. A price worth paying, I think.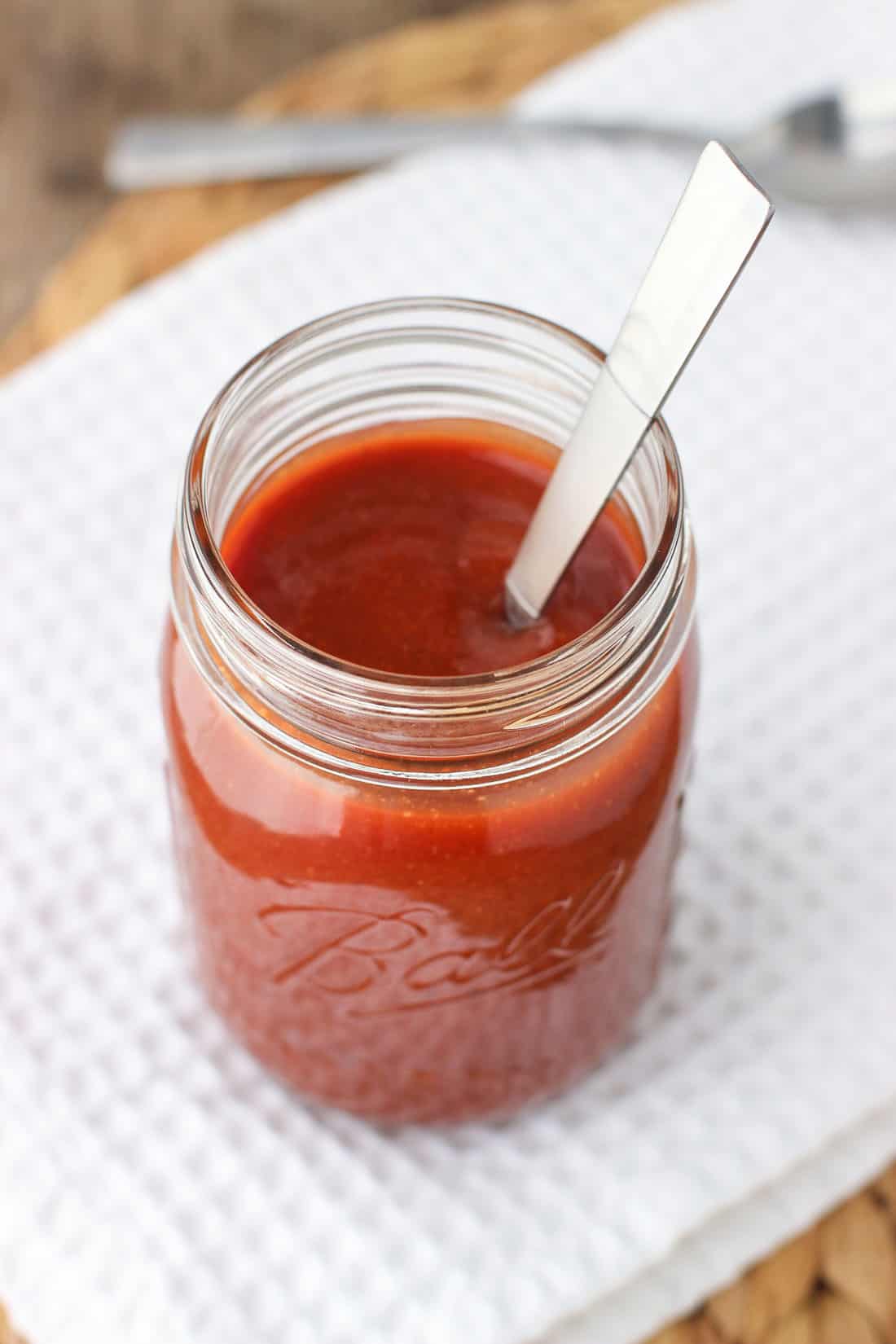 In celebration of all things BBQ, I posted B's Favorite BBQ Sauce last year while we were trekking from CA to TN on our move. We do still make that recipe (I mean, it was billed as Brian's favorite for a reason), but this one has snuck in there as another favorite of his. Well, both of ours. 🙂 Basic kitchen spices and flavorings are added to ketchup, along with maple syrup for a bit of sweetness and bourbon for extra flavor!
We used 1/2 cup of bourbon, which lent a nice bourbon flavor in the finished product, but you can certainly add less if you're looking for a milder flavor in that regard. As the BBQ sauce comes to a boil and then simmers for about 40 minutes after the bourbon is added, the majority of the alcohol is burnt off, leaving the bourbon flavor behind.
We've been loving this maple bourbon BBQ sauce on plenty of main meals, even if they're not quintessential BBQ foods like pulled chicken/pork. Lately a drizzle on a beef/turkey/veggie burger or over baked beans has been my favorite way to enjoy!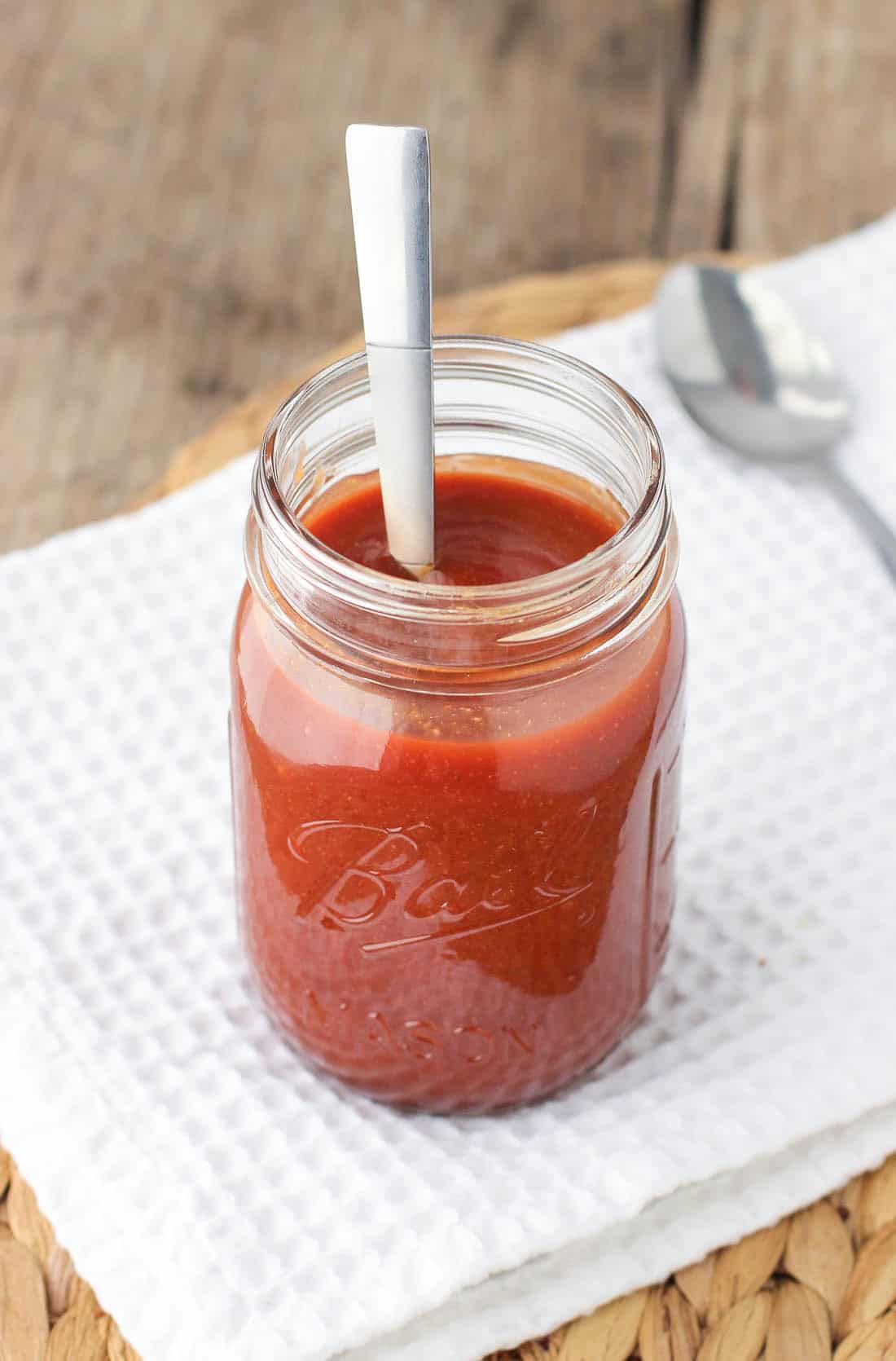 Maple Bourbon BBQ Sauce
Recipe type:
Dips & Sauces
Yield:
Approx. 1 1/2 cups
Ingredients
1 cup ketchup
1/4 - 1/2 cup bourbon, to taste
1/4 cup maple syrup
3 tbsp apple cider vinegar
2 tbsp Worcestershire sauce
1 1/2 tbsp honey mustard
1 tbsp liquid smoke
2 tsp onion powder
2 tsp garlic powder
1/4 tsp ground black pepper
1/2 - 1 tsp hot sauce, to taste
Instructions
All all ingredients to a sauce pan set over medium heat and stir so that everything is evenly combined. Let mixture cook until it reaches a boil, stirring occasionally.
Once boiling, reduce heat to low or low-medium and simmer for 35 to 40 minutes as the sauce reduces. Once sauce has thickened to your liking, let cool and store in an air-tight container in the refrigerator.
Notes
As written, this BBQ sauce is on the milder side of spiciness. If you're looking for a spicy BBQ sauce, feel free to add as much extra hot sauce as you'd like!

Using 1/2 cup of bourbon will allow a fairly bold bourbon flavor to shine through in the sauce. If you're not a huge bourbon fan, I suggest reducing the the amount of bourbon added to 1/3 or 1/4 cup, to your taste.