Homemade cilantro lime ranch dressing is a delicious and healthier way to kick up your leafy greens! This creamy salad dressing is made healthier by using plain Greek yogurt as its base, and by mixing up your own homemade ranch seasoning.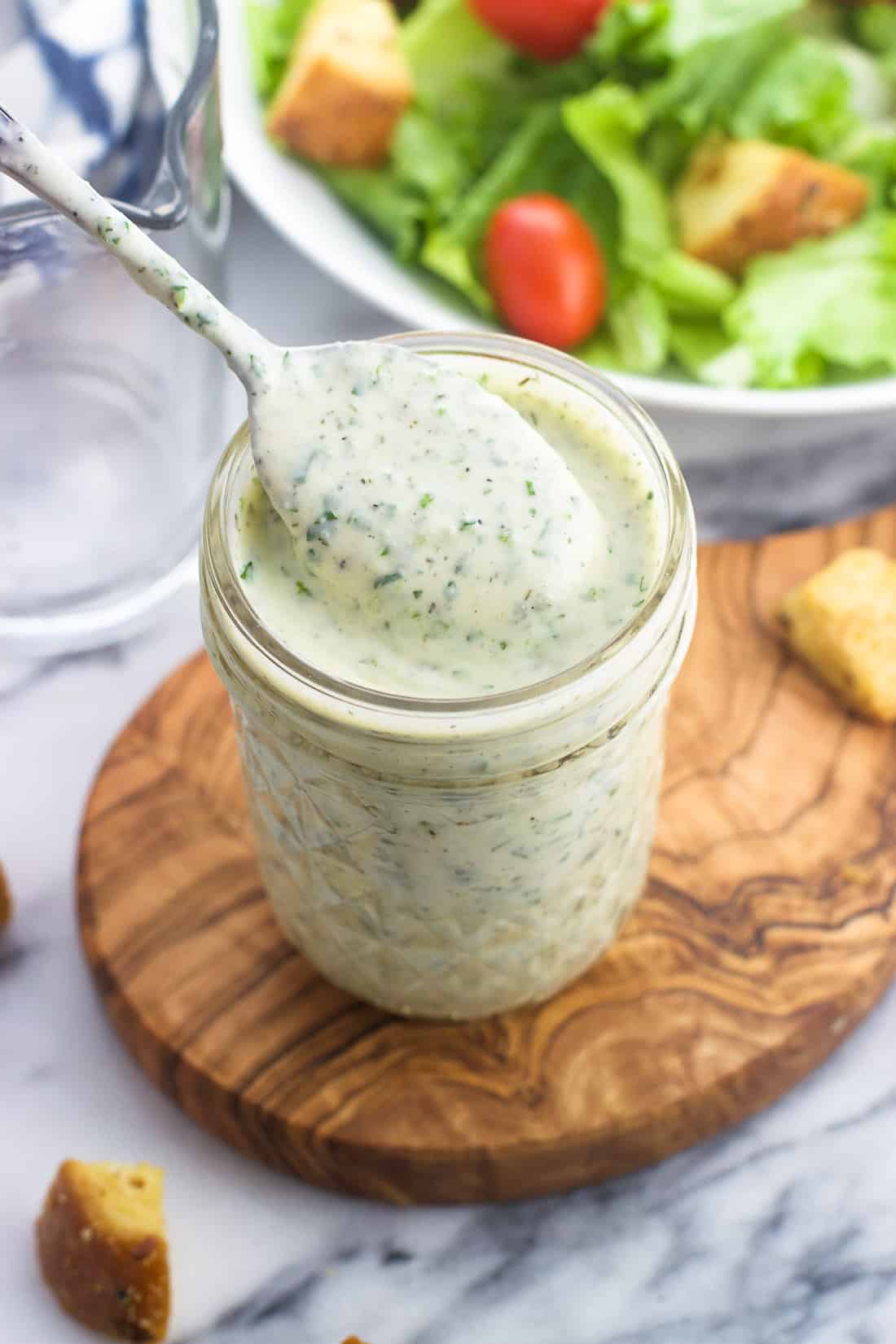 One game I've recently been playing in the kitchen is seeing how many different ways I can use up a certain ingredient. This makes me think outside the box for recipe ideas, and helps make sure I have a plan to use up all of something and not let leftover bits languish in the fridge or pantry.
But seriously, though. Why are we saving three tablespoons worth of salsa, a quarter cup (if that) of pizza sauce, and the tiniest amount of dry couscous for weeks? Let's just use it and recycle the containers.
Lately my sights have been set on Greek yogurt. Thirty-two ounce tubs of plain Greek yogurt, to be exact.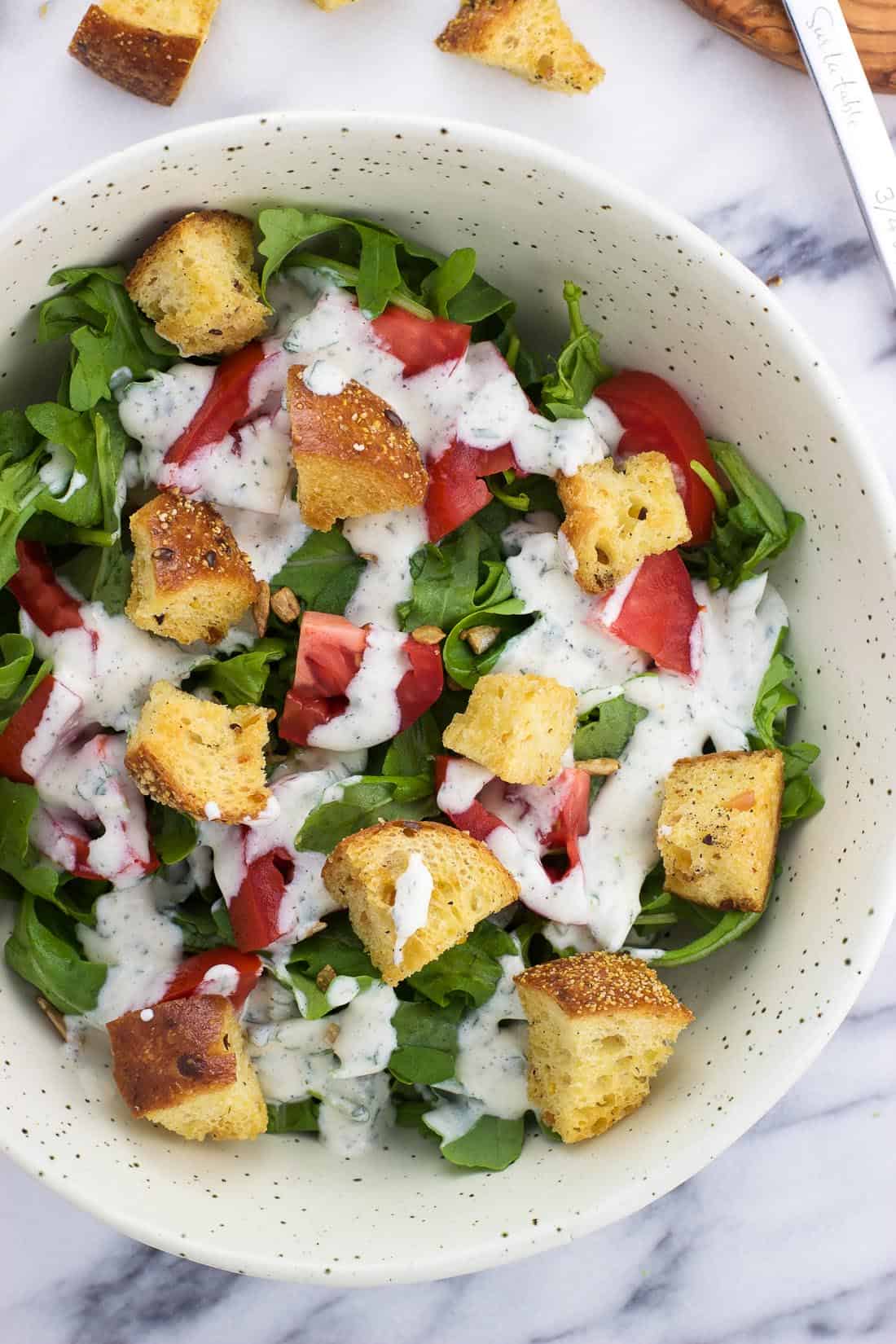 It's such a versatile ingredient, working its way into both savory and sweet recipes no problem. It's an integral part of my healthy tartar sauce, helps produce a seriously moist citrus loaf cake (recipe coming soon), lightens up healthy buffalo chicken dip, and makes a mean dressing for kale caesar salad.
Today I'm sharing this healthy cilantro lime ranch dressing, another recipe where Greek yogurt shines. Lighter on both fat and calories, Greek yogurt easily takes the place of mayonnaise/sour cream in a homemade ranch dressing flavored with fresh cilantro, lime juice and lime zest.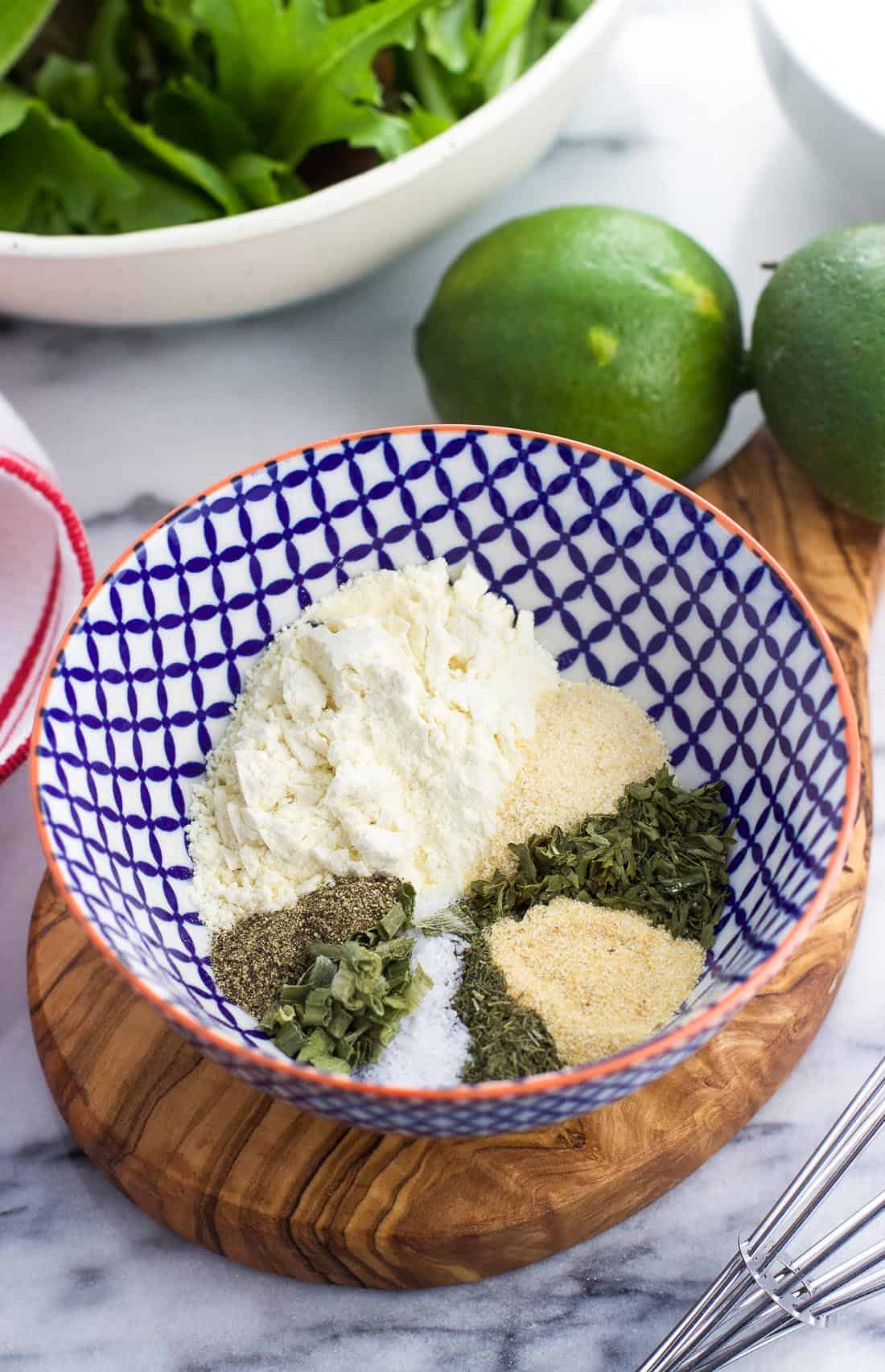 Recipe instructions
Before we get to the cilantro lime part, this salad dressing recipe begins as Greek yogurt ranch. The first part is to prep your homemade ranch seasoning. No MSG and you can control the sodium levels. Perfect.
At the base of homemade ranch seasoning is buttermilk powder. It adds an extra bit of tanginess that ranch dressing is known for. Next are the dry herbs and spices, of which all (or almost all) are pantry staples.
You can stir everything together, or you can whiz everything in the food processor. Even though it creates extra dishes to wash my preference is usually to pulse it. This way the dried herbs are broken up finely and everything gets a chance to really combine well. Of course you can just stir everything well if you'd rather not (which is what I did with the dressing in the photo below).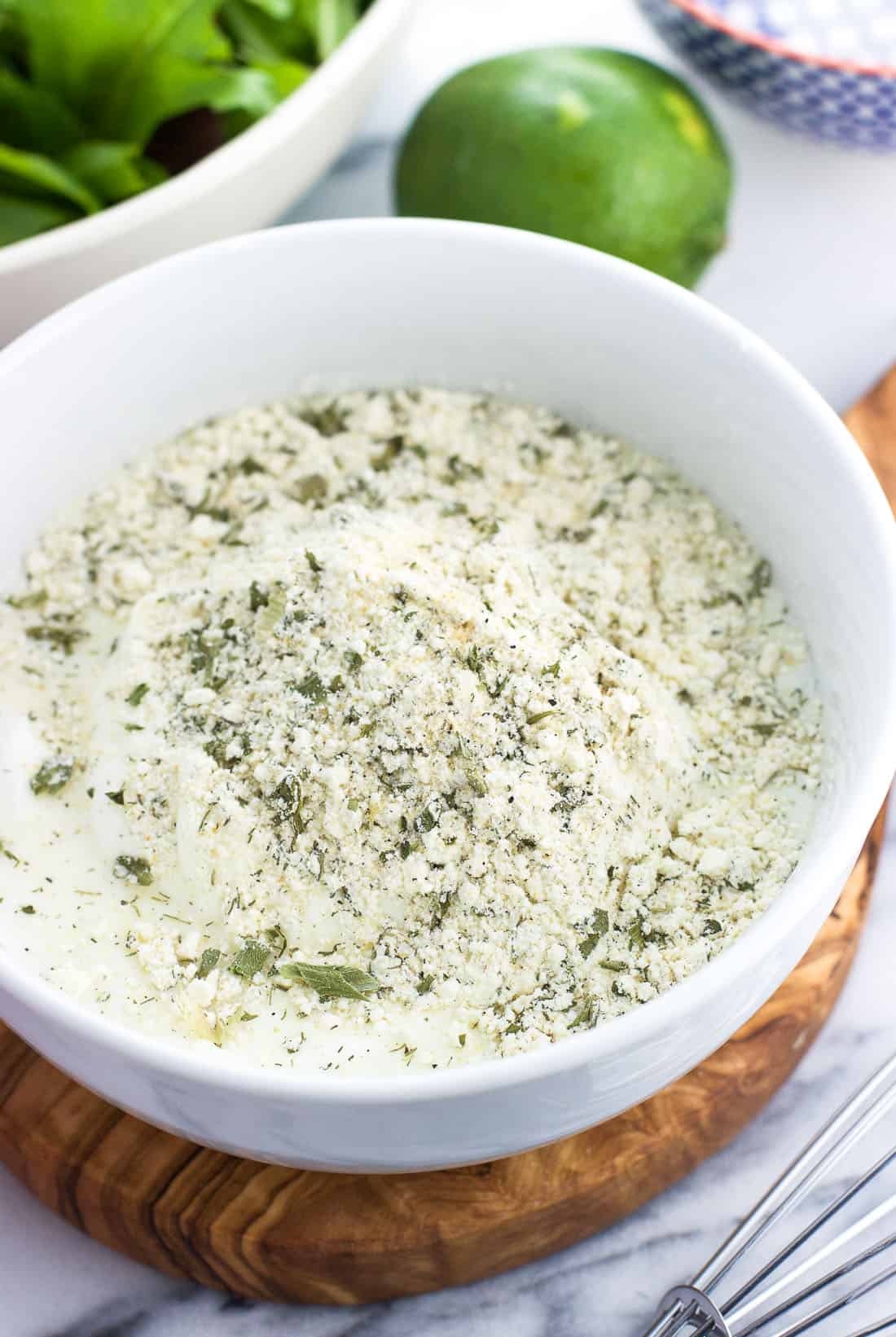 Once the dry ranch seasoning is prepped, add it to the Greek yogurt in a mixing bowl. Pour in the olive oil, lime juice, and lime zest and whisk everything to combine. The dressing will likely be thicker than you want, so pour in some milk and whisk well to thin it out.
All that's left is to stir in the chopped cilantro. Each time I make this spin on ranch dressing I add a different amount of cilantro to try and see which quantity I like the best, but I really can't decide. I went with three tablespoons in the recipe card below, but after adding it do take a taste and see if you'd like there to be more. Better to start small and increase.
The same can be said for all of the seasonings, really. Homemade salad dressing is usually very forgiving that way. Tweak it (more lime, garlic, salt, etc.) to your liking.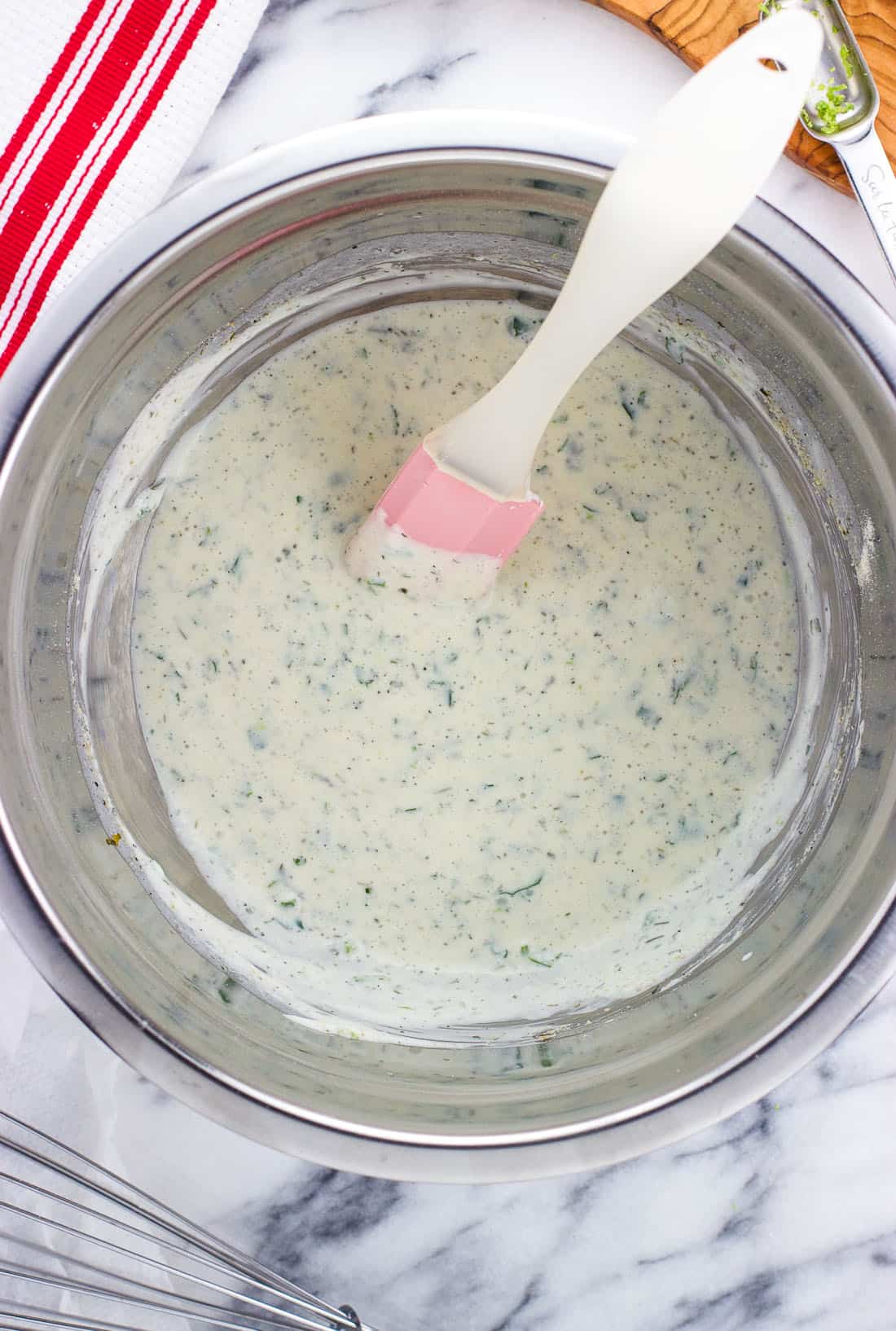 Serving suggestions
One of our favorite proteins to add to a salad with Greek yogurt ranch dressing (this flavor or any others) is buffalo chicken. Spiced up chicken pairs so well with the tangy flavors of ranch!
Slow cooker buffalo chicken or Instant Pot buffalo chicken are our go-to recipes to make a large quantity of pulled buffalo chicken either for a gathering or for meal prep. For a super speedy shortcut, shredding a rotisserie chicken and tossing with buffalo sauce always works, too.
As for salad toppers, homemade croutons or baked tortilla strips are two crunchy options that are better for you than their store-bought fried counterparts. Those are my favorite baked Italian five-grain bread croutons you see in the first photo in this post.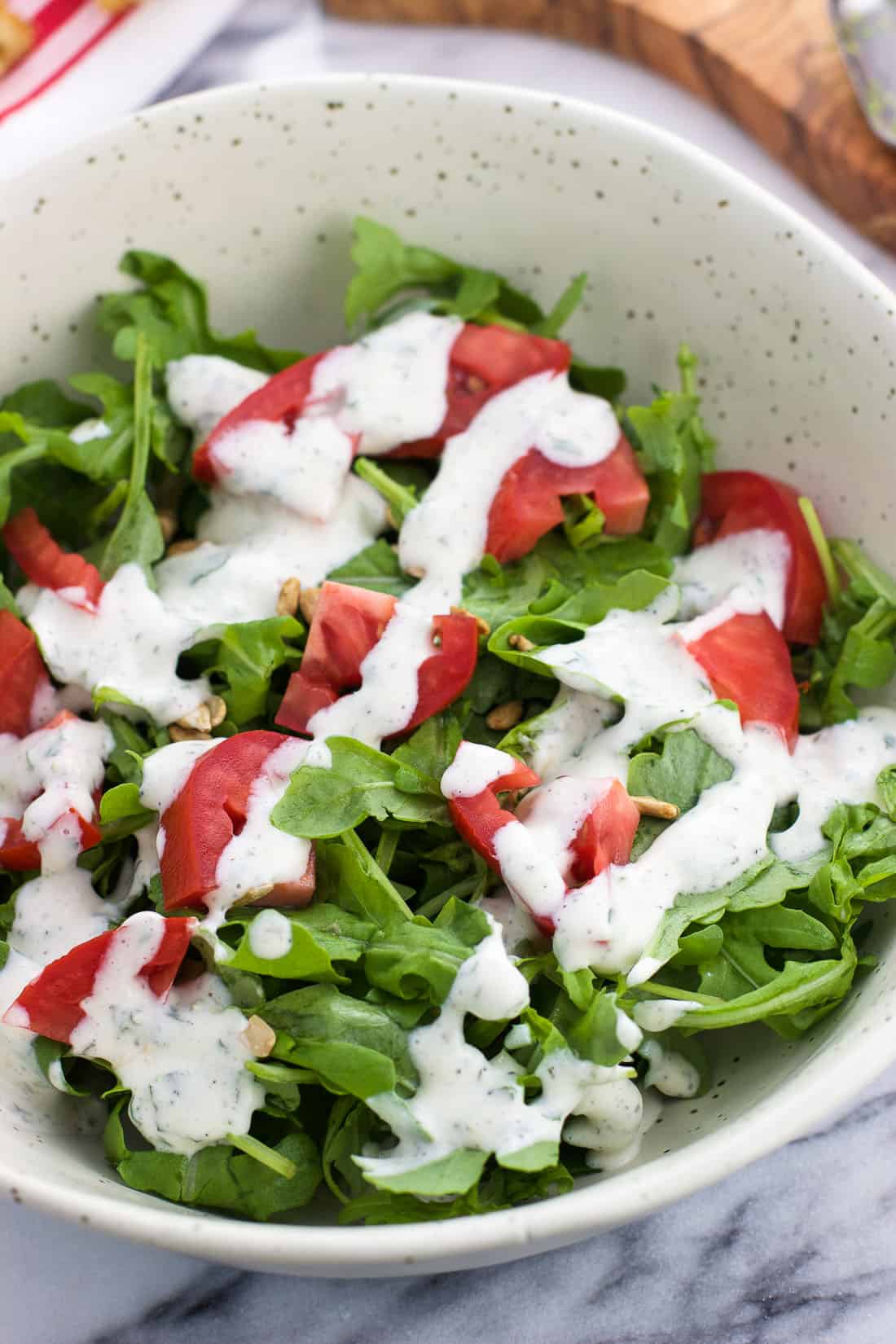 Recipe notes
This recipe is very customizable. Add/subtract/alter ingredients as you like. I always prefer to start small with bold ingredients like fresh cilantro or salt and add more, than have to bump up the base ingredients in the right ratio to mellow a flavor out.
Healthy Cilantro Lime Ranch Dressing
Homemade Greek yogurt ranch dressing, flavored with cilantro and lime, is a delicious and healthier way to kick up your leafy greens! This creamy salad dressing is made healthier by using plain Greek yogurt as its base, and by mixing up your own homemade ranch seasoning.
Print
Pin
Rate
Ingredients
Ranch seasoning:
2

tablespoon

buttermilk powder

1 ½

teaspoon

garlic powder

1

teaspoon

onion powder

1

teaspoon

dried parsley

1

teaspoon

kosher salt

½

teaspoon

dried chives

½

teaspoon

dried dill

½

teaspoon

ground black pepper
Dressing:
½

cup

plain Greek yogurt

1

tablespoon

olive oil

1

lime,

zest and juice

¼

cup

milk,

any variety

3

tablespoon

chopped fresh cilantro
Instructions
Add all ranch seasoning ingredients to a food processor and pulse until powdery and mixed together. Set aside for now. **Alternatively you can skip this step and simply stir them up. The ingredients won't be as finely mixed together, but will work just fine.**

Add Greek yogurt, olive oil, lime zest, and lime juice to a bowl and whisk together. Add the ranch seasoning and whisk until combined.

Add milk and whisk. Stir in chopped cilantro. Add more milk one tablespoon at a time if you'd like a thinner dressing. Refrigerate, then shake or stir it up before serving.
Notes
The nutritional info listed is an estimate for about three tablespoons of dressing, calculated using 4% milkfat Greek yogurt and 2% milk. The amounts will vary depending on the varieties and brands you use, as well as serving size.
Nutrition
Serving:
3
tbsp (est.)
|
Calories:
52
kcal
|
Carbohydrates:
3
g
|
Protein:
2.8
g
|
Fat:
3.4
g
|
Saturated Fat:
1
g
|
Cholesterol:
6
mg
|
Sodium:
123
mg
|
Potassium:
78
mg
|
Sugar:
2.1
g
|
Calcium:
50
mg
Nutritional information is provided as an estimate. As it can vary due to many factors (brands used, quantities, etc.), we cannot guarantee its accuracy.
Food Safety and Nutrition Disclaimer