Ever wonder how to make homemade ranch seasoning? Dry buttermilk powder and pantry staple herbs and spices combine to become a easy homemade dupe for that ubiquitous store-bought packet. Great used as a seasoning or as homemade ranch dressing or dip!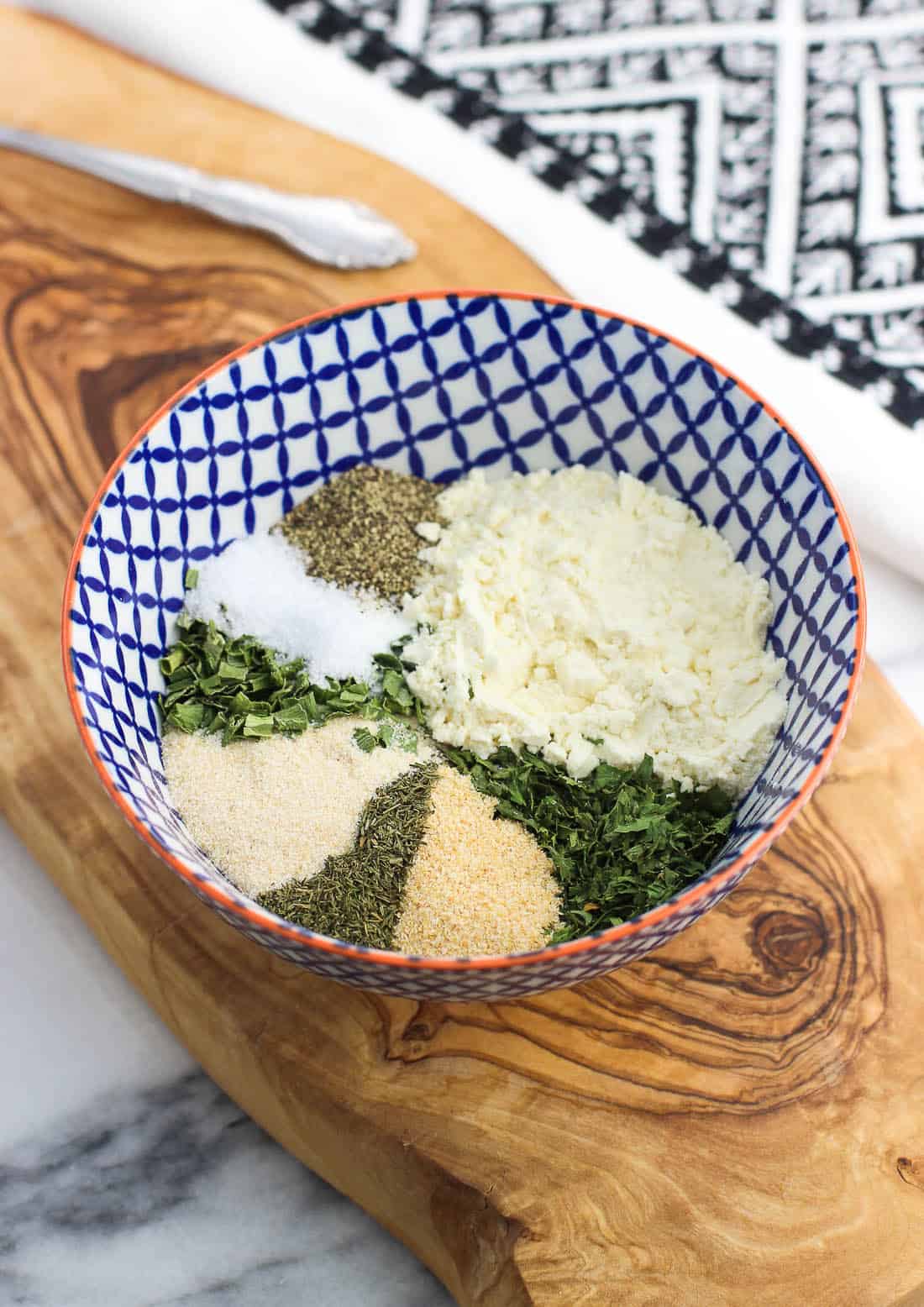 A recipe for homemade ranch seasoning isn't exactly anything ground-breaking, but it's a great recipe to have tucked in your back pocket. For one, most of the herbs and spices are probably sitting in your spice cabinet right now (and if not they're relatively inexpensive).
And then there's the practicality of it. What savory recipe like potatoes, popcorn, chicken, eggs, etc. wouldn't be enhanced by the garlicky/tangy/herby flavor of ranch?
Not many I know.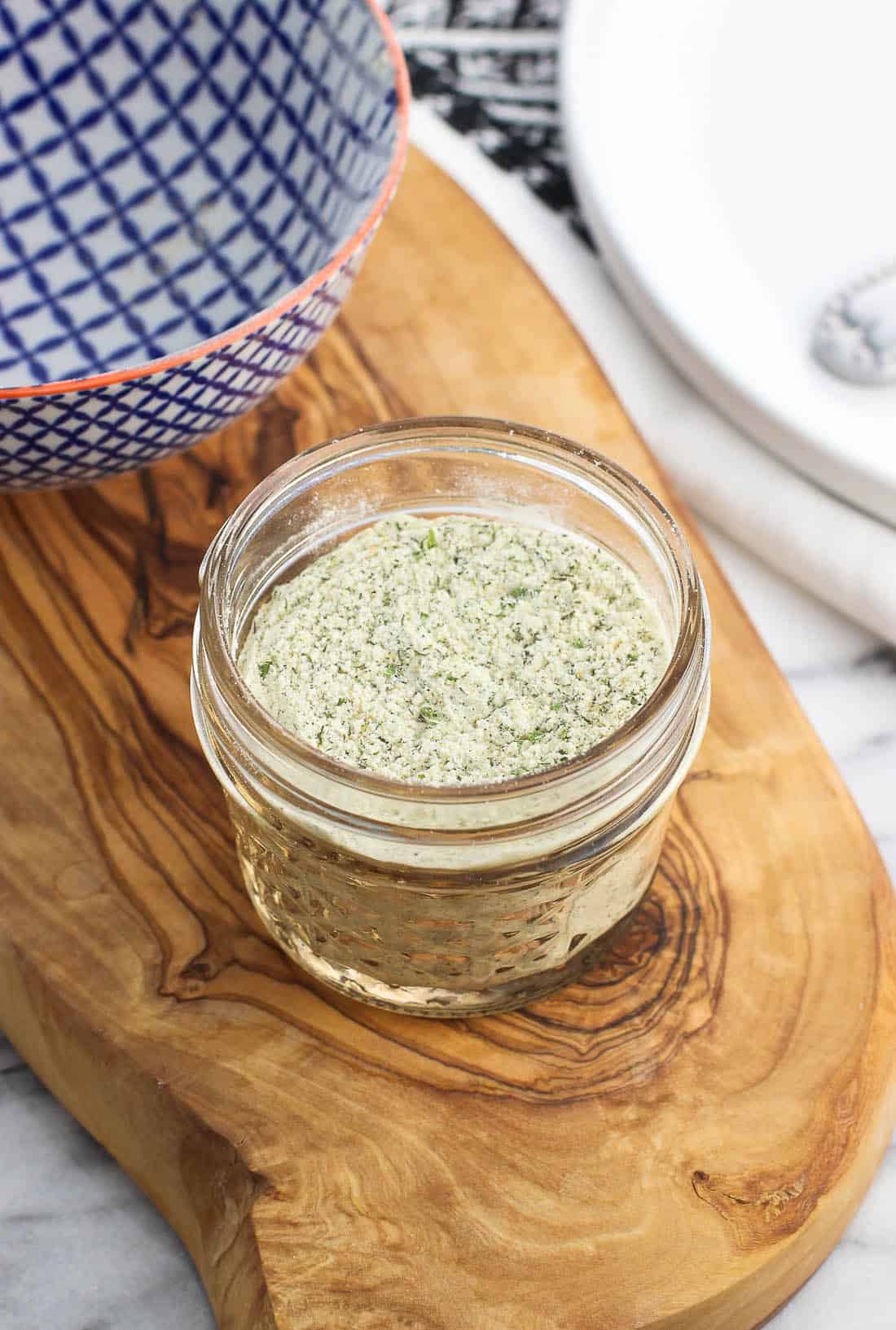 And maybe the biggest reason of all is that this homemade ranch seasoning mix completely eliminates the need to buy those packets of store-bought ranch dressing mix. This way you get to control the salt levels and enjoy all that ranch flavor without MSG. Works for me.
As written below, this homemade ranch seasoning recipe makes about two ounces of seasoning blend. That's the equivalent of two store-bought packets.
In my opinion, the thing that makes this spice blend truly ranch is the addition of dry buttermilk powder. It brings a tanginess that would be missing if you just stuck with the herbs and spices.
I'm usually a bit hesitant to buy ingredients that I don't think I'll use frequently. Hearing the clatter of all those bottles and jars jammed into my fridge door shelves bumping into each other drives me crazy. So a new-to-me ingredient has to jump over a pretty high hurdle to join the clutter party.
Besides bringing a little je ne sais quoi to homemade ranch seasoning, dry buttermilk powder will make an appearance in several different upcoming recipes I have planned. All different than a spice blend, but great ways to multipurpose this ingredient so it's not all 'homemade ranch seasoning or bust'.
Recipe notes:
I used to think that buttermilk powder would be something I'd have to order online, but found it in my regular grocery store near the other powdered milks, dry chocolate milk mixes, etc.
This homemade ranch seasoning is great on chicken, homemade french fries, eggs,

tortilla strips

– you name it!
To make ranch salad dressing, mix about 1 1/2 tablespoons of the dry mix into 1/2 cup each milk and mayonnaise (or sour cream, or Greek yogurt). Adjust seasoning to taste.
To make ranch dip, add 1 1/2 tbsp of the dry mix into 8 oz of sour cream or Greek yogurt. Again, adjust the seasoning to taste. I like to add a little bit of buffalo sauce for some zing!
How to Make Homemade Ranch Seasoning
Ingredients
1/4 cup dry buttermilk powder
2 tsp garlic powder
2 tsp onion powder
2 tsp dried parsley
1 tsp dried dill
1 tsp dried chives
3/4 tsp kosher salt
1/2 tsp ground black pepper
Instructions
Add all ingredients to the bowl of a food processor. Pulse until powdery and well combined. Store in the refrigerator.
Notes
While it may seem unusual to store a dry spice mix in the fridge, my container of buttermilk powder says to store it in the fridge after opening. To be safe, I do the same with this mixed up homemade ranch seasoning.
Mix of spices adapted from
The Kitchn
.