Sheet pan bratwurst and sweet potatoes is an easy dinner recipe where the meat, toppings, and side dish cook all on one pan. The bratwurst brown and 'crisp' up while the sliced onion softens beautifully. Stone ground mustard and warm spices flavor the roasted sweet potatoes for a complementary and delicious side dish.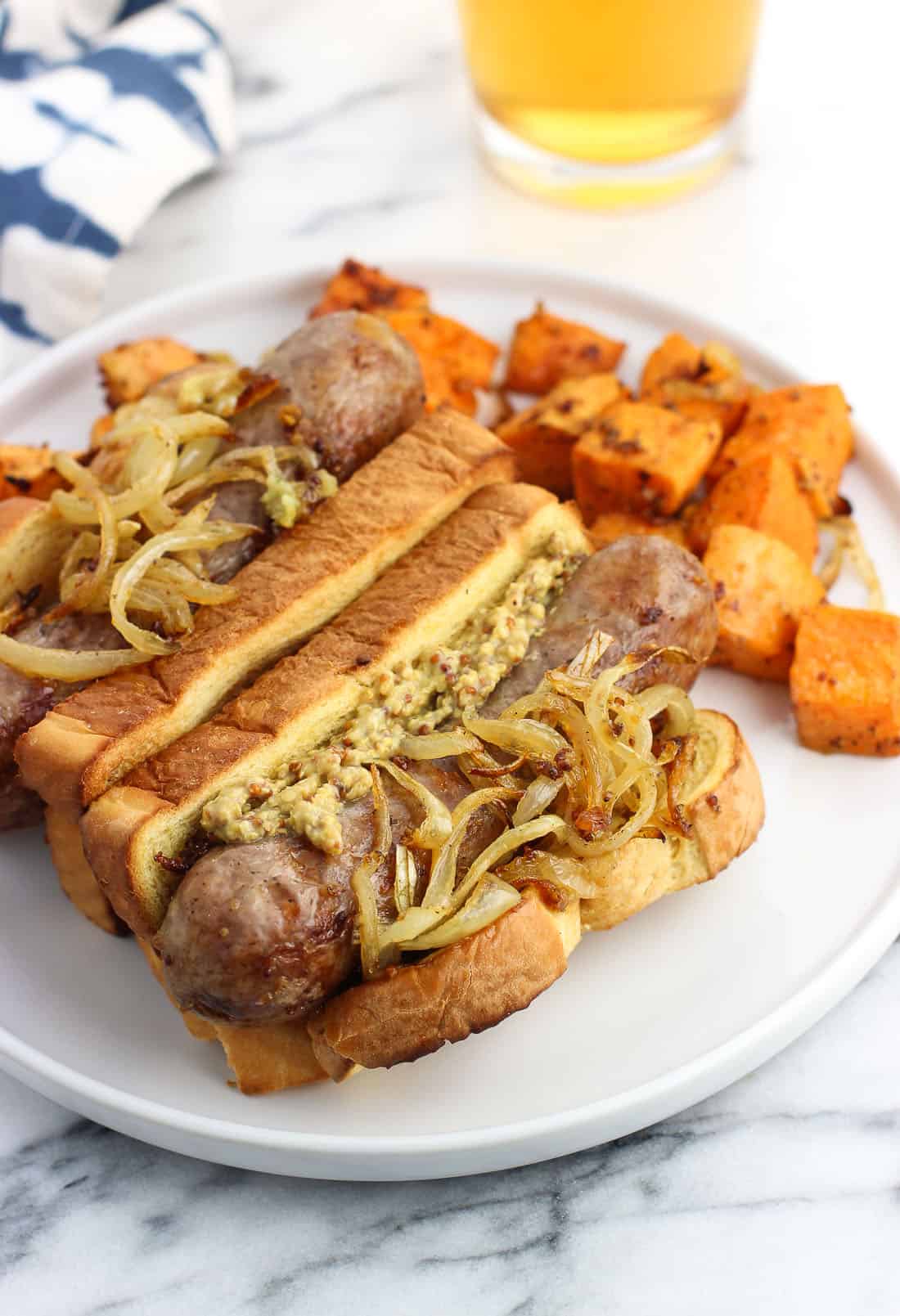 I'm not one to glorify being 'busy'. Truthfully I'd much rather remove a few things from my plate than be a stressed out mess trying to accomplish everything on a plate as full as it is during Thanksgiving dinner. And for the most part I do a pretty good job of that.
It's inevitable though that there are seasons busier than normal, and I think I'm in one of those now. We have some upcoming travel happening, which is always something this homebody needs to plan for. Then there are the million and five wedding-related details that each seem to require an hour at minimum of research, emails, phone calls, and deliberation.
As someone who gets anxiety when expecting a return phone call, the planning process back-and-forth isn't exactly my favorite.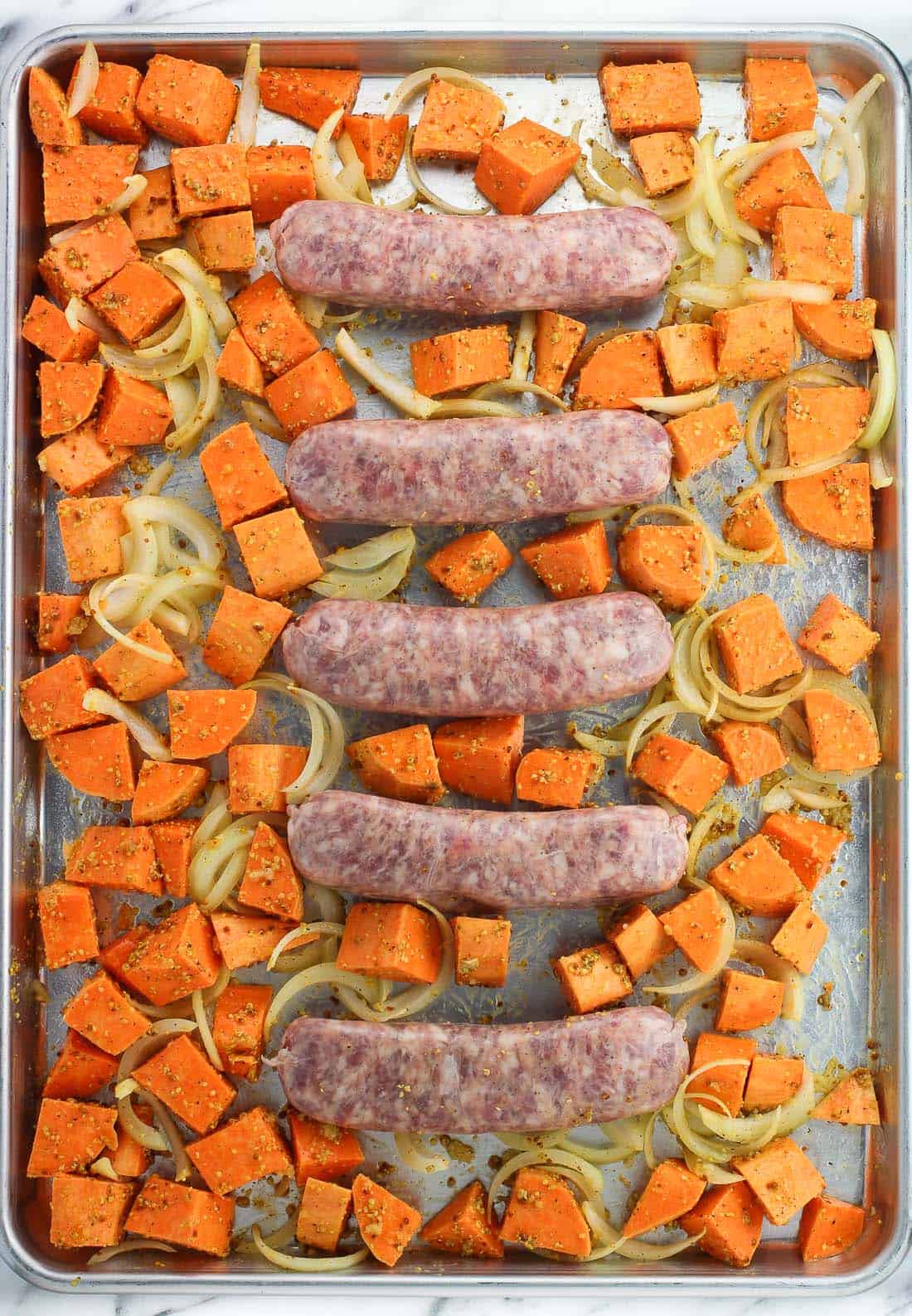 One of the side effects (besides waking up in the middle of the night wondering about the availability of classical guitarists who can play Here Comes the Sun in a particular town and clear coating for shoe jewels so they don't catch on your dress) has been being a lot more scatterbrained in the kitchen. A lot more!
Which is why I bought fresh bratwurst with a plan to grill them that night without considering the weather report. Which of course called for heavy rain to start just before dinnertime and continue for days.
So! Plan B it was, which resulted in this sheet pan bratwurst and sweet potatoes. The brats still get that browned, blistered exterior, with the added benefit of hands-free cooking the onions and sweet potatoes at the same time.
I think I'll be cooking bratwurst this way even when it's sunny outside. 🙂

The brats are pretty straight-forward, so let's talk about the sweet potatoes. They're tossed in a simple mixture of olive oil, stone ground mustard, garlic, salt, pepper, and ground cinnamon (!) for a warmly spiced flavor without it being overwhelming.
Mustard is a given for me when it comes to brats, so tying that flavor in with the sweet potatoes makes for a complementary side dish.
The other ingredients are pantry staples, but a word about the cinnamon. I'm actually not a fan of sweet sweet potatoes (no marshmallows or candied pecans on mine, please!), but loooove a little bit of cinnamon on my sweet potatoes when combined with savory herbs and spices. These spiced oven roasted sweet potatoes are still my absolute favorite and feature cinnamon in with the rest of the ingredients.
I kept the flavorings simpler here, but if you're in the market for a new roasted sweet potato recipe to try, definitely see about that one.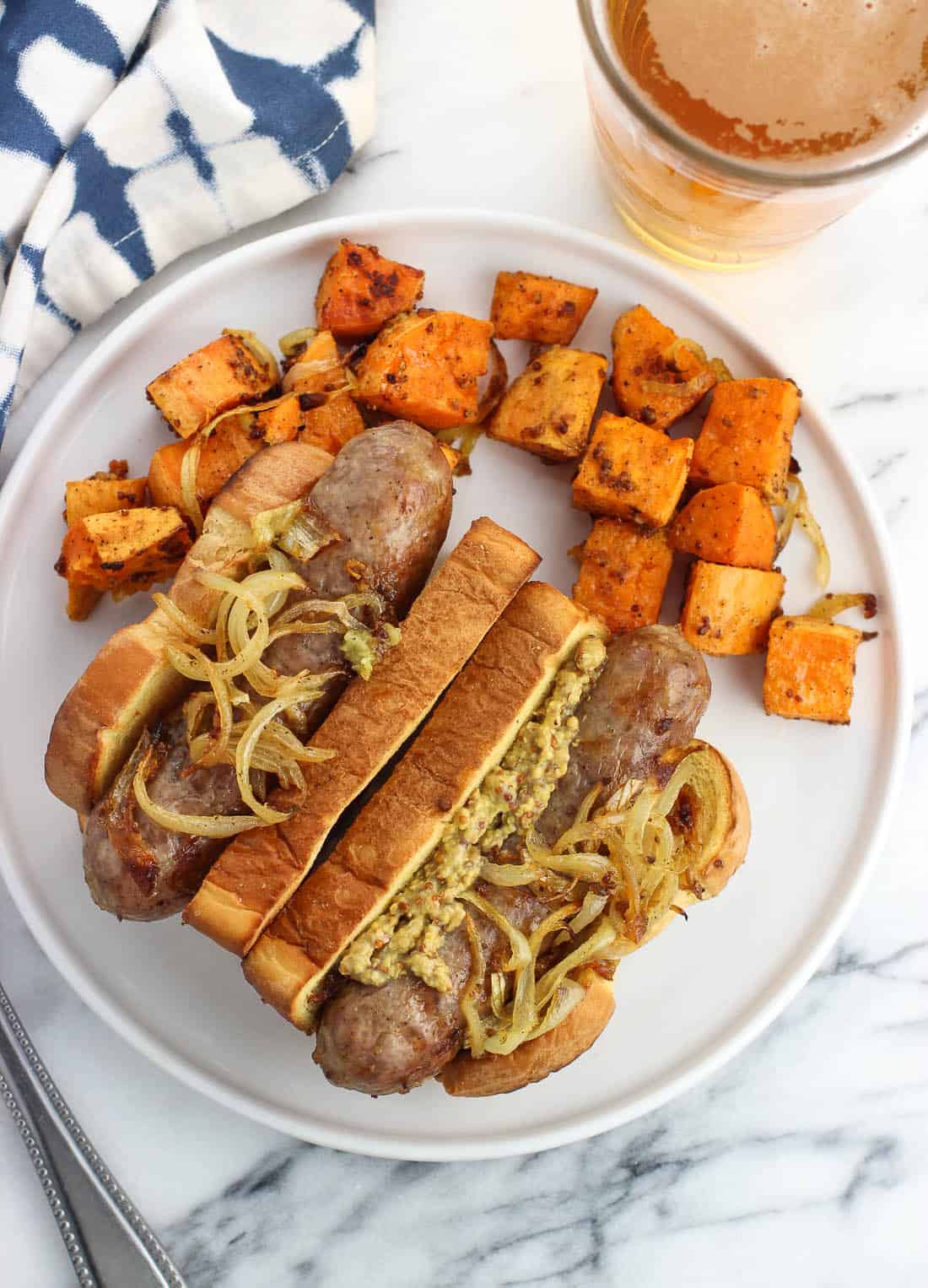 Recipe notes:
You'll want to use your largest sheet pan here so you don't have to crowd the ingredients. I love to use

this size

(affiliate link) for sheet pan dinners because it's large enough to hold everything and being as it's a substantial aluminum, it won't warp in the oven.
I have a hard time keeping track of what varieties of bread and buns we have in the freezer (this isn't anything new). More often than not I'll use a slice of potato bread in place of hot dog buns for all kinds of sausages and brats. One of my tips is to cut down the center of each slice about halfway before toasting to make it easier to fold later without breaking in half.
Sheet Pan Bratwurst and Sweet Potatoes
Ingredients
3 medium sweet potatoes, peeled and cut into 1/2" cubes
2 tbsp olive oil
2 tbsp stone ground mustard
4 cloves garlic, minced
1/2 tsp salt
1/2 tsp ground black pepper
Pinch of ground cinnamon
1 medium onion, cut into thin slices
5 bratwurst (20 oz total)
Instructions
Heat oven to 425°F. Line a large sheet pan with foil.
Peel and slice sweet potatoes into cubes about 1/2" wide. Add sweet potato cubes to a large mixing bowl.
Add olive oil, stone ground mustard, minced garlic, salt, pepper, cinnamon, and sliced onion to the bowl with the sweet potatoes and toss to combine and evenly coat everything with oil.
Pour out everything onto the lined sheet pan and arrange it into a single layer, leaving spaces for the bratwurst. Add bratwurst to the pan and evenly situate the sweet potatoes and onions around them.
Bake for 30 minutes, then remove pan from the oven. Flip over each bratwurst and stir up the potatoes and onions. Bake for another 15 minutes, or until the bratwurst is cooked through and the sweet potatoes are tender. Serve bratwurst in buns with sliced onion over top and sweet potatoes on the side.