Smoked sausage fra diavolo is a pasta dish with a homemade tomato sauce with a kick! This spicy favorite is served with spaghetti, smoked sausage, and fresh herbs for a new twist on a classic pasta.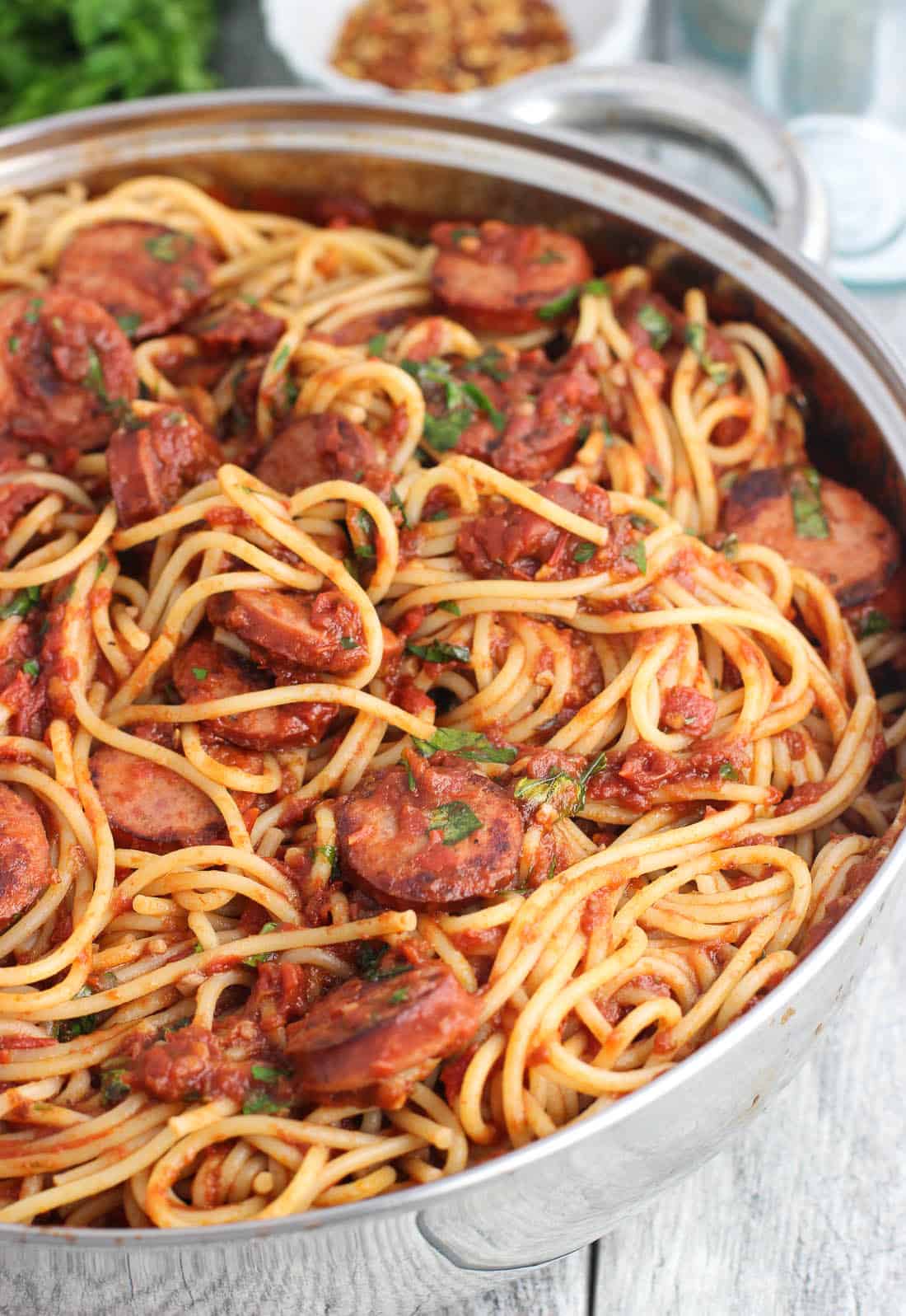 We've talked about fettuccine, ravioli, tortellini, orzo, and zoodles, so it's high time we get around to spaghetti (I mean, spaghetti round two, after this one-pot winner). Do you have favorite pasta shapes? Those ones that just taste extra good? My ultimate pasta wish list consists of rotini, gemelli, and those little squigglies that are kind of rotini-esque. I just Googled ferociously to learn they're called radiatori, because their shape is based on the shape of radiators. Learn something new every day.
What's funny is that there aren't any rotini, gemelli, or radiatori recipes on my site. Am I saving them for a special occasion? I dunno. But anyway, after this post there still aren't, because I went with spaghetti here…but don't think my wheels aren't turning. 😉
Brian and I make a big pot of pasta every few weeks and then spend the days after eating leftovers. They make an easy lunch or quick dinner! But we make a point to switch up the kinds of pasta so we don't get tired of a particular recipe, because it's a guarantee we're eating it multiple days in a row. Good thing we love it all, from tomato-based sauces, to all kinds of pesto, to the now-and-again creamy sauce. This time our pasta night coincided with my desperate wish to use up a heavy 28-oz can of crushed tomatoes in the cabinet before we move, so fra diavolo it was. Shrimp are typically used in fra diavolo dishes, buuuut since a last-minute trip to the grocery store wasn't in the cards, I used some smoked sausage and we loved it.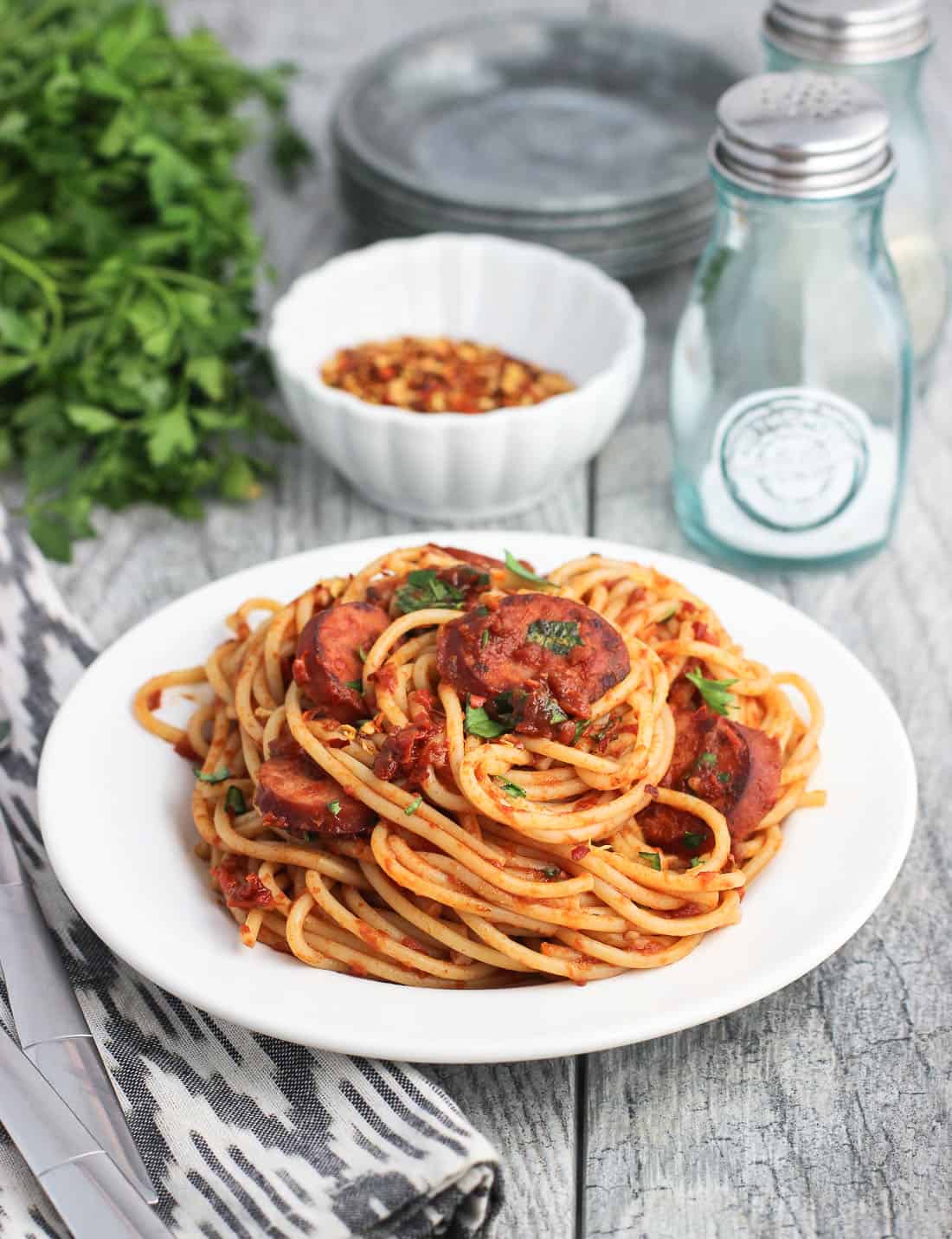 While I love me some one-pot pasta, this sausage fra diavolo uses a large skillet in which you'll brown the sausage and simmer the sauce and a large pot for boiling the pasta. It's worth the extra dish to wash!
To keep things a little bit lighter, I used smoked turkey sausage in this fra diavolo. Use your preferred variety! And a note about the heat. After my hotter than hot "light mild" chicken experience, I'm a little skittish with spice. After all, 'fra diavolo' literally means 'brother devil', so spicy is a given. The spice here comes from crushed red pepper flakes, but in my opinion this smoked sausage fra diavolo isn't overly spicy. Of course spiciness is all relative, but one-and-a-half teaspoons was a nice touch of heat without being overpowering. If you're cooking for a crowd of mixed palates, I suggest adding the least amount of red pepper flakes that your crowd as a whole can handle, with those who like it spicier adding additional red pepper for serving. Worked in my house. 😉
Smoked Sausage Fra Diavolo
Smoked sausage fra diavolo is a pasta dish with a homemade tomato sauce with a kick! This spicy favorite is served with spaghetti, smoked sausage, and fresh herbs for a new twist on a classic pasta.
Ingredients
3

tbsp

plus 2 tsp olive oil,

divided

13

oz

smoked sausage,

cut into slices approx. 1/4" thin

3

tsp

minced garlic

1 1/2

tsp

crushed red pepper flakes

1

28-oz

can crushed tomatoes

1/2

cup

red wine

3/4

tsp

dried oregano

1

tsp

salt

1

lb

spaghetti

(16 oz)

1/4

cup

fresh parsley,

chopped

1/4

cup

fresh basil,

chopped
Instructions
Add 1 tsp of olive oil to a large skillet and heat over medium heat. Add smoked sausage slices in a single layer and cook for 3-4 minutes, or until bottom sides are browned. Flip and cook the other sides until browned. Remove from skillet and set aside, placing onto a paper towel-lined plate. Repeat this process until all of the sausage is cooked. (I browned it all in two batches, so I used 2 tsp of olive oil for this part of the recipe).

Once last batch of sausage is removed from the skillet, increase heat to medium-high heat and add 3 tbsp olive oil to skillet, along with the minced garlic and red pepper flakes. Stir around and let the garlic and pepper cook for a minute or so and become fragrant.

Add crushed tomatoes, wine, oregano, and salt, and stir. Let tomato mixture come to a simmer, stirring every once in a while, until the sauce has thickened a bit. This will take around 15-18 minutes.

While the sauce is simmering, bring a large pot of water to a boil and add spaghetti. Cook according to package directions (for me this was 10 minutes or so). Once finished cooking, drain and add spaghetti to the skillet with the sauce (see note).

Along with the cooked spaghetti, add browned smoked sausage, parsley, and basil and stir so that the sauce coats the spaghetti and sausage evenly.
Notes
If your skillet may be too small to comfortably add the pasta/sausage/herbs and toss to combine, feel free to add the drained pasta back into the pasta pot and add the sauce/sausage/herbs in there.
Nutritional info is an estimate assuming the usage of turkey smoked sausage, but nonetheless will differ depending on what kind/what brand of sausage you use.
Nutrition
Calories:
395
kcal
|
Carbohydrates:
53.1
g
|
Protein:
16.7
g
|
Fat:
11.8
g
|
Saturated Fat:
2.3
g
|
Cholesterol:
30
mg
|
Sodium:
916
mg
|
Potassium:
242
mg
|
Fiber:
5.1
g
|
Sugar:
8.5
g
|
Calcium:
60
mg
|
Iron:
4
mg
Nutritional information is provided as an estimate. As it can vary due to many factors (brands used, quantities, etc.), we cannot guarantee its accuracy.
Adapted from the Food Network