Smoked sausage pasta fra diavolo features an easy homemade tomato sauce with a kick! This spicy favorite is served over spaghetti with smoked sausage and fresh herbs for a new twist on a classic Italian dish.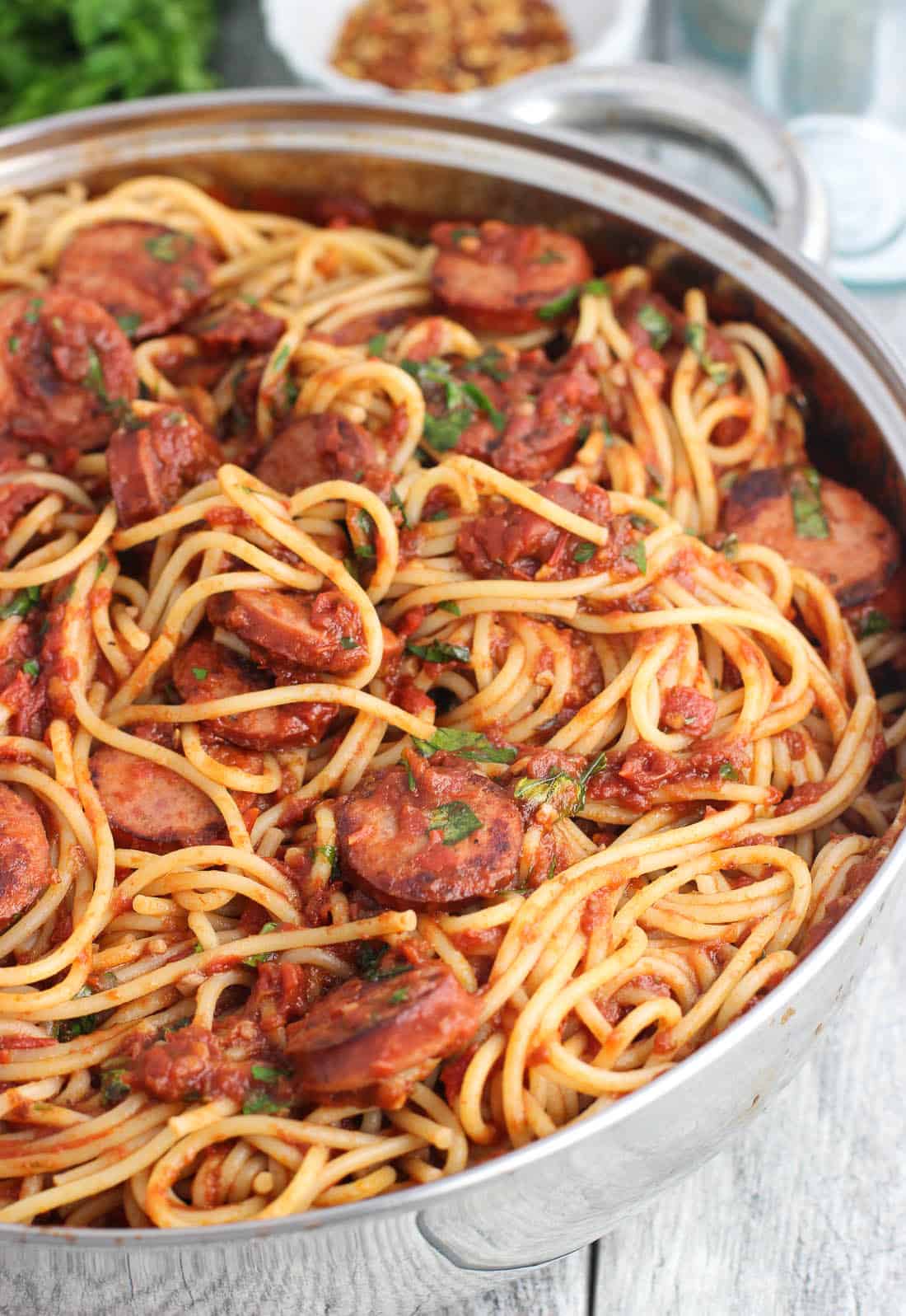 My husband and I make a BIG pot of Sunday sauce with meatballs and sausage every few weeks and then spend the days after eating leftovers, even after portioning away some in the freezer. It's definitely a labor of love (hence the name), but it's amazing how simple ingredients can be transformed into something so good.
Since hearty red sauce pasta cravings don't just spring up on the weekend, this smoked sausage pasta is a weeknight-friendly way to enjoy all those delicious Italian flavors, all in an hour or less. The homemade fra diavolo sauce is so easy and has just the right amount of zip. It's not too spicy and brings a very manageable heat.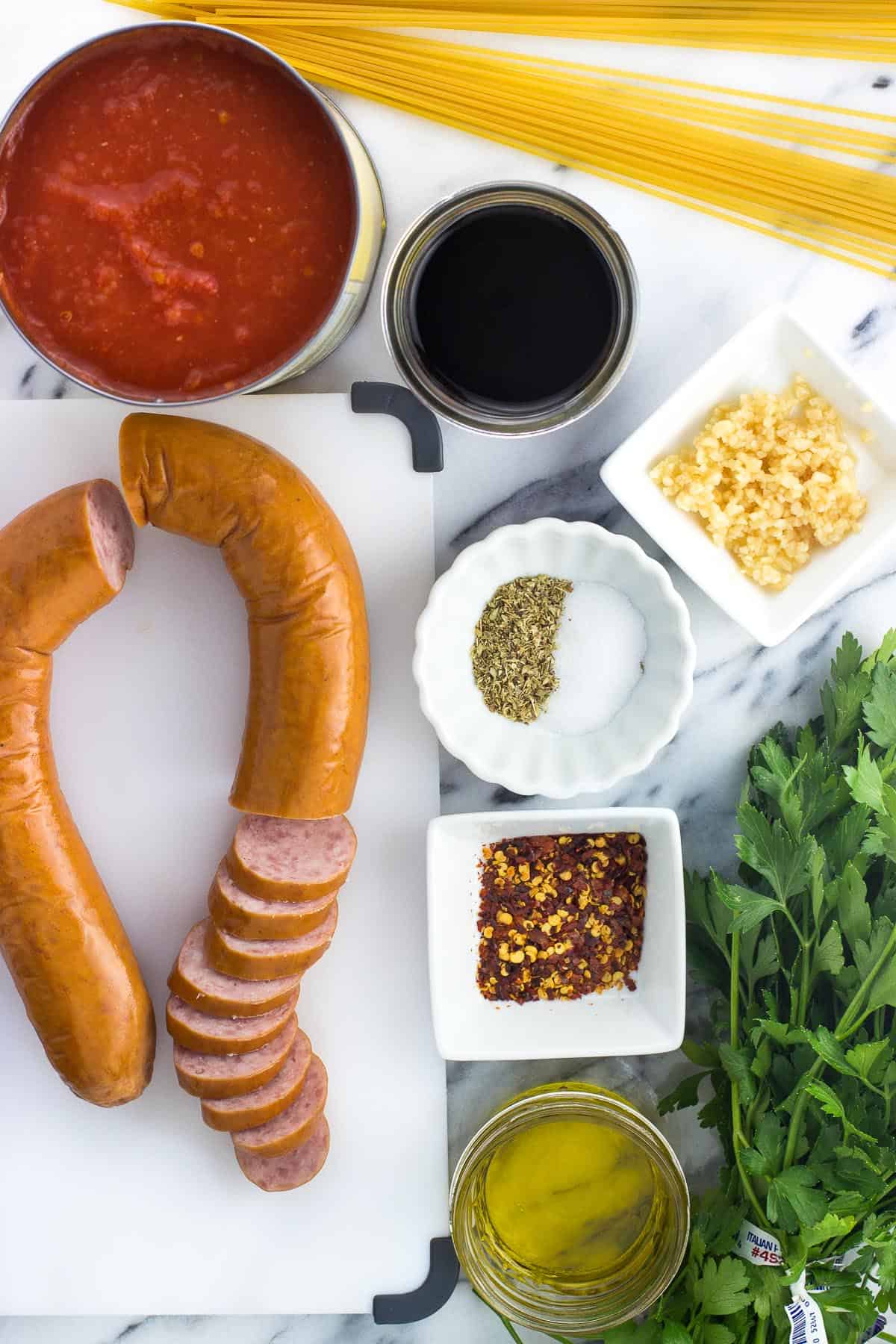 Recipe ingredients
Fra diavolo means 'brother devil' in Italian, so you can count on this easy smoked sausage pasta to be spicy. And while it's traditionally served with shrimp (like in my shrimp fra diavolo and grits), I've certainly taken many liberties in using smoked sausage.
For this pasta, you'll need:
smoked sausage
olive oil
garlic cloves
crushed red pepper
crushed tomatoes
red wine
dried oregano
salt
fresh parsley and basil
spaghetti
The variety of smoked sausage I use for this recipe comes in an either thirteen- or fourteen-ounce link. It comes fully cooked, so all you need to prep is to slice it and brown it. Easy as that. To keep things a little bit lighter, I like to use smoked turkey sausage in this pasta fra diavolo, but of course regular pork sausage is great, too.
Spice level
The spiciness here comes all from the crushed red pepper - one-and-a-half teaspoons. This smoked sausage pasta is spicy, yes, but it's not offputtingly hot or the kind of spice that builds to an uncomfortable level. And I'm saying that as someone who likes spicy food a medium-low amount.
If you're cooking for a crowd of mixed palates, I suggest adding the least amount of red pepper flakes that your crowd as a whole can handle, with those who like it spicier adding additional red pepper for serving.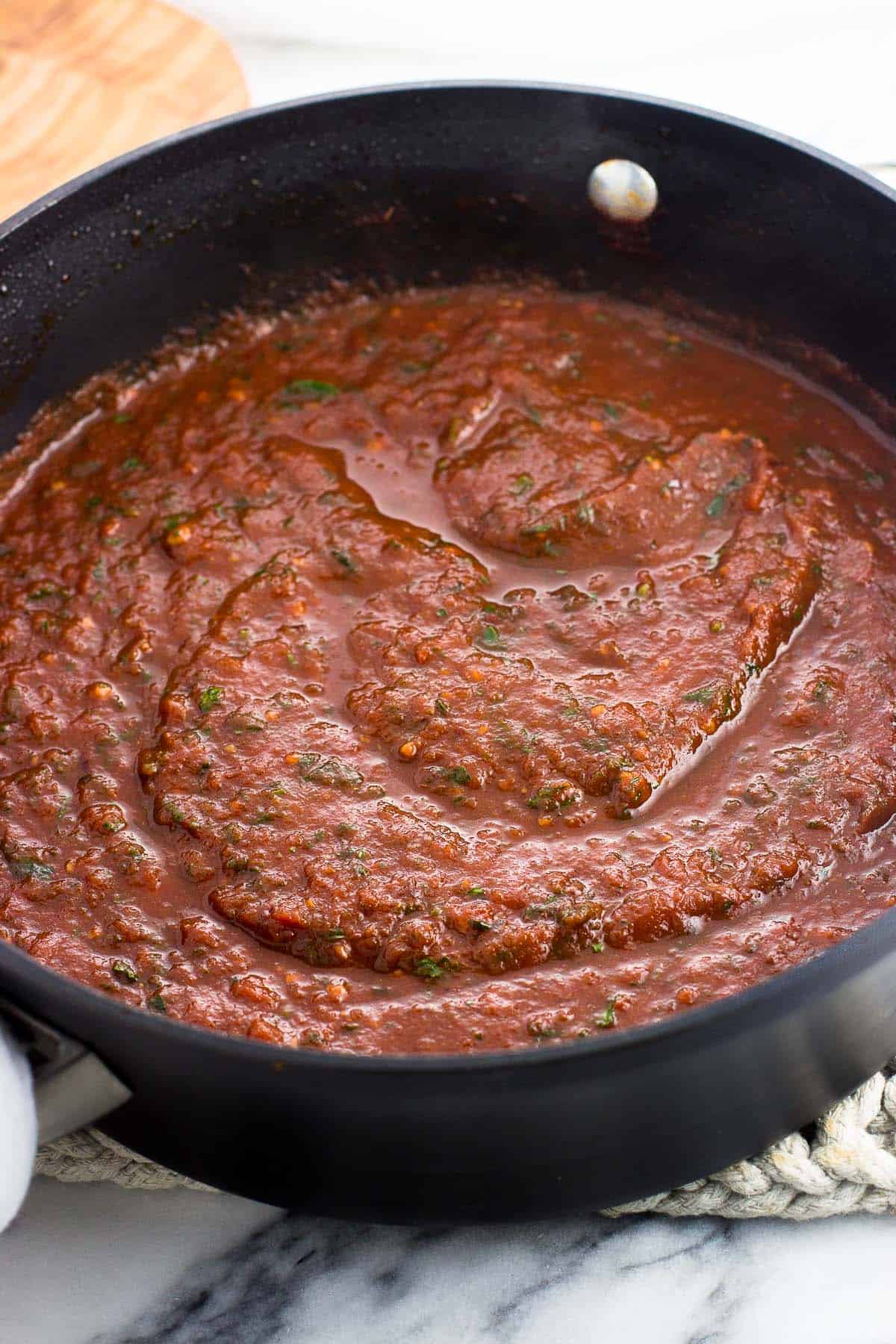 What wine to use in sauce
Usually white wine is used in fra diavolo recipes, but I like to use red for this recipe. I always link white wine with seafood so I'll use white when making shrimp fra diavolo, but the smoked sausage pairs nicely here with red. The crushed tomato/red wine combination helps make dishes like bolognese sauce and Italian sausage and peppers.
You'll want to use a red wine variety that's on the drier side for this recipe. Something like a Cabernet Sauvignon, Merlot, or Pinot Noir. If you're not a red wine fan or don't have any on hand when making this recipe, you can always use white wine instead. For sauces with white wine, I prefer a Sauvignon Blanc.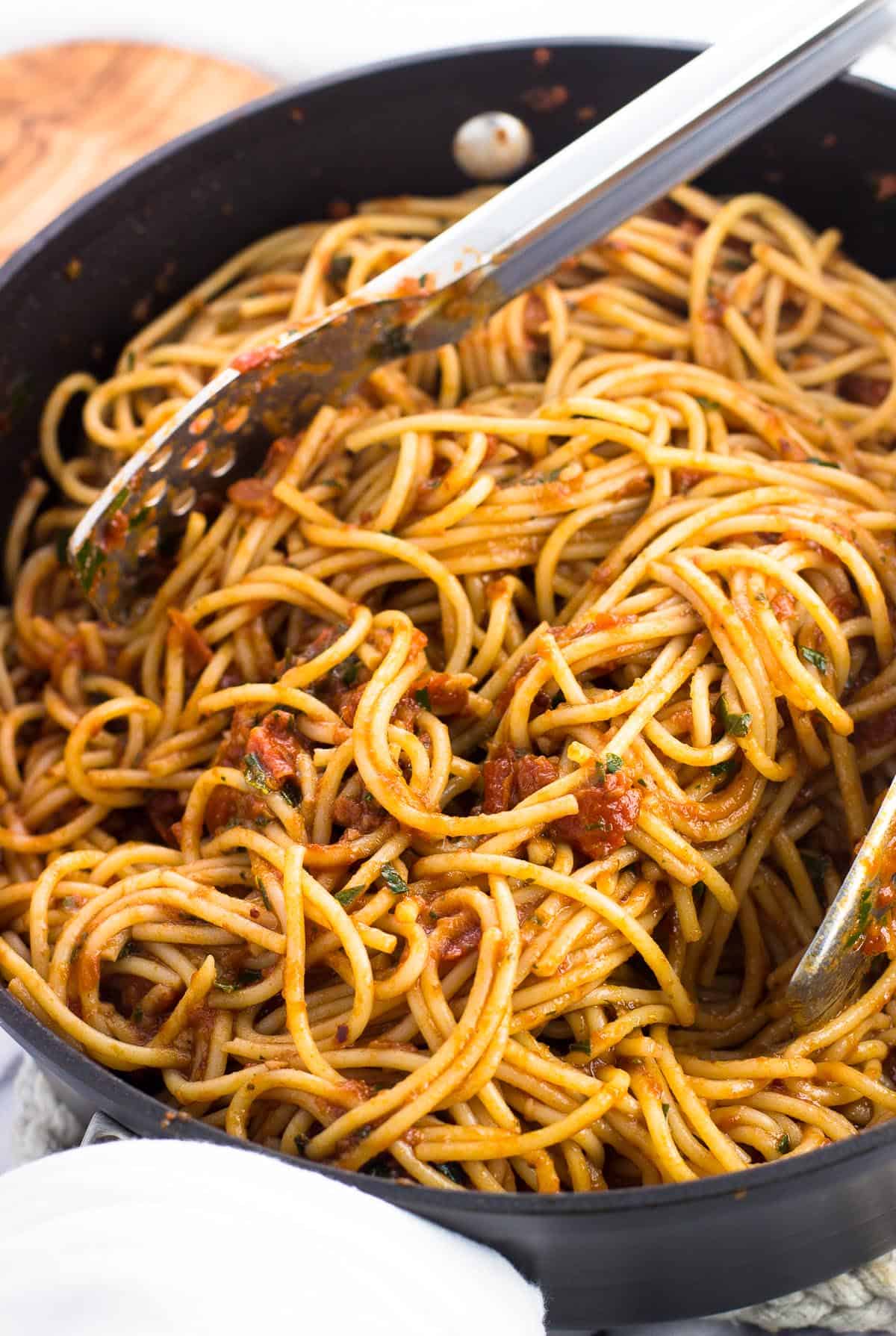 Easy recipe steps
The first step of this smoked sausage pasta is to brown the meat. Use a large pan with moderately tall sides as this will be the pan we cook the sauce in. Since the sausage is fully cooked, the slices just need a few minutes per side. Once browned, place them on a paper towel-lined plate to absorb the excess grease.
Once that's done, add the rest of the olive oil to the pan, then add the minced garlic and the crushed red pepper. Since the pan will be hot, the garlic and red pepper just need 20-30 seconds to cook! Have the rest of your ingredients ready to go at this point so you can quickly move to the next step. You don't want the garlic to burn while you're scrambling to measure things out (been there, done that).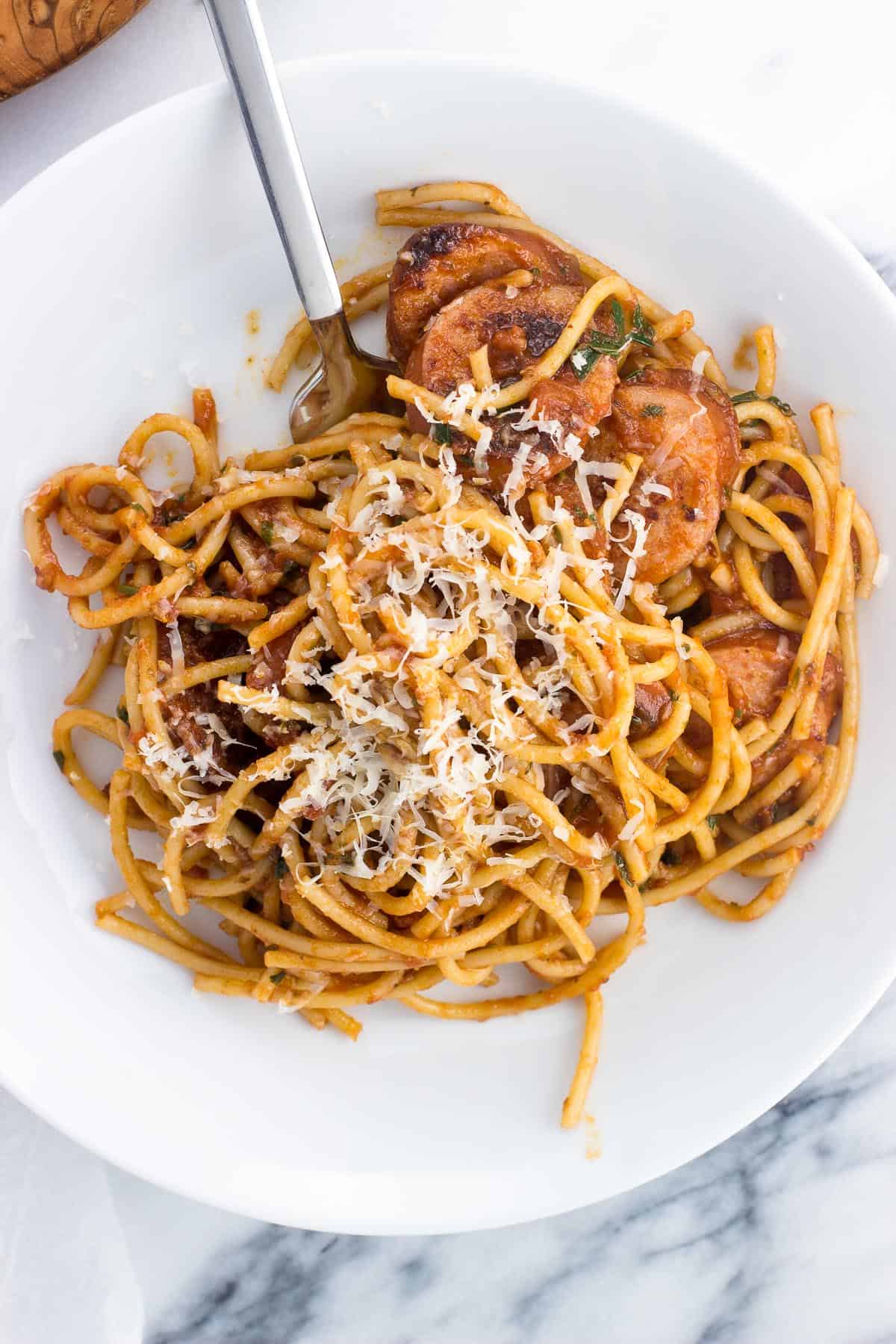 Next pour in the crushed tomatoes, wine, salt, and oregano. Keep a lid or splatter screen handy because you need it as the sauce simmers and thickens up over the next 15-20 minutes or so.
Once the sauce starts simmering is when I like to set up a big pot of water for the pasta. That way you can just about time the pasta being done when the sauce is ready to serve.
Once the sauce has thickened, add the fresh herbs and stir in the browned sausage slices and the spaghetti. Toss to coat everything evenly in the sauce. Like pretty much every pasta recipe I make, I like to serve this smoked sausage pasta fra diavolo with freshly grated Parmesan or Pecorino Romano cheese. Freshly grated is such a treat!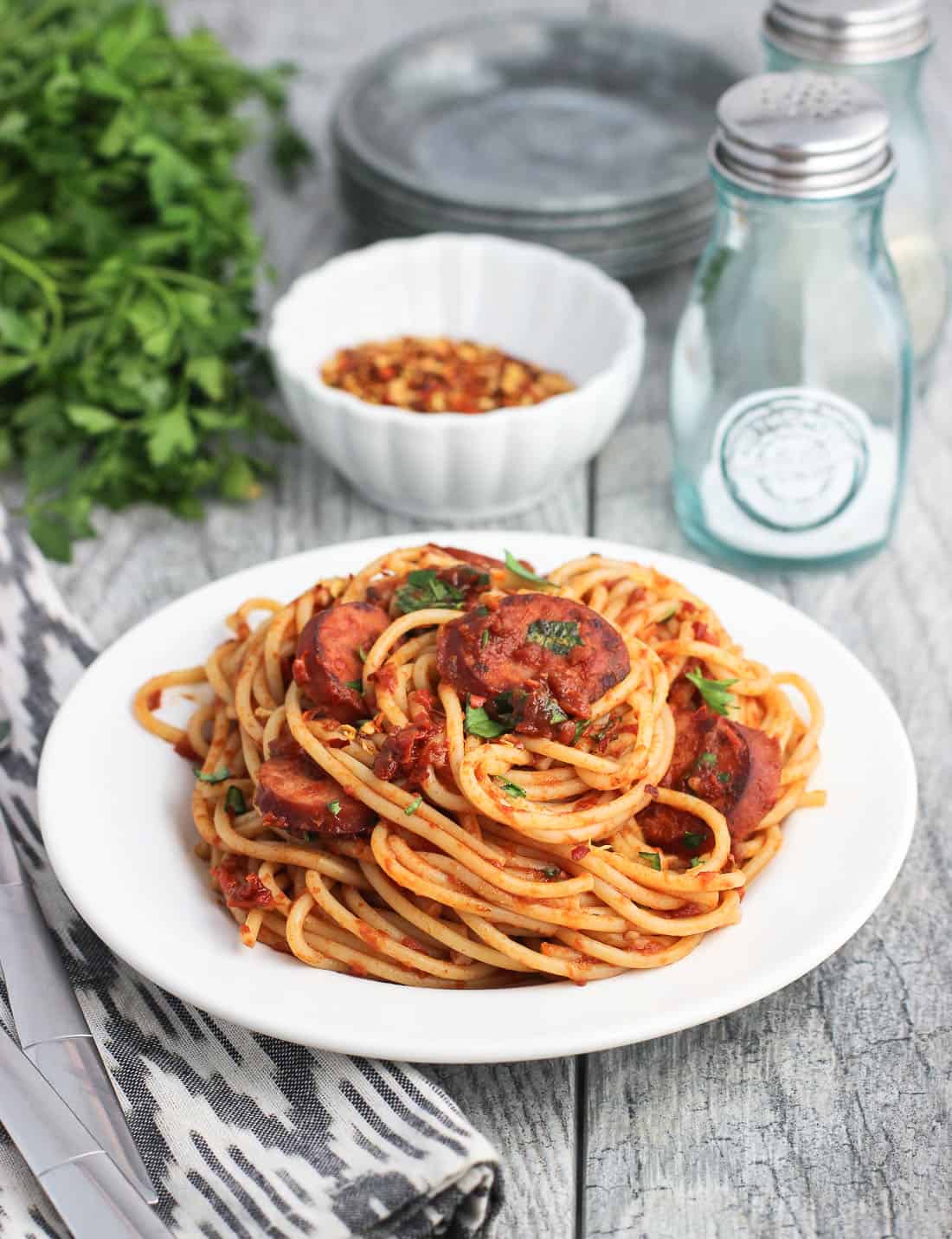 Recipe notes
Keep a lid or splatter screen nearby once you add the crushed tomatoes and wine, as the pan will be well-heated and little drops will start splattering quickly. Just make sure the lid is cracked to vent the steam as we want the sauce to thicken and reduce.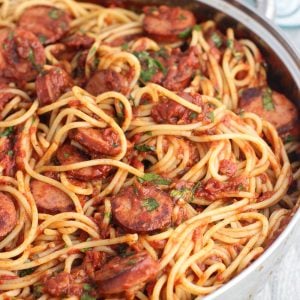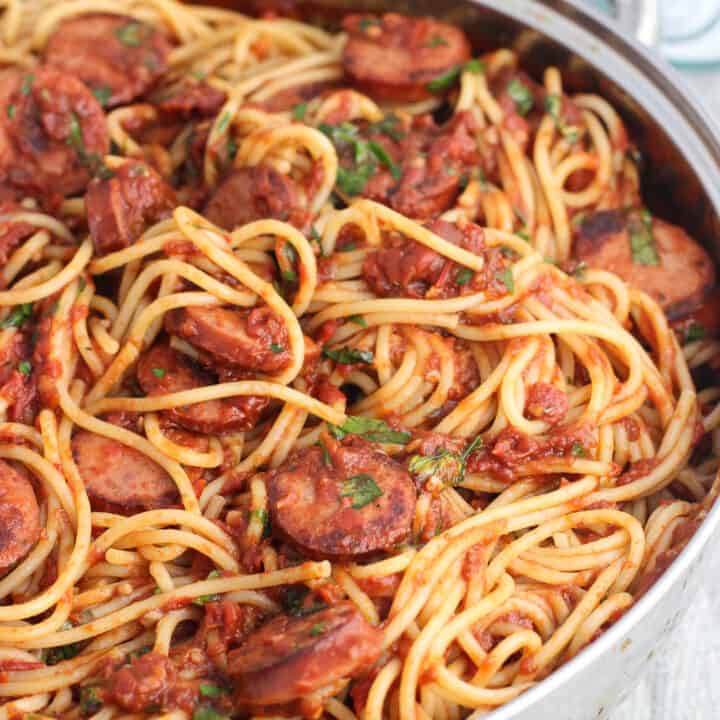 Smoked Sausage Pasta Fra Diavolo
Smoked sausage pasta fra diavolo features an easy homemade tomato sauce with a kick! This spicy favorite is served over spaghetti with smoked sausage and fresh herbs for a new twist on a classic Italian dish.
Print
Pin
Rate
Ingredients
3

tbsp plus 1 tsp

olive oil

divided

13-14

oz package

smoked sausage

cut into slices approx. ¼" thin

6

cloves

garlic

minced or pressed (about 1 tbsp)

1 ½

teaspoon

crushed red pepper flakes

1

28-oz can

crushed tomatoes

½

cup

red wine

on the drier side

¾

teaspoon

dried oregano

½

teaspoon

salt

1

lb

spaghetti

(16 oz)

¼

cup

fresh parsley

diced

¼

cup

fresh basil

diced
Instructions
Add 1 teaspoon of olive oil to a large pan and heat over medium heat. Add smoked sausage slices in a single layer and cook for 3-4 minutes, or until bottom sides are browned. Flip and cook the other sides until browned. Remove the browned sausage slices to a paper towel-lined plate. Repeat this process until all of the sausage is cooked.

Once the last batch of sausage is removed from the pan, add remaining 3 tablespoon of olive oil, garlic, and crushed red pepper to the pan. Let the garlic cook on medium heat for 20-30 seconds, then add crushed tomatoes, wine, oregano, and salt, and stir. Cover the pan with a lid to prevent splatter, keeping it open a crack to let steam out.

Bring the sauce to a simmer, stirring every once in a while, until the sauce has thickened to your liking. This will take around 15-18 minutes.

While the sauce is simmering, bring a large pot of salted water to a boil and add spaghetti. Cook according to package directions (for me this took 11 minutes). Once done, drain the water and add the cooked spaghetti to the pan with the sauce.

Add parsley and basil and stir to combine. Add the browned smoked sausage slices and stir to combine everything evenly. Serve with grated Parmesan or Pecorino Romano.
Notes
Pan size: If your pan may be too small to comfortably add the pasta/sausage/herbs and toss to combine, add the drained spaghetti back into the pasta pot and stir together everything in there.
Wine: Use a wine that's on the drier side, such as Cabernet Sauvignon, Merlot, or a Pinot Noir.
Nutritional info is an estimate assuming the usage of turkey smoked sausage, but nonetheless will differ depending on what kind/what brand of sausage you use.
Nutrition
Calories:
395
kcal
|
Carbohydrates:
53.1
g
|
Protein:
16.7
g
|
Fat:
11.8
g
|
Saturated Fat:
2.3
g
|
Cholesterol:
30
mg
|
Sodium:
916
mg
|
Potassium:
242
mg
|
Fiber:
5.1
g
|
Sugar:
8.5
g
|
Calcium:
60
mg
|
Iron:
4
mg
Nutritional information is provided as an estimate. As it can vary due to many factors (brands used, quantities, etc.), we cannot guarantee its accuracy.
Food Safety and Nutrition Disclaimer
Adapted from the Food Network