Learn how to make baked tortilla strips with this simple method. They crisp up so well without being fried, and can be seasoned just how you like them for topping salads, soups, chilis, and more.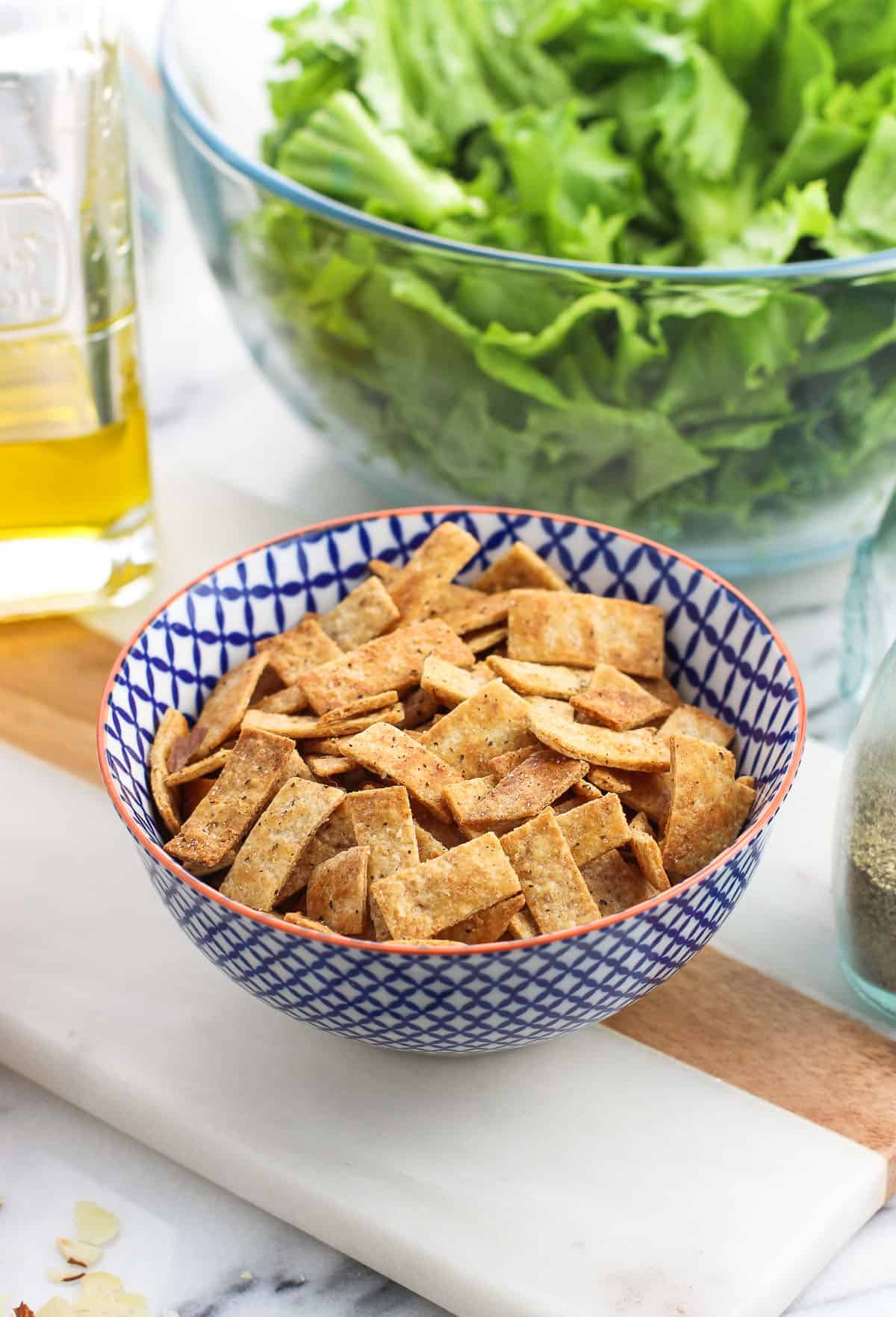 When it comes to making salad in my house, the only consistency is that there will be lettuce somewhere in the mix. The rest of it is at the mercy of what's in the produce drawer, refrigerator, or on my pantry shelves.
I'll usually include nuts or seeds (mostly walnuts and/or sunflower seeds), whatever vegetables are hanging around, dried fruit, and croutons in some form: classic baked croutons, air fryer croutons, or even cornbread croutons.
Lately though, that last category has had some competition in the form of these baked tortilla strips. Impossibly easy, this simple "recipe" reliably produces CRISP, oven-baked tortilla strips ready to act as a crunchy topper to a variety of dishes.
Reasons to Love This Recipe
It's a good option to breathe new life into tortillas that have gone slightly stale, reducing food waste.
Even with such few ingredients you have a lot of wiggle room: type of tortillas, seasonings used, etc.
Tortilla strips have more uses than you may think! Beyond salads, they're delicious when served on top of soups (chicken tortilla soup is a favorite), chilis, stews, and more.
Recipe Ingredients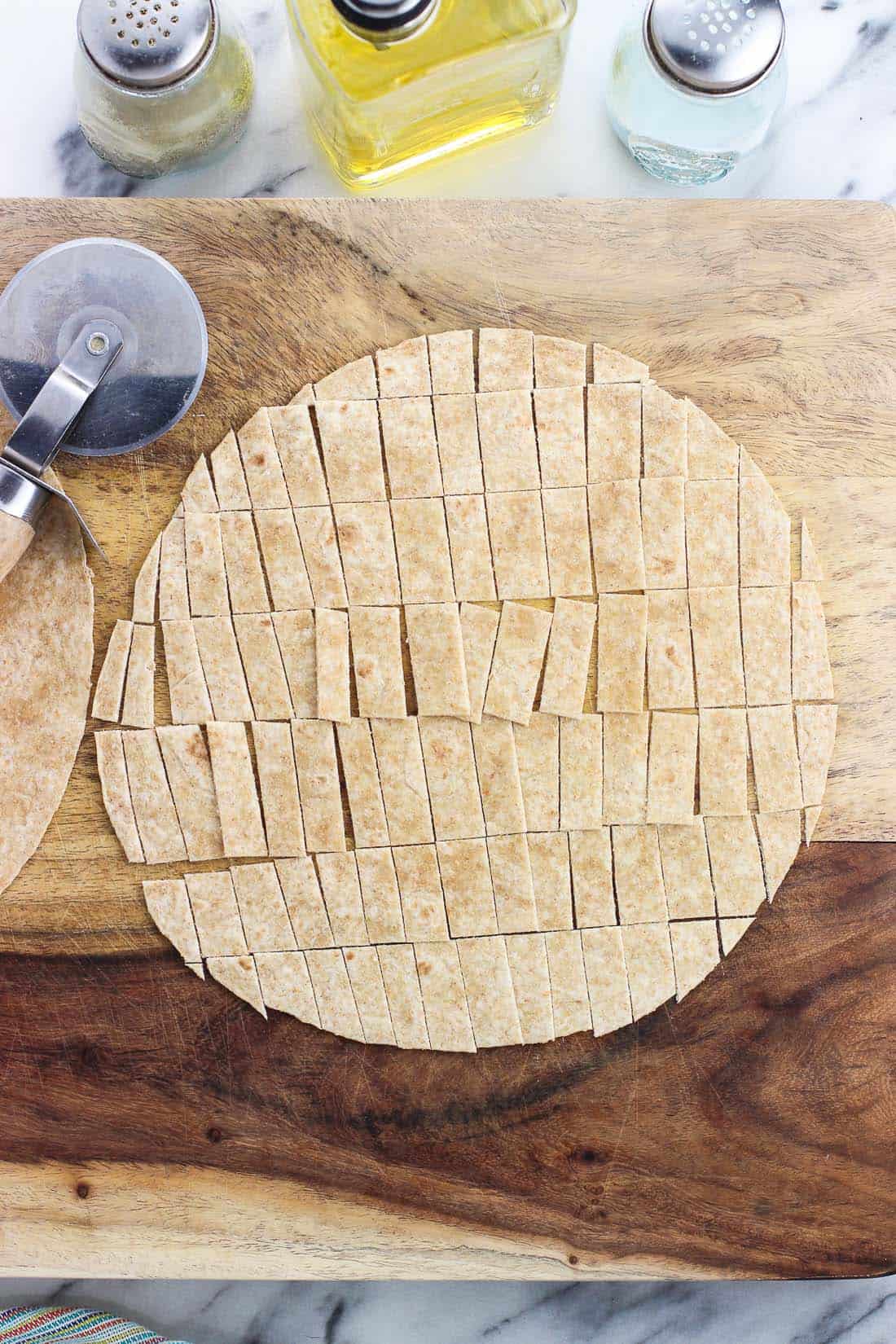 Tortillas: Either flour or corn tortillas work, so pick whichever you have or like. The kind I often have on hand is made with whole wheat flour. Corn tortillas are usually naturally gluten-free, but they also make gluten-free flour tortillas if you prefer that taste better.
Oil: Olive oil is my go-to, but another fairly neutral-flavored cooking oil works, such as canola, vegetable, or avocado oil.
Seasonings: You can keep it simple with salt and pepper, or you can add other spices to the mix as you like. Some of the spices I like to use are garlic powder, smoked paprika, ground ancho chile pepper, or ground chipotle pepper.
Step-by-Step Instructions
Making tortilla strips is really not hard! While some versions are fried, these tortilla strips are baked and still perfectly crispy. What I love about a very basic recipe like this is that it's essentially a guideline for you to follow when you do your own thing.
Slice each tortilla into even strips with a pizza or pastry wheel. Place strips in a bowl and toss with oil and spices until all the strips are evenly coated.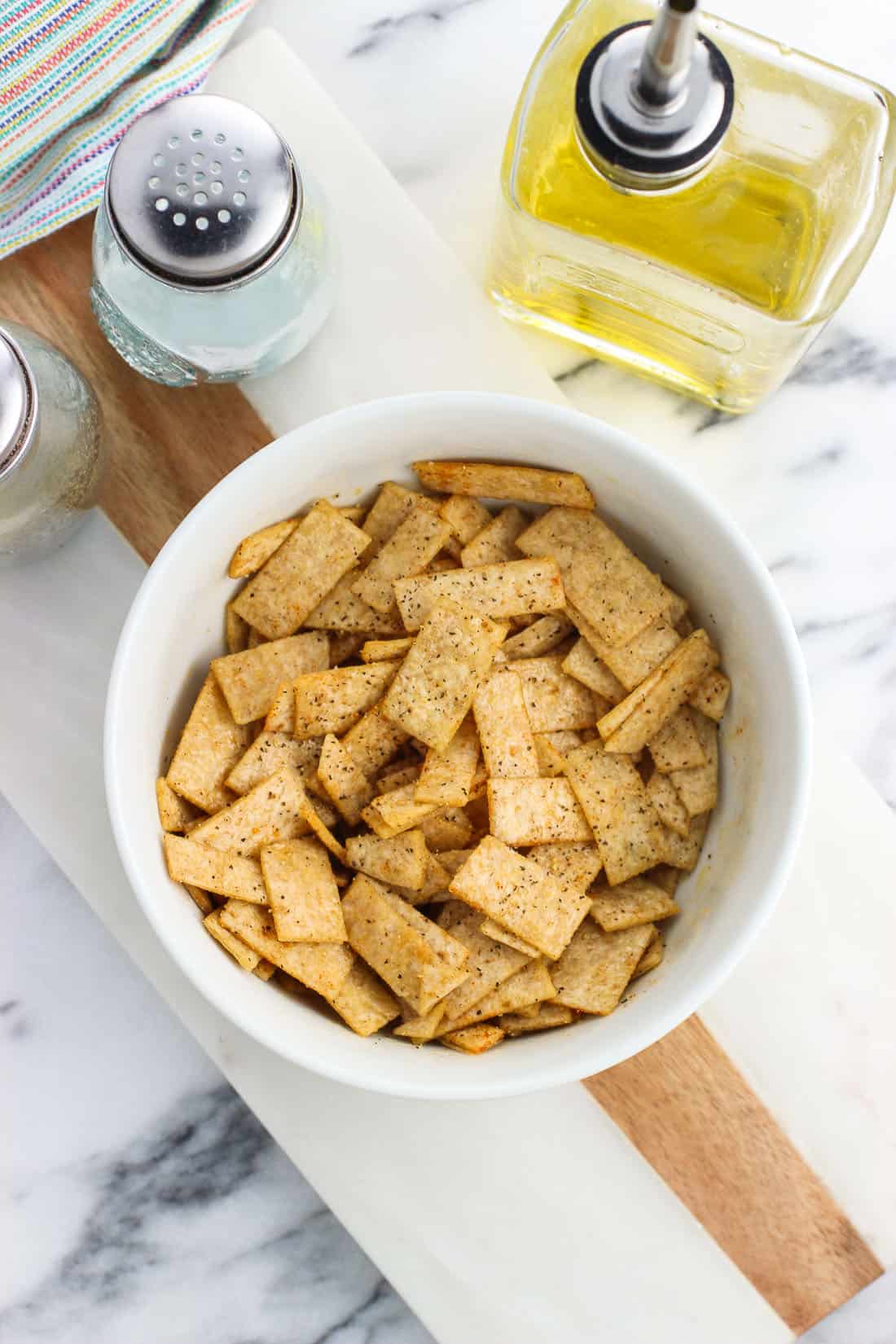 Baked in a single layer on a greased rimmed baking sheet at 425°F for 4 minutes, then turn the strips over and bake for an additional 2 minutes, or until the baked tortilla strips are golden-brown and crisp. Transfer to a plate or bowl to cool completely.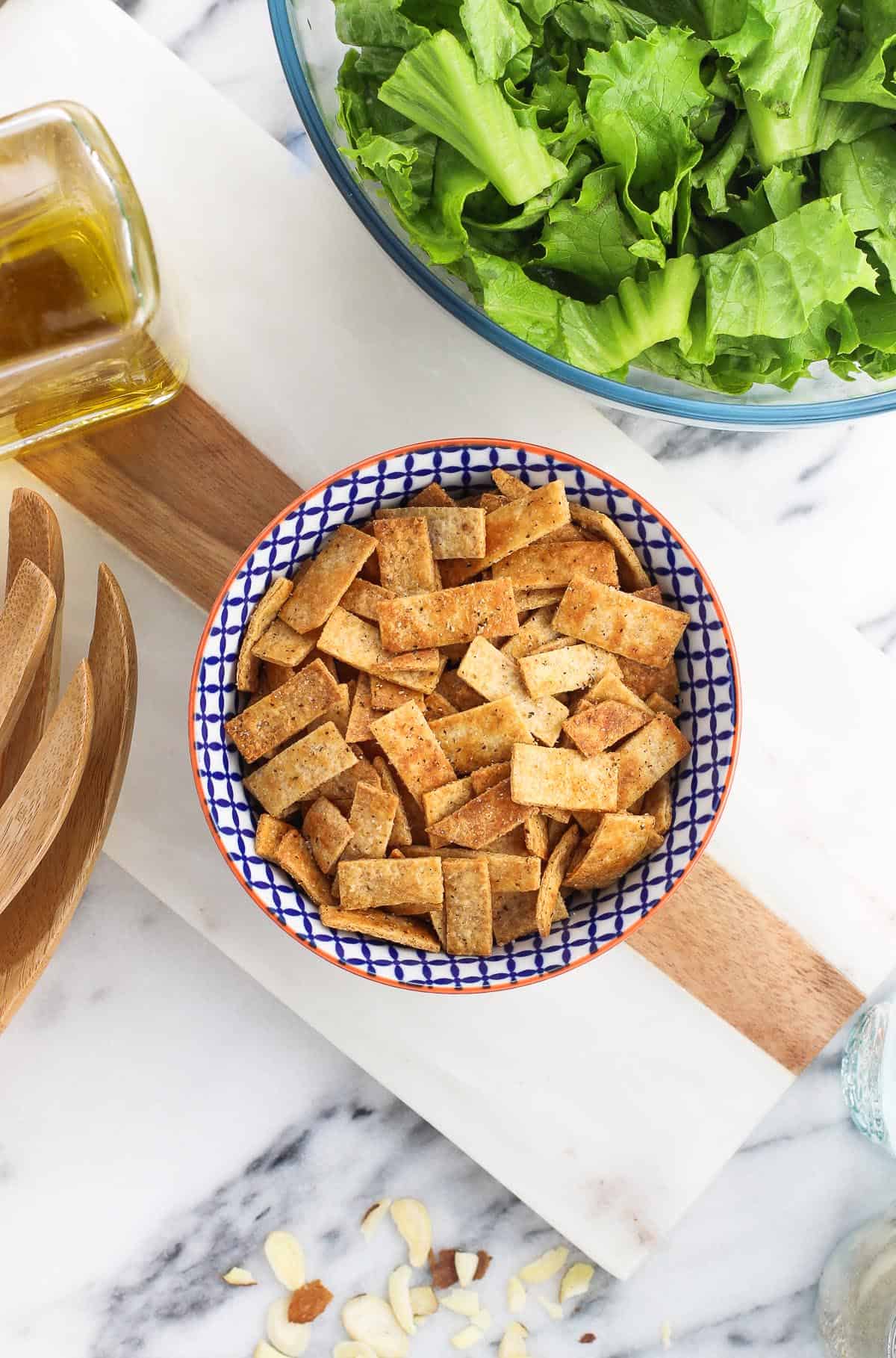 Recipe Tips
While these tortilla strips don't have to be exactly the same length, try to slice them with roughly the same widths so they crisp up equally in the same bake time.
Don't walk away from the oven while the tortilla strips are baking as they can go from perfectly crisp to burnt quickly.
Keep in mind that tortilla strips are likely to accompany salads and soups with their own flavors, so most of the time I find tortilla strips don't need a ton of seasoning on their own.
Remove the baked tortilla strips from the pan immediately once they're done cooking as they will continue browning (and potentially burn) if they're left on the hot pan.
Related Recipes
If you've enjoyed this recipe, I'd love for you to leave a star rating in the recipe card and/or a comment review below!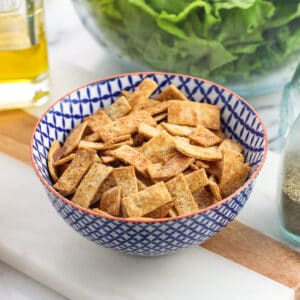 Baked Tortilla Strips
Learn how to make baked tortilla strips with this simple method. They crisp up SO well without being fried, and can be seasoned just how you like them for topping salads, soups, chilis, and more.
Ingredients
2

8-inch

tortillas

1

Tablespoon

olive oil

Salt and pepper

to taste

Your favorite seasonings

to taste
Instructions
Heat oven to 425°F (218°C). Spray a rimmed baking sheet with cooking spray and set aside.

Slice the tortillas into small strips of even width with a pizza or pastry wheel (or a knife). Add the strips to a bowl.

Pour the olive oil over the strips in the bowl along with salt, pepper, and whichever other seasonings you like. Stir and toss the tortilla strips so they all get evenly coated with oil and spices.

Arrange the tortilla strips on the baking sheet in a single layer, leaving a little bit of room between the strips.

Bake for 4 minutes, then remove the baking sheet from the oven and flip each strip over. Bake for another 2 minutes, or until the tortilla strips have crisped up to your liking.

Once done, remove the tortilla strips from the baking sheet immediately and spread out on a plate or large bowl to cool completely. Once cooled, store at room temperature in an air-tight container or in a sealable plastic bag with all of the excess air pressed out.
Notes
Ingredient Notes
Tortillas: Corn or many varieties of flour tortillas (whole wheat, gluten-free, etc.) can be used here.
Oil: Another neutrally-flavored cooking oil can be substituted, such as canola, vegetable, or avocado oil.
Seasonings: While other seasonings beyond salt and pepper can be used, do keep in mind that these tortilla strips will be topping salads or soups with their own flavors when choosing which ones. When I add extra seasonings I will try to have a light hand with ones such as garlic powder, smoked paprika, and ground pepper blends.
Recipe Tips and Tricks
Stay near to the oven as they're baking as they can burn quickly.
Removing the strips from the pan as soon as they're done prevents them from burning as they stay in contact with the hot pan. Spread them out on a plate (versus piling them in a small bowl) so the residual heat doesn't "steam" them and cause them to sog up.
The tortilla strips will crisp up a tiny bit more as they cool down. If after cooling they're not fully crisp throughout, pop them back in the oven for a brief minute or so until they're all the way there.