Learn how to make tortilla strips in the oven with this simple method. They crisp up SO well while being oven-baked, and can be seasoned just how you like them for topping salads, soups, chilis, and more. I like to use whole wheat tortillas for a healthier option!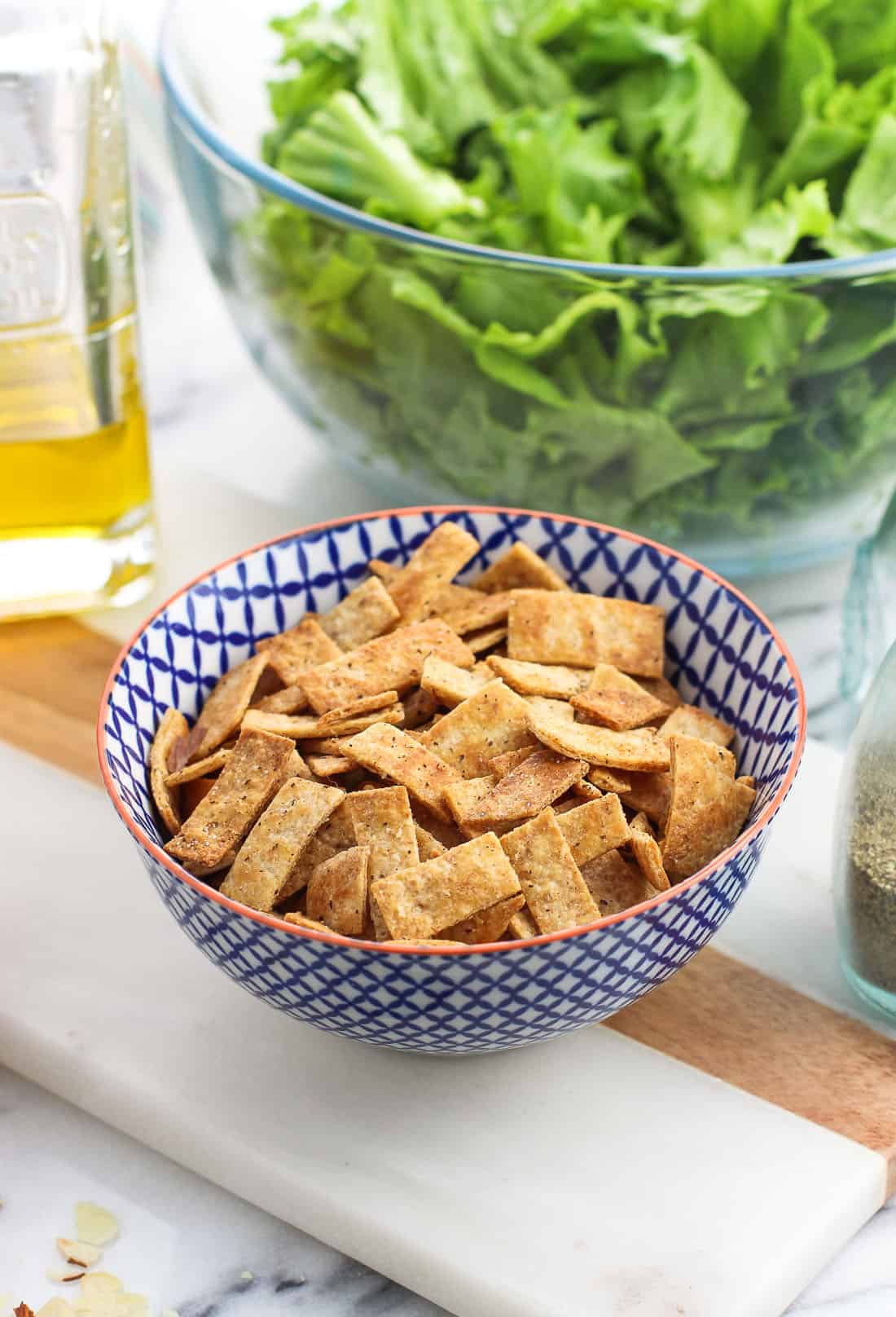 It's salad season, so let's talk toppings. Do you stick with the same old, or do you like looking through the fridge/pantry throwing a little of this, a little of that on them?
I'm the second! 🙋🏻 My salad dressing du jour rotates between a few homemade and store-bought varieties, and any leftover produce and pantry odds and ends are fair game for getting thrown in the mix, too. I'll usually include nuts (walnuts, pine nuts, or almonds) and dried fruit (cranberries or raisins), but there's something I like just as much as perfectly crunchy cornbread croutons – tortilla strips.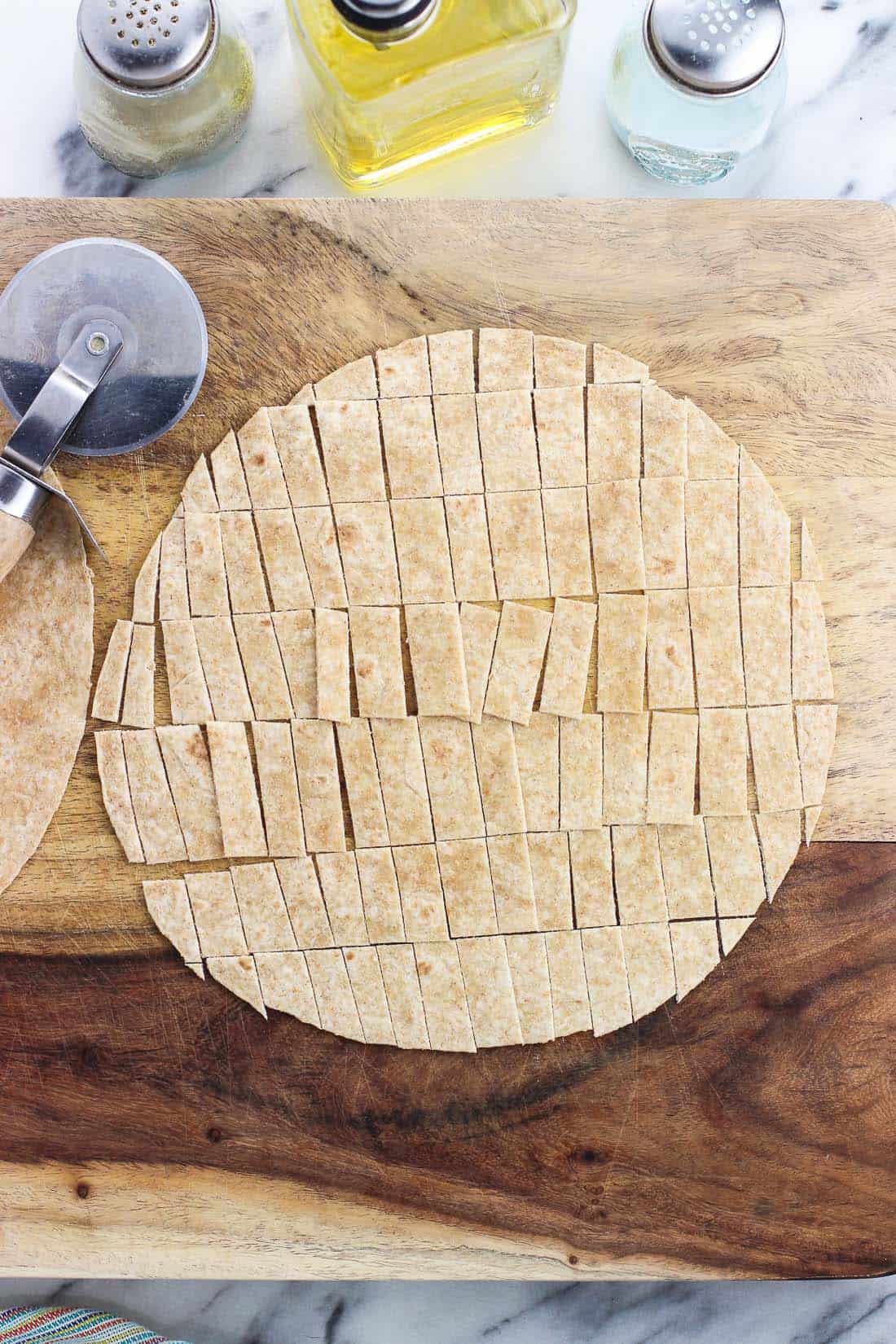 If you've ever wondered how to make tortilla strips…it's really not hard! While some versions are fried, these tortilla strips are baked and still perfectly crispy. What I love about a very basic recipe like this is that it's essentially a guideline for you to follow when you do your own thing.
There are very few ingredients needed here, but you've got plenty of wiggle room for customization, starting with the tortillas. Flour or corn tortillas will do, but I'm a big fan of using whole wheat flour tortillas, specifically (that's the kind you see in the photo above). It's an easy way to sneak in a little extra nutrition.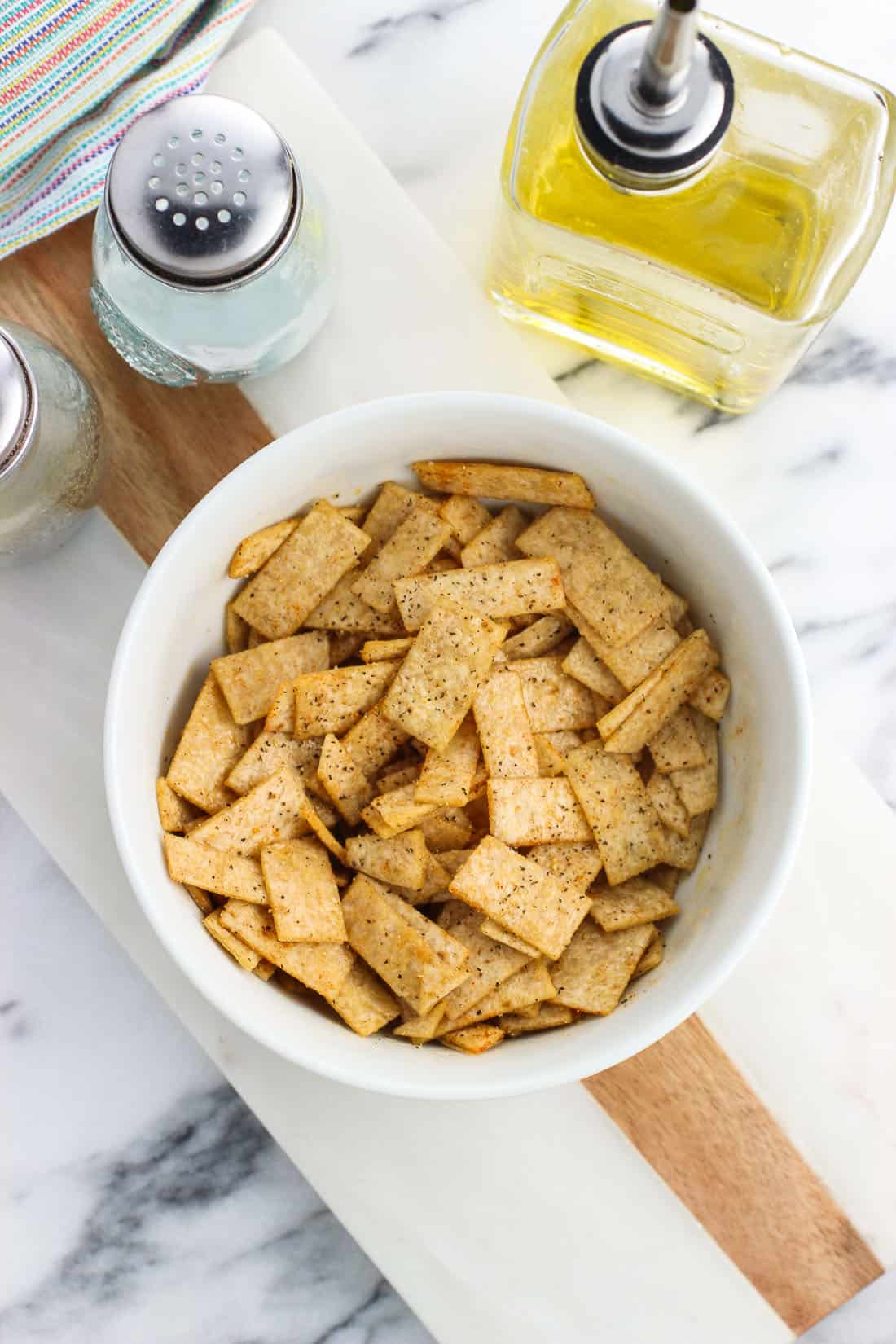 After you slice the tortillas of your choice into little strips with a pizza or pastry wheel, you'll want to toss them with oil and your fave seasonings. I start with salt and pepper, and then the sky's the limit. 🙂 Some of the spices I like to use are smoked paprika, ground ancho chile, ground chipotle, and garlic powder…but not necessarily all at once. Mix and match with your favorites, or just keep it simple with salt and pepper. That's what I did with this baby kale salad with chipotle garlic vinaigrette and tortilla strips, which has a bunch of different flavors going on so the tortilla strips didn't need a ton of flavor themselves. This way works if you love a strong salad dressing!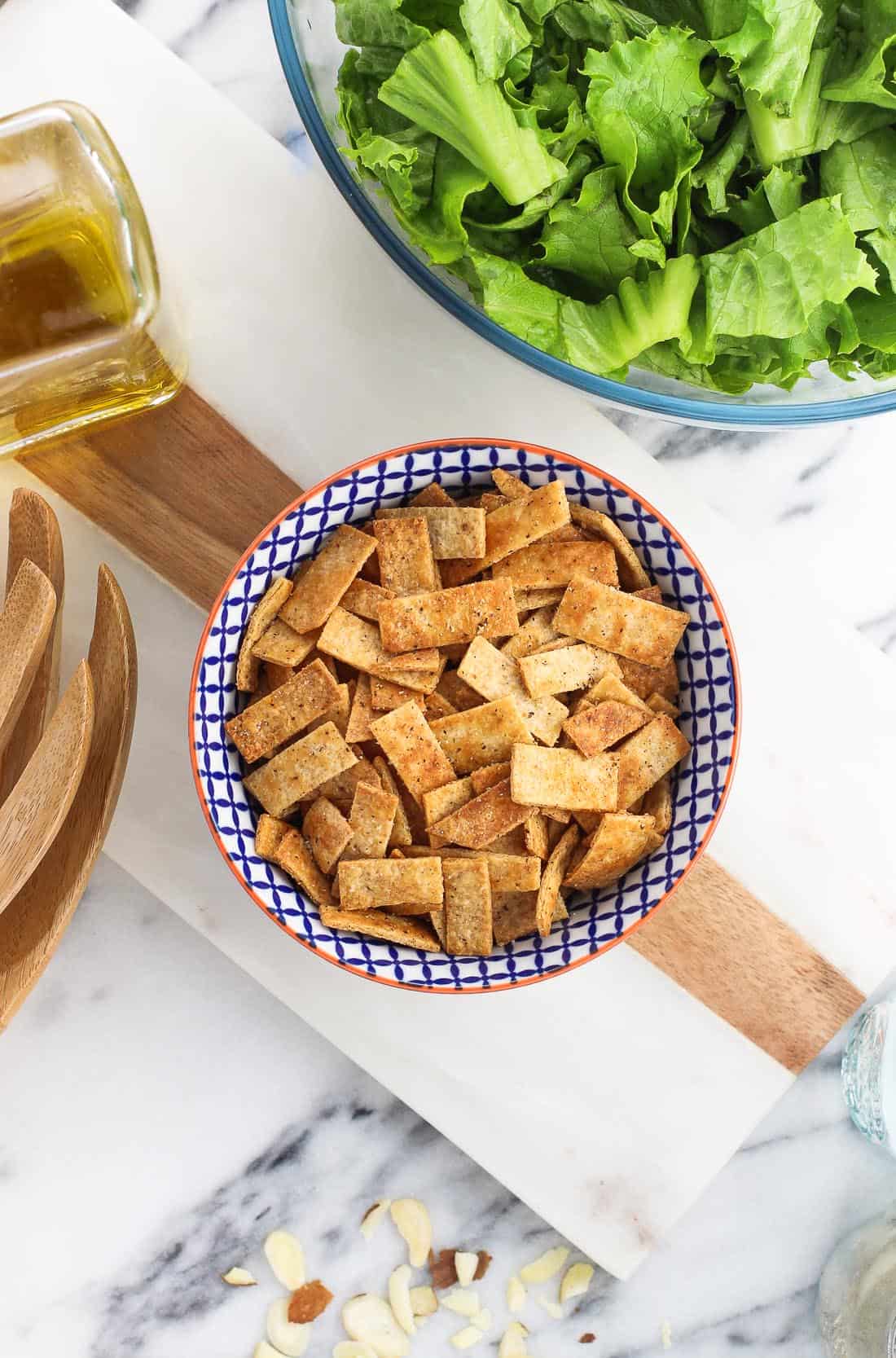 Recipe notes:
These tortilla strips don't have to be exactly the same size. Just try and get the widths to be roughly the same.
Keep a close eye on the tortilla strips while they bake, as they can go from perfectly crisp to burnt quickly.
You'll want to remove the tortilla strips from the baking sheet once they're removed from the oven immediately, as they will continue browning (and maybe burn) on the hot sheet if they're left there.
Into homemade salad dressing? I love to alternate between

sweet onion poppy seed salad dressing

,

easy honey mustard vinaigrette

, and

creamy avocado apple cider vinegar salad dressing

.
How to Make Tortilla Strips (Baked!)
Ingredients
2 8-inch flour tortillas
1 tbsp olive oil
Salt and pepper
Your favorite seasonings
Instructions
Heat oven to 425°F. Spray a baking sheet with cooking spray and set aside.
Slice tortillas into small, evenly-sized strips with a pizza or pastry wheel. Add them to a mixing bowl.
Pour olive oil into the bowl with the strips along with salt, pepper, and the seasonings of your choice.
Place the tortilla strips on the baking sheet in a single layer, leaving a little bit of room between the strips.
Bake for 4 minutes, then remove the baking sheet from the oven and flip each strip over. Bake for another 2 minutes, or until the tortilla strips have crisped up to your liking.
Once done, remove the tortilla strips from the baking sheet immediately and place in a bowl or on a plate to cool completely. Store in an air-tight container (or plastic bag).