Ginger turmeric cauliflower rice is a healthy side dish that's not lacking in flavor! Fresh ginger, garlic, and turmeric flavor this easy low-carb and lower-calorie recipe. Serve alongside chicken, fish, tofu, or your favorite protein, and top with the herbs of your choice.
I'm feeling like I should make a confession, which will sound kind of silly given that I share new recipes on the Internet twice a week (usually!), but I get stuck in some serious side dish ruts.
For instance, let's take asparagus. We love asparagus a LOT in my house and like to branch out (like the time when I made shaved asparagus and threw in some bacon for good measure), but I've found most often I go into auto-pilot after I bring home a bunch from the store and just make this super easy but delicious spicy sauteed asparagus.
Sometimes we make it on the grill if that's how we're cooking dinner, but still. Same spices, same sriracha, same deal. Just about every time.
Cauliflower falls under that umbrella, too. I began my cauliflower rice journey keeping it super simple – just olive oil, salt, and pepper, but that all changed when I made this Parmesan pesto cauliflower rice. Now whenever I buy cauliflower I automatically pick up basil as well, because what's riced cauliflower without basil pesto sauce and Parmesan cheese?
I seem to have forgotten.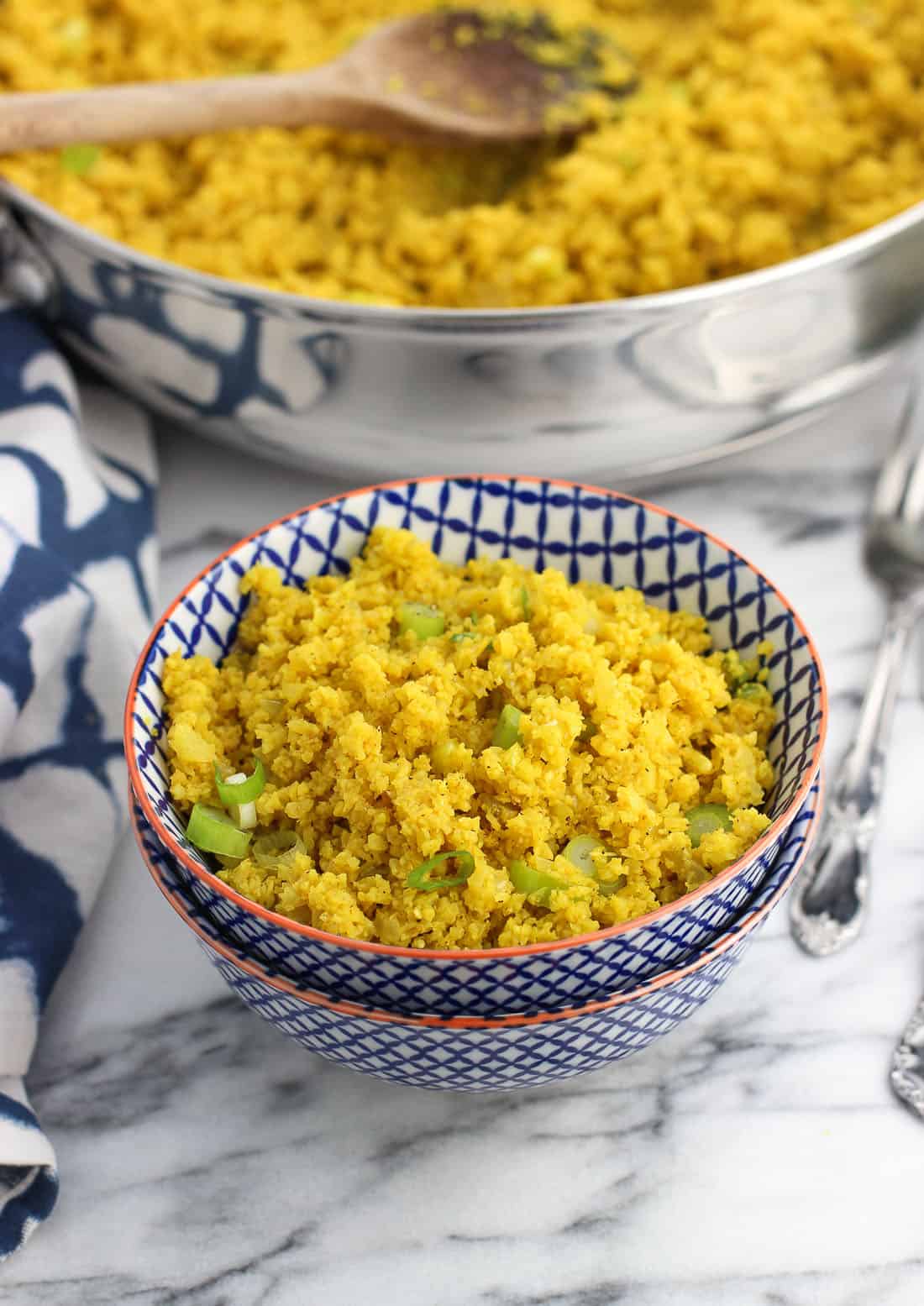 This time however, I'm switching things up. One of the most popular recipes on this site is turmeric coconut basmati rice. After getting a few comments from inquiring minds wanting to know if cauliflower could be subbed in for the basmati rice in that recipe, I thought to myself a) that sounds delicious, and b) doing a straight substitution in that recipe would likely yield soggy turmeric cauliflower rice from all the liquid. No good.
So here it is – ginger turmeric cauliflower rice. Just as vibrant and flavorful as its inspiration, but low-carb and lower calorie to boot.
Simple ingredients
This recipe uses one whole head of cauliflower. Along with that you'll need olive oil, onion, garlic (lots of garlic), ginger root, ground turmeric, salt, and pepper.
Five cloves of garlic certainly lends a noticeable garlic flavor here, though you don't have to use that much if you're not a garlic freak like I am.
Really, the same goes for all of the ingredients here. There's wiggle room for you do to your own thing.
Step-by-step instructions
Start by breaking up the cauliflower head and pulsing it in a food processor until it's in small bits, about rice-sized. You might need to do this step in batches if your food processor is on the smaller size.
Now we start sauteing. In with the first round you'll cook diced onion along with minced garlic and grated ginger. Then in the second round you'll saute the riced cauliflower in the remaining olive oil.
Some recipes will call for using the riced cauliflower raw, but I strongly prefer it when it's sauted. A short saute time mellows out that "raw crucifer-y" flavor, and is definitely worth the little bit of extra work!
All that's left is to season the cauliflower rice with turmeric, salt, and pepper, then add back the onion/garlic/ginger mixture and stir to combine. Adjust the seasonings to taste, garnish with sliced green onions, sriracha or whatever, really, and it's ready to serve.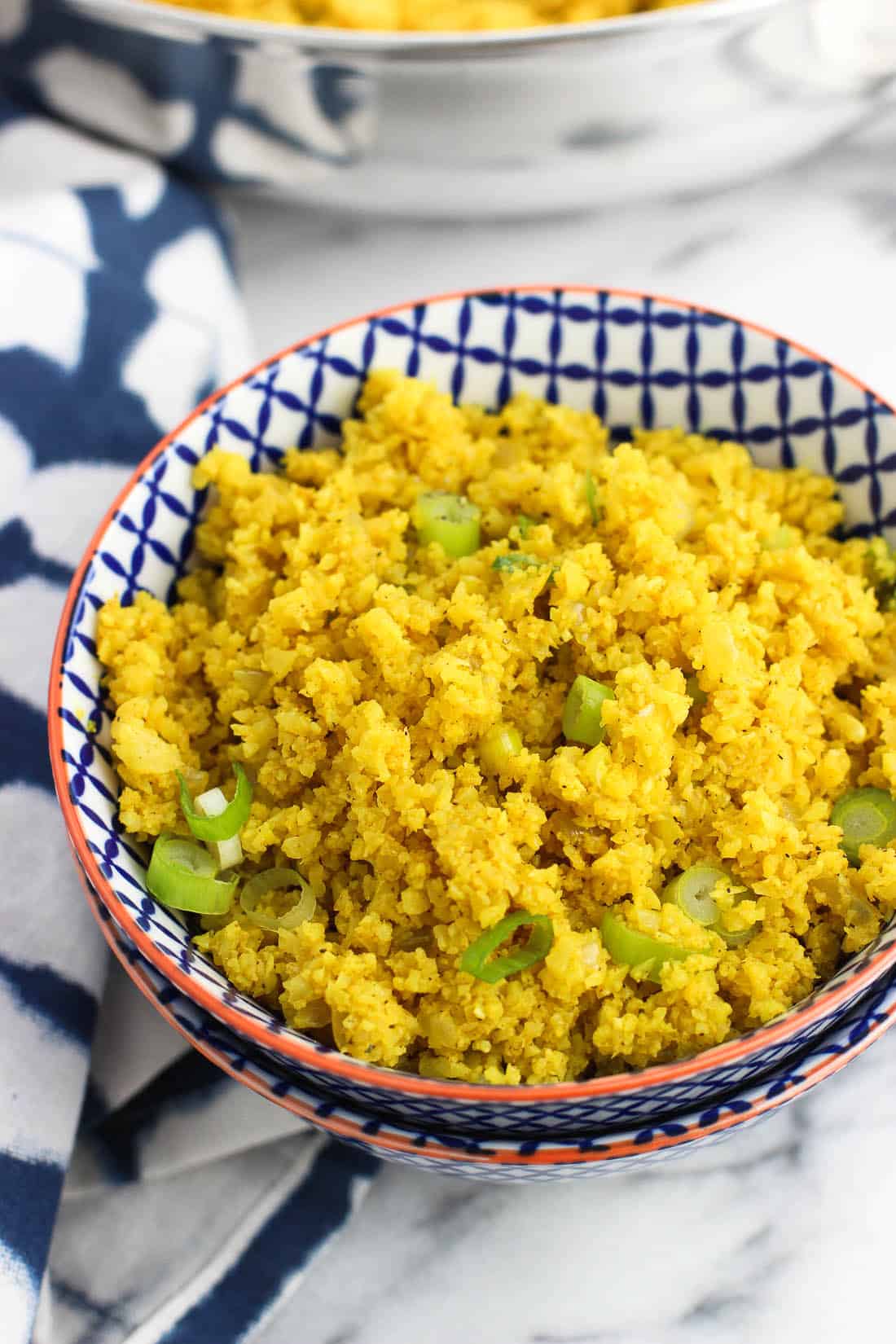 I won't be one to tell you that cauliflower rice is just like rice rice. Because, well, it's not. While the resemblance isn't far off, you probably will be able to tell that you're eating a healthier version of rice. However this turmeric cauliflower rice has other stuff going on, like a fluffy texture that isn't soupy or soggy and a bright flavor (and color), that result in it being a satisfying and delicious side dish all the same.
Related recipes
In addition to the basmati rice recipe linked to above, I also have a recipe for coconut turmeric quinoa with cashews. Can you tell these flavors are a favorite around here?
While cauliflower is more popular, pesto broccoli rice uses this same basic method for a more Italian flair on an easy and low-carb side dish.
Turmeric adds a wonderful flavor to easy turmeric popcorn! This naturally-colored bright yellow popcorn is made in a snap on the stovetop with coconut oil.
Recipe notes
Once all of the ingredients in this ginger turmeric cauliflower rice are mixed up, the sky's the limit as far as toppings and extra flavors. A drizzle of sriracha will make it spicy, and you can top it with whatever herbs you like – parsley, mint, basil, etc. All would be compatible flavors.
Ginger Turmeric Cauliflower Rice
Ginger turmeric cauliflower rice is a healthy side dish that's not lacking in flavor! Fresh ginger, garlic, and turmeric flavor this easy low-carb and lower-calorie recipe. Serve alongside chicken, fish, tofu, or your favorite protein, and top with the herbs of your choice.
Print
Pin
Rate
Ingredients
1

head

cauliflower

3

tbsp

olive oil,

divided

1

medium onion,

diced

5

cloves

garlic,

minced or pressed

1 1/2

tbsp

freshly grated ginger

2

tsp

ground turmeric

1 1/4

tsp

salt

1

tsp

ground pepper
Instructions
Slice the cauliflower head into four quadrants, and then cut out the central stem in the middle. Break or slice the florets into smaller pieces and place them in the bowl of food processor.

Pulse until the cauliflower florets are broken up into tiny pieces similar in size to rice. Depending on the size of your food processor you may need to repeat this process more than once until all of the cauliflower is processed. Set aside.

Heat 2 tablespoons of olive oil in a large skillet over medium heat. Add onion, garlic, and grated ginger and cook, stirring occasionally, for 5-6 minutes or until the onion is golden. Once done, remove everything to a plate and set the skillet back on the stove.

Heat remaining 1 tablespoon of olive oil in the skillet, set back over medium heat. Add cauliflower pieces to the skillet and stir. Add turmeric, salt, and pepper and stir to combine evenly. Cover and cook for 5 minutes, stirring occasionally, until the cauliflower pieces have become slightly tender and softened.

Add sauteed onion/garlic/ginger to the skillet with the cauliflower rice and stir to evenly combine. You may wish to keep the skillet over medium heat for a few minutes to reheat the onion mixture. Serve with parsley, green onions, or your favorite herbs for garnish.
Nutrition
Calories:
96
kcal
|
Carbohydrates:
8
g
|
Protein:
2
g
|
Fat:
7
g
|
Saturated Fat:
1
g
|
Sodium:
506
mg
|
Potassium:
279
mg
|
Fiber:
2.5
g
|
Sugar:
2.5
g
|
Calcium:
20
mg
|
Iron:
0.9
mg
Nutritional information is provided as an estimate. As it can vary due to many factors (brands used, quantities, etc.), we cannot guarantee its accuracy.