This air fryer tofu is SO easy to make and delivers the texture of fried tofu in a much healthier way. Toss in a quick honey sesame glaze and serve alongside your favorite grains and veggies for a filling, better-for-you meal.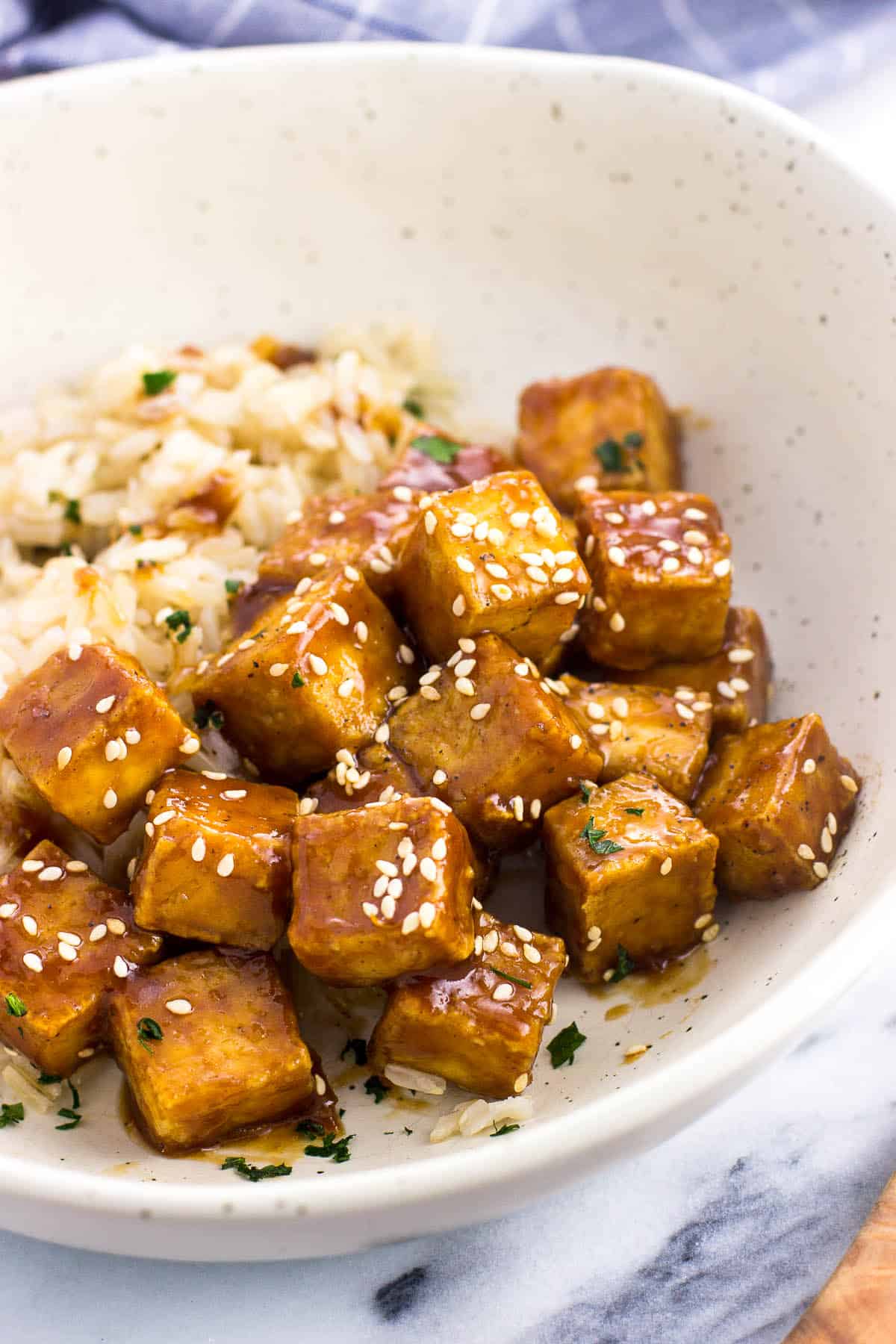 Tofu is a slightly controversial food item in my house. I really like it in all forms, but my husband is not its biggest fan. He definitely appreciates vegetarian protein options (he LOVES tempeh tacos), but his issue with tofu comes down to its texture.
I can't say that I blame him. It definitely has a squish that can turn people off.
It all comes down to how you cook it. Frying it traditionally crisps up the exterior and makes it more hearty and less squishy, but isn't the healthiest method of preparation out there.
Enter, air fryer tofu. We're obsessed! After learning how easy it is to make an air fryer baked potato, I started side-eyeing all of my go-to recipes to see if they could be ~*reinspired*~. I mean, oven fried tofu is great, but it takes nearly an hour of cook time to really crisp up.
After tinkering for the better part of this year (the pleasure was all mine "testing" out a recipe this good!), I'm happy to report with a few tips and tricks, you can indeed achieve American Chinese take-out style tofu all made lighter with the air fryer.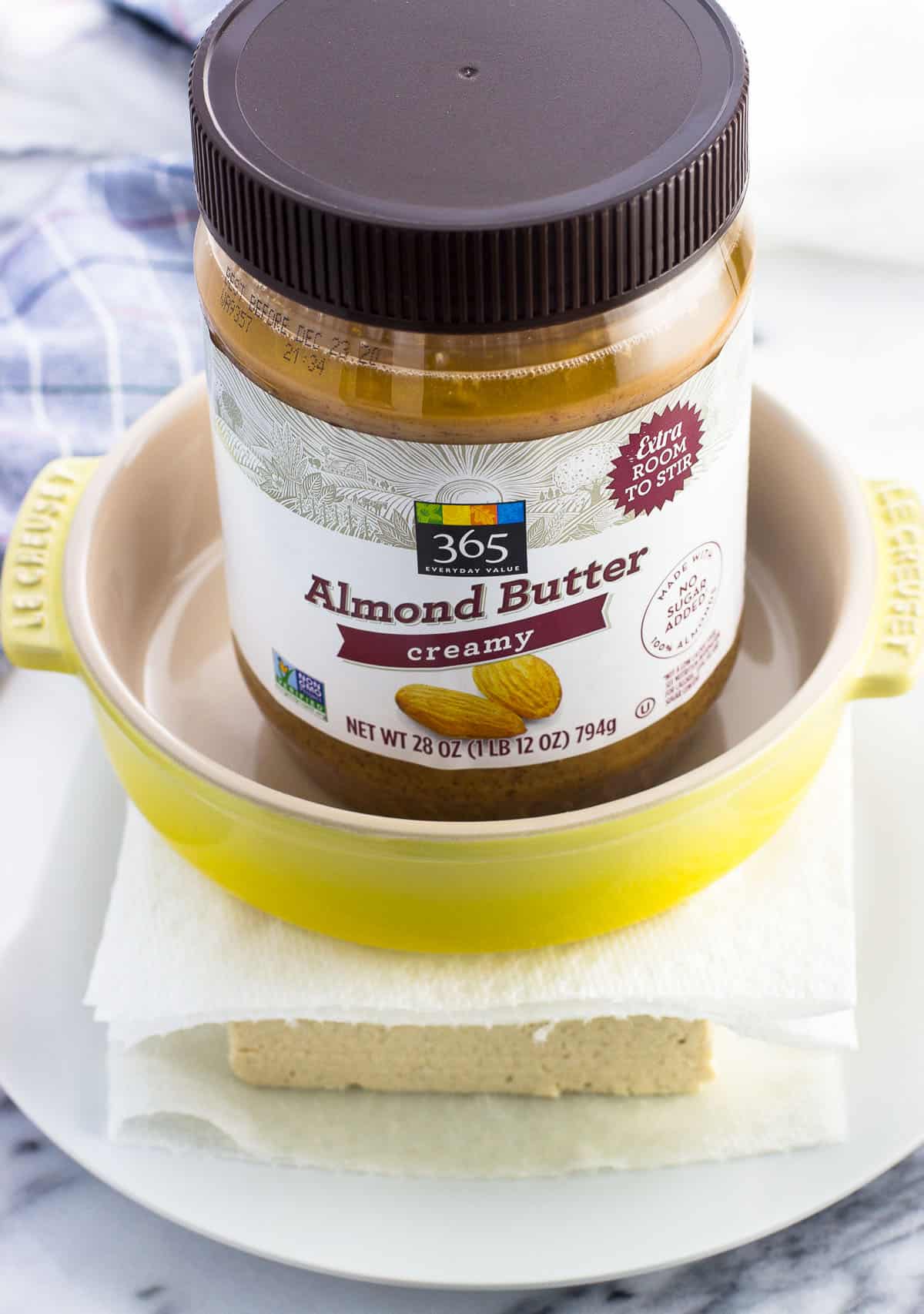 Recipe ingredients
Let's start with the star of the show – tofu. Either firm or extra-firm tofu will work here, just not silken tofu. Silken tofu is much softer with a higher water content, and wouldn't hold up well to slicing and tossing.
It doesn't make much difference between firm/extra-firm tofu varieties because you want to press the tofu before beginning this recipe. You can use a specially-designed tofu press, but I go with the set-up in the photo above, which is the whole block of tofu situated on a plate between paper towels, with something heavy on top to weigh it down.
Leave the tofu for at least thirty minutes, replacing the paper towels as needed to absorb the excess liquid. While this step adds additional time to this air fryer tofu recipe, we really want the tofu to get rid of as much water as possible, as this helps it crisp up.
In addition to the tofu, we also need a small bit of olive oil (or your preferred neutral-tasting cooking oil), cornstarch, and salt and pepper. Just two teaspoons of oil are enough to coat a block's worth of cubes, keeping this dish on the lighter side.
Tossing in oil helps the cornstarch/spices stick and allows the surface of the tofu to crisp in the air fryer, while the cornstarch works to absorb surface moisture, also leading to crispness. That's why cornstarch is a popular ingredient in better-for-you "fried" recipes.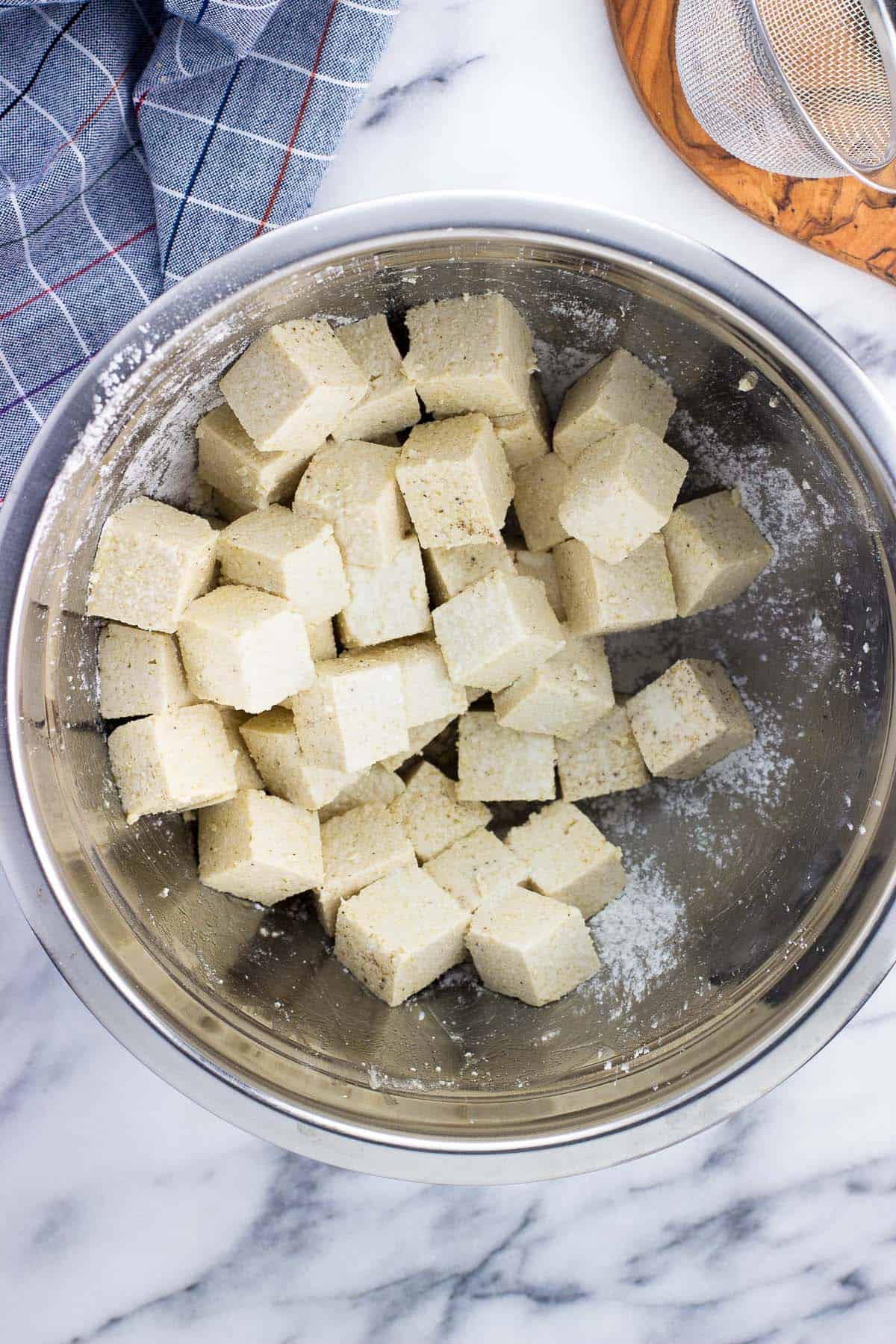 Quick stovetop glaze
You can certainly stop there and enjoy this healthy fried tofu as-is or with the glaze of your choosing, but we really enjoy the soy sauce-based honey sesame glaze I've included in the recipe card below.
Reduced-sodium soy sauce, honey, sesame oil, and rice vinegar provide the base, with minced garlic, minced ginger, and sriracha rounding out this Asian-inspired flavor. There's more cornstarch added to this part of the recipe, as it thickens the glaze perfectly to coat the air fried tofu.
And no worries if you don't have all of the glaze ingredients on hand. There's so much wiggle room here! You can use maple syrup instead of honey for a flavor variation and whatever type of hot sauce you prefer in place of the sriracha. Of course, you can simply omit it altogether if you're not a fan of spice.
One tip for the ginger. Fresh ginger root is not something I regularly purchase, really only buying it when I have a specific recipe in mind. While ground ginger is a sort-of substitute that works well for baking but lacks the punchiness of fresh ginger we love in savory recipes, I've taken to using frozen crushed ginger cubes and really like them!
They won't work for all recipes, but they're great for a heated glaze like this. Plus they're pre-portioned with zero prep required.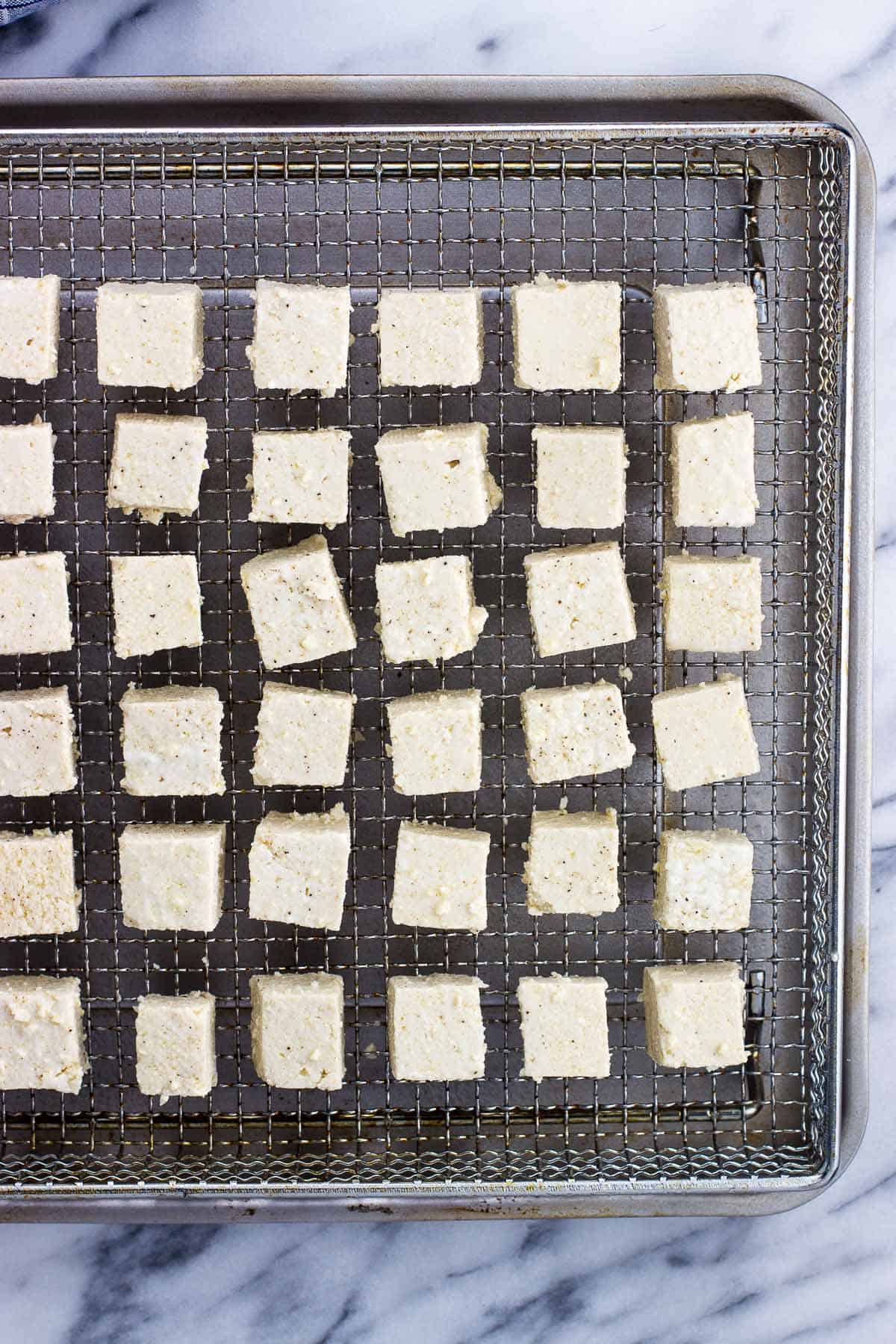 Step-by-step instructions
Begin by pressing the tofu. I'll press tofu for at least a half hour, maybe a little longer if I'm using firm instead of extra-firm. Once pressed, cut the tofu block into equal cubes between 3/4″ and 1″.
Gently toss the tofu cubes with two teaspoons of oil in a mixing bowl to coat. It might crumble a teeny bit around the edges, but that's fine. Then sprinkle with salt, pepper, and the cornstarch.
While this step isn't entirely necessary, I like to sprinkle the cornstarch over the tofu through a metal sieve. Sort of like how you dust something with powdered sugar. This prevents the cornstarch from dispensing unevenly and clumping up in an area.
The next step is a biggie: spray the air fryer basket with non-stick spray! This is crucial to allow the tofu to release when you go to flip them over. Then evenly space the coated tofu on the basket.
P.S. I have a toaster oven/air fryer combination, which is why my basket might look a little different than the norm. I *love* it for its combo usage (it's our only toaster) and all the surface area in this air fryer basket vs. some stand-alone models. Usually whatever I'm making can be air fried all in one batch.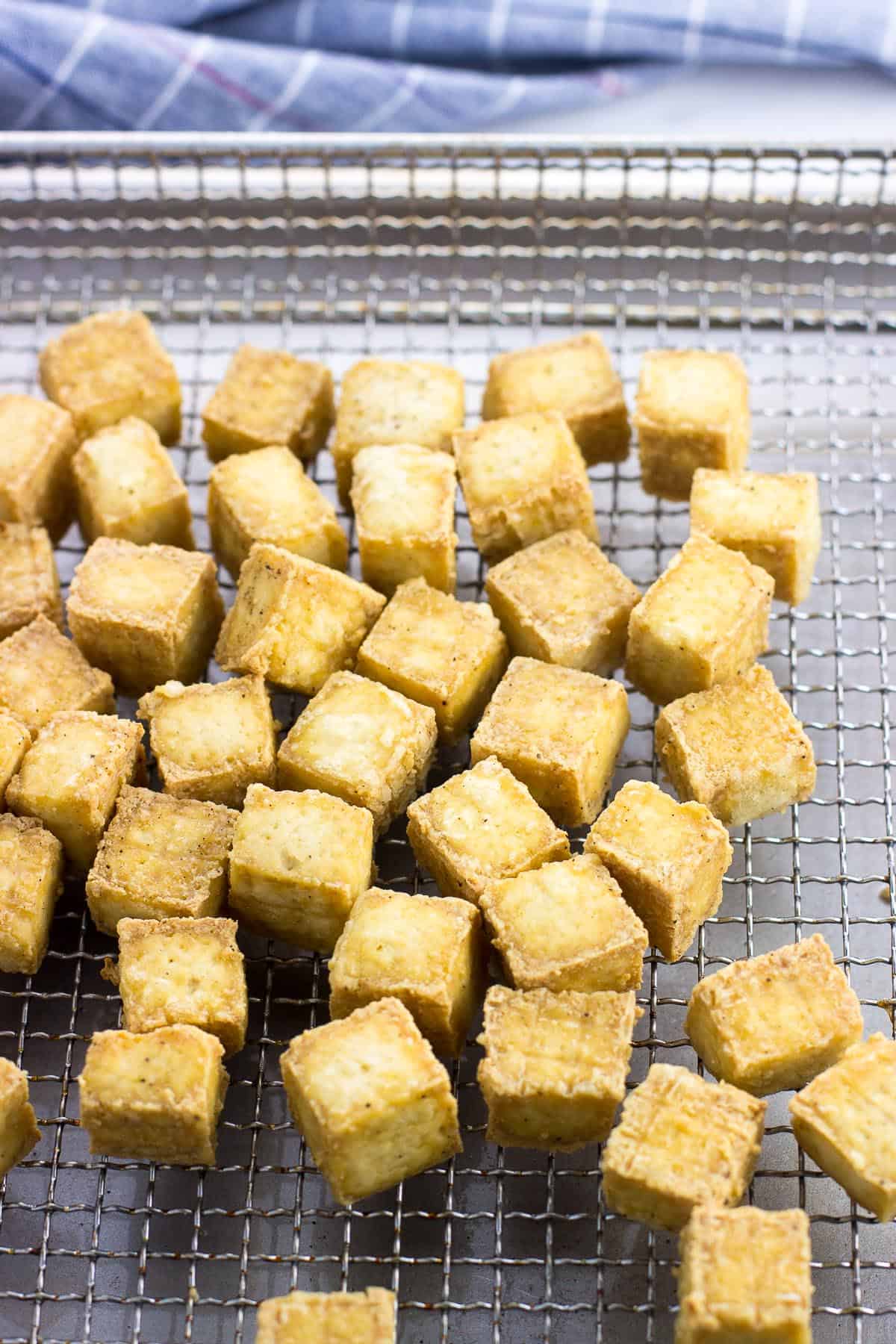 Air fry the tofu at 375°F for 8 minutes, then carefully remove the basket and, using tongs, flip each piece of tofu over. Set the timer to air fry for another 8-9 minutes, or to whenever the tofu is looking perfectly golden-brown and has crisped to your liking.
I start the glaze once the tofu goes in for the second half of its cook time as it doesn't take long to make. Combine all of the ingredients in a medium sauce pan and whisk while it heats and thickens. Once the air fryer tofu is done, drizzle with glaze (or toss it in to coat completely), then serve alongside your favorite grains and veggies.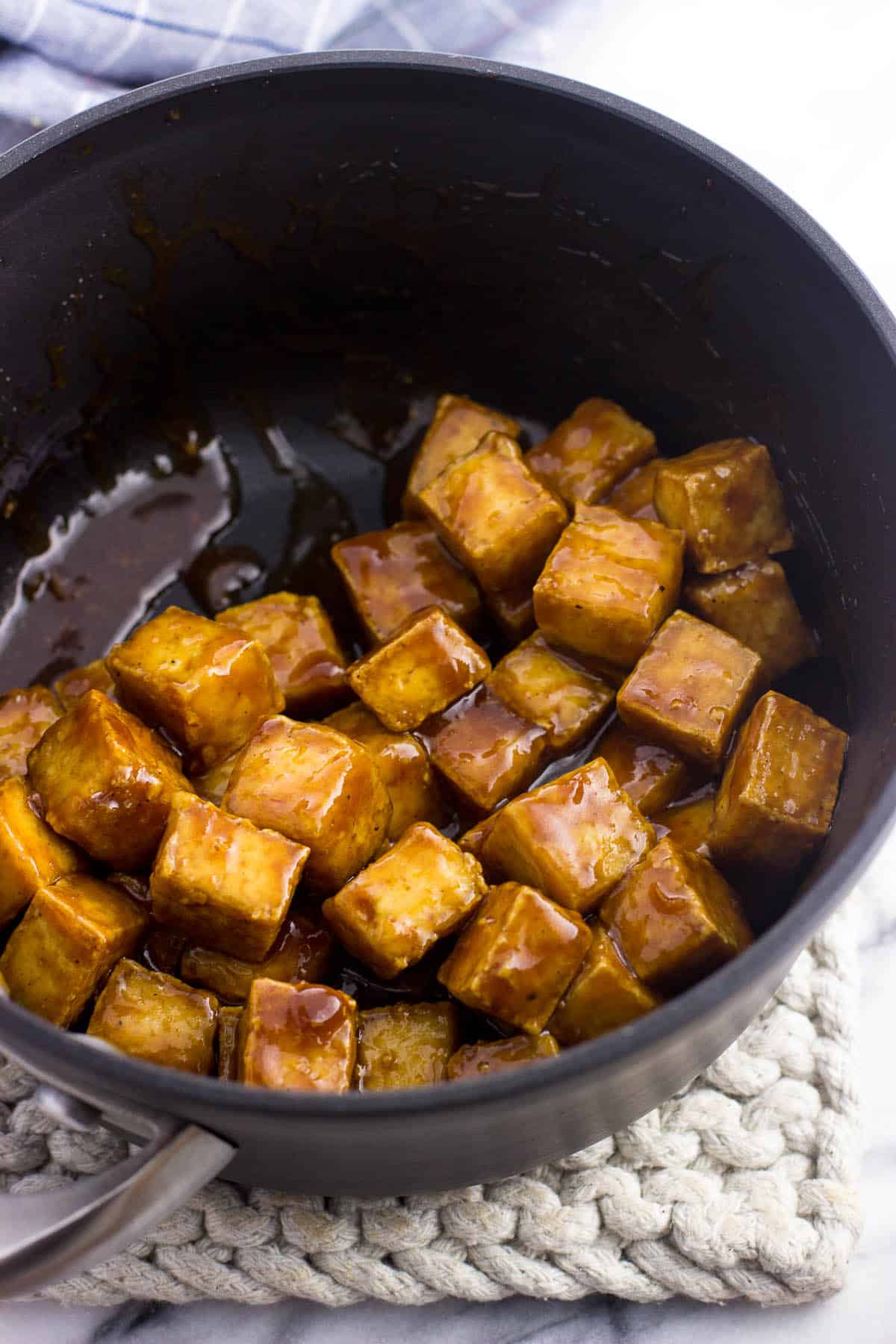 Recipe notes
Air fryer tofu is best served right away, though it will stay in the refrigerator for several days. The texture will just become softer as the tofu soaks up the glaze.
If desired, you can spritz the tofu with an olive oil spray (or your preferred kind) before air frying and/or after you flip them.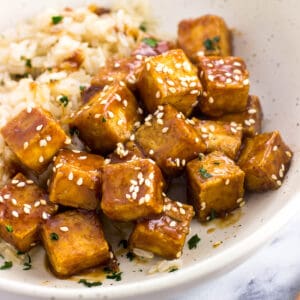 Air Fryer Tofu
This air fryer tofu is SO easy to make and delivers the texture of fried tofu in a much healthier way. Toss in a quick honey sesame glaze and serve alongside your favorite grains and veggies for a filling, better-for-you meal.
Print
Pin
Rate
Ingredients
Tofu:
1

14-oz block

extra-firm tofu,

firm also okay (see note)

2

tsp

olive oil

or other neutral-flavored cooking oil

1

tbsp

cornstarch

Salt and pepper
Sauce:
3

tbsp

reduced-sodium soy sauce

1 1/2

tbsp

honey

1

tbsp

sesame oil

1

tbsp

rice vinegar

1

tsp

minced ginger

2

cloves

garlic,

pressed or minced

1/2

tsp

sriracha

or to taste

1 1/2

tsp

cornstarch
Instructions
Drain tofu and place it on a paper towel-lined plate. Place another paper towel or two over top and then top with another plate. Place something heavy (such as canned goods) over top and let the tofu press for 30 minutes.

Once pressed, cut the tofu into 3/4" to 1" cubes and add to a medium mixing bowl.

Gently toss tofu cubes with olive oil and season with salt and pepper. Sprinkle 1 tablespoon of cornstarch over top and gently toss to evenly coat the tofu. For best results sprinkle cornstarch through a metal sieve to ensure it doesn't clump up.

Spray air fryer basket very well with cooking spray. Place the tofu cubes in the basket in a single layer with equal space between them.

Air fry at 375°F for 8 minutes, then remove the basket from the air fryer. Flip over each tofu cube and air fry again for another 8-9 minutes, or until golden brown and crisp to your liking.

While the tofu is air frying, add soy sauce, honey, sesame oil, rice vinegar, ginger, garlic, sriracha, and cornstarch to a small saucepan and whisk well to combine. Heat over medium-low heat, whisking ever so often, until the glaze begins to thicken. Remove the saucepan from the heat if it starts thickening too much before the tofu is ready.

Once air fried, toss the tofu in the glaze and serve with your favorite sides (brown rice, quinoa, vegetables, etc.)
Notes
Storage: This air fryer tofu is best served warm, right after it's been cooked. It can be refrigerated for several days, however the tofu will soften up as it absorbs the glaze. Nutrition: The nutritional info displayed is an estimate for one-quarter of the tofu and glaze. It does not include rice, vegetables, or whatever else you might serve this with.
Nutrition
Calories:
167
kcal
|
Carbohydrates:
12.6
g
|
Protein:
9
g
|
Fat:
9.9
g
|
Saturated Fat:
1.7
g
|
Sodium:
556
mg
|
Potassium:
181
mg
|
Fiber:
1.1
g
|
Sugar:
7.3
g
|
Calcium:
205
mg
|
Iron:
2
mg
Nutritional information is provided as an estimate. As it can vary due to many factors (brands used, quantities, etc.), we cannot guarantee its accuracy.