Hello, hello!
If you've signed up for my tried and true blog favorites email series - thank you! Over the next five days you'll receive reader favorite recipes right in your inbox.
But while I l-o-v-e love those recipes, there are plenty on the blog that didn't make the cut. It was hard narrowing it to five when there are 400+ recipes on here!
Is there any food-related question more frequently asked than, "what do you want for dinner?" At least it seems that way in my house. 🙂
Even though I think about food all day long, I blank out when faced with that question a huge chunk of the time. If I'm not planning to test out a recipe for the blog, sometimes I just can't think of something in particular to make.
That's where these recipes come in.
They're easy. Because if thinking up what to make for dinner is proving challenging enough, you proooobably don't feel like tackling anything complicated.
They're quick...with one special exception noted below. This dinner conundrum usually rears its head on weeknights, so speedy dishes are a plus.
They use a lot of pantry staples. No one wants to pull together a lengthy shopping list spur of the moment. Grabbing one or two things from the store is more my speed when times get busy.
Tacos
I have to start with tacos. There are two posts about classic ones on the blog: how to make taco meat (with this homemade taco seasoning).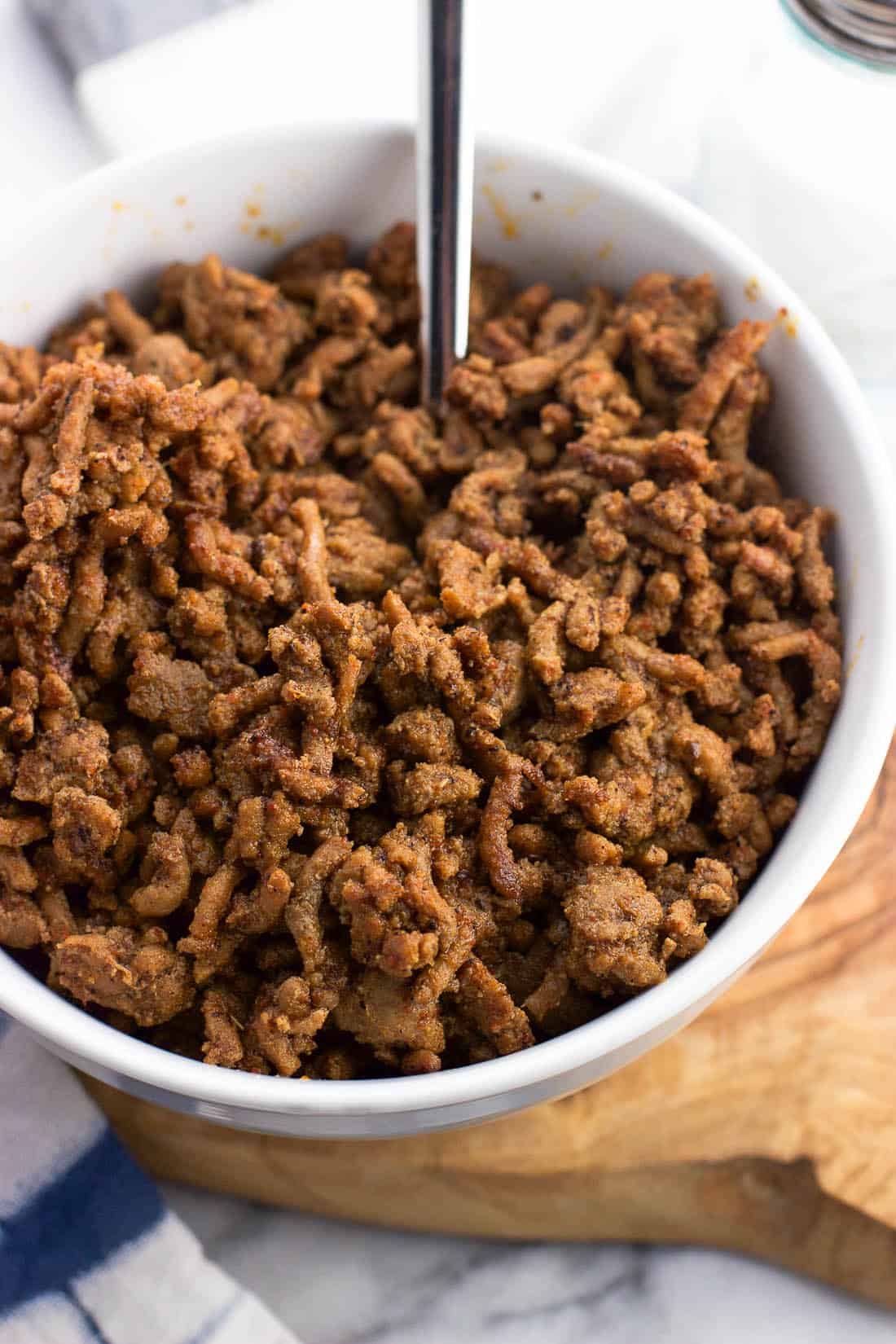 Though I have big time fridge/freezer stocking goals, I'm not one of those bloggers that will be sharing a "shelfie" any time soon.
My refrigeration situation is not organized or color-coded in the slightest. For instance my freezer is stocked to the brim right now (as always), and off the top of my head I can only think of what makes up maybe half of it. If that.
BUT. Much more often than not I have a package of ground turkey either frozen or in the fridge defrosting, and my brain goes right to turkey taco salads. This perfectly seasoned taco meat, whatever greens I have in the fridge, along with a smattering of leftover bits of beans, cheese, veggies, etc. Super easy and everyone can customize their own.
My perennial favorite.
Anything with this stir fry sauce
I am CRAZY about this stir fry sauce. Made with nearly all pantry staples, it's an all-star for all sorts of proteins. The cornstarch helps it thicken up beautifully to coat whatever it is you have on hand.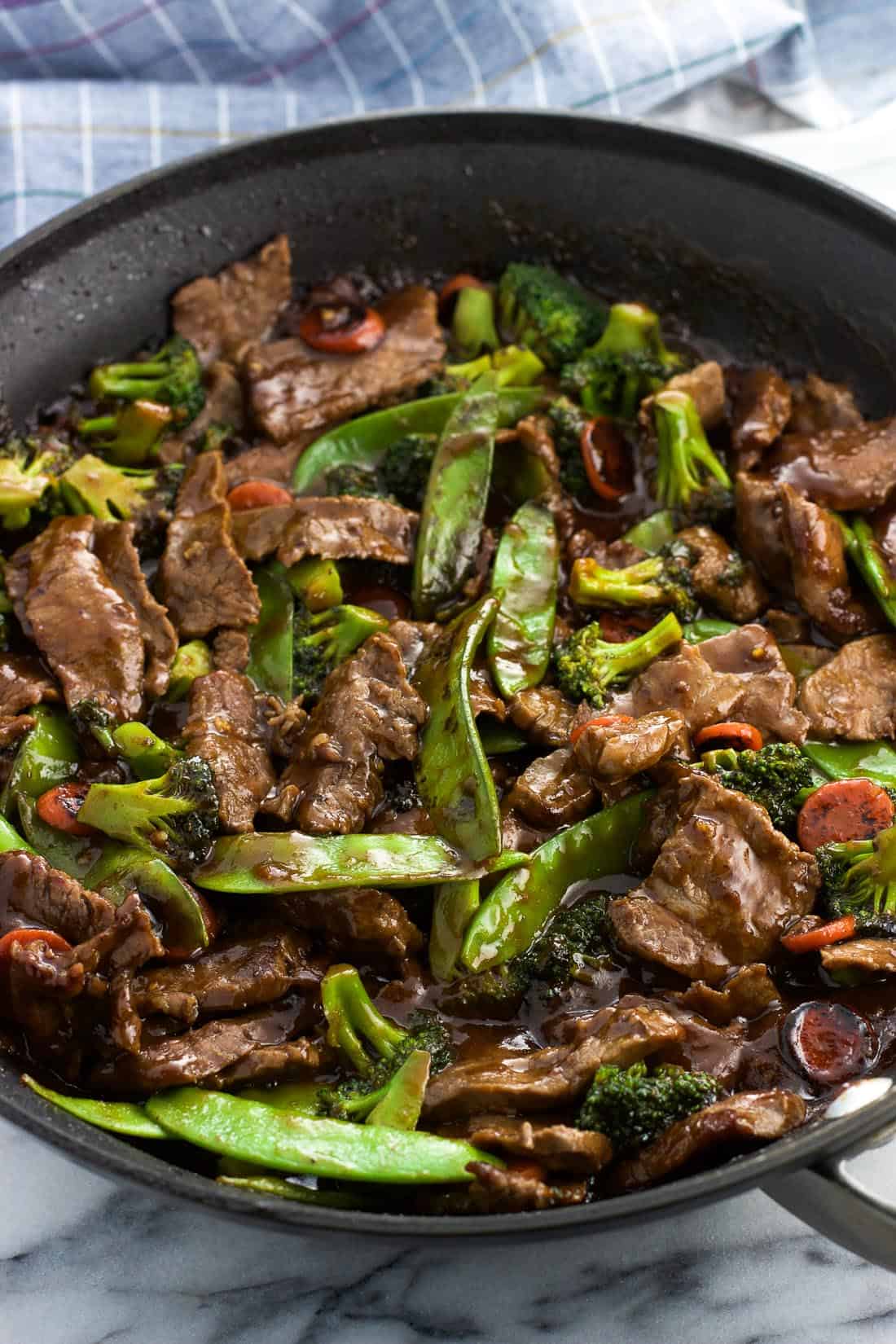 Yes, it uses both balsamic vinegar and peanut butter. That might not sound like a natural combination, but I promise the two combine so well to provide complementary flavors. It's a little hard to describe as it's not too vinegar-y or peanut butter-y...it's perfect.
I've made this one with both fresh and frozen veggies depending on what I have, as well as chicken instead of beef. It's super versatile.
Pictured above is my balsamic peanut beef stir fry recipe. Now I'm getting hungry...
Break out the Instant Pot for chili
As long as I have ground turkey on hand, I usually have everything I need in the house to make this Instant Pot turkey chili.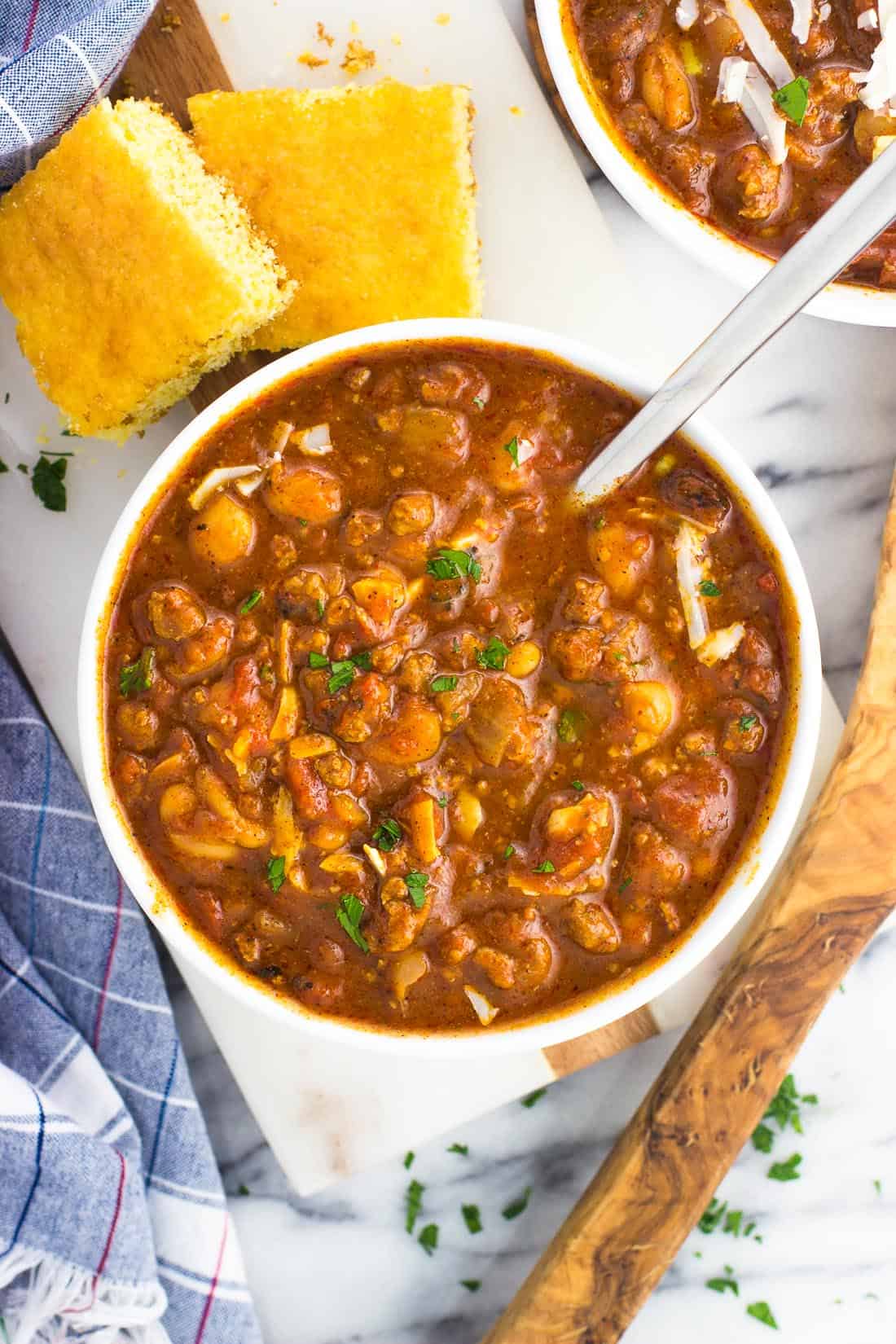 I love this one because it's a healthy meal that doesn't taste "healthy" at all.
Two secret ingredients help provide a more complex flavor while flying under the radar: pumpkin puree and unsweetened cocoa powder. You totally don't taste either in the finished product, but they sure do add something special.
Chili can be a tricky one to make in the Instant Pot because of its thickness triggering the dreaded "burn" message. I've figured out why that can happen and talk about how to prevent that from happening in the post linked above.
Grab a rotisserie chicken
Rotisserie chicken has saved the day in my house more times than I can count.
And my go-to rotisserie chicken recipe? Curry chicken salad with cashews.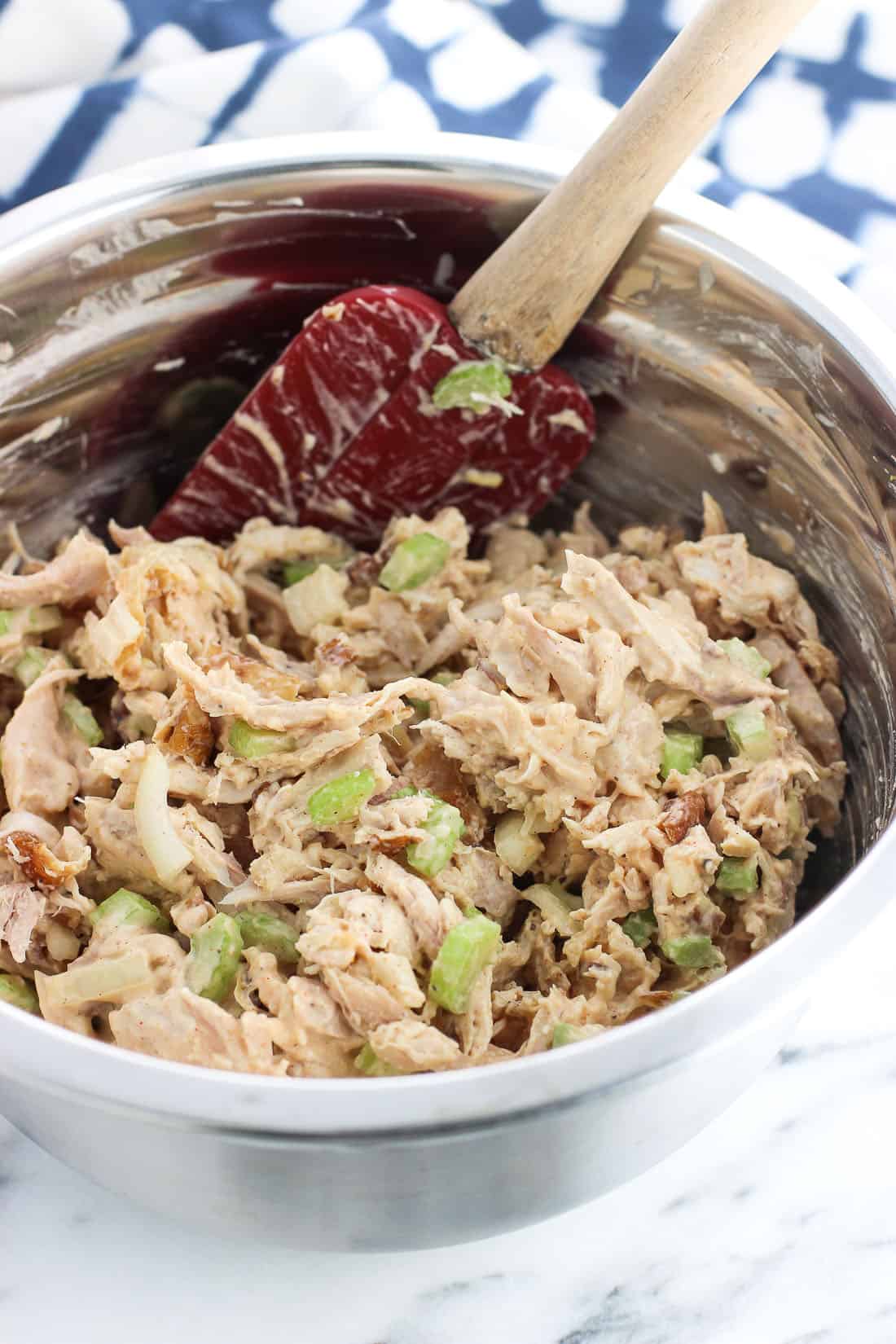 Great served warm or cold, we can't get enough of the curry flavor in this just-creamy-enough chicken salad. It's not too gloopy at all, and makes a great topping to salad, on a sandwich, or just eating straight up out of a bowl.
Gnocchi skillet
Gnocchi is something I always have in the pantry. And rather than boiling them I love to toast them in a skillet. They cook in under ten minutes and are coated in a super easy sauce including reduced chicken broth.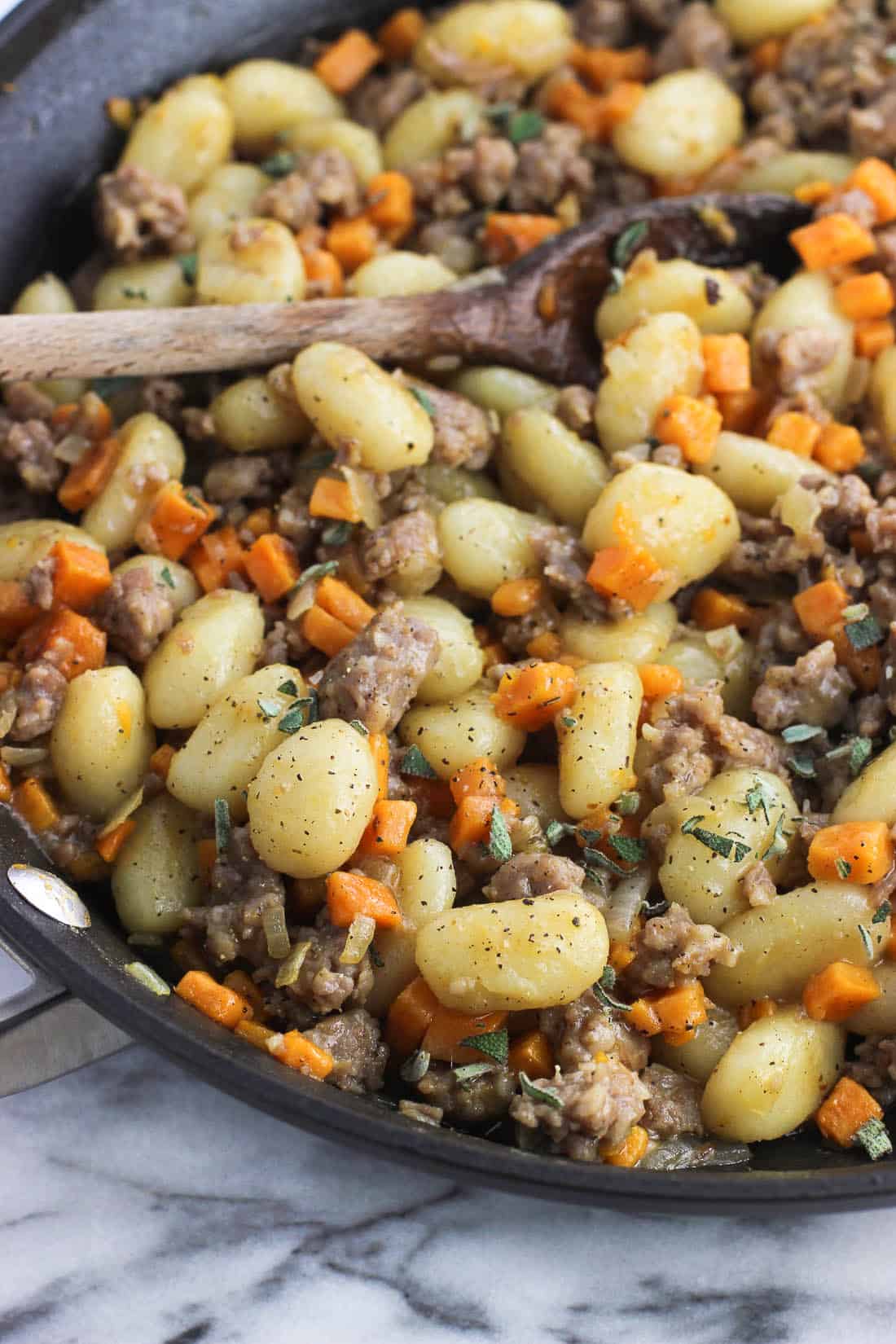 Ground maple sausage (found in a 16-oz roll near the bacon in my grocery store) is usually the only ingredient here I have to buy/remember to defrost, as most of the time I have everything else on hand. Maybe I'll have to buy a sweet potato.
Sunday Sauce
Here's the exception to the whole "quick" thing: Sunday Sauce a.k.a. Hearty Marinara Sauce with Meatballs and Sausage.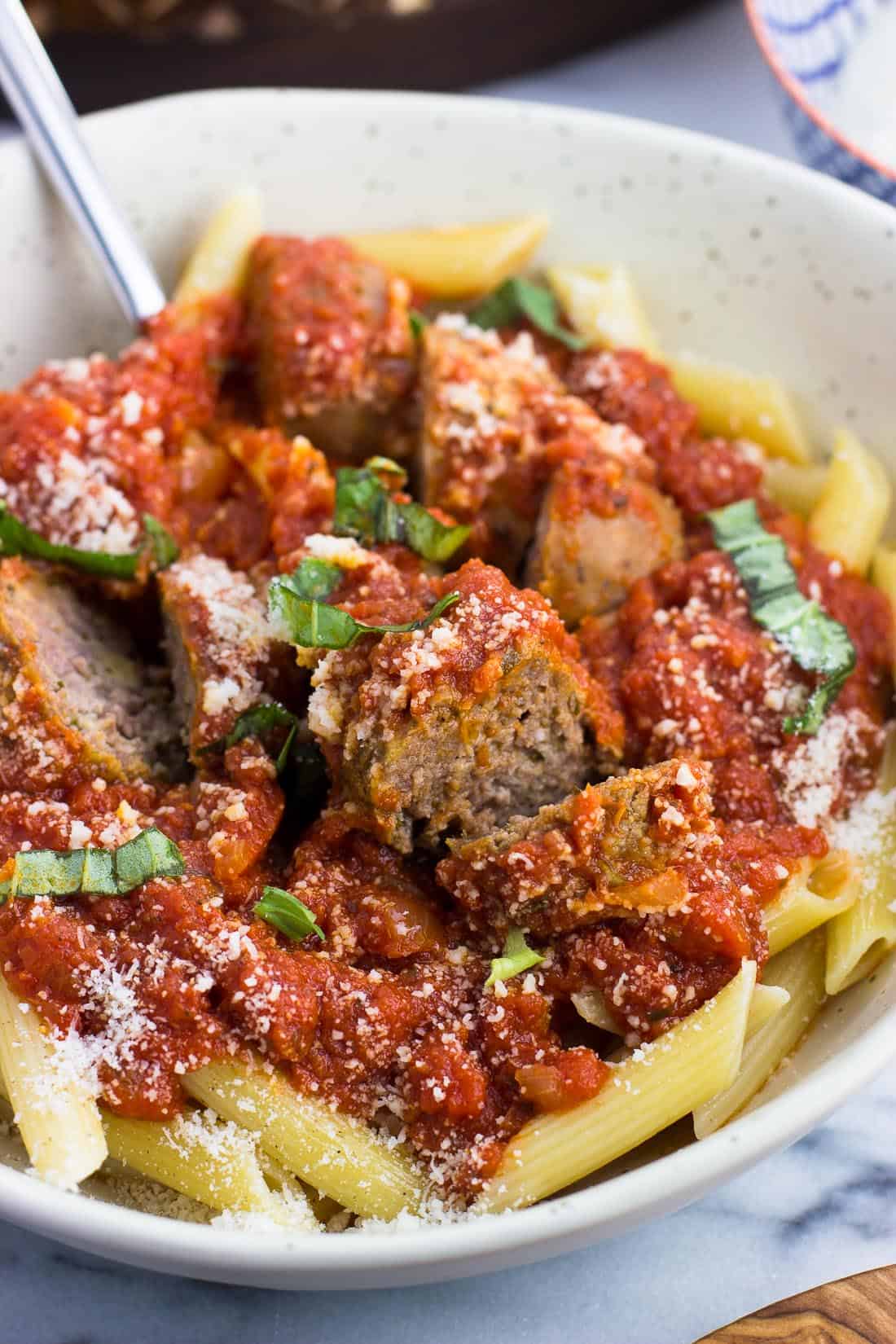 While not speedy, this one delivers on being simple while still totally impressing a crowd. And impress a crowd it can as this makes a lot of servings.
When I make this I usually throw half in the freezer right away. That way there's a reasonable amount for my household of two to get through, while having leftover comfort food meals just a defrost away in the future.
This post is in the midst of a refresh, so the pictures don't match up yet.
And that's that! The smattering of homemade meals I think of first when it comes to dinner. These have become family favorites for us, and I hope they provide meal inspiration for you and your family, too.
Looking for more?
Check out the full main dish recipe archives!