This balsamic peanut beef stir fry recipe features mixed vegetables and the BEST beef stir fry sauce for a weeknight-ready meal. Serve this easy beef and vegetable stir fry over rice, quinoa, or noodles for a delicious dinner option.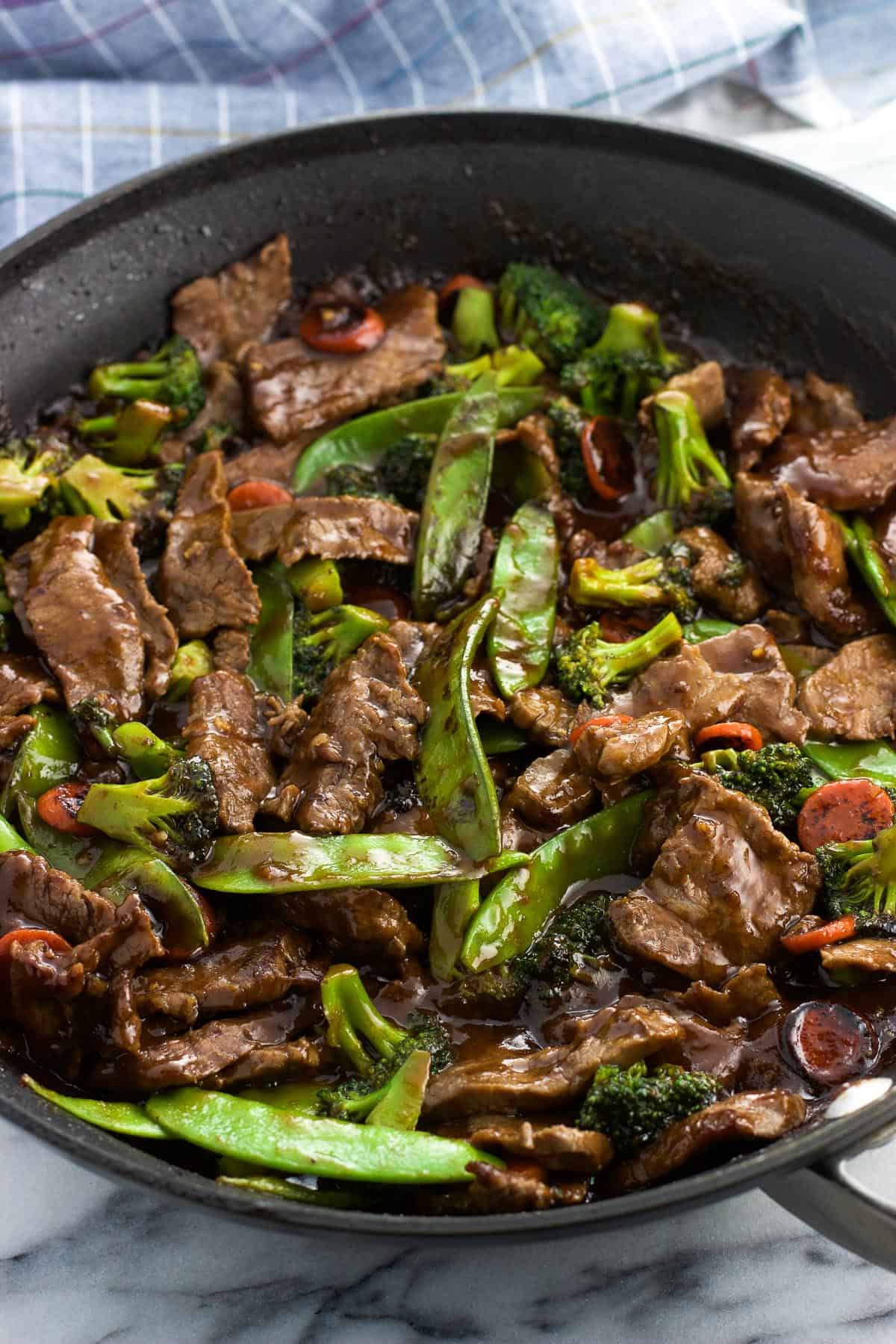 Beyond a hot pan and oil as necessities, the possibilities are endless for a stir fry recipe. This recipe features a variety of vegetables as well as an incredibly delicious balsamic peanut sauce.
Balsamic vinegar and peanut butter together in a sauce? Yes! This combination makes several appearances on the blog and is one of my very favorites. You can see it used in peanut chicken stir fry, as well as this slow cooker shredded beef, too.
Note: If you're returning to this recipe post via a saved link, the photos in this post were updated in March 2019 with additional step-by-step photos and details added January 2022. Same great recipe!
Reasons to Love This Recipe
Done in about 45 minutes with several prep-ahead options and shortcuts, this dish is a great choice for busy weeknights.
The flavor. Balsamic vinegar and peanut butter added to an Asian-inspired sauce might not sound like it would go well together, but the tart acidity complements all the creamy, bold flavors here very well. This is my go-to beef, and really, any protein, stir fry sauce recipe.
This sauce is versatile and can be made at a moment's notice with just about all fridge and pantry staples.
Recipe Ingredients
We'll get to the beef and vegetables in a second, but the real star of the show is the balsamic peanut stir fry sauce.
Stir Fry Sauce
Soy sauce: Reduced-sodium is my pick to keep the salt level in check. Coconut aminos can work in its place for those with food sensitivities.
Balsamic vinegar: Save your fancier traditional balsamic vinegar for bread dipping and garnishing. Cooking-grade balsamic from the grocery store works just fine in a cooked sauce recipe.
Sriracha: One tablespoon mixed with the rest of these ingredients doesn't bring too much spice, though you can reduce (or increase!) the amount in line with your tastes. Chili garlic sauce can be substituted if you like.
Peanut butter: Use your favorite! Smooth or crunchy, more conventional varieties or natural, etc. Just be sure to stir it well before measuring it out if there's oil separation.
Cornstarch: This is essential in thickening up this stir fry sauce.
Stir Fry Vegetables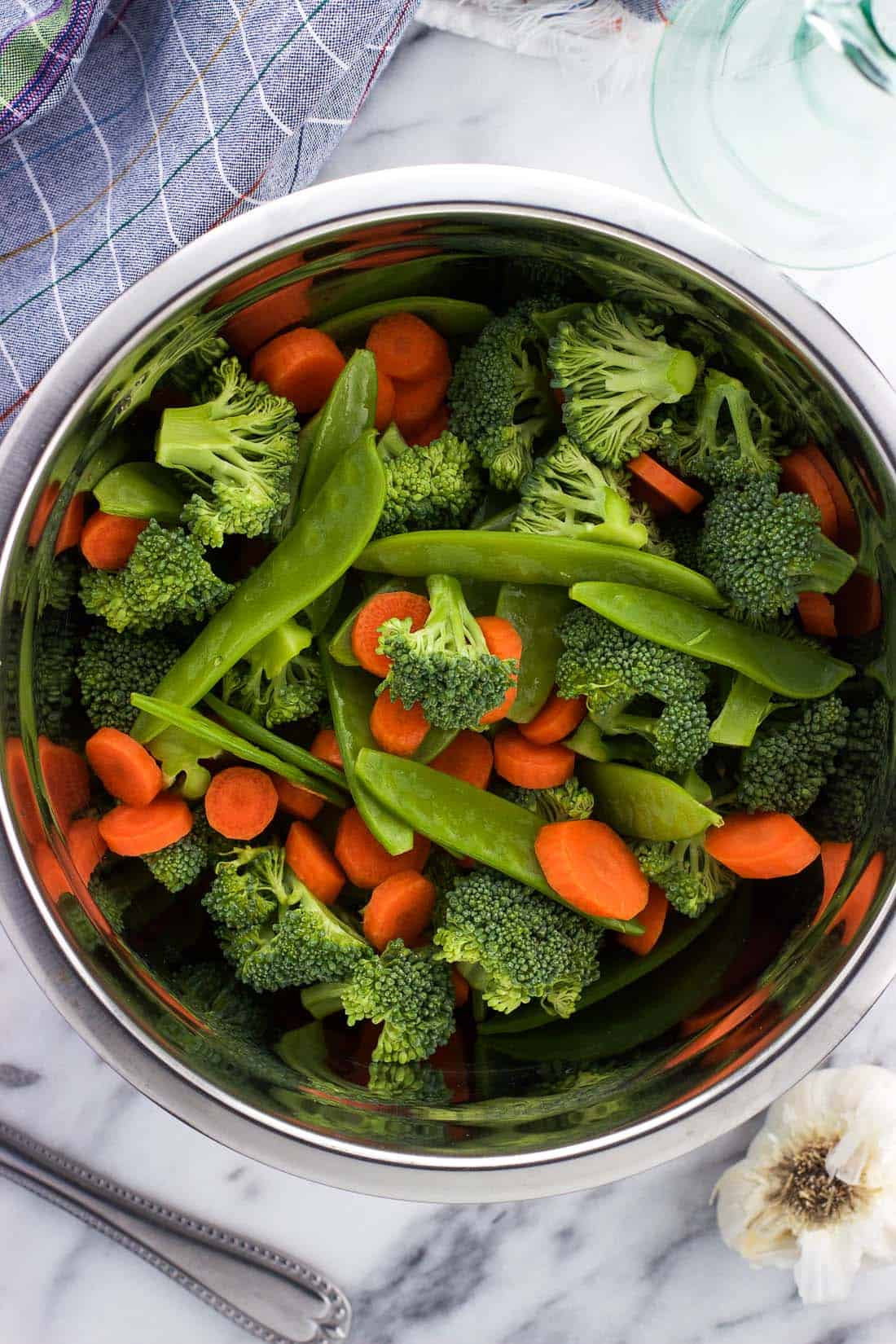 Mix and match vegetables here to use what you like, in the quantities you like them. Thinly sliced onions, pepper strips, baby corn, water chestnuts, and/or mushrooms are all good options, in addition to the broccoli florets, carrots, and snow peas seen here.
Something to be mindful of is the cook time. You'll want to add harder vegetables like carrots and onions to the pan before quicker to cook vegetables like snow peas and any kind of greens so they're done around the same time.
One shortcut you can take is to use frozen mixed vegetables in place of the raw vegetables the recipe calls for. See a tip below on helping them not become soggy.
Stir Fry Beef
Flank steak is my preferred stir fry beef as it's a bit more tender than skirt steak, but both flank and skirt steaks are good options for this balsamic peanut beef stir fry. They're both on the leaner side and do well with higher heat cooking methods.
While I've included the steps on breaking down a flank steak into bite-sized stir fry pieces, supermarkets also offer "stir fry beef" in their meat departments, which are already sliced down and ready to cook. <-- This is a nice time saver!
Step-by-Step Instructions
Since everything comes together in the hot pan quickly, prep your ingredients before turning the stove on. The vegetables are straight-forward to get ready, but the flank steak will take some extra work.
How to Cut Flank Steak for Stir Fry
Lay the beef flat on a cutting board. With a sharp knife, trim off excess fat and remove any silver skin (the very thin, white connective tissue on the surface). Cut the flank steak into even strips about 2"-thick with the grain.
Take each strip and lay it horizontally on the board. Now you want to be cutting against/perpendicular to the grain. Cut thin strips on an angle about ¼"-thick.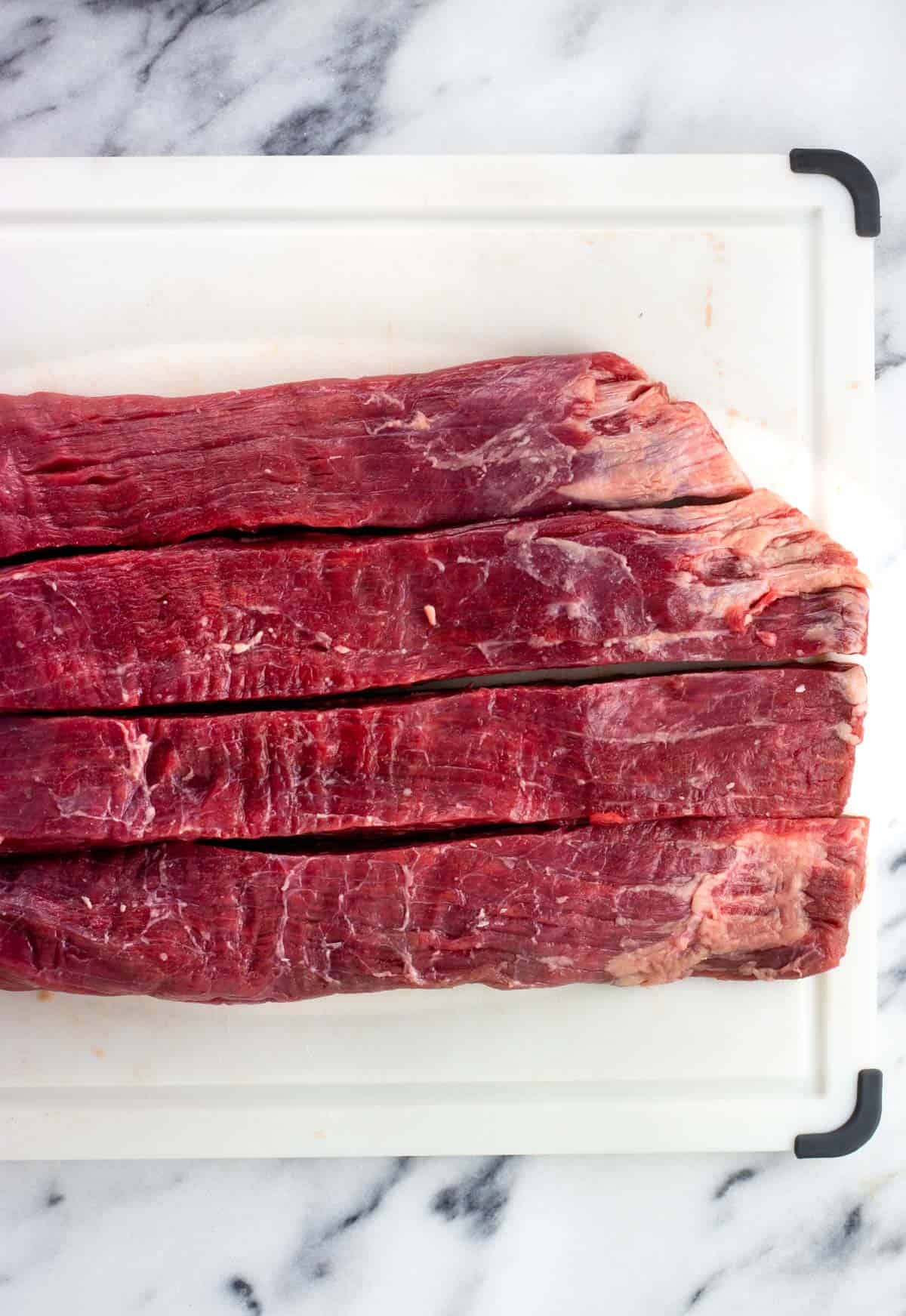 Here are the biggest takeaways:
You want each piece of flank steak to be about the same thickness so they all cook evenly.
Your final strips should be cut against the grain.
The grain refers to the tough muscle fibers in the meat. Cutting against the grain helps ensure the meat is more tender by shortening these tough muscle fibers up. Cutting with the grain would keep these fibers longer, and would result in a chewier piece of meat. That's not what we want.
If you want to see this process in action, this video on Youtube from Serious Eats does a great job of showing the prep from start to finish. Note that the grain on the piece of meat he is cutting is running opposite to how it is in the meat in these photos.
Recipe Steps for Stir Frying
Add all stir fry sauce ingredients to a bowl or a large measuring cup.
Whisk very well so that it's as evenly combined as can be. Be sure that the cornstarch has dissolved fully and isn't in clumps.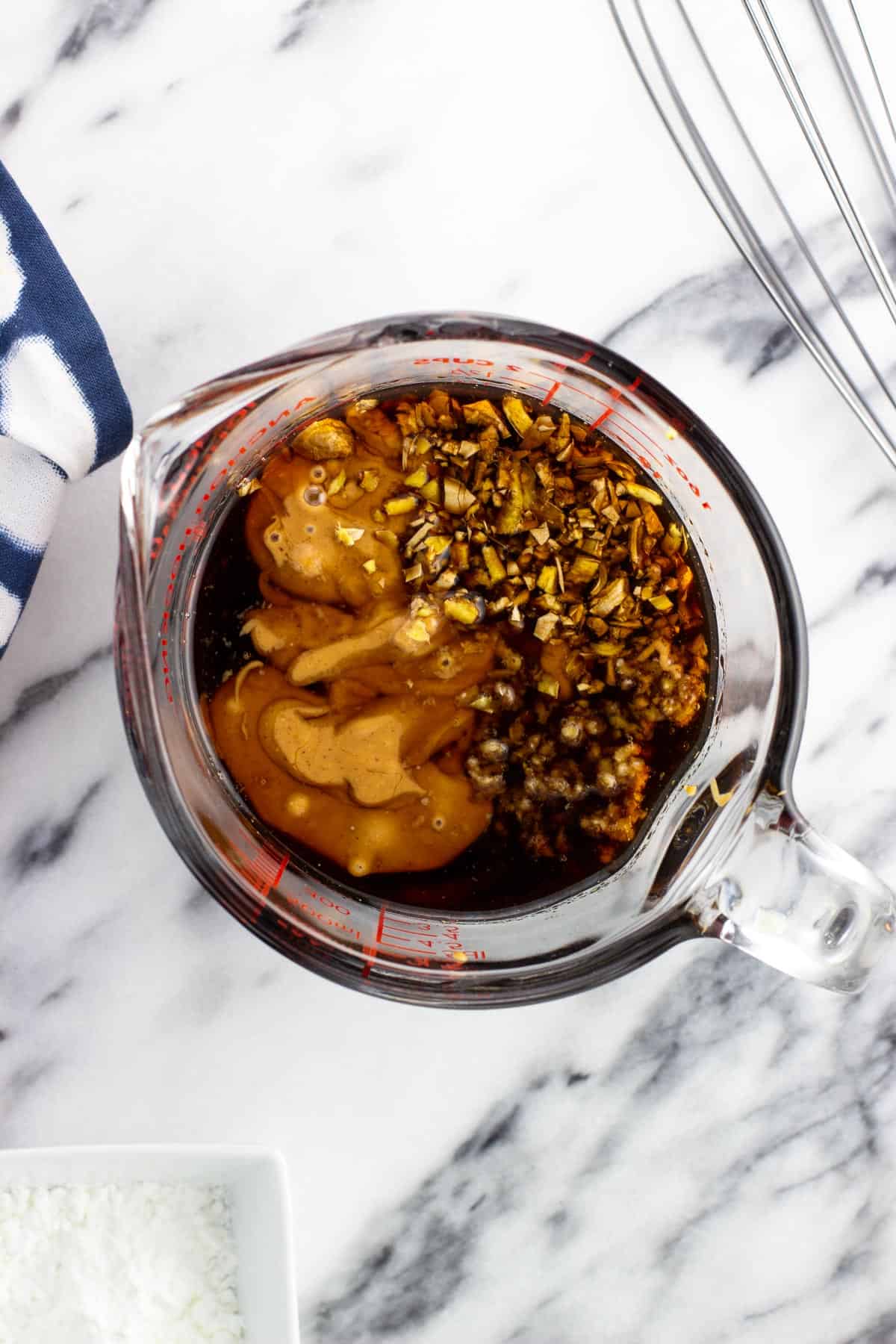 Add one to two teaspoons of cooking oil to large pan. Since we'll be cooking over a relatively higher heat (medium-high), use a cooking oil that has a higher smoke point, such as canola, corn, grapeseed, sunflower, etc. Once heated, add the sliced steak and cook until browned, using tongs to turn the pieces over to ensure it cooks evenly. Once the beef is cooked, remove it to a plate for now.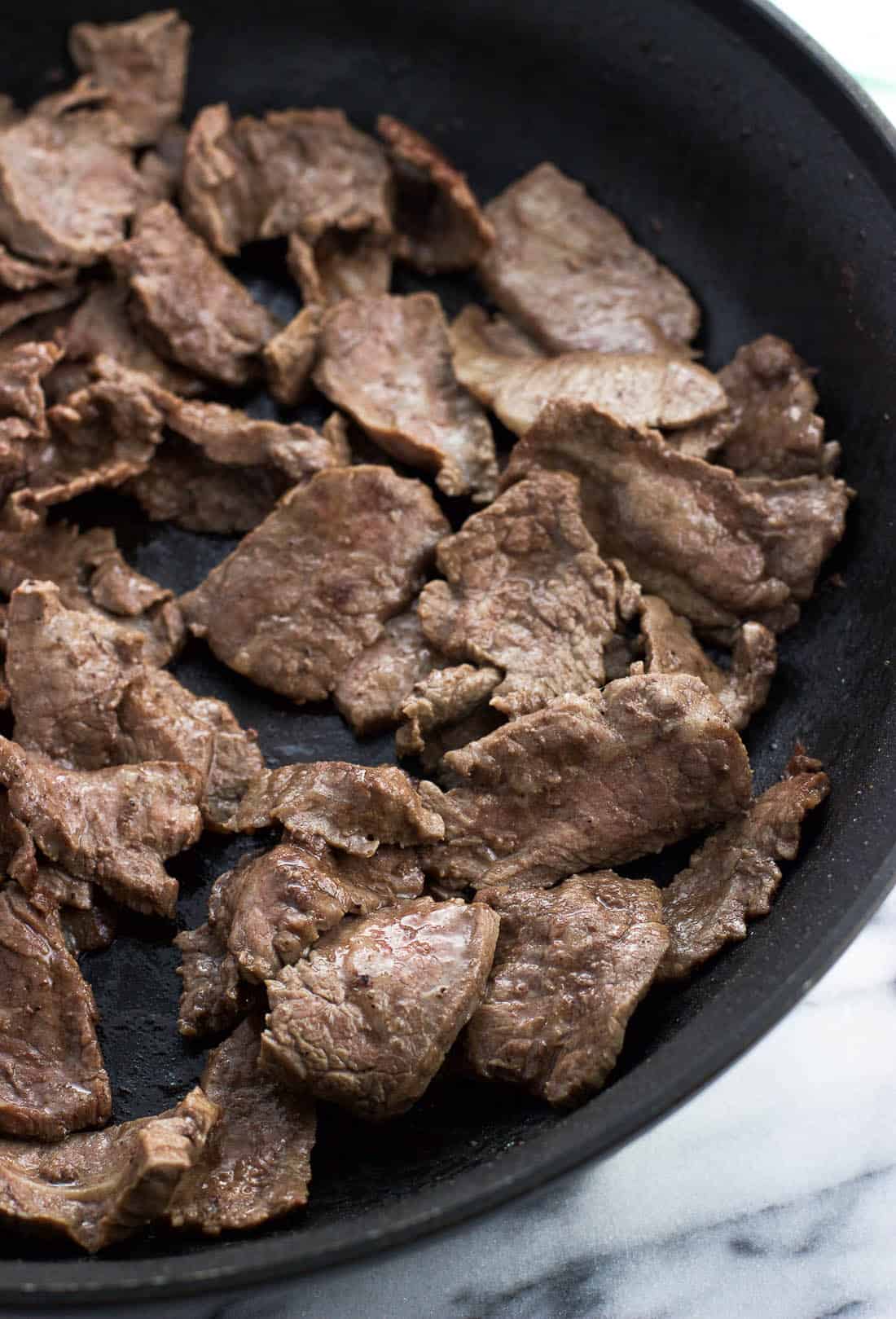 Add another teaspoon or two of the oil to the (now-empty) pan and let it heat. Add the carrots first as they're harder and need a head start on cooking, then cook for 2 minutes before adding the broccoli and snow peas. Cook for 5 minutes, then add the meat back to the pan.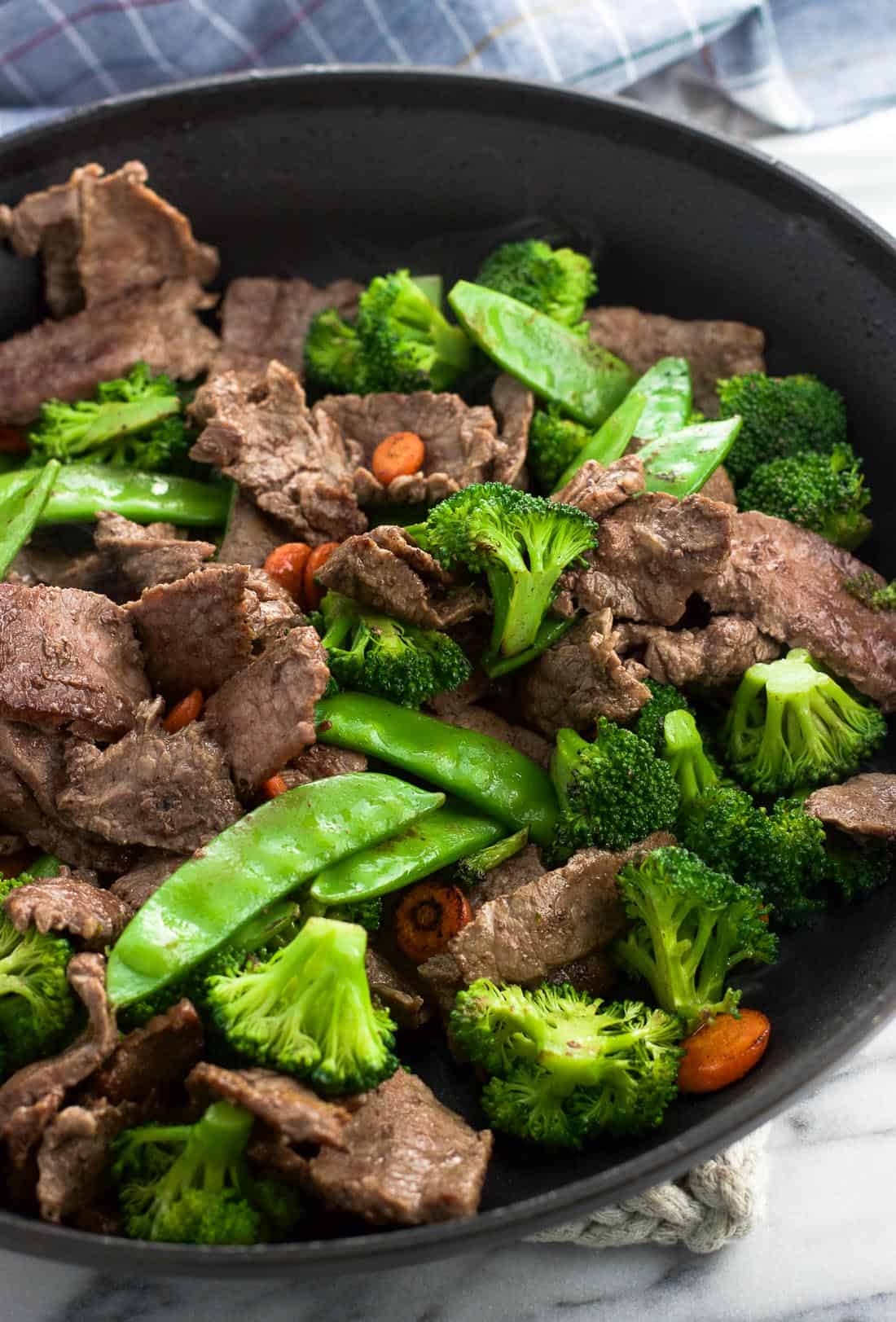 Pour the stir fry sauce into the skillet and let it come to a simmer. Cook for five or so minutes, or until the sauce has thickened to how you like it. The pressure's off as all of the ingredients have been cooked.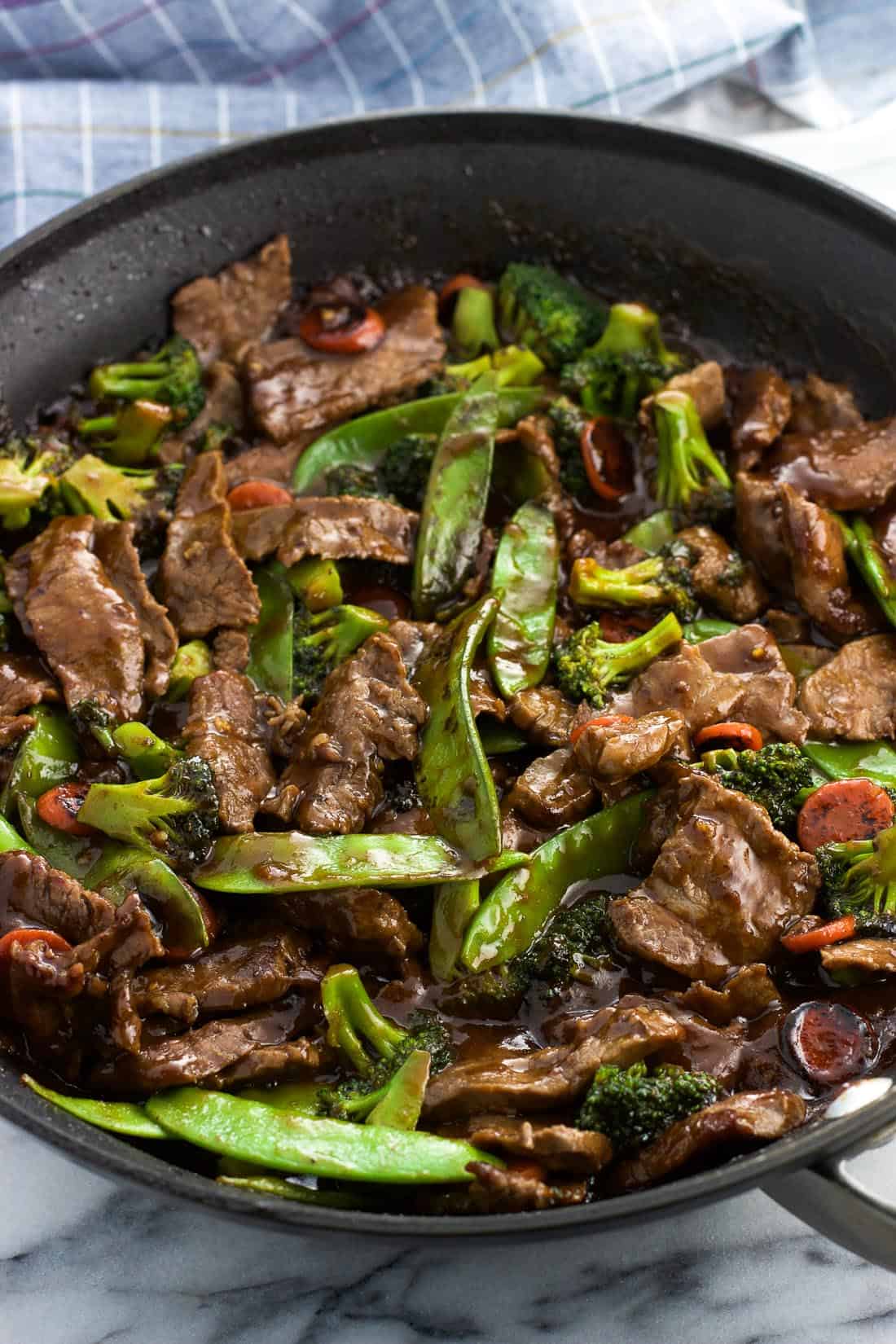 Recipe Tips and Tricks
Ingredient tip: For a much longer shelf life, did you know you can freeze whole ginger root? I rinse it and pat completely dry, then stick the root in the freezer. It makes it so easy to grate to use right in recipes -- I don't even bother peeling it.
Recipe shortcut: To save time you can use a bag of frozen mixed vegetables. If doing so, let them sit for a few minutes on a paper towel-lined plate so any ice crystals can absorb. This helps prevent the vegetables from becoming soggy.
Serving suggestions: What you see served with this peanut beef stir fry recipe is brown rice, which is our usual stir fry accompaniment. Quinoa also works, as does couscous, cauliflower rice (see my method of cooking non-soggy cauliflower rice in this post for pesto cauliflower rice, through step #2), soba/udon/lo mein noodles, etc.
Storage instructions: Refrigerate leftover portions and consume within three days.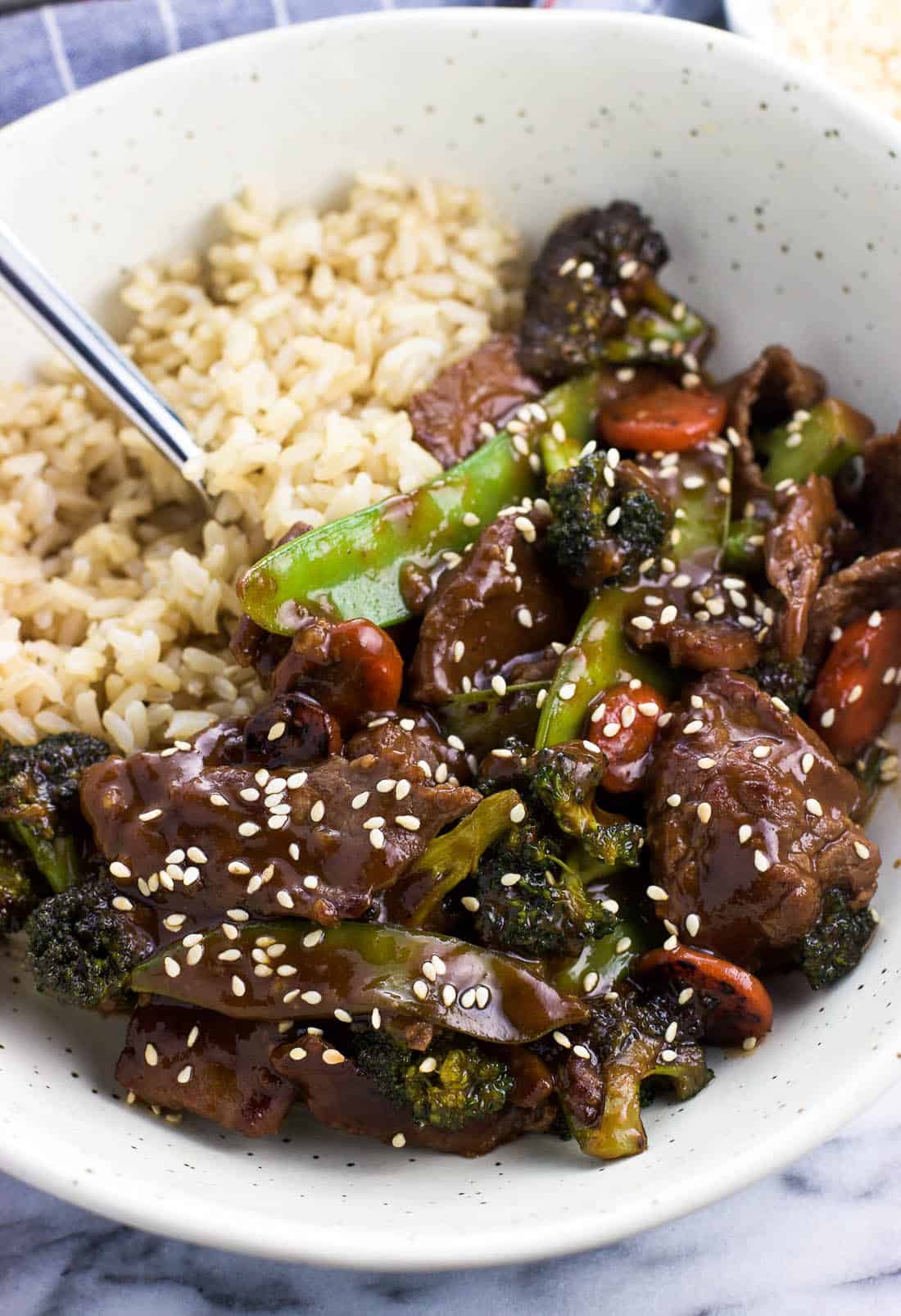 Related Recipes
If you've enjoyed this recipe, I'd love for you to leave a star rating in the recipe card and/or a comment review below!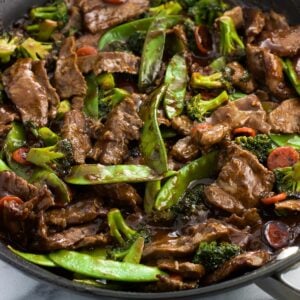 Balsamic Peanut Beef Stir Fry Recipe
This balsamic peanut beef stir fry recipe features mixed vegetables and the BEST beef stir fry sauce for a weeknight-perfect meal. Serve this easy beef stir fry over rice, couscous, or noodles for a delicious dinner option.
Print
Pin
Rate
Ingredients
For the beef stir fry sauce:
½

cup

reduced-sodium soy sauce

⅓

cup

balsamic vinegar

¼

cup

peanut butter

¼

cup

honey

1

Tablespoon

sesame oil

1

Tablespoon

sriracha

or to taste

4

cloves

garlic

minced or pressed

2

teaspoons

cornstarch

1 ½

teaspoons

freshly minced/grated ginger
For the beef stir fry:
2 - 4

teaspoons

high smoke-point oil

(such as corn, canola, peanut, etc.), divided

1.25

lb

flank steak

cut into thin strips

6.5

oz

broccoli florets

3

oz

carrots,

sliced

3

oz

snow peas

Brown rice, couscous, noodles, etc.

for serving
Instructions
Prep the ingredients:
Rinse, cut, and prep the vegetables. Set aside.

Lay the flank steak flat on a cutting board. Slice it with the grain into two-inch strips, then take each strip and slice it on an angle against the grain into ¼-inch strips. Repeat for all of the strips. Set aside.
Make the sauce:
Whisk together all beef stir fry sauce ingredients in a bowl or large measuring cup until smooth and set aside for now.
Stir fry:
Add 1-2 teaspoons of oil to a large pan set over medium-high heat and swirl it around to coat the bottom evenly. Add the meat in an even layer and cook until browned, flipping as needed to ensure even cooking. Once meat is cooked, remove it from the pan to a plate.

Add another 1-2 teaspoons of oil to the pan, set again over medium-high heat. Add the carrots and cook for 1-2 minutes. Then add the broccoli florets and the snow peas. Cook for 5 minutes.

Add the meat back to the pan with the vegetables and stir together. Whisk the sauce again to make sure everything is combined, then pour it into the pan. Stir everything until well-coated.

Bring everything to a simmer, then lower heat to medium. Cook for 3-5 more minutes, or until the sauce is thickened to your liking, stirring occasionally.

Serve over rice, quinoa, noodles, etc. Garnish ideas: toasted sesame seeds, peanuts, sliced green onion.
Notes
Ingredient Notes
Steak: Flank or skirt steak will work for this recipe. 1.25 lbs is the weight of the flank steak after I trimmed the excess fat. There's some wiggle room here, so anywhere from a 1.3-1.5 lb package should be just fine.
Sriracha: One tablespoon doesn't add a huge amount of spice to the sauce, but do use less/more in line with your tastes. Chili garlic sauce can also be used in its place.
Peanut butter: Your favorite basic variety will likely work. Just be sure to stir it up well before measuring it out if the kind you use has a layer of oil separated on top.
Ginger: To streamline measuring out fresh ginger, I rinse whole ginger root, dry it very well, then store it in the freezer. It grates very easily frozen and you don't even need to peel it.
Recipe Tips
To cut down on prep work, look for specifically labeled "stir fry beef" in the meat department of the grocery store. It will be trimmed and cut into pieces (though you may need to cut one or two down if any pieces are quite a bit larger than the rest for equal cooking time).
For another recipe shortcut, frozen vegetable blends also work well here. Don't thaw the vegetables first, but place them on a layer of paper towels for a minute or two to absorb away any ice crystals. This reduces the risk the vegetables become soggy.
Nutrition: Nutritional info is an estimate assuming using all of the sauce and beef. It doesn't include what you might serve it with (rice, etc.) or garnishes for serving.
Nutrition
Calories:
452
kcal
|
Carbohydrates:
25.1
g
|
Protein:
37.9
g
|
Fat:
22.6
g
|
Saturated Fat:
6
g
|
Cholesterol:
62
mg
|
Sodium:
999
mg
|
Potassium:
745
mg
|
Fiber:
2.9
g
|
Sugar:
17.8
g
|
Calcium:
40
mg
|
Iron:
4.7
mg
Nutritional information is provided as an estimate. As it can vary due to many factors (brands used, quantities, etc.), we cannot guarantee its accuracy.
Food Safety and Nutrition Disclaimer