An easy beef stir fry with balsamic peanut sauce, mixed vegetables, and cashews. Serve over rice, couscous, or noodles for a quick weeknight meal!
Maaaaybe, just maybe you're experiencing déjà vu right now? If so that's because I tried to share this stir fry with you earlier this week. Then I got sidelined with a bunch of computer/blog problems and my stir fry got sent into a black hole. But it's back! Which is a good thing because it's freakin' delicious and it would be shame for it to have gotten lost into never never land. A few comments also got lost in the shuffle – so sorry about that! As always, thank you all for reading and bearing with me during times of tech craziness! ♥
One of my (many) new year's resolutions has been to plan out my entire work week ahead of time. Snacks, outfits, gassing up my car, etc. Basically do as much as I can on the weekends to avoid any errands during the week. For some reason stopping at the gas station or picking up a few things at the supermarket on a week night is torturous in my mind. Then again anything that keeps me away from my sweatpants and the couch for even a minute too long is SO not a good thing.
A big part of all this planning ahead has been our weeknight dinners, and this stir fry has been a shining star. It takes about forty minutes from start to finish, is bursting with flavor, and makes a preeeetty fab lunch the next day!
If it was socially acceptable to drink stir fry sauce with a straw…well I'd be drinking this sauce through a straw. So good! It has peanut butter (and a smidge of cornstarch) for thickness, along with soy sauce, sesame oil, and ginger for an Asian-inspired flavor. There's sriracha for a little zing, and balsamic vinegar for a slightly tart and bold twist. It coats the beef and vegetables beautifully, and soaks into whatever you're serving it over (rice, couscous, noodles).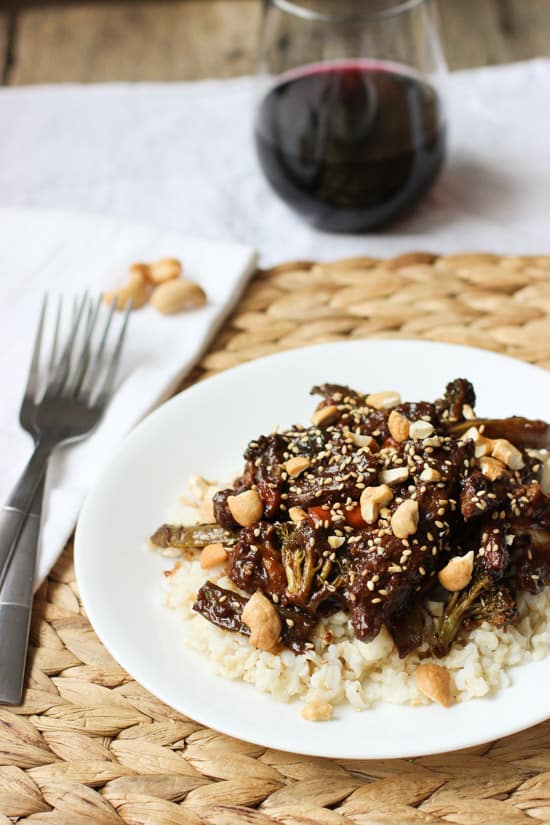 Another reason I love meals like this for week nights is that I usually have all of the ingredients in the house – no last-minute grocery trip required! We usually can find stir-fry beef that's already cut into strips in our grocery store, but if not, skirt steak is a great (and typically affordable) option.
As an extra time-saving step, most of the time I use frozen stir-fry vegetables, keeping in mind a few tips. Once I take the vegetables out of the freezer, I pat the vegetables with a paper towel to absorb any excess moisture before cooking to mitigate sogginess. I also cook the beef in a frying pan first, remove the beef, and then cook the vegetables in the same frying pan to add a little extra flavor. Anything that saves time, adds a richer flavor, and cuts down on the amount of dishes to clean is a winner in my book!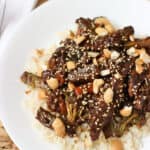 Beef Stir Fry with Balsamic Peanut Sauce
An easy beef stir fry with balsamic peanut sauce, mixed vegetables, and cashews. Serve over rice, couscous, or noodles for a quick weeknight meal.
Ingredients
For the sauce:
1/2

cup

reduced-sodium soy sauce

1/3

cup

balsamic vinegar

1/2

cup

water

1

tbsp

sesame oil

1

tbsp

sriracha,

or to taste

1/4

cup

brown sugar

1/2

tsp

ground ginger

1/2

tsp

minced garlic

2

tbsp

cornstarch

1/4

cup

peanut butter
For the stir fry:
2-4

tsp

olive oil

1

12-oz

pkg frozen stir-fry vegetables*

1 1/4

lb

stir-fry beef or skirt steak,

cut into strips

Prepared brown rice, couscous, noodles, etc.

Cashews, sesame seeds, etc.

, for garnish
Instructions
Combine all sauce ingredients in a mixing bowl and whisk well to combine evenly. Set sauce aside.

In a large frying pan (or wok), add 1-2 tsp olive oil, coat the pan, and heat on high until oil just begins to smoke. Add meat in an even layer and cook until browned, flipping as necessary to ensure even browning. Once meat is cooked, remove from pan and add about 1-2 tsp of additional olive oil to the frying pan. Add vegetables and stir fry for 4-5 minutes, or until vegetables are cooked and crisp.

Add the meat back to the pan with the vegetables and mix together. Whisk sauce again to make sure everything is combined, then add about 1 cup of stir-fry sauce to the pan and stir to coat the meat/vegetables evenly. Bring mixture to a simmer, then reduce heat to medium. The sauce will reduce and thicken within about 3-5 minutes. Once thickened, stir fry is ready to serve over rice, couscous, noodles, etc. Garnish with cashews or sesame seeds if you wish.
Recipe Notes
The sauce recipe as written above yields just under 2 cups of sauce, so you may have some leftover.
Nutritional info is an estimate assuming using all of the sauce and beef. It doesn't include what you might serve it with (rice, etc.) or garnishes for serving.
Nutrition Facts
Beef Stir Fry with Balsamic Peanut Sauce
Amount Per Serving
Calories 439
Calories from Fat 211
% Daily Value*
Total Fat 23.4g 36%
Cholesterol 67mg 22%
Sodium 1029mg 43%
Potassium 623mg 18%
Total Carbohydrates 20.1g 7%
Protein 35.7g 71%
* Percent Daily Values are based on a 2000 calorie diet.