This Philly cheesesteak panini is inspired by the sandwich classic and features thinly-sliced chuck roast, provolone cheese, and lots of caramelized onions for a delicious and easy lunch or dinner.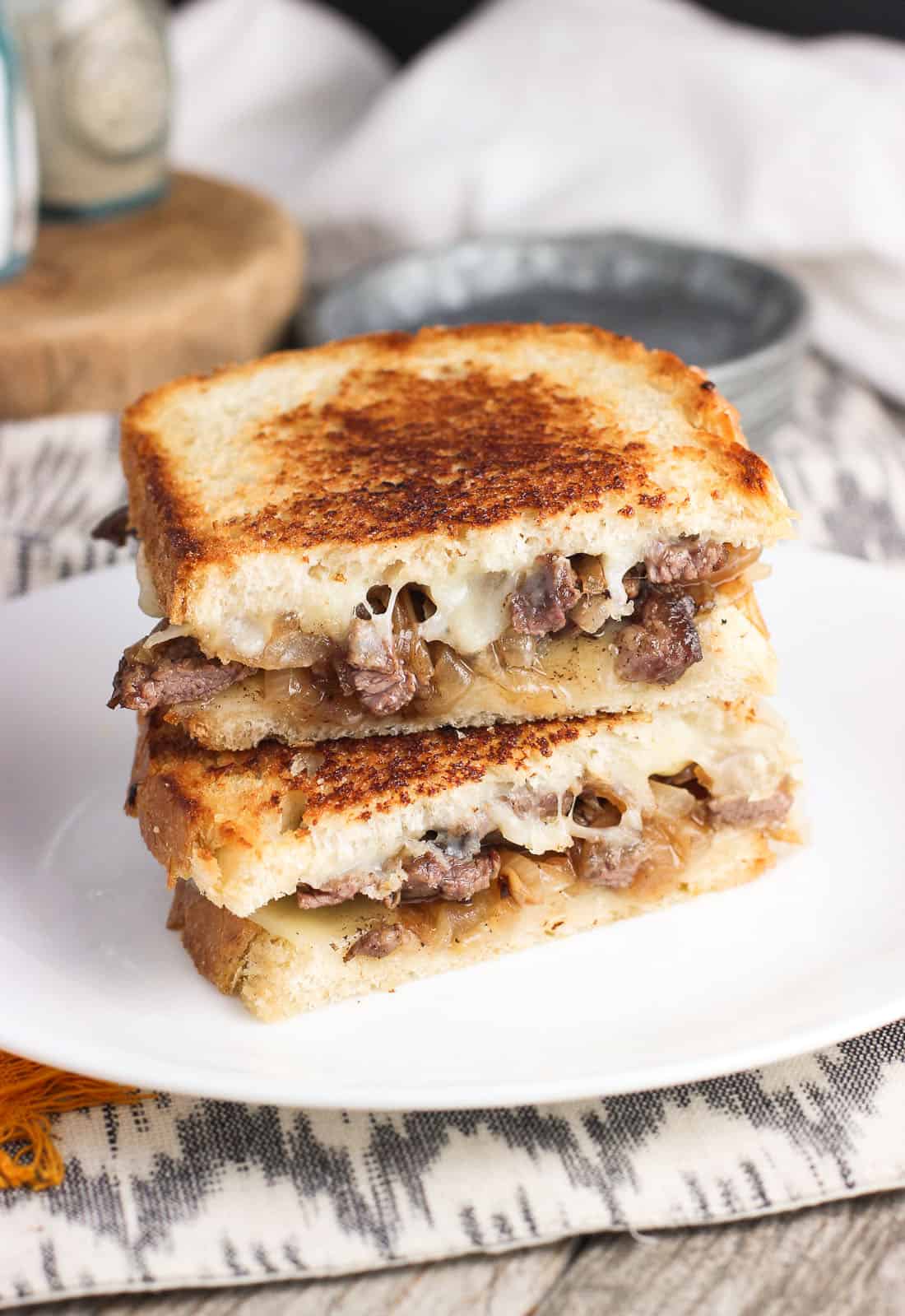 Okay, let me begin by saying that I'm aware some people have strong feelings about cheesesteaks. I went to college in Pennsylvania about an hour away from Philadelphia, so I've witnessed the great Pat's vs. Geno's debate on more than one occasion. For the record I never made the trip to do my own taste test on the matter, so I'm abstaining from forming an opinion.
I'm adding it to my food bucket list though which only seems to be growing daily. Someday you'll be mine beignets...Chicago pizza...true blue Philly cheesesteaks...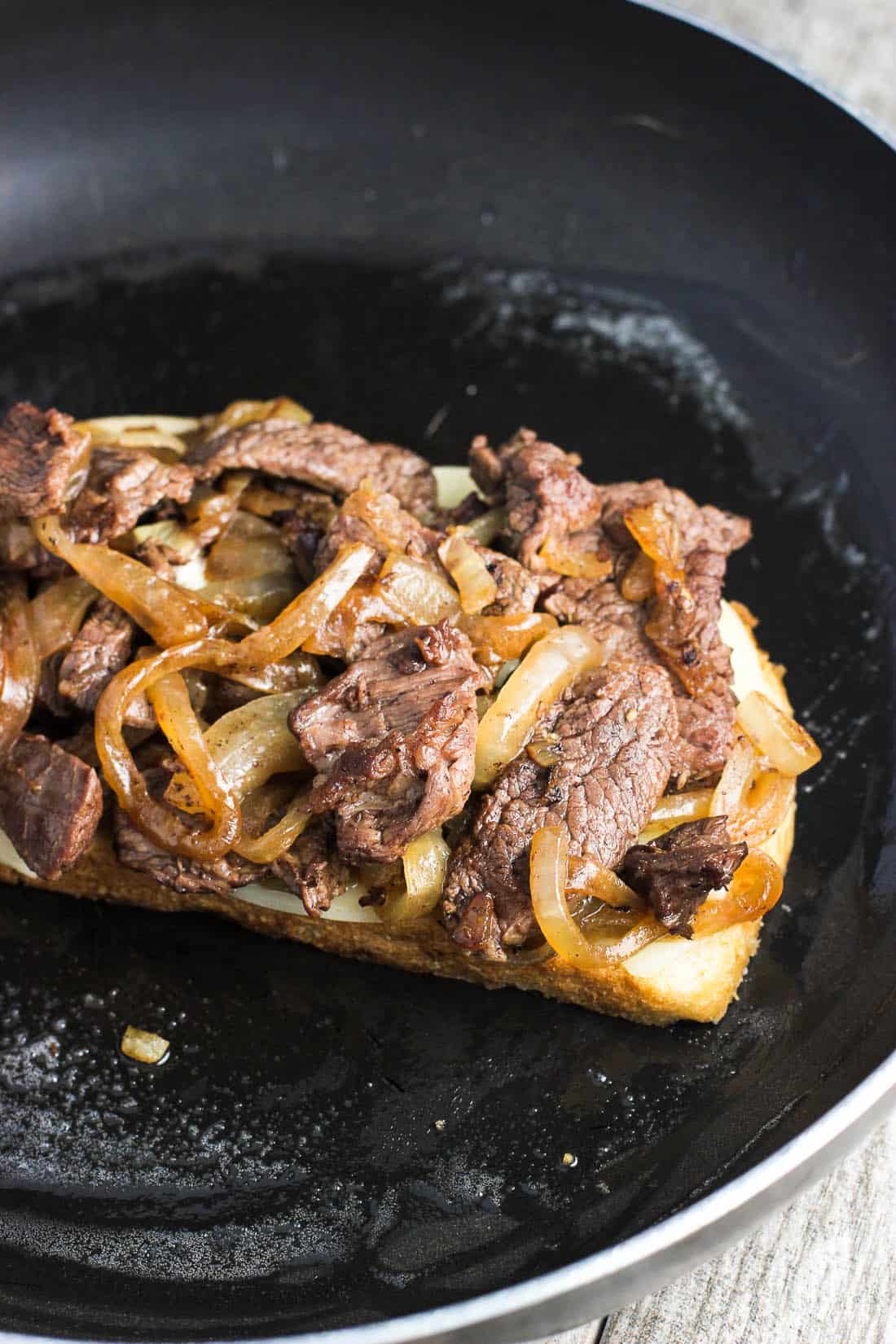 So back to these cheesesteaks. People tend to be...spirited when it comes to discussing the *best* cheesesteak, so please accept this Philly cheesesteak panini recipe as my preferred "inspired-by" variation of the classic. For one I'm using slices of a wide loaf of bread and not a hoagie roll. And then there's the meat. You hear a lot about cheesesteaks being made with ribeye, but if I'm going to spending the $$$ for ribeyes, I'd like for them to be perfectly and simply prepared on the grill, please. So chuck roast was my chosen alternative as it's less expensive, easily found in my local grocery store, and still has a good amount of fat marbled throughout the meat to provide flavor.
Some varieties of Philly cheesesteaks include peppers and/or mushrooms, but I stuck with only caramelized onions. Brian isn't a mushroom fan (I'm working on it), I'm not the biggest pepper fan (Brian's working on it), but we are both head over heels for caramelized onions so they were a no-brainer. By all means sauté them up too if you'd like to add them to the mix!
Still yet there's the cheese issue. On this Philly cheesesteak panini, I simply used slices of provolone cheese. There are versions out there with provolone cheese sauce, American cheese...even cheese whiz. We like provolone cheese so that's what we went with. Easy enough. Also easy enough? Chowing down on a Philly cheesesteak panini (take it from me). 😉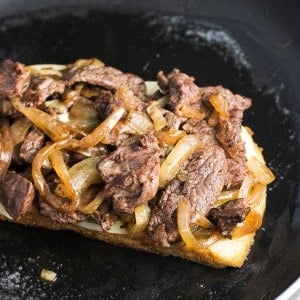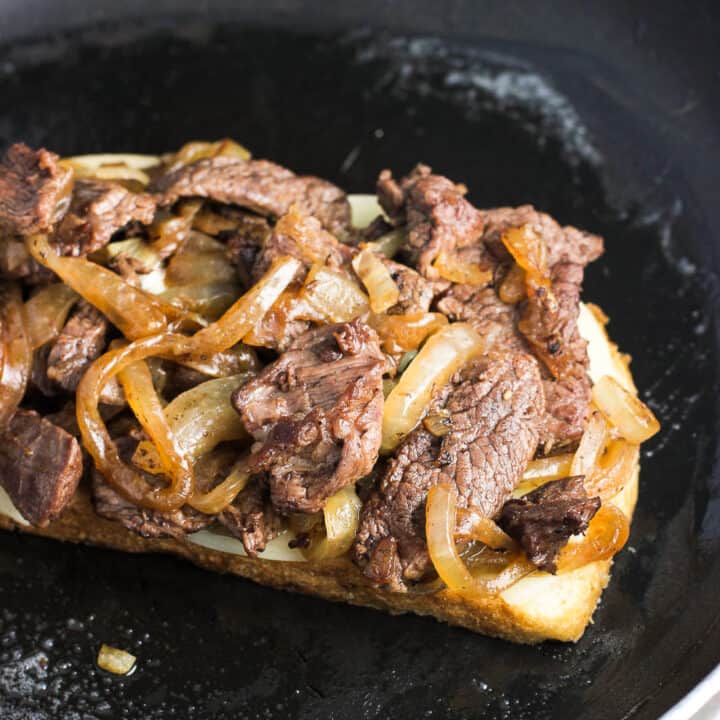 Philly Cheesesteak Panini
This Philly cheesesteak panini is inspired by the sandwich classic and features thinly-sliced chuck roast, provolone cheese, and lots of caramelized onions for a delicious and easy lunch or dinner.
Print
Pin
Rate
Servings:
3
large sandwiches
Ingredients
1

lb.

chuck roast,

sliced thin

1

medium onion

2

teaspoon

olive oil,

divided

¾

teaspoon

salt

Butter

for cooking panini

6

slices

of wide bread

6

slices

of provolone cheese

(your preference)
Instructions
Cut chuck roast into slices about ⅛" thick (see note). Thinly slice onion.

Add about 1 teaspoon of olive oil in a skillet and heat to medium-high heat. Add sliced onions and let cook for several minutes until they start to brown and caramelize. This took about five minutes for me. Once caramelized, remove onions from skillet to a plate or bowl and set aside.

Add another 1 teaspoon of olive oil to skillet and add the thinly-sliced meat. Season meat while it's cooking with ¾ teaspoon salt. The meat will only take about 2-3 minutes to cook per side (since it's sliced so thin). Flip meat to ensure both sides are cooked evenly and it's no longer pink.

Add the onions back into the skillet with the meat and mix together. Remove meat/onion mixture from skillet and set aside.

On one slice of bread, add a slice of provolone cheese and then spoon the meat/onion mixture evenly over top. Add another slice of provolone cheese and top with another piece of bread. Repeat to assemble all sandwiches.

Add a little bit of butter to bottom of skillet and reduce heat to medium. Add sandwiches to skillet and cook for 1-2 minutes, or until bottom has browned. Place a heavy skillet over top of sandwiches to press them down (optional). Flip sandwiches over and cook until the other side has browned and the cheese is melted. (The still warm meat/onion mixture will help to melt the cheese once it's added). Serve while warm.
Notes
To make the task of slicing the chuck roast easier, if you have time, place the chuck roast in the freezer for about 35-40 minutes before slicing against the grain with a sharp knife.
The nutritional info estimated here is for one full sandwich, which is quite large. For smaller appetites you may wish to consider one sandwich as two meals, which would cut in half all of the nutrition values below.
Nutrition
Serving:
1
sandwich
|
Calories:
683
kcal
|
Carbohydrates:
40.7
g
|
Protein:
62.8
g
|
Fat:
28.8
g
|
Saturated Fat:
13.4
g
|
Cholesterol:
140
mg
|
Sodium:
1601
mg
|
Potassium:
795
mg
|
Fiber:
2.3
g
|
Sugar:
3.5
g
|
Calcium:
360
mg
|
Iron:
7.6
mg
Nutritional information is provided as an estimate. As it can vary due to many factors (brands used, quantities, etc.), we cannot guarantee its accuracy.
Food Safety and Nutrition Disclaimer
You may also like: