This shop has been compensated by Collective Bias, Inc. and Mazola® Corn Oil. All opinions are mine alone. #MakeItMazola #SimpleSwap #CollectiveBias
Balsamic peanut chicken stir fry with Brussels sprouts makes a delicious one pan dinner! This hearty main dish recipe is done in 30 minutes, making this satisfying meal perfect for busy weeknights.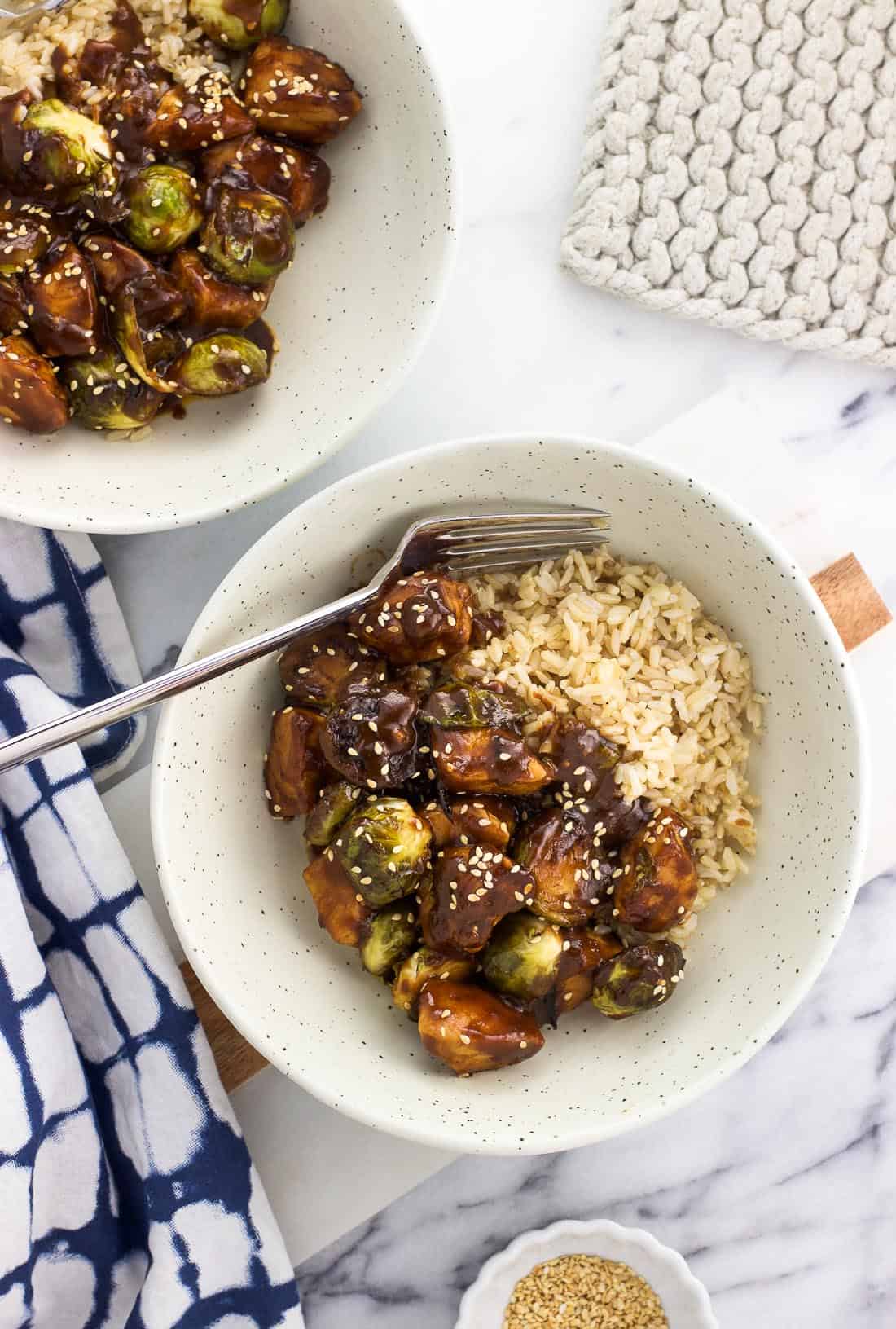 Forever on a mission to liven up weeknight dinner, I combined bits and pieces of some of our favorite meals and rolled them into this chicken and Brussels sprouts stir fry, featuring Mazola®​ Corn Oil.
This corn oil is an all-purpose cooking oil that's a smart and heart-healthy choice for your family. In fact, a clinical study showed that Mazola Corn Oil reduces cholesterol 2x more than extra virgin olive oil. To learn more about this claim, see Mazola.com.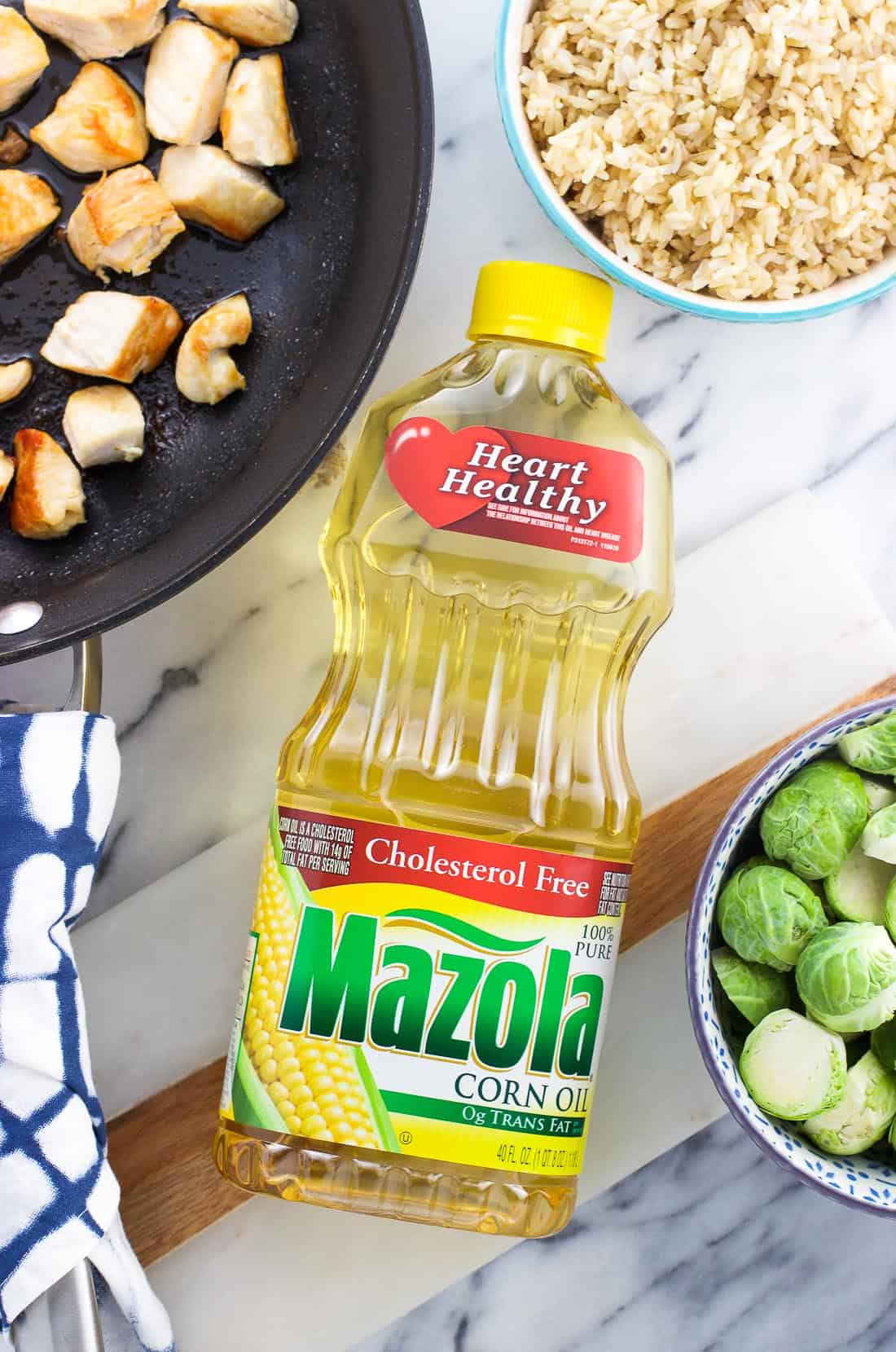 Corn oil benefits
Because Mazola Corn Oil has a higher smoke point (450°F) than most cooking oils, it's wonderful for stir-frying, grilling, sautéing, baking, etc. That means it's a great choice for a stir fry, which gets cooked over fairly high heat.
If you're not too familiar with smoke point, it's the temperature in which an oil starts burning and smoking. Goodbye, perfectly heated and shimmery oil and hello, smelly pan of burning and smoking oil. Many home cooks may not realize that all cooking oils have a smoke point, which once exceeded, can negatively impact the food's flavor and nutritional value.
That's why an oil like Mazola Corn Oil is a great choice for lots of cooking methods, and even for mixing up in a marinade or dressing. It's so versatile!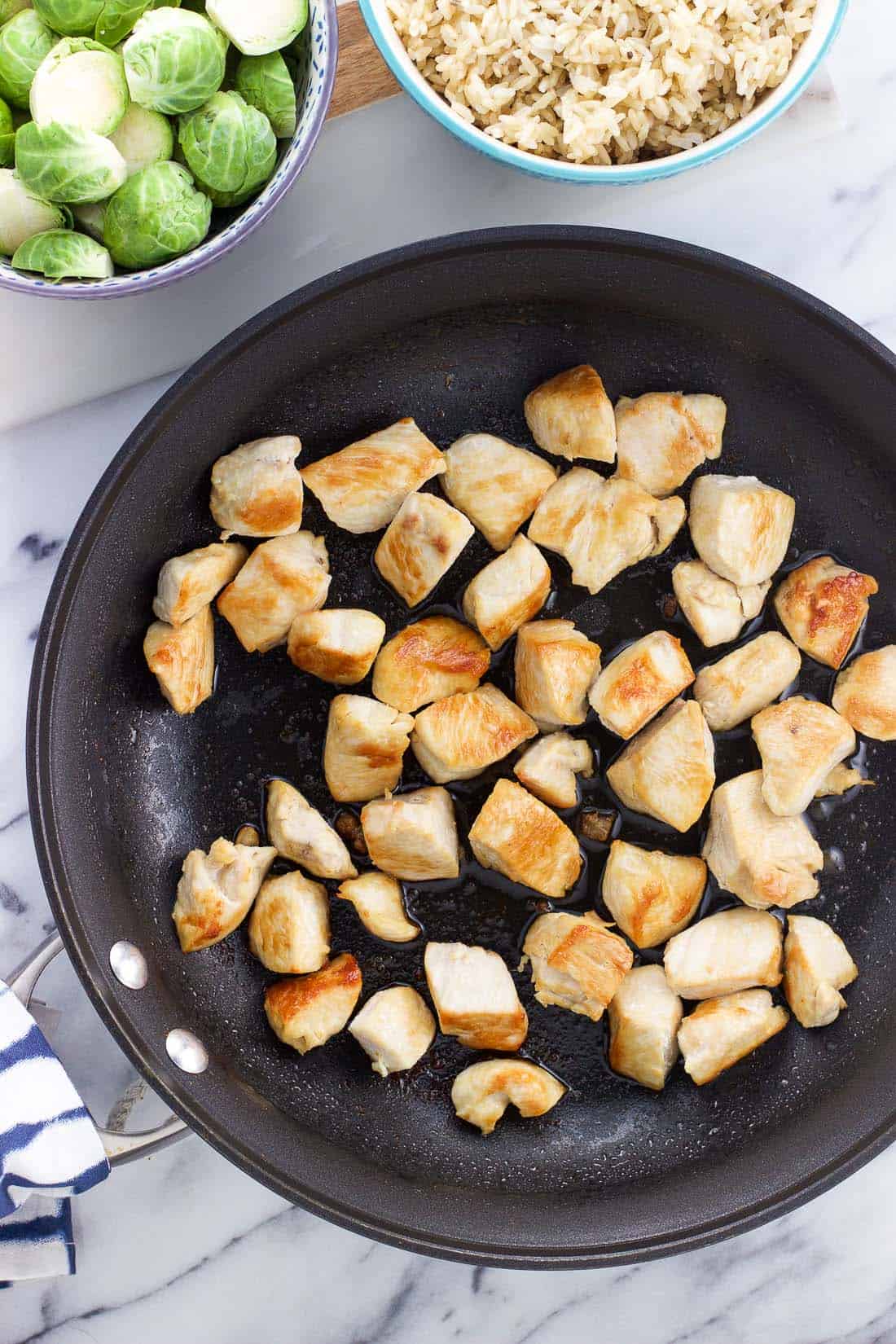 Corn oil comes into play three different times in this peanut chicken and Brussels sprouts stir fry. We're using it to cook the chicken, then the Brussels sprouts, and lastly in the out-of-this-world balsamic peanut sauce that covers everything beautifully.
Step-by-step instructions
Because this is an ideal weeknight dinner recipe, time-saving is the name of the game. To help keep things speedy, I cut boneless skinless chicken breasts into small cubes before cooking them in the skillet. Coupled with a medium-high skillet heat, the chicken should be cooked in seven to eight minutes (or so).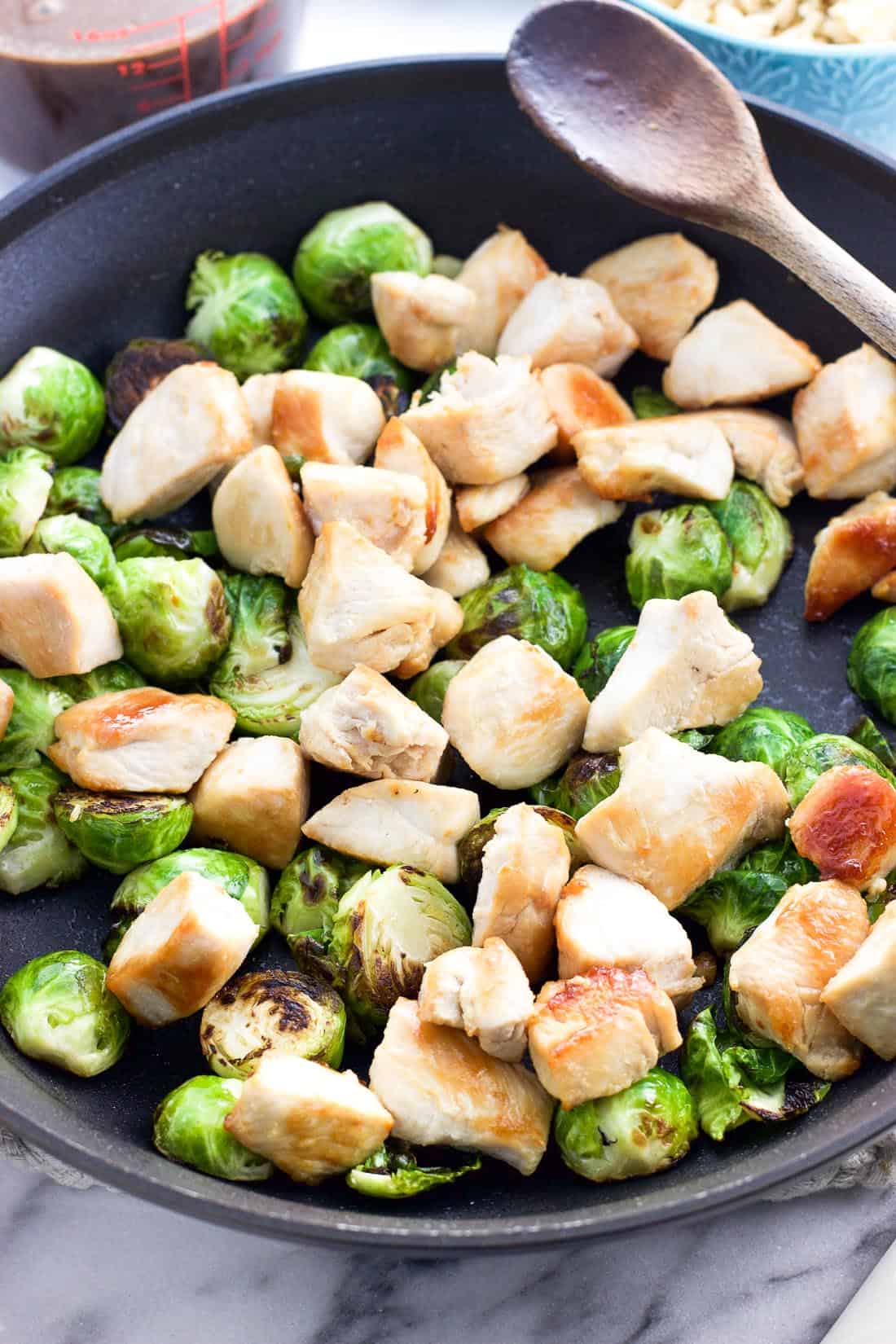 Once the chicken is cooked, transfer it to a plate and add additional Mazola Corn Oil to the skillet. Next up are the Brussels sprouts. Over the same medium-high heat, you'll want to leave the Brussels sprouts alone for several minutes before stirring them up so the side that's against the skillet can develop a slightly-charred appearance.
Those charred bits are one of the best parts of oven-roasted Brussels sprouts in my opinion, but roasting them requires nearly thirty minutes of cook time, before adding in the time your oven requires to pre-heat.
These skillet Brussels sprouts cook and develop these lovely spots all in a fraction of the time, helping keep this balsamic peanut chicken stir fry recipe on track for a weeknight-appropriate meal.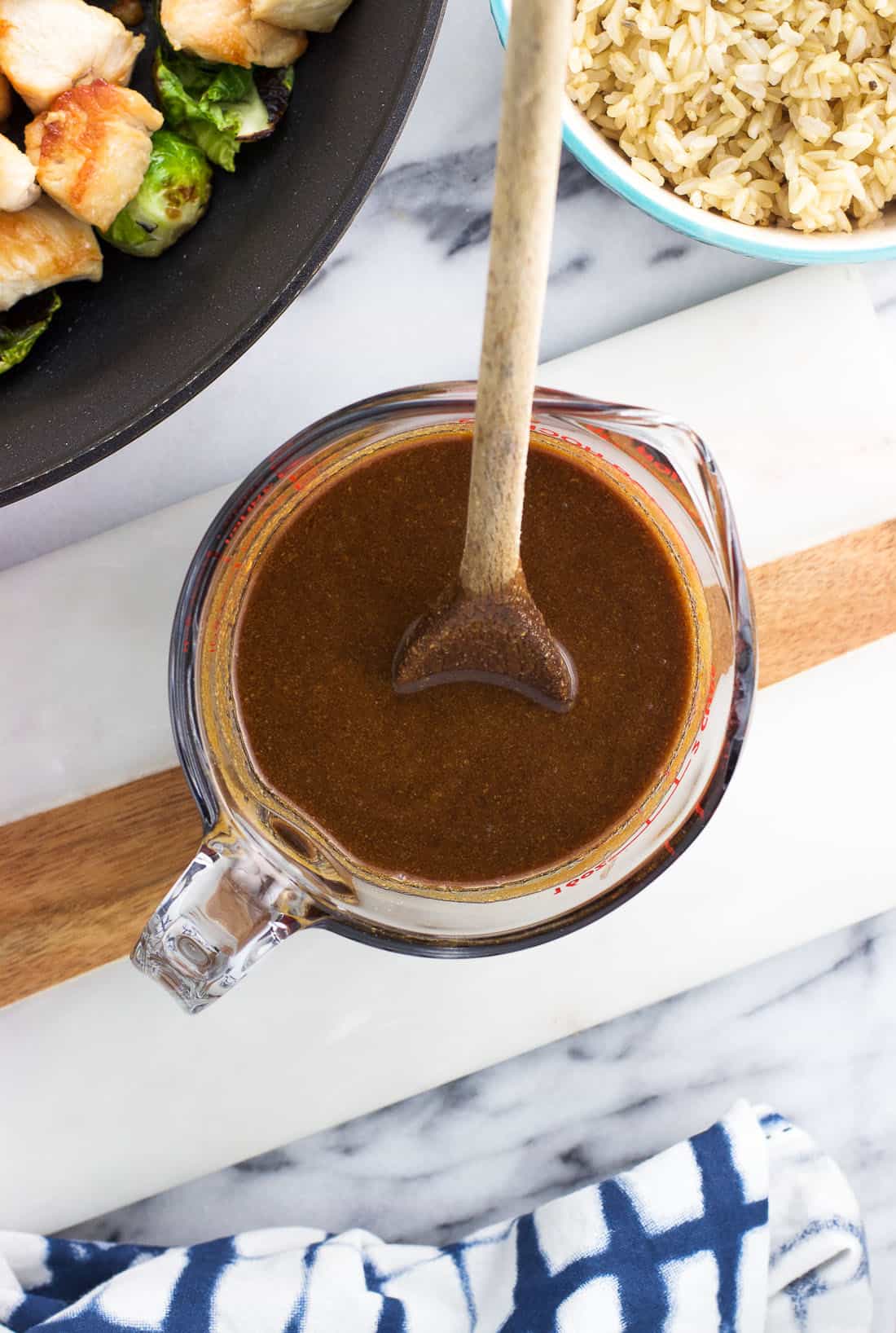 Once the Brussels sprouts have cooked, add the chicken back to to the skillet and pour in the sauce. Since Mazola Corn Oil has a neutral taste, it's included in the sauce for richness all while allowing the natural flavor of the food stand out.
One ingredient included in this sauce that might seem unusual is balsamic vinegar. It may look out of place alongside soy sauce, peanut butter, and sriracha sauce, but its tart tang combines so well with the other flavors to provide an ultra flavorful and unique stir fry sauce.
This dish is ready to serve once the sauce has thickened to your liking, which thanks to the addition of cornstarch doesn't take that long at all. Look at all that saucy goodness!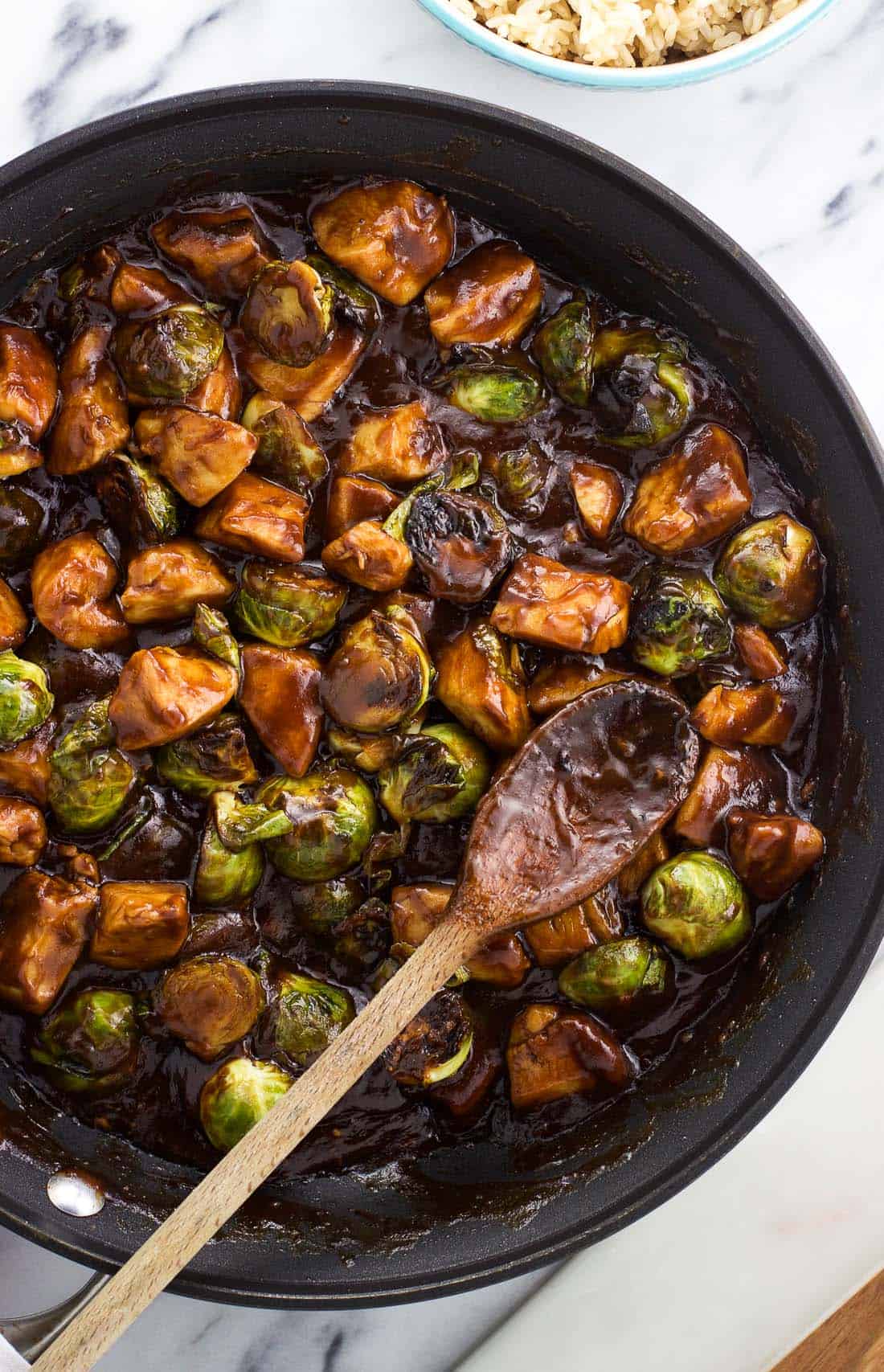 Better-for-you ingredients
Besides being a quick and easy dinner recipe, this stir fry is better-for-you thanks to several ingredient swaps along the way:
Mazola Corn Oil is used instead of canola oil, as corn oil has one and a half times the cholesterol-blocking plant sterols as canola oil (and four times more than olive oil). To learn more about this claim, see Mazola.com.
Reduce the overall sodium content by using reduced-sodium soy sauce instead of regular soy sauce.
You can serve this stir fry with brown rice instead of white rice for increased nutrients, including extra fiber and protein.
The sauce features a touch of sweetness from honey, an unrefined sweetener, instead of refined sugar.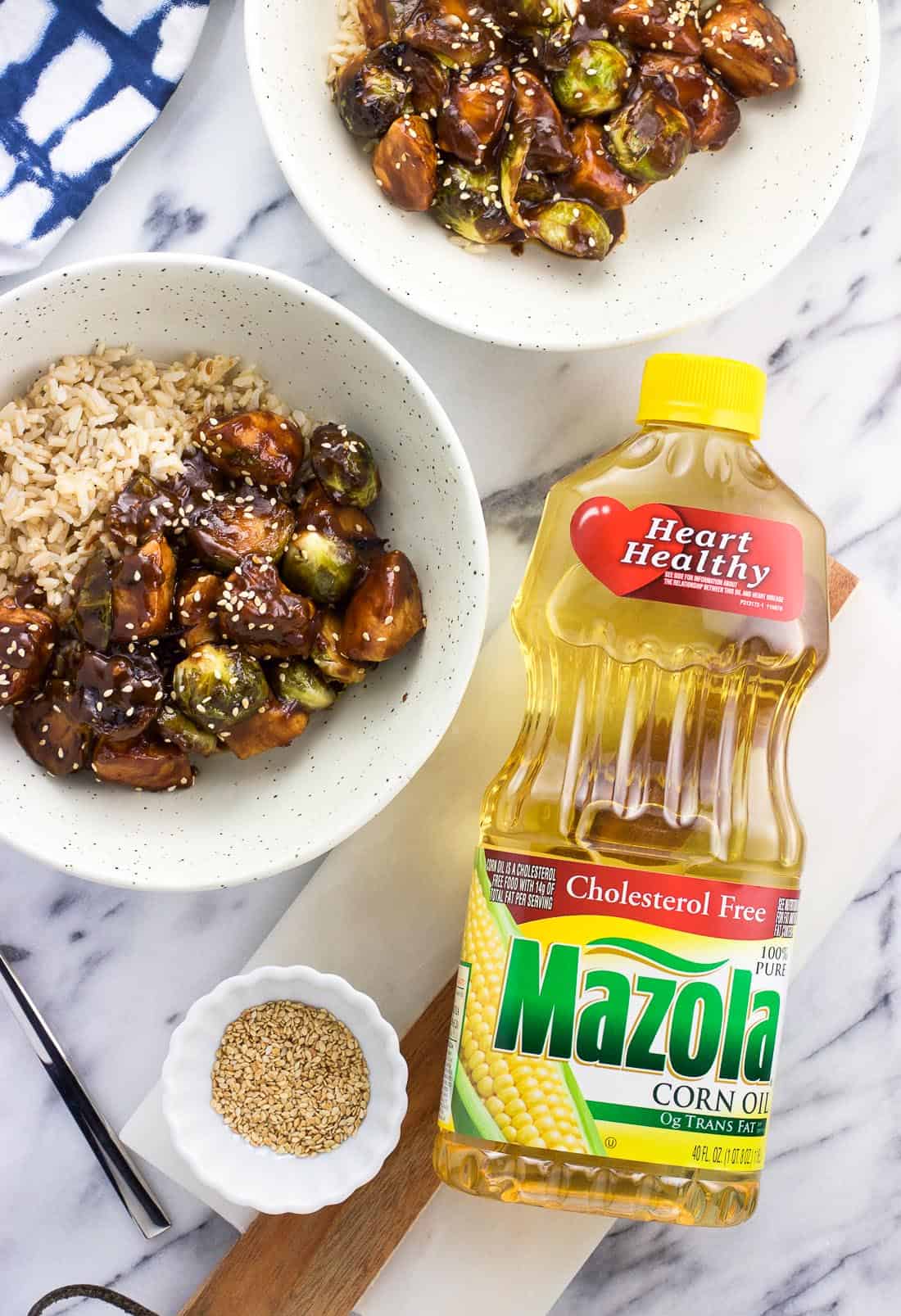 Recipe notes
You'll want to use a large skillet with taller sides for this one to prevent over-crowding or spillage.
Be sure to whisk the cornstarch into the sauce well before pouring into the skillet.
This dish has a lot of flavor on its own, but I like to garnish it with toasted sesame seeds and/or sliced green onions.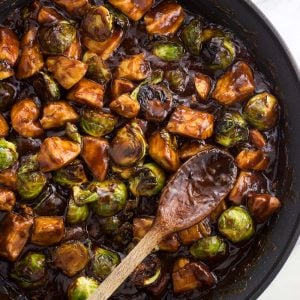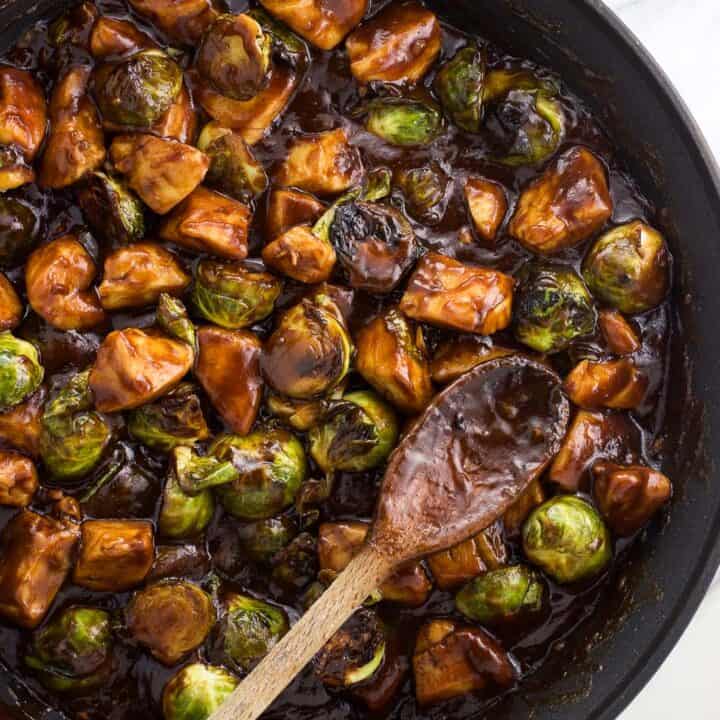 Balsamic Peanut Chicken Stir Fry with Brussels Sprouts
Balsamic peanut chicken stir fry with brussels sprouts makes a delicious one pan dinner! This hearty main dish recipe is done in 30 minutes, making this satisfying meal perfect for busy weeknights.
Print
Pin
Rate
Ingredients
1 ½

lbs

boneless skinless chicken breasts,

cut into 1" cubes (about 2 large/3 medium breasts)

¼

cup

Mazola Corn Oil,

divided

¾

lbs

brussels sprouts,

halved

½

cup

reduced-sodium soy sauce

⅓

cup

balsamic vinegar

¼

cup

peanut butter

(I use creamy)

¼

cup

honey

1

tablespoon

sriracha

½

tablespoon

minced ginger

3

cloves

garlic,

minced

2

teaspoon

cornstarch
Instructions
Cut chicken into cubes. Add 1 ½ tablespoon of the Mazola Corn Oil to a large skillet set over medium-high heat. Cook chicken 6-7 minutes, flipping pieces as needed, until fully cooked (when the center of the largest piece reaches 165°F). Remove cooked chicken to a plate and set aside.

Place the skillet back on the stove over medium-high heat and add another 1 ½ tablespoon Mazola Corn Oil. Add brussels sprouts in a single layer. Cook for 6-7 minutes, or until you start to notice the edges browning. During this time, continue with the next step to combine the sauce.

Whisk together the following sauce ingredients: soy sauce, balsamic vinegar, peanut butter, honey, sriracha, remaining 1 tablespoon Mazola Corn Oil, ginger, garlic, and cornstarch. Set aside for now.

After 6-7 minutes of cook time, stir the brussels sprouts up and cook for another 2-3 minutes. Add back the cooked chicken and stir to combine. Pour the sauce into the skillet with everything and stir to coat. Reduce heat to medium and heat for another 2-3 minutes, or until the sauce has thickened to your liking and everything is heated. Serve with brown rice.
Notes
Nutritional information is an estimate based on a serving of chicken, brussels sprouts, and sauce. It does not include what you might serve it with.
Nutrition
Nutritional information is provided as an estimate. As it can vary due to many factors (brands used, quantities, etc.), we cannot guarantee its accuracy.
Food Safety and Nutrition Disclaimer