This shop has been compensated by Collective Bias, Inc. and its advertiser. All opinions are mine alone. #ToraniSauceObsession #CollectiveBias
This pound cake trifle features salted honey, vanilla pudding, homemade stabilized (!) whipped cream, gingersnaps, and white chocolate sauce for a uniquely-flavored layered dessert. This make-ahead trifle is perfect for serving a crowd!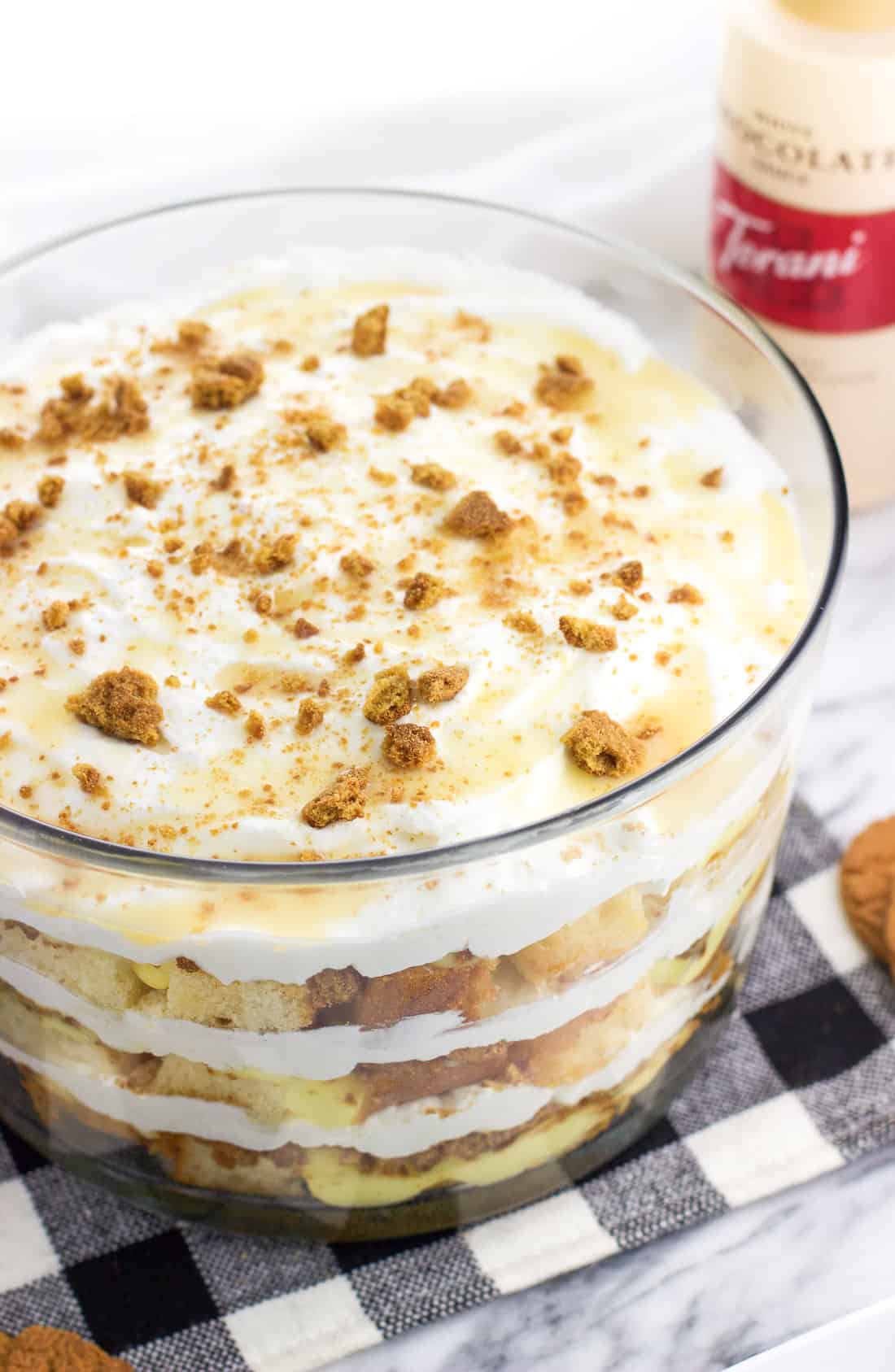 If there's one dessert I look forward to at a party or get-together a little more than most, I'd say it would have to be a trifle.
You can take them in a bunch of different directions flavor-wise, and let's be honest: who wouldn't want to take advantage of a way to enjoy cake, pudding, whipped cream, cookies, etc. all at once?
While brownie trifles and chocolate toffee fudge trifles are always welcome, this salted honey and white chocolate pound cake trifle is be-yond. Using pound cake as a base provides a structure that's easy to layer, all while being the perfect thing to soak up (super easy, nothing fancy) salted honey.
This salted honey and thick layers of ginger snap crumbs add a complex flavor to creamy and sweet vanilla pudding, whipped cream, and Torani White Chocolate Sauce.
And all these flavors? They work SO wonderfully together.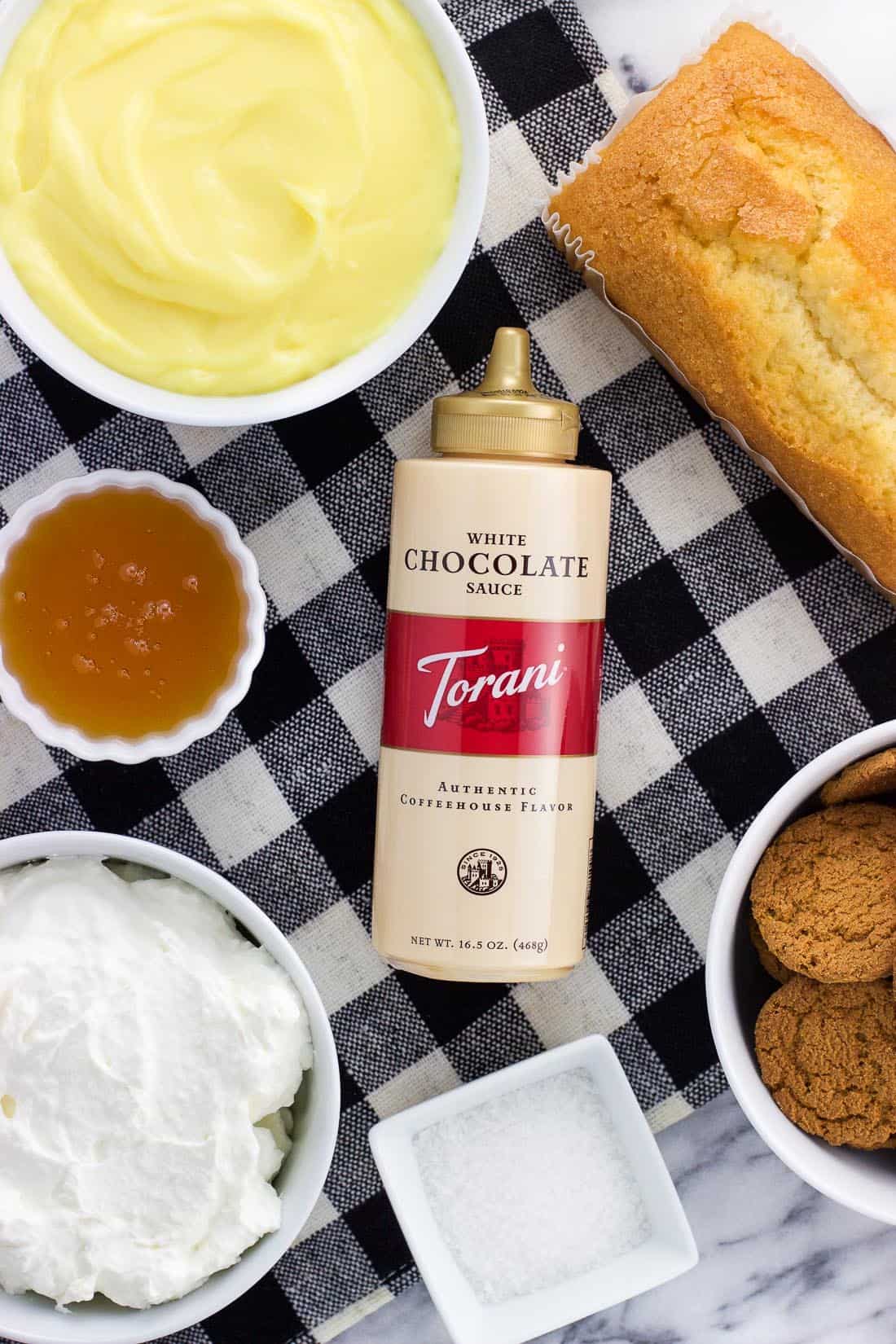 Easy white chocolate flavor
Let's talk sauce! Torani Sauces, that is. Torani is a flavor expert, with a range of products that create delicious beverages and desserts. It's a third generation family-owned business that's been crafting amazing drinks in the café industry with authentic coffeehouse flavor for over ninety years.
You might know of Torani from their extensive line of flavored syrups, right? Ordering specialty coffee beverages was definitely my introduction to them years ago. But did you know that they have a premium line of sauces, too? The sauces come in Dark Chocolate, White Chocolate, and Caramel flavors and can help you make the most decadent mochas and caramel macchiatos in a flash.
But they're not just for coffee drinks. Torani Sauces are a delicious topping for ice cream or fro yo (one of my favorite add-ins), pies, you name it. And today we're adding trifles to that list.
Recipe steps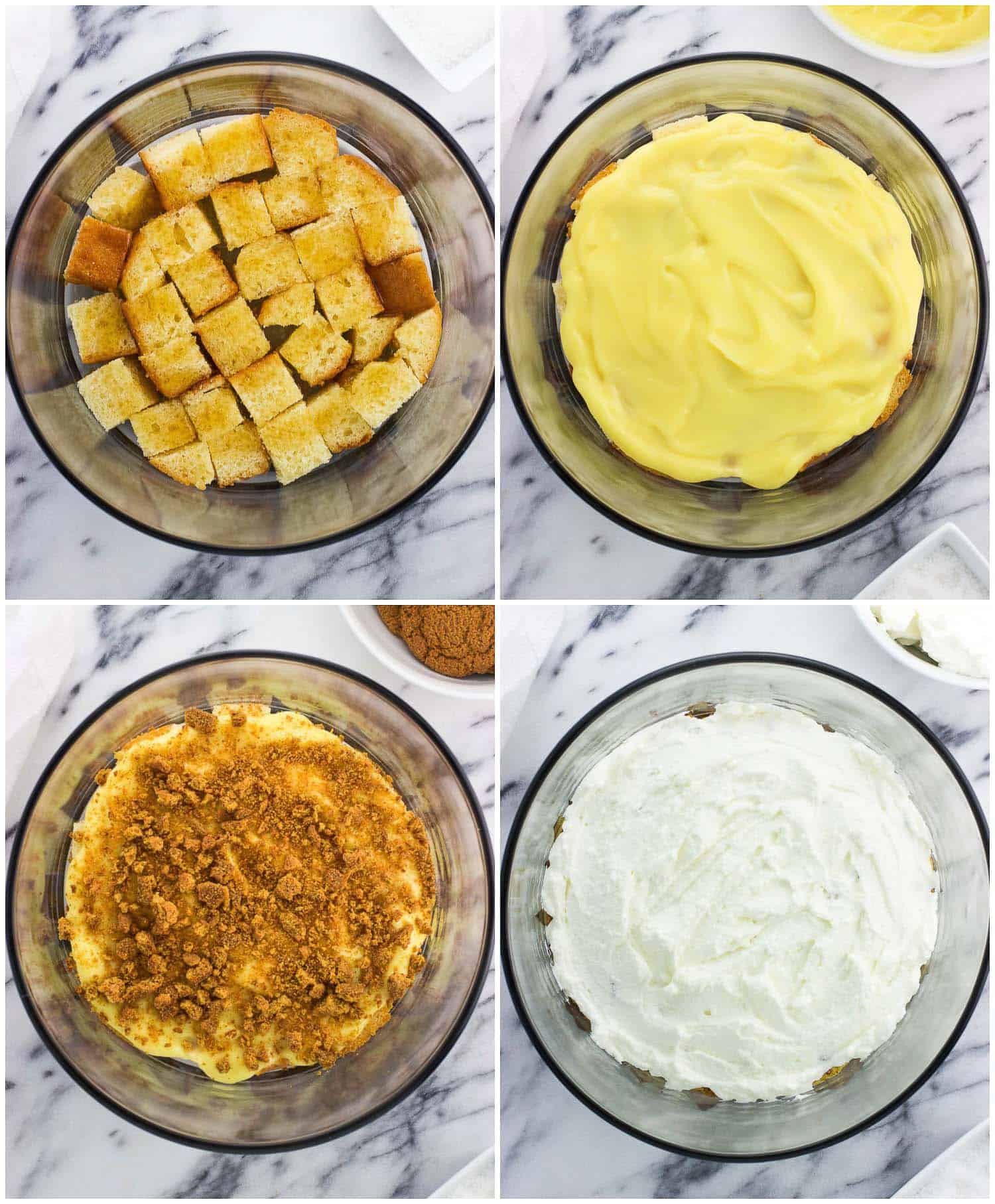 Something to love about a trifle is that things don't have to be ultra precise. That means if you don't like piping icing or if you stress out trying to decorate a complicated dessert (umm hello, me, right here), trifles are right up your alley.
You'll start things off by placing a layer of pound cake cubes on the bottom of your trifle bowl. Store-bought pound cake sure makes things easier. 😉 <-- my preferred way
Next up is a drizzle of honey and a sprinkling of coarse salt. The salted honey soaks into the pound cake and provides a burst of salty and sweet flavor when you grab a spoonful. While you can certainly make this trifle with just honey and no salt, I highly recommend using it. Just a sprinkle makes a difference.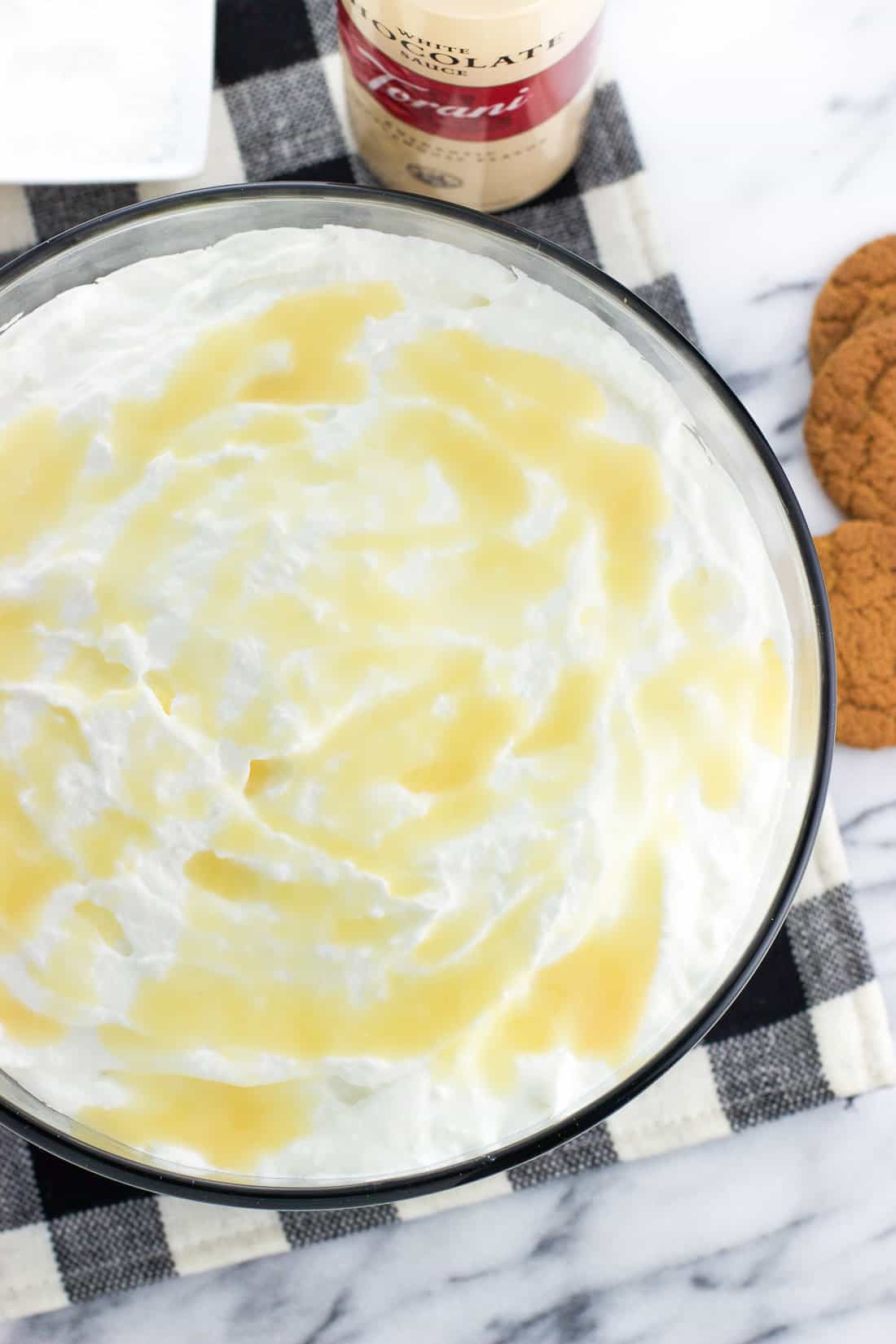 Next comes vanilla pudding, which - surprise, surprise - I also prepared using an instant box mix. Then over top of that comes a layer of ginger snap crumbs.
These bring a great sweet and spicy flavor that gets nicely balanced out by the vanilla, honey, and white chocolate. The cookie crumbs will soften as the trifle is layered and refrigerated prior to serving, so you can really go to town on adding as much as you like.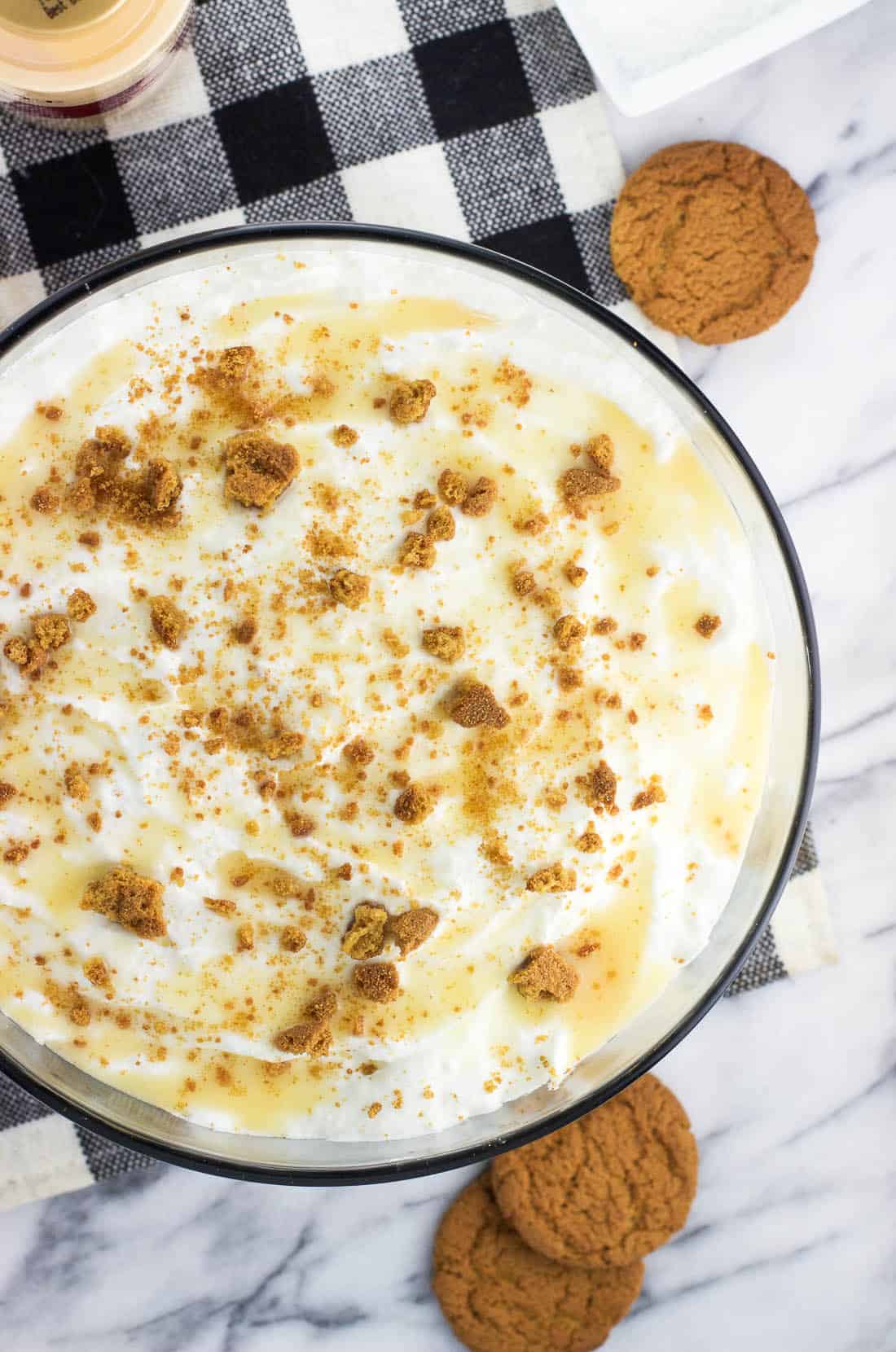 This layer gets topped with homemade whipped cream (more on this later), which is a great base for the Torani White Chocolate Sauce. Made with real, simple ingredients like pure cane sugar and natural flavors, this rich sauce brings all that white chocolate flavor in liquid form. Plus it comes in a squeeze bottle which makes adding it to this pound cake trifle recipe so convenient.
Repeat this process a few times until your trifle bowl or serving dish is filled, and top with a generous drizzle of Torani White Chocolate Sauce and crumbled ginger snaps. That's my kind of dessert decorating.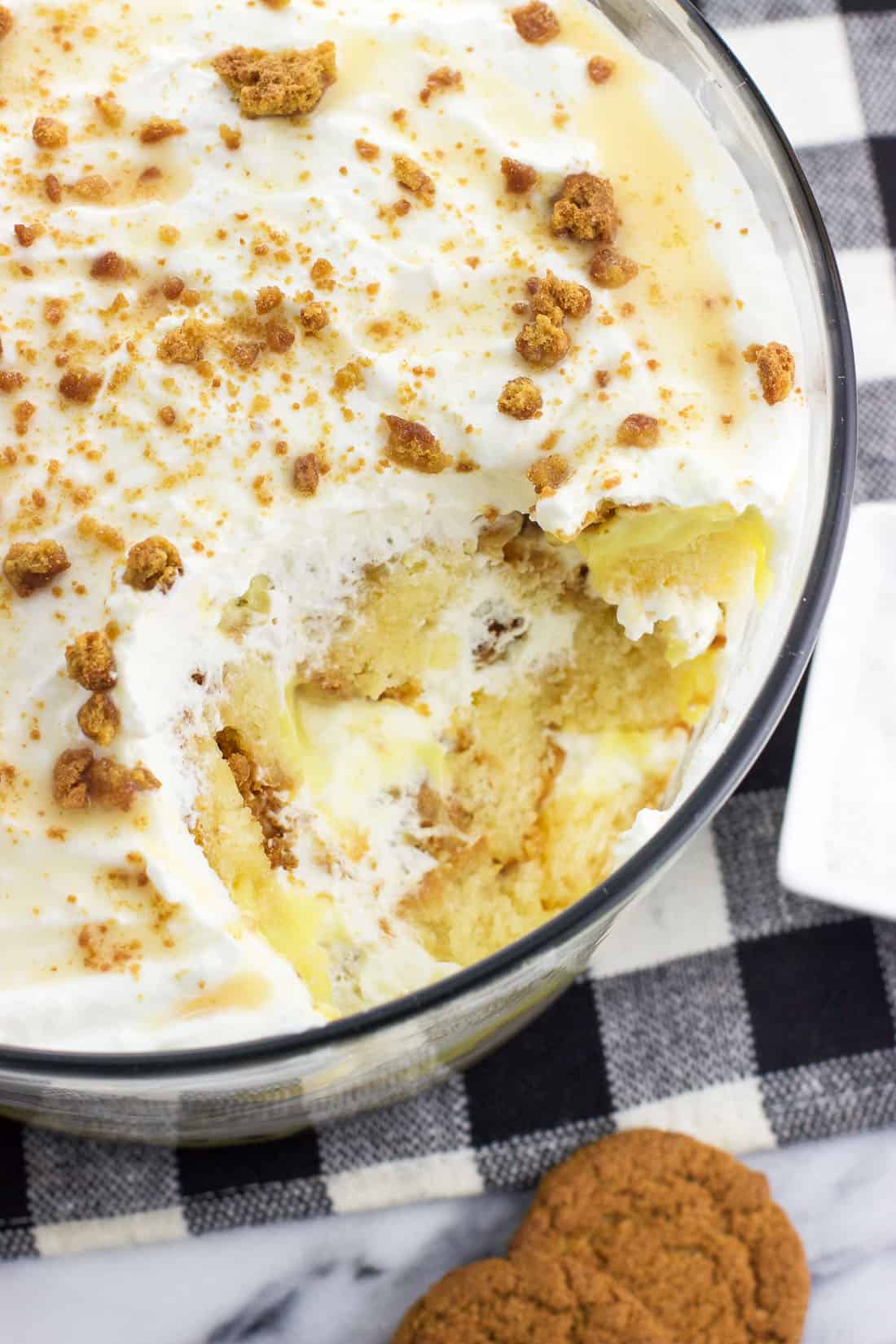 Why use stabilized whipped cream?
If you peep down at the recipe card below, you'll see extra ingredients and steps listed for the whipped cream. I'm not one to complicate things for no reason, but stabilizing the whipped cream is an important part of this pound cake trifle recipe.
Homemade whipped cream is hard to beat, but tends to deflate and become watery the longer it sits. Since this trifle makes a generous number of servings, odds are that you'll have leftover portions hanging around afterwards.
Incorporating dissolved unflavored gelatin into your whipped cream helps it hold its fluffy shape for longer. WAY longer. You'll be able to save this pound cake trifle for days after preparing it when stored in the fridge, giving you multiple opportunities to enjoy leftover servings. Because when something's this good, you certainly don't want any little bit to go to waste.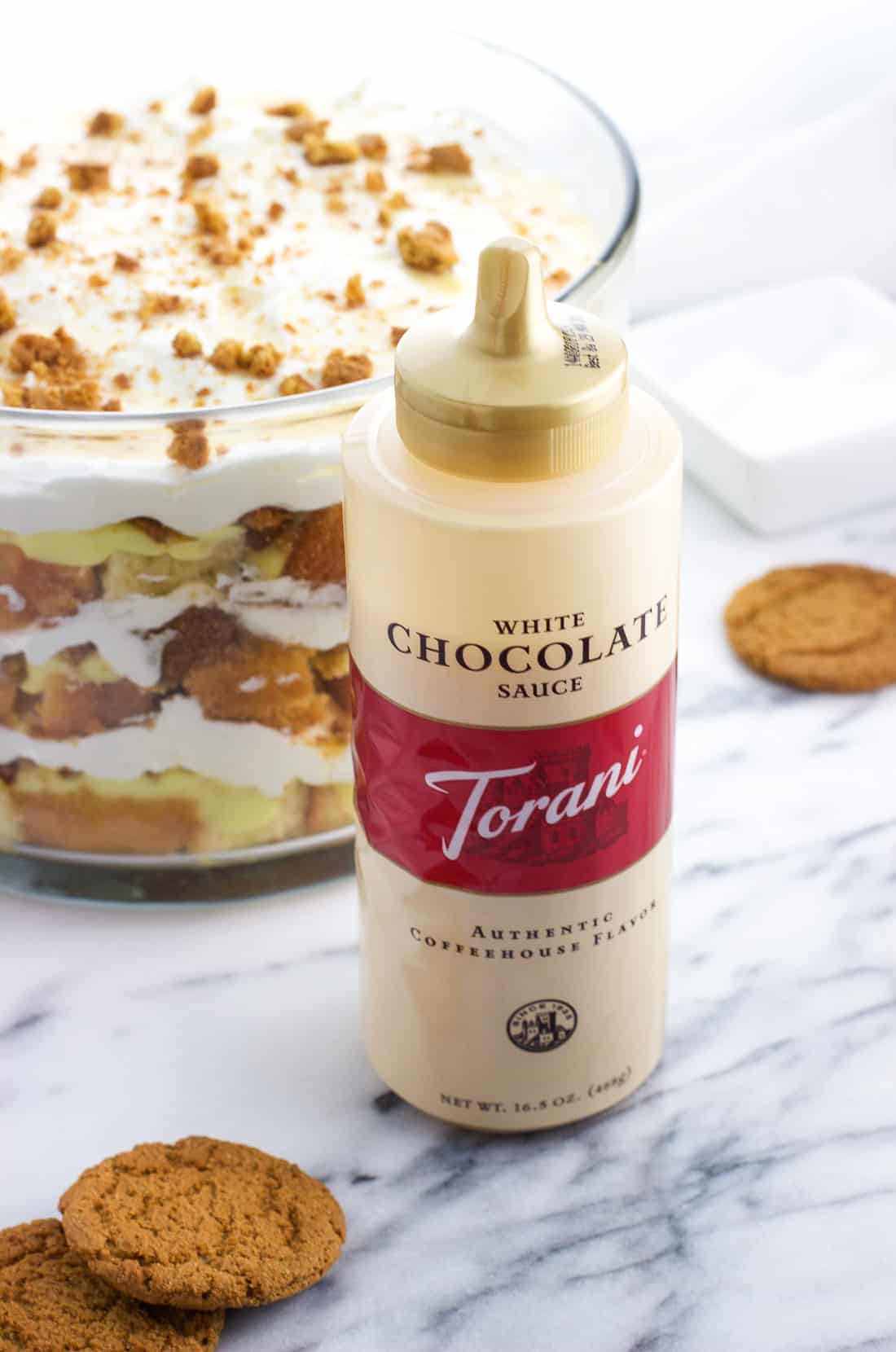 Recipe notes
The number of times you'll need to repeat the layering will vary depending on the size of your bowl or serving dish. The trifle bowl you see in these photos has a three-quart capacity, and is about 5" tall and 8" across. I repeated the layers three times.
The vanilla pudding and stabilized whipped cream are able to be made ahead of time to efficiently assemble this trifle the day-of.
The ingredient quantities are pretty forgiving, as you can easily tweak the layers as you like them.
Interested in a flavor switch-up? The Torani Caramel Sauce would also be delicious in here.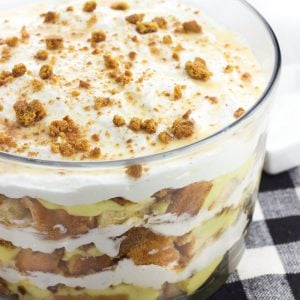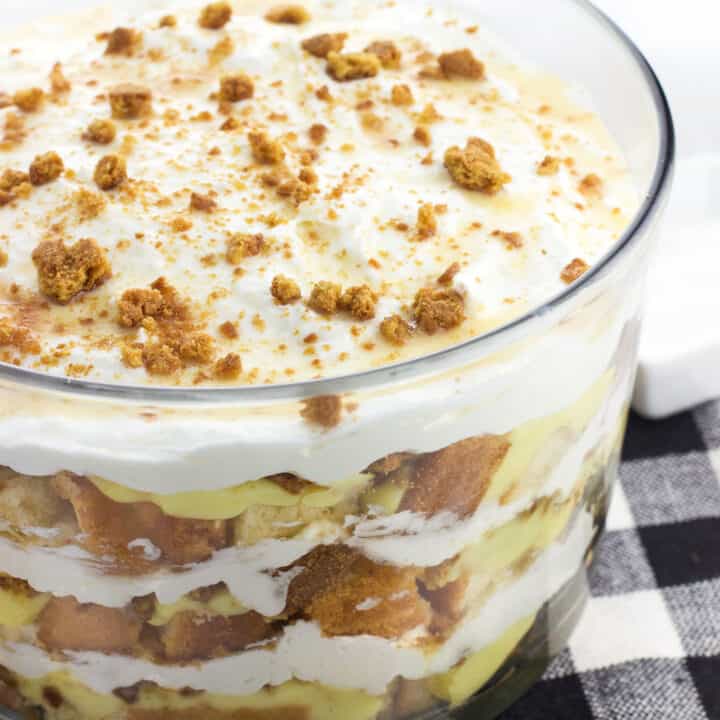 Salted Honey and White Chocolate Pound Cake Trifle
This pound cake trifle features salted honey, vanilla pudding, homemade stabilized (!) whipped cream, gingersnaps, and white chocolate sauce for a uniquely-flavored layered dessert. This make-ahead trifle is perfect for serving a crowd!
Ingredients
For the vanilla pudding:
2

cups

2% milk

3.4-oz

box

instant vanilla pudding mix
For the stabilized whipped cream:
3

tbsp

cold water

0.25-oz

packet

unflavored gelatin

(about 2 ¼ tsp)

2

cups

heavy whipping cream

½

cup

confectioners' sugar,

sifted
For the rest of the trifle:
18

oz

pound cake

(about 1 ½ loaves), cut into 1" cubes

5

tablespoon

honey,

divided

¼

teaspoon

coarse sea salt,

divided

15

gingersnap cookies,

crushed

2.25

oz

Torani White Chocolate Sauce,

divided (about 4 ½ tbsp)
Instructions
For the pudding:
Prepare instant vanilla pudding according to package directions. For mine, I whisked together milk and pudding mix well until no lumps remain. Press a sheet of plastic wrap to the top of the pudding and refrigerate until ready to use.
For the stabilized whipped cream:
Stir together gelatin and water in a small sauce pan. Let it sit for 1-2 minutes as it begins to thicken up.

Place the sauce pan over low heat on the stove for 2-3 minutes, or until the gelatin dissolves. Remove the pan from the heat for everything to cool slightly.

While it's cooling, add the cream and confectioners' sugar to a bowl. Beat on high speed until it begins to thicken. Reduce speed to low and slowly drizzle in the dissolved and slightly cooled gelatin mixture.

Increase speed back to high and whip until stiff peaks form. Refrigerate if not assembling trifle right away.
For the the rest of the trifle:
Place a layer of pound cake cubes (6 oz) on the bottom of trifle bowl or serving dish.

Drizzle one-third of the honey over top of the pound cake layer, then scatter a pinch of coarse salt over top.

Next layer one-third of the prepared vanilla pudding, and then scatter crumbs from about five ginger snaps on the pudding.

Layer one-third of the whipped cream on top of the ginger snap crumbs, then drizzle 0.75 oz of the Torani White Chocolate Sauce on top (or as much as you like).

Repeat the layers until your trifle bowl or serving dish is full. Top with ginger snap crumbs. Store leftover portions in the refrigerator.