This easy salted caramel brownie trifle features pretzels for a sweet and salty dessert perfect for one large dish or mini servings alike. This trifle recipe has options for making everything homemade, or taking several shortcuts for a wholly customizable and party-ready dessert.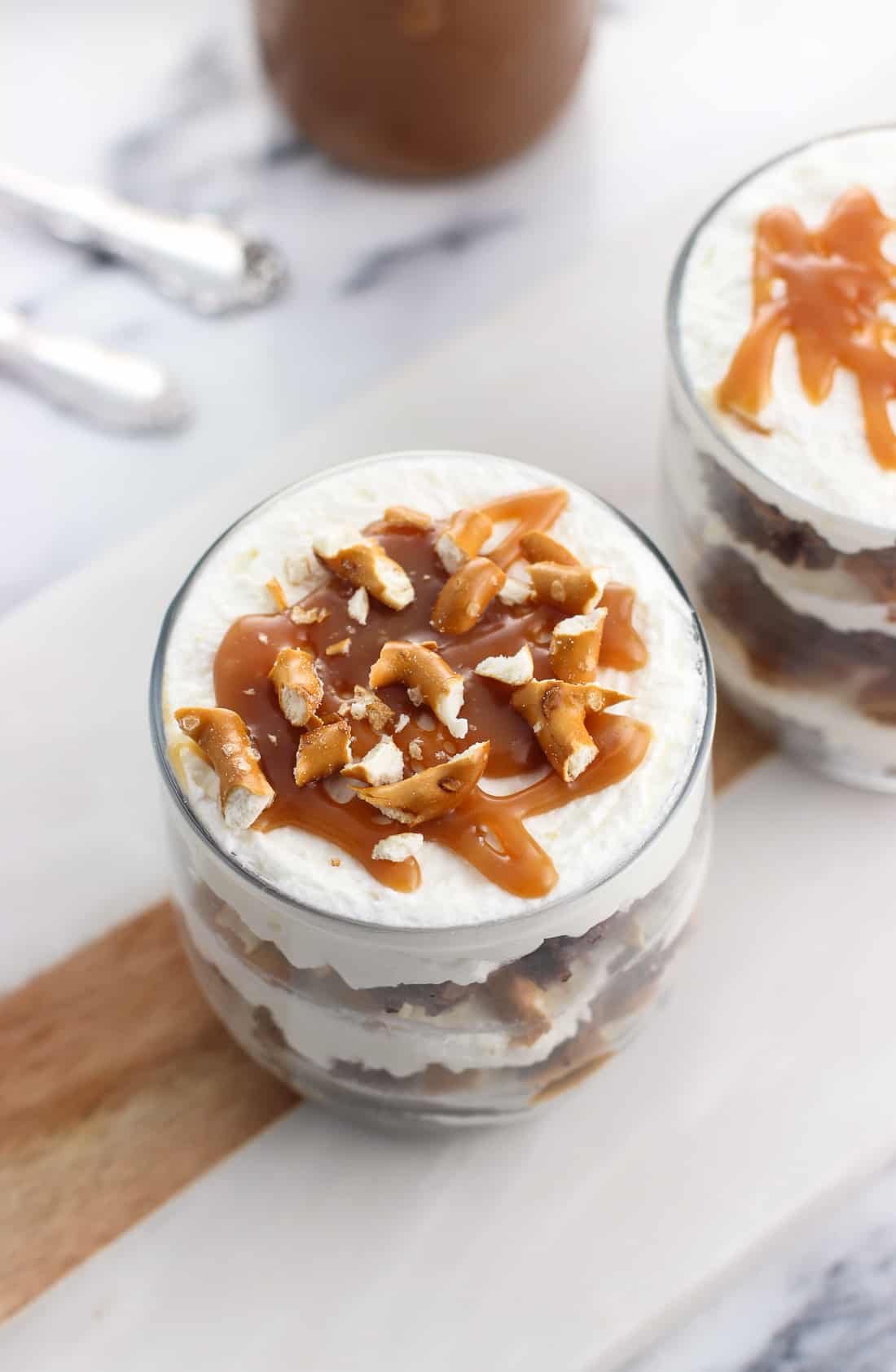 When I get a flavor on the brain, it's hard for me to tear myself away. That may not be the best strategy as far as keeping the recipe assortment fresh here on the blog goes, but the taste buds want what the taste buds want. Same goes for the sweet tooth, and mine has been calling out for salted caramel in a BIG way.
I'll admit that I've been hoarding my jar of homemade salted caramel sauce in the fridge, even going so far as to hide it behind larger things like a jar of pickles to prevent it from disappearing too quickly.
Realizing that was a bit ridiculous as food is meant to be eaten (and this sauce certainly isn't too tough to remake again and again), I put my beloved salted caramel to use in one of my husband's favorite desserts - a trifle. Specifically a salted caramel brownie trifle with pretzels. Helloooo sweet and salty!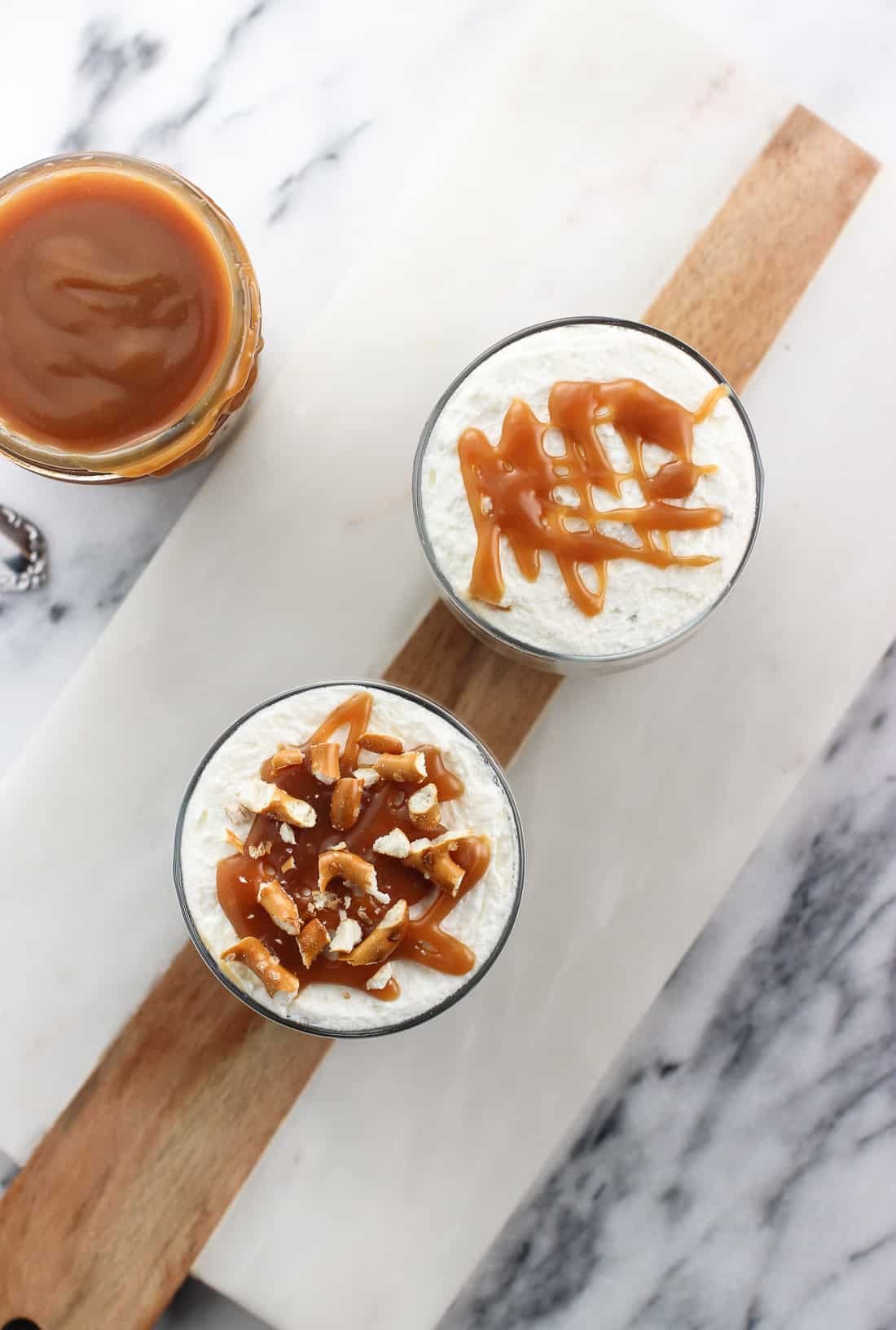 A few years ago around the holidays I shared this chocolate toffee fudge trifle and ever since have been thinking about another version to share. The problem is that anytime we think about trifle, we start craving that chocolate toffee fudge version and I chicken out of trying something new. Granted that really isn't a problem at all, but you know.
Now that we're approaching wintertime again, the classic fruit and cake versions don't seem all that appealing, so we'll just have to use chocolate, right? Instead of cake, this trifle uses brownies for a rich and chewy chocolate layer, which acts as the perfect complement to caramel sauce, fluffy whipped cream, and salty pretzel pieces. Sweet + salty + sweet + salty = perfection.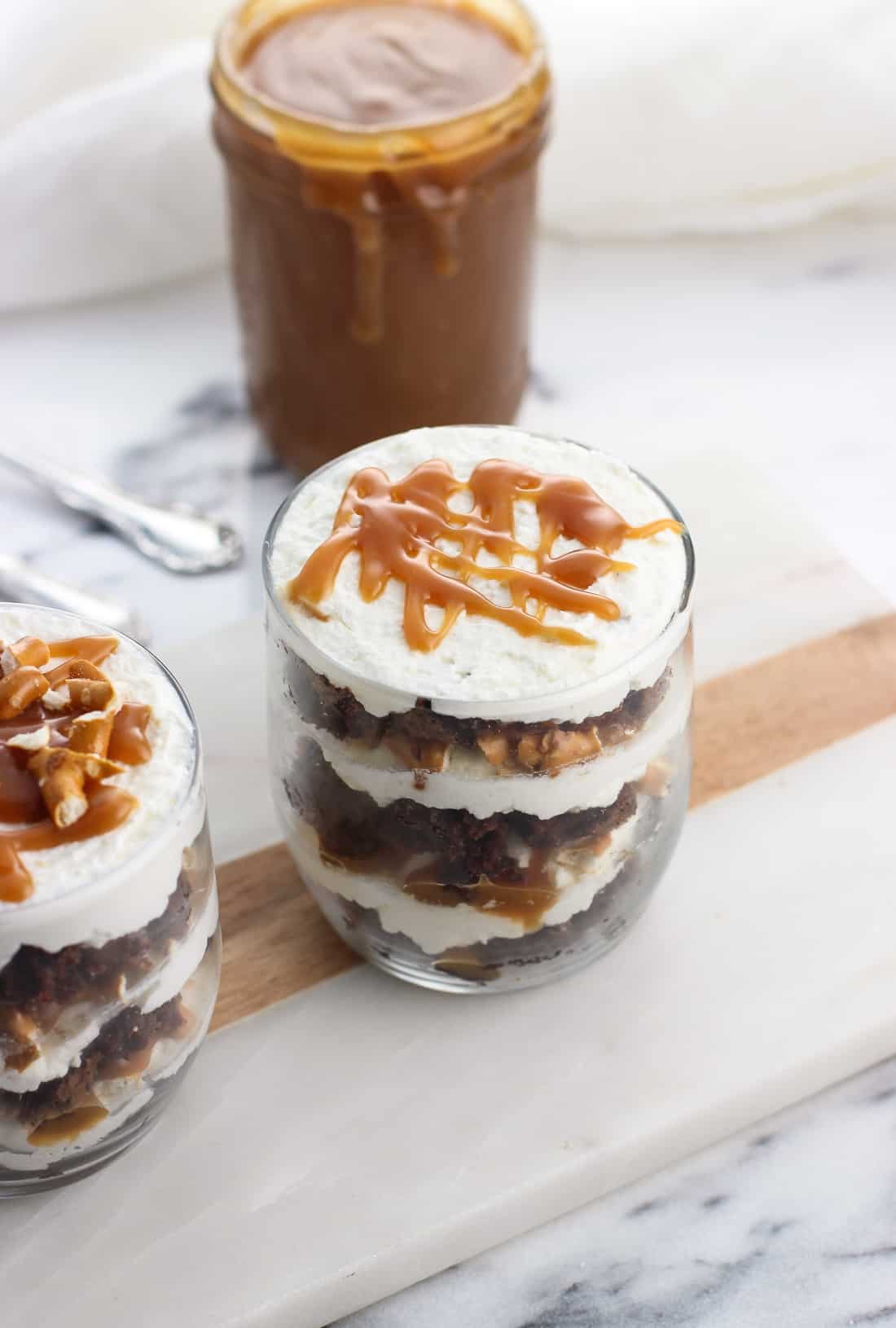 Recipe ingredients
I'll start by saying the ingredients here are ultra flexible, so let your creativity run wild with how you prepare this caramel brownie trifle. There are a ton of short cuts that you can use as you see fit with nearly all of the ingredients except for maybe the pretzels. For those I just recommend store-bought. 🙂
For the brownies, use your favorite homemade brownie recipe if you're up for it, or prepare brownies from a box mix. I'm always honest with you so I'll tell you in this instance I used a boxed brownie mix. There lots of delicious components here that truly I didn't miss the edge that homemade brownies have over store-bought mixes. If you're going that route just prepare it according to the package directions.
Then for the salted caramel sauce, as I mentioned above I went the from-scratch route with this homemade salted caramel sauce recipe, but you can definitely use store-bought salted caramel if you like.
Whipped cream is something else I made from scratch BUT with a little tip. You'll notice in the recipe card below I added unflavored gelatin and a bit of water to my whipped cream. This helps create stabilized whipped cream it so that it doesn't become droopy and watery in leftover portions. Leftover trifle portions remaining can be refrigerated for days afterwards and enjoyed just as good as new.
If you'd rather go the frozen whipped topping route instead of making your own whipped cream that's fine, too - told you no judgment here. Just thaw according to package directions and use directly in this brownie trifle assembly.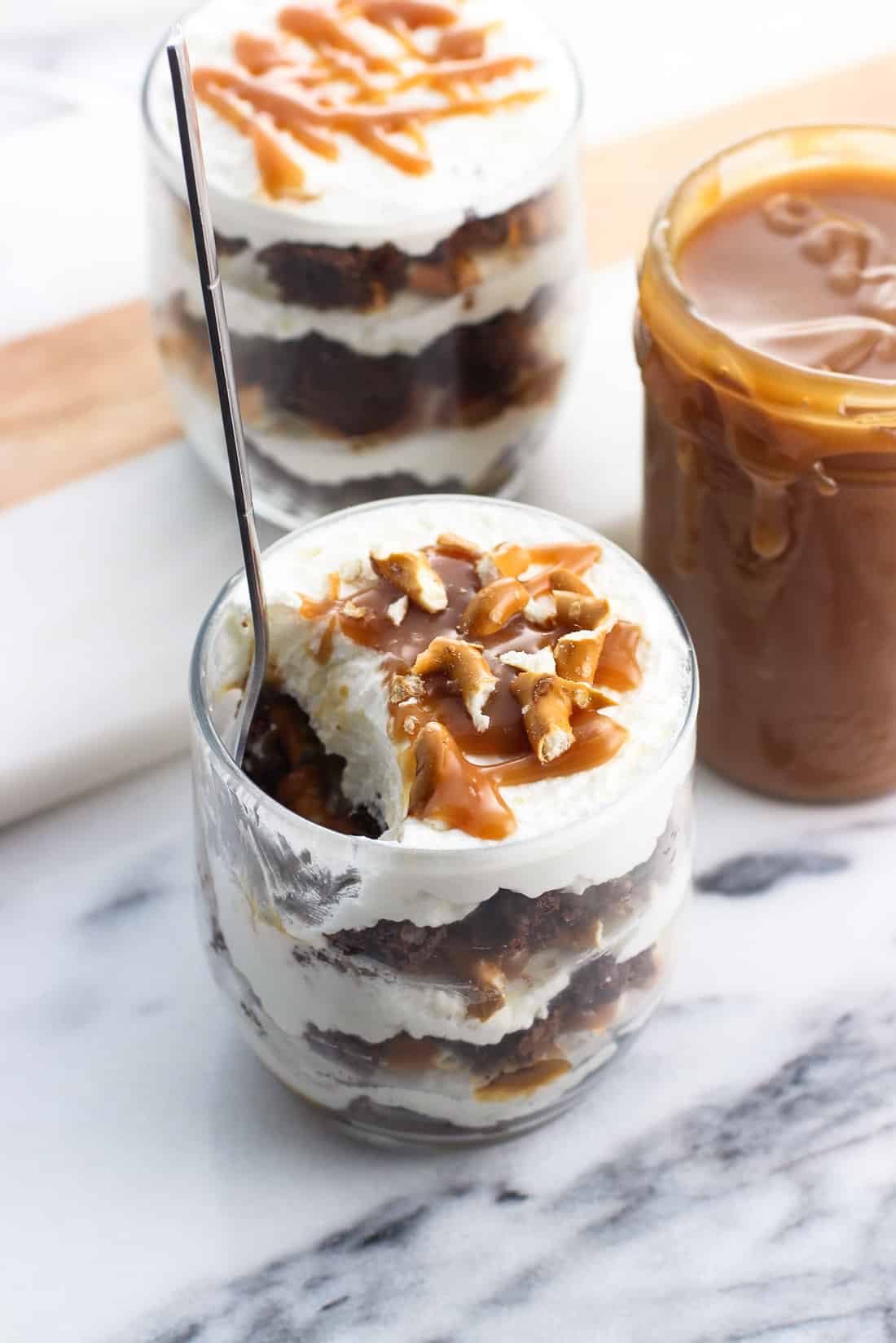 Recipe notes
There's lots of wiggle room with ingredient quantities and assembly method. Take the below recipe card as a mere suggestion.
Either brownies made from scratch or from a box mix work perfectly for a brownie trifle. My go-to brownie recipe is in this post for

small batch brownies

. Double it to bake a standard-size brownie recipe in an 8" x 8" baking dish.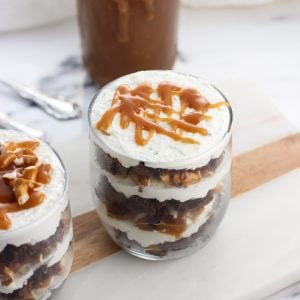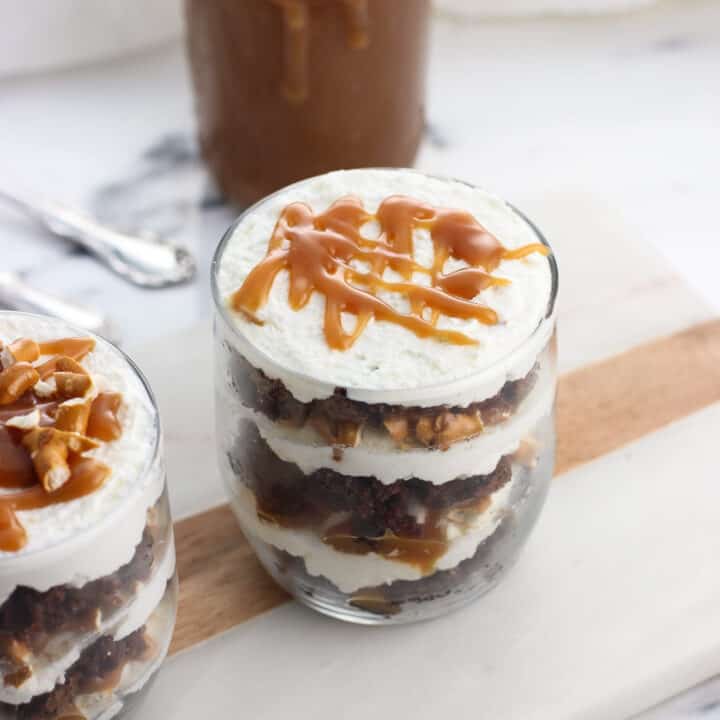 Salted Caramel Brownie Trifle
This easy salted caramel brownie trifle features pretzels for a sweet and salty dessert perfect for one large dish or mini servings alike. This trifle recipe has options for making everything homemade, or taking several shortcuts for a wholly customizable and party-ready dessert.
Print
Pin
Rate
Ingredients
Brownies,

use store-bought mix or homemade

Salted caramel sauce,

store-bought or homemade

25-30

mini salted pretzels,

approximately
For the whipped cream:
2

teaspoon

unflavored gelatin

8

teaspoon

cold water

2

cups

heavy whipping cream

½

cup

confectioners' sugar
Instructions
For the brownies:
Bake brownies and let cool to room temperature.
For the whipped cream:
Stir together gelatin and cold water in a small saucepan and let it sit for a few minutes to thicken.

Then set the saucepan over low heat for 1-2 minutes, until the gelatin dissolves. Remove saucepan from heat and allow the gelatin mixture to cool for just a few minutes. You don't want to let it cool too long or else it will gum up.

Add cream and confectioners' sugar to the bowl of a stand mixer and beat at high speed until it begins to thicken.

Once the gelatin mixture has cooled some (and is still pourable) reduce mixer speed to low-medium and slowly drizzle in the gelatin.

Increase mixer speed back to high once all of the gelatin is integrated and whip until whipped cream is fluffy and stiff peaks form.
To assemble:
Begin with a layer of small brownie pieces. Then drizzle caramel sauce over top.

Next add a whipped cream layer, and then scatter pretzel pieces over top. Drizzle another layer of caramel sauce.

Repeat until desired serving vessel is filled. Store leftover trifle in the refrigerator.
Notes
Whipped cream: If you accidentally let the gelatin and water mixture sit for too long and it gums up (ask me how I know), simply place the saucepan back on the stovetop over low heat for 1-2 minutes just until it liquefies again. Then let sit for a minute or so, stirring it around the saucepan with a spatula, before adding to the whipped cream. Pretzels: The pretzel pieces will soften as the salted caramel brownie trifle sits and refrigerates. If you'd prefer to only have crunchy pretzel pieces and will not be enjoying the trifle in the short-term, simply do not layer them throughout and instead top the trifle with them just prior to serving. Time estimate: While assembling the trifle doesn't take that long, the preparation time will vary depending on whether you use homemade or store-bought caramel sauce, from scratch or box mix brownies, etc. The one hour included here should cover making the caramel sauce, cooking brownies from a mix, and making the whipped cream. Nutrition estimate: The nutritional information will vary depending on how you assemble these trifles. The nutrition card below is an estimate, assuming one brownie, two tablespoons of real whipped cream, 1 ½ tablespoons of salted caramel sauce, and 2-3 mini salted pretzel twists per serving.
Nutrition
Calories:
262
kcal
|
Carbohydrates:
26.3
g
|
Protein:
2.1
g
|
Fat:
17.1
g
|
Saturated Fat:
7.7
g
|
Cholesterol:
53
mg
|
Sodium:
208
mg
|
Potassium:
57
mg
|
Fiber:
0.2
g
|
Sugar:
9
g
|
Calcium:
20
mg
|
Iron:
0.5
mg
Nutritional information is provided as an estimate. As it can vary due to many factors (brands used, quantities, etc.), we cannot guarantee its accuracy.
Food Safety and Nutrition Disclaimer