Whole wheat banana chia muffins are light and fluffy without butter, oil, or refined sugars. These healthy muffins feature chia seeds for added nutrition and make a great breakfast or snack! Under 150 calories per muffin.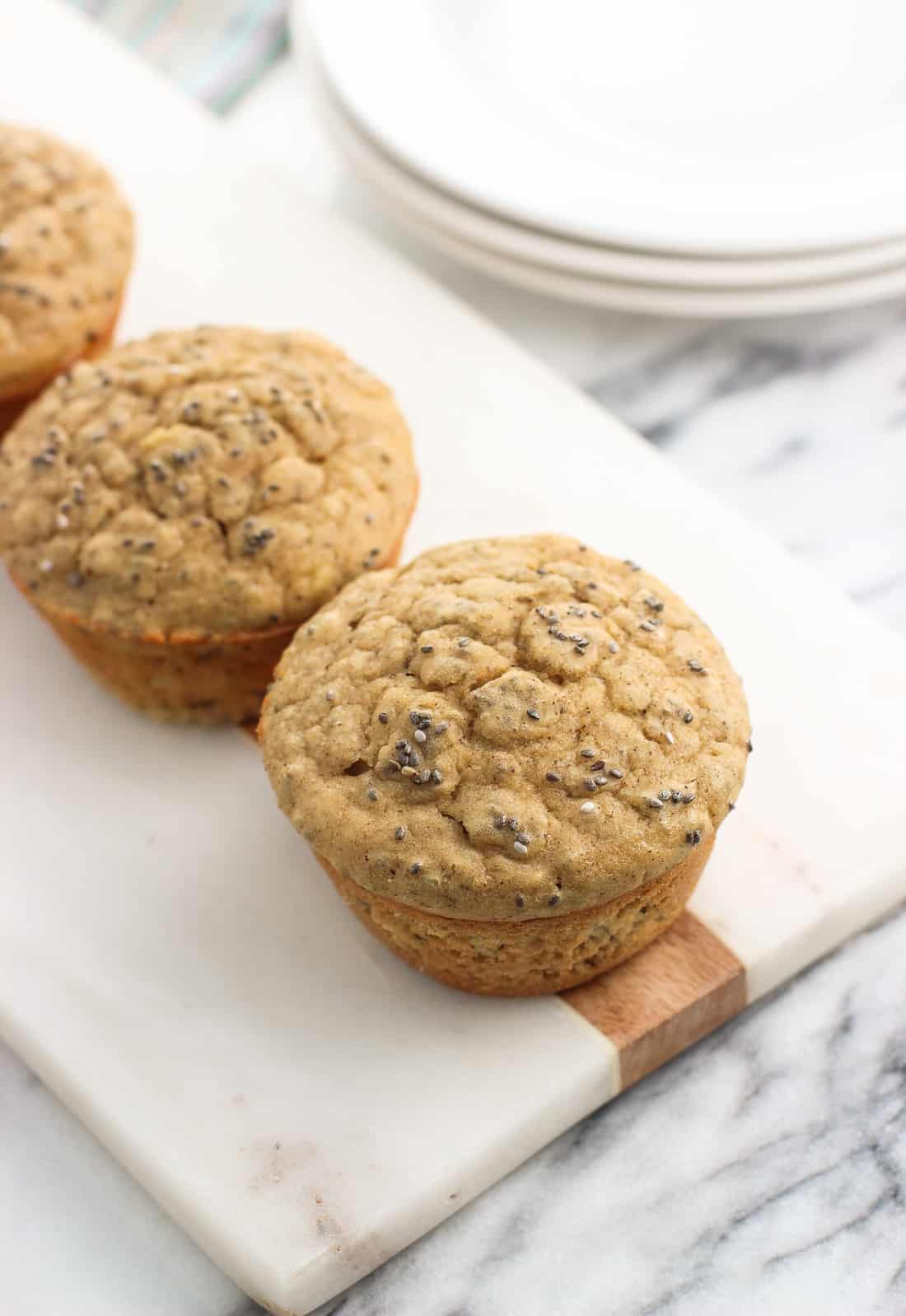 It only seems fitting that in the aftermath of Halloween we take a second to turn our attention to something healthy. Are you stuck with (a ton) of extra candy like we are? I knew we'd have a small turnout, but you can't just buy one little pack of Twix, can you? That's a surefire way to guarantee you'll have a crowd lining up down the driveway.
Of course I always buy candy that we like to eat, so in the face of a surplus after the fact I wanted to stock the cabinets with something a little bit healthier. These banana chia muffins totally fit the bill as a part of a healthy breakfast or a smart anytime snack. And opening the bag and grabbing a muffin is juuuust as easy as unwrapping a Reese's!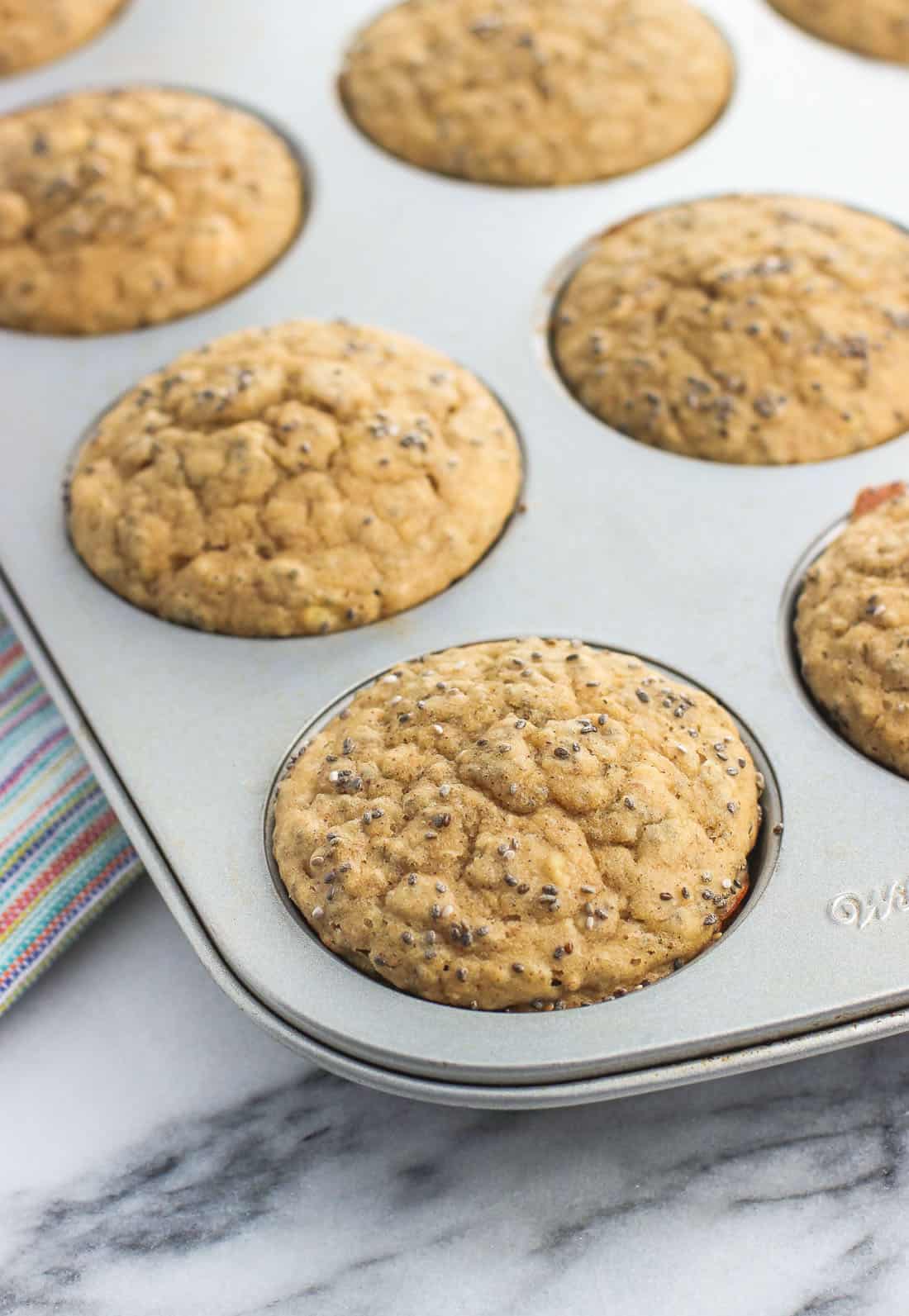 One thing I love about muffins is that they're easily converted to a quick bread recipe and vice versa. These banana chia muffins are a spin off of my naturally sweetened banana bread recipe, with a few twists.
When it comes to muffins vs. quick breads, you'll want to bake muffins at 25°F higher than you would a quick bread recipe. The bake time will be much lower too, so you'll want to adjust that, too. I bake my banana bread at 325°F in a 9″x5″ loaf pan for around an hour, but these muffins I bake at 350°F for around twenty minutes. Much quicker!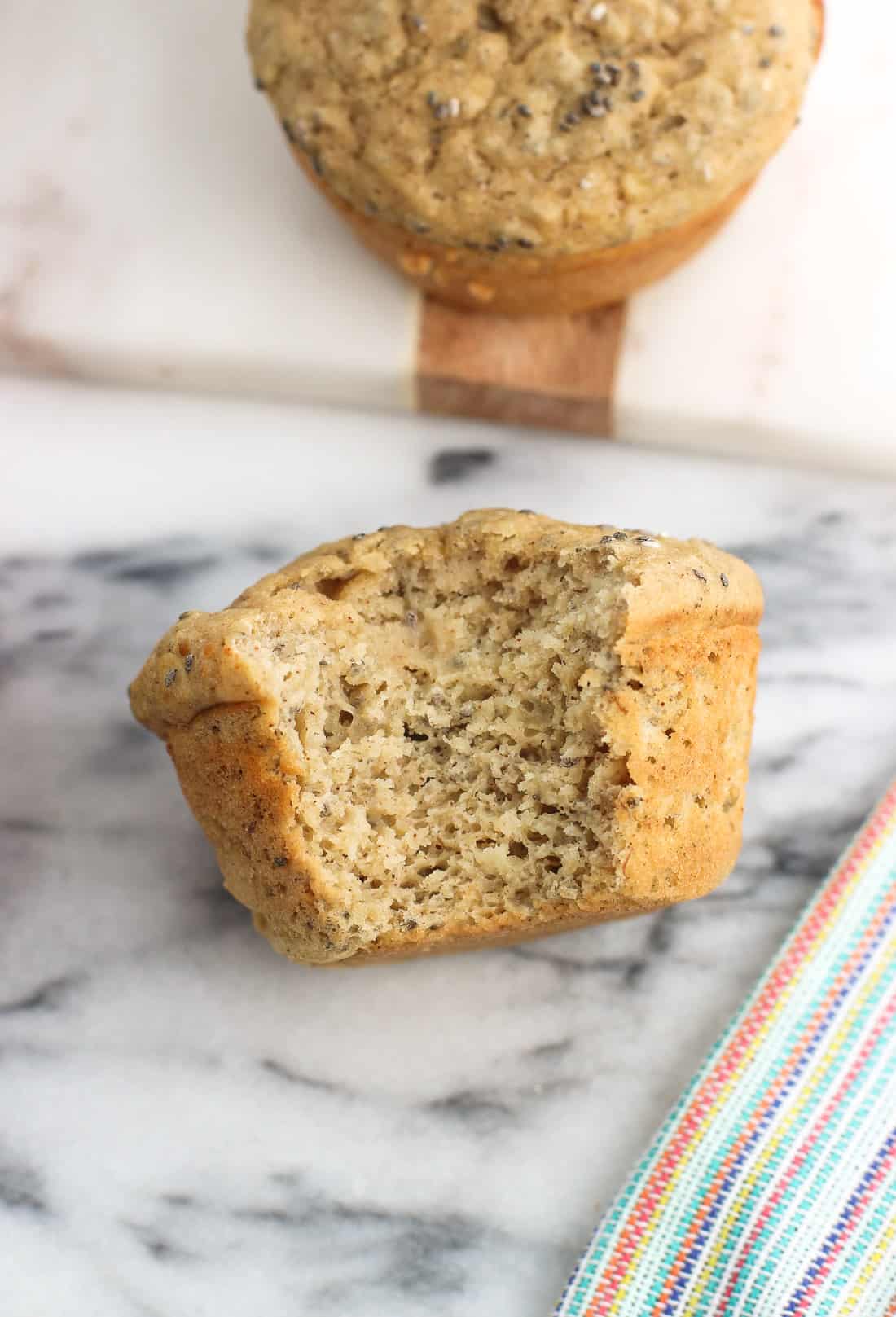 These banana chia muffins feature white whole wheat flour, Greek yogurt in place of oil/butter, and maple syrup instead of refined sugar for a healthier muffin recipe that's still as satisfying as regular versions. While chocolate chips are a no-brainer when it comes to banana bread, I kept things on the healthier side with stirring in a quarter-cup of chia seeds. You can definitely add them here though if you like!
As the recipe is written below, I calculated the calorie count to be just under 150 calories per muffin, making them a healthier choice when it comes to baked goods. While I used almond milk, you can certainly use your preferred milk variety. Same goes with the flour and the maple syrup. All-purpose flour would work, too, as well as an equal amount of honey substituted in instead of maple syrup.

Healthy Whole Wheat Banana Chia Muffins
Ingredients
2 cups white whole wheat flour
2 tsp baking powder
1 tsp salt
1 tsp ground cinnamon
1/4 tsp baking soda
1/8 tsp ground nutmeg
2 overripe bananas
2/3 cup milk, any variety (I used almond)
1 5.3-oz container Greek yogurt
1/3 cup maple syrup
2 eggs
1/4 cup chia seeds
Instructions
Preheat oven to 350°F. Spray a 12-cup muffin tin with cooking spray and set aside.
Add flour, baking powder, salt, cinnamon, baking soda, and ground nutmeg to a bowl and whisk to combine.
Add bananas, milk, yogurt, maple syrup, and eggs to a separate bowl and mix until light and creamy.
Add dry ingredients to the bowl with the wet and mix until just combined.
Stir in chia seeds.
Divide muffin batter equally between the twelve muffin cups and bake for 18-21 minutes, or until the tops spring back when lightly pressed and a tester inserted into the tallest part of the muffin comes out clean. Let muffins cool in the tin for 10 minutes, and then remove to cool completely on a wire rack.
Notes
5.3 oz of Greek yogurt is roughly equivalent to 1/2 cup.