This recipe for small batch brownies uses a loaf pan to make just eight average-sized brownies. They're ultra fudgy and feature classic shiny, crackly brownie tops.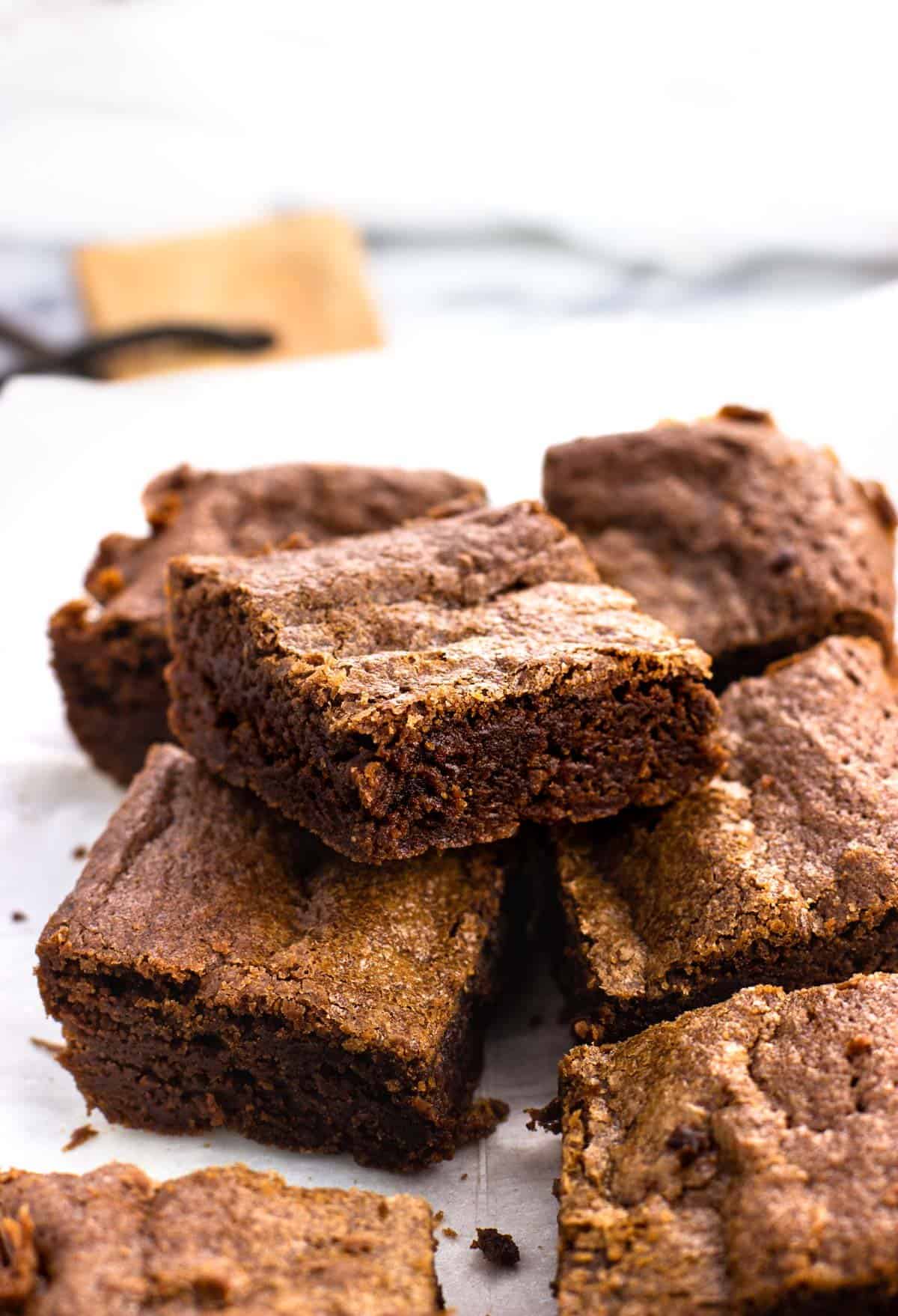 As the owner of a sweet tooth that leans much more heavily on the chocolate side (versus fruity desserts), brownies are an easy favorite.
But getting through a standard batch of brownies as a household of two is a little daunting if there aren't any get-togethers or parties on the horizon. That's where these small batch brownies come in.
This recipe yields eight (not huge) brownies, making them just the thing for those times you want something sweet but can't handle having a ton of leftovers.
Reasons to Love This Recipe
Are you a lover of fudgy brownies? Then you're in luck. Beginning this recipe with a particular step ensures your brownies end up ultra fudgy (and stay that way for days).
No unusually-sized pans are needed, just a loaf pan. This also means that each brownie has at least one edge side, if you love those extra chewy areas, too.
Using a blend of chocolate varieties and espresso powder amplifies the rich and chocolate-y classic brownie flavor.
There are so many flavor variations possible! Swirl in raspberry jam (à la raspberry brownies), add a few drops of peppermint extract, etc.
Recipe Ingredients
Chocolate: While there's some wiggle room on the type of chocolate you can use, I'm partial to a half-and-half mix of semisweet and dark chocolate. The dark chocolate tempers the sweetness a bit and brings a rich flavor. Chips, chunks, or chocolate bars that you cut up yourself all work.
Flour: Just one-half cup is used here. If not weighing flour, be sure to measure it out using the spoon-and-level method (detailed in the recipe card) to prevent adding too much to the recipe.
Espresso powder: While optional, a little bit boosts the chocolate flavor and blends in with everything versus adding a mocha/coffee note. And there's really no need to buy a specialty baking version. You can often find small jars of it in the coffee aisle of the grocery store for a few bucks, where it also goes by "instant espresso".
Step-by-Step Instructions
Did you know that even with the same ingredients, the first step of your brownie recipe determines whether you'll have fudgier or cakier brownies?
Fudgy brownies begin with melting together the butter and chocolate. But if you start by creaming together the butter and sugar, you'll get brownies that are more cake-y. Fudgy is my preference, so I always start with the butter/chocolate.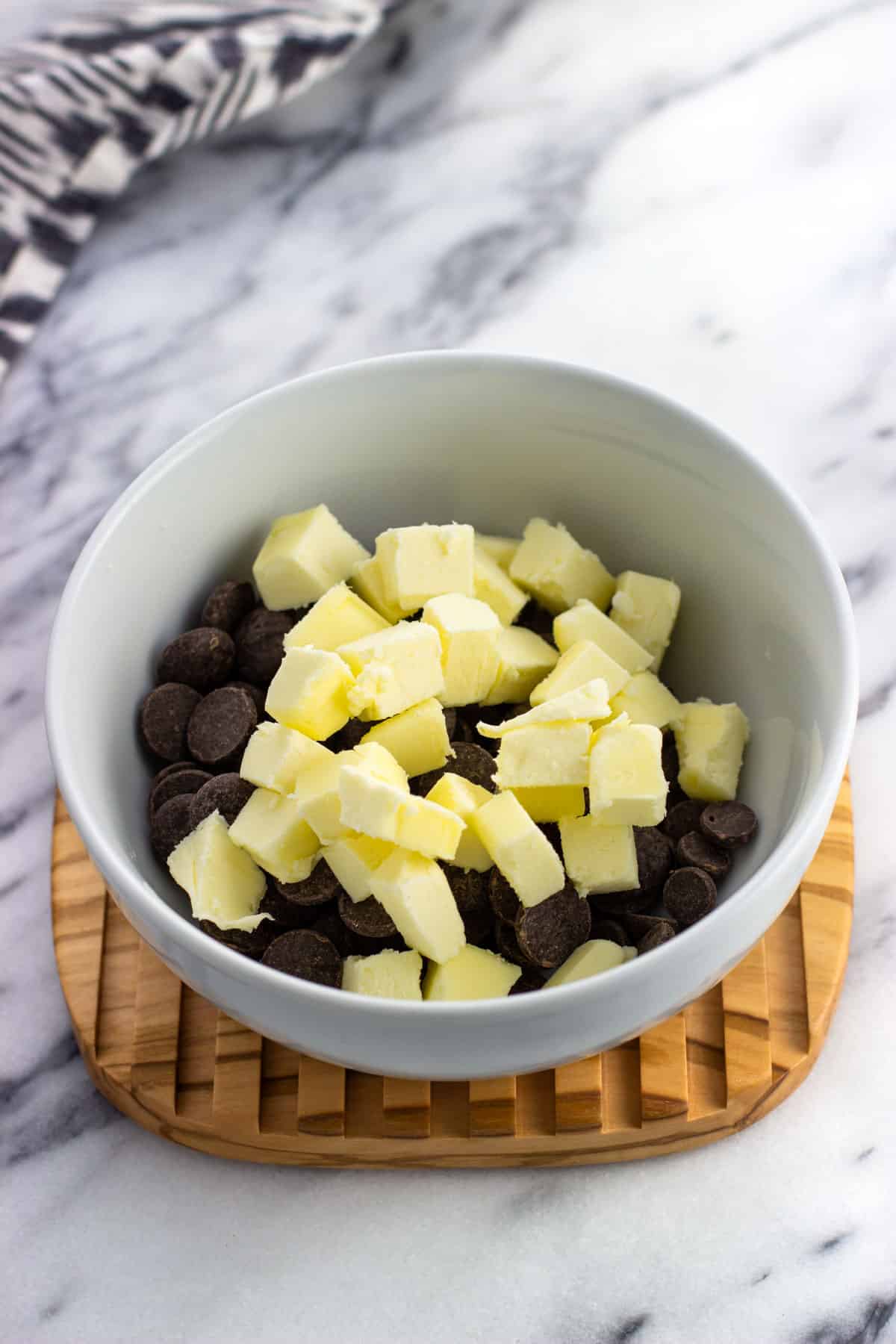 Whisk together the melted chocolate and butter with the sugar, egg, and vanilla extract.
Once it's smooth and combined, add the flour, espresso powder, and salt.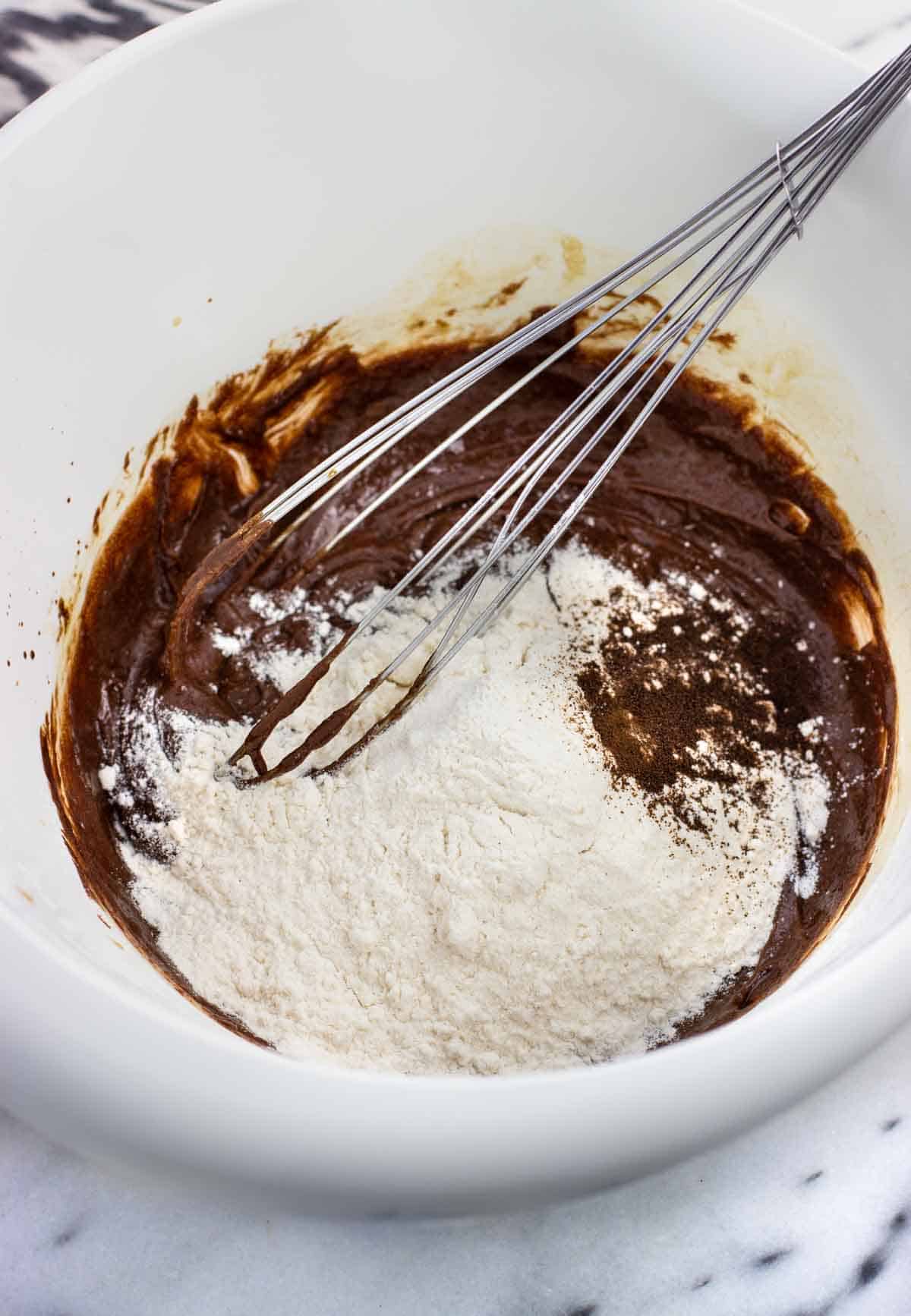 Whisk in the dry ingredients well until the batter has a slight shiny look to it. This helps create that crackly top we've come to consider as one of a brownie's key elements.
Transfer the brownie batter into a parchment-lined loaf pan. It'll be very thick, so you will have to rely on a spatula or the back of a spoon to smooth it out into an even layer.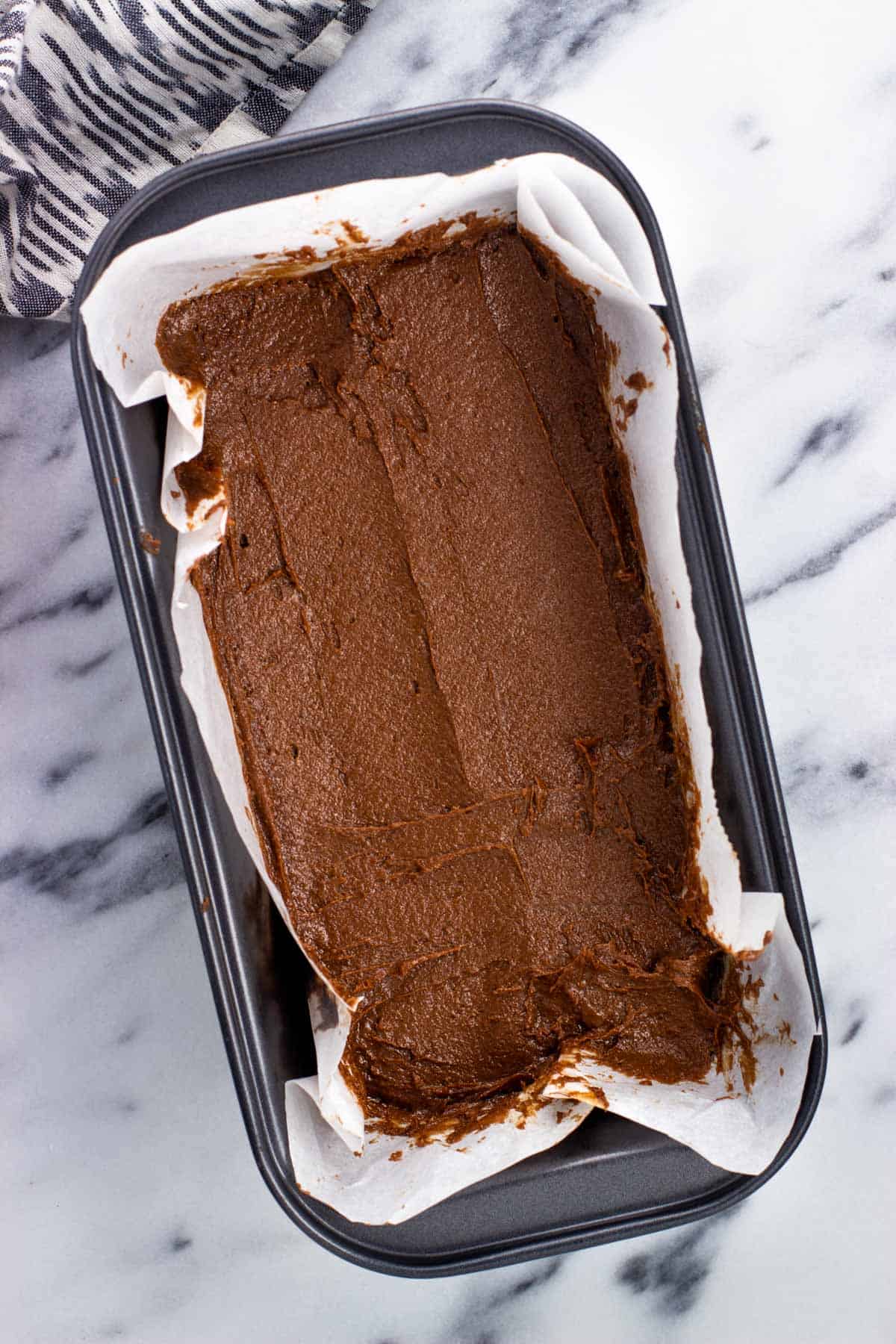 Bake the brownies for 30-35 minutes, or until a toothpick inserted into the center of the pan comes out clean or with just a few crumbs clinging to it, not wet batter.
Let the slab of brownies cool in the pan, then lift them out and slice them into bars.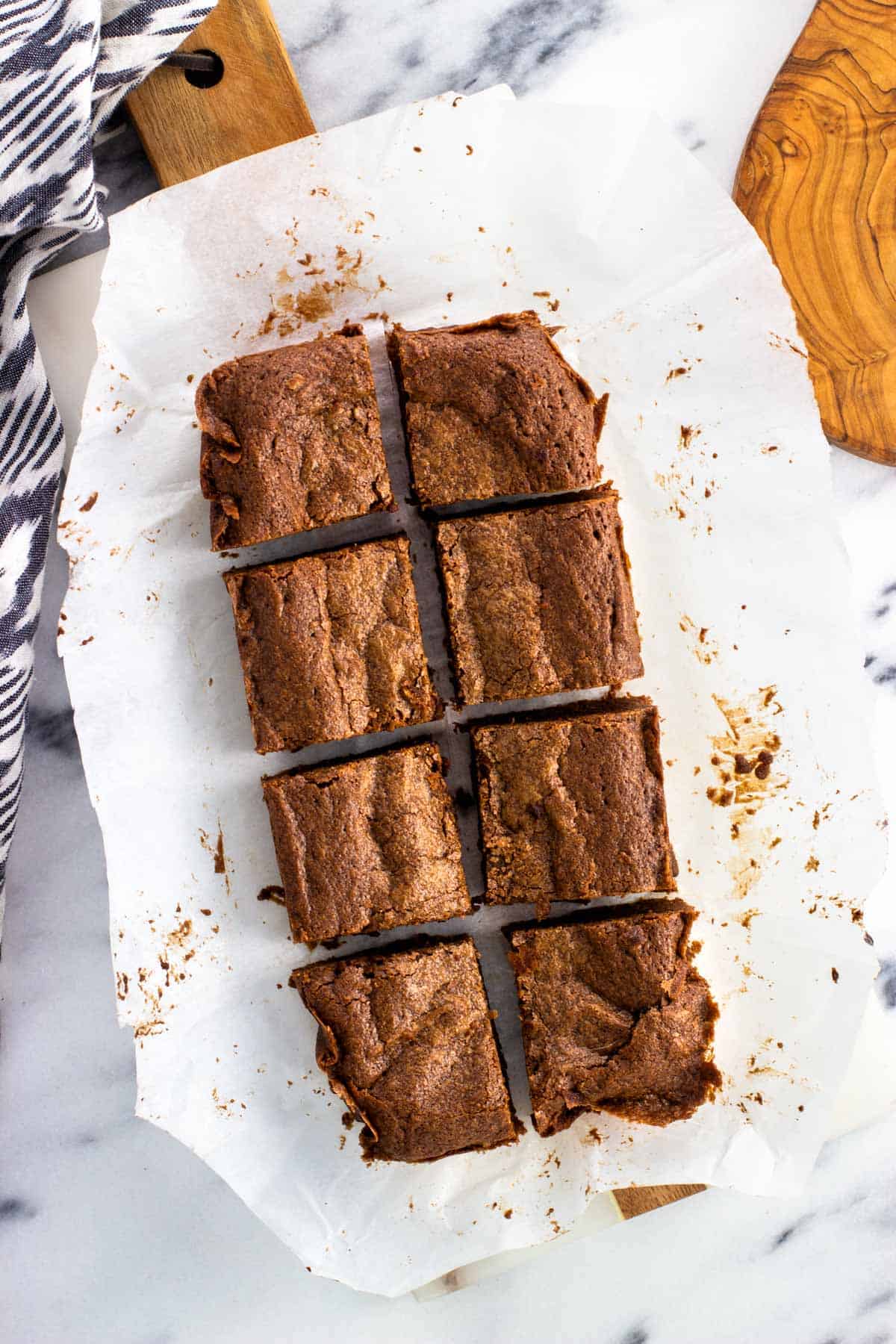 Recipe Tips and Tricks
Whisk this brownie batter by hand instead of using an electric mixer. An electric mixer runs the risk of incorporating too much air into the batter, which will cause the brownies to puff up in the oven, then deflate with a cracked surface as they cool.
Either an 8" x 4" or a 9" x 5" loaf pan will work here. I would not use a larger pan size, such as an 8" x 8". Because this recipe is exactly half of my standard brownie recipe, using a smaller baking dish like a loaf pan is key in producing regular-height brownies, just in a small batch brownie form.
I recommend using parchment paper for lining the loaf pan as it's a big help in you removing the brownies from the pan once they've been baked. Leave more of an excess on the long sides of the pan to more easily grab onto.
Recipe FAQs
How do you store brownies?
Once cooled completely, wrap brownies snugly in plastic wrap and store them in an air-tight container at room temperature. You can also store them the same way and freeze them for several months (or longer).
What type of variations can I make to these small batch brownies?
You can easily switch up these small batch brownies by adding in the mix-ins of your choice. An extra quarter-cup of chocolate chips, chopped up nuts, candy bar pieces, even Oreo cookies. You can also add a flavored extract like peppermint.
Related Recipes
If you've enjoyed this recipe, I'd love for you to leave a star rating in the recipe card and/or a comment review below!
Note: If you're returning to this post via a saved link or Pinterest, this recipe was updated with slight recipe changes in March 2022 from its original publish date in May 2016. Over the years I began adding a bit more flour (now one-half cup, up from one-quarter cup) and omitting the stirred-in chocolate chips, though you can always keep doing that if you like!
Fudgy Small Batch Brownies
This recipe for small batch brownies uses a loaf pan to make just eight average-sized brownies. They're ultra fudgy and feature classic shiny, crackly brownie tops.
Print
Pin
Rate
Ingredients
4

Tablespoons (57g)

unsalted butter

cut into ½-inch pieces

¼

cup (48g)

dark chocolate chips

or chunks

¼

cup (48g)

semi-sweet chocolate chips

or chunks

½

cup (100g)

granulated sugar

1

large

egg

at room temperature

1

teaspoon

vanilla extract

½

cup (62g)

all-purpose flour

½

teaspoon

instant espresso powder

(optional)

Pinch of

salt
Instructions
Heat oven to 350°F (177°C). Line an 8" x 4" (or 9"x5") loaf pan with a sheet of parchment paper and lightly spray with cooking spray. Allow excess parchment to overhang on the two long sides of the pan to allow easier lifting later.

In a microwave-safe bowl, add butter, dark chocolate, and semisweet chocolate and melt in 20-second intervals on medium power until mixture is melted and smooth, whisking after each interval. Alternatively you can do this in a small pan on the stove.

Pour the melted butter/chocolate into a mixing bowl, then whisk in the sugar, egg, and vanilla extract until combined evenly. Add the flour, espresso powder, and salt and whisk for a minute or so, until the batter is well combined and has a slight "shine" to it.

Pour the brownie batter into the prepared loaf pan and use a spatula to spread it into an evenly layer as it'll be thick. Bake for 30-35 minutes, or until the edges have set and a thin tester (like a toothpick) inserted into the center of the brownies comes out just about clean, with only a few crumbs clinging to it.

Let the brownies cool completely before slicing. Lift the brownies out of the loaf pan by the overhanging sides of the parchment paper and cut into slices once cooled.
Notes
Ingredient Notes:
Chocolate: You can use all semisweet chocolate if you're not a fan of dark chocolate, but I'm partial to the deeper flavor that comes with mixing the two varieties.
Flour: If not weighing the flour, measure it using the spoon-and-level method. Stir up the flour in its container so it's not packed down, then spoon it into your measuring cup (without pressing it down) until it's overflowing. Then hold the measuring cup over top of the flour container and use a straight-edge like a knife or the handle of the spoon to level off the top, letting the excess flour fall back into the container.
Recipe Tips
Whisk this recipe by hand instead of using an electric mixer. The electric mixer will incorporate too much air into the recipe, which will cause the brownies to deflate as they cool and lead to the surface cracking.
I don't recommend using a differently-sized pan than a standard loaf pan, such as an 8" x 8", as the batter will need to be spread too thin.
Storage Instructions: Once entirely cooled, wrap brownies in plastic wrap and then place wrapped brownies in an air-tight container. Store at room temperature or freeze this way for up to several months.
Variations: You can stir in additional chocolate chips, nuts, chopped up candy bars, or even cookies like Oreos. You can also add a small amount of a complementary flavored extract, like peppermint.
Nutrition
Serving:
1
brownie
|
Calories:
205
kcal
|
Carbohydrates:
28.6
g
|
Protein:
2.5
g
|
Fat:
10.6
g
|
Saturated Fat:
6.2
g
|
Cholesterol:
35
mg
|
Sodium:
51
mg
|
Potassium:
17
mg
|
Fiber:
1
g
|
Sugar:
20.6
g
|
Calcium:
4
mg
|
Iron:
1
mg
Nutritional information is provided as an estimate. As it can vary due to many factors (brands used, quantities, etc.), we cannot guarantee its accuracy.
Food Safety and Nutrition Disclaimer
Recipe slightly adapted from The Art & Soul of Baking by Cindy Mushet/Sur La Table, which has long been one of my favorite baking cookbooks. Unfortunately it appears that this cookbook is no longer in print.