Enjoy fudgy brownie cookies with this from-scratch recipe - no box mix required! Malted milk powder adds something special to these rich and chewy chocolate cookies with perfectly crackly tops. These will be a favorite for your cookie trays.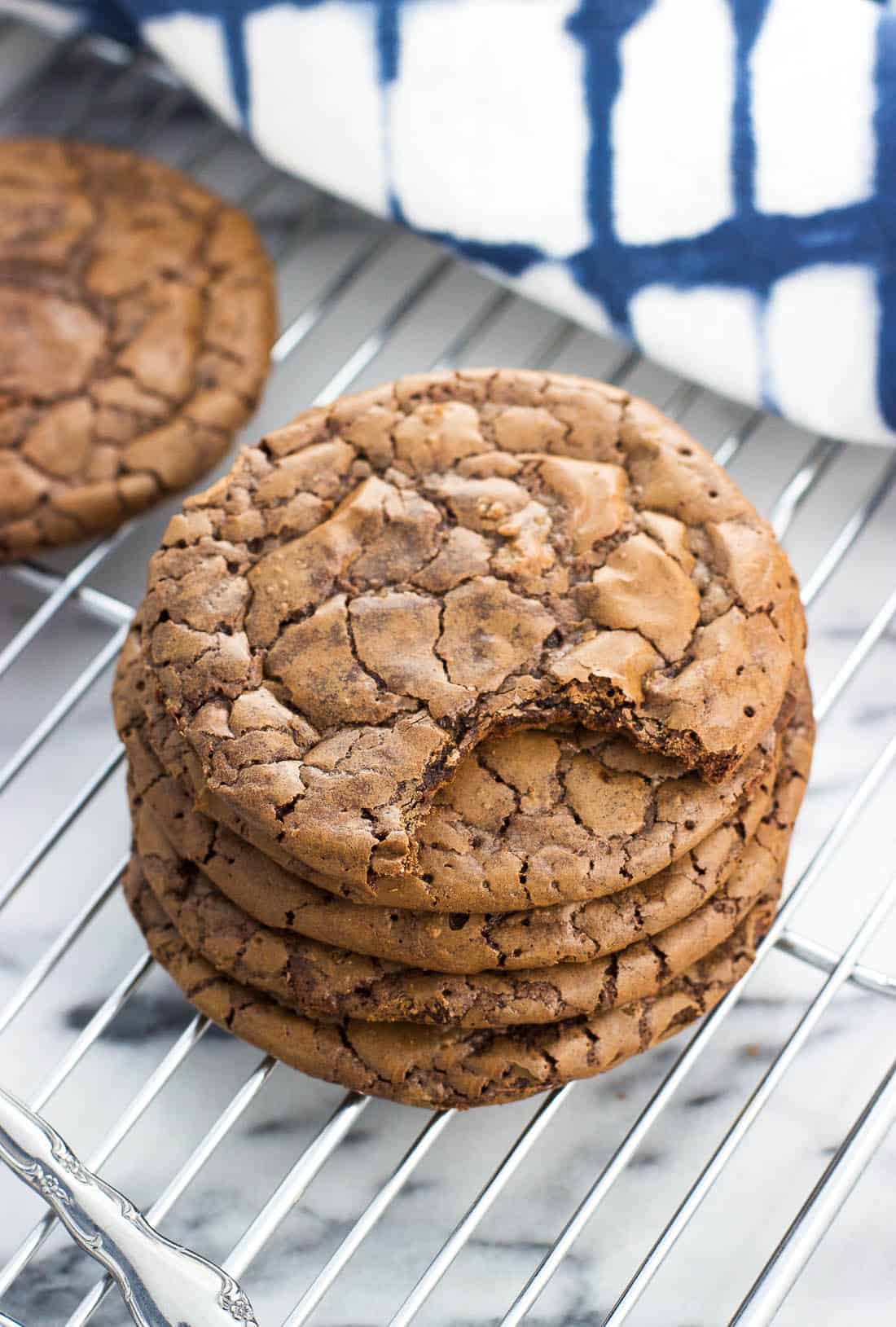 For being a food blogger for over five years now (having shared 400+ recipes!), you'd think I'd have a better grasp on an editorial calendar. You know, carefully selecting when to post certain recipes to ensure maximum variety. But the fact of the matter is that I follow my cravings and can't help but get stuck on certain flavors or foods.
Not that this is a bad thing, of course. After all, you're probably here via Google or Pinterest or another social media channel and can't see that I just shared another chocolate cookie recipe. 😉
But! The sweet tooth wants what the sweet tooth wants, and that's chocolate in cookie form. And with the holidays quickly approaching, I'm thinking the more cookie recipes out there on the Internet, the better. So here these babies are.
Better this than saving these ultra fudgy malted brownie cookies until January, when the bulk of us have (temporarily) had it with the smorgasbord of cookies and sweets.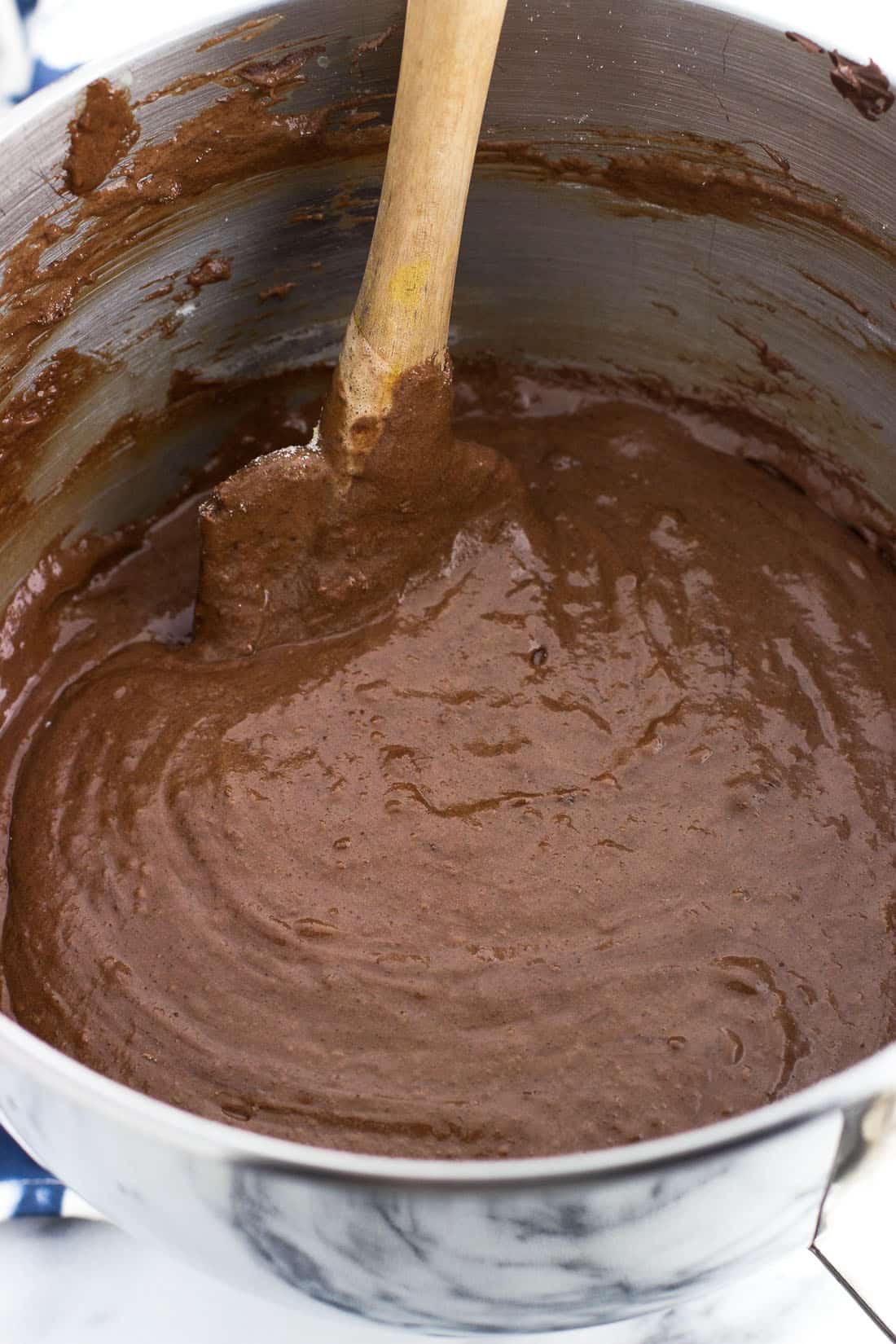 What's to love about this recipe
I've had the idea of making brownie cookies for awhile. I know they're not hard to make using a boxed brownie mix (which is something I've done before and will certainly do again), but wanted a way to control all the things that make a brownie amazing, like fudginess, sweetness, richness of chocolate, etc.
When it comes to brownies, I'm on the fudgy (vs. cakey) train. I love using a 50/50 blend of semisweet and dark chocolates to temper the sweetness some, and my favorite piece? One of the corners so I can enjoy two extra-chewy edges.
These malted brownie cookies fit the bill on all fronts resulting in cookies that stay soft, fudgy, and chewy for days! They feature the quintessential brownie shiny, crackly tops and truly taste just like them, but in thin cookie form.
Psst - if your brownie preferences sound similar to mine, check out my one bowl small-batch brownies. It's the only way I make brownies!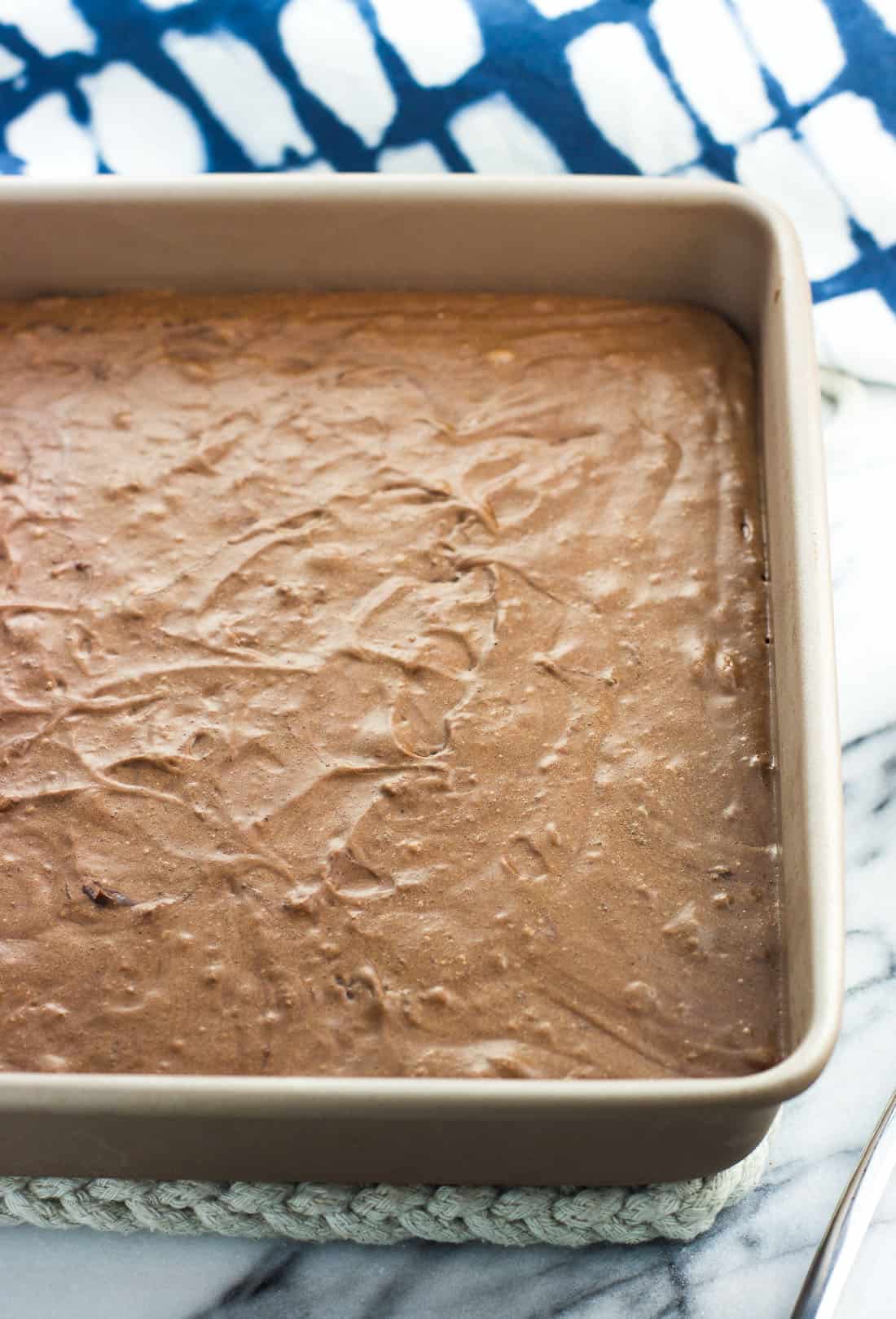 Step-by-step instructions
These malted brownie cookies begin by melting together the chocolate and butter. You know things are off to a good start because this is the first step in making fudgy brownies vs. cakey ones, which begin by creaming together butter and sugar.
I tend to melt them in short spurts in the microwave, stirring well after each interval, until combined, but you can also use the double boiler method on the stovetop if you prefer.
The next step is to beat the eggs and sugars together until thickened. This will take a few minutes so it's easiest if you use a stand mixer. Or at least easier on your arm. 🙂 Since these brownie cookies have very little flour, you'll want to make sure the egg and sugar mixture is sufficiently thickened as it will help provide needed structure.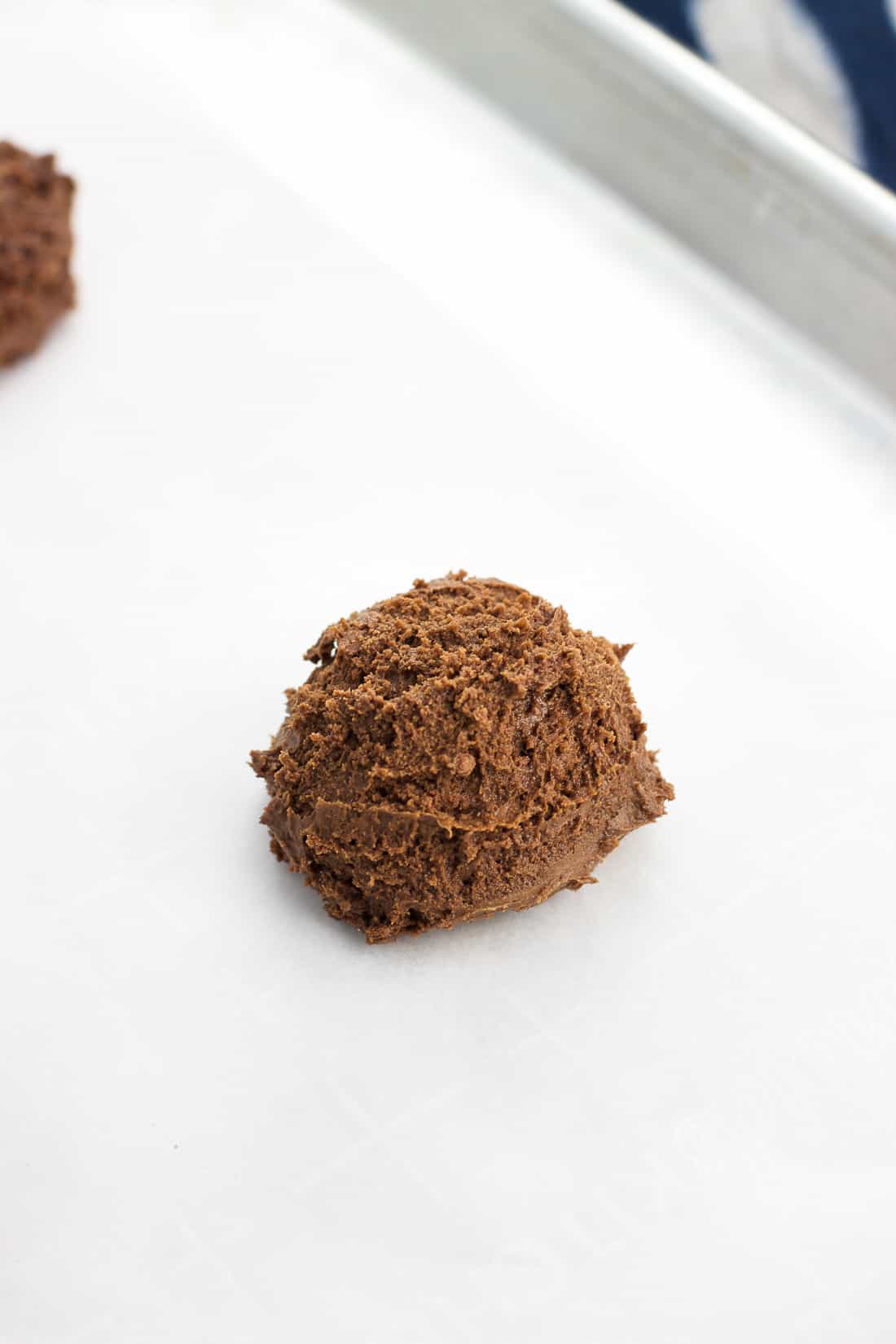 Once cookie staples like vanilla extract and salt are added in, it's time to fold in the flour and other dry ingredients. It's best to do this by hand with a rubber spatula so that you don't overdo it with the mixing. Otherwise you run the risk of taking the air out of the batter, losing some of that structure we need here.
While the brownie cookie batter looks fairly thick, it needs to chill very well in order to not "melt" into a big puddle once it gets into the heated oven. It looks a little strange - and a little bit like ice cream - but transferring the batter into a wide dish and freezing for an hour or so as called for in this recipe's inspiration does the trick efficiently.
I used an 8x8" dish that would withstand temperature changes for this, covering the dish with foil while it was in the freezer. You can see the dish in the photos above with the well chilled batter, just before I started scooping. And those scoops? Uh, tell me it's not chocolate ice cream!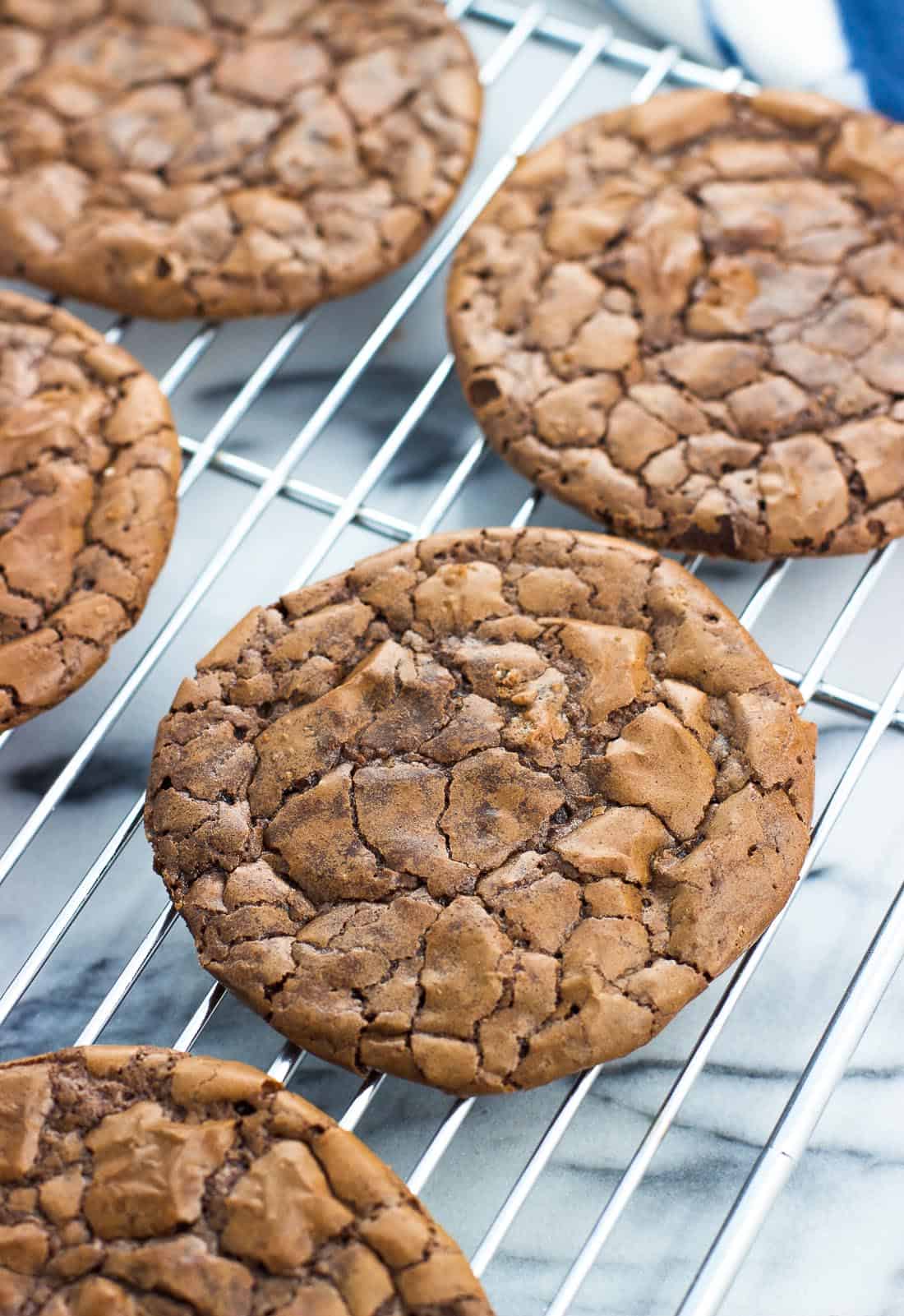 Special ingredients
As with my go-to brownie recipe (and let's be real, many chocolate desserts), I add instant espresso powder here for a boost in chocolate flavor. While this is optional and you can omit if you like, just a small amount of instant espresso complements the richness of the chocolate and elevates the flavor in the best way.
You can find instant espresso powder in the coffee and tea aisle of your grocery store. While specialty baking stores also stock it, I'm fond of an inexpensive version with a green lid. A jar will last you a long time!
One other addition here that usually isn't found in brownie recipes is the malted milk powder. Since adding it to rich malted chocolate banana bread I've been wanting to experiment with it in other chocolate desserts, and it does not disappoint in these malted brownie cookies. I find it provides a subtle roasty toasty flavor that mellows all the chocolate and sweetness just slightly. We really enjoy it in these brownie cookies!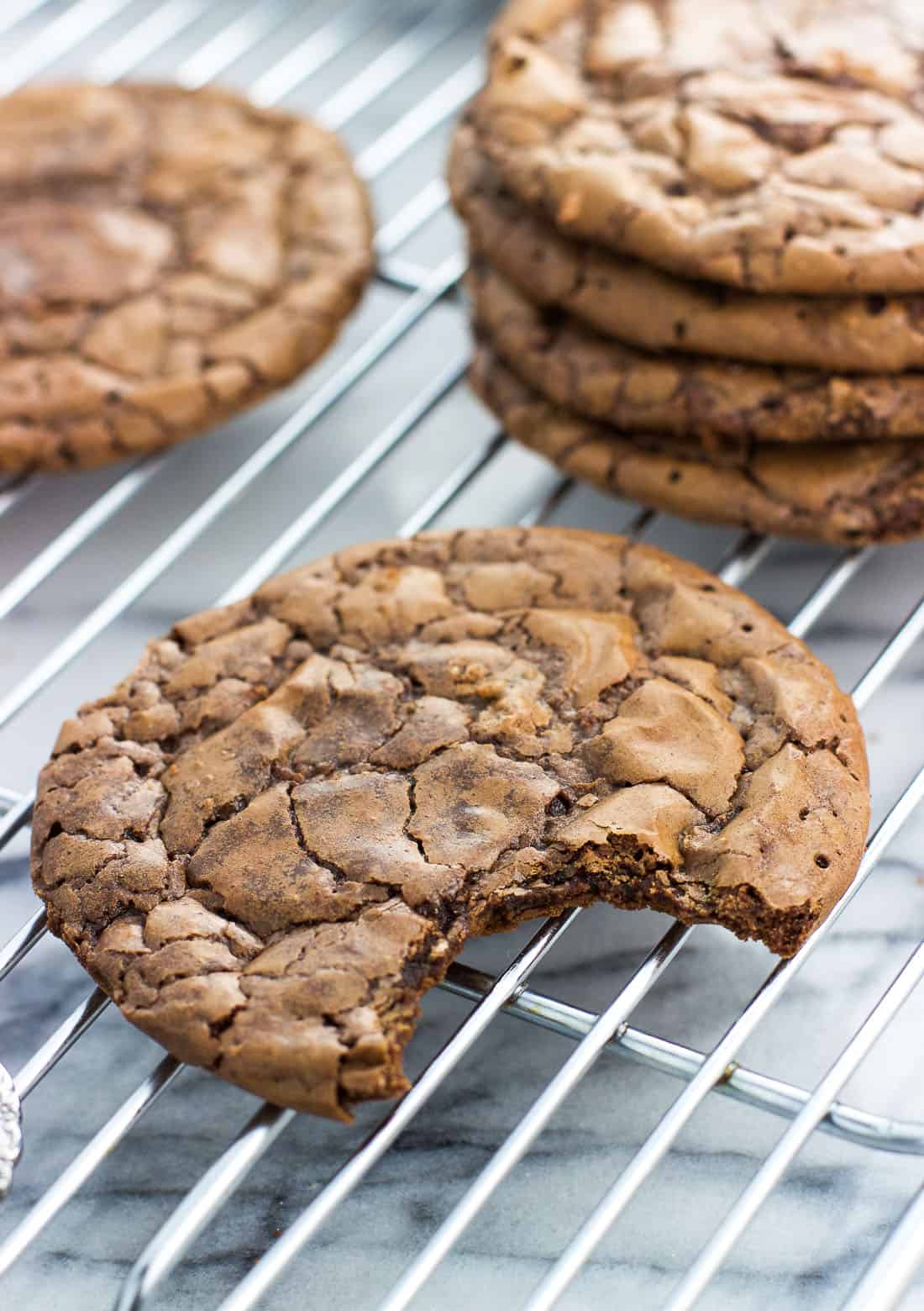 Recipe notes
Be sure not to underestimate the amount that these cookies spread when placing the scoops on the baking sheets. Using a two-tablespoon capacity scoop resulted in cookies approximately four inches across.
While scooping out these cookies, it's best to keep the dish with the batter in the freezer between batches to ensure it stays as chilled as it can.
Try to rotate your baking sheets so you're not scooping out cookies onto a warm sheet, which will cause them to spread more than you might like.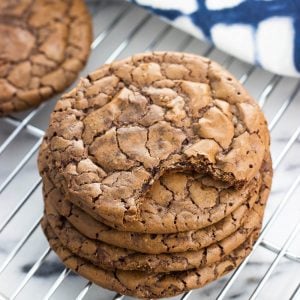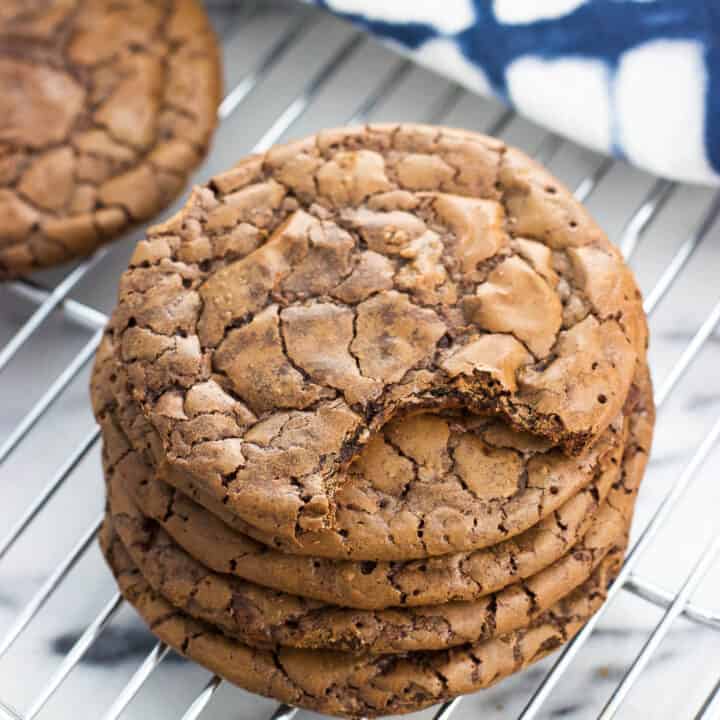 Malted Brownie Cookies
Enjoy fudgy brownie cookies with this from-scratch recipe - no box mix required! Malted milk powder adds something special to these rich and chewy chocolate cookies with perfectly crackly tops. These will be a favorite for your cookie trays.
Print
Pin
Rate
Ingredients
8

oz

dark chocolate,

chopped

8

oz

semisweet chocolate,

chips or chunks

4

tablespoon

unsalted butter

(¼ cup), cut into cubes

¾

cup

granulated sugar

¾

cup

brown sugar

4

eggs,

at room temperature

1 ¼

teaspoon

vanilla extract

¼

teaspoon

salt

½

cup

all-purpose flour

(60 grams)

1 ½

tablespoon

malted milk powder

(12 grams)

½

teaspoon

baking powder

½

teaspoon

instant espresso powder
Instructions
Add chocolates and butter to a microwave-safe mixing bowl. Melt in 15-20 second bursts, stirring well after each increment, until combined and smooth. Set aside for now. Alternatively you can do this step with a double boiler if you prefer that way.

Add the sugars to the bowl of a stand mixer and whisk to combine and remove out any lumps. Add the room temperature eggs and using the whisk attachment, beat on medium speed for 3-4 minutes, or until the mixture has thickened considerably.

Add the vanilla extract and salt to the bowl with the egg/sugar mixture and beat until combined.

Fold in the melted chocolate/butter mixture using a rubber spatula. Next fold in the flour, malted milk powder, baking powder, and the instant espresso powder, taking care not to overmix the batter.

Pour out the batter into a wide freezer-safe dish, such as an 8x8" pan. Cover the top with aluminum foil and place in the freezer for at least one hour, or until the batter is well chilled.

Preheat oven to 350°F and line several large baking sheets with parchment paper. Using a two-tablespoon capacity cookie scoop, scoop rounded cookies about 2" - 2 ½" apart onto lined baking sheets.

Bake for 10-12 minutes, or until the tops of the cookies are crackly and have dried. Let the cookies cool on the baking sheet for 10-15 minutes, then carefully transfer them to a wire rack to cool completely. Store in an air-tight plastic container or bag.
Notes
The cookies will look puffy right when they're removed from the oven, but will settle down and become flat (and perfectly chewy!) as they cool.
Nutritional information is provided as an estimate. As it can vary due to many factors (brands used, quantities, etc.), we cannot guarantee its accuracy.
Food Safety and Nutrition Disclaimer
Recipe adapted from Food & Wine