Italian herb and cheese baked grits make a hearty and comforting side dish for a crowd. This easy grits casserole recipe features a blend of Italian cheeses, garlic, and herbs for a new spin on a Southern favorite.
Today we're talking about grits! As I shared along with my shrimp fra diavolo and grits recipe, grits were not a food I grew up eating. In fact it took moving to the south as an adult to even try them. Better late than never I suppose.
While I'm not a huge fan of plain grits, cheese grits? Yes. A baked grits casserole? Yes yes. Italian herb and cheese baked grits??
A big Y-E-S.
This is prob obvious, but just in case: I make no claims that this baked grits recipe is anywhere close to traditional, Southern-style grits. For those I defer to those in the know. For these I'm putting my Italian-ish spin on a comfort food favorite. 🙂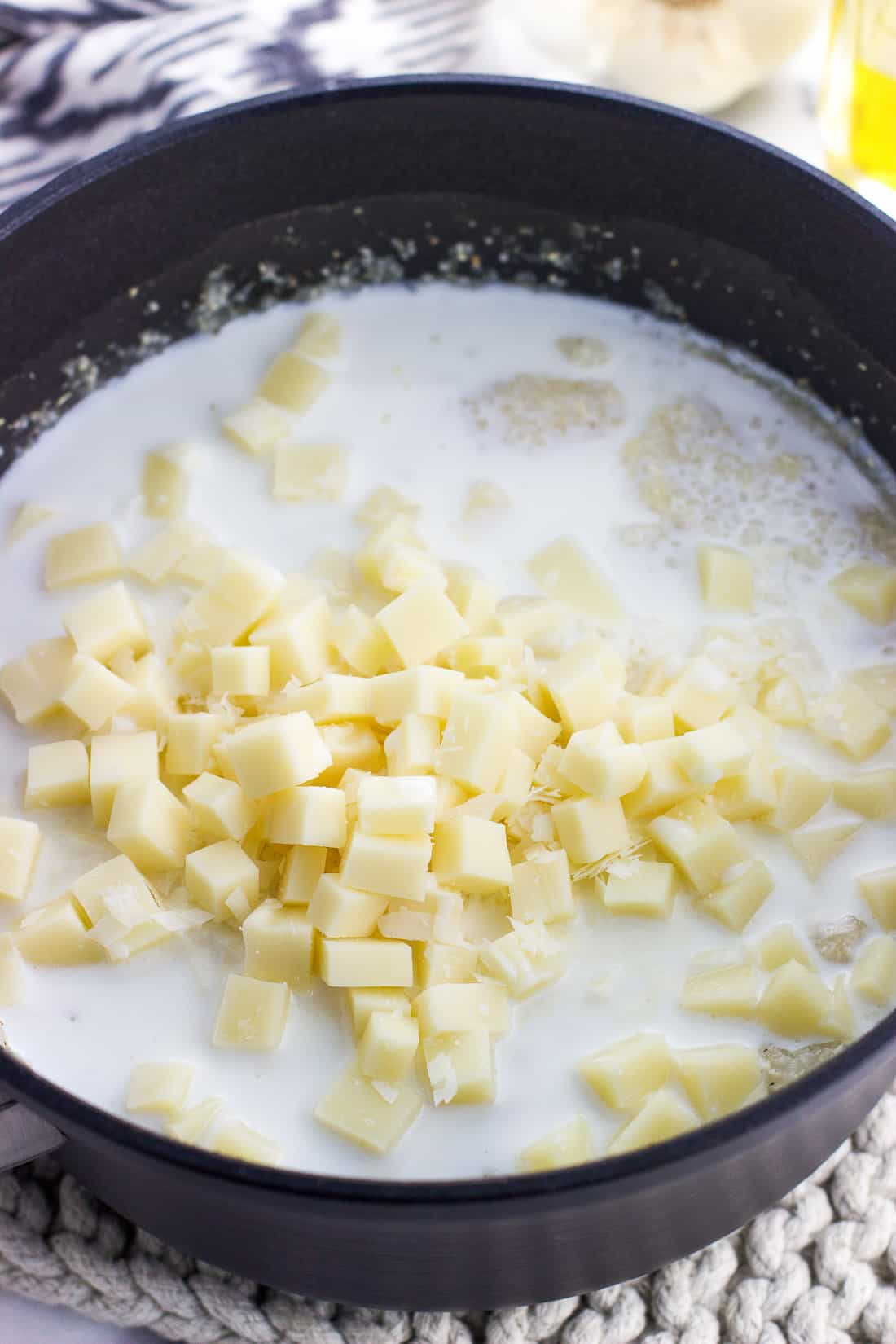 The difference between quick and instant grits
At first glance it doesn't sound like there'd be much difference between quick and instant grits, but there is! I use quick grits here (and in all my grits recipes) and recommend them.
Instant grits are very fine grits that have already been cooked and then dehydrated. That means boiling water or a spin in the microwave with liquid is all you need to "cook" them. This convenience comes at a price though, because the flavor isn't all there and I've found the texture can become kind of...gummy.
Quick grits aren't precooked so they require a bit longer to cook. But not too long! In less than ten minutes you'll have creamy grits with a hearty texture ready to serve.
That's how I prepare my grits to serve along with shrimp, but these baked grits are something special. While they start on the stovetop, a little bit of this and that gets added with everything and then put into the oven to bake. What results is a creamy, cheesy, and garlicky side dish fitting for shrimp, chicken, pork, or any Italian-inspired main dish.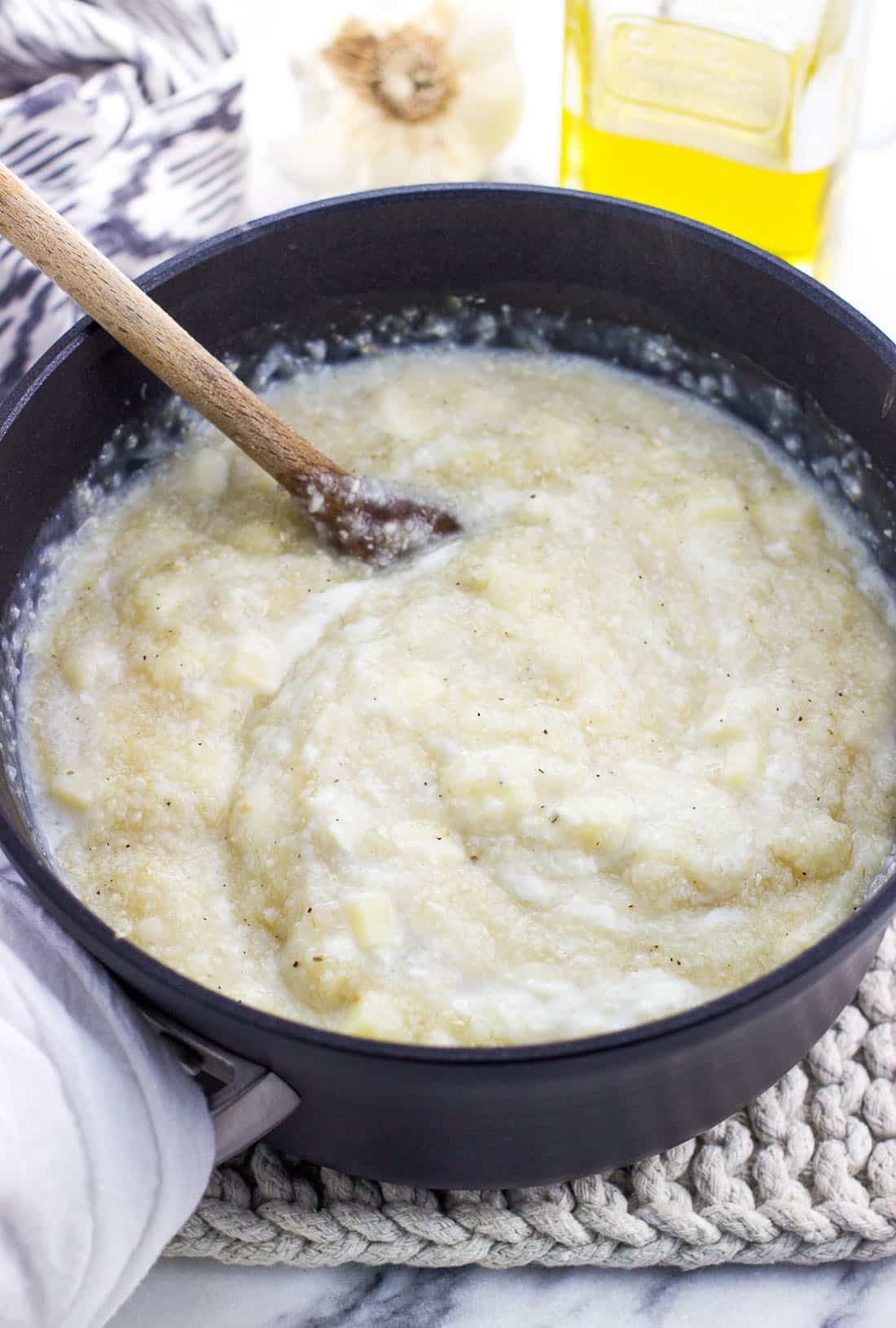 Cooking grits
While it's fine to cook grits in water, I recommend using chicken broth or a broth/milk combination. I find grits require an oomph on the salt front, so broth works very well here.
You'll want to start the grits in a saucepan on the stovetop until they're thickened, which shouldn't take much longer than five minutes or so. Once thickened, it's time to add the cheese.
Mozzarella cheese adds a mild creaminess and structure to this baked grits recipe, with Pecorino Romano bringing a sharper flavor. Do use Parmesan if you like or have that in the fridge already! I tend to use them interchangeably in many recipes.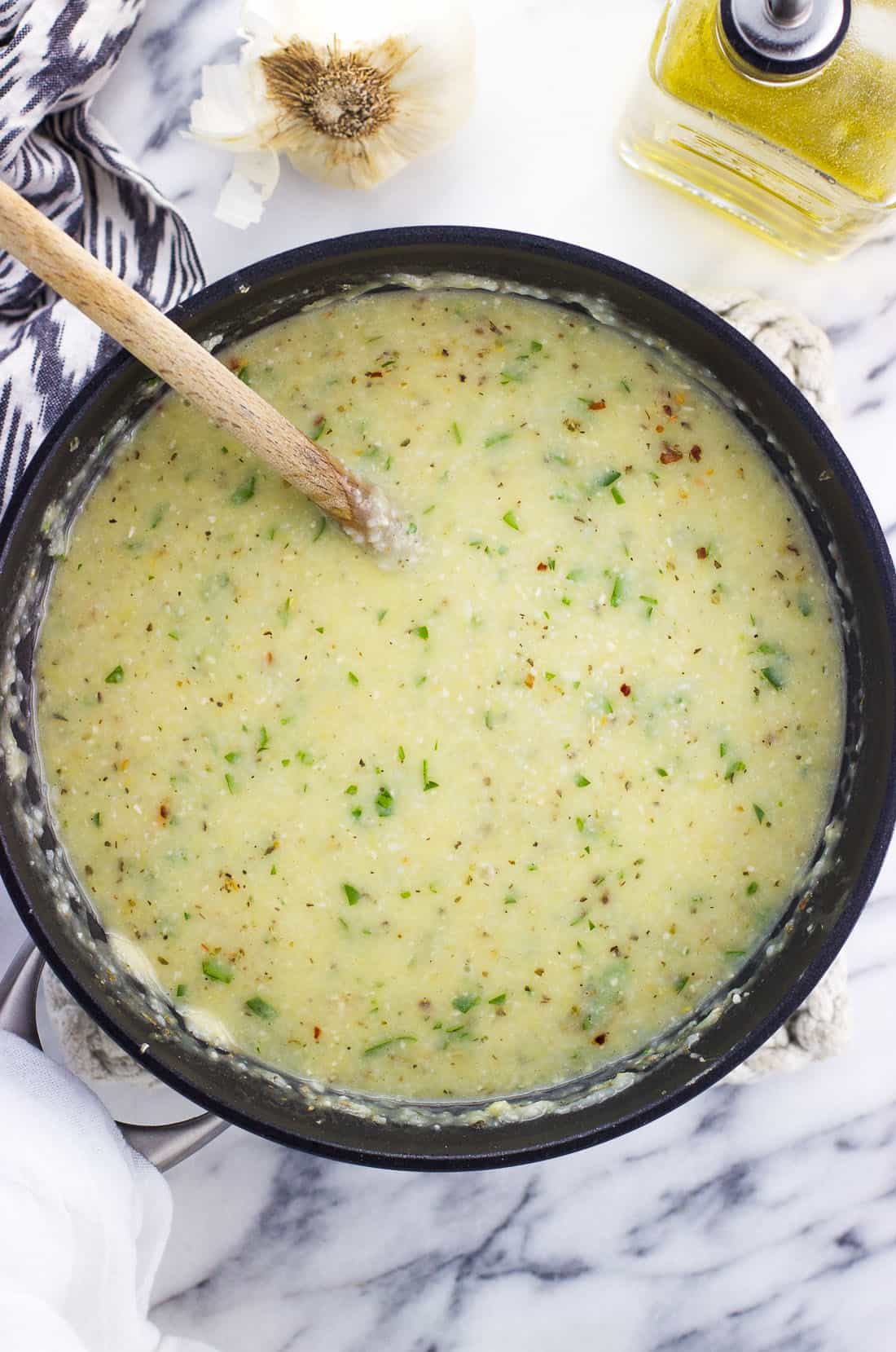 What helps make this Italian herb and cheese baked grits recipe special is the addition of eggs. Three to be exact. Once beaten, they're slowly drizzled and stirred into the stovetop grits mixture until combined.
You'll want to stir while drizzling to help prevent any of the egg bits from cooking in place. We're going for silky smooth texture here! Even though the saucepan will be off the heat at this point, the grits mixture is still hot and better safe than sorry.
Italian flavorings
Along with the eggs we'll add some fat in the form of butter and olive oil, and then it's time for the Italian flavors. Minced garlic (I'm a garlic head and used six cloves - adjust up/down in line with your tastes) joins with parsley, basil, and oregano for a delicious herb blend.
My backyard parsley plant is still going strong despite multiple below-freezing days, so I went with chopped fresh parsley. Since I can't say the same for my basil and oregano, I used dry there. With all the flavors and textures going on in these baked grits I find it doesn't make a huge difference. See note below for the substitution if you'd like to use dried parsley.
Those little red flecks you see are crushed red pepper flakes. Just a half-teaspoon is included here for extra flavor without a bite, though if you're a fan of spicy food add as much as you like.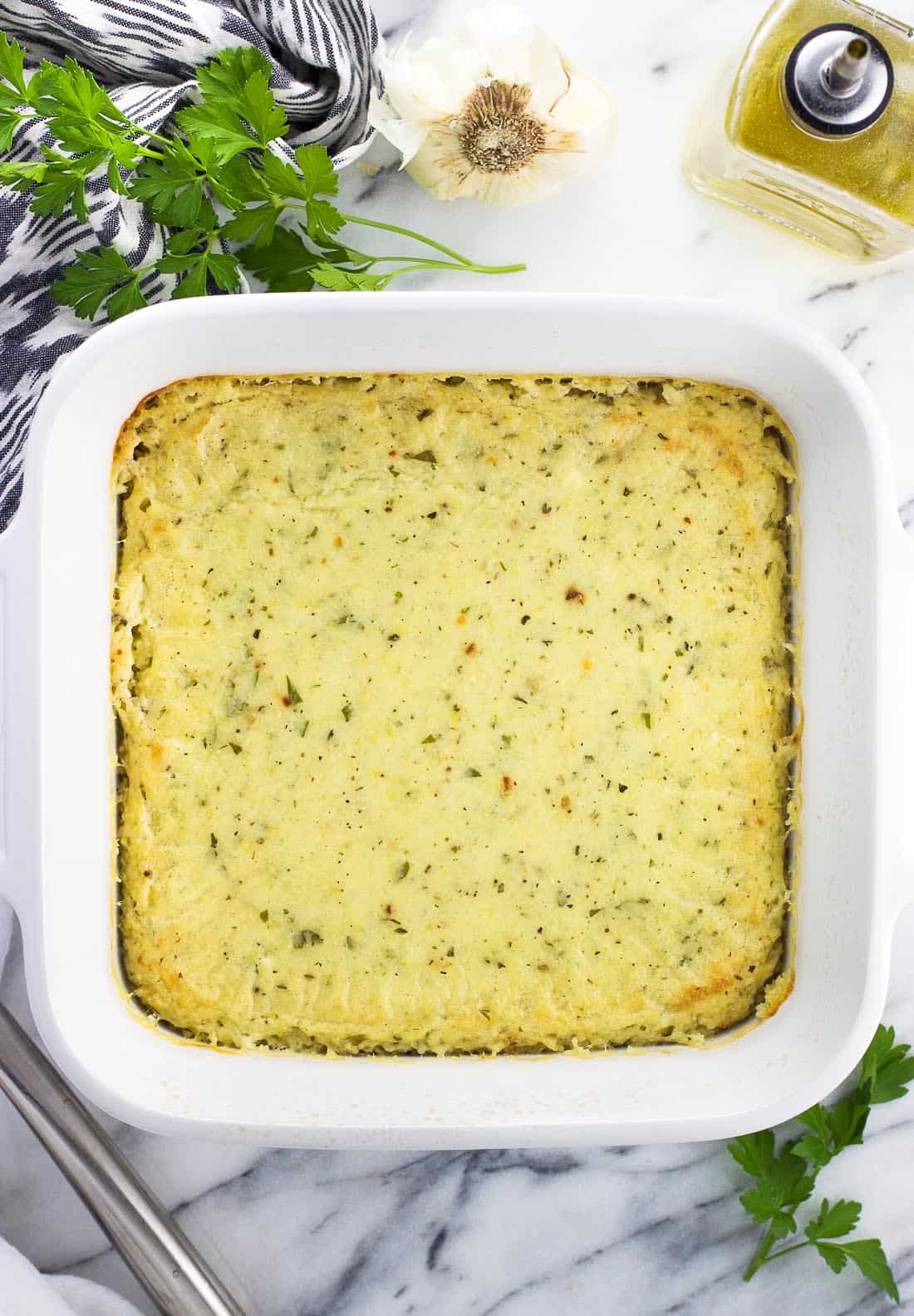 All that's left is to bake it up! Pour everything into a greased three-ish quart baking dish and bake at 350°F for about 45 minutes, or until the center isn't too jiggly and the edges have set and begin to come away from the sides.
Don't be fooled by the appearance of the set surface, because these baked grits are creamy and dreamy underneath it all. This is definitely a side dish to be scooped, though they'll firm up some as they cool down. Leftover portions will also be firmer than they are straight from the oven.
One of my favorite main dish pairings for these Italian baked grits was an easy version of baked chicken parmesan. The grits mixed with the spillover marinara sauce? Truly delicious.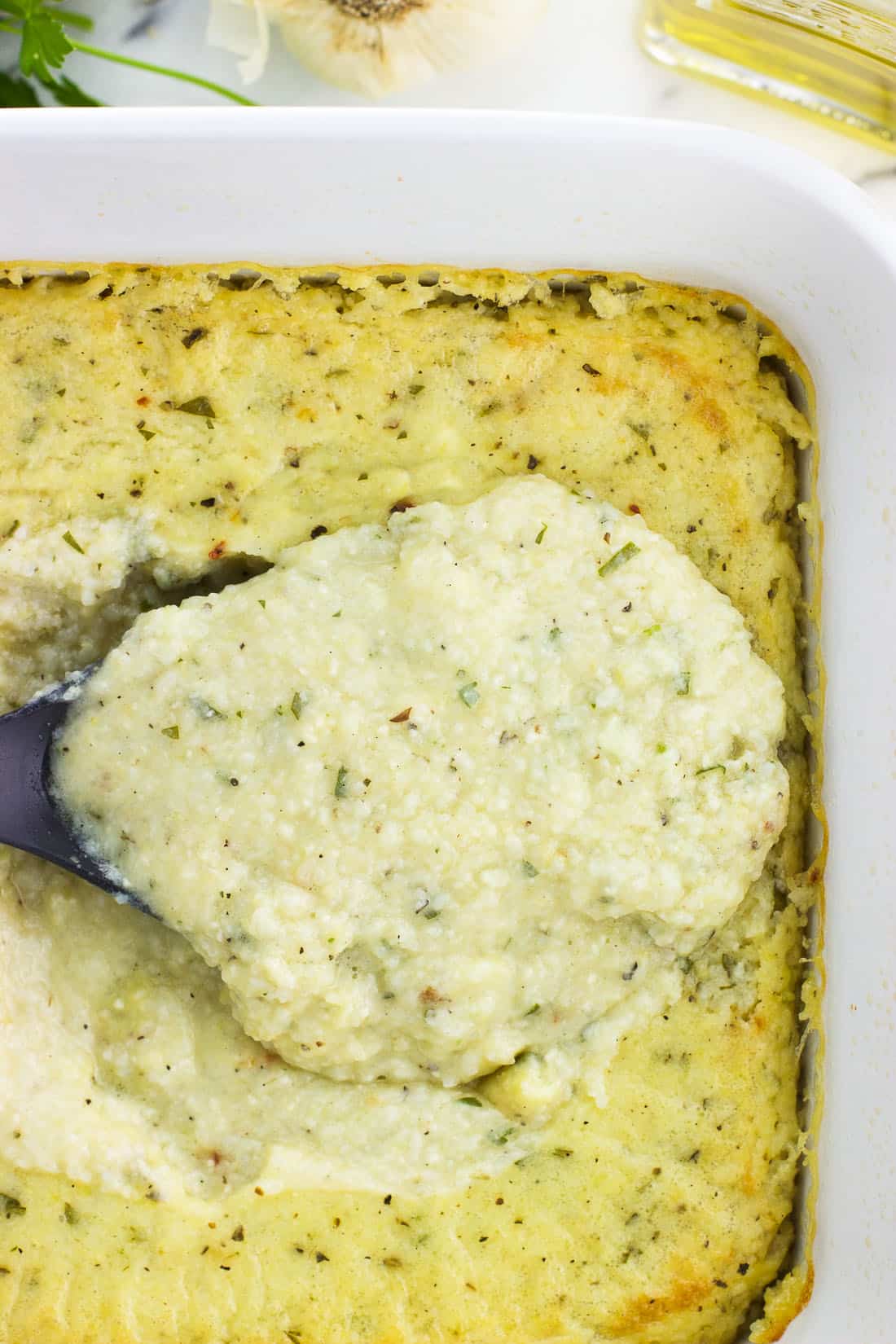 Recipe notes
Use quick grits for this recipe, not instant.
Parmesan cheese can be used in place of the Pecorino Romano if you like.
Dried versus fresh parsley. I find fresh provides a mild but present herby flavor here, but in a pinch I don't see why you couldn't use dried. Since dried is more concentrated than fresh, you'll want to use less. You can play around with the quantity, but I'd say around one tablespoon of dried parsley in place of the fresh could do it.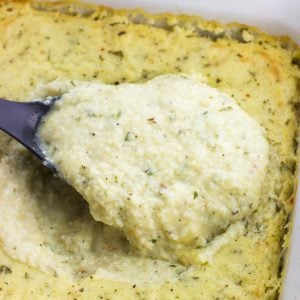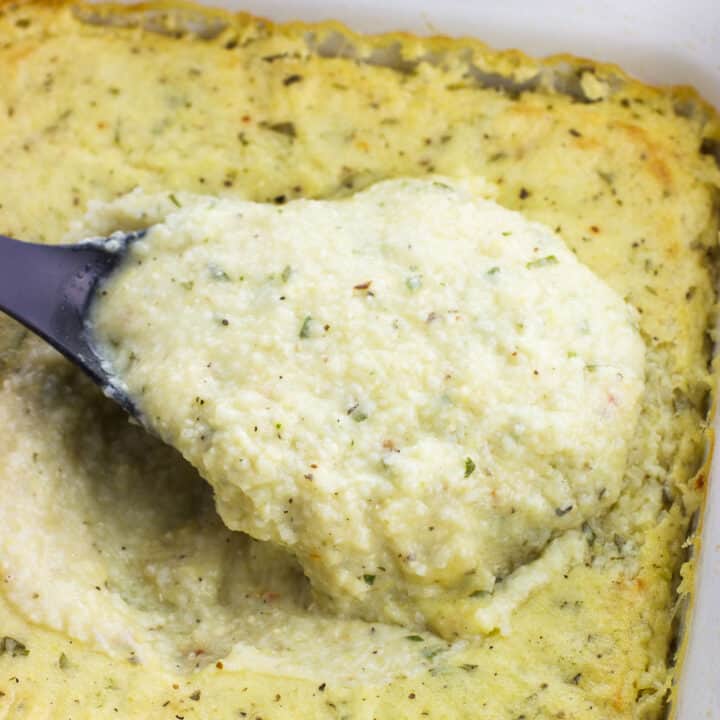 Italian Herb and Cheese Baked Grits
Italian herb and cheese baked grits make a hearty and comforting side dish for a crowd. This easy grits casserole recipe features a blend of Italian cheeses, garlic, and herbs for a new spin on a Southern favorite.
Print
Pin
Rate
Ingredients
32

oz

reduced-sodium chicken broth

(4 cups)

4

oz

water

(½ cup)

1

teaspoon

salt

½

teaspoon

ground black pepper

1 ½

cups

quick grits

(NOT instant - see note)

⅓

cup

milk,

your preferred

4

oz

mozzarella cheese,

cubed

1

oz

Pecorino Romano cheese,

grated

3

eggs,

beaten

3

tablespoon

unsalted butter,

cut into pieces

3

tablespoon

olive oil

6

cloves

garlic,

minced

¼

cup

chopped fresh parsley

½

teaspoon

dried basil

½

teaspoon

dried oregano

½

teaspoon

crushed red pepper
Instructions
Preheat oven to 350°F. Spray a 3-quart baking dish with cooking spray and set aside.

Add broth, water, salt, and pepper to a medium saucepan set over high heat. Bring to a boil, then stir in the grits until smooth. Reduce heat to low, then let the grits simmer for 7-8 minutes, or until thickened. Stir occasionally.

Once the grits are thickened, add the milk, mozzarella, and Pecorino Romano. Stir to combine as the cheese melts.

Add eggs to a mixing bowl and beat until smooth. Slowly stir the beaten eggs into the saucepan with the grits, stirring to incorporate them as they're added. After the eggs, stir in the butter, olive oil, minced garlic, parsley, basil, oregano and crushed red pepper.

Pour everything into the greased 3-qt baking dish and bake for 45 minutes, or until the edges have set and the center is semi-firm (not too jiggly). Serve while warm.
Nutritional information is provided as an estimate. As it can vary due to many factors (brands used, quantities, etc.), we cannot guarantee its accuracy.
Food Safety and Nutrition Disclaimer
Baked grits base recipe adapted from the recipe on the back of the Dixie Lily Quick Grits box!