These chocolate hazelnut brownies are SUPER fudgy and rich from a blend of dark and semisweet chocolate. Roasted hazelnuts provide some crunch and pair so well with chocolate for a favorite flavor combo.
If you're not the kind of person who is super into chocolate desserts, I'll come right out and say it: these hazelnut brownies won't be for you.
But if you are into any and all things chocolate, then take a look at these babies. Ultra fudgy homemade brownies are packed with chocolate chips and roasted hazelnuts for a fun twist (walnuts, who?) on a family favorite. Sort of a more subtle/less sweet ode to Nutella.
There are a few brownie recipes hanging around the site, and all of them are offshoots of this basic recipe. We have small batch brownies, then dark chocolate peppermint brownies, and then pumpkin brownies. And how about raspberry brownies for spring? Something for every season, almost.

Cakey vs. fudgy brownies
So many brownie recipes feature the same or similar ingredients, but did you know it's the method of combining them that determines if they're on the cakier or fudgier side?
Fudgy brownies like these begin by melting together butter and chocolate until silky smooth, like the photo above. YUM.
Into that chocolate we whisk in sugar and the eggs, and then the dry ingredients. Stir it up well until the mixture has a sheen to it, then fold in chocolate chips and/or nuts and bake.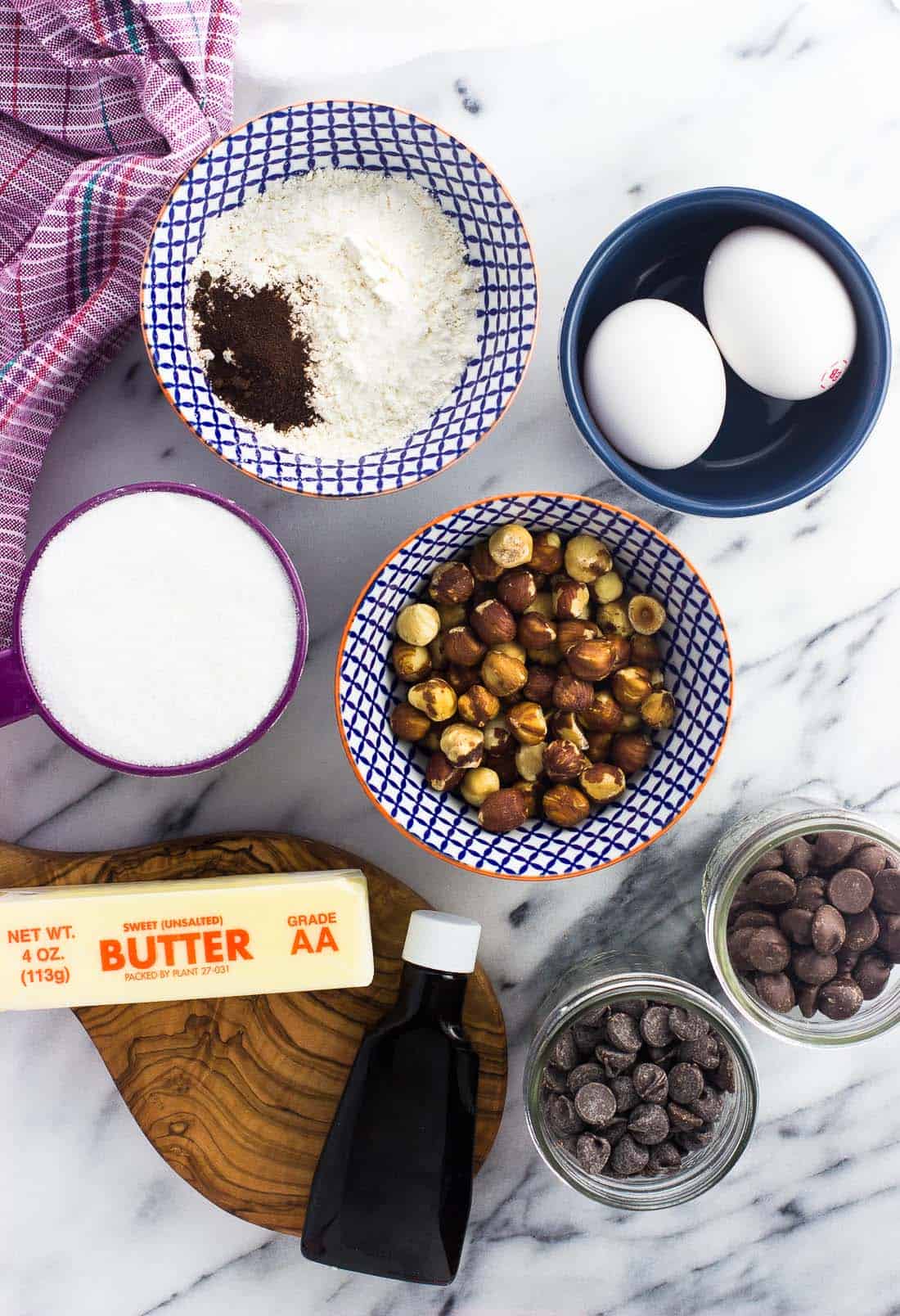 Slice them when cool and there you go! Homemade brownies with that quintessential crackly brownie surface.
These hazelnut brownies are big time fudgy (so hopefully that's your preference, too), but for the curious, cakey brownies begin by creaming together the butter and sugar. This makes the brownies less dense and more cake-like.
Homemade brownies are pretty straight-forward to make, and can be done all in one bowl if you use a larger, microwave-safe one. Clearly I wasn't thinking and neglected to do that with these so I had another bowl to wash. But I won't make that mistake twice.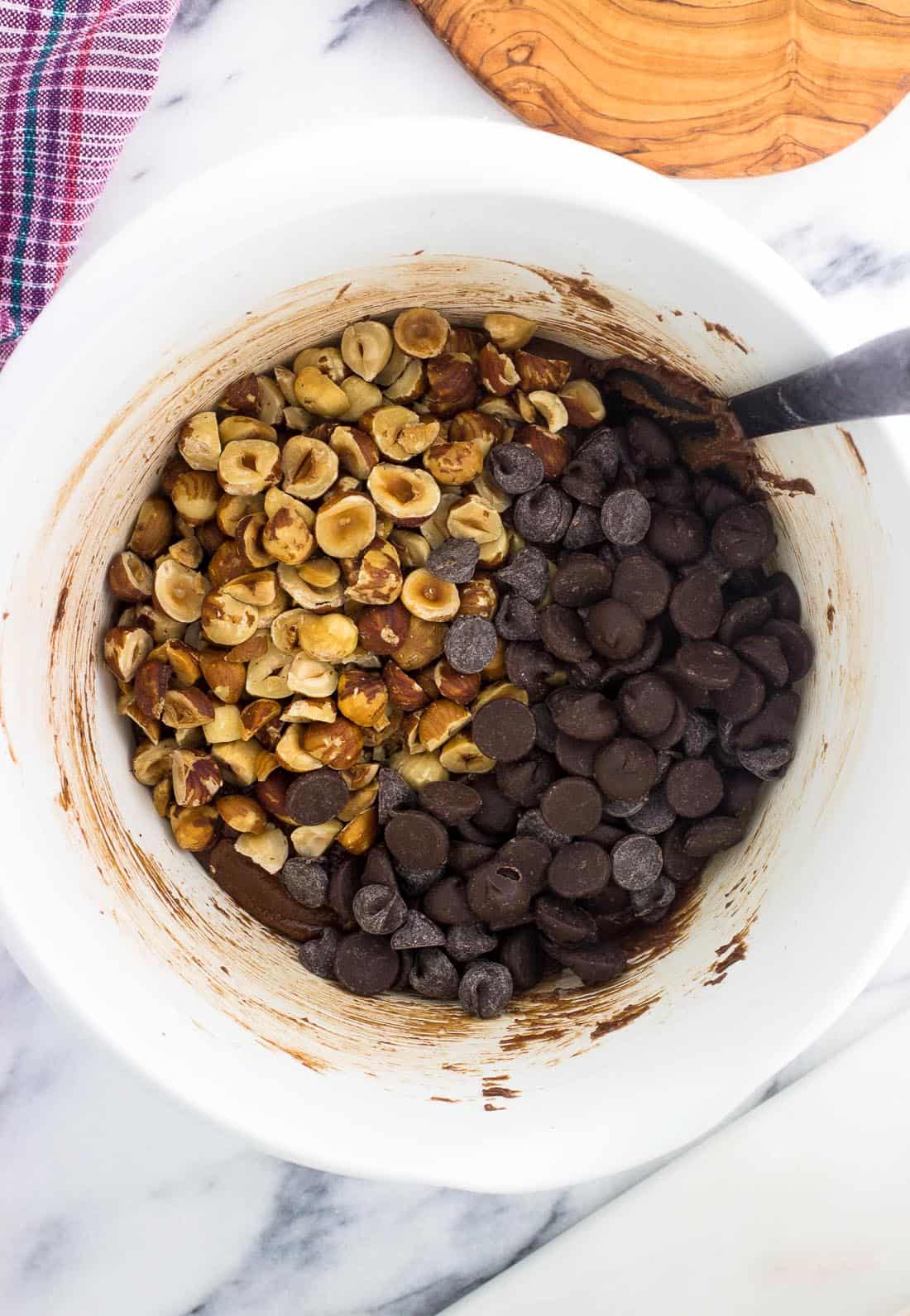 Another thing that helps out on the fudgy front is how little flour we use here. Just a half-cup! Rich brownies like these really don't need that much.
One ingredient I just about *always* add to brownies and other chocolate-y desserts is instant espresso powder. Just a little bit works to give depth to and enhance the chocolate flavor without bringing any coffee flavor.
While you can find espresso powder offered by specialty kitchen companies in the baking extracts section, a basic variety found in the coffee aisle of the conventional grocery store works just fine, too. This post isn't sponsored but I've used the Medaglia d'Oro brand for years. It has a green lid and the label resembles the Italian flag. 🙂
If you don't drink/consume coffee or just don't feel like buying something else to take up room in your kitchen cabinets (do I know that struggle or what!), no sweat. It's totally optional and these hazelnut brownies will still be delicious without it.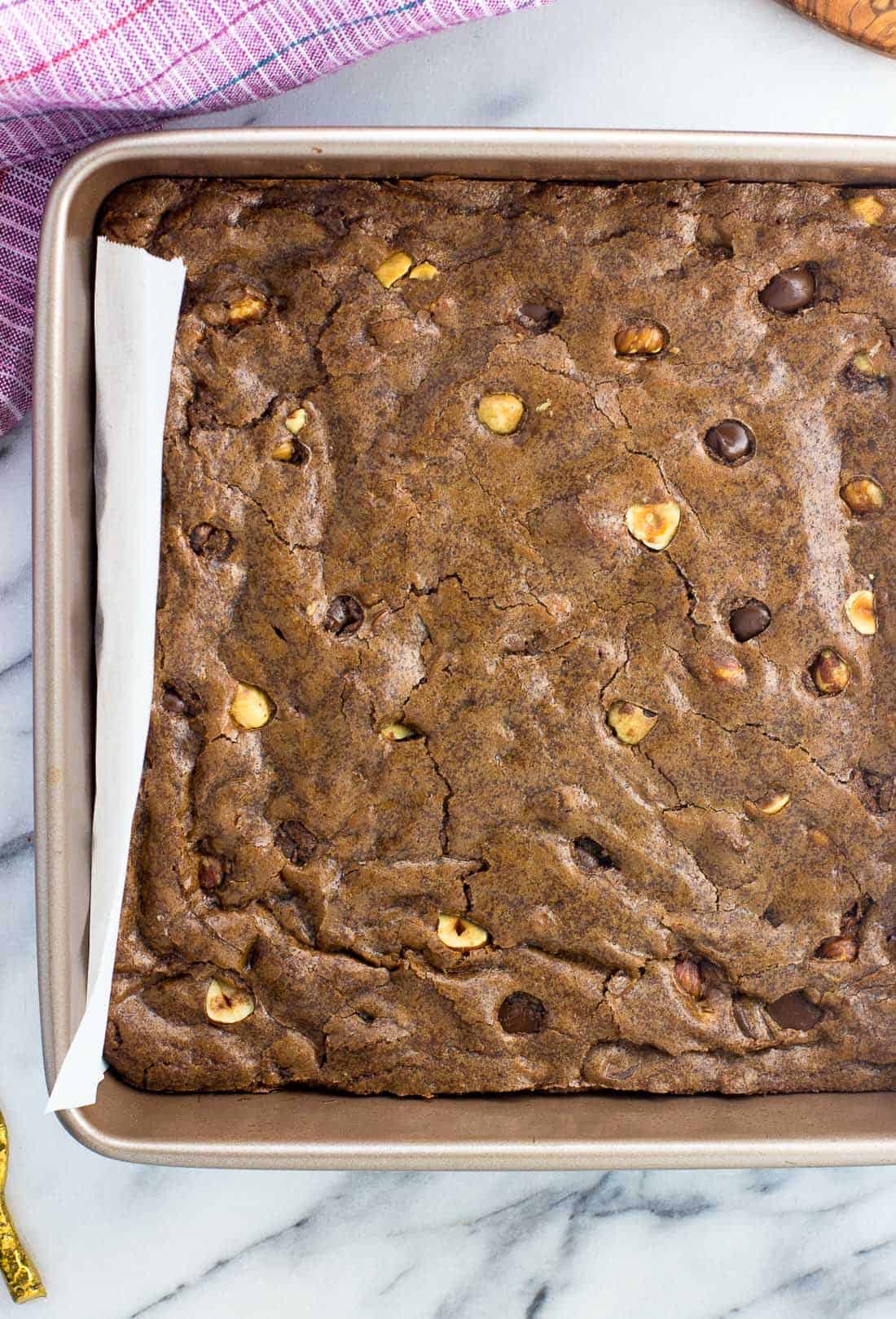 Now let's talk about the chocolate. There's wiggle room here! I'm partial to a blend of dark and semisweet chocolate, but you can certainly tweak the ratio to be more in line with what you and yours like.
A 50/50 split of dark and semisweet chocolate will produce a rich, not too sweet hazelnut brownie.
That said, bump up the semisweet portion if you know you like extra sweetness in a dessert like this, or if you're not a huge dark chocolate fan.
And a word on the hazelnuts. I bought a bag of roasted, unsalted, and shelled hazelnuts (at Trader Joe's) so that kept that part easy. I suggest using roasted hazelnuts here for extra flavor oomph, as well as unsalted.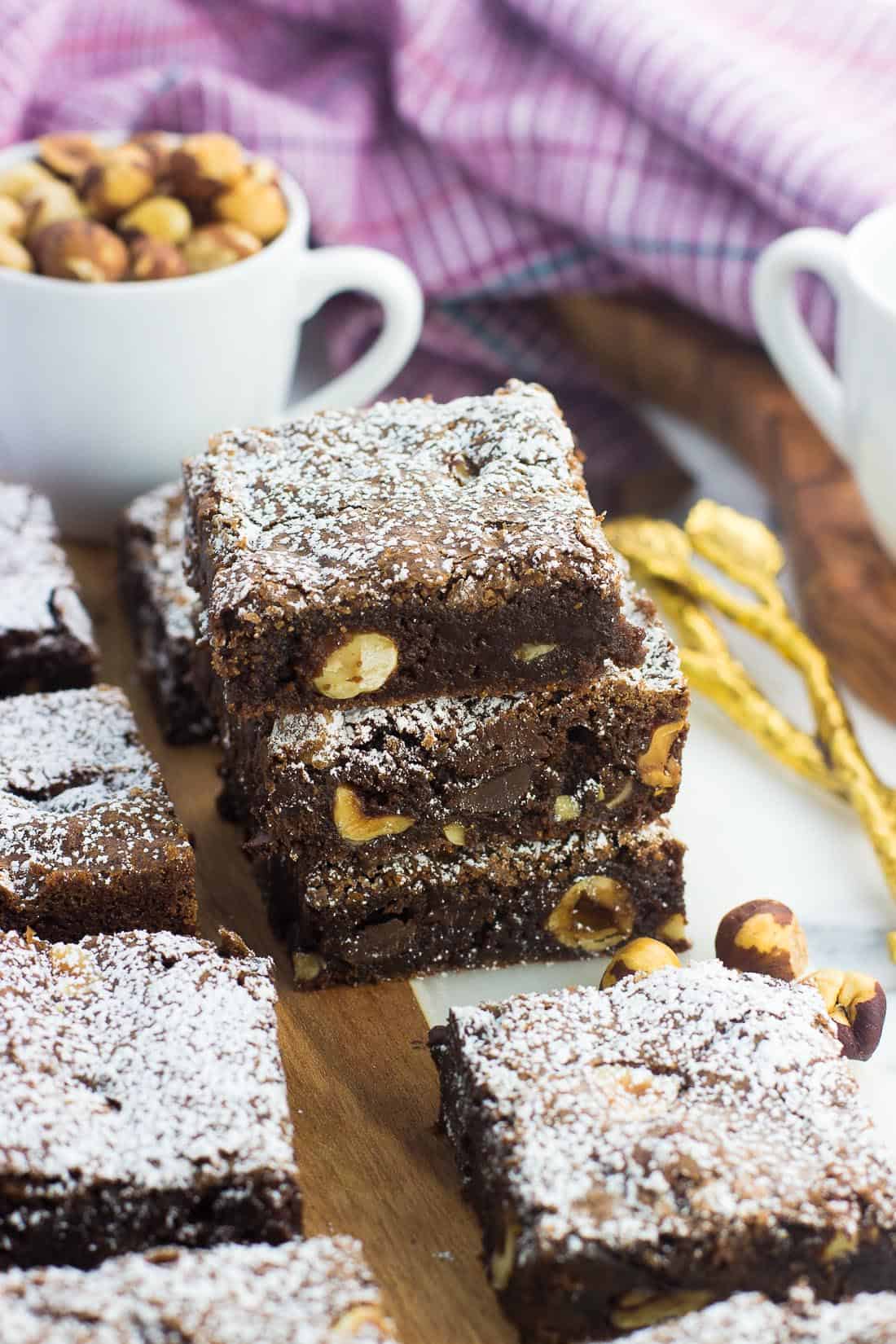 Recipe notes
See the recipe card for notes on the varieties/blends of chocolate you can use.
Hazelnuts are a favorite, but you can also use whatever type of nut you prefer here, or choose to omit them entirely.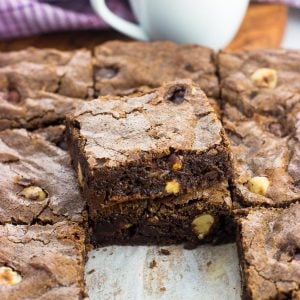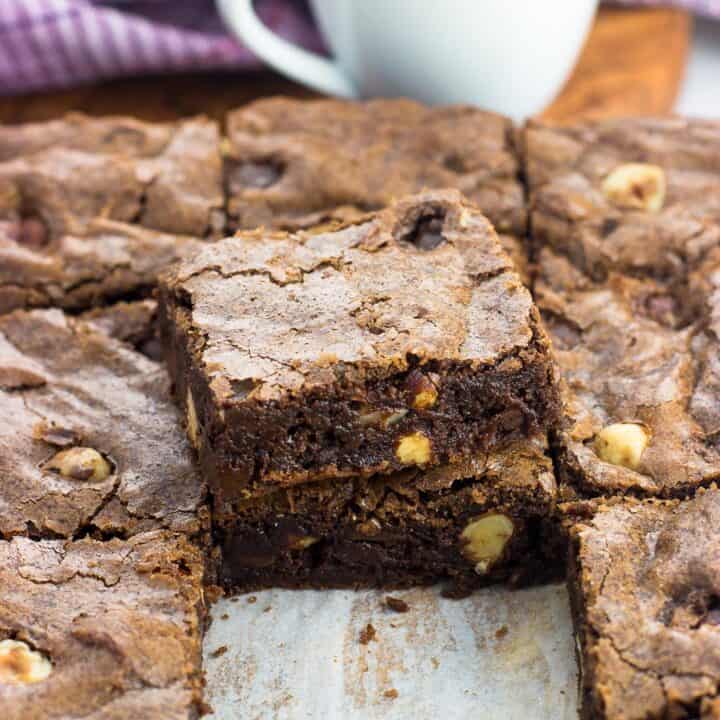 Fudgy Chocolate Hazelnut Brownies
These chocolate hazelnut brownies are SUPER fudgy and rich from a blend of dark and semisweet chocolate. Roasted hazelnuts provide some crunch and pair so well with chocolate for a favorite flavor combo.
Print
Pin
Rate
Ingredients
½

cup

unsalted butter

(8 tbsp), cut into ½" pieces

1 ½

cups

chocolate chips or chunks,

divided (see note)

1

cup

granulated sugar

2

eggs,

1 ½

teaspoon

vanilla extract

½

cup

all-purpose flour

¾

teaspoon

instant espresso powder

(optional)

Pinch

of salt

½

cup

roasted, unsalted hazelnuts

(2.5 oz), roughly chopped
Instructions
Preheat oven to 350°F. Line an 8"x8" baking dish with parchment paper, allowing the parchment to hang over on two opposite sides so you can more easily pull the brownies out to slice when they're all done. Spray the parchment-lined baking dish bottom and sides with cooking spray and set aside.

Add 1 cup of your chocolate chips or chunks and the chopped-up butter pieces to a large microwave-safe mixing bowl. Microwave in 20-second increments until melted, shiny, and smooth, stirring up the chocolate/butter pieces well after each increment.

Whisk in the sugar and eggs until combined. Add the flour, instant espresso powder, and salt and whisk/stir for a minute or so, or until the batter has a sheen to it and is smooth.

Stir in the remaining ½ cup chocolate chips or chunks and the chopped hazelnuts.

Pour out batter into the parchment-lined and sprayed baking dish. The batter will be thick so use a spatula or spoon to smooth the surface into an even layer. Tip: Binder clips work well to hold the parchment in place along the baking dish while you're smoothing so it doesn't slide around.

Bake for 35-40 minutes, or until the edges are well set, the top appears crackly, and a thin tester (like a toothpick) inserted into the center comes out mostly clean. Let cool in the pan completely before slicing. Run a thin spatula along the edges of the pan to loosen the brownies before lifting them out.

Once cool, slice brownies however you like. They're very rich and fudgy, so you may wish to slice them into 16 or 25 equally-sized pieces. Store in an air-tight container at room temperature for 3 days, or refrigerate/freeze wrapped well in plastic.
Notes
Chocolate: There's wiggle room on the types of chocolate to use. I like using half dark chocolate and half semisweet chocolate for sweet-but-not-too-sweet brownies. If you like very sweet brownies, you can bump up the ratio of semisweet to dark chocolate. If you don't have dark chocolate, you can use a portion of bittersweet chocolate. Nutrition: The nutrition stats are for one-sixteenth of the tray. I would argue that since these hazelnut brownies are so rich and fudgy, you can slice more than sixteen brownies from them and still have portions that satisfy. If sliced into twenty-five equally-sized brownies, each would end up around 162 calories (an estimate). Use your judgment!
Nutrition
Serving:
1
brownie
|
Calories:
253
kcal
Nutritional information is provided as an estimate. As it can vary due to many factors (brands used, quantities, etc.), we cannot guarantee its accuracy.
Food Safety and Nutrition Disclaimer
Recipe lightly adapted from The Art & Soul of Baking by Cindy Mushet/Sur La Table (affiliate link, though I seem to only be able to find it available in used condition), which is one of my go-to cookbooks for all things sweet. It reads like an encyclopedia!