This post is sponsored by Pepperidge Farm®. All comments and opinions are my own.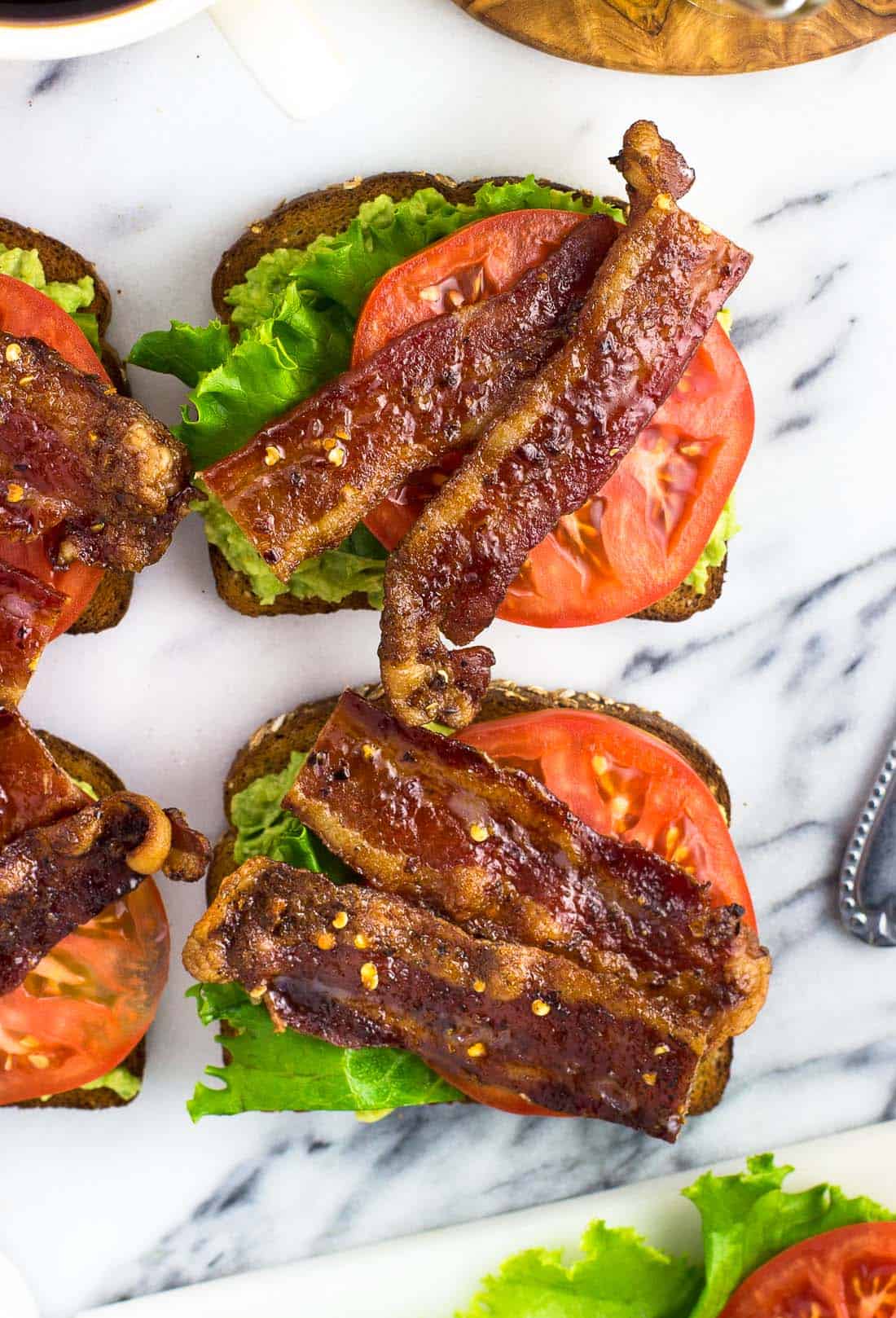 I'd have some trouble if you asked me to pick a favorite meal. I'm not a picky eater in the slightest, and clearly, I'm a food enthusiast. 😉 My answer would depend on whichever meal is coming up next. That would be my favorite.
Now I say I'm not picky, but I do have some conditions when it comes to breakfast. I need to eat something substantial! Otherwise hunger/hangriness sets in a few hours later and I start wondering whether 10:45 a.m. is too early for lunch.
Reasons to love this recipe
This BLT Avocado Toast, made with Pepperidge Farm® Whole Grain Thin Sliced bread, passes my 'perfect breakfast' test with flying colors. It's hearty enough to fuel me through wherever the morning takes me, which is key in avoiding those between-meal lows. It's a brand-new year and I have a to-do list brimming with goals. There's no time for blah-ness and energy dips between meals.
Plus, this recipe features a great variety of flavors and textures. Creamy avocado, fresh lettuce, juicy tomato, crisp whole grain toast, and slightly sweet and spicy bacon…
What's not to like?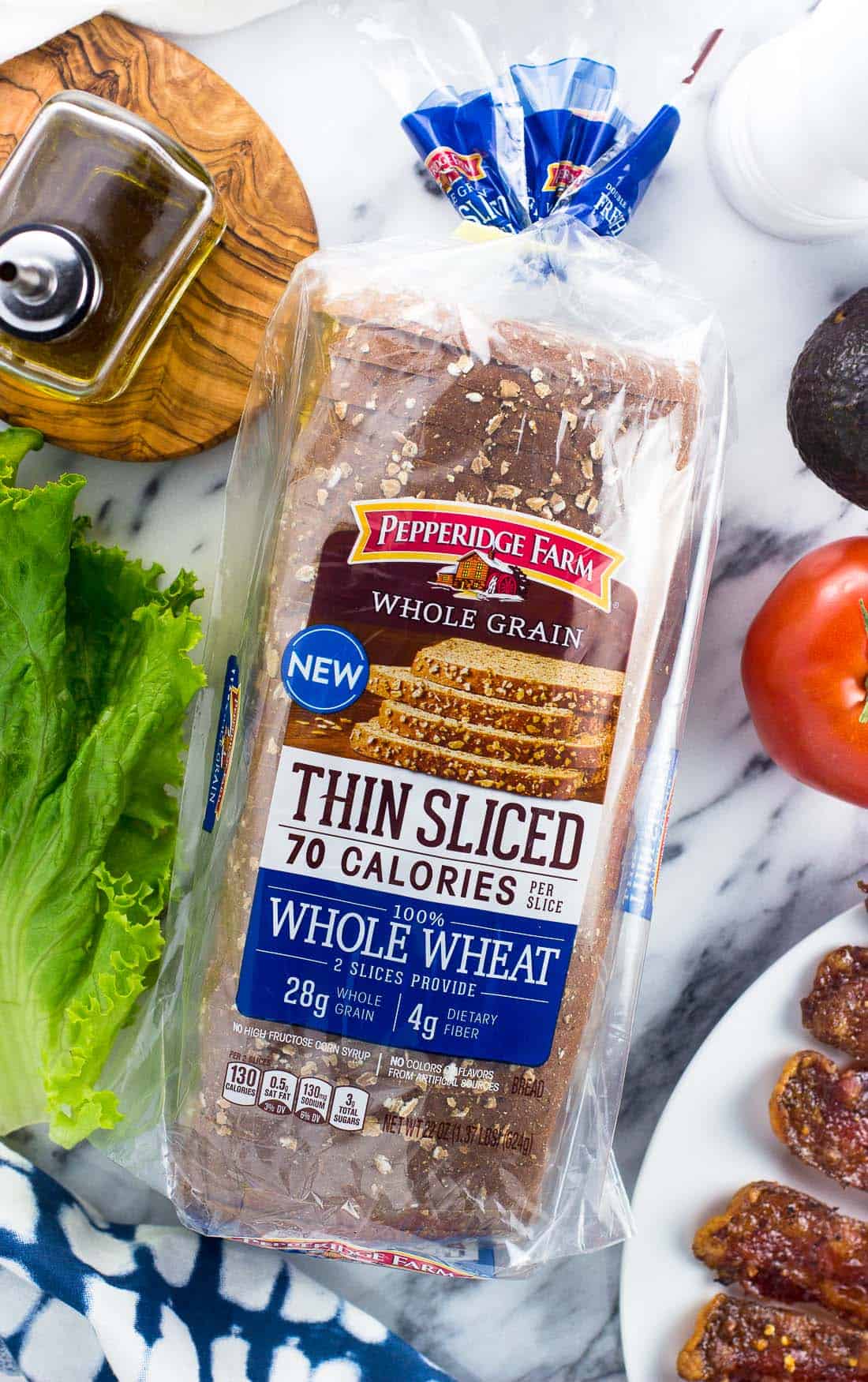 Recipe ingredients
This Whole Grain Thin Sliced bread is the backbone of this avocado toast. It's made with the same recipe as Pepperidge Farm® Whole Grain bread, just in a smaller portion. It's 100% Whole Grain, features 4g of dietary fiber per serving, and is made with no high fructose corn syrup or any color or flavor from artificial sources.
Even with a thin slice, it's easily strong enough to hold all of these avocado toast layers without worrying that your breakfast will crumble and fall apart.
I'm pretty sure there's no wrong way to make avocado toast, but I'll share my usual procedure. For starters you're going to want your avocado to be ripe!
An avocado is ripe when it gives a bit when you squeeze it gently. You don't want a crazy amount of give though, because too much mush can signal that it's overripe and less than appealing inside.
Making candied bacon
Besides verifying that you have a ripe avocado, you'll want to set aside some time to make your bacon. While regular bacon is a fine choice for a BLT, this spicy candied bacon takes this toast to the next level. Here's how you make it:
Lay thick-cut bacon strips in a single layer on an oven-safe wire rack set over a rimmed baking sheet.
Sprinkle bacon with brown sugar, then season with crushed red pepper and ground black pepper.
Bake in an oven preheated to 350°F for 30-40 minutes, or until a deep brown color develops and the sugar has caramelized. The candied bacon will crisp up as it cools.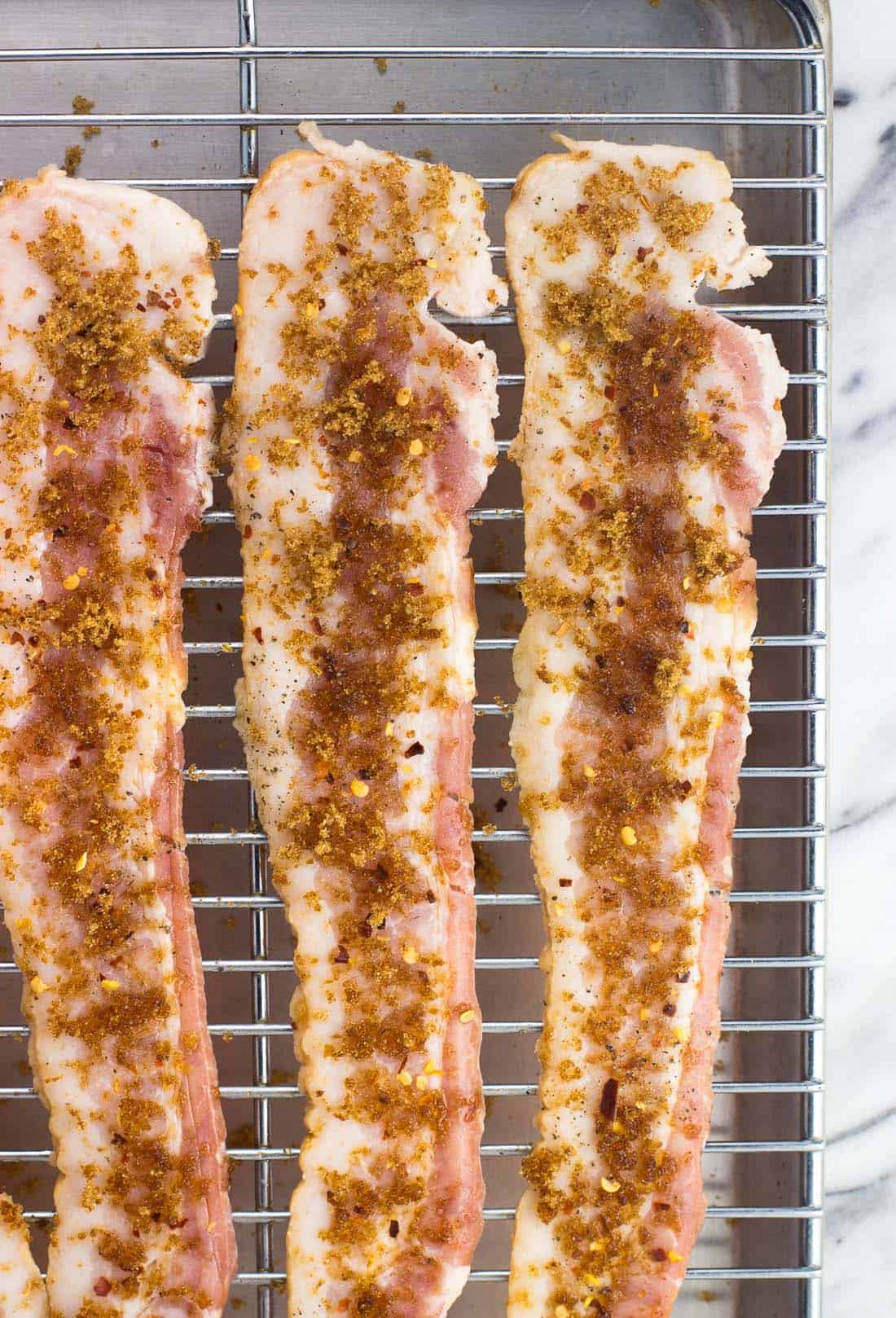 I like to cook the bacon ahead of time, and simply let it come up to room temperature or lightly heat for serving. The juxtaposition of the sweet and (slightly) spicy flavors is a real treat!
Using one-quarter teaspoon of crushed red pepper flakes divided evenly over six slices of bacon adds a mild zip, so no need to worry about bacon that will be too spicy to enjoy the rest of your BLT Avocado Toast. Of course, you can always add more red pepper if you're really into spicy food.
Now it's time for assembly. First mash your avocado in a bowl with a fork. I usually use half of an avocado for one piece of avocado toast. At this point I spice things up with salt and pepper (to taste) and a little squeeze of lemon juice, but feel free to season your mashed avocado just how you like it.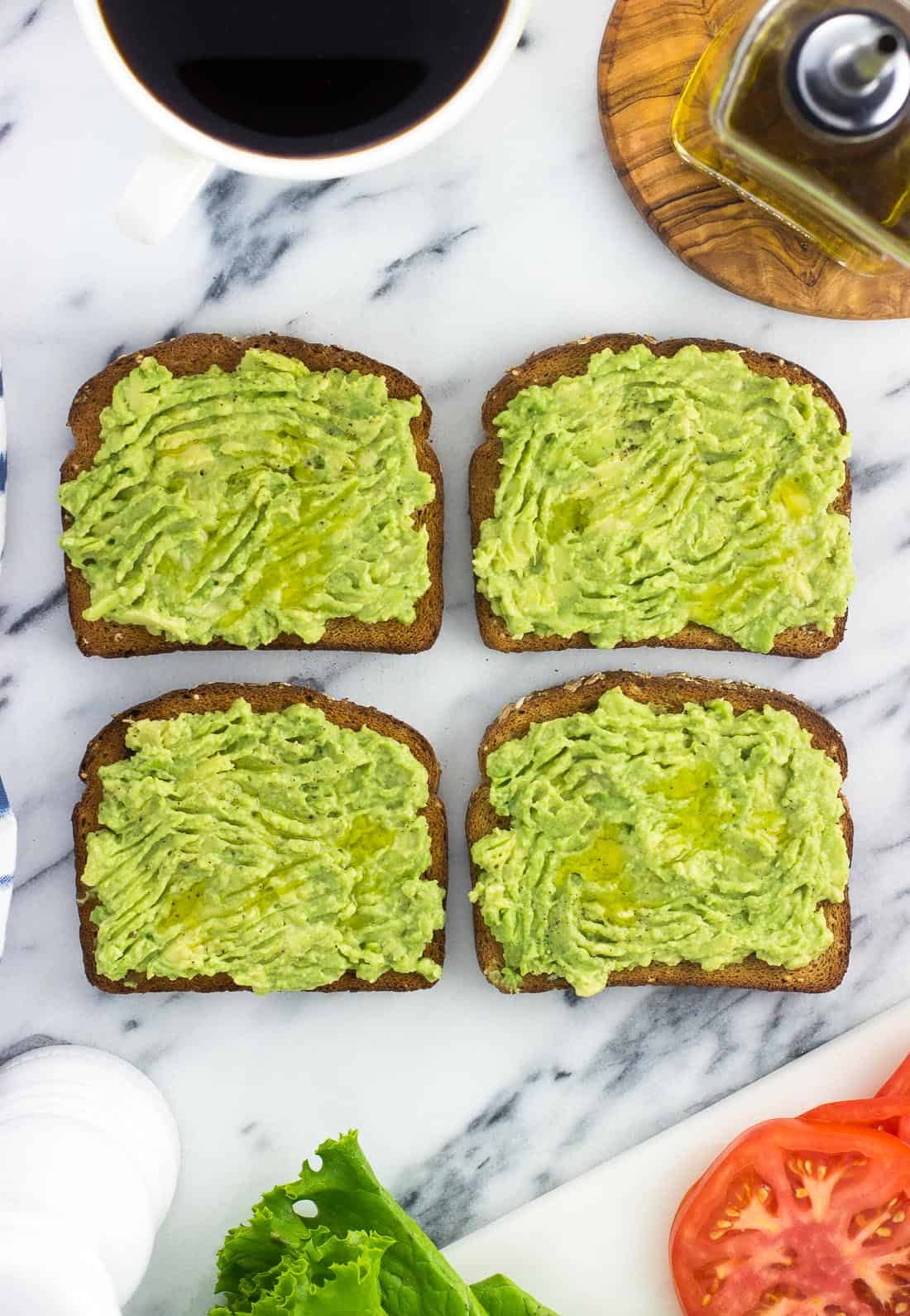 Once spread onto your toasted Pepperidge Farm® Whole Grain Thin Sliced bread, I like to drizzle a tiny bit of extra-virgin olive oil. Then comes green leaf lettuce (my personal preference – use whatever lettuce you have/like), a thick slice of a beefsteak tomato, and a strip of the spicy candied bacon.
Hello-oooooo, breakfast. Each of the components of this avocado toast are delicious on their own but combine on one plate to truly satisfy.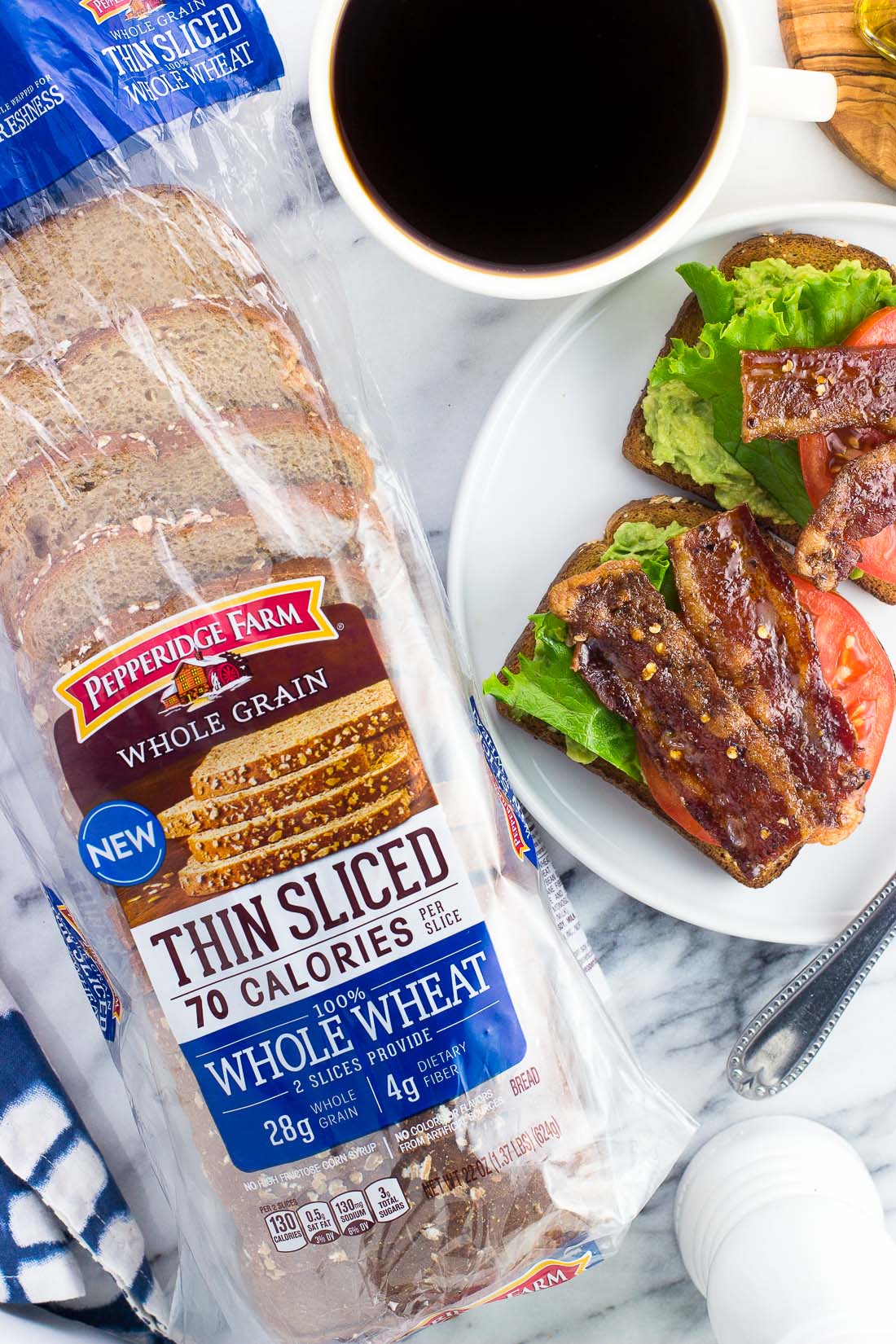 Recipe notes
As written in the recipe card below, you will have extra bacon. I use one strip per piece of avocado toast.
I like to use thick-cut bacon here as the extra thickness helps prevent the bacon from burning before the brown sugar caramelizes.
Absolutely use a rimmed baking sheet under your wire rack to catch the bacon drippings.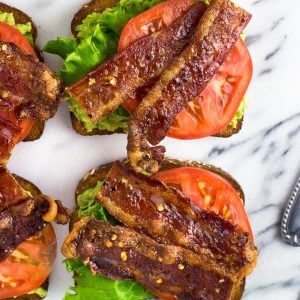 BLT Avocado Toast
BLT Avocado Toast is a hearty and flavorful breakfast made with an upgrade on the BLT's signature ingredient - spicy candied bacon.
Print
Pin
Rate
Ingredients
Spicy Candied Bacon:
6

slices

thick-cut bacon

1/4

tsp

crushed red pepper,

or to taste

Ground black pepper,

to taste

2

tbsp

brown sugar
BLT Avocado Toast (for one piece of avocado toast):
1

slice

Pepperidge Farm® Whole Grain Thin Sliced bread

Half

of a

ripe avocado

Salt and ground black pepper,

to taste

Small

squeeze of

lemon juice,

to taste

Small

drizzle of

extra-virgin olive oil

1

leaf of

green leaf lettuce,

or your preferred lettuce

1

slice

beefsteak tomato,

or heirloom

1

slice

spicy candied bacon
Instructions
Spicy Candied Bacon:
Preheat the oven to 350°F. Place an oven-safe wire rack over a rimmed baking sheet. Lay strips of bacon on the wire rack in a single layer.

Evenly sprinkle crushed red pepper over each bacon strip, then season with ground black pepper. Evenly sprinkle brown sugar over the length of each strip.

Bake for 30-40 minutes, or until the brown sugar has liquified and caramelized and the bacon has turned a deep brown. Remove from the oven and let cool. Store excess candied bacon in the refrigerator.
BLT Avocado Toast:
Toast Pepperidge Farm® Whole Grain Thin Sliced bread to your preferred doneness.

Add half of an avocado to a bowl and season to taste with salt, pepper, and lemon juice. Mash avocado with a fork to mix in the seasonings.

Spread mashed avocado onto the toasted Whole Grain Thin Sliced bread in an even layer. Drizzle with a small bit of olive oil.

Top with green leaf lettuce, a tomato slice, and a strip of spicy candied bacon, cut in two.
Nutritional information is provided as an estimate. As it can vary due to many factors (brands used, quantities, etc.), we cannot guarantee its accuracy.