Loaded Dark Chocolate Peppermint Brownies are rich, fudgy, and loaded up with Oreo pieces, pretzels, and crushed candy canes for a sweet, salty, and minty spin on brownies. This recipe is made in a loaf pan for a smaller yield.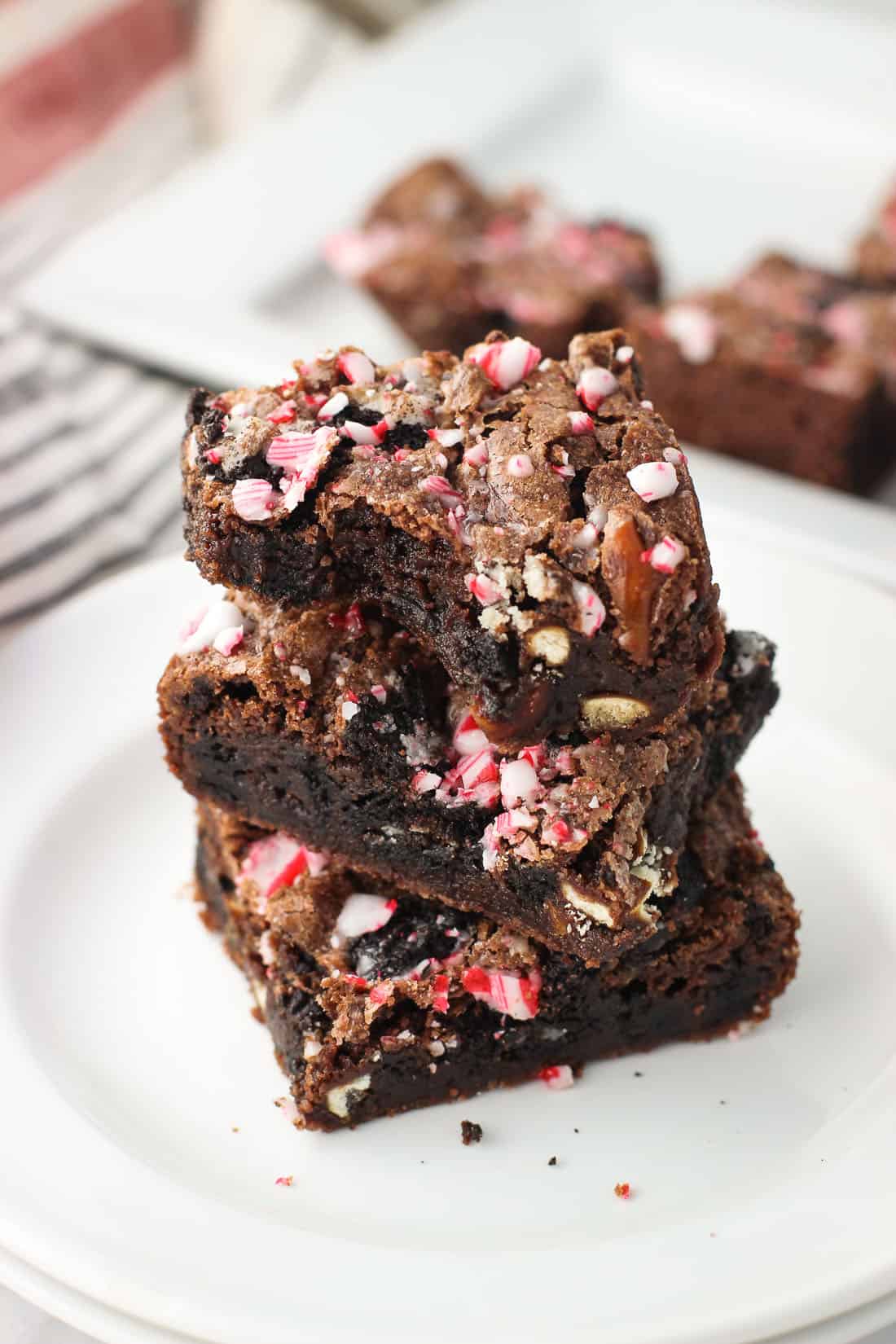 Sometimes you just need to take your go-to brownie recipe, peruse your cabinets, grab a few things down, and kick those same ole brownies up a few notches.
Not that they need kicking up per se, but with Christmas approaching, it's hard to resist the temptation to make dessert extra merry this time of year. With these bad boys I used exclusively melted dark chocolate in the batter, stirred in chopped up pretzels (yum) and Oreo cookies (double yum), and topped them off with crushed candy cane pieces. These loaded dark chocolate peppermint brownies are insanely fudgy and feature the quintessential brownie crinkly top layer.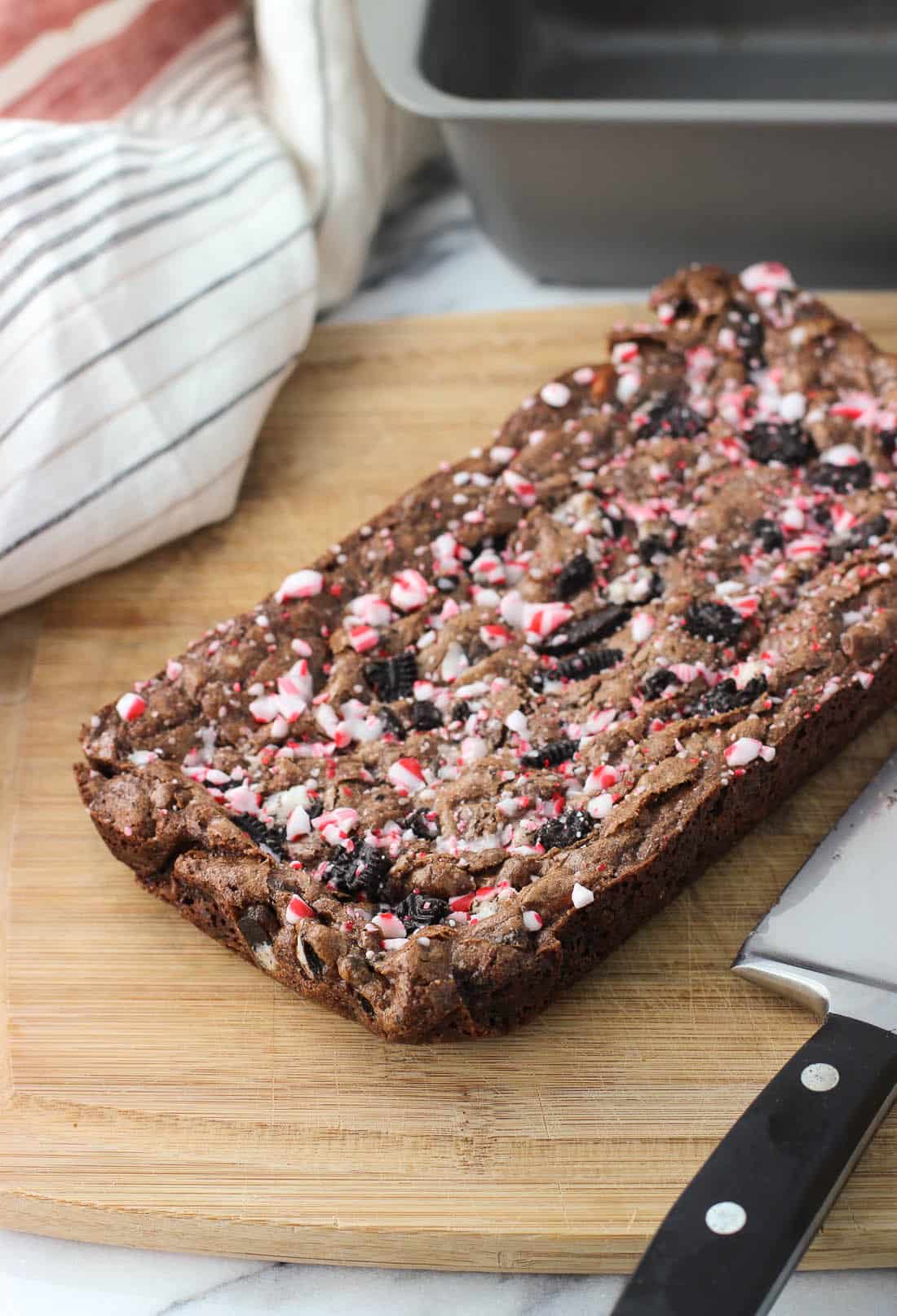 We're a household of two, so large scale sweets tend to be a dangerous thing around here. Our freezer is perpetually stocked to the brim and there are just so many desserts you can push on friends and co-workers, so I have an appreciation for smaller yield dessert recipes. This brownie recipe is made in a 9″ x 5″ loaf pan to yield about ten average-sized brownies. While ten brownies doesn't seem like a small batch anything, it's half the standard brownie recipe I use when more than two people will be responsible for making them disappear.
As with a lot of the recipes posted here, there's some wiggle room with your ingredients. I used a full half-cup of dark chocolate chips to make these rich, 100% dark chocolate brownies, but you can use the same quantity of semi-sweet chips or even a mix of the two. The amounts of pretzel and Oreo pieces added can also vary depending on how loaded you like your brownies. Same goes for the candy cane topping!
Loaded Dark Chocolate Peppermint Brownies
Ingredients
4 tbsp unsalted butter, cut into small pieces
1/2 cup dark chocolate chips
1/2 cup granulated sugar
1 egg, at room temperature
1 tsp vanilla extract
1/4 cup all-purpose flour
1/2 tsp instant espresso powder, optional
Pinch of salt
1/2 cup chopped Oreo cookies
1/4 cup chopped pretzels
1-2 tbsp crushed candy canes
Instructions
Preheat oven to 350°F. Line a 9" x 5" loaf pan with parchment paper and lightly spray with cooking spray. Set aside.
In a large microwave-safe bowl, add butter and dark chocolate chips and heat in 30 second increments on half-power, stirring well after each increment, until the mixture is melted and smooth. Whisk in sugar, egg, and vanilla extract until combined. Add flour, espresso powder (if using), and pinch of salt and stir to combine. The mixture will be a little bit shiny.
Stir in chopped Oreo cookies and chopped pretzel pieces.
Pour batter into prepared loaf pan and level the top with a spoon or spatula so it's of an even thickness throughout.
Bake for 20 minutes, and then remove from oven and scatter candy cane pieces over top. Return to the oven and bake for an additional 15 minutes or so, or until the top is crinkled and a tester inserted in the center comes out mostly clean with just a few crumbs attached.
Let cool completely before lifting the brownies out of the loaf pan by the sides of the parchment paper and slicing.