Carne asada tacos feature tender grilled skirt or flank steak in the BEST carne asada marinade. Serve them alongside a plethora of your favorite taco toppings and spice up taco night!
These carne asada tacos combine at least four of my favorite things. Isn't it great when a homemade dinner can do that?
For starters, tacos in general are always a highlight in my house. While most of the time my husband and I can whip up a batch of taco meat and homemade taco seasoning with our eyes closed, there's something special about grilling meat for tacos. Grilling – my second favorite here.
Next is using these tacos as a vehicle for eating a fair amount of avocado. Straight-up slices or in the form of guacamole works. I'm not picky.
Last, how great is enjoying a frosty cerveza while grilling, or even making a batch of homemade margaritas or beergaritas to kick taco night up a notch or two?
Lots of different ways to have a good time with this carne asada taco recipe.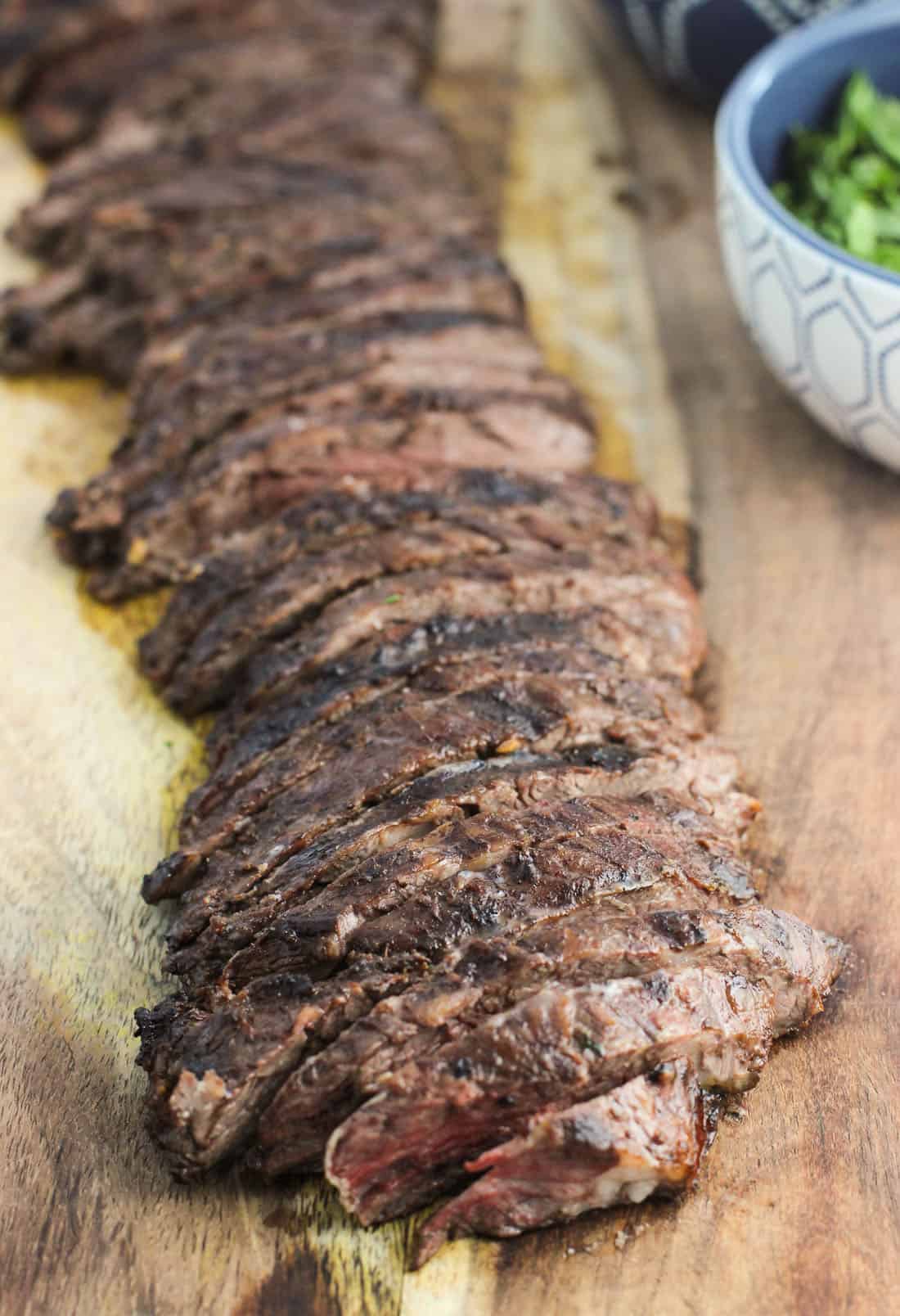 What cut of meat to use?
The best meat for carne asada is usually flank or skirt steak. Skirt steak is a fattier cut than flank steak, but either will work just fine (more than fine, in fact) for this grilled carne asada recipe.
I bounce back and forth between using flank and skirt steak when I make this, the deciding factor being which is cheaper at the grocery store that week.
In updating the photos of this recipe I've included both cuts: the image above is of a grilled skirt steak when this recipe was first posted in 2016, with the ingredient/taco shots in this post featuring flank steak from 2019.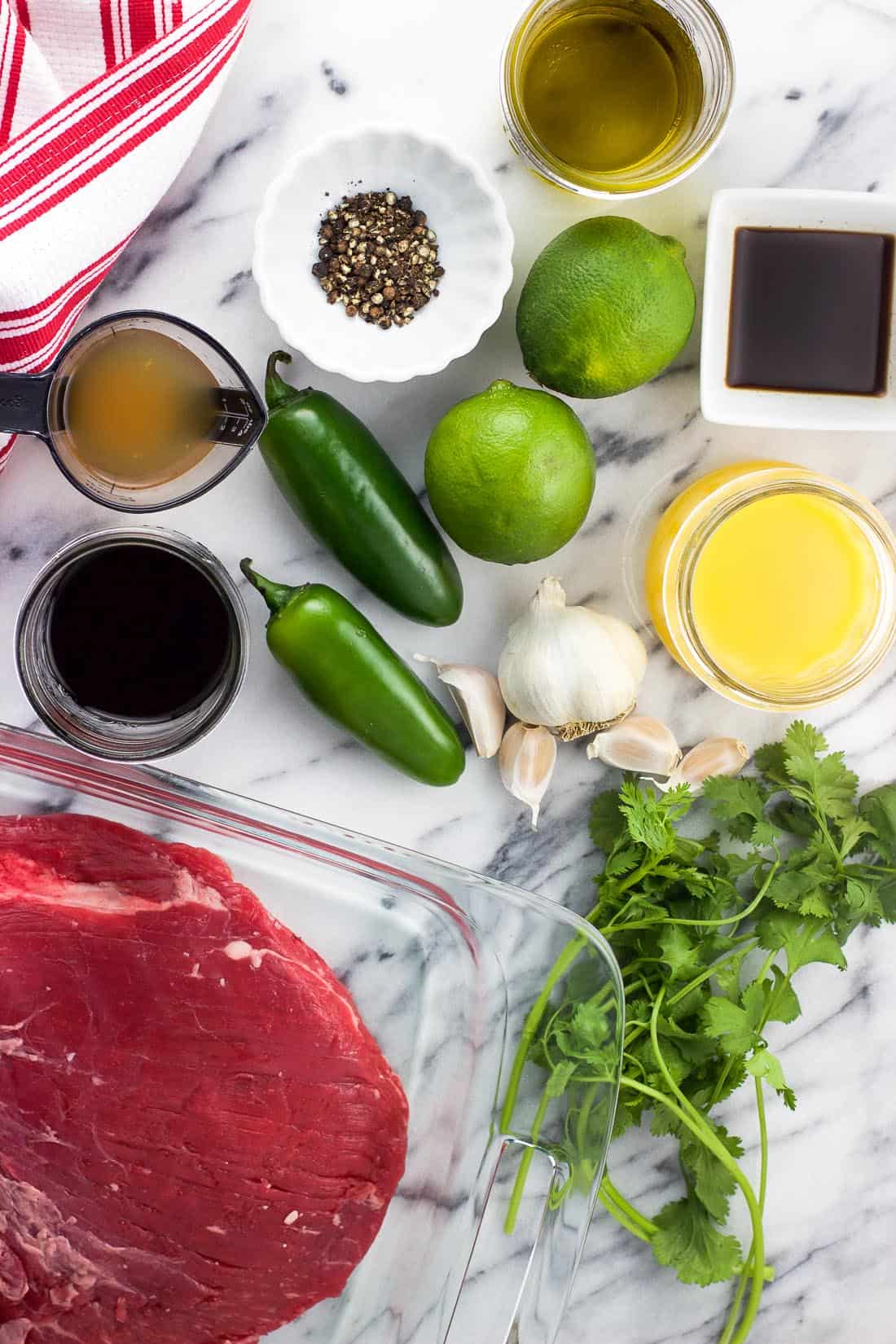 Marinade ingredients
No matter if you're using flank or skirt steak, either cut will benefit greatly from marinating time. The citrus elements along with the vinegar and salty notes work well to tenderize the meat while adding flavor.
The base of this carne asada marinade is equal parts orange juice, olive oil, and soy sauce. On the liquid side, we also add lime juice for an extra burst of citrus, apple cider vinegar, and a little bit of Worcestershire sauce for even more umami flavor.
The other marinade flavorings include minced/pressed garlic, chopped cilantro, chopped jalapeno peppers, and black pepper.
For this recipe, I 'cracked' whole black peppercorns instead of using ground black pepper as this provides a bolder flavor, which is always preferred to milder in a marinade recipe. See the notes below in the recipe card for an easy way to crack whole peppercorns.
You'll want to marinate your steak for at least two hours, but my preference is longer. I usually shoot for at least four, up to eight hours. All the acidic elements in the marinade may start to turn the meat mushy if left marinating for longer than eight hours, so do be mindful of that.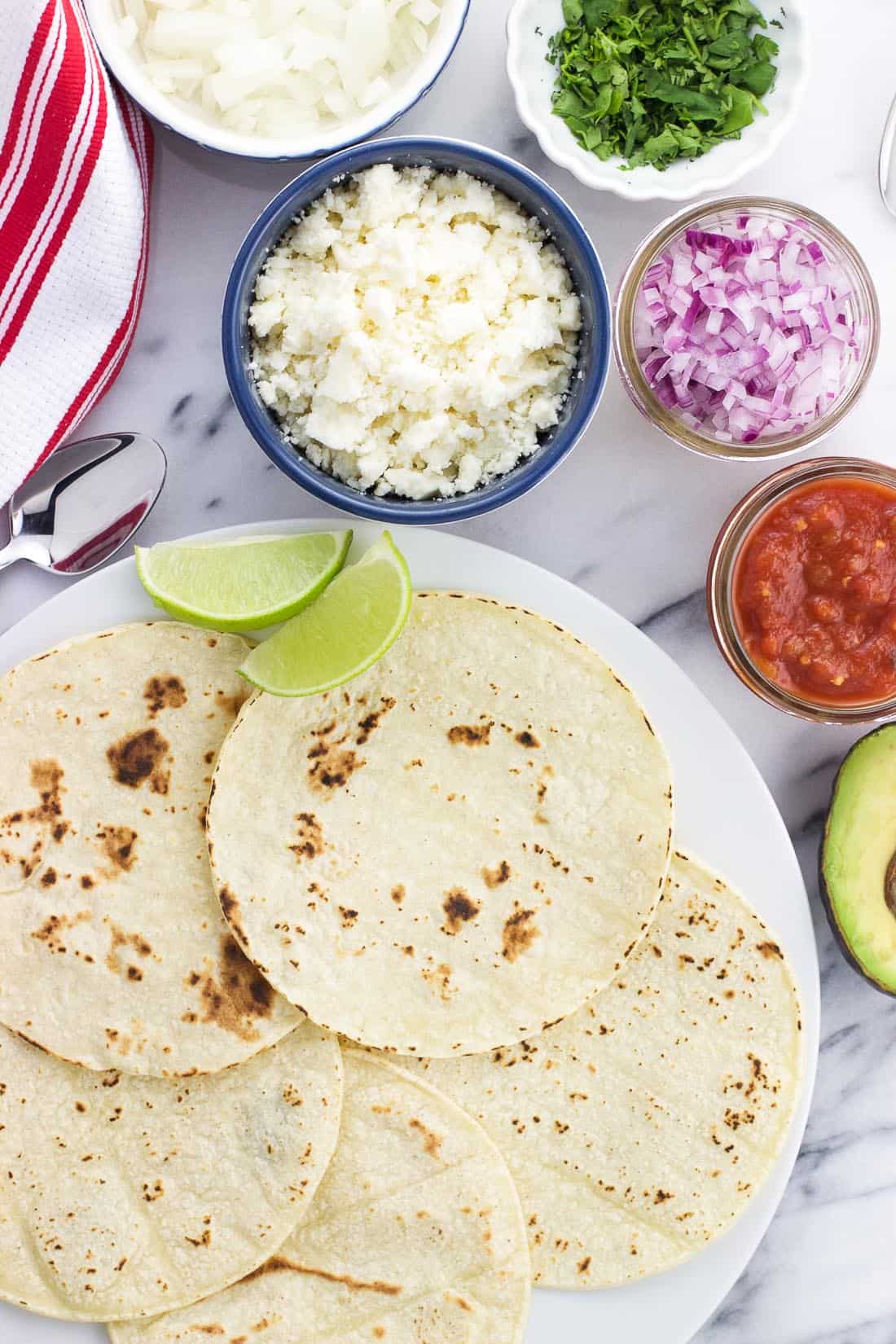 Grilling carne asada
Alright, we're marinated. Time to fire up the grill. But before we do so, I like to brush the grill grates with a neutral tasting, high smoke point oil like canola, corn, or vegetable oil to help cut down on sticking.
Once heated to medium-high temperature, onto the grill the steak goes to cook for 7-10 minutes on each side. Just one temperature setting and one flip is needed, so I think these carne asada tacos qualify as a fairly easy, straight-forward grilling recipe.
For a medium-rare doneness, you'll want to aim for the center of the meat to reach 145°F. An instant-read thermometer (affiliate link) is one of my most used kitchen tools to take the guesswork out of all kinds of recipes, from meats to warm water for pizza and breads to candy.
As an aside, I tried to take an action shot of the carne asada grilling process, but the intense humidity caused my camera lens to fog up each time I stepped outside, along with my glasses. So that didn't happen. Is it fall yet??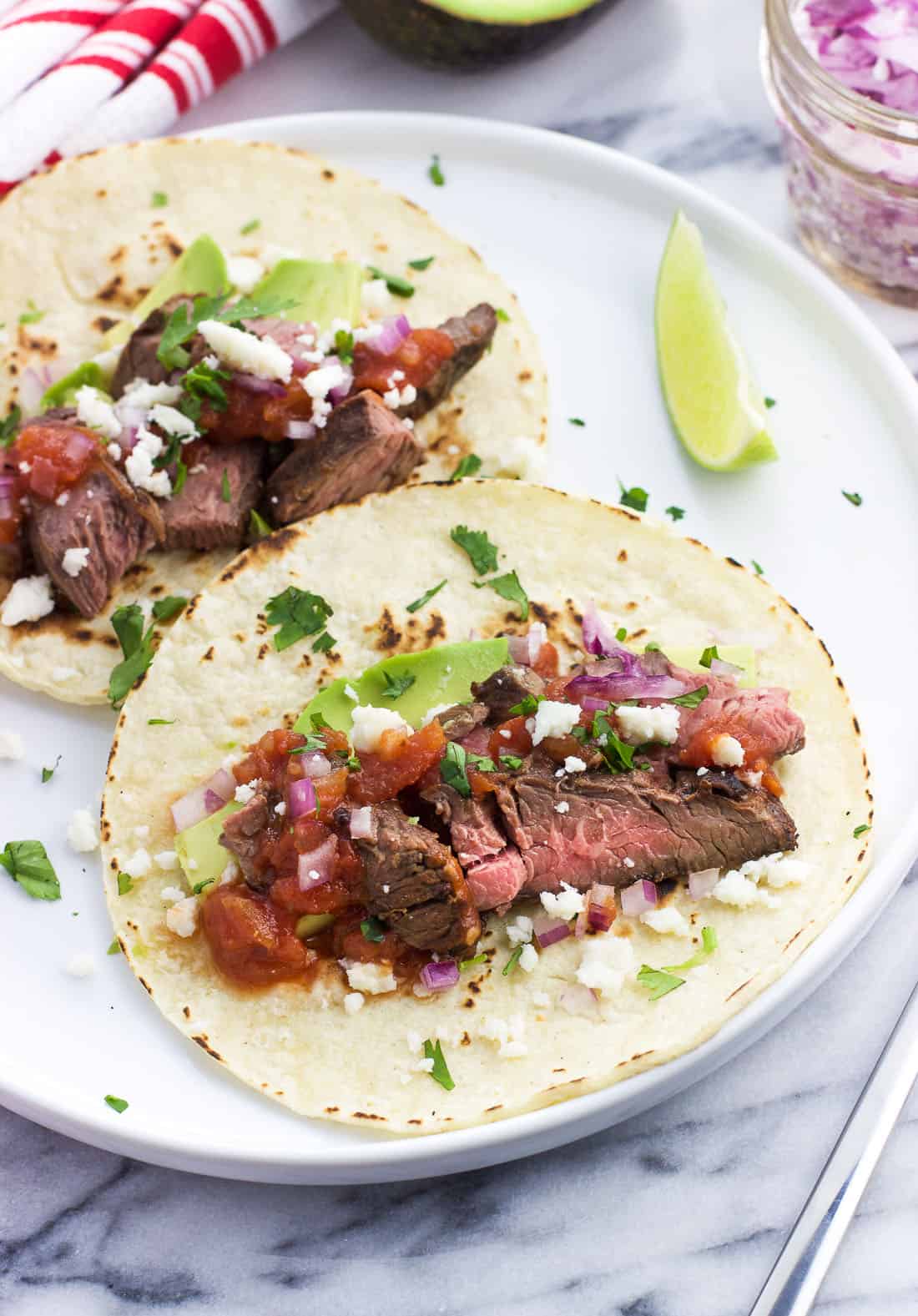 Once the steak rests for a bit, it's time to slice it thinly against the grain and start loading up tacos!
It seems like every taco night we use different toppings depending on what we have in the fridge, but ingredients like chopped cilantro, diced onion (white, yellow, red, whatever), salsa, avocado, and some sort of cheese are the usual suspects.
While there are two jalapeno peppers featured in the marinade, it doesn't make the meat spicy so do add a few dabs of your favorite hot sauce or use a spicy salsa variety if you're looking for some heat.
Recipe notes
Either flank or skirt steak works for these grilled carne asada tacos.
You can marinate the meat for up to eight hours. I recommend shooting for the upper end of that range if you can for extra flavor and more tender meat.
Slice the meat in thin strips and always always slice against the grain.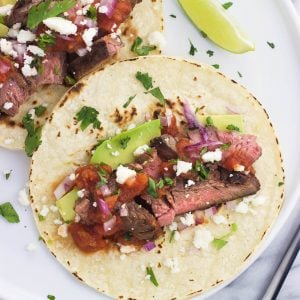 Grilled Carne Asada Tacos
Carne asada tacos feature tender grilled skirt or flank steak in the BEST carne asada marinade. Serve them alongside a plethora of your favorite taco toppings and spice up taco night!
Print
Pin
Rate
Ingredients
2

lbs

skirt or flank steak

(approximate)
For the marinade:
1/2

cup

olive oil

1/2

cup

orange juice

1/2

cup

soy sauce

2

limes

juiced

2

tbsp

apple cider vinegar

1 1/2

tsp

Worcestershire sauce

2

jalapeno peppers,

minced (one with seeds and one without)

2

tbsp

chopped fresh cilantro

4

garlic cloves,

minced or pressed

1

tsp

black peppercorns,

cracked (see note)
For serving:
12

soft taco-sized tortillas,

flour or corn

Chopped onion,

any kind

Cheese,

cotija, shredded, your favorite

Sliced avocado,

or guacamole

Chopped cilantro

Salsa,

your favorite
Instructions
Place whole skirt or flank steak in a container (it's okay for the steak to be folded over on itself to fit in there if needed). Combine all marinade ingredients and pour in container over skirt steak. Cover and refrigerate for preferably 4-8 hours, but 2 hours will work if you're pressed for time.

Brush the grill grates with a neutral tasting, high smoke point oil (corn, vegetable, canola, etc.) before you turn it on. Heat the grill to medium-high heat (in the 400-450°F range). Once heated, add the steak in a single layer and allow it to cook with the lid closed for about 7-10 minutes, before flipping over and cooking for another 7-10 minutes on the other side.

To check for doneness, insert an instant read meat thermometer about 1/2" into the thickest part of the steak. You'll want the temperature to reach 145°F for about a medium-rare doneness. Because skirt steak is a thin cut of meat, you don't have to worry too much about the temperature rising after it's removed from the grill.

Take the steak off the grill and allow to sit for just a minute or two. Meanwhile add tortillas to the grill and let them heat until grill lines begin to form. Flip and repeat on the other side, and then remove.

Using a sharp knife, cut the steak into thin slices diagonally against the grain. You can use these strips as-is for the tacos, or cut into smaller chunks to cut down on any chewiness as you bite into the tacos.

Top tortillas with carne asada and all your favorite toppings.
Notes
Peppercorns: I used cracked black peppercorns (vs. ground) for a bold flavor. To "crack them", I placed 1 tsp of whole peppercorns on a paper towel and folded the paper towel over a few times to completely enclose them. Then I hit the packet with a meat tenderizer until the peppercorns were 'cracked'. You can also wrap them in aluminum foil and carefully hit them with the flat side of a kitchen knife. Marinate time: Marinades with acidic elements like this one (citrus juice, vinegar) are prone to messing with the texture of meat if it's left marinating for too long - think all-day or overnight. I suggest sticking to around 4-8 hours to prevent the steak becoming mushy. Nutrition: Nutritional info is an estimated based upon one-sixth of the steak, 2 taco-sized tortillas, 1 tbsp cheese, and 1 tbsp guacamole per serving. Since recipes that include a marinade are hard to calculate nutrition for, I've included one-quarter of the marinade ingredients into the nutritional calculation as an estimate. For the most accurate nutritional info, I recommend calculating for yourself with all the toppings you use as there's a lot of wiggle room!
Nutrition
Serving:
2
tacos
|
Calories:
552
kcal
|
Carbohydrates:
32.1
g
|
Protein:
46.8
g
|
Fat:
26
g
|
Saturated Fat:
8.9
g
|
Cholesterol:
97
mg
|
Sodium:
969
mg
|
Potassium:
507
mg
|
Fiber:
2.8
g
|
Sugar:
3.3
g
|
Calcium:
90
mg
|
Iron:
6.8
mg
Nutritional information is provided as an estimate. As it can vary due to many factors (brands used, quantities, etc.), we cannot guarantee its accuracy.
Carne asada marinade adapted from Food Network