Cumin cardamom steak kebabs are a versatile grilling recipe made ultra flavorful with an easy marinade. Serve these beef kebabs alongside rice, on top of a salad, or in pitas for a satisfying lunch or dinner.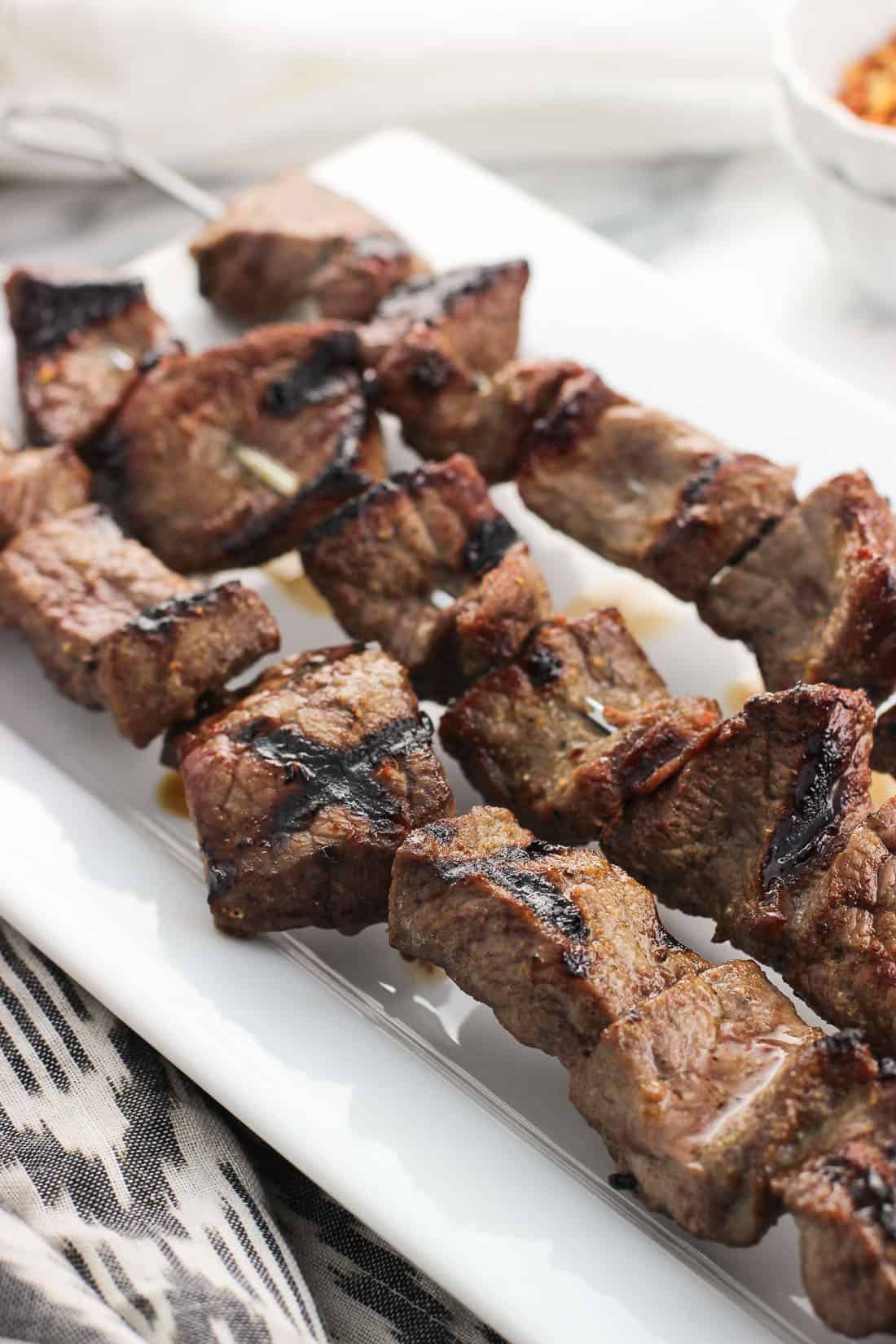 When it comes to buying sort-of speciality ingredients, I try and think of a few different ways I can use whatever it is before taking the plunge and purchasing.
As a cooking-at-home enthusiast, my kitchen pantry is pretty well stocked with a variety of spices and oils, but there was one spice I put off buying for the longest time. Cardamom. I knew it was used in apple pie recipes, but let's be real. Do the (very) few apple pies I make a year justify the cost?
Fast forward to now and I understand why it's a welcome addition in all things apple pie (check out my homemade apple pie spice recipe) and more specifically in something easier, my puff pastry apple turnovers. I ended up happening upon a 50% off spice sale at my local supermarket so I bought ground cardamom then, but in the months since fall the jar has been sitting in the pantry mostly-full, waiting for the fall to roll around. Until now!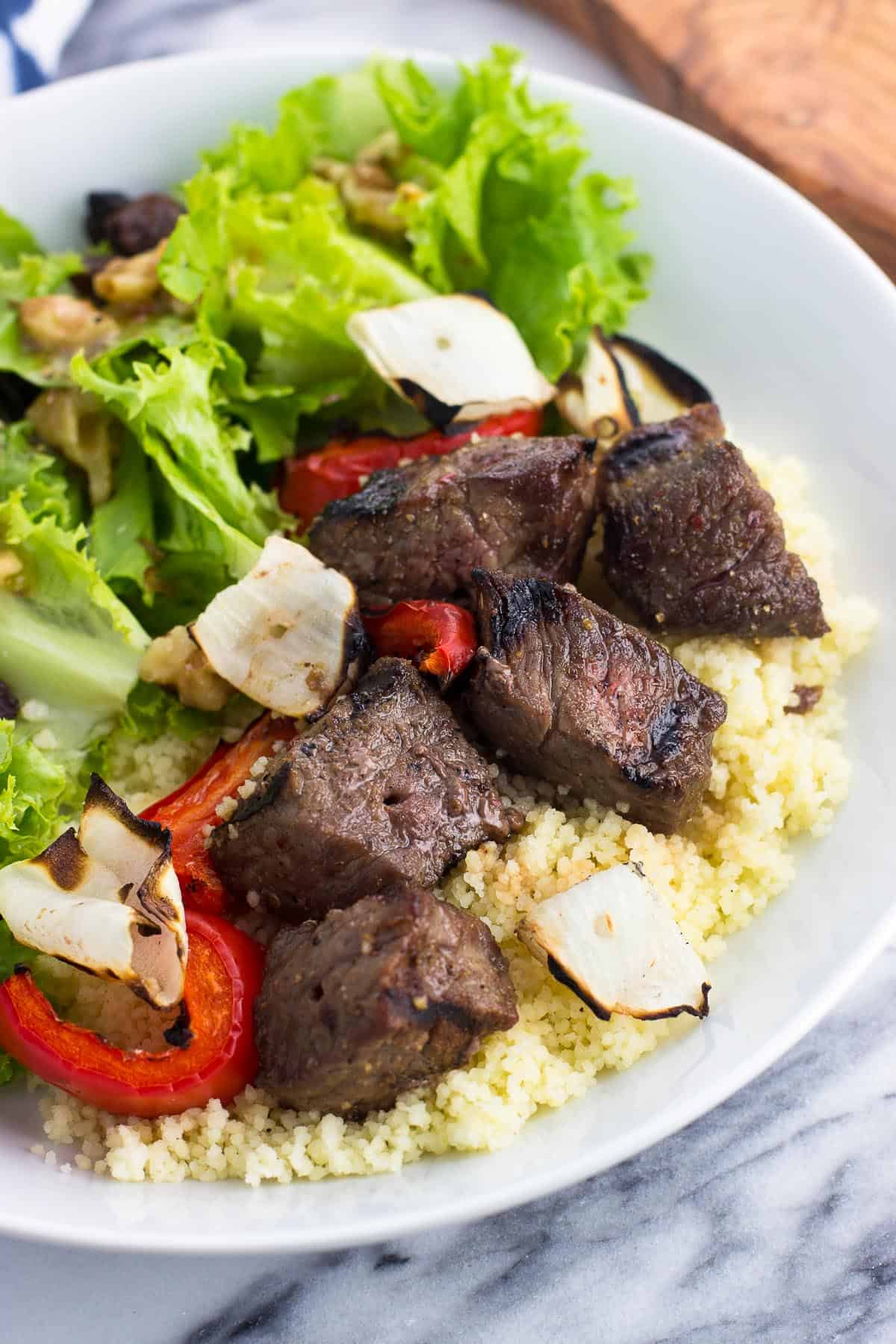 The idea for this recipe came about when I was half-asleep on the couch watching the Anthony Bourdain Parts Unknown episode in Oman and jolted awake when they mentioned a beef dish flavored with cumin, cardamom, and garlic.
I missed some of the context there (and I'm positive they didn't cook the beef on a conventional grill), but I took the idea of those spices and ran with it when it came to making these grilled cumin cardamom steak kebabs.
The smoky cumin flavor and bold (kind of citrusy?) taste of cardamom mix so well with garlic and really work for a savory recipe like these grilled steak kebabs.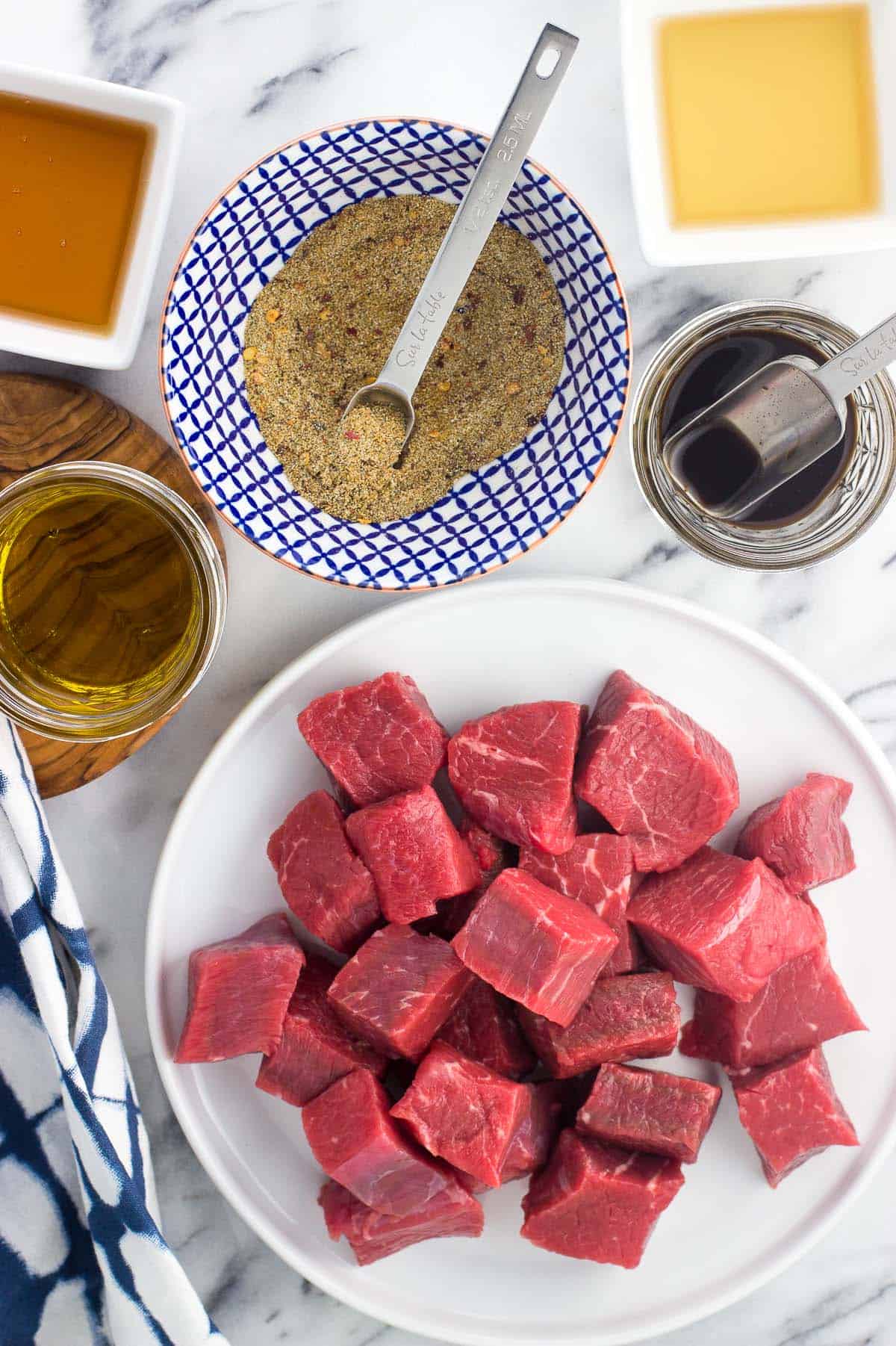 Recipe ingredients
Let's start with the meat. For these cardamom beef kebabs I like to use sirloin tip steak. It's an inexpensive, lean cut that comes boneless and works well when marinated. Anywhere between 1 - 1 ¼ pounds should work just fine here.
As for the marinade, the liquid consists of olive oil, honey, cooking sherry, and Worcestershire sauce. Then it's spiced up with a variety of pantry staples, the main ones being ground cumin, ground cardamom, and garlic powder.
The other spices are salt, pepper, crushed red pepper, onion powder, and ground coriander, though there's wiggle room for you to adjust the seasonings as you like.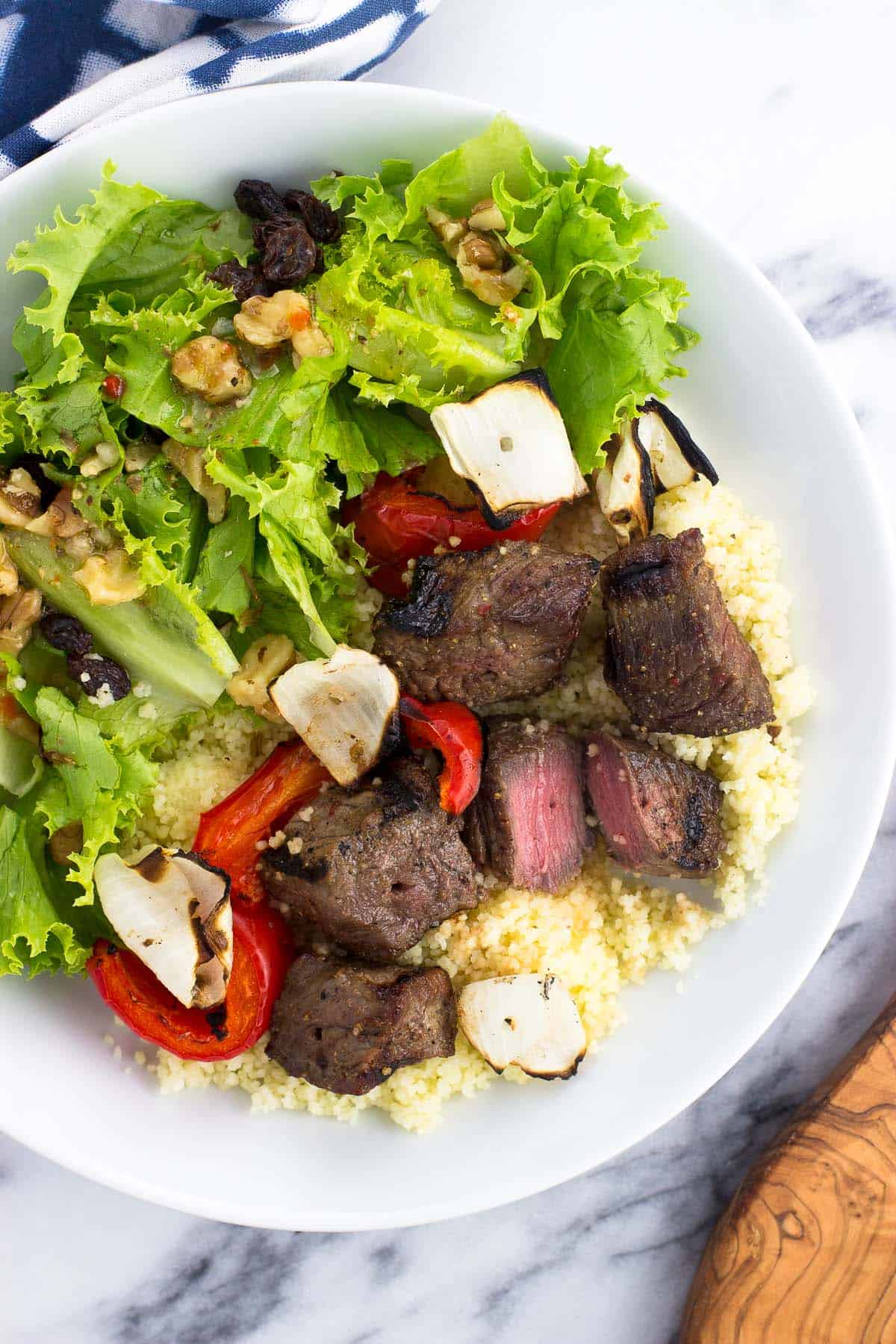 Step-by-step instructions
Nearly all of the recipe time here is inactive. Once the steak is cut into roughly 1 ½" cubes, let it marinate for at least two hours, but you can definitely let it go longer as there isn't a citrus element here. Extended marinating in citrus elements can cause the texture of meat to become off-putting. But that's not a concern here.
After sufficient marinating time, thread the steak onto skewers and fire up the grill! My preference is to use stainless steel skewers when grilling meat. If using wooden skewers, soak them in water for at least 30 minutes so they do not burn on the grill.
As the cuts of meat are fairly thin they won't take too long to cook, just a few minutes per side over direct heat. Easy as that.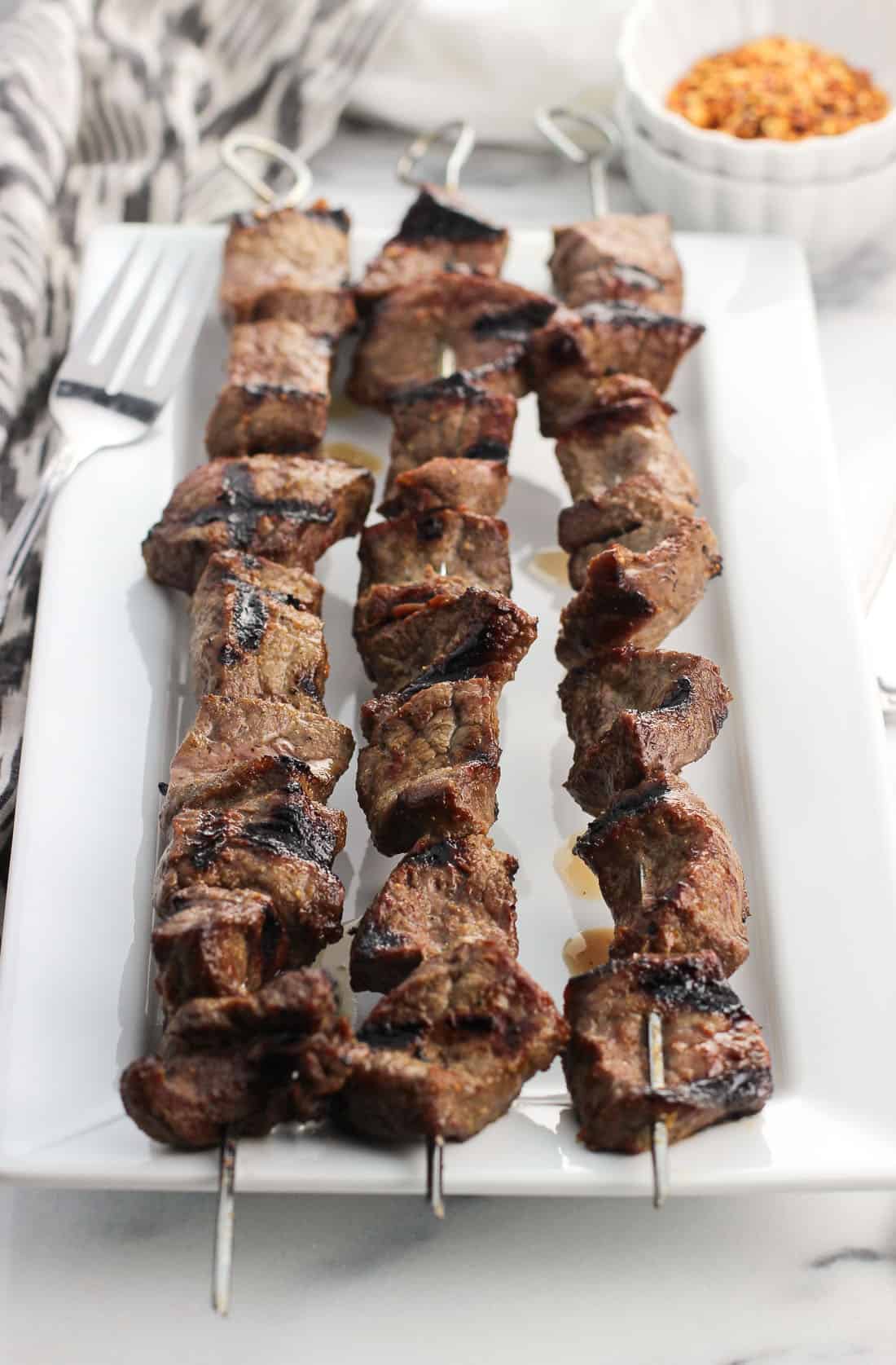 Serving suggestions
We enjoyed these cumin cardamom steak kebabs alongside couscous and salad, but they would be wonderful served over a salad or in pita pockets as a sandwich (how I'll be serving them next)!
Something else to consider when making these is grilling vegetables at the same time. In some of the photos here you can see grilled bell pepper and grilled onion. I like to add them in chunky pieces to their own skewers (versus alternating them with meat) just in case they need more or less time to cook than the main protein does.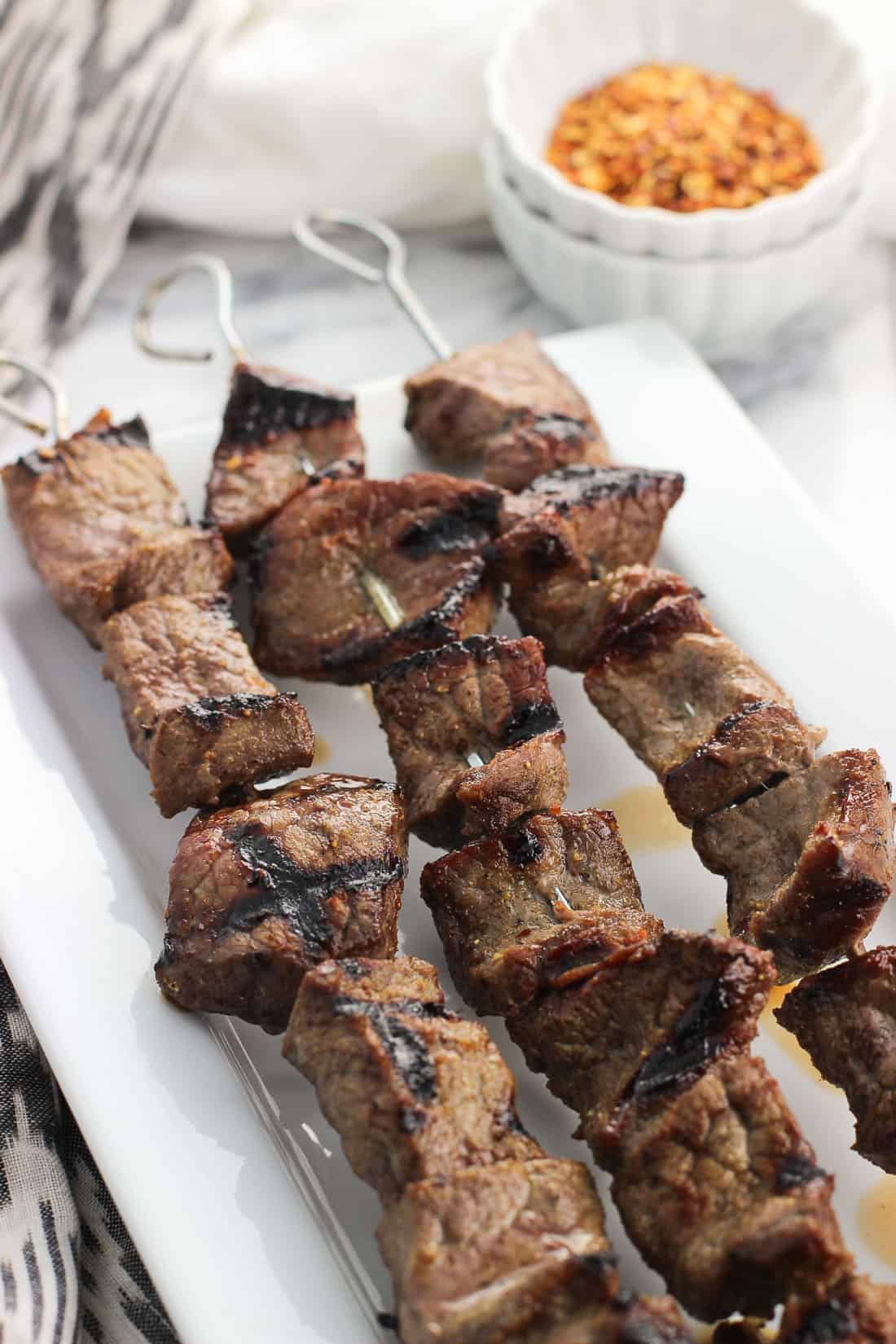 Recipe notes
If using wooden skewers, soak them in water for at least 30 minutes before adding meat and cooking so they don't burn over the grill.
Sirloin tip steak is my pick here, but I've also used sirloin tip side steak when regular sirloin tip steak wasn't available. It's just a cut from the outer area of the sirloin region and works just as well here.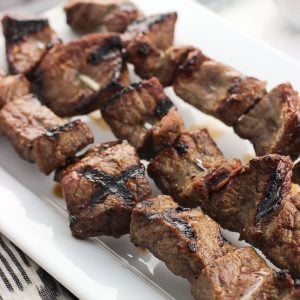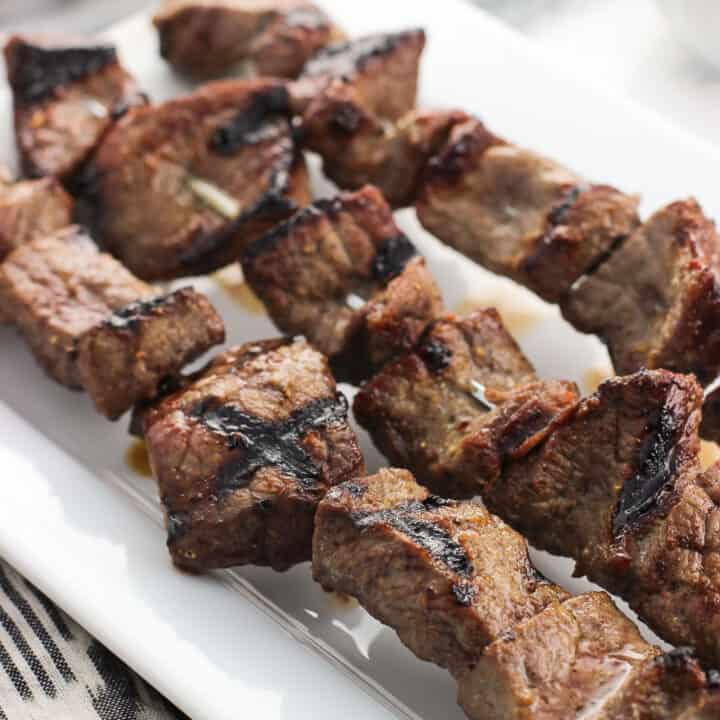 Grilled Cumin Cardamom Steak Kebabs
Cumin cardamom steak kebabs are a versatile grilling recipe made ultra flavorful with an easy marinade. Serve these beef kebabs alongside rice, on top of a salad, or in pitas for a satisfying lunch or dinner.
Print
Pin
Rate
Ingredients
1

lb

sirloin tip steak, cut into 1 ½" cubes,

approximate

¼

cup

olive oil

2

tablespoon

honey

2

tablespoon

cooking sherry

1

tablespoon

Worcestershire sauce

1 ¼

teaspoon

ground cumin

1

teaspoon

ground cardamom

1

teaspoon

garlic powder

½

teaspoon

salt

½

teaspoon

ground black pepper

½

teaspoon

crushed red pepper flakes

¼

teaspoon

onion powder

¼

teaspoon

ground coriander
Instructions
Cut sirloin tip steak into 1 ½" cubes, and place in a large sealable plastic bag.

Whisk together all other ingredients in a mixing bowl. Pour marinade over the meat in the plastic bag and seal. Refrigerate while marinating for 2-3 hours (or longer).

Place meat onto skewers. Heat grill to medium heat (400-425°F).

Place kebabs on the grill over direct heat, cooking for about 3 minutes per side or to your preferred doneness. Remove from grill and serve.
Notes
Meat: I've used anywhere between 1 lb and 1 ¼ lb of steak for this recipe and found there to be sufficient marinade. Marinating: I prefer using a large sealable plastic bag for ease of clean-up, but a covered, non-reactive container or bowl (glass, ceramic, stainless steel) will also work. A reactive metal container will mess with the flavor, so it's best to avoid cast iron or aluminum for this purpose. Skewers: If using wooden skewers instead of stainless steel, be sure that you soak them in water for at least 30 minutes before using so they don't burn when they're on the grill. Nutritional estimate: For ease of calculating and to be conservative, all of the marinade ingredients are taken into account in the nutritional info per serving (below). Any excess marinade left behind would cause the values to decrease, but it's tough to take that into account!
Nutrition
Calories:
356
kcal
|
Carbohydrates:
9.6
g
|
Protein:
30.4
g
|
Fat:
22.1
g
|
Saturated Fat:
5.3
g
|
Cholesterol:
81
mg
|
Sodium:
395
mg
|
Potassium:
398
mg
|
Sugar:
9.4
g
|
Calcium:
20
mg
|
Iron:
2
mg
Nutritional information is provided as an estimate. As it can vary due to many factors (brands used, quantities, etc.), we cannot guarantee its accuracy.
Food Safety and Nutrition Disclaimer